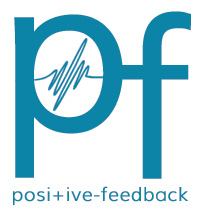 You are reading the older HTML site
Positive Feedback ISSUE 70
november/december 2013
Notes of an Amateur: Late Shostakovich, Early Britten.
by Bob Neill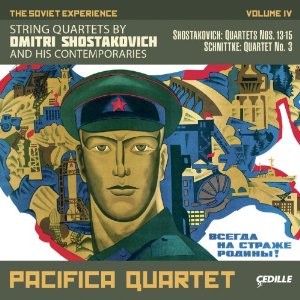 String Quartets of Dmitri Shostakovich, Vol. IV. Quartets 13-15. Schnittke, Quartet No. 3. Pacifica Quartet. Çedille CDR 90000145.
Forceful, intimate, and consummately recorded, the Pacifica Quartet's Shostakovich cycle comes to a close with this fourth volume of the composer's last three quartets, accompanied by just the right coda, Alfred Schnittke's Quartet No. 3.
What the Pacifica musicians bring to Shostakovich, perhaps most conspicuously in these last three quartets, is a sense of command. They breathe this quality into the music. Neither the Fitzwilliams' severity nor the Sorrel's lyricism, to cite the most obvious contrasts. Rather, authority, a boldness and confidence we have heard from them in their landmark recording of the leaner and more abstract quartets of Elliot Carter. Is this the way to play such highly introspective and emotionally conflicted music? Not for me to say, but it does bring out its Russian qualities in a way that enables these quartets to meet Soviet Russia on equal ground, confront it with a voice sufficiently powerful to overmatch its cruder armaments. I expect the performances will also be strong enough to persuade most listeners that this is indeed the way the music should go. Rhetoric is the art of persuasion and the Pacifica's rhetoric is powerful stuff: while they are the stage there is room for no others.
Among contemporary performers of this music, the most obvious competition would probably be the Alexander Quartet, who bring out the oeuvre's meditative, searching qualities. I have called their cycle "revelatory," which it is. The Pacifica musicians present these quartets as the result of his searches: in their hands the searching is the vision and it is all here, completed: a view of the world. The difference between irony and tragedy has largely to do with confidence and boldness of statement. The Pacificas play this music as tragedy. If you love this music, you will feel no need to choose: its stature enables it to respond to either interpretation. No one cycle of these quartets will ever exhaust its possibilities.
Like Petrenko's Shostakovich Symphony No. 4, this release came too late to enable me to consider it among the top three of the year. Also, like the Petrenko recording, it deserves that level of praise and distinction.
The Pacificas include a bonus quartet at the end of their four Shostakovich (double) albums, a work by one of the composer's contemporaries to give us a fuller view of what the series calls 'the Soviet experience.' The guest composer in volume 4 is one of Shostakovich's many Russian successors, Alfred Schnittke. His Quartet No. 3 seems like a precociously brilliant, brooding child.
Sound, by recording engineer extraordinaire, Judith Sherman, is as good as it gets.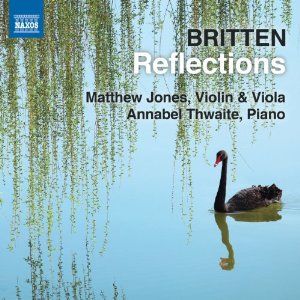 Britten. Reflections. Matthew Jones, viola and violin. Annabel Thwaite, piano. Naxos 8.573136.
A major challenge for some listeners trying to 'hear' the music of Benjamin Britten is reconciling the conventional reserve of his public personality (though it's evident in his private letters as well) with the rich, strange world of many of his compositions. As someone who is devoted to his music, I have read a great deal by and about him over the years searching for clues to the connection, some trace behind the formality of the life of the eloquent darkness of much of his music. The only bridge I've found is the untrustworthy one of inference: a sense that the music is the transformation of concerns, doubts, passions, fears related to the matter of innocence and beauty immersed in the inevitable confoundings of maturity.
I did not realize until I listened to this wonderful new release of his (very) early music for solo viola, viola and piano, and violin and piano how much of his most moving music was written in the 1930's when Britten was in his late teens and early twenties. He knew a lot of what he knew from the beginning.
Part of what makes this group of works (14) so impressive is the musicianship. To my ears, violinist/violist Jones and pianist Thwaite have an instinctive feel for Britten. (Another factor, I suspect, is the aptness of my small Audio Note system—OTO Signature, K/SPe's: just a few more indulgent drops of cream in the coffee than are in my Crimson/Tocaro system. The stage feels smaller and more intimate.) Included in the program is an arrangement for viola and piano by Britten of a work by his mentor, Frank Bridge, and Britten's own later and better known Lachrymae, also for viola and piano, written when the composer was 37.
I love this album.
Equipment used for this audition: Resolution Audio Cantata CD player; Crimson Audio 710 preamplifier and 640 solid state monoblock amplifier; Tocaro 42 loudspeakers. Audio Note OTO Signature integrated tube amplifier and K/SPe loudspeakers. All Crimson cabling.
Bob Neill is a former equipment reviewer for Enjoy the Music and Positive Feedback Online. Since 2004 he has been proprietor of Amherst Audio in Amherst, Massachusetts, which sells equipment from Audio Note (UK), Blue Circle (Canada), Crimson Audio (UK), Jean Marie Reynaud (France), Resolution Audio (US), and Tocaro (Germany).