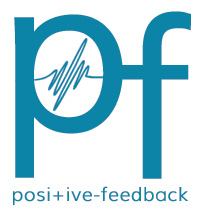 You are reading the older HTML site
Positive Feedback ISSUE 70
november/december 2013
APO DSD Downloads from Acoustic Sounds' Super HiRez Website
by Teresa Goodwin
If you love blues and great sound APO (Analogue Productions Originals) offers both. Chad Kassem discovered a closed down church with wonderful acoustics in Salina, Kansas, and converted it into the recording studio for APO Records, known as Blue Heaven Studios.
I'm reviewing four APO recordings in their DSD download versions. I've previously owned Wild Child Butler's Sho' 'Nuff on SACD and Jimmie Lee Robinson's All My Life on LP, however this is my first exposure to the other two titles. Back in 2009 I had to sell off my turntable and LPs due to financial difficulties, and last year I sold the last of my SACDs and now am computer music only for the time being, so I can't directly compare them. I do believe the DSD downloads compare favorably to both. I mention this as I wanted to point out I've been a fan of APO for over a decade and I'm familiar with their excellent musical and production values.
A lot of these blues artists are getting along in years and these recordings offer us the chance to hear great blues in the highest fidelity currently possible. With few exceptions, blues was never well served by the commercial labels as the sound was often dingy and low-fi. I've gotten to hear blues live, and it was so much better than recorded up until AudioQuest Music (now know as Sledgehammer Blues) LPs came out offering realistic sounding great recorded blues for what I believe was the first time. Next came APO's wonderful recordings at Blue Heaven Studios and a small handful of blues here and there from audiophile labels such as Telarc and Reference Recordings.
Included with the Acoustic Sounds Super HiRez downloads are a high resolution 900 x 900 JPEG of the album cover and a PDF file of the liner notes with full color photos. When you "zoom to fit" your screen the large print on the PDF file is very easy to read. This may be another reason to select the high resolution downloads over the usual dinky printing in the booklets of 5 inch discs.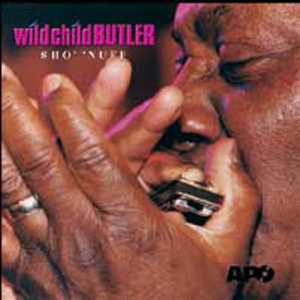 Wild Child Butler, Sho' 'Nuff
"Open Up Baby," "You Had Quit Me," "I Got To Go (Sweet Daddy-O)," "Can You Use A Man Like Me," "Moaning Morning," "Slippin' In," "Funky Things," "Maryanne," "It's All Over," "Loving," "Achin' All Over," "I Changed," "Baby I Can't Exist"
George "Wild Child" Butler (Vocals/Harmonica), Jimmy D. Lane (Acoustic/Electric Guitar), Jimmie Lee Robinson (Acoustic Guitar on "You Had Quit Me"), Bob Stroger (Bass), Sam Lay (Drums)
Producer: Chad Kassem, Co-Producer: Jimmy D. Lane, Engineer: David Baker, Assistant Engineers: John H. Brandt, Caleb Reinert, Mastering Engineer: Katsuhiko Naito
Recorded Jan. 25-26, 2000 at Blue Heaven Studios in Salina, Kansas. APO Records XAPO2015D64
Physical Formats: 45rpm LP, CD and Hybrid Stereo SACD, Downloads: DSD64 (2.8MHz), ALAC and FLAC (176kHz, 88kHz and 44.1kHz/24-bit)
I'll start off with my favorite of the four DSD downloads under review. Wild Child Butler was heavily praised by Willie Dixon, Muddy Waters, Howlin' Wolf, and Jimmy Rogers and other blues legends.
Butcher Pete in Hoppula in Wang Dang Dula!...It's Time To Rock'n'rolla! said "George 'Wild Child' Butler is one of the last original, hard-workin' delta bluesmen. Although his career started not until the 1960s, the old times' tradition is still clearly heard on his music. You may call it blues, you may call it southern soul, you may even call it rock 'n roll, but you just can't categorize him to any particular field. There's just one George Butler, and then there are the others."
CBS News was in town filming a feature story on Blue Heaven Studios when this recording was made, the liner notes go into more detail on their positive impressions of the recording sessions. The liner notes also go into considerably more detail on Wild Child Butler's life, career, and circumstances than I can paraphrase here, among the finer liner notes I've seen for relevant information and readability.
Butler learned to play the harmonica as a young man in central Alabama while listening to what he calls "the sharecropper's blues." For nearly 20 years, while he called Ontario, Canada home, he played venues all across the States and Europe till his death in March 2005 at the age of 68.
"The blues is the facts of life due to the human condition," said Wild Child. "I can preach the blues, and I can sing a love blues, and I can turn around and sing a mad blues." He grew up singing in the fields, he said, to ease the pressures that came from pulling corn for a few dollars a day. Unlike so many contemporary bluesmen, Wild Child writes almost all of the songs he performs, he says writing good songs comes from being a keen observer. He likes to write on the road, and when he's at home. "I write about life, about people," he said. "I sees them. I look at the young and the old, and I sees this stuff." He backs up his lyrics with a harp sound as real as that of anyone living. This recording offers a fine mix of Wild Child's down-home, acoustic sound, his slow, muscular blues and his up-tempo shuffle or snapping blues.
When Willie Dixon first heard Butler play he told him, "You are the moan of the suffering woman, the groan of the dying man. You ain't nothing but the blues." A blues player is all Wild Child says he ever wanted to be, and he has been playing the blues ever since. At the age of 64, he's part of the last generation of musicians who grew up playing the country blues on the farms in the segregated South. It's that kind of history that Chad Kassem has managed to capture with this series of APO Recordings. "Once these guys are gone, you know the next generation isn't quite the same," he said. "You know, it's so real, it's 100 percent real right now."
So sit back and listen to some real blues, recorded in the old church, from a man who has been blowing his harp for over five decades, the DSD download offers the complete musical experience, some of the best blues music with some of the most realistic "you are there" sonics I've heard yet. The acoustic guitar, harmonica, bass, drums, and vocals sound so real and the ambiance of the church is flat-out beautiful. In my opinion this is among the finest blues album of all time, others are free to disagree but I find it perfect in every possible dimension. My highest possible recommendation.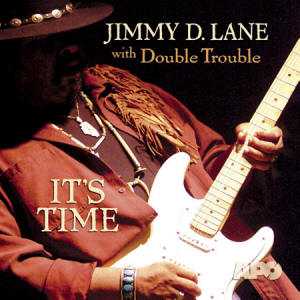 Jimmy D. Lane, It's Time
"What Makes People," "'Til I Loved You," "Half Love," "Ain't It a Pity," "It's Time," "Stuck in the Middle," "Hand on the Door," "Bad Luck," "My Nature," "24-7," "Bleeding Heart," "Salina"
Jimmy D. Lane (vocals and guitar), Tommy Shannon (bass), Chris Layton (drums), Mike Finnigan (Hammond B3 organ), Celia Price (Hammond B3 organ and piano)
Chad Kassem: Executive Producer, Eddie Kramer: Producer, Recording and Mixing Engineer, Caleb Reinert, John Brandt, Aaron Householter: Assistant Engineers, Kevin Gray and Steve Hoffman: Mastering Engineers
Recorded February 21-22, 1999 at Blue Heaven Studios in Salina, Kansas. APO Records XAPO2020D64
Physical Formats: 45rpm LP, CD and Hybrid Stereo SACD, Downloads: DSD64 (2.8MHz), ALAC and FLAC (176kHz, 88kHz and 44.1kHz/24-bit)
If you like southern rock, this is the blues artist for you. This is high octane hard rockin' blues, play it loud and revel in the thrills.
Muddy Waters Band guitarist Bob Margolin said "Jimmy D. Lane's guitar playing will knock you over. His control of his guitar, from the most delicate tonal nuances to the flashiest, fastest licks, is almost superhuman. Only the most masterful guitar players can command their instruments this way, and all the practice in the world can't develop it. Jimmy D. Lane is a natural-born guitar monster."
When you hear this recording you'll know it's time for Jimmy D. Lane to seize the reins of blues leadership as his father, Jimmy Rogers, did in the 1940s. Eddie Kramer, engineer for Jimi Hendrix and Led Zeppelin, co-produced and engineered this recording. Chris "Whipper" Layton and Tommy Shannon of Double Trouble, and Mike Finnigan, who played organ in the bands of Etta James, Taj Mahal and Crosby, Stills, Nash, and Young, are all to back Jimmy up.
Jimmy D. Lane began to play guitar in his father's band in the late '80s. Though he inherited his father's warm, deep, confessional voice and talent for playing guitar, he was also inspired by the more modern music pioneered by Jimi Hendrix in the '60s and Stevie Ray Vaughan in the '80s. Over hundreds of nights on bandstands all over the world, Jimmy D. accompanied his father's classic Chicago Blues tastefully and appropriately. He was also featured leading the band as he developed a personal style with his own combination of influences.
In "What Makes People" you'll hear the same shuffle groove from the Double Trouble rhythm section that they laid under Stevie Ray Vaughan on famous "Pride and Joy". "'Til I Loved You" has Larry Faucette guesting on congas. In "Half Love" you'll hear Jimi Hendrix's influence. "Ain't It a Pity" is a little slower and so full of beauty it glows!
However, my favorite on this album, and about the most perfect blues song I've heard yet, is "Stuck in the Middle". It's beautiful in every possible meaning of the word. It features Bill Garrison on slide guitar with really sexy vocals from Jimmy D. The style reminds of Eric Clapton. Just as in the above album, the sonics of this DSD download are perfect and the music a pure joy.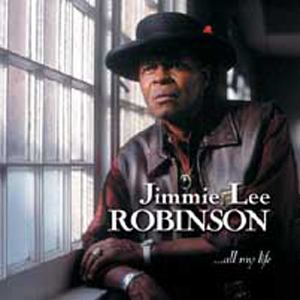 Jimmie Lee Robinson, All My Life
"Forty Days and Forty Nights," "I'll Be Around," "Love My Baby," "Driftin' Blues," "The Girl I Love," "All My Life," "I'm Ready," "Too Late," "The Sun Is Shining," "Easy Baby," "If I Get Lucky," "Ludella," "What A Wonderful World"
Jimmie Lee Robinson (Guitar, Vocals, Spurs), Jimmy D. Lane (Acoustic and Dobro Guitars), Madison Slim (Harmonica)
Producer: Chad Kassem, Co-Producer: Jimmy D. Lane, Engineer: Katsuhiko Naito. Mastered by: David Glasser
APO Records XAPO2011D64
Physical Formats: 45rpm LP, CD and Hybrid Stereo SACD, Downloads: DSD64 (2.8MHz), ALAC and FLAC (176kHz, 88kHz and 44.1kHz/24-bit)
My first question was how are spurs used as an instrument? If you will notice there is no drummer listed on this album, what Jimmie Lee Robinson does is jangle the spurs on his boots in time as a percussion instrument, but not in every song. On some songs he does the traditional foot tapping, minus spurs, that blues and folk players do for percussion sounds when playing without a drummer. The spurs have a very unique sound and tone and makes his blues very much his own.
However in "The Sun Is Shining" there is a real unnamed drummer with a nice cymbal crash at the end, I listened with headphones to confirm that it was indeed a real drum, and yes you can hear the sticks hitting the drum in rhythm. It is the only song with drums, percussion in the other songs are the above mentioned spurs and foot tapping.
This is very enjoyable, traditional acoustic, front porch blues. Jimmie Lee Robinson has played with Little Walter, Howlin' Wolf, Freddie King, Elmore James, and Jimmy Reed. The album begins with a haunting, slowed-down version of Muddy Waters' "Forty Days and Forty Nights" with eerie harmonica accompaniment by Madison Slim. What follows are a lot of Jimmie Lee originals, including the title track, which was once covered by John Mayall, where Jimmie Lee pleads with the woman of his dreams to return all the respect and love he's paid to her. That track is also a perfect showcase for the classic Jimmie Lee growling vocals and the spurs jangling from his boots as the only percussion. The album ends with a covers of a non-blues favorite with "What a Wonderful World".
Philip Van Vleck in Blues Access, Fall 2001 said "Anyone who spends some time with this album will be pleased with the texture of the music. Robinson has a mellow, expressive voice which is eminently suited to his task. The arrangements are tasty and uncluttered. Robinson, Lane and Madison Slim put some serious feeling into these tunes, keeping the vibe lean and simple but hardly simplistic. Every track, from his originals to Muddy's "Forty Days and Forty Nights," Dixon's "Too Late," and Jimmy Rogers' "Ludella," is imbued with a warmth and sentiment that makes All My Life a special experience for the listener. Maxwell Street may have been reduced to brick dust and splinters, but it lives on in the acoustic blues ethic that rules this album."
John Barnie in Juke Blues, Issue No. 51 said "Robinson has a mellow but strong voice that belies his 70 years; his guitar melds with Lane's perfectly, and Madison Slim's harmonica playing is muted to act as a foil to Robinson's vocal delivery. Born in 1931, Jimmie Lee Robinson was old enough to have played with many of the giants of the post-war Chicago blues scene. All My Life is his tribute to them and to the down home roots of their music."
Jimmie Lee Robinson was born April 30, 1931 and passed away on the 6th of July 2002 in Chicago at age 71. His life journey and experience earned him the nickname The Lonely Traveler. The liner notes go into great detail on his life, not only his music but personal sacrifices he has made in the name of keeping blues alive and preserving its history. Another enjoyable APO album from the first to last moment in state-of-the-art highly enjoyable sonics.
The Campbell Brothers, Beyond The 4 Walls
"Hell No! Heaven Yes!," "It's Alright Now," "Mama's Gone," "Believe I'll Run On," "Lord I Just Want To Thank You," "Nobody's Fault But Mine," "When All Of God's Children Get Together," "Joy, Make A Joyful Noise," "I Ain't Going To Cry No More," "God Can We Talk For A Minute?," "Heaven, The Lord Will Make A Way Somehow"
Mastered by Kevin Gray
Live to 2-track recording at Blue Heaven Studios in Salina, Kansas. APO Records XAPO2025D64
Physical Formats: 45rpm LP and CD, Downloads: DSD64 (2.8MHz), ALAC and FLAC (176kHz, 88kHz and 44.1kHz/24-bit)
Quote from Living Blues magazine: "The Campbells are northerners but their sound is rich in southern roots. Modal harmonies; rhythmics that layer, circle and intertwine in patterns that hark back to African ring shouts; full-bodied singing that segues between solo verses and spirit-infused group response. Whether or not one chooses to believe the literal truth of all the songs' lyrics, the music itself is both healing and sanctifying—just as it does in church, it calls the Spirit down upon us and we emerge both cleansed and inspired."
The Campbell Brothers African-American gospel music, with electric steel guitar and vocals, is at the heart of the music tradition of the House of God church. Rochester, New York, is their home, but Sacred Steel has had devotees in Florida, Detroit, Nashville, and elsewhere since the 1930s. Within the church the brothers have long been considered masters. Chuck on pedal steel, Phil on guitar, and Darick on lap steel. To their growing audience, they inspire awe as their songs slowly expand from guitar licks that speak in soft voices, to the likes of a powerful train engine, and raucous thunderclaps of notes.
National Public Radio wrote of The Campbell Brothers that Sacred Steel is "every bit as earth-shattering as (Robert) Johnson's music was in the '30s. It's a soul-stirring blend of gospel and the power and volume of electric blues and rock, a sound as hot as brimstone that kicks holy butt. It's also shredding perceptions of country's signature instrument and the limitations of church music."
There are lots of great inspiring songs on this album; my favorites are "Mama's Gone" a soulful beautiful blues number with lovely sounding wah-wah guitar, and "Nobody's Fault But Mine" a great instrument and more wah-wah guitar coupled with great guitar pickin'. This is an unbridled musical celebration, uplifting souls and inspiring hope among those who arguably need it most, those who exist Beyond The 4 Walls.
And as you may have already guessed by now, wonderful realistic sonics and great blues, but this time with a spiritual flavor. In time I may just have to acquire most of the APO catalog of downloads, they are highly addictive in good way.
http://store.acousticsounds.com/superhirez
Annual Blue Heaven Blues Festival DSD Download News
Chad Kassem hosts an annual blues festival in Salina, Kansas each year with legends from the blues world. It has been reported at Rocky Mountain Audio Fest (RMAF) that there are over 10 years of these concerts recorded in DSD stereo and surround sound by Gus Skinas at the Super Audio Center in Boulder, Colorado. Recordings from this series should be added to the Super Hi Rez downloads site later this year in both DSD stereo and DSD surround sound.