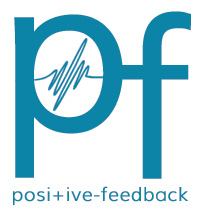 You are reading the older HTML site
Positive Feedback ISSUE 70
november/december 2013
The Future Is Here-Audio Still Rules
by Karl Lozier
Blu-ray recordings may be video, audio or most commonly video plus audio. If the video is a distraction turn it off though I would suggest watching the video at least once; at times it can be interesting or entertaining. Naxos is again following up with more high definition (Blu-ray) audio only releases. For many listeners that will be a distinct improvement in audio quality if the HDMI digital output signal is used instead of the analog. That one cable carries everything including stereo or multi-channel audio in addition to the very high quality Blu-ray video signal. Greater clarity and a smoother treble will be noticed with many if not most home audio systems. So far this seems to be consistently true. Easier connection needing only one cable is appreciated by all. Sometimes new-fangled things are even easier to use while offering better quality, at least in the audio musical field.
An easy way to get into the beauty and audio and video qualities of Blu-ray releases is by getting a truly good player (a good start is important with many things in this old world). In this issue I will continue to use the moderately priced Oppo BDP-95 player for all the Blu-ray reviews, an over performing universal player; other players may be used for SACD recordings. Next item needed would be a very decent AV receiver such as by Onkyo, Integra, Denon and others that have multiple HDMI cable inputs and good digital or digital to analog connections and jump right in. Your newer television sets will have the correct and simple HDMI connections for simplified setup. The AV receiver will let you add surround sound easily. Remember that quality is more important than quantity in the long run. If possible, try to get an AV receiver that has an official manufacturers' list price of $1200 or even a bit more, particularly if you like to listen at fairly loud levels at times and with multichannel connected. If you like "an in the theater" atmosphere or feeling, multichannel will be necessary now or later. In Issue 60, I went into some detail about why I have now chosen the Nola loudspeakers, namely the Boxers (for right and left front channels) and the specifically designed Announcer model for the very important center channel to use for the all important front trio in these and continuing reviews. Yes, you may have heard that all three would ideally be the same. That is not necessarily true; here both models are, the same, in that each uses the same drivers/cones in a different designed cabinet for an even slightly better sounding center channel. As many have found out, center channels can be of extreme importance to many listeners; that is where singers live as do news reporters. In this very competitive price range, models are offered by Paradigm, PSB, Definitive Technology and others. As before, a right and left pair of Nola Thunder Bolt II subwoofers complement the front channels for even deeper and more palpable bass range desired by some listeners.
Notice the generally favorable brief revues I write each issue? There are logical reasons for that to happen. Changes such as digital and HDMI connections have made pretty darn good audio to be easier for the manufacturers to give us and easier for us to put to use. Same is true for the video portion that we pretty well take for granted here. As you purchase and use some of my suggested performances you may notice that relatively unknown sources and performers are often doing a superb job and why not! Unlike many of the big professional outfits and famous performers they can and possibly do practice for many months on end, repeating the same music or performances. That can be the way for an individual, or group, chorus or orchestra to be discovered by being on these well done Blu-ray recordings! Pay attention, watch and listen to the possible stars of the near future in the comfort of your own listening and viewing room.
Pytor Ilyich Tchaikovsky. The Nutcracker and the Mouse King. Performers: Dutch National Ballet. Orchestra: Holland Symfonia. Conductor: Ermanno Floria. Art Haus Musik Blu-ray 108 0877
What we have here is not magic though the word great comes to mind often, in fact very often. This composition is one of the most popular ever written and performed. The popular ballet seems to be performed almost everywhere during the Holiday season. Seemingly the ages of the individuals in the audience matters not; they simply enjoy seeing and hearing what they are used to. Many are mainly listeners and over the years they have found favorites in the orchestra and conducting worlds. Examples include Arthur Fiedler with The Boston Pops who manages to take melodic and danceable music and make it even more melodic or seemingly even more danceable if that is possible. What may be even more likely is the great arranger, Leroy Anderson's helping hand much of the time. For simply even more subtle beauty the beloved Pierre Monteux with his famous vest pocket slight baton motions keeps all on a thoughtful steady pace as typical of many conductors or bold concert conducting as per Fritz Reiner's rather late entry in the Nutcracker field with famous Red Seal shaded dog recording and most will remember Dorati's effort forever perhaps.
Perhaps this beautiful almost faultless blu-ray recording can almost be everything to everybody. That is tough though seemingly doable. Give it a try and see if after the third listening session it can do it to your needs and let you live happily with the gorgeous recorded session. You will find the Mouse king to play a bigger part than usual and there to be little emphasis on the breaking of the Nutcracker gift and less emphasis on visuals that are for the youngest viewers. The ballet passages tend to be huge and done to near perfection. The large younger groups are not as young as might be expected.
My highest recommendation is easily earned here including for audio quality and performance.
Wolfgang Amadeus Mozart. Requiem Mass in D Minor. Orchestra: Lucerne Festival. Conductor: Claudio Abbato. ACcentus Blu-ray 10258
This highly regarded masterpiece was featured in the famous film (about Mozart) of two years ago, Amadeus. Surprisingly or not, it seems to have affected many people in a positive way. Reports are heard about its continuing popularity, regularly. It is definitely serious, very serious music. It features four vocal soloists and large choirs. The famous annual Lucerne Festival seems to be a logical choice for this outstanding and unique performance. If a different atmosphere would be preferred I would recommend trying masses by Beethoven, Brahms, Verdi, or Maure.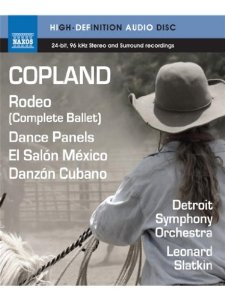 Aaron Copland. Rodeo (Complete Ballet). Dance Panels. EL' Salon Mexico. Danzon Cubano Orchestra: Detroit Symphony. Conductor: Leonard Slatkin. Naxos NBD0037 – High Definition Audio only Blu-ray
Copland wrote three great and outstanding ballets that have become classics. He also wrote three others which are rarely heard and one of those is on this recording, Dance Panels. The overall effect is amazingly similar to what old time audio files and music lovers were used to with Mercury recordings from the Golden Age of recordings of the Detroit Symphony of many years ago. Yes, Slatkin has seemingly done an outstandingly good job of imitating what the Detroit Symphony under the direction of Paul Paray regularly accomplished years ago during the Golden Age of recording. The audio quality is outstandingly good, and well-played with great power.