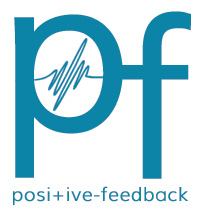 You are reading the older HTML site
Positive Feedback ISSUE 70
november/december 2013
Clones Audio - the 25i Integrated Amplifier
by Wojciech Pacuła. Photos Wojciech Pacuła Clones Audio (A and B), Translation Andrzej Dziadowiec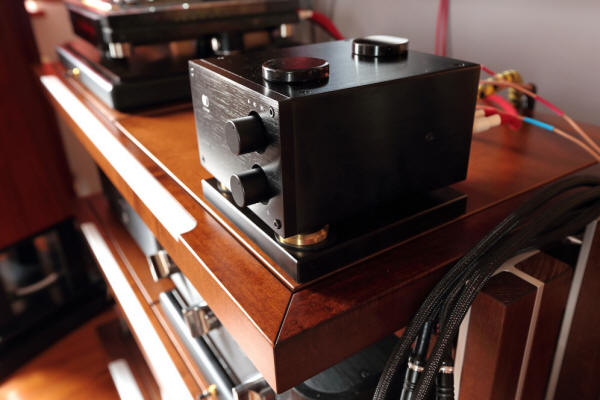 It is our human propensity to measure everything by our own yardstick. Anything that cannot be grasped we deem "too big/fast/high/deep" and are not even bothered to imagine it. That is how evolution has shaped us. We also deal with a kind of conditioning in audio: we assume that the bigger something is, the better it is. It has a solid basis in experience. The larger the woofer, the lower the bass extension and the easier to move air in the room. The bigger the power supply (and thus the component), the better the amplifier transient response and bass control.
However, you can look at it differently, from the outside. For the people "from the outside world", the equipment we use to listen to music is TOO large. Not from a cosmic, objective point of view, but by comparison with what they have become used to, that is, with mini and micro HiFi, portable systems designed to work with iPods/iPads, and small kitchen radios. From this point of view, anything larger than a shoebox is ridiculously oversized. However, if you ever listened to a system that brought you to your knees, or if you own such a system, it is clear that there is no escape from some things and in the high-end 'bigger' does mean 'better'.
The situation will change if we limit our expectations. Take bass response, for instance. If we assume that the midrange is most important and dismiss out of hand that the bass is essential for its rendering then the ideal choice, maybe for life, will be products from the Japanese manufacturer 47labs. Provided we can afford them, of course. If not, there are some alternatives available, among which the most popular is to make an amplifier by ourselves (amplifier is the easiest part of an audio system to copy) using an available cool design or to buy a DIY kit from a company that moved DIY to the next level. Like CLONES audio (the original spelling of the name) from Hong Kong, owned by Mr. Funjoe.
A few simple words…
Funjoe | Clones Audio | owner
"CLONES audio is a one-person manufacturer. My goal is producing affordable audio components that will make it easy to enjoy music.
This project (the 25i amplifier) began at my father's request. He wanted to have a simple yet great sounding audio system. He used to be an audiophile but got sidetracked for few years. One day he visited me to listen to my 47labs system. He thought it sounded great and was simple at the same time. He really wanted to have a similar system. Something small and simple yet offering great performance.
That was when I decided to build my own gainclone for him. I put much effort into chassis design to improve and tune up performance. The unit was supposed to be tiny and minimalistic.
Once completed, I gave it to my father and he thought it was great and said it would be good to share it with others. I decided to make a few further units and sell them. Each amplifier is hand made by me to maintain the highest possible quality. I would like to sell it at affordable price to help people make the first step on their journey to the audio world in a good style.
I started CLONES audio on 121212 (December 12th, 2012) and my son was born 5 days later. It is my dream to have my own product and to show my son that it's possible for dreams to come true. In order to concentrate on the development and management of CLONES, I quit my full time job (I was a Graphic Designer) and since July has fully devoted to this business.
God Bless You!
It was no coincidence that 47labs made it appearance earlier on as Mr. Funjoe is a staunch fan of this brand. When he was asked to do something for his father, he chose a project that had been known for years and circulated on the Internet in many versions: a DIY version of the Gaincard amplifier (more information in the review published by 6moons.com in January 2013, see HERE). However, as an esthete, he designed for it a great enclosure, made of anodized aluminum plates. It's very rare, something that distinguishes DIY from professional manufacturers. Even among the latter such solid and good-looking finish is quite rare.
The 25i amplifier under review carries in its name its maximum power output (25 watts per channel) and type ('i' for 'integrated'). It is small and its dimensions bring to mind the Zodiac Gold D/A converter from Antelope Audio (see HERE). Thus, it is larger, or actually taller, than the original Gaincard. The internal design is very similar, though. The electronic circuit is mounted on two tiny PCBs soldered directly to the pins of LM3875 integrated audio power amplifier, the heart of both devices, one from Japan and one from Hong Kong.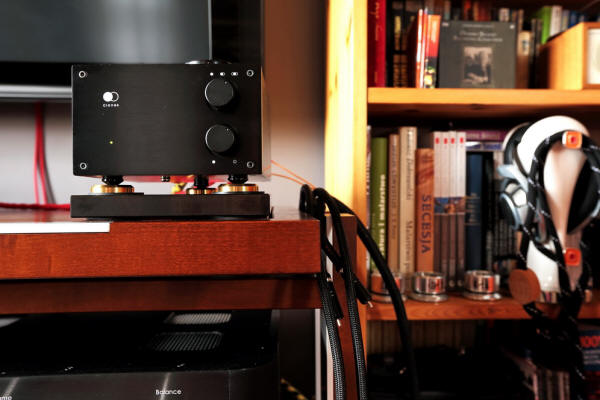 SOUND
Albums auditioned during this review
• Coleman Hawkins, The Hawk Flies High, Riverside/Mobile Fidelity UDSACD 2030, SACD/CD (1957/2006).
• Depeche Mode, Should Be Higher, Columbia Records 758322, SP CD (2013).
• Diorama, Child Of Entertainment, Accession Records, A 119, SP CD (2010).
• Dire Straits, Dire Straits, Vertigo/Universal Music LLC (Japan) UICY-40008, Platinum SHM-CD (1978/2013).
• Judy Garland, The Very Best of Judy Garland. The Capitol Recordings, Capitol/EMI 3792202, 3 x CD (1955-1965/2007).
• Nat "King" Cole, Welcome to the Club, Columbia/Audio Fidelity AFZ 153, SACD/CD (1959/2013).
• Niemen, Katharsis, Polskie Nagrania Muza/Polskie Radio PRCD 339, "Niemen od początku, nr 9", CD (1976/2003).
• Tangerine Dream, Electronic Meditation, Cherry Red Records/Belle, 121941, SHM-CD + CD (1970/2012).
• The Beatles, The Beatles [The White Album], Apple/EMI Music Japan TOCP-51119-20, "EMI 100", 2 x CD (1968/2000).
Enthusiasts are the salt of the earth, THIS earth, so to speak. Both those who listen to music, collect recordings and try to reproduce them in the best possible way, and those who create audio components that make all of the former possible. A conjunction of both sides of the equation makes the stars start shine brighter and the air fresher than ever before. How do you recognize an enthusiast who is both a music lover and an audiophile? The first place to look is the collection of recordings. Some time ago I would say 'records', but with the growing popularity of computer systems of music reproduction, more and more collected recordings have the form of audio files rather than physical media. At the top of such music collection should be the best possible productions of the most important and/or favorite records. It is only natural that someone like that should have several releases, better and worse, and that the list is still open. This type of person is open to what the technology brings and what other enthusiasts come up with. How do you recognize an enthusiast-manufacturer? By the sound.
The 25i, despite its unimpressive size, the short name and the low price, offers the kind of sound that could be envied by many large recognized companies. The latter, in pursuit of the highest power output, functionality and versatility, lose sound tangibility, or so called "flow" i.e. fluidity and naturalness or even dynamics and momentum. Paradoxically, the higher the power output of amplifiers from the basic price range, say up to $3000, the flatter and smaller their sound. Not all of them, of course, but one has to look really hard to find those that don't lose what the 25i presents from the very start.
This is an amplifier with an incredibly big and natural sound. A slightly warmer upper midrange and treble cause the recordings to sound "friendly". Their problems are manifested in a pretty way, although the Clones Audio seems to "select" their pros, neglecting the cons. Its differentiation is superb for the price; there is no muddle-the-differences. They are presented here in a non-offensive way. When the vocals are compressed, when the mike was very, very close, the upper midrange is a bit hardened. The whole range below does not sound harsh, which is characteristic of bigger components whose designers tried hard to be "accurate". That is why the vocals, despite their source, are big and saturated.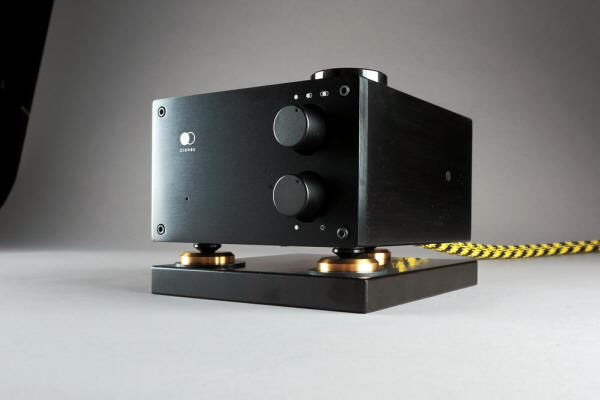 But they are not presented in a uniform sort of way. Judy Garland from the box The Capitol Recordings 1955-1965 recorded in a slightly distant way with a reverb, was presented in exactly the same way. There was no enlargement nor did the amplifier pretend her vocal was velvety and intimate. That was the case with the electronic instruments, though, on Tangerine Dream's Electronic Meditation and Niemen's Katharsis. Both complemented each other wonderfully due to energy from the lower midrange and upper bass that was grasped by the 25i and boosted. That was raw, dense sound "with cojones". A little warm and round but at the same time with great dynamics and great differentiation, both of tonality and music planes.
When the vocals or instruments, like on Beatles The White Album and Coleman Hawking's The Hawk Flies High, are near and saturated and not too much (if at all) compressed they have big volume and are presented quite close to us, taking lots of space between the speakers.
Mr. Funjoe's amplifier creates a world that is an improvement over the reality. But it does not go too far in sweetening the reality and even then it does it with honey, not sugar. The difference between using sugar and honey should be obvious—while both methods are used to improve sweetness, one way is healthy the other not. One way is delicate and subtle; the other is forcing it.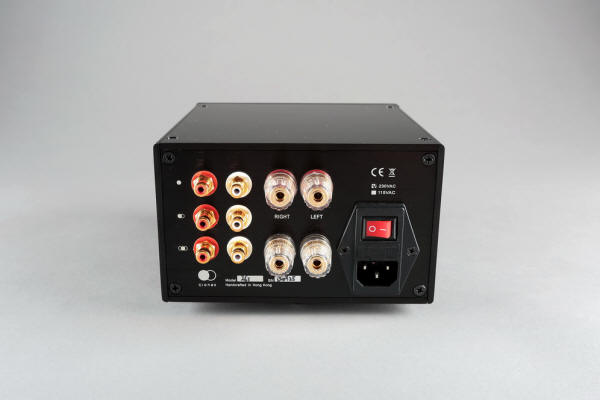 The difference is perfectly clear in the reviewed amplifier's sound. I think the sound is warm. But it's the kind of warmth we not only accept, which is normal, but actually applaud. It is the kind of sound the NAD designers of the 3020, 302, 312 and similar were striving to create, but to no avail. They came up with more versatile amplifiers that were overload-proof and capable of driving all sorts of speakers in spacious rooms. This is a very good feature and it must be said that NAD is quite exceptional in crafting the best equipment for reasonable money. Let us not be deceived, though—tiny manufacturers run by audio enthusiasts whose profit margin on a given product is much lower than that of big companies, which have to pay for laboratories, promotion, retail network and to split the money with dealers, have much easier life. Don't get me wrong—this is a perfectly normal and healthy situation. Without the "big ones", the audio market would not exist or would be a smaller niche in the world than Zen archery in Poland (I hope I am not offending anyone here). The in and out of warranty support is very important and great many people prefer to have a local service. The only thing is that when we agree to the limitations of direct selling, we receive a product that sounds far better that equally priced "blockbuster" from audio salon shelves. Products from Clones and the likes change nothing in the business and sales hierarchy, and are not a threat to anybody. Those few who decide to go for them will be awarded with an exceptional sound, manufacturer's personal touch and the satisfaction of owning something unique.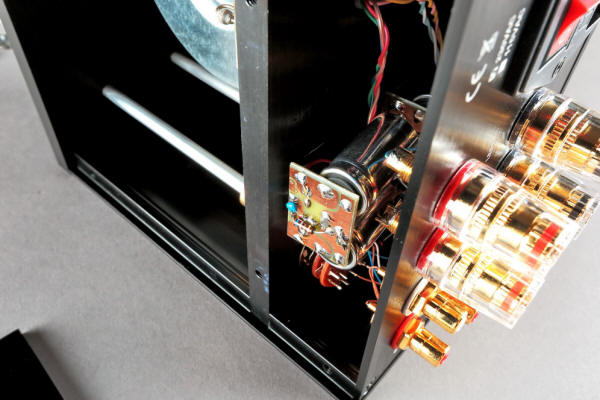 Conclusion
Talking about the 25i sound is as enjoyable as listening to it. I consider myself to be a music and audio enthusiast and when I hear something like that I know I am dealing with somebody like me. The sound is unassuming, big, saturated, exceptionally smooth and even. The only problem could be using big speakers with a strong bass. Maybe not so much a "problem" as the need to get used to a not quite precise mid-bass definition, especially on the albums that expose that range. Tracks from Panik Manifesto by the German group Diary of Dreams, which is described as playing dark wave or post gothic, sounded pretty with forward momentum, devoid of harsh upper midrange. The only thing was that the bass control was not as good as in other amplifiers from that price range. While you can live with that, a better solution is to pair the 25i with smaller speakers that do not handle bass as well as the Harbeth M40.1, which were used for the review. The amplifier from Hong Kong is so interesting that I will try to prepare a review of a system that should be a wet-dream-come-true of a music lover-audiophile-enthusiast. Something similar to another system, also with a small amplifier, whose review you can see HERE.
The 25i will perform best in a small to medium room. Its power output is not that small, but it works better when not under duress. Then it shows the soundstage depth I am yet to hear for that kind of money. Even in mono recordings. It does not have as strong attack and dynamics reserve as the Lym Audio LYM 1.0T Phono amplifier from the system mentioned above, but this is a tradeoff. A beautiful device—I am talking both about the "soul", i.e. the way it "thinks" about music, and the way it looks on the shelf, especially with the generous help of "accessories".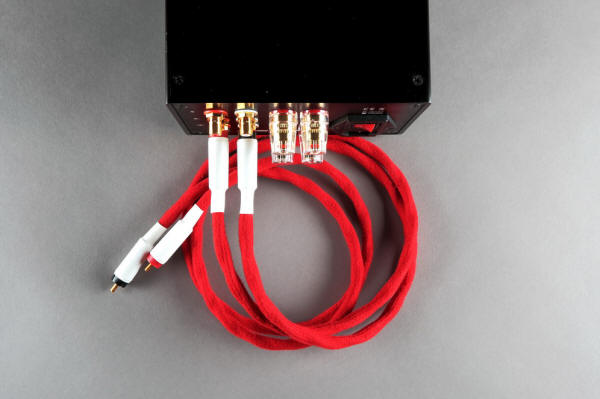 The 25i amplifier and Elijah Audio Katoen interconnects receive the RED Fingerprint Award. Since it earlier received an award from 6moons.com audio magazine, it also receives a joint 6moons.com and "High Fidelity" BLUE Fingerprint Award. This is only the second award of this kind.
TESTING METHODOLOGY
I have mentioned accessories. The 25i can very well work on its own, without any props, but it has so much potential that any change of the accompanying components brings about sonic changes. For this review I used a few products that always perform well and a new one—Elijah Audio interconnects. It cannot be a coincidence that the 25i was a perfect match with a Hickory board, sent to me by Mr. Ken Ishiguro together with the RR-777 Schumann generator. The board's size perfectly matched the 25i. So I put the amplifier on it. The amplifier has three metal spikes in the bottom, not too pointed to scratch the surface, but making the device not stick to the ground, so even a gentle push is enough to move it. That is something I do not like. Under the spikes I put the Acoustic Revive SPU4 brass spike receptacles with the CP-4 rubber discs underneath. I put two RIQ-5010 quartzes on top of the amplifier. Even if you don't believe it works (I encourage you to experiment if you don't!), the amp looks much better in such company and sits firmly in place. I used the Harmonix X-DC350M2R Improved-Version power cords. Testing had the character of an A/B comparison, with the A and B known. I used music samples with the length of 2 minutes, and then listened to entire albums. The speakers employed were the powerful Harbeth M40.1 and the small Castle Richmond Anniversary.
MICRO-TEST
Elijah Audio | Katoen Interconnects
Hello Wojciech,
I am writing to ask if you may be interested in reviewing my new Katoen Interconnects.
I am based in Adelaide, South Australia and started in reverse, as it were—starting with USB cables , now offering IC's. My USB cables have been awarded and well reviewed and I believe the Katoens will receive similar positive comments.
I have been making various cables for myself for approx. 8 years. Elijah Audio started 18 months ago when a fellow JPlay forum member asked me to make him a USB cable after I had posted about using my own homemade USB cables. Those first few cables were built using Generic hook up wire, then I got hold of some Audience Cryo wire and could immediately hear a large improvement in the Sound Quality.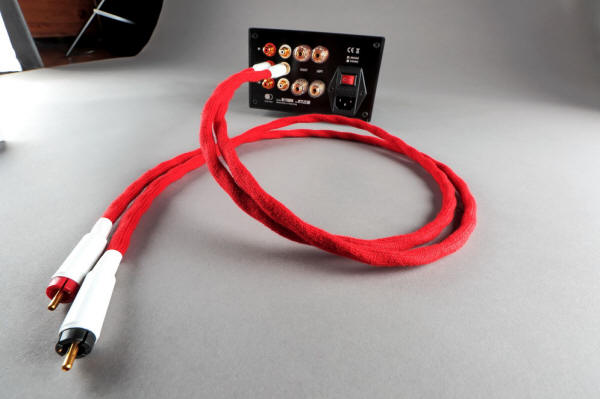 The first cable I made commercially available was the ISOLATE Cu (USB cable without the 5V, just DATA and GND) in very short 10cm lengths. Next came the ISOLAATE BL—my Dual conduit cable with separate Data and Battery leads. Then the BPM, originally conceived to use with a USB Flash drive holding your favourite music—only after building a couple did I realise the BPM could also be used to power the Hiface 1 (and now also Hiface 2 and the new Hiface DAC, etc.). And lastly, the Quad Braid USB cable, for those whose particular setup's are not compatible with either the ISOLATE or ISOLAATE BL.
I have been using Peter Belt products in my own setup for about 5 years and heard very positive, if unexplainable, benefits to the Sound Quality in my listening room—particularly a much more relaxed, natural sound. When I started building Elijah cables, I decided that I would use some of Peter's products and techniques when constructing the cables. My cables are DIY based, and all are designed using trial and error and continuous listening tests—no measurements—just "how does this variation sound compared with the last version".
As I use no shielding in my cables, I keep the available lengths as short as possible and believe that this is a good rule of thumb for all cables—as short as possible and no shorter.
I chose to use Eichmann Bullett plugs for the Katoen IC's, as having used them before in my personal cables, I liked their sound and minimal design (perhaps a bit of Patriotism as well, being an Aussie company). I plan to introduce Katoen style Speaker cable in the near future and trial some new ideas I have for improvements for my USB cables—experimenting with some different shielding methods, twist geometries, etc.
I make no claims, outrageous or otherwise about my cables—preferring to let their performance do the talking—I do however believe they are well built, fairly priced alternatives that do offer a unique sound quality—which is why I offer a 60 day Satisfaction Guarantee return policy on all my cables.
Using natural materials to build audio cables has a long tradition that was started, if I remember correctly, by manufacturers from Japan. Very quickly, its advantages were adopted by other manufacturers, mostly tiny micro-businesses. For example, Entreq from Norwey. Such production is not easy, because it takes a lot of time and can hardly be carried out by machines, hence large companies are not able to do it.
But the sound of such prepared interconnects, as in this case, is hard to be mistaken for anything else. It is smooth, full and dense. The Katoen are not perfect cables; far from it. For similar money we can get, if we're lucky, a more resolved and better balanced sound. But it will also be brighter, sharper and not so saturated. The Australian interconnects sound so dense and natural that any transfer irregularities did not bother me in my auditions. Paired with the Clones Audio 25i, they were outstanding.
Now, their few drawbacks: the upper midrange is withdrawn, which makes the sound darker. But it also seems to make the upper treble more powerful—there is no "anchor" in the region of vocal sibilants. The upper bass is stronger, too. That actually adds more drama and dynamics to the presentation. Bass drum kicks or the electronic instruments on Niemen's Catharsis and Diary of Dreams Panik Manifesto were really great, properly accented and highly energetic. Beautifully laid cables with character, for those who appreciate naturalness and smoothness.
Price: 220 USD/1 meter
DESIGN
DIY components have this in common that they either look bad or tragic. Preparing a sensibly finished enclosure is beyond their designers' capabilities, usually financial. Otherwise they would not be doing DIY… The 25i, although originating directly from this environment, is built after the Gaincard amplifier from 47labs, and looks no worse than the Japanese original.
The enclosure is made of very carefully matched aluminum plates. The front panel sports two small knobs, a volume control and active input selector (there are three inputs). Srajan Ebaen wrote in his review that was missing a separate line output for the subwoofer. Its absence is understandable—the signal from the inputs goes directly to the potentiometer and there would have to be an active buffer afterwards. In turn, I was missing an unregulated output for the headphone amplifier. But it's a similar story as above. A green mini-LED indicates that the unit is turned on. The rear panel features two pairs of gold Chinese speaker terminals that can be found in the vast majority of mid-priced audio equipment. The CMC-816U RCA connectors are much better, though. They are made by the American company CMC (Charming Music Conductor). Mains socket has a companion power off switch. There is no standby mode. The amplifier rests on three aluminum cones without receptacles.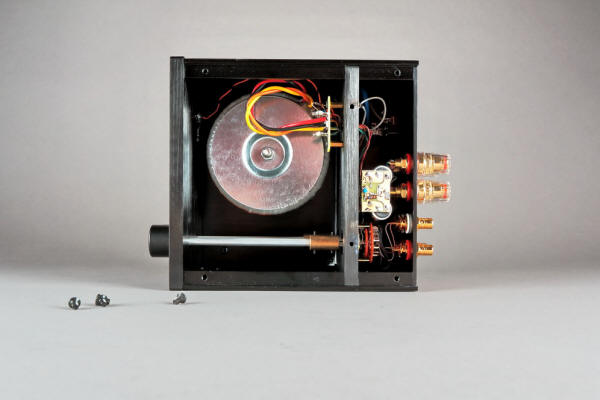 The electronic circuit is based on two LM3875 integrated audio power amplifiers. The signal path is ultra-short, because the tiny PCBs are soldered directly to ICs' pins. These are mounted to a thick aluminum plate dividing the interior into two parts. One houses the electronics, and the other houses power supply—a large toroidal transformer and a rectifier bridge on Schottky diodes. The input selector and potentiometer, both from Alps, are mounted at the back, in the electronics section. They are operated from the front panel via long shafts. Nice work.
Technical specification
Output Power: 25W +25W (8Ω)
Input Impedance: 22k (RCA, 3 line inputs)
Gain: 30dB
Signal-to-Noise: <95dB (min.)
Dimensions: 170 (w) x 100 (h) x 170 (d) mm
Weight: 4.2kg
Warranty: 5 years
CLONES
www.clonesaudio.com
Price: $879 USD
Funjoe
clonesaudio@gmail.com
www.facebook.com/clonesaudio
Country of origin: Hong Kong