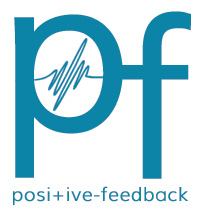 You are reading the older HTML site
Positive Feedback ISSUE 70
november/december 2013
Sally Ramirez & Doug Robinson are Crimson Latin Jazz
by A. Colin Flood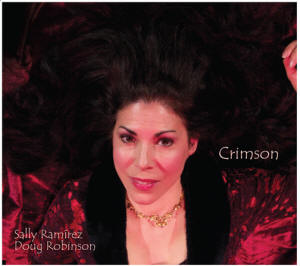 My college friend has almond eyes in a head of flowing Puerto Rican black ink and a siren's song that made sailors jump over-board. Back then Ramirez was the talk of the Minnesota campus. Smoldering Caribbean dark on a campus blanketed in white snow, Ramirez made the short list for prettiest girl with my fellow editors at the school newspaper. She and three friends sang a cappella in a quartet. The pinnacle of that initial public foray was a performance on Garrison Keillor's local Prairie Home Companion radio show.
After college with me in St. Paul, Ramirez went to Penn State to study acting, then came back to the Twin Cities a couple of years later. She performed at Mixed Blood Theatre, Illusion Guthrie and Cricket theatres, then moved to NYC where she studied and did commercial work including some modeling, and stage work. She went back to the Twin Cities (Minnesota) for more stage work then moved to LA where she got into developing a jazz repertoire interest that was sparked during her tour (in the 90s) in the Twin Cities.
"I'm glad that I've been afforded the opportunity to talk about things that feed me as an artist and a human being," she Skyped me recently, "I enjoyed my L.A. experience while I was there and got a healthy taste of the medium."
Then she got married to a magician, had a baby, and has been doing more of the jazz scene since. "It's been a little easier to juggle, being a mom with touring husband, but I still love acting and do it when I can."
Actress and singer Sally Ramirez, with guitarist Doug Robinson, are on a multicultural journey through Latin American music. Their Crimson album swaps between English, Spanish and Portuguese songs. The CD features music by Antonio Carlo Jobim, Rafael Hernandez, Antonio Caban Vale, Meredith Wilson, and others. Interspersed throughout the renditions are only three English compositions: "It Might as Well Be Spring" "Summer Samba" and "Caravan."
Ramirez says her influences in jazz have been eclectic: Ella Fitzgerald, Sinatra, Sarah Vaughan, Milton Nascimento, Laurindo Almeida, Joa and Astrid Gilberto, Sergio Mendez, Tom Ze, Baden Powell, Rafael Hernandez, Antonio Caban Vale, and of course, Antonio Carlos Jobim. Also Monica Salmaso, she says, "is a lovely Brazilian artist with a real heart for her music."
"I encourage people to listen to the folks I mentioned," She said, "and to artists that tell great stories and move them to do good things in the world. The world is in a real way a small place, and our time and space in it is limited..."
On the CD, the elegance and strength of "Breezes" reminds me of the smooth vocal control of Amanda McBroom. The Indian lyrics of "Matica" showed off Ramirez's powerful church size pipes and range. Ramirez is NOT wildly eclectic like Patricia Barber, though she is as strong as her and my beloved Cassandra Wilson* (see EnjoyTheMusic.com article).
I am an honest man

From where the palm tree grows

And before dying I want

Pouring my soul verses
Ramirez says one of her favorite songs on the CD is their arrangements of "Guantanamera" and "Menina Amanha de Manha." Another of her favorites is "Caravan." They sing that song a lot in all the bands Ramirez sings in: "it's exciting and rhythmic, and people love it."
Know that somatic dreamland bliss that truly great performances and home theater music and movie reproduction systems induce? One of my first trips to audio Nirvana came at the hands of this Puerto Rican angel. I am an honest man, and before dying, I want more of Ramirez and her incredible voice pouring out soul verses. If you like strong and sultry female vocalists, like Barber, Wilson, and K.D. Lang* and smooth Latin jazz, you will like this album.
Her next CD is due in six to 12 months.