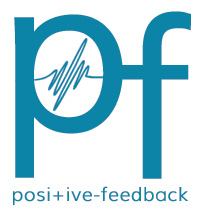 You are reading the older HTML site
Positive Feedback ISSUE 70
november/december 2013
Glasser, Interiors
by Michael Mercer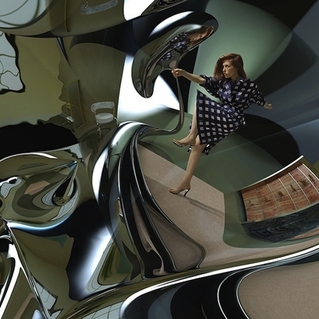 Interiors is a brilliant title for this LP. It sparks contemporary imagery. It doesn't matter if you picture a modern bathroom with bowl-sinks when you see those words, or a new amplifier: The title gives you an imaginative anchor. The artwork is also complimentary: The image of a girl de-robbing, seemingly in a bathroom (thus the thought of bowl sinks, hey, I had to pull that from somewhere) twisted and garbled into a layering of circular patterns and abstraction. The visual of the cover art correlates beautifully with the sound of the record. Female vocals weave in and out of symphonic layers of floating synths and twirling basslines. It's a dimensional audible experience, lending itself slightly to the dark side. There's also lots of space in this record. It's also sonically reminiscent of Niki & The Dove.
"Shape" introduces vocalist Cameron Mesirow in a wash of wavy bass, heavy kick-drums, and ethereal vocal samples filling the soundstage. She sounds a bit like Bjork at times when her vocals soar, when she lets herself go a little bit, allowing her emotion to bring her slightly off-key. There's a familiar tonality to her voice. Now when I say Bjork I'm thinking early Bjork (like Debut). "Design" sounds like Niki and the Dove on valium: Complete with emotively charged vocals, pounding kicks, and swift melodic change-ups. The ride is a velvety one: smooth and dreamy. "Landscape" is also aptly titled. Its sound is expansive and sharp. Every element felt as if it had air all around it: The bass, and other percussive elements snapped with velocity while the voices hovered elegantly. I really enjoy this sort of sound. It's somehow rounded, but sounds free-floating as well. The pitch-shifting and twisting off the bassline seemed textural, it hadn't been lost to compression and the Loudness Wars. The record breaths nicely. Things can sound big without being overly congested. "Keam Theme" gets a little too Euro-trance for my taste. The melody keeps climbing, but the climax is nothing spectacular. That's just a matter of taste, which Interiors has a great deal of.
I think this record may have been recorded for playback on headphones. I've felt that way about a few albums recently: Like Justin Timberlake's The 20/20 Experience. I swear that record's aimed at the headphone generation. I felt that way because of the dynamic impact and openness when using my Grado's, or any of my Audeze planar magnetics. Then, when I played it back on my reference system it lost much of the overall gestalt. Dynamics almost sounded more compressed, and there was a murkiness to the presentation that wasn't present on headphones. Usually, when I jump from my Sonic Satori Personal Audio Lab to my two-channel reference system, it reminds me that nothing beats the actual physicality of in-room playback. But that's been changing lately. It makes sense: As most of the mass-market audience are playing all their music back through headphones! Anyway, back to the record: Interiors is a splendid LP. It's liquidity and spaciousness make for a soothing and fascinating listening experience. Highly recommended!
Side note: I'll be checking in with Bob Ludwig about this very soon here at Positive Feedback, as I hear Frank Filipetti turned him onto Audeze headphones recently, and he reportedly loves 'em! So I'll try to get the scoop on whether he's heard or worked on any records mixed and mastered for headphones. If I were a major label I'd do it. That must sound nuts, but this album really comes to life on a good set of cans!