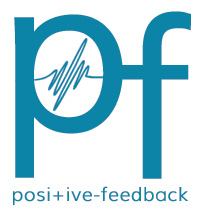 You are reading the older HTML site
Positive Feedback ISSUE 70
november/december 2013
It's the Most Wonderful Time of the Year – or Is It?
by Tom Gibbs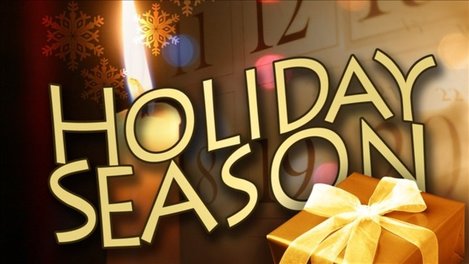 The holiday season arrives again with the usual baggage—depression for some, all the overeating and overindulging, sometimes less than happy family gatherings—you get the picture. Some of us are happy just to have made it through another year, while others are totally miserable for every imaginable reason. Then of course, I get to listen to my wife complain seemingly endlessly about my rather mundane Christmas list, which consists mostly of music items or music downloads, complete in an email with links to the physical product, etc., which should make her shopping as effortless as possible. "BORING!" is her response—I've taken all the joy out of shopping for her. I'm at that point in my life where I should be able to ask for what I really want instead of a pair of socks or a tie, right?
Of course, the real fun starts the day after Thanksgiving, when all the Christmas decorations go up. My wife has this Christmas-on-steroids kind of view of the holiday season—seriously, the sheer quantity of indoor and outdoor decorations that we own and display for about six weeks every year is almost disturbing. It probably would send most normal, rational people screaming! And of course, because we spend so very much time in our downstairs listening room/home theater, she insists that we have to have a tree down there as well, which has been pretty problematic for me over the recent years. Tree placement—historically—has created a total conundrum for me, and reeked absolute havoc with my Magneplanars; it seemed that nowhere in the room could the tree be positioned that didn't almost totally screw up the soundstage or imaging in some way. Over the years, I've pretty much just finally thrown in the towel and accepted that I'll just have to endure six weeks of substandard listening—every year.
The room is a 12.5 foot by 20 foot rectangle, and for the Magneplanars to really sing, they needed to be about 6 feet or so out into the room, and about 2 feet from the side walls. That really limits your seating arrangement options, and makes tree placement next to impossible. And I'm talking a six-and-half foot, full-spread artificial tree—where in God's name do we put it? And to further complicate things, I've developed this kind of reputation among my family (totally undeserving, I do believe) of being this rather hard-skulled, disagreeable kind of character, so in the past—at least with regards to Christmas—I've pretty much always just caved in and gone with the flow to keep the peace, if for no other reason.
We're not gonna take it anymore!
Well, not this year, anyway! Since the Zu Audio Omens showed up last November, I've been continually playing about with their room placement, and have finally achieved what I consider to be optimum performance. I've been getting way too much musical satisfaction and enjoyment to compromise that now. I just recently upgraded to JRiver Media Center 19, and that alone has brought a great improvement in playback fidelity. The latest version has significantly improved upon functions such as memory playback, and the sound is as ungimmicked and transparent as I've yet heard in my system via computer audio. Media Center 19 has been optimized for playback with DSD, also—it will allow you to convert all your PCM files on the fly and play them back as DSD via your DSD-enabled DAC. While I've not yet dipped my toes in the refined waters of DSD, this is pretty exciting news, and over on the Audiostream website Michael Lavorgna just raves about it in his review of the Schitt Audio Loki DSD DAC, which retails for a shockingly low $149! I plan on exploring many of the new features of JRMC 19 and reporting on them here in due time.
I also recently applied the latest set of Benchmark and Sweetwater computer optimizations, which is a necessary step to guaranteeing that my computer stays out of the way of the music and simply transmits a pristine signal to my DAC. Keeping the signal as streamlined and unprocessed as possible is key to achieving peak performance in this brave new world we're in.
I decided early on that I wasn't going to compromise with the tree this year. I basically laid down the gospel to my wife (in the nicest, most politically correct way possible), chucked the old tree, and went out and bought a more compact pencil tree for the basement. After putting a couple hundred LED lights on it, I started playing about with placement options. It took the better part of a day, but I finally figured out that I could place it in the room's front corner, where it sits nicely behind one of the Zu Omens (they're about seven feet from the rear wall). I've been doing some serious listening over the last few day, and it doesn't seem to interfere with the soundstage at all (or anything else, for that matter). And for when the projector screen is down, the tree is completely out of the viewing area, which also makes everyone happy. This is a great relief overall—for now and the future—and it's great to know that all involved parties are satisfied; at one point, I thought the wife might have a serious coronary over this one!
Any last minute gift suggestions?
Box sets seem to be a particularly popular gift item around the holidays; a recent set that many might find of interest is The Clash: Studio Albums on Sony Music. The set collects all five albums that feature the classic Clash lineup, and they've never been presented in more impressive CD-quality sound—guitarist Mick Jones did a remarkable job with the remastering. I rushed out and grabbed this as soon as it was available, and it does not disappoint—the rips I made from the CDs sound so much clearer and uncongested than the previous CD issues. I haven't had the chance to listen to any of the 24/96 downloads that are available on HDTracks, but the new CDs are truly amazing. I only sprang for the $50 box, which only contains the five studio albums, but there are various incarnations available that include disks with bonus tracks as well as remastered LPs. Let your wallet be your guide, but you can't go wrong with any of these Clash sets.
I've also been listening to a lot of 24/192 PCM downloads from both 2L and Channel Classics; their sites are easy to navigate through and they both offer high resolution downloads in a multitude of formats, ranging from CD quality to DSD or even DXD. And a number of those choices include options for either stereo or multichannel versions. From Channel Classics, I've been listening to several really remarkable 24/192 PCM downloads; Shostakovich and Weinberg Chamber Symphonies featuring the Amsterdam Sinfonietta is nothing short of amazing. The Allegretto movement of the Shostakovich Chamber Symphony in C offers some seriously harrowing and yet moving music and is presented in stunningly realistic high-res sound. Equally stunning from Channel Classics is the 24/192 download of violinist Rachel Podger's Guardian Angel, a collection of violin pieces from the likes of Bach, Biber and Tartini, among others, and the violin sound offers a level of realism that's staggeringly good! And Rachel Podger's artistry has never been more prominently displayed.
One of the 2L Music 24/192 downloads that's been in frequent rotation is Ola Gjeilo's Piano Improvisations; it offers perhaps the most stunningly realistic solo piano sound I've yet heard, and the improvisations are incredibly well crafted. These pieces are not just impressively recorded audiophile dreck; the quality of the performances is every bit the match for their breathtaking sound quality. Another is the 24/192 download Quiet Winter Nights, which features a stellar jazz ensemble with female vocals playing a more contemporary take on traditional Norwegian songs, and the results are remarkably good. And even though the lyrics are all in Norwegian, the excellent music transcends all cultural boundaries and is really enjoyable to listen to.
I also decided to take the plunge and downloaded the recent 24/192 offering of Miles Davis' classic Kind of Blue from the new Acoustic Sounds Super HiRez site, and it's also probably the best presentation of this infinitely familiar music I've yet heard. Everything about the recording just sounds so much more organic and realistic—I really feel that Sony has hit a home run with this one, and really look forward to future releases from them. Very highly recommended!
All these download sites offer high-res products, depending on resolution, starting at about $18 for 24/96 and $25 for 24/192 quality. Of course, DSD and Multichannel are more expensive (not to mention, much bigger files). Hey, and they all offer gift certificates, so your audiophile can cherry-pick the titles that interest him the most.
Everyone enjoy the holiday season!
2L Music Download Store
https://shop.klicktrack.com/2l
Channel Classics Download Store
http://www.channelclassics.com/high-resolution-audio-downloads.html
Acoustic Sounds Super HiRez
http://store.acousticsounds.com/superhirez