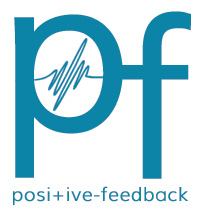 You are reading the older HTML site
Positive Feedback ISSUE 70
november/december 2013
Doug MacLeod's There's A Time 176.4kHz Download
by Teresa Goodwin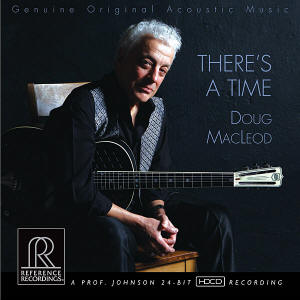 Doug MacLeod, There's A Time
"Rosa Lee," "Black Nights," "The Up Song," "My Inlaws Are Outlaws," "The Entitled Few," "A Ticket Out," "Run With The Devil," "St. Elmo's Rooms and Pool," "I'll Be Walking On," "East Carolina Woman," "The Night of the Devil's Road," "Dubb's Talking Religion Blues," "Ghost"
Doug MacLeod (guitar, vocals) Denny Croy (bass) Jimi Bott (drums)
Recorded: May 23-24, 2012 at Skywalker Sound, Marin County, California
Producers: Doug MacLeod, Janice Mancuso
Recording Engineer: Keith O. Johnson
Recorded by: Sean Royce Martin
Editing: Sean Royce Martin, Janice Mancuso Mastering Engineer: Keith O. Johnson
Executive Producers: Marcia Gordon Martin, Janice Mancuso Guitar Photos: Sean Royce Martin
Reference Recordings - Formats Available:
HRx 176.4kHz/24 bit DVD Data Disc format (HR-130) $45
88kHz/24bit download (AIFF, ALAC, FLAC, WAV) $19.98
176.4kHz/24 bit (AIFF, ALAC, FLAC, WAV) $29.98
HDCD (RR-130HDCD) $16.98
2-LP set, half-speed mastered by Paul Stubblebine, 200-gram vinyl from Quality Record Pressings in deluxe gatefold jacket (RM-2507) $49.98
The version under review is the 176.4kHz/24 bit AIFF download from HDTracks.
Doug MacLeod is one of my favorite blues singers, he has some superlative recordings on AudioQuest Music, now reissued on the Sledgehammer Blues label, see: AudioQuest: "Old is new again, some of the best early SACDs are back in print." His two AudioQuest SACDs, Unmarked Road (AQ1046 SACD) and Whose Truth, Whose Lies? (AQ 1054 SACD) are among my favorite SACDs for both musical enjoyment and sound quality, and this new album from Reference Recordings is even better.
All songs were written by Doug MacLeod. This album was recorded on a huge sound stage at Skywalker Sound in Marin County, California. The three musicians sat in a circle where they could see each other and didn't use headphones. They recorded live with no overdubs.
Doug MacLeod offers personal details for all the songs on this album in the well written program notes. It also includes pictures of all of his guitars, which he has named, and photos of all the musicians. Also the PDF booklet has nice large readable text on my computer screen.
I will paraphrase some of Doug's comments on his songs intermixed with my listening notes. Doug goes into considerably more detail than I have room for in this review, and some of his stories are quite amusing, so don't forget to read the program notes included with the download.
The album starts off with "Rosa Lee." Doug plays this song on the guitar National Reso-Phonic made for him with open D tuning. It's a great start to the album. Next is a slower number, "Black Nights," on which he plays an old Gibson C-100 FE he calls "Little Bit" because each time he plays it, a little bit more falls off. It's in standard tuning with a capo at the third fret. The song speaks of that lonely feeling when you can't understand what's going on with the one you love. "The Up Song" was played on a National El Trovador 12 string and tuned to dropped D.
My favorite song is next "My Inlaws Are Outlaws," the lyrics put a big smile on my face, and I can picture the situations it in my mind's eye. Doug says this is the only song he's written that's not true. "The Entitled Few" was played on his National Style O he calls "Owl." It's in a tuning he calls "too many G's." The song was inspired by a guy who was not handicapped but owned a blue handicapped card so he could find a convenient parking place. I agree completely with this line from the song "When death calls your name there ain't no such thing as the entitled few."
"A Ticket Out" is played on "Moon" in open D tuning with a capo at the second fret. This is a song about realizing you're leaving a love and a friend after you've made the mistake of committing to go. "Run With The Devil" is hauntingly beautiful and soulful. "St. Elmo's Rooms and Pool" is about some nefarious establishments who ripped off sailors on old Granby St. in Norfolk, Virginia. It was played on "Moon" in standard tuning. "I'll Be Walking On" was played on "Moon" in "Bastard G" tuning. "East Carolina Woman" was played on "Moon" in open D tuning.
"The Night of the Devil's Road" is another one of my favorites; it was played on his guitar named "Owl," which he says was tuned to "too many D's." I guess I love "D's" as this song really pulls me in, this has to be one of the best sounding guitars I've ever heard, and some of Doug's best singing, this song is to die for. "Dubb's Talking Religion Blues" was played on "Little Bit" in standard tuning. It was inspired by an actual conversation he had with a rather zealous fellow on a street corner in Des Moines, Iowa. This song is really fun, and makes some good points.
The album ends with "Ghost" played on "Owl" in standard tuning, one step down. Sometimes we let the "dead and gone" that hurt us continue to live in us. Therefore we perpetuate the hurt. Unfinished business that will never be finished business. You've got to let that go. It's not easy, but you've got to lay that burden down, forget where you put it, and walk on.
Doug MacLeod is a singer-songwriter in the American tradition. He's a traveling artist who writes and sings original songs that are based on his own life and experiences, the program notes go into detail about his life travels leading to the blues. He learned from the old masters, lived the music, survived the life, and carries forward a valuable tradition. MacLeod is known for his superb songwriting, guitar wizardry, warm soulful vocals, wit, flair for storytelling, and unforgettable live performances.
Doug MacLeod has consistently earned raves. His songs have been covered by many artists including Albert King, Albert Collins, Joe Louis Walker, and Eva Cassidy. He has co-written songs with Dave Alvin and Coco Montoya. MacLeod's songs have been featured in many TV movies and the hit show In the Heat of the Night. Two of his songs are on Grammy-nominated albums by Albert King and Albert Collins.
There's a Time is a great recording, very realistic "you are there" sonics with a comfortable sound that makes this album a complete joy, from the first wonderful song to the last. Doug MacLeod's voice and guitar have never sounded better, the bass and drum back him up to great effect. This is great blues, great storytelling, great playing in state-of-the-art sonics. Highly recommended.
Links
https://www.hdtracks.com/index.php?file=catalogdetail&valbum_code=HX030911413026
http://store.acousticsounds.com/d/94629/Doug_MacLeod-Theres_a_Time-FLAC_176kHz24bit_Download
http://www.referencerecordings.com/HRx130_DETAIL.asp
http://www.referencerecordings.com/RR-130_DETAIL.asp