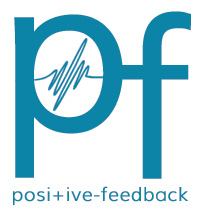 You are reading the older HTML site
Positive Feedback ISSUE 70
november/december 2013
synergistic research
Powercell 10SE MkIII
as reviewed by Robert Youman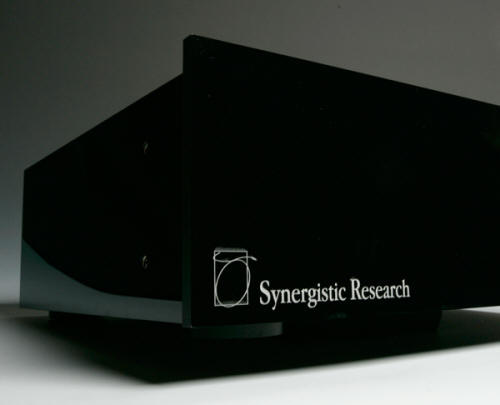 This year I have been very fortunate to review and experience several wonderful new audio products. Many have been very good. Some have been exceptional. A few have transformed my listening room. The latter category includes the Magico Q7 speakers, the Vitus Audio RI-100 Integrated Amplifier and the Synergistic Research Element CTS family of cables. We can now add the Synergistic Research Powercell 10SE MKIII to that category.
Product Overview
The Powercell 10SE MKIII is a non-current limiting power conditioning product that utilizes trickle down technology from the flagship Galileo research and development. Upgrades from the MKII model includes the addition of precious metals at critical points in the circuit, a new ground plane implementation and new outlet designs. The Element Copper/Tungsten power cord ($1800 MSRP value) replaces the Tesla SE. A custom wall outlet is also included. Per the Synergistic Research website, these changes are said "to yield a much lower noise floor and better ambient retrieval."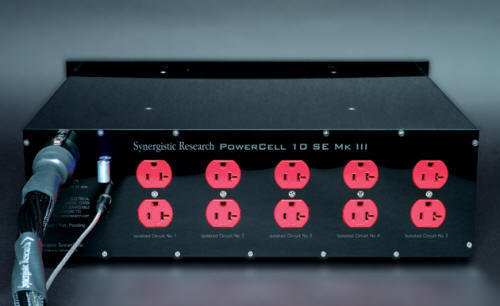 As with the Element CTS cables, a key component is the use of "Active Shielded Air Dielectric" technology which provides a superb job of managing reactive capacitance (signal and cable interaction), radio frequency interference (RFI) and electromagnetic interference (EMI). This feature also includes optional "Enigma Tuning Bullets" which can provide a very effective level of customization depending on your specific listening priorities and your system needs. There are three flavors of Bullets.
Silver - open and airy
Black - warm and rich
Grey - hybrid of the silver and black
Specifications
Construction: SAR Acrylic
Height 5.625″ x Width 17.75″ x Depth 14″
Weight: 19 lbs.
Connector Input: 1 each Neutrik 32 amp PowerCon
US Connectors Output: 10 each Synergistic Research TeslaPlex SE
Euro Connectors Output: 10 each Synergistic Research TeslaPlex Schuko
Input Rating: 32 amp/250v
US Version: Predicated upon the US Outlet rating of 20amp/125v
Euro Version: Predicated upon the Shuko Outlet rating of 16amp/250v
Review System
Magico Q7 Speakers
Vitus Audio RI-100 Integrated Amp (w/Phono Stage)
Playback Designs MPS-5 CD/SACD/DAC
VPI Aries Extended Turntable
VPI 12.6 Memorial Tonearm
Van den Hul Frog Cartridge
Synergistic Research Element CTS Power Cords, Interconnects and Speaker Cable
Magico QPod Footers
Caveat Emptor
System synergy and personal taste are critical when evaluating high-end audio products. This review is based on my subjective requirements, my subjective ears, and my specific system and listening room. These combinations of components are only a few data points of many that exist out there. For further insight into my personal biases, check out the "Meet The Writers" section of Positive Feedback. Please consider my comments and analysis appropriately.
Sound
I have not had good success with power conditioning products in the past. All definitely change the sound in one way or another. For some variables there is improvement. For others, not so much—maybe even a step back. My experience has been that in every case there just seems to be something wrong.
In contrast, the Powercell 10SE MKIII does not impede anything but sorts out all the edge, smear and distortion that I was never even aware of until comparing before and after. It does it in a very natural and holistic way. It does this for everything that I plug into it. I don't like to add boxes to the system. I cannot ignore what this box is doing.
Two dramatic changes that I noticed right off the bat were significant improvement in sound stage and imaging. The new MFSL SACD release of Billy Joel's Songs In The Attic is a stunner. Some may feel that this is just another trashy live greatest hits compilation from the 1980s to complete record contract commitments. Nothing could be further from the truth. This is one of my all time favorite concert recordings - no apologies. After achieving some success with several Top 10 album releases in the late 1970s, Billy Joel felt that his earlier albums and songs never got the exposure and respect that they deserved. He was adamant that live versions would finally do them justice. He was absolutely correct!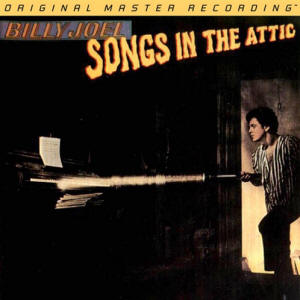 I have several versions on vinyl and CD. There is no comparison—especially when driven through the Powercell 10SE MKIII. When "Say Goodbye To Hollywood" begins with those huge thunderous bass and drum beats, you know immediately that you are now sitting in a large stadium (Milwaukee Arena, Milwaukee WI). The walls shake and you can feel it in from head to toe. You need to fasten your seat belt as you are enveloped in sound ricocheting from beyond the speakers and from all directions. Though this is a two channel system, it almost feels like a home theater type experience.
Now, change tracks to "Everyone Loves You Now", which was recorded in a much smaller night club like environment (The Bayou, Washington DC). You can easily sense the change in venue. Everything is much more intimate and immediate. Even when recorded live in less than ideal conditions for sound quality, Billy Joel is locked in dead center. No longer sounding like AM radio, his voice is clear and textured with plenty of natural inner detail.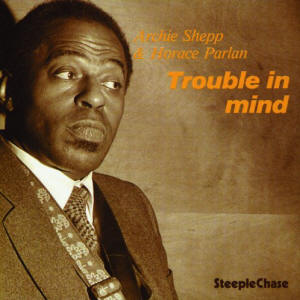 One of my favorite LPs for piano and saxophone is Trouble In Mind by Horace Parlan and Archie Shepp on the Steeplechase label. The following is one of those "I've heard this a million times, but now it's like hearing it for first time" experiences. I remember when I first encountered this recording. It was at one of the last Chicago CES shows at the Chicago Hilton in the 1990s. It was demonstrated through a pair of just introduced Apogee Diva speakers and four bridged Classe DR-9 amplifiers—both still audio classics.
I never heard ribbon speakers or any speakers for that matter perform like that before. I recall that even the most sedate listeners sat up straight and tall with eyes and ears wide open. My buddy gave me an elbow to the ribs that was not necessary. I understood. We were in shock. Horace and Archie were in the room with us. With that memory nailed into my forehead forever, the sound was even more special through the Powercell 10SE MKIII, the Vitus Audio RI-100 integrated amplifier, the Magico Q7 speakers and the Synergistic Research Element CTS cables.
Piano is always a great test of any audio product. In this case, the noise floor is so diminished and the background is so black, that every stroke of the key board, every vibration of the soundboard and metal strings, and virtually every gentle thrust on the pedals comes through with vivid reality. The Italian musical terms piano and forte indicate "soft" and "strong" respectively. Both are now compelling and easily understood on this recording.
Tenor saxophone has so much pin point resolution and clarity that you can really feel connected to the performance. You don't need to see it. This is an instrument that depends on a reedy woody mechanical device to move air. Woodwind techniques like "split tones" and "growling" are clearly demonstrated. The emotion and energy is all laid out before you as the proverbial cloth is lifted off the speakers. The window is clean. Sorry for these outdated metaphors—but they are appropriate here.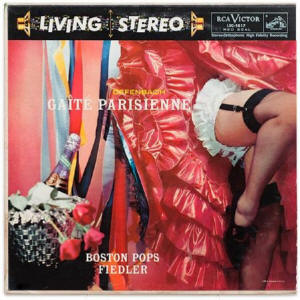 The RCA Living Stereo Offenbach Gaite Parisienne with Arthur Fiedler and the Boston Pops is considered one of the finest recordings of all time. Classic Records did an amazing job reissuing this on 180 gram vinyl from the original master tapes. Mike Hobson and Bernie Grundman really went beyond the call of duty on this one.
I own this recording on several formats—original pressing LP, CD, SACD, and XRCD. Nothing yet comes close to the Classic Records release. The Powercell 10SE MKIII plays a significant role in rolling out a tremendous level of depth and separation. The scope and clarity of the many layers of strings, woodwinds, and brass is astonishing. You can easily imagine the dancers flirting with the audience while entering the stage with legs kicking and skirts flying high! Fielder seems to be having tremendous fun with this reading and performance. It does not get any better.
Final Thoughts
I was hesitant when I was offered the opportunity to review the Powercell 10 SE MKIII. As stated earlier, I have never had much success with Power Conditioners. However, I have been very impressed with what this product can do. So much so, that I highly recommend that anyone considering wiring changes in their system, should first audition the Powercell 10SE MKIII. Based on my experience when using it with several brands and models of wire, including those from Synergistic Research, it just might make the biggest bang for the buck and negate the need for changing anything else. Robert S. Youman
Powercell 10SE MKIII
Retail: $5500
Synergistic Research
www.synergisticresearch.com