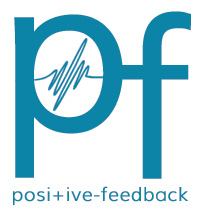 You are reading the older HTML site
Positive Feedback ISSUE 70
november/december 2013
Vinyl in the Round - Coltrane's Sun Sounds, Miles in Mono, and Dr. Dre's Big Beats.
by Ken Micallef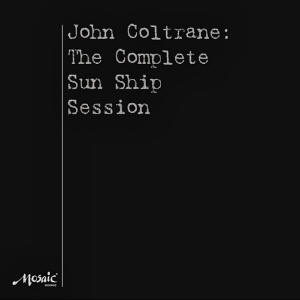 John Coltrane, The Complete Sun Ship Session. Mosaic
Recorded in 1965 but held from release until 1971, John Coltrane's Sun Ship was the tenor saxophonist's penultimate LP with the "Classic Quartet" of drummer Elvin Jones, pianist McCoy Tyner, and bassist Jimmy Garrison. Coltrane recorded at such a furious clip in the '60s, given his incredible evolution, that Impulse! label owner Bob Thiele could choose from an embarrassment of riches, eventually holding back other '60s sessions from release as well. Though after hearing this "complete" recording, it's hard to understand why such a masterwork by John Coltrane was kept under wraps, and him well into his prime as a performer and composer.
Beyond the usual "alternate takes" scenario where tracks with an alternate tempo or a take of greater length is the appeal, John Coltrane The Complete Sun Ship Session shows the difficulty in choosing a final take for release, as every take performed here—literally every note from the Sun Ship sessions—is of equal brilliance.
Recorded after A Love Supreme and Crescent, and near Trane's "free" or "New Thing" period, The Complete Sun Ship Session captures the Classic Quartet at its creative peak, yet about to break apart. After the Classic Quartet's final album recording, First Meditations (released in 1977), Elvin Jones (no fan of Coltrane's planned double drummer scenario to include Rashid Ali) left to lead his own popular groups; McCoy Tyner also departed. The Complete Sun Ship Session affirms everything we've come to know and love about Coltrane's sound, his music and his quartet -- with fresh ears.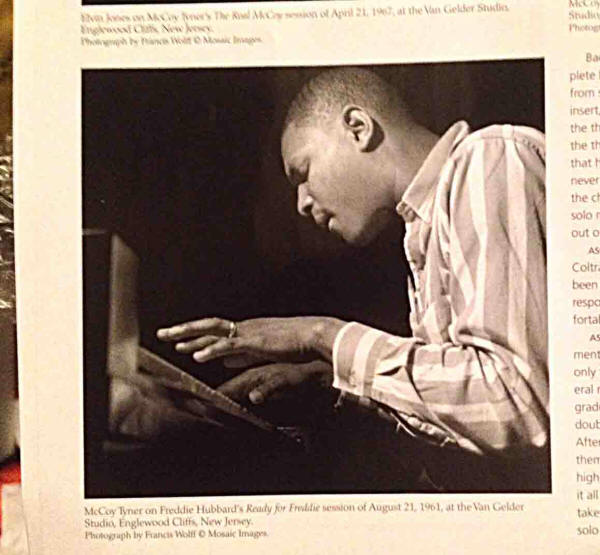 Sonically, the three-LP set (with good liner notes by David Wild and excellent in-studio photos) is well up to Mosaic's usual high standards, revealing Trane's alternately pure, beautiful, sensual, torrid, sonorous, tranquil and warm tenor sound with excellent fidelity. But even with the high quality sonics and the typically astute recording skills of Rudy Van Gelder, the production is lacking in small ways, most noticeably Tyner's piano, which at times sounds rather tinny and compressed. And to a lesser degree Elvin Jones' drums which are masked in their absolute detail. While the ...Session LPs reveals Jones' incredible dynamic range with no cymbal clipping (a sure sign of VU meters flagging into the red), his drums sound rather distant as though recorded with only a couple room mics. Perhaps it's because Sun Ship wasn't tracked at Trane's usual studio of choice—Van Gelder Studios in Englewood Cliffs, New Jersey, but at the RCA Victor Studios on 24th Street in New York is where the problem, and thus this nitpick, lies. (If only they could have recorded at Columbia's 30th Street Studios!) Tony Williams' or even Philly Joe Jones' drums with Miles Davis's groups sound close-miced by comparison. Even allowing for Jones' overwhelming power on the drums, it's hard to understand why Van Gelder didn't record him hotter in the mix, especially when considering the great drum sounds he captured on his many Blue Note recordings. It's as if Trane is the vocalist on the record, so upfront and literally large in the mix is his tenor. Jimmy Garrison's bass is placed physically low or at the bottom of the mix, yet with ample volume. Even in this mono format, the instruments are placed so you can almost see them. Tyner: left; Elvin: center and right; Garrison: oddly near the bottom of the soundstage (actually felt in the bottom); Coltrane's enormous tenor taking center stage.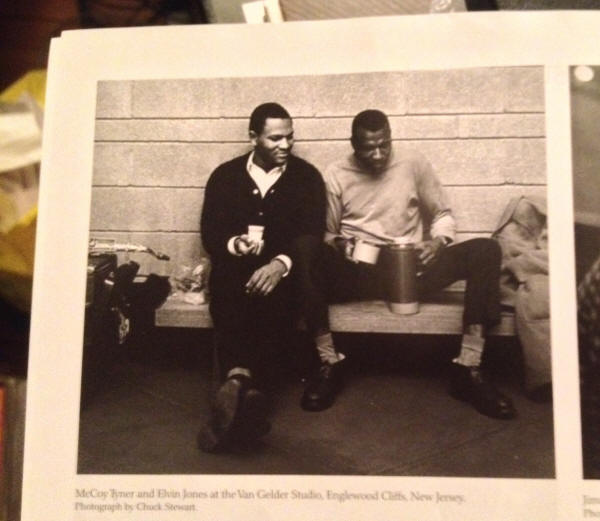 And Coltrane's sound is absolutely glorious here. Revealed in all its majesty, one can practically bathe in the beauty of Coltrane's tenor, inarguably one of the great sounds of the 20th Century. Coltrane's tenor is mesmerizing, moving, sublime and simply beautiful throughout. The Complete Sun Ship Sessions captures Trane in his full flowering splendor.
And the music! Given its proximity to such Coltrane albums as Interstellar Space and Meditations some might think that Sun Ship would similarly be comprised of ceaseless tenor snorting, bellowing and squealing over a cacophony of accompanying instruments, but Sun Ship is laced with moments of lovely tranquility and peacefulness. A feeling of peacefulness imbues the entire record, somehow even when the Quartet is wailing at full tilt. And while takes are long, they're concise and pointed, no surprise from a group that could easily improvise for 30 minutes on one song. Tyner and Jones also frame the music, which is often of the rubato, spiritual and surging nature we associate with Trane's later '60s period, with their great personal style and intelligence. Later, with pianist Alice Coltrane and drummer Rashid Ali, Trane's music was free to—depending on your view—either bombastically soar or achieve new heights in the Coltrane canon.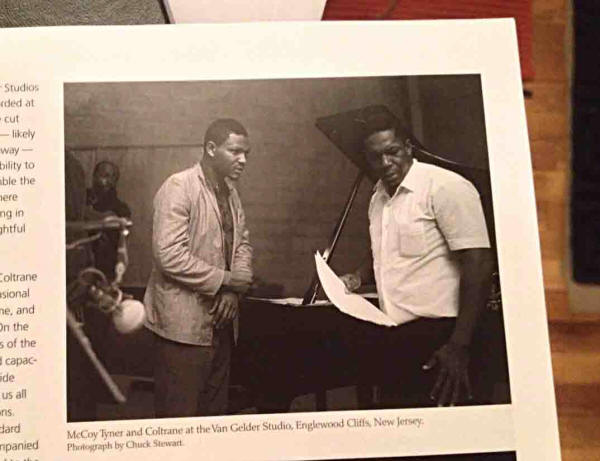 The version of Sun Ship released in 1971 was the result of complete studio performances as well as editing and splicing of what were called "inserts." On the Mosaic LPs Van Gelder can be heard announcing takes as the group either records a composition in full or starts at specific points within a song, which were then spliced and "inserted" into a preexisting take. Thus we hear the complete and inserted takes from the Sun Ship sessions. The physical space limitations of the LP format were another reason for editing takes. More than 40 years later it's pure joy to hear the complete sessions from these dates; indeed, given the audio advancements of the ensuing 40 years, it's like hearing Coltrane anew.
Though The Complete Sun Ship Session consists of five tracks: "Dearly Beloved," "Attaining," "Sun Ship," "Ascent," and "Amen," the assembled complete versions, false takes, inserts and alternate versions amounts to a total of 20 tracks over three LPs.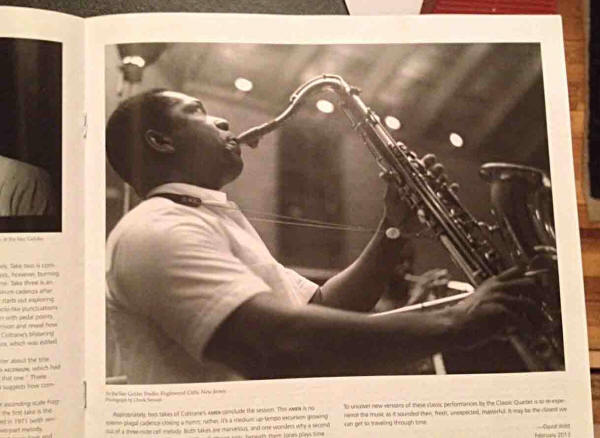 Opener "Dearly Beloved" is like a long intro, the quartet vamping and pedaling on the classic Coltrane vehicle of the endless crescendo, here with Jones' mallets adding to the swelling nature of the piece as Coltrane runs the scales of his horn, the whole thing eventually settling down with Tyner's declarative block chords and solo. For a second it sounds like the group will follow Tyner's lead and start swinging, but they maintain the rubato, roaring crescendo. Side B of LP 1 features four takes of "Attaining." Trane is tender and peaceful here, practically floating over the song's long melodic phrase, Elvin eventually kicking the group into swinging mode and then a Tyner solo. After a brief unaccompanied Jones solo, a classic swing pulse is explored with Elvin surging and dropping bombs while Tyner takes a wonderfully detailed solo journey. "Attaining" has the majesty of "A Love Supreme" in condensed form. Midway through LP 2 Side A we hear "Sun Ship;" a free-ish blend of tenor jabs, irregular rhythms and unexpected hoots and hollers. It's an unlikely title track. Track two is a "Sun Ship" insert, Tyner's solo leading to another open drum solo; the proceedings entirely frenetic yet oddly cubist. A "complete alternate version" of "Sun Ship" follows and it's staggering, the group playing with a jagged, out, restless spirit as Coltrane swirls around and through the music. The following "insert" is even more cathartic and aggressive, concluding with a boisterous Jones' drum solo. The released version of "Sun Ship" begins LP 2 Side B, and while it's no slouch, it lacks the raucousness of the "complete alternate version."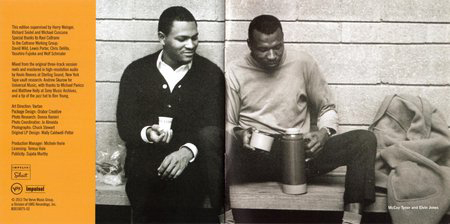 "Ascent," one of five takes, fills LP 2 Side B, much of the song dedicated to a long, rather ponderous acoustic bass solo. Eventually the band kicks in and Coltrane repeats the chordal strumming section of Garrison's bass solo as the melody. The odd melody literally ascends, repeating and returning to its beginning to create a rather circular feeling. Eventually the group practically levitates, the music swinging with Elvin hitting a groove so hard you're surprised the quartet doesn't disappear into his beat.
The final song of the session is "Amen," a fitting closer. Its two versions fill up the final LP side. Both takes are exceptional, the group swinging in a medium-tempo walking-bass driven pulse that is both poly-rhythmical and straight ahead.
As David Wild writes in the liner notes, "to uncover new versions of these classic performances by [Trane's] Classic Quartet... may be the closest we can get to traveling through time." I'd add that Coltrane's music stops time and reinvents it, and is thus, timeless.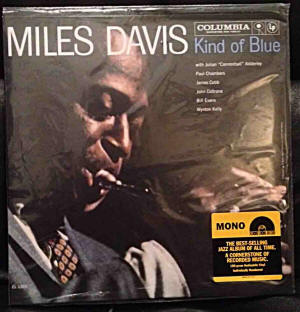 Miles Davis, Kind of Blue / Jazz Track Mono editions. Columbia Legacy
Completing their release of Miles Davis' mono LPs, Columbia Legacy set Record Store Day Black Friday to release Kind of Blue, Jazz Track and Miles & Monk in Newport. Miles Davis: The Original Mono Recordings on CD also hit the shelves on Black Friday.
The best selling jazz album of all time, Kind of Blue is Miles in stark modal mode, an album of airy themes and beautiful, celestial solos. Kind of Blue is at its quintessence in the mono format. Like prayer, Kind of Blue is a kind of mediation—warm, inviting, dusky and cool in mono. Jazz Track is the wild card and rarest recording (in any format) in the set, here restored to its original bleak, moody vibe. The soundtrack for the French Louis Malle film Elevator to the Gallows ("Side 1") coupled with a handful of additional tracks ("Side 2"), Jazz Track is Miles at his most despondent, acute, sad-eyed and lost. Oddly enough the songs on Side 2 were originally packaged as a kind of greatest hits LP in the mid '70s, with a photo of a winding country road on its cover. As silly as the original Miles Ahead cover (a model sunning on a sailboat), you can truly see the "Fear of a Black Planet" that existed in 60s/70s America.
If you own no Miles Davis recordings, you should really consider the Mono Miles box set or any of the mono Miles LPs. It's the sound Miles heard and signed off on (though there is some disagreement as to whether Miles bothered with mixing or mastering sessions.) It's great to hear these classics restored to their original splendor. For comparison's sake, the mono Milestones bettered my original six-eye Columbia Milestones LP in every way. For any fan of jazz or American music, Miles in Mono is part of your musical tradition.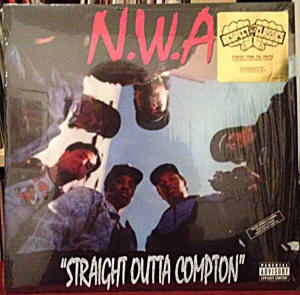 N.W.A. Straight Outta Compton. Ice Cube AmeriKKKa's Most Wanted. Ruthless/Priority/UME
"The unrelenting unpleasantness"
25 years before millions of iPod wearing kids clamped their skulls with Dr. Dre's Beats headphones, a group of socially minded Los Angeles rappers already knew what great sound was all about. Handling production for their debut album Straight Outta Compton, Dr. Dre joined with original N.W.A members Arabian Prince, DJ Yella, Eazy-E, and future hip-hop and film star Ice Cube to produce one of the most menacing debut albums of all time.
N.W.A, aka Niggaz Wit Attitudes, are generally regarded as the founders of that horrible "gangsta rap" genre. 1988s Straight Outta Compton truly exposed the old Fear of a Black Planet mentality, N.W.A's misogynist lyrics and glorification of drugs and crime seen as the eventual downfall of western society. If only a group as talented as N.W.A. existed today to blow away all the pompous, self-centered and astonishingly boring hip-hop that clutters the airwaves like so many wretched garbage cans spilling over with inane lyrics, sterile rhythms and puerile, gold plated teeth wisdom. Before tattoos made you mean, N.W.A.'s tales of inner city life sent shivers down the spines of soccer moms and rock and roll fans alike, and with good reason. N.W.A meant what they rapped about, and sold millions and millions of albums, often without the support or radio.
Newly reissued on heavy 180 gram vinyl to mark its 25th Anniversary, Straight Outta Compton has lost none of its shock value, but with the passing of the years it's now clear that N.W.A.'s talents went beyond social criticism: these guys had incredibly strong ears, sampling the crème of '60s, '70s, and '80s R&B with the wit of a poet and the precision of a surgeon.
Perhaps NWA's 1988 debut isn't as incredibly warm and visceral as Dr. Dre's later productions with Snoop Dog, but they are gut-wrenching and powerful nonetheless. Sampling a variety of R&B heroes, Dr. Dre adds bowel-busting programmed bass, turntable scratching, stereo-stretching sound effects and N.W.A.'s blood-letting raps. This is music with a serious big-bottomed groove by anyone's one standards. Compared to current records from Kanye West or Usher, Straight Outta Compton punches hard and never lets up. Its themes are as relevant today as in 1988. Racial profiling? Gang violence? Guns on the streets? Straight Outta Compton was a prophecy that remains unheeded and largely ignored by the powers that be.
One need only do a little Internet crate digging to get the lowdown on the samples used on Straight Outta Compton. Dr. Dre no doubt helmed the Akai MPC that sampled songs by artists that included James Brown, Funkadelic, Ronnie Hudson and the Street People, Wilson Pickett, The Winstons, Marva Whitney, Roy Ayers, William DeVaughn, Jimmy Castor Bunch, Kool & the Gang, Ohio Players, Richard Pryor, Beastie Boys, Average White Band, The Isley Brothers, Pointer Sisters, Marvin Gaye, Steve Miller Band, Charles Wright & the Watts 103rd Street Rhythm Band, The Blackbyrds, Sly & the Family Stone and Joe Tex.
These samples created rollicking beats dosed with equal parts dread, menace and hilarity. (Hip-hop traditionally regards the entire production as "the beat" unlike rock or jazz that views production elements in more clearly defined terms). The album reached double platinum sales status, becoming the first album to reach platinum status with no airplay support and without any major tours.
Most critics of the time went bonkers for N.W.A.'s brutal beats and scowling, profanity laced raps: "A preacher-provoking, mother-maddening, reality-stinks diatribe that wallows in gangs, doping, drive-by shootings, brutal sexism, cop slamming and racism," is a standout comment from Richmond Times-Dispatch's Mark Holmberg.
But somehow the late '80s audiophile world didn't get N.W.A., and by and large, they still don't. In Britain where punk had already sullied the queen, graying gents playing their classical records on Linn tables and old Harbeths were entirely displeased.
"The lyrics on this record are unrelenting in their unpleasantness," harangued Peter Clarke in Hi-Fi News & Record Review, awarding the album a rock-bottom 'D:4' rating. "The cumulative effect is like listening to an endless fight next door. The music on this record is without a hint of dynamics or melody."
Surely Peter Clarke wasn't any happier when Ice Cube, after leaving N.W.A. over a royalties dispute, recorded his debut, AmeriKKKa's Most Wanted, in 1990. With a nod to the classic New York hip-hop that preceded him, Ice Cube brought in Public Enemy's production team The Bomb Squad to produce and co-write. The album was an unexpectedly massive critical and commercial success, and remains a watershed in hip-hop.
Making good on his role in N.W.A., Ice Cube took dead aim at the institutions that allowed ghettos to exist, and like a prophet he predicted the violence to come. In "Endangered Species (Tales from the Darkside)," Ice Cube predicts that South Central would become a central point for violence before 1992's beating of Rodney King by the LAPD. The title track alone is a recipe for disaster, but the samples are glorious, including "Humpin'" from the Bar-Kays, "There It Is" from James Brown, "Let the Music Take Your Mind" from Kool and the Gang and "Advice" from Sly and the Family Stone. Elsewhere, The Bomb Squad samples Mr. Rogers (for which Ice Cube had to pay $20,000 after he lost a copy infringement case), Marvin Gaye, The Turtles, Stanley Turrentine, the J.B.s, Maceo (Parker) and the Macks, James Brown, Sly and the Family Stone, Betty Davis, Marvin Gaye and Kool and the Gang, among others.
Less angry then N.W.A.'s Straight Outta Compton, Ice Cube personalizes AmeriKKKa's Most Wanted with a serious dose of humor, performing skits in-between grooving tracks that reference Mr. Rogers, Air Jordans, drugs, Humpty Dumpty, sex, female rappers, gun violence, and finally, "getting a job? I'd rather roll with the Lench Mob." All that and 180 gram vinyl!
After the crackdown on sampling hip-hop lost much of its steam, leading to the current state of hip-hop affairs where most every "producer" uses the same software presets and soft synths, the same Pro Tools plug-ins and effects. Even their cars are different. Where gangsta rappers drove around in beautifully refurbished 60s era Detroit behemoths, today's hip hop artists are more likely to drive Mercedes and BMWs. They're entrepreneurs. N.W.A. and Ice Cube were community activists, proud of their neighborhoods and revolting against those in power. The hood's been bought off, but the problems remain the same, same as it ever was.