ROBERT H. LEVI'S SYSTEM
LOUDSPEAKERS
Marten Bird Loudspeakers, Marten Duke 2 Loudspeakers, and REL Stadium III subwoofer
ELECTRONICS
E.A.R. 324 phono preamplifier, [2] E.A.R. 890 amplifiers (run as monos), E.A.R. 534 Stereo Amplifier, E.A.R. 912 Professional Preamplifier, E.A.R. 834L Tube Line Stage, E.A.R. HP4 Headphone Amplifier, Grado Battery Headphone Amplifier, and KingRex Headphone Amplifier.
SOURCES
Analog: E.A.R. Disk Master Turntable with two Helius Omega Tonearms. Digital: E.A.R. Acute III CD player, E.A.R. Acute 1 CD Player, ModWright Sony 9100ES SACD/CD/DVD Player with Signature Truth Modifications, Mod/Bybee Filters and Revelation Cryo Silver Umbilical. ModWright Sony 999ES CD/SACD/DVD Player with signature Truth Mod and Tube Power Supply, and Alesis Masterlink 24/96 Recorder/Playback Deck. Cartridges: Koetsu Rosewood Signature Phono Cartridge, London Reference Phono Cartridge, and Grado Statement1 Phono Cartridge. LD: Pioneer DVL 919 CD/LD/DVD Player. Tuners: Magnum Dynalab MD-108 Reference Tuner, Marantz 10B FM Tuner, Day Sequerra Reference FM1 Tuner, McIntosh MR71 FM Tuner, Dynaco AF6 FM Tuner, and Marantz ST17 FM Tuner. Headphones: Stax 7t Electrostatic headphones, Grado RS1 headphones, Grado PS 1000 and PS 500 Headphones, Ultrasone Edition 8 Headphones,and Koss ESP950 Electrostatic Headphones.
CABLES
Kubala-Sosna Elation Interconnects, Speaker Cables, and Power Cords. Kubala-Sosna Emotion and Expression Interconnects and power cords, Jorma Design Origo Interconnects and Speaker Cables. Harmonic Technology Magic 2 Interconnects, Magic 1and2 Power Cords, Fantasy Power Cords, Kimber D-60 Digital Interconnects, Kimber Select 3038 Silver and Silver/Copper Interconnects, CRL Silver Interconnects and Custom WyWires Interconnects.
ACCESSORIES
Monster Reference 350 Mark II v2 Power Conditioner, World Power Wing Revised Power Conditioner, Tice Power Block, Tice Clock, and Audio Prism Quiet Line IIs. Anniversary Edition Cable Cooker 2.5, Winds Stylus Pressure Gage, Bedini Ultra Clarifier, VPI Record Cleaning Machine 16.5. Audio Magic's Quantum Physics Noise Disrupters, Marigo Mystery Feet, Townshend Seismic Sinks, Furutech Demag, RSC Sound Panels and 16 inch Bass Trap, and Shunyata Cable Lifters.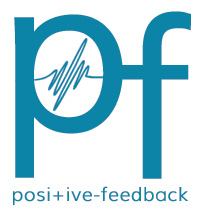 You are reading the older HTML site
Positive Feedback ISSUE 70
november/december 2013
zesto audio
BIA 120 Class A Amplifier
as reviewed by Robert H. Levi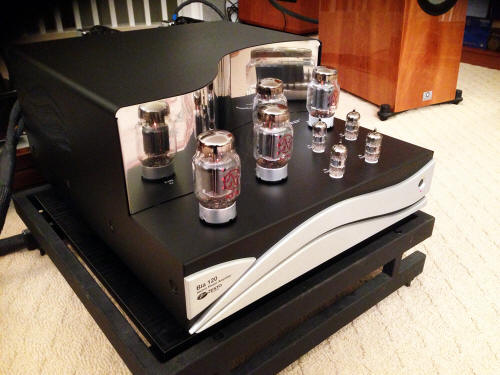 When George Counnas, Zesto Audio President and Chief Engineer, offered me the first review of his newest pride and joy, the BIA 120 Class A Stereo Power Amplifier, I was truly honored. I had already done the first reviews of the wonderful Andros PS1 Phonostage and the gorgeous LETO Preamp. The BIA 120, named for the Greek Titan Goddess of Force and Power, is Zesto's first amplifier in the product line, and completes the musical trio.
Both previous efforts from Zesto were excellent, loaded with features, styled with class and elegance, and complete with price-busting performance. Both, too, are hand-made in sunny Southern California. I expected the same overall price/performance/sonic package from George with the new BIA 120 Amplifier, particularly at its heftier $12,500 MSRP. That is not what the BIA 120 Amplifier, brought to me for review, delivered musically from my analog and digital sources, however. It truly did not perform as expected.
Before I reveal how it did perform, please review the specifications:
Specifications
Output
Pure Class A

60 Watts per channel

4, 8 and 16 Ohm output taps

8, 5 and 4 Amp Slow blow fuses for outputs

Eight 5-way binding post

Non inverting output polarity

Push-Pull and Ultra-Linear design
Inputs
Transformer floating balanced XLR inputs

Left and Right SE inputs with an impedance of 100K Ohms

Left and Right BAL inputs (pin 2 hot) with impedance of 12K Ohms

Independent ground lift switches on left and right BAL inputs

2 Volts RMS input to reach rated output
Detailed Specs
Dual Mono

Auto bias

No negative feedback

Frequency response 20Hz to 50kHz ~ 1dB

Total Harmonic Distortion ~ 0.22% at 1W output into 8 Ohms

Gain of 23dB

Noise level > 0.2 mV RMS into 8 Ohms with input shorted

1% metal film resisters throughout

Polypropylene capacitors throughout the audio path

Power

Custom toroidal power transformer with global mains

Choke based power supply design

120 Volts AC mains

Optional factory installed 220V, 230V, 240V 50/60Hz

Power consumption at rated output 300 Watts

On/Off switch conveniently located on front panel

3 pin IEC power connector with fuse
Note the broad frequency response all the way to 50kHz and the unusual NO negative feedback in a push-pull design. And note that it requires 2 volts to come to full power. You need a real preamp with this amp; forget about passive line stages or driving it from most digital players with a volume control. Also, the BIA 120 has only two KT88 tubes per channel. My reference amp has 8 KT90 tubes per channel and is rated for similar power. I will reveal what I heard shortly!
The Reference System
Speakers: Marten Birds (with diamond tweeters) and REL Stadium 3 Sub Crossover: 22Hz

All Cables: Kubala-Sosna Elation!

Digital: E.A.R. Acute 3 Tube CD Player, ModWright Sony 9500 SACD/CD Player, Alesis Masterlink

Preamp: E.A.R. 912 Professional Tube Control Centre

Analog: E.A.R. 324 Phonostage, E.A.R. Disc Master Magnetic Turntable, Helius Omega Tonearms, SteinMusic Aventurin 6 Cartridge and London Reference Cartridge.

FM Tuners: Marantz 10B, Day Sequerra FM Reference, and MD 108.

The overall system runs in balanced mode. Most sources run balanced, as well.
The Performance (and More!) of the BIA 120 Class A Stereo Power Amplifier
This is what you have patiently been waiting for! My listening notes are as follows:
Groundbreaking! Powerful! Huge dynamics! Distortion Free! Ultra quiet! More definition than my system has ever produced! Realism at new levels of perfection! Perfect highs, perfect mids, perfect bass! Dimensional without boundaries! Micro dynamics are spectacular! Faster than any tube amp ever! Textural cues are perfection! Most neutral tube amp ever created! Best imaging of any amp at any price. Unequaled clarity. Gigantic soundstage.
Impossible to distinguish whether tube or solid state! Most important tube amp produced in a generation! MSRP is grossly undervalued with performance equal to or exceeding $50,000 amplifiers! Beautiful styling and very fine fit and finish! Not too large and not too heavy at 66 pounds!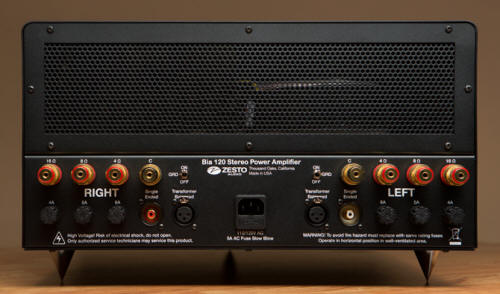 A Bonafide Masterpiece!
That's right. What George delivered to me to review was not just another very fine piece of Zesto gear to match his excellent efforts to date. What he delivered to me was the best tube amp I have heard in 50 years. Actually, it is the best amp, tube or solid state, I have heard in 50 years. It is so maximally revealing and neutral all at once as to be something quite new and quite exciting. It is wondrously powerful with a custom power supply never before used in an amplifier, which propels two KT88s to produce legions of watts and rivers of current to make your speakers sing.
I will dare to say it: the BIA 120 is the missing link, that wondrous piece of mythical tube gear that bridges tube and solid state amplification! It has the best sonic qualities of both types of circuitry, with none of the flaws of either. The Zesto Audio BIA 120 Class A Stereo Power Amplifier is that amplifier, and is finally here. Bravo to George Counnas for bringing his genius with power supplies and circuit design from the far flung fields of radar and recording to fine audio. Bravo to Carolyn Counnas for designing a beauty of a piece that looks like its sailing in the musical breeze.
More to Know!
The BIA 120 Class A Stereo Power Amplifier runs 100% of the time in class A. It draws 300 watts at full power. It draws 280 watts at idle. It is always ready to rock and roll!
It should be run in balanced mode. Though it can be run single-ended with its RCA connectors, it is not totally maximized. It was built to run balanced. This is not a happenstance.
It will have a tube cage available for it sometime in 2014. Until then, keep children and pets away from the tubes. They run hotter than they look.
I tried tube rolling. I only managed to screw up the sound. For example, putting NOS Mullards in the 12AU7 positions was like adding sand paper to the music. The JJ KT88s output tubes sound perfect!!! The new issue Gold Lion KT88s are supposed to be different sounding, but I do not see the point with this design. If you want old-fashioned warm tube sound to pervade the performance, buy another phono cartridge or about any other tube amplifier. You can also try KT90s or KT120s, but you will NOT get more power, only a small change in the character of the amp. Make sure the output tubes are matched, though biasing is nicely automatic.
Forget about the 60-watts-per-channel power rating. It clips much higher. (I could not get it to clip at all.) Based on playing the Copland Fanfare for the Common Man, RR HDCD, I would estimate it will reach about 150 virtual watts long enough to make you a happy camper. I sensed no blurring or merging of the instrumental sound field at any volume level, with any source material, on 89dB sensitive speakers. I do not know how the BIA 120 does this. I just know that it does. By the way, a KT88 should be able to produce 43 watts max, and two of them in push-pull produce 86 watts max. Anything above 86 really is virtual watts.
The BIA 120 requires about 30 minutes warm up to get full-quality performance, though it sounds good to me after 5-7 minutes. I did notice that things got a bit sweeter still after two hours or so, but this might just be another component up stream.
The amp is not sensitive as to what it sits on. I tried it on a good amp stand and even on a piano ledge. It sounded exactly the same! It is well built, and pretty much immune from vibration and feedback. This is unusual for a tube design, and a testament to its build quality.
Kubala-Sosna Elation! all copper AC cables, speaker cables, and interconnects sounded superb with the BIA 120. I recommend Elation! to you as an optimum combination with the BIA 120, achieving extraordinary transparency of the musical event with this cutting edge design.
The Sound of Neutral
Remember the story of Robin Hood at the archery contest? The archer hired by the sheriff hit the bullís-eye. Robin Hood hated to lose, so he shot his arrow and split the other archer's arrow in two. My reference amps are neutral, or at least I thought they were. It seems there is another neutral within, even more neutral than my reference amps, completely void of any distortion artifacts or noise that may color or even tint the sound euphonically.
This may be the difference between the more traditional vertical transformer and the toroidal transformer used in the BIA 120. I am not going to guess. One thing is for sure. The BIA 120 uses a totally new circuit in the large power supply and, probably, other special construction. I think that the circuit in the BIA 120 will fuel discussion for years to come, the same way the Williamson circuit did.
I believe neutral is also perceived as clarity. The BIA 120 has stunning clarity; my reference amplifier, slightly less. This is important, as all cables and all components were precisely the same. The only system variables are the amps themselves. It stands to reason that if you can create similar gain with only one quarter of the tubes and other supporting circuitry, distortion and haze may be reduced.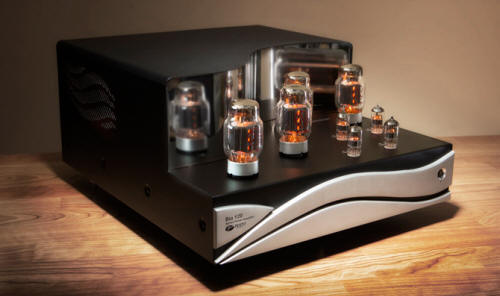 On Live Master Recordings
I have many live master recordings done in Atlanta of amateur and pro groups done on an Alesis Masterlink at 24-bit 96kHz, and copied right off the hard drive for my use. Excellent Beyer mics are used, and never more than two. These recordings sound live and almost distortion-free even on average systems. Through the BIA 120, they are so organic, so amazingly reach-out-and-touch-the-performance, that I found myself replaying recordings over and over for the thrill of it all. The mics become your ears, and you become connected with the music the way that only live masters can give you. My reference amps gently smear the sound and add a touch of warmth. They also slightly confuse the imaging. The BIA 120 locks down the master's crystalline imaging with musical super glue. When you listen to the BIA 120 you know you are hearing an original recording, not Memorex.
On Commercial Recordings
Play the new Patricia Barber, Companion, 2 LP set, with the final side in 45 rpm. That final cut, Black Magic Woman, has it all. The typical tube amp will blur it and smear it as it rises in intensity, assuming your cartridge will track it cleanly; the SteinMusic Aventurin does just fine. My reference amps did an admiral job keeping most everything in place and sounding natural. The BIA 120 sorted it all out, restored the proper placement of the images, firmed up the spaces between the images, made the instruments and voice sound realistic, and put you in the audience at high volume. It did this with no muss or fuss. The BIA 120 did not subtract anything from the music to accomplish this feat, since I heard more definition. This was stunning to me and every audiophile I made sit and listen to this cut. I can count on one hand the solid state amps that could have done this, and they cost megabucks.
Just wait until you hear the Reiner, Pictures at an Exhibition, RCA reissue from Acoustic Sounds and QRP. On my reference amps the LP is very detailed, but somewhat jumbled together with a tan color in the string tone that is less than natural. Dynamics are wonderful. On the BIA 120, the strings are most natural and silky with an inner glow of silver and sugary platinum, the drums are better defined, horns are clearer and better imaged, and the size of the orchestra is larger. Overall, the BIA 120 is clearly in charge, with this new reissue yielding master-tape-like sound from my London Reference Cartridge or Stein Musicís Aventurin.
Recently I acquired used an Ellington Concert in the Virgin Islands, Reprise 6185 LP, circa 1965, in remarkable condition. The third cut is "Fiddler on the Diddle," featuring Ray Nance on the fiddle playing brilliantly and voraciously in time with the orchestra. What great fun! With the Aventurin cartridge and the BIA 120, the LP is beyond glorious and realistic. One is in the studio with the orchestra in a reach-out-and-touch-it way. The fiddle is so very natural and exciting, as Nance plays with great energy. Nothing artificial here, just glorious music wall-to-wall, with instruments locked into their spaces, texturally right. The fiddle never smeared or got overly crisp. I was not aware this album even existed. Find it if you can!
My digital super HDCD Copland from Reference Recordings always gives an amplifier a good test.
The Fanfare for the Common Man played at the same level as my reference mono-blocks, and achieved the same impact and volume level with 1/4 of the tubes. The BIA 120 revealed an instantly wider soundstage, clearer instruments, more depth, more textural information in the highs and drums, fewer artifacts that cloud and obscure the window on the sound, and no loss in musicality my reference amps are famous for. This disk left me with the notion that I really had no idea how terrific my E.A.R. Acute 3 CD Player was. Nevertheless, the amplifier is the most important part of any system, and the BIA 120 proves this beyond any doubt.
FM Stereo Tuners
Just a quick note here: I compared my three fully restored FM Stereo Tuners playing the same classical music at the same time with the BIA 120. Would they sound more or less alike? Skip to the answer... less alike, sort of. Interestingly, they did sound more different from one another, and they also sounded better, more definition with more depth. I was a bit surprised how the tuners improved with the BIA 120. The MD 108 still was the least organic, but the most sensitive and cleanest. The FM Reference was smoother and more elegant for an all solid-state design. The 10B was delicious and mellifluous, with gorgeous width and depth. All were more musical, not less. All were clearer and more detailed, not less. All were better overall with the BIA 120 Stereo amplifier. What an amp!
Summary
I am flabbergasted. The more I listen to the BIA 120, the more I am certain this magnificent amplifier is the real McCoy! The BIA 120 is a state-of-the-art tube amplifier. The BIA 120 has superb clarity, depth, neutrality, realism, nuance, elegance, and ultimate definition that a great tube amplifier should have. It has the kind of snap, low distortion, freedom from noise and haze, tight fast bass, speed, and slam you would expect from great solid-state amps. It has none of the troublesome problems or sonic artifacts of either tube or solid state designs. It is neutral like no other tube amp has ever been in my experience. It is a wonder!
Zesto has created an amplifier that, when placed with the best ancillaries, will give you the experience of the musical performance with ground-breaking intense realism. The only things missing will be the sticky floors and the expensive tickets. I have never heard a better amplifier in my reference system, tube or solid-state. It is the best new tube amplifier to reach the market in the last five years priced under $50,000. That it costs $12,500 is a boon to audiophiles everywhere, and a minor miracle. What a value!
The Zesto Audio BIA 120 Class A Stereo Power Amplifier is most highly recommended. I urge you to listen to it so you may understand just what a George Counnas-designed tube amplifier is all about. Robert H. Levi
In a word, stupefying.
BIA 120 Amplifier
Retail: $12,500
Zesto Audio
www.zestoaudio.com
Thousand Oaks, CA
Sales and Marketing: Carolyn Counnas
805-807-1841
carolyn@zestoaudio.com
Engineering and Tech Support: George Counnas
805-807-1840
george@zestoaudio.com