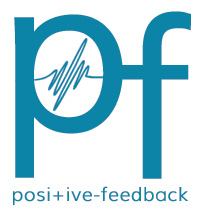 You are reading the older HTML site
Positive Feedback ISSUE 71
january/february 2014
Notes of an Amateur: Handel. Short Takes on John Eliot Gardiner's New Book on Bach, DVD of Adès Tempest, Penderecki on Vinyl!
by Bob Neill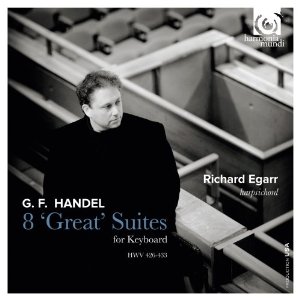 G.F. Handel, 8 'Great' Suites for Keyboard, Richard Egarr, harpsichord. Harmonia Mundi HM907581.82
Lyric, sometimes languorous but also sometimes rollicking; lovely, lip-smacking—even when the music is busily baroque, Handel's suites for harpsichord are among his most appealing works. As harpsichordist Egarr tells us, these suites can have an improvisatory quality to them. Sometimes we're marching along with Bach, sometimes meandering thoughtfully with Couperin. We never know quite where we're going, but it's invariably fun. The music is full of joy. We have the feeling these suites could be sung, which is likely what Keith Jarrett thought when he decided to record them on piano. (I haven't heard his Handel but unlike his Bach and Shostakovich, I expect it works pretty well.) Egarr finds it surprising that this music hasn't been more widely recorded. He cites two performances—both on piano but misses a handful of others on harpsichord, at least two of which are extremely good. See below.
Egarr plays a Ruckers copy, which he concedes that when tuned up 'correctly' produces "a little tighter, brighter, and bit more 'pingy' sound." Kenneth Gilbert, my choice for years for this music (Harmonia Mundi vinyl and CD—very hard to find), plays a copy of a Taskin instrument which produces a warmer, more resonant sound—a half- step closer to a piano. Egarr gets more treble information, impact and overall clarity. Paul Nicholson on Hyperion strikes me as splitting the difference. The truth is, harpsichords are notoriously difficult to record and reproduce. Your equipment needs a really clear high end along with a good overall balance or it all ends up sounding like a lot of energetic, well-meaning clatter. Musicianship can only take you so far with these charming but difficult music-makers.
Once I made the adjustment to Egarr's harpsichord, I found it enjoyable enough. Volume is always critical when listening to harpsichords (and clavichords), and Egarr's instrument became a lot more attractive at slightly lower than normal listening levels. His particular appeal is that of a luminous clarity, coupled with an evident love of the music's inherent lyrical beauty, which induces him to take his time and let us savor the slow movements especially. They come across as love songs. The quicker movements swing rather than march, in keeping with Egarr's improvisatory style
All three recordings I've familiar with have their virtues. Musicianship is fine across the board. Sonic differences will depend as much on your music system as on the recordings themselves—again, that's the way with harpsichords. This is wonderful music and we're should be grateful to Egarr for keeping it before us.
In brief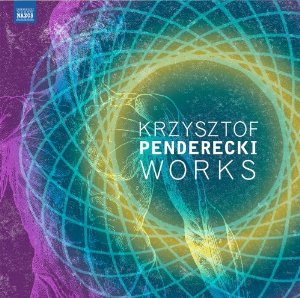 Krzysztof Penderecki, Works. Warsaw Philharmonic, Polish National Symphony. Antoni Wit. Naxos. (2 LP's). NAC-LP 002-03.
Hold onto your seats, folks, Naxos has released a double LP set from their ongoing set of the works of Polish modernist Krzysztof Penderecki. Simply called Works, it includes six of the composer's most challenging (provoking?) compositions: Polymorphia, Anaklasis, Fluorescence, Tren (Threnody), Intermezzo, and Kosmogonia—none chosen to win new fans to the composer but all exciting sonic adventures along music's borderlands.
Program notes are non-existent, if that matters. Sound is as expected: clear, dynamic, tactile, ambient, embodied. I have two of the works recorded here on CD, Tren and Fluorescences. Both sound excellent but haven't the ambient fullness and near holography of these LP versions.
The only hint that this release might be the beginning of something rather than a one-off event is the album's title. I would think the continuation of the venture would depend almost entirely on our response to this release. Need I say more?!!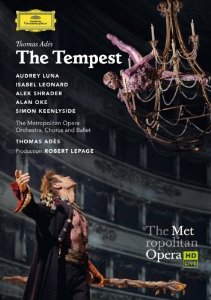 Thomas Adès, The Tempest. The Metropolitan Opera HD Live. Thomas Adès, conductor. Robert LePage, producer. Deutsche Gramophone. DVD 073 4932.
DG has released a high definition DVD of the Met's 2012 production of Thomas Adès' The Tempest. It comes without Meredith Oakes' libretto, so you'll need the CD release too, which includes one; or you can order one through Amazon for $5 and change. http://www.amazon.com/The-Tempest-Libretto-Faber-Edition/dp/0571523374. The staging adds enormously to the experience—no surprise there—and now that I've seen this DVD, I consider it essential for getting at some of the wonderful visual subtleties of the opera. Prospero's physical appearance, government uniform 'jacket' slung over half of his torso, the other half richly adorned with tattoos, makes a powerful silent statement of what he has become living on the island for over a decade. Ariel's costume and make-up demonstrate in ways her shrieking voice alone can't quite, how wild she is as well as otherworldly. Adès and LePage give the whole tale a physical dimension that the music and words cannot begin do alone.
Simon Keenslyside sings Prospero in both releases. Toby Spence does Antonio here where he did Ferdinand on the CD. Otherwise the cast is new—and terrific. It's hard to believe there are two sopranos in the world who can sing Adès' Ariel. But there are.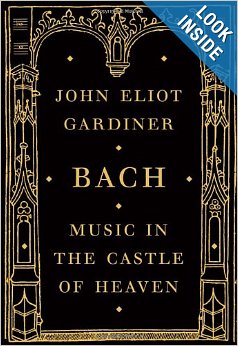 John Eliot Gardiner, Bach, Music in the Castle of Heaven. Alfred Knopf.
John Eliot Gardiner has written a book on J.S. Bach, focusing primarily on his cantatas and placing them in the context of the composer's life, times, and musical career. It amounts to the most informative and compelling set of 'album notes' imaginable for his choir's and orchestra's recently completed traversal of the Bach's cantatas on SDG. It turns out that Gardiner is as pleasing a writer and painstaking a scholar as he is interpreter of the music. He knows more than anyone I've read on Bach; his judgments are extremely well researched and entirely persuasive. We learn from what he writes precisely why he has interpreted and played the cantatas as he has. If his set of the cantatas captivated you as thoroughly as it did me, this book is a wonderful investment. Here are a couple of links to give you a hint of what he's about:
http://www.youtube.com/watch?v=UiQbppQq54E
http://www.youtube.com/watch?v=lOaZukymL6s
Equipment used for this audition: Resolution Audio Cantata CD player; Crimson 710 preamplifier and 640 solid state monoblock amplifier; Tocaro 42 loudspeakers; all Crimson cabling.
Bob Neill is a former equipment reviewer for Enjoy the Music and Positive Feedback. Since 2004 he has been proprietor of Amherst Audio in Amherst, Massachusetts, which sells equipment from Audio Note (UK), Blue Circle (Canada), Crimson Electronics (UK), Resolution Audio (US), Jean Marie Reynaud (France), and Tocaro (Germany).