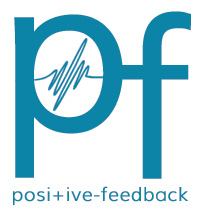 You are reading the older HTML site
Positive Feedback ISSUE 71
january/february 2014
Notes of an Amateur: Beethoven Trios, Music@Menlo 'Live' 2013, Gerald Barry.
by Bob Neill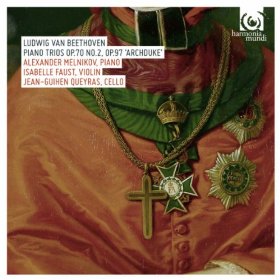 Ludwig Van Beethoven. Piano Trios, Opus 70 and 97 ("Archduke"). Alexander Melinkov, piano; Isabel Faust, violin; Jean-Guihen Queyras, cello. Harmonia Mundi HMC 902125.
This is not as might first appear an album of house stars conceived by the Harmonia Mundi PR office. Faust and Melinkov have a distinguished recording career together, including a superb complete set of Beethoven's violin and piano sonatas. And both have appeared with Queyras. That said, a trio is not a duo: there is no guarantee the chemistry will work...or work as well as established trios accustomed to performing, recording, practicing, traveling together. Like the Florestan Trio, for example.
Two things strike us immediately in listening to the Melinkov-Faust-Queyras trio. Queyras's cello has a bolder, weightier presence than we are used to in a trio, and I like that a lot. It provides a welcome sense of body to the ensemble sound. And all three musicians play on instruments of Beethoven's time. Melinkov plays a forte-piano, not his usual instrument unless he's playing with a period instrument orchestra. And both Faust and Queyras play on instruments build around the turn of the eighteenth century. All of which means that this is striking, plangent, assertive Beethoven, made up of three distinct voices which are also strong ones.
What is especially intriguing is to hear the three distinct voices surrender some of their bold individuality in the familiar opening movement of the 'Archduke,' resulting in a striking beauty that comes almost as a surprise. They do not blend but retreat a little, acknowledging that the movement is a refuge. I have never heard the movement sound like this. Three clear instrumental voices almost whispering together: a remarkable achievement. And then in the scherzo that follows, as if released from their refuge, the three voices commence to dance their way through some of the most entertaining and exhilarating Beethoven I've ever heard. Elegant and sinewy at the same time.
Maintaining a persuasive balance between beauty and vigor has always been the Beethoven challenge: tip one way or the other and the result is eccentricity or sentiment. And splitting the difference, passively aiming for compromise, won't work either. Beethoven demands that you strive actively for both, something we seldom hear. We get it in these performances.
Those who prefer their Beethoven restrained will likely find Melinkov-Faust-Queyras too outspoken. They are that. But they are also so good they may well lead you to rethink your preference. I'll admit I was afraid of this album before I heard it. I knew it wasn't going to sound like the Florestans whom I admire greatly, and I was right about that. All I can say to you now is, fear not. And the sound is terrifically present.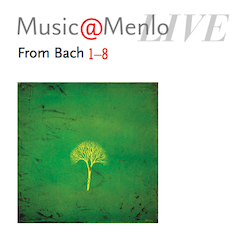 Music@Menlo 'Live' 2013. 'From Bach.' 8 CD's. www.musicatmenlo.org
With recording engineer Da-Hong Seetoo at work, the age-old conundrum of sound vs. music miraculously disappears every year at about this time! From the first notes of Disc 1 of the 2013 series —two pianos awhirl in Bach's Concerto for Two Keyboards, BWV 1061, both Bach and the pianos are utterly with us. For eleven years now we have had this experience at hand every January. Music@Menlo is a product or cousin of the Wu Han/David Finckel/Da-Hong Seetoo collaborative venture, Artistled, where every aspect of record-making is under the control of the 'artists.' This is apparently what it takes to get records absolutely right—Da-Hong is an accomplished violinist himself. As a recording engineer, he is conservative, if that makes sense: everything he produces sounds natural. There are no spectacular effects.
The roster of musicians who make up the Music@Menlo Chamber Music Festival and Institute changes some from year to year but many principals remain. As a whole, they come across as a performing family who see eye to eye. They are all well-known within the music world but tend not to be celebrities with the, often justifiable, egos that come with that kind of renown. They have come to Menlo, California to make music together. We also get that feeling in recordings from Music at Marlboro.
This year's theme is "From Bach": the program sets out to reveal the permanent influence of our first major composer. We hear from Bach himself, Mozart, Beethoven, Schubert, Schumann, Mendelssohn, Brahms, Franck, Debussy, Saint-Saëns, Bartok, Shostakovich, Britten, Gershwin, and Marcel Tournier (1879-1951). We can listen for the festival's theme if we have enough of the music student in us. We can notice who's here and not here. Or we can simply attend the festival virtually—a great musical luxury. Some of us have s special shelf for these annual recordings, because of their rare sonic and musical quality, a place where what we all claim to seek simply is. Where in the world can one find the music these days? Here.
Conspicuously notable among this year's performances are those by the pianists: Derek Hahn, Hyeyeon Park, Wu Han, Gloria Chen, Gilbert Kalish, Gilles Vonsattel, and Jeffry Kahane. It is perhaps in their performances where we appreciate most the marriage of musicianship and audio engineering. The pianos are radiant and physically present. Another virtue of this and previous year's programs is the presence of music most of us are not likely to have heard: Schumann's Andante for Two Pianos, Two Cellos, and Horn; Debussy's Sonata for Flute, Viola, and harp; Gershwin's Preludes for Violin and Piano. The Schumann Andante is a sonic wonder. Scattered through this set are a handful of major works providing a substantial backbone to the whole. In addition to the expected Bach concertos and keyboard works we have Bartok's Sonata for Two Pianos and Percussion; Shostakovich's Piano Quintet, Mozart's Piano Concerto No. 12; two quartets by Haydn, Brahams' Piano Trio, Opus 87; Beeethoven's Quartet No. 15, Opus 132, and Shostakovich's Quartet No. 3. The string quartet in residence this year is the Danish Quartet.
Last words? I have spent many hours with the previous ten Music@Menlo albums, enjoyed them all for not always the same reasons. For some reason, I have enjoyed this year's the most. Work by work, I have found myself drawn into whatever magic this year's cast has managed to conjure up. If you're into audio mainly to hear more from recorded music—to get closer to both the instruments and what they play, go here.
Music@Menlo report that they will also be releasing this edition in downloadable format. Digital downloading, and streaming are available on ClassicalArchive.com and will be available "soon" through Amazon and ITunes.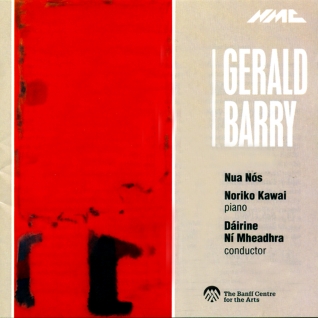 Gerald Barry. Piano Quartet and other chamber works. Nua Nós, Dáirine Ní Mheadhra. Noriko Kawai, piano. NMC Recordings (UK) NMC D022.
Gerald Barry (1952 -) is Irish as are most of the musicians on this recording. He studied with European avant-garde composers and writes modernist music, so don't be expecting anything identifiably "Irish." I would never have heard of him but for Thomas Adés, who speaks enthusiastically of him in Full of Noises; Conversations with Tom Service. Barry is sixty-two, has been composing since the 1970's; and yet I think it's safe to say "we've" never heard of him. So it goes in the twenty-first century with classical music.
No wonder Adés likes him. On this disc (1994), his inspired music dances, marches, barges into the room with no introduction. Piano Quartet; four works for solo piano; '_______', a sextet for clarinet, bass clarinet, violin, cello, marimba, and piano; another Sextet for clarinet/bass clarinet, trumpet, double bass, two marimbas, and piano.
A no-name composer with confidence, high energy and eloquence. From Ireland. We need to pay attention when famous composers like Adés make recommendations!
There is blues buried not too deeply in some of this music—one solo piano piece is called Triorchic Blues, another Swinging Tripes for Trillibubkins; still another Triorchic Blues for solo violin. He has written a great deal of music, which I am currently hunting down. Stay tuned.
Equipment used for this audition: Resolution Audio Cantata CD player; Crimson 710 preamplifier and 640 solid state monoblock amplifier; Tocaro 42 loudspeakers; all Crimson cabling.
Bob Neill is a former equipment reviewer for Enjoy the Music and Positive Feedback. Since 2004 he has been proprietor of Amherst Audio in Amherst, Massachusetts, which sells equipment from Audio Note (UK), Blue Circle (Canada), Crimson Electronics (UK), Resolution Audio (US), Jean Marie Reynaud (France), and Tocaro (Germany).