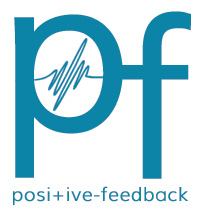 You are reading the older HTML site
Positive Feedback ISSUE 71
january/february 2014
Impressions: Robinson's Brutus Awards for 2013
by David W. Robinson
[Cartoon by Dan Zimmerman; photographs by Robinson or courtesy of the manufacturers, as indicated.]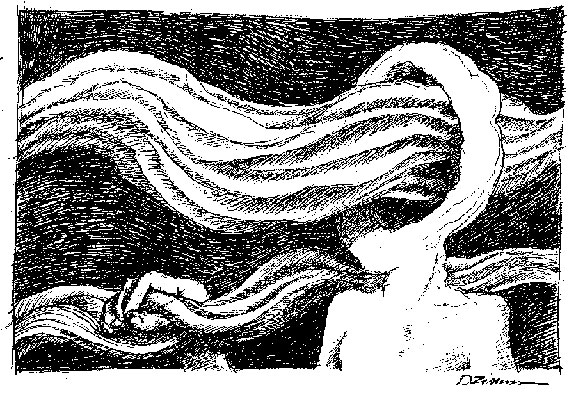 Well, the sun has made another circuit, mostly, and 2013 is now in the history books. Personally, this year has been a rough one, especially the second half. As my friends and colleagues already know, the death of my Dad, the aftermath thereof, and injury in my family made life from August onwards a very difficult time. My professional workloads at various universities were a constant (over)burden, and there was never enough time and energy to get everything done that needed to be done. That includes especially my writing here in the Fall and early Winter of 2013. C'est la vie!
Regardless, every year at the end of the year I give my annual Brutus Awards. This has been a very busy and productive year here at PFO…in some ways, the most busy, ever. There were many intriguing products, most of whom were reference-level, which made their way here to River City. Some were in entirely new product categories, like the Merging Technologies Horus ADDA and Pyramix 8.1 DAW for DSD, DXD, and PCM. Others, like the ALO Studio Six headphone amp or the Audeze LCD-3 planar headphones, represented new heights in well-established niches. DSD DACs were here in a blizzard! Playback Designs, exaSound, Benchmark, AURLALiC, and Luxman all submitted review samples. I had several new integrated amplifiers from the likes of Playback Designs, MBL, ModWright, and BMC. In the world of optical digital playback, the ever-overperforming Oppo BDP-105 showed up in three different incarnations (stock, modified one-box solid-state by The Upgrade Company, modified two-box tubed by ModWright) with a fourth two-box tubed setup (from eXemplar Audio) arriving too late to be evaluated this year. Cardas Audio scored with its very fine new in-ear monitors, the EM5813, and Blu-Ray video was nicely served by the Oppo BDP-103D (Darbee version) player.
And there was more, much more.
So yes, it was a happenin' year….
About the Brutus Awards
If you're new to PFO, you may want to know more about our Brutus Awards. They were set up back in 2003, when my much-valued and still-unindicted co-conspirator Dave Clark and I decided that the time had come to add Positive Feedback's voice to the world of audiophile awards. (Why not? There are so many voices… some who know something, and some who are more clueless 50px">
There are several categories here. The Brutus Award itself is given to hardware and recordings that have been in my listening room for evaluation… not at shows, not at audio events, not at a friend's place… but right here, in a place of known quality. We also have the Lifetime Achievement Award, given occasionally to people who have merited recognition for their work in fine audio over sustained and extended periods in their lives.
It is our rule that: All products that are so recognized by PFO will be work that has been reviewed by us personally; no design will be recognized that we do not have personal and sufficient experience with in our own listening rooms. This means that you, our readers, may disagree with our selections, wondering why this or that component, recording or individual was not mentioned. Quite apart from differences in taste/opinion, the answer is simple: we won't be mentioning any design that we haven't spent time with in our own listening rooms. The idea is pretty simple: what are the really great components that I've heard in my listening room this year, whether I've completed the formal reviews yet or not? What are the great recordings and reissues? Who are the key people in fine audio?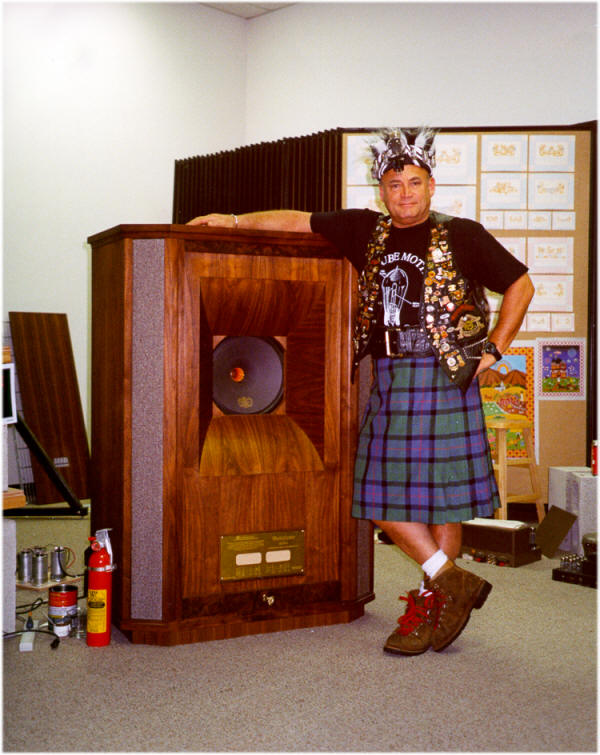 [Photograph from Gizmo himself!]
There's also the Gizmo Award, in honor of our old friend and enthusiastic PF contributor, now departed quite a few years ago, Harvey "Gizmo" Rosenberg. This award is given from time to time…not every year… when a demonstrated true audiomaniac comes along who has gone over and above the call in design, audio alchemisticism, and Gizmological Gonzo Consciousness. Some years I have a person who comes to mind; sometimes none. I do this award to honor my long-time audiobud, Harvey "Gizmo" Rosenberg, gone but not forgotten at this end. Last year, I gave this award to Greg Beron of United Home Audio, for his Phasexx series of reel-to-reel decks over the years. A true audiomaniac, for sure!
This year, I didn't have anyone cross my threshold who met the criteria. Guess we'll have to see if anyone does the deed next year.
From time to time, I also give a PF Special Achievement Award, for those individuals who have done something very righteous in fine audio in the course of the past year. We have several of these in 2013, all very well deserved.
On the other hand, our Lifetime Achievement Award is given to individuals who have made a sustained, life-long commitment to fine audio, and who have contributed to the audio arts over longer periods of time. Previous winners have included people like George Cardas, Chad Kassem, Bernie Grundman, J. Gordon Holt, Ivor Tiefenbrun, Ed Meitner, Steve Hoffman, Winston Ma, Stan Ricker, Tim deParavini, Doug Saxe, Michael Bishop and the Telarc production team, David Chesky, Todd Garfinkle, and Andreas Koch. Keep reading to see if I add anyone to that stellar list this year.
In 2009, I added our Circuitous Maximus Award, for those systems that demonstrated superior levels of synergy in my listening room. I stated last year that the CM "…will only be given when I've encountered multi-component systems that exhibit the very highest level of reference-grade synergy. Since that happens only once in a while, some years may see no Circuitus Maximus awarded at all." I'm very pleased to say that we've had several exceptional systems in that category since 2009…however, there were no new full system reviews in 2013, and so none will be given this year.
So much for plowing the ground.
Here are the awards.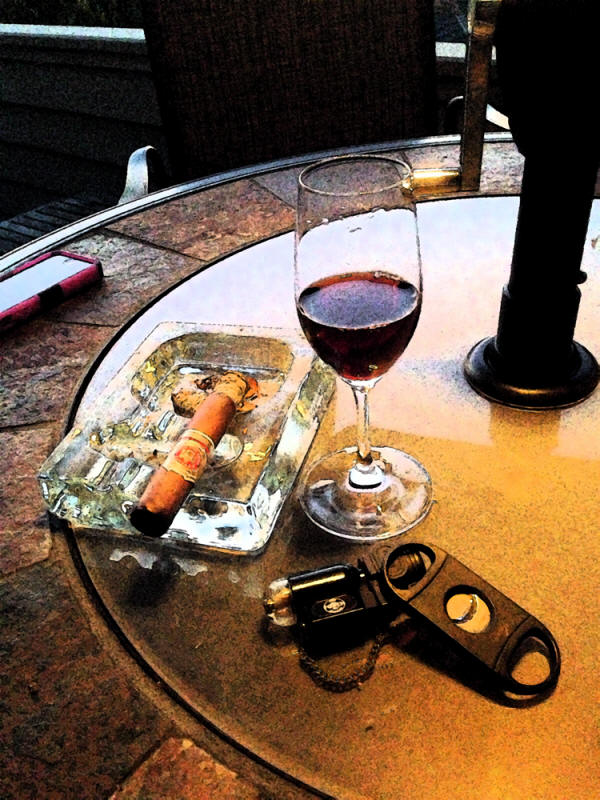 [Photograph and fresco by Robinson]
Hardware
Digital Sources and DACs
Oppo Digital
[Images courtesy of Oppo Digital]

Oppo BDP-105
[Images courtesy of Oppo Digital]
Well, what can you say? Oppo has been scoring Brutus Awards for years now, with their price-performance killer designs. The Swiss Army knife of optical playback, Oppo's players have consistently delivered excellent results, year in and year out, with just about any optical format that you could wish for. The BDP-105 delivers at the highest level ever for Oppo, via its universal transport and the ESS Sabre32 (9018) chipset for D/A conversion. It's a smashing chipset!
The 105 supports SACD (both internal processing and via HDMI), Blu Ray, DFF and DSF (Single DSD only) on disc, DSD Discs, DVD-A, CD, HDCD, DVD, CD-R, DVD-/+RW, FLAC, OGG, MP3, etc., etc. Additionally, it can handle DSD DFF and DSF (Single DSD only) playback via USB drive. Note that the BDP-105 handles SACDs in native DSD mode…no conversion to PCM…provided that you set up the player correctly (turn off DSD via HDMI). Oppo assures me that the transport sends the DSD stream in pure DSD mode. Excellent!

It even has a very workmanlike headphone amp, with a ¼" headphone jack right up front, tipping a hat to the growing headphone market.
Internet and LAN access is supported either via Ethernet (hard wire) or wireless standards, with a USB wireless point supplied by Oppo. Either work very well, though I prefer hard-wired Ethernet connections. This makes accessing enhanced Blu Ray content, or firmware updates, very simple and rapid.
Fully loaded!
The main things missing right now are Double DSD and computer-based DSD playback via DoP/ASIO. Oppo has informed me that these will be in the next model of the Oppo line.
Stay tuned!
Meanwhile, $$$ against donuts, this is more bang for the buck than you're going to find in optical playback, period. Audiophile quality at very a reasonable price (the MSRP is $1199), and a clear Brutus Award winner.
Again! Congrats to Oppo Digital…keep 'em flying, gents!
Oppo BDP-103D

[Images courtesy of Oppo Digital]
Good news for video junkies: Oppo isn't done with their 103 player. They've got a very interesting new player that's optimized for video playback, enhanced with the Darbee chipset for enhanced video presence and color presentation. This is an adjustable feature, but it certainly does improve the clarity at this end on our Panasonic Viera 65" Plasma, I can tell you. Lacking the many audio enhancements of its big brother on the audio front, the 103D does a very fine job of turning your Blu Rays into real eye candy. It has moved past the more expensive Marantz UD-9004 in the quality of the video, and in the speed of Blu Ray access and operations. Note that 3D, 2D-to-3D, and 4K/2K upscaling options are present…very nice!
It also supports the usual slate of audio and video optical formats, but without the optimization for audio playback (including XLR), headphone listening (no headphone jack), and USB-based DSD playback.
Everything works nicely on our review sample, and the color saturation/presence on various Blu Ray discs was quite impressive. DVD playback via upsampling has been very satisfactory, making DVDs much easier to bear with, even after having your video sensibilities and expectations permanently lifted by Blu Ray and 1080p.

Then there's the ton of Internet-based apps that are embedded in the Oppo 103D. With these in place, there's much less need for third-party alternatives for the Internet-connected among us (which is getting to be just about everybody these days). The YouTube and NetFlix apps worked very well indeed, and other apps like Hulu, Pandora, and Vudu are in the mix. Hard not to like any of this!
Given the price-performance ratio here at the very cool MSRP of USD $599, this is a really clear choice for audiophiles who are also lovers of quality video… and another obvious Brutus Award winner for Oppo in 2013.
ModWright Oppo BDP-105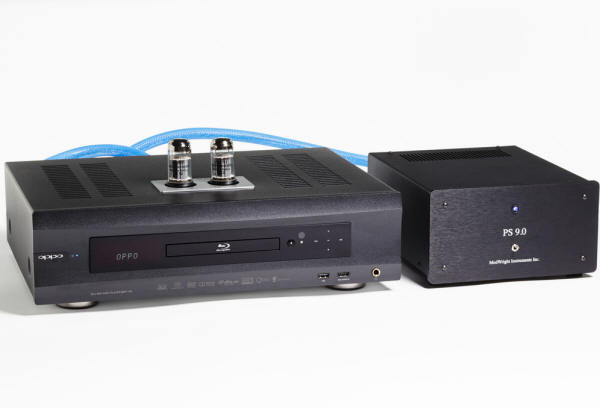 [Images courtesy of Oppo Digital]
Oppo's remarkable success in providing 800-pound gorillas in the world of fine audio hasn't gone unnoticed, naturally. Such an obvious modding platform, with a ton of features and capabilities, at a great price (the 105's retail is a relatively real-steal of $1199.00), and a very accessible framework, has attracted a lot of attention from some audiophile companies. I received, and was able to evaluate a couple of these before the end of the year. (There was a third modded player that arrive here, but I wasn't able to get it in place before the cut-off at the end of the year. I'll save it for next year!)
Venerable readers of Positive Feedback know that I have reviewed modded and hot-rodded audio gear before. See, for example, my series covering the sequential Richard Kern mods to the Sony SCD-1 in Issues 1, 4, and 6, or his mods to the Sony SCD-777ES in Issue 15. There was my discussion of the fine work of the late Allen Wright modding and hotrodding the Sony 9000ES SACD player, also in Issue 15. So I've done some of this.
Other publications and reviewers avoid modded gear, which they're quite free to do. There are some very cogent reasons for such a policy: variations between mods, the sometimes significant differences in workmanship due to the custom, handmade nature of the work, quality assurance of the workmanship in general, the loss of warranties, the difficulty of trying to differentiate stock vs. modified gear, long break-in periods, the multiplicity of modification sources and options, and so on. Unless you're experienced, and a very careful listener who likes to work hard, I wouldn't recommend it. I'm pretty comfortable doing modded gear, though, and since it had been quite a while since I had taken on such a project, I decided to do it again in 2013.
The first was a two-box, tubed variation on the one-box Oppo 105. Produced by Dan Wright's ModWright company, it features a separate tubed power supply box, the PS 9 (we have the latest version, the 9.9), a high-quality power cable connector, and a tubed output section (6SN7EH) taken from the Sabre32 DAC and piped out. The list of improvements and menu of options are quite extensive: check out http://modwright.com/modifications/oppo-bdp83-and-bdp83se-mod.php for more information... there's no time or room to go through that all in this award section.
The results are truly excellent, however. The already very good sound of the 105 is made rounder and richer, more musical, without the loss of details, by the application of ModWright's complete set of mods, which is what this unit has. (That includes the Bybee Music Rail and the Audio Magic Pulse Gen ZX options, though not the Region Free Pro Kit, since I don't the 105 for a Blu Ray/DVD player.) Atmospherics and presence are definitely enhanced; everything feels definitely more organic to me.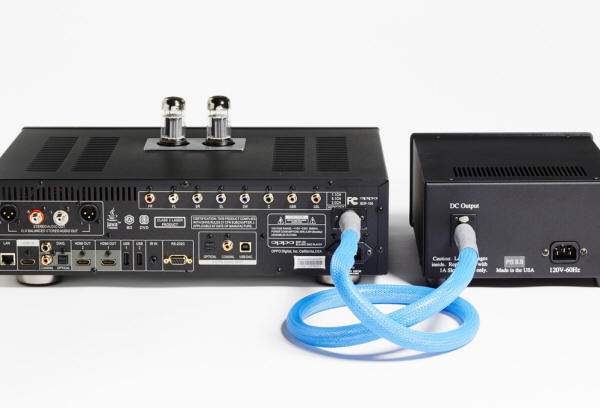 On the Power Supply 9.9, I did the option to have cut-outs for tube-rolling with larger rectification tubes. I'd recommend this to you; if you can afford it… it's good to have the flexibility if you like messing with tubes.
[Very last minute update: If you do purchase the ModWright power supply option for cut-out (if you don't, you'd have to remove the top of the power supply), I strongly recommend that you follow the advice of PF's Bob Levi (see Issue 68 and do a tube upgrade. As Bob explains in his review, replace the stock Sovtek 5AR4 with the Philips 5R4GYS. The gain in harmonics, detail, slam, imaging/soundstaging, and greater transparency… all of which worked to improve the musicality amazingly…make this a true no-brainer. The change really lifts the ModWright Oppo 105 to a new level of performance, and it was already terrific.
Run… do not walk… and contact Kevin Deal at Upscale Audio (see www.upscaleaudio.com for contact info) to order yours! $55.00 per tube…for this kind of qualitative gain, it's a screaming deal. Don't do this, and you'll be missing a significant chunk of what your ModWright Oppo 105 is capable of. You've been told!]
Given what I've been hearing for the past few months, the ModWright 105 treatment for your Oppo 105 is just what the doctor ordered! Especially if you love the coolosity and loveliness of tube-based fine audio, this is a real winner, without a doubt!
And definitely deserving of a Brutus Award here at the end of 2013.
The Upgrade Company "Signature Edition" upgrade for the Oppo BDP-105
I would have included an image for The Upgrade Company's Oppo BDP-105 player, but it's a one-box solution that still looks pretty much like stock when David Schulte and crew are through with it. In fact, apart from the sticker on the back, indicating that The Upgrade Company has hotrodded the 105, you wouldn't notice any difference on the outside. No two boxes; no protruding tubes to tip you off.
But it definitely doesn't sound like stock.
In fact, The Upgrade Company's Signature Edition update for the Oppo 105 is an internal matter. It involves the following, according to their Web site:
Our OPPO Signature Edition upgrades install hand selected high end electronic parts & wiring, extensive RFI & EMI shielding/dampening/attenuation, a new Furutech grounded IEC inlet, and more. 12+ hours in labor
Our Oppo-based player "Signature Edition" upgrade includes maximizing the performance of the entire player through extensive high cost parts substitutions, high end wire, and advanced RFI/EMI shielding and dampening. The "Signature Edition" upgrade tweaks and enhances the entire player and power supply including video & HDMI and digital circuitry for all video sources to achieve truly amazing video performance not found in stock players at any price. The upgrade also includes upgrading the HDMI and digital circuitry for all sources and functions, it includes upgrading all of the power supplies and DSP's, all wiring, all of the analog stages for truly amazing analog performance.
I've been going through this signature edition upgrade in stages, hearing some of the changes, and then sending it back for more. This is similar to what I did with Richard Kern's mods years ago… taking them a piece at a time.
Thus far, having internals changes done, but not including the EMI/RFI painted shielding done yet, I'd say that the character of The Upgrade Company's Signature Edition is towards transparency, clarity, a lower noise floor, and a noticeable gain in dynamic slam. In medias res, the improvements seem evident.
Pretty impressive, and much different in nature from the stock player…big-time improvements. Certainly good enough for a 2013 Brutus Award… done!
exaSound e20 and e28 DSD DACs

[Images courtesy of exaSound]
The exaSound DSD DACs come out of Canada, the handiwork of George Klissarov and company. Trim and elegant in appearance, I got to spend significant amounts of time with the e20 stereo DSD DAC (see my review in Issue 67) and the e28 8-channel DSD DAC. Both are based on the very fine ESS 9018 chip, and support up to Quad DSD (256fs) in either stereo or eight-channel modes.

These DSD DACs (the e28 immediately above and below) quickly did a "lovely Rita Meter Maid" and towed my heart away. Very detailed, very transparent, clean, and elegant in their presentation of the music, I was able to listen for many hours per day in our reference office desktop system (DSD and PCM downloaded sources, with the MBL C51, BMC CS2, and ModWright KWI 200 integrated amps powering the Evolution Audio MMMicro One Monitor speakers in near-field mode).

The results were simply splendid. Near-field listening with very revealing and superb speakers like the MMMicro Ones, can lead to the burn-out of one's ears with lesser systems and DACs. You just get tired of being hammered by nastiness in the near-field…which may well be why what some audio engineers deliver to us sounds so terrible. DACs like the e20 or e28 would certainly help those poor folks!
I should also note that the exaSound's handy headphone jack made listening with my Sennheiser HD800's and Audeze LCD-3's a real pleasure. The headphone section is quite competent, and provided performance that allowed me to really relax into the music. Very nice for the headphone/personal fi crowd… this is a 'phones winner!
This is a no-brainer… the exaSound e20 and e28 DSD DACs are well worthy of Brutus Awards.
Consider the good deed done!
The AURALiC VEGA DSD DAC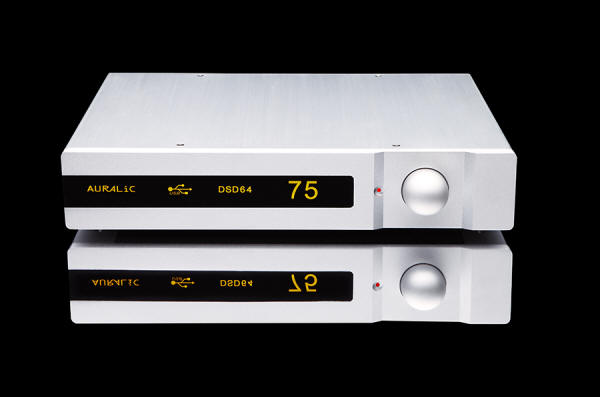 [Images courtesy of AURALiC, except the Robinson photograph]
This DSD DAC was rather a surprise to me. I wasn't familiar with this company from China, but was intrigued by a design that handled both Single and Double DSD, high-rate PCM, and featured a clock capable of femtosecond levels of accuracy. Looking different than most alternatives, the very attractive-to-the-eye VEGA didn't seem to require too much time to break-in at this end… around 100 hours to hit its stride…though blooming has continued past the 400 hour mark.

Inputs include a pair of S/PDIFs, AES/EBU, TOSLINK, and USB. Outputs include both balanced and unbalanced ports. There is a complete menuing system controlled by both remote control and the front manual control knob. This allows the configuration of multiple modes/options for DSD and PCM in a relatively simple fashion, once you get the feel of it. PF's reviewer Michael Wechsberg was impressed with the VEGA; see Issue 70 for his thorough comments.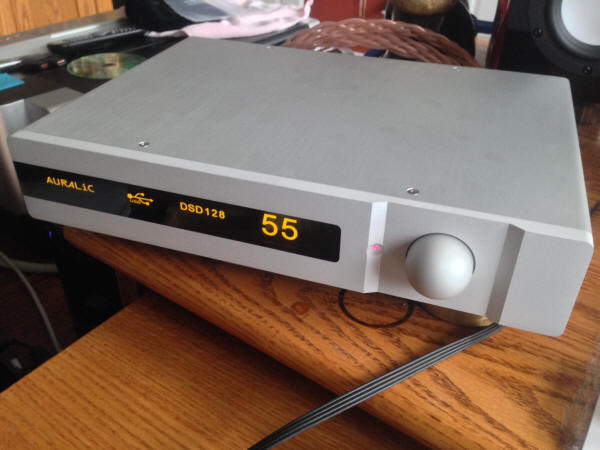 The splendid AURALiC VEGA DSD DAC, in place with Ye Olde Editor
[Photograph and processing by Robinson]
I've spent a ton of hours listening to this splendid DSD DAC in near-field, configured with PranaWire's exceptional USB cable (see elsewhere for that Brutus Award), Kubala-Sosna's Elation power cable, and JENA Labs Symphony balanced and unbalanced interconnects running to the MBL C51 and ModWright KWI 200 integrated amplifiers and feeding the Evolution Acoustics MMMicro One loudspeakers. These are excellent near-field configurations, highly revealing, and yet exceptionally musical.
They reveal that the AURALiC is a real winner: very transparent, dynamic, harmonic, and versatile in its configurability. The fact that the VEGA maintains firm control of detail, without becoming analytical, and remains a lot of fun to listen to for hours on end (just ask the guy who knows!) makes it a Brutus Award winner here in 2013.
And well deserved!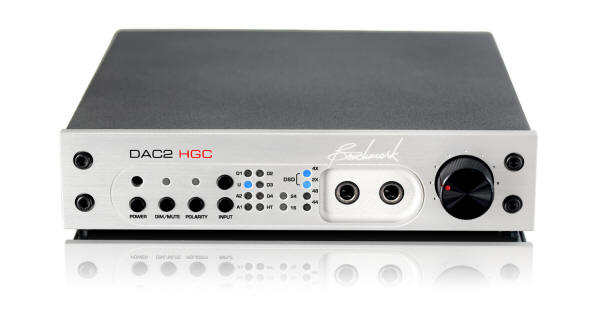 Benchmark DAC2 HGC DSD DAC (Single DSD only)
The good folks at Benchmark have impressed me for years now with their compact, reference-grade DACs. They've won several Brutus Awards from me over the years as a result. Every year they seem to come out with innovative new designs that push the state-of-the-art in fine audio; this year was no different. Their DAC2 HGC is the latest iteration of their DAC/preamp/headphone series of components, all of about the same form factor. Input/output options are superior, with support for seven different inputs: for digital, USB 2.0, two TOSLINK optical ports, and two S/PDIF ports (RCA); for analog, two pairs of RCAs. Outputs include a pair of balanced outs, and two pairs of unbalanced out. The front of the unit features a very nice set of items: a pair of ¼" stereo headphone jacks…great for couples!... a volume pot, and selector buttons for digital file type, input, Dim/Mute, polarity (handy, that), and power. Unit construction is both heavy-duty and attractive. Indicator LEDs provide information about the type (DSD or PCM) and clock rate of the music.
Once again, the signature of Benchmark is in evidence with the DAC2 HGC: Clean, clear sound, excellent dynamics, and a neutral tonal balance. It's hard to believe that so much good music can come out of such a small form factor.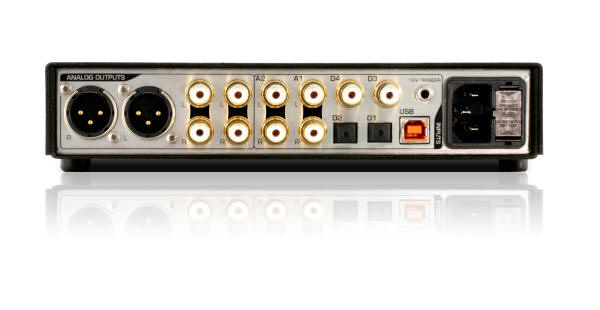 The presentation of Single DSD (note that Double DSD is not supported) and PCM files (88.2kHz up to 192/24 was where I spent almost all of my PCM time) was detailed; the Benchmark DACs have always been known for this. Dynamics are superior, without becoming too much "in your face." PCM didn't have too much of its usual edge or glare via the DAC2 HGC, while Single DSD sounded natural and relaxed.
The headphone section is quite good. I spent time with my Sennheiser HD800s, and listened for long stretches without the listening fatigue that lesser headphone sections induce in me. With room for two here, and some fine wine, there are good times to be had!
Overall, this $1995 DSD DAC performed very well, and provided a great deal of engineering excellence and musical goodness at a competitive price. (I do hope that we'll see Double DSD supported sometime in the future in a Benchmark DSD DAC…)
A Brutus Award for the fine folks at Benchmark!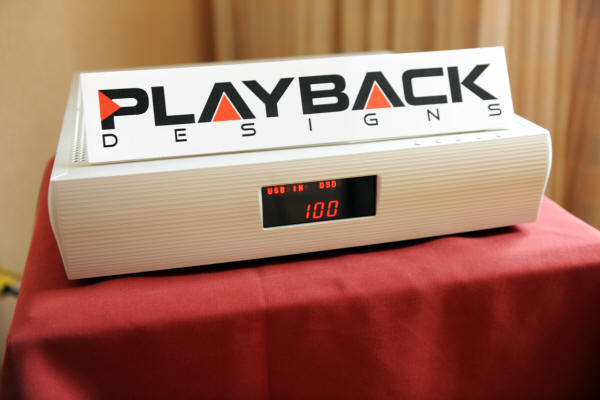 Playback Designs IPS-3 Integrated with DSD DAC
The Playback Designs IPS-3 integrated amp with DSD DAC
[Photograph and processing by Robinson]
The Playback Designs IPS-3 was a really pleasant surprise to me when I first heard it at THE Show Newport Beach 2013 in June, and then in an extended way in our PFO Hospitality Room at Rocky Mountain Audio Fest 2013. I was able to procure an IPS-3 for a listen in our desktop reference system for a while before year's end… just enough to confirm my earlier enthusiasm.
The 130 Watts per channel integrated stereo amp has remarkable transparency… no surprise, since that's Playback Designs' calling card… excellent preamp section, and Playback's world-class DSD (Single and Double rates supported) and PCM (to 384kHz) DAC. The MSRP is USD $13,000… but in audiophile land, you get DSD/PCM at the highest level, and a great integrated amp, all at once.
What's not to like? And all of that great sound coming out of such a clean, tight design.
A 2013 PFO Brutus Award winner for sure!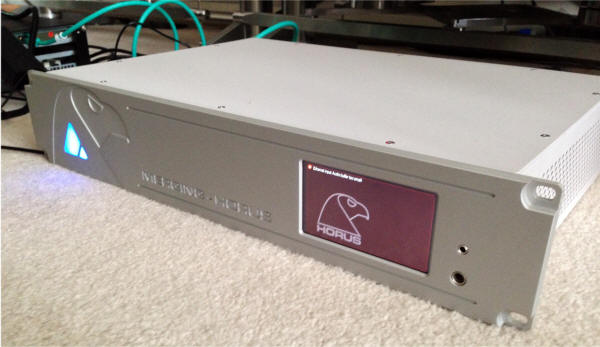 Merging Technologies Horus ADDA and Pyramix 8.1 system
[Photograph and processing by Robinson]
No, this is not your usual audiophile component… even if you're rather a raving sort of audiomaniac. No, no, no.
I'll confess it: This particular project came in because of my powerful conviction that DSD is the best-possible format for our precious treasury of analog audio master tapes, as well as new recordings done purely in DSD. (As it should be!)
There is a small, but definite world of analog-to-digital and digital-to-analog (ADDA) converters supporting DSD out there. Merging Technologies is a well-known name in that professional realm, and released their Horus ADDA and Pyramix 8.1 workstation, supporting DSD conversions, as well as DXD and PCM. The thing that caught my eye was that the Horus supported DSD out to Quad DSD (256fs) in blocks of eight channels(!). Better yet, a fully loaded Horus could accommodate up to six modules of eight channels(!!!), configured as needed. Say, for example, 24 channels of analog-to-digital (A/D) conversion, and 24 channels in the other direction (D/A). Or 48 channels of A/D, or D/A. All at up to Quad DSD, DXD, or high-rate PCM. Multiple chassis are supported, at need.
Also in play is the new protocol for long-distance audio signals over Ethernet, via its remarkable new Audio-over-IP (AoIP) protocol, named Ravenna. No more relatively short and more esoteric connection types like ST glass, AES/EBU, or S/PDIF3. Ravenna allows for very sophisticated and large-scale installations of Merging Technologies ADDA systems in large venues like concert halls, recording studios, universities, etc., through the deployment of easy-to-deal-with CAT6 Ethernet. This greatly increases range and cuts costs significantly…Ethernet is a ubiquitous standard for sourcing, installation, and support. Their digital audio workstation (DAW) application, Pyramix, version 8.1, complements the Horus quite synergistically, providing a sophisticated interface, and a set of professional-grade audio editing tools.
Through the kind assistance of Merging Technology, I was able to get a Horus/Pyramix 8.1 system here for a few weeks… enough to evaluate it on a fast-track basis.
This wasn't your usual project, since the product is really a professional audio engineer's system. Also, as a new model, it didn't come with separate documentation, and the quick setup guide didn't really do that job. It took all of my Information Technology street smarts, plus some tutoring over the phone from the US distributor, Dennis Gaines of Independent Audio, Inc., to get the system up and running. (Thanks, Dennis!)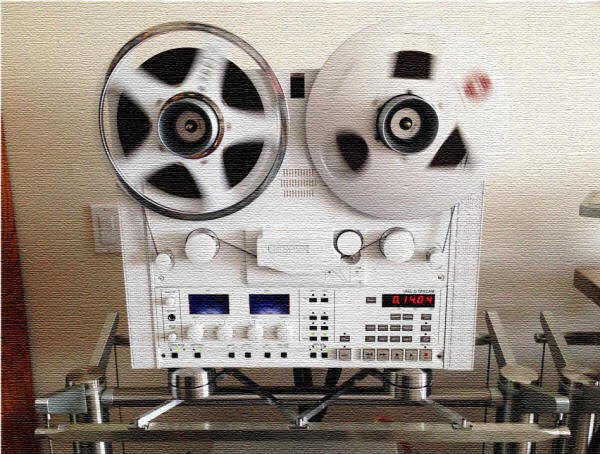 The UHA Phase11S acting as source for Quad and Double DSD transfers via Horus/Pyramix 8.1
[Photograph and effects processing by Robinson]
The Merging Technologies Horus and Pyramix DSD ADDA system (on floor) being feed by the UHA Phase11S tape deck: a transfer from tape to Quad DSD.
To evaluate this system, I did a series of transfers from analog to digital in both Double and Quad DSD. The source was the splendid UHA Phase11S at 15 inches per second (IPS), half-track. These were open reel copies done in real-time, 1:1, by the good people at Opus3 Records… thanks, Jan-Eric and crew! We took the feed to the darTZeel NHB-18NS preamp via XLR, and from there via another XLR feed to the Horus ADDA. The Pyramix 8.1 DAW was connected to the Horus via a single CAT6 Ethernet cable.
We set the system to create .DSF files from the feed. No trimming, editing, gain changes, or track marking was done. The results were simply brilliant in Double DSD mode, with most listeners completely unable to tell the difference between direct playback of the master tape and the Double DSD.
Quad DSD, however, closed out the game. Even the most critical, discriminating listeners, including experienced audiophiles, professional musicians, and industry professionals, were unable to tell any difference whatsoever between the analog source and the Quad DSD pull.
The results were simply breath-taking. Truly.
No doubt about it. Even with the complexities of this professional system, the results were simply unbelievable. The transfers that I made will remain here as references for what is possible in the audio arts, when handled faithfully and with minimal intrusion in the transfer process itself.
A gigantic Brutus Award for Merging Technologies!

The Luxman DA-06 DSD DAC
[Images courtesy of Luxman]
Luxman's DA-06 arrival in 2013 allowed me to reacquaint myself with its sound in our desktop reference system. I had heard it a couple of times in 2012 and 2013, and was finally able to obtain a couple of months with it, due to the kind assistance of Luxman's US distributor, Philip O'Hanlon of On a Higher Note, LLC…thanks, Philip!
Luxman has had a long-standing commitment to both SACD and DSD in its product line. The DA-06 worked and played very well with our JRiver Media Center 19 on Windows 7 (64-bit)…the ASIO drivers for Windows worked nicely, with only one hiccup during the couple of months that it was in place. (And yes, that's really quite stable.) I found that this unit didn't seem to need much break-in, which may be due to the fact that it was a review sample that had been used in some audio shows along the way.

Input support includes USB 2.0 (preferred), two S/PDIF coax, two TOSLINK, and AES/EBU. Outputs are one S/PDIF coax and one TOSLINK on the digital side of things, and both balanced and unbalanced out for analog. I ran USB 2.0 in, and balanced out via JENA Labs Symphony cables. I ran Single and Double DSD recordings, along with high-resolution PCM, for many hours per day. Both of these are very revealing, reference-grade integrateds, with plenty of synergy with the Evolution Acoustics MMMicro One speakers. Line conditioning was supplied by Furutech's very fine Daytona 303, and power cabling/cable filtering was accomplished with Furutech's Silent Source/Flow-28 tandem.
Sonically, the Luxman DA-06 turned in a performance that was really appealing. While clean and detailed, there was also a kind of silky elegance that was different from most DSD DACs that I heard this year. Harmonically, the DA-06 brings out a beauty in the music from DSD that is very appealing…a shimmer that is quite seductive. While PCM sources remain… well, PCM… some of the worst of the PCM edginess and glare was ameliorated. Not bad at all for PCM.
And overall, very, very fine. I was very impressed with this DSD DAC, and was quite sorry to see it go when it rolled off to RMAF 2013.
Well done, Luxman! A PFO Brutus Award to you in 2013!
Analog Sources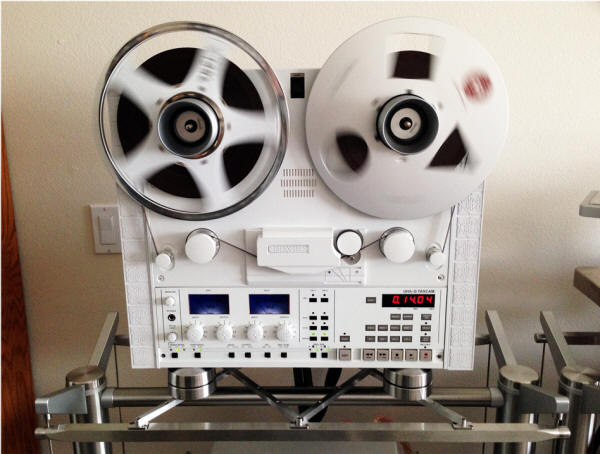 United Home Audio Phase11S reel-to-reel deck
[Photograph and image processing by Robinson]
Greg Beron of UHA has certainly been making a splash in the world of analog over the past few years with his eye-catching, ear-seducing RTR decks. Swimming against the tide of digital audio, Greg has made the counterintuitive move to return to our open-reel roots…no apologies, and no prisoners!
He was able to get his latest RTR deck to me just long enough for me to give it a rapid-track evaluation as a candidate for a Brutus Award. I spent a fair amount of time listening to tapes from my collection of open reel sources from Opus3 Records and The Tape Project. The results were uniformly quite fine… the Phase11S was always musical, with excellent transparency, detail, and soundstaging. If you're into analog, this is a real mountain-top experience. In fact, we were able to use the Phase11S briefly as a source RTR for some of our mastering
Yes, there's a reason why Greg took my 2012 Gizmo Award for audiomaniac innovation… and it's in evidence again with the Phase11S. If you can swing the price tag ($18,000 - $24,000, depending on the particular model and configuration), love open reel tape, want one produced by a certified audiomaniac with obsessive attention to quality and detail, and are looking for high curb appeal, then you should absolutely check out the UHA Phase11S deck.
A 2013 PFO Brutus Award for Greg Beron and UHA!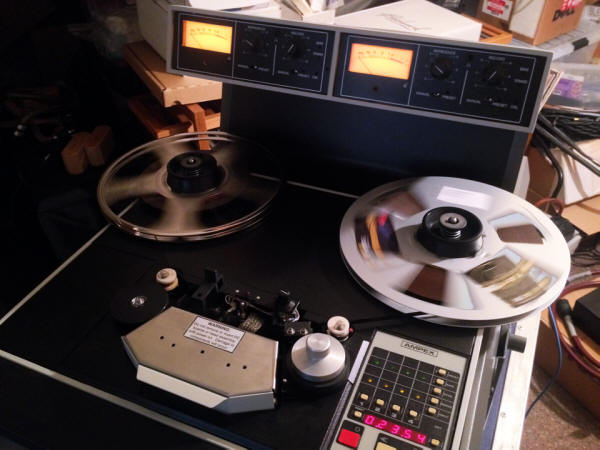 ATR Services Ampex ATR 102 recorder
[Photograph and image processing by Robinson]
After many delays, I was finally able to get the splendid Ampex ATR 102 deck, as customized by Mike Spitz and ATR Services, placed, up, and running.
Don't laugh; this is more than a bit of a task. The Ampex ATR 102 is in the top-rank of professional stereo recorders, out there with the likes of Studer. It's definitely not for the person whose spouse likes small, compact, and "pretty" audio gear… like Studer decks, the Ampex ATR 102 will simply sit there, looking bluntly professional, and will not fit on your typical audiophile shelf.
Nor is the $14,000 or so (depending on configuration) price of ATR Services' custom work in the range of a number of folks. And, of course, you have to have sufficient analog tapes to make this investment worthwhile to you.
But if you are one of those who is can swing this, you're going to find a true world-class reel-to-reel deck for your analog tapes. Incredibly accurate tape operation, very quiet operation, precision controls, no complicated tape threading or tape path, and no capstans or pinch rollers. With the ATR Services customized re-working of the ATR 102, the results are absolutely top-o'-the-heap: authoritative playback of ¼" tape, half-track, for your 15 ips or 30 ips tapes.
We've mated the ATR 102 with the handy Korg MR-2000S for Double DSD transfers…the results have been surprisingly fine, considering the relatively modest price point of the Korg. The ATR 102 is a rock… as a RTR deck like this should be. It may be a "niche-within-a-niche" product, but it's everything that I would expect from a true reference RTR deck.
And worthy of a Brutus Award, unquestionably.
Amplifiers
The MBL Corona C51 Integrated Amplifier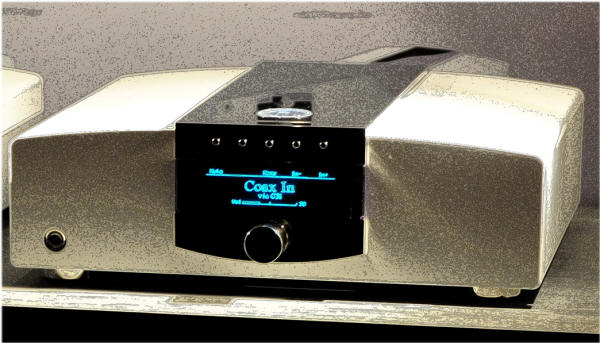 The MBL Corona C51 Integrated Amplifier
[Photograph and effects processing by Robinson]
I've had a chance to spend months with the MBL C-51 Integrated Amplifier in our reference desktop system here in PFO River City, with the kind help of MBL North America. There weren't really any surprises here, I must confess, since I had heard the C51 at several shows over the past couple of years. I knew that it was an integrated of exceptional quality in its MSRP USD $11,100 price range, but I had not heard it in the known ground of my own listening spaces.
It arrived, and was easily deployed in our reference desktop space, being fed by various SACD sources (three different flavors of Oppo BDP-105), and DSD/PCM files via several DSD DACS (exaSound, AURALiC, Luxman, and Benchmark), and feeding in turn our Evolution Acoustics MMMicro Ones, with line conditioning by Furutech's Daytona 303 and power cabling/filtering supplied via Furutech's Silent Source/Flow-28 combo.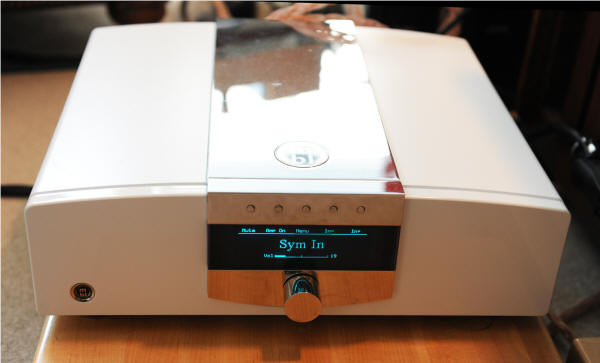 My show impressions were confirmed immediately, but the sound was even better than I remembered…no shock when you're able to get a good component into better surroundings than that at your typical audio show. Now the C51 showed itself to be quite the fine integrated amp. Its nominal 180 Watts per channel (@ 8 Ohms, 300 Watts @ 4 Ohms) got the attention of the Evolution Acoustics MMMicro Ones instantly! The transparency of the music was excellent; dynamics were effortlessly reproduced; harmonic structure from top to bottom was faultless; and the ease and naturalness of our reference SACDs and DSD files (Single, Double, and Quad DSD, this last via the exaSound e28) was exceptional.
The built quality was the usual MBL combination of beauty and precision… flawless, really. MBL builds glorious looking gear, without doubt. The remote control all by itself is a work of art, and you could defend yourself against a mugger with it, at need! (Not much exaggeration there.) The heft of the unit, at 50 pounds, indicated the seriousness of intent that went into it.
I knew it in minutes, and confirmed it with months of listening: The MBL Corona C51 is a world-class integrated, and worthy of a Brutus Award for 2013.
Enthusiastically given!
The ModWright KWI 200 Integrated Amplifier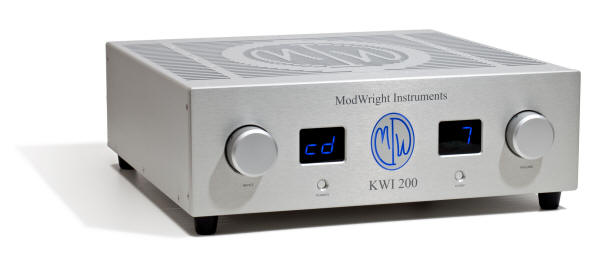 The ModWright KWI 200 Integrated Amplifier
[Images courtesy of ModWright]
Dan Wright of ModWright has been quietly putting out really great audio products for years now. I remember first meeting Dan years ago here in River City early in his company history. I was pretty taken with the quality of his work back then, and nothing that he's done since then would indicate that my first impressions were incorrect.
Certainly not his KWI 200 integrated amp. It's one of four integrateds that visited me this year, all of which were special experiences, each in its own way.
The ModWright integrated is a MOSFET solid-state amp that floats 200 Watts per channel into 8 Ohms, doubling to 400 Watts per channel into 4 Ohms, and tips the balance beam at a middling 55 pounds. Inputs include three pair of unbalanced, 1 pair of balanced, and an RCA bypass input (no preamplification). Outputs include a pair of unbalanced preamp, 12 volt trigger output, and left/right 5-way speaker binding posts. There is a compact remote control that handles all key functions, including input, volume, balance, phase, power, standby, mute, and trigger. Remote operation is excellent, by the way; I was able to bounce the signal quite easily in our room from my desk, without having to assume strange postures.
Optional modules include a 192/24 DAC (no DSD support yet, unfortunately), and an MM/high-output MC phono section. Pricing is a relatively reasonable $5000 for the baseline KWI 200; $1150 for the DAC section; $350 for the MM/high-output MC; and $200 for the optional metal remote…good for self-defense, that one!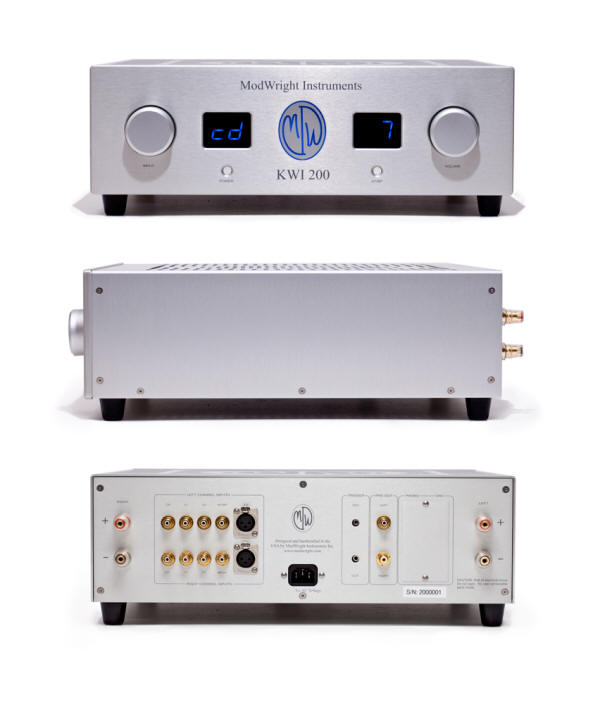 The ModWright unit has been here for several months, and has done hundreds of hours of service here. During that time, it has handled all of the shifting DSD DACs and multiple Oppo BDP-105s that have been in rotation…one of which was the ModWright tubed 105! (Yes, quite synergistic, since you asked.) There hasn't been a single glitch or problem along the way. The KWI 200 simply sat right down, took whatever I threw at it, and quietly made real music. It particularly liked recordings with rich foundations, and synergized particularly well with the Skogrand SC Air speaker cables, which I was able to slip in at the end of the review year. (See below for more on the Skogrand SC Air cables… another winner!)
At this price point, I don't know any integrated that's better. Those who have limited space, want a very solid and always musical presentation, with lots of oomph for that recalcitrant speaker, will definitely want to check out the ModWright KWI 200… this is really solid, ear-pleasing, toe-tapping stuff!
And now it's a 2013 Brutus Award winner!
The BMC CS2 Integrated Amplifier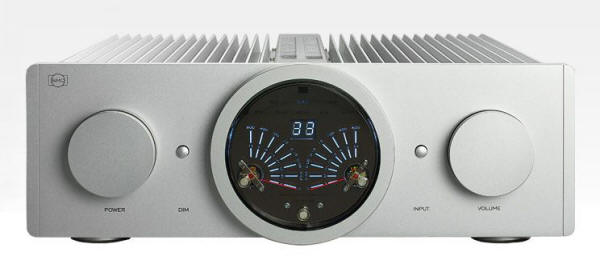 Balanced Music Concept's CS2 Integrated Amplifier
[Photographs courtesy of BMC]
The first of the four integrated amps that made their way to River City in 2013 was the BMC CS2. Frankly, this brand was not as well known to me as MBL or ModWright. Where I had gotten to hear it on a couple of occasions was in the Blue Light Audio room, in conjunction with some DSD/Double DSD listening sessions. I liked what I was hearing, and was able to arrange a CS2 for listening in our desktop reference system (described earlier) during the late winter-late spring of 2013, after RMAF 2012.
The CS2 is a solid-state Class A single-ended mode integrated that runs 200 Watts per channel into 8 Ohms, 350 Watts into 4 Ohms. Single-ended ensures that there is great clarity of output across the power curve. And there's plenty of power available, with a 2KW transformer and lotsa' of capacitors.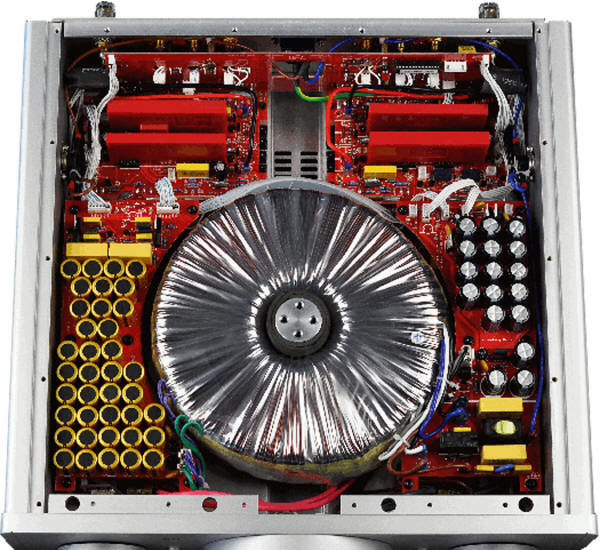 Very solid work…very heavy. Not that there is any necessary correlation between the weight of an integrated and its performance, but if there were, the BMC CS2 be a crowd pleaser. Hernia warning: At 88 pounds, the CS2 was extremely heavy for me to deal with on my own, especially since it had to be unpacked with real care. I did it, but it's really wise to have two people on hand to deal with the CS2.

Inputs are three unbalanced, and two balanced. Gold-coated speaker posts handle the output. There are no other internal options on the CS2.
It has a very simple, straightforward front…almost severely, industrially so. There are two large, needle style VUs to indicate output power levels, a large LED between them satisfying knobs, on the left for power, and on the right for volume. Two small push buttons handle input and dimming functions. That's it. Everything else is handled by the substantial metal remote control. This is a purist design, with all non-essentials out of the loop. According to the BMC Web site, this is the intention, too. (For more, see http://bmc-audio.de/index.php/amp-cs2-stereo-amplifier.html.)
In fact, the BMC CS2 was the first of the four to arrive here, chronologically. For four months, the CS2 was the sole integrated amplifier in our desktop system, and was constantly in play. My initial show impressions were confirmed: the CS2 is a very neutral, very clear, very transparent integrated. There was naturalness, and an ease of presentation that I enjoyed quite a lot, and yet there was no sense of straining if the dynamics of a passage demanded some serious oomph. No strain, no grain, no pain… I was able to listen to it in near-field application for many hours per day, going from one SACD, DSD download, or even high-resolution PCM file without skipping a beat.
And I was hearing deeply into my recordings, without having the Muse of Music slip out the side door. Excellent!
At an MSRP of USD $8400, this is a very serious contender in the price range. Highly recommended, and a winner of a Brutus Award for 2013.
Loudspeakers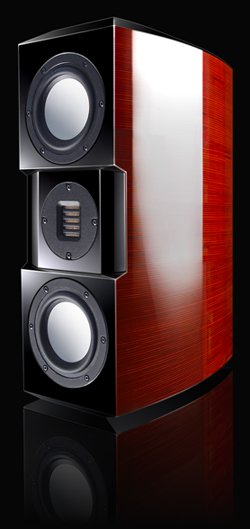 Evolution Acoustics MMMicro One
[Photograph courtesy of Evolution Acoustics]
Well, what can I say?! I fell in love with this powerful and lovely monitor the first time that I saw it… and then I heard it! Cowabunga! It's smashing… at $4000 for a pair of these lovelies plus stands, definitely the best price-performance speaker going in my experience.
I've gotten to hear them in our reference listening room on their stands, and also on our desktop in near-field listening. It's amazing in either setting: deep, powerful, rich, transparent, with tons of soul and reference-grade sonics.
Enough said! Check out Blue Light Audio for details at http://www.bluelightaudio.com/products/evolution-acoustics-2/evolution-acoustics-mmmicroone/. If you're in the market for monster minis, then this is it, amigos!
Definitely a PFO Brutus Award winner… enthusiastically!
Headphones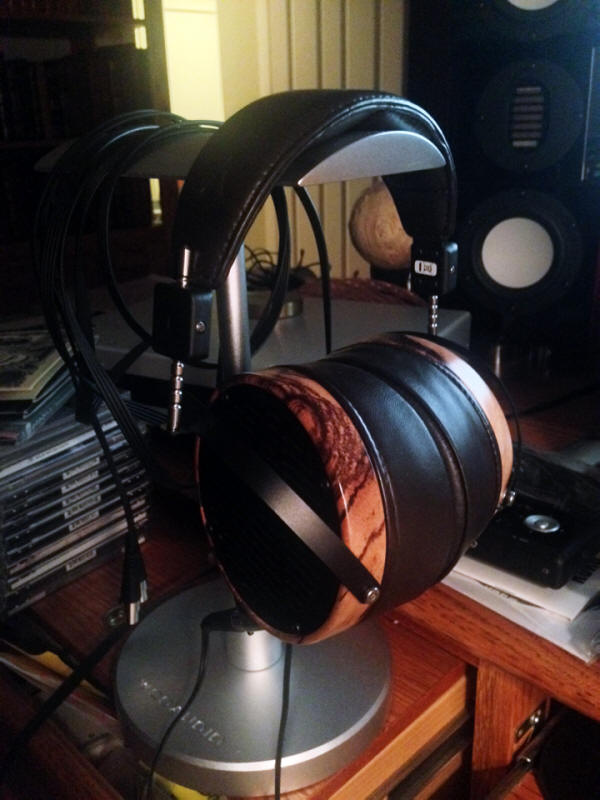 Audeze LCD-3 Headphones
[Photograph and processing by Robinson]
Audeze LCD-3 headphones
I really thought that I was set with the Sennheiser HD800 headphones… that I wouldn't be tempted by another alternative… and then I got to review the LCD-3's.
Boy, was I wrong.
These planar headphones bring a transparency, a sense of presence, and a spaciousness that is really fantastic. In conjunction with SACDs and DSD file playback, and my reference ALO Studio Six, the results are strictly knockout! Textures, harmonic coolosity, and dynamics are all top-notch. No listening fatigue; no headphone headache. The more I listened to the Audeze/ALO connection, the more I got into my music, and heard into the quality of the recordings. I'm able to listen for many hours at a time now.
And that's what should be happening with our 'phones, no?
This one was very easy: a Brutus Award to Audeze for the splendid LCD-3's!
Cardas EM5813
[Photographs courtesy of Drazen Stojcic and Cardas Audio]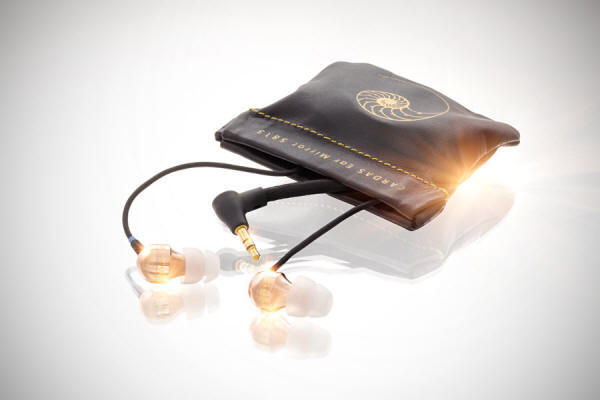 The Cardas EM5813 in its leather storage bag
All earbuds are a pain.
Most in-ear monitors are a hassle. (With the personal exception of my custom JH Audio Pro 16s.)
Give me over-ear headphones.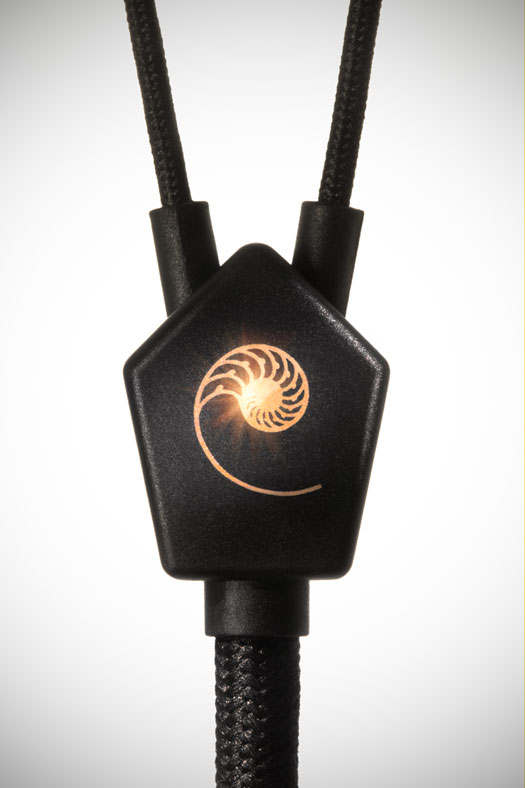 But the Cardas EM5813 turned around my thinking. The review pair that I received were actually comfortable. They had really rich, musical response, with very good tonal balance. Details are good, and midrange where it should be. These are quick to put into place, have a nice long tether, and don't get in the way of my listening. Nice.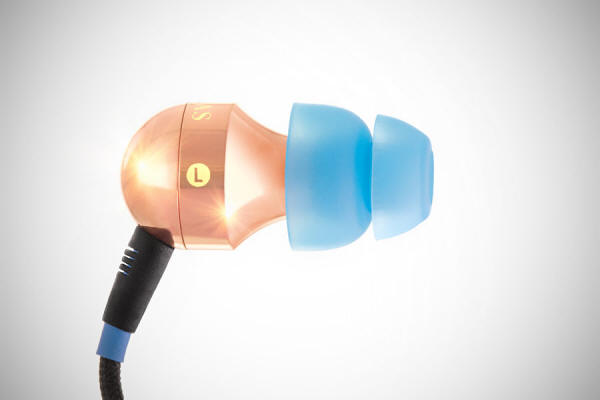 At an MSRP of $425, these in-ear monitors from Cardas will tickle the fancy of a lot of emerging audiophiles (and their more senior brothers and sisters!) who are looking for really good sound, compact in-ear design, and solid musical performance for their personal fi space… and doing so without raiding the kids' university fund. If that's you, then this is a great choice!
For more info: http://www.cardas.com/ear_speaker.php.
Headphone Amp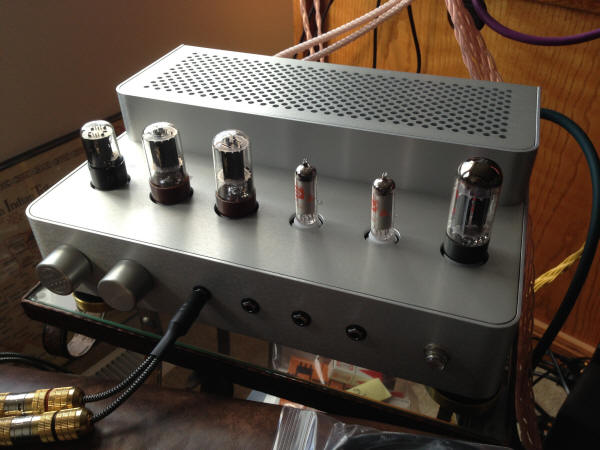 ALO Studio Six tubed headphone amplifier
[Photographs and processing by Robinson]
ALO Studio Six
This is the other side of my headphone pipeline: the exceptional ALO Studio Six tubed headphone amp ($4,900, plus $200 for the upgraded Teflon-foil capacitors). The complement of six stock tubes (two 6V6, two OB2, a 6SN7, and a 5AR4, though ALO can recommend some tube-rolling options) provides wonderful transparency, great detail, and a wonderfully musical presentation. The noise floor is outstandingly low… no distant hum, no hiss, no noise, no tubey blues. The power supply seems to be really well built, judging by the output. With very sensitive 'phones like the LCD-3's, any nastiness would be immediately apparent…and there wasn't any. Terrific detail, without any audible downside. The dynamics are really superior…whack and slam galore, making the Audeze LCD-3's really jump. No problem here!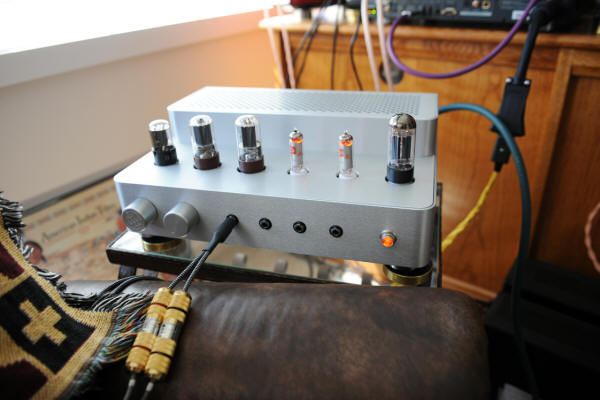 None of this is any surprise, though: according to the ALO Web site, the Studio Six is "Class-A single-ended triode (SET) circuit design with zero-feedback and 100% tube amplification. Its tubes have been hand-picked based on their long established reputations for sonic virtue." With the ALO-supplied Reference 20 RCA interconnects and their Green Line power cable, both of which really did a superior job with the Studio Six, it sounds like it too. There's excellent linearity of sound, and naturalness and ease that is really brings out the best in the LCD-3's.
I'd have to say that the ALO the best that I've heard in a headphone amp. Reference-quality, without a doubt, and massive synergy with the Audeze LCD-3's.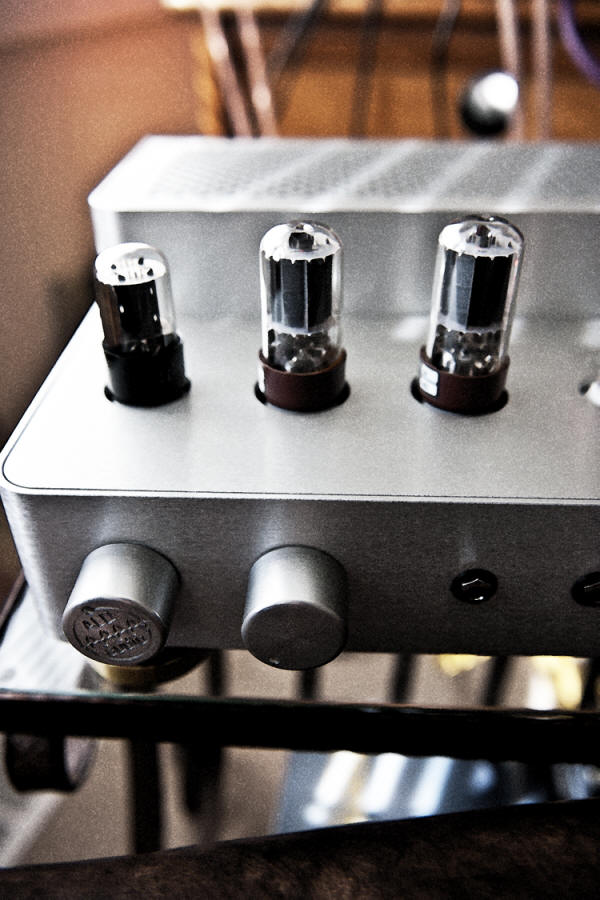 There are three unbalanced inputs, switchable from the front panel, which also has a master volume pot, and a power on indicator… the power switch is in back. Remarkably, there are four(!) ¼" stereo outputs for multiple user listening. Since ALO has built the Studio Six with innovative handling of a wide range of headphone impedances, you can actually use it for headphone parties, even with dissimilar designs… a great idea. With the Personal Fi space growing by leaps and bounds, this is a very wise thing to do. The ALO Studio Six's very handsome appearance actually reflects what you can expect from it: great sound from a great-looking design.
Personal Fi users and headphone lovers, this is the reference headphone amp for you. Go for it and pick up one for yourself…I'm keeping mine!
A very definite Brutus Award winner for 2013!
Cables
PranaWire for the Photon USB cable
Joe Cohen of The Lotus Group and PranaWire have been making cable products that I have been impressed with for quite a while now. At shows, Joe's room is always first-class, and has garnered some of my PFO Audio Oasis! Awards over the years. Joe's appreciation of music is happening deeply, at the level of soul, and his show systems reflect this truth. For this reason, it is always a delight to visit his room.
PranaWire has come out with a new cable, however, one that has really knocked me out. Judging by the review sample of their Photon USB cable, we are making significant progress in getting more and more out of our computer-based music. In my case, this is especially focused on DSD in Single, Double, and even Quad modes, where the extreme excellence of the signal needs to be conveyed as purely as possible. If you don't think that USB cables can make a difference to the reproduction of computer-based audio, you either haven't done any homework, or your hearing is suspect. The differences can be quite surprising.
There's no need to write War and Peace here: Over the past few months, the PranaWire Photon USB demonstrated superiority in key areas, including transparency, ease, naturalness of presentation, and exceptional spatiality. The improved detail was notable. Overall, there was a transformation of DSD file sources, making their clear superiority even more evident. I was very pleasantly taken by the step forward.
The Photon is not cheap…quality at this level never is… but if you've made the plunge into computer-based audio, then this is an essential component to protect the investment that you've made. (The price of the Photon ranges from $995 for 0.6 meter, to $1295 for 1.2 meter, $1495 for 1.8 meter, and $1895 for 3.0 meters, which is the size that I have.) Don't let a cheap, generic USB cable hammer your audio signal on the way to your DSD DAC… that's a foolish and tragic mistake.
It's one that I won't make. In fact, the PranaWire Photon has become my new reference standard for USB cables, and will definitely stay here in River City. I guess that Joe and I will have to talk….
Enough said! And an enthusiastic PFO Brutus Award for 2013 to Joe Cohen and PranaWire for this notable achievement!
Skogrand Cables Purist Ignis Loudspeaker Cables
[Photographs courtesy of Skogrand Cables]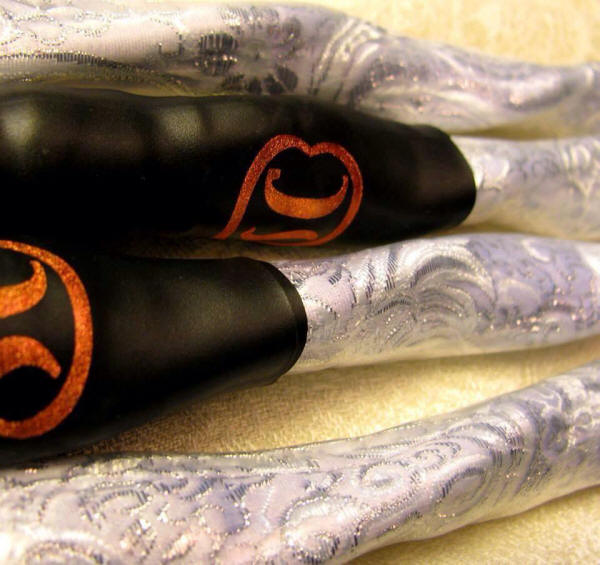 This was a last minute award, given late in the game because of a number of glitches that occurred in the initial shipping of the review sample from Knut Skogrand, and then complicated by family matters here, and an overloaded review queue between August and the end of the year.
I won't go into the story too deeply, but let's say that incoming customs did some pretty amazing work to actually cut apart and destroy one of the review samples! I've never seen anything like this…someone must have suspected that Knut was smuggling alien technology, or cocaine, or military technology, or a set of Snowden documents, or something. The customs agents cut into the cable, obviously to see what these outlandish things were. Given the cost of the Purist Ignis cables, this is far worse than a case of "Whoops!" (For the record, the PI cables run USD $22,000 for a 2 meter pair, and costing USD $1,500 per pair each additional 0.5 meter. I wonder if the customs agent had any idea whatsoever? Nah!)
Welcome to the "national security" state. How on earth did we end up with this sort of nonsense?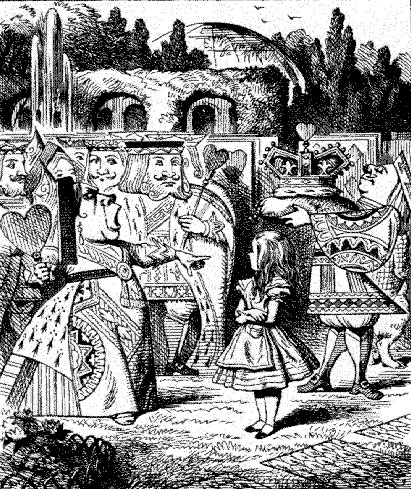 Anyway, after a replacement cable was shipped, many interruptions, and the aforementioned family matters, I was able to put the Purist Ignis cables into place in our desktop reference system very late in the year.
The Purist Ignis represents Skogrand's reference-level speaker cable. Its construction and look are unique. According to Knut Skogrand, Skogrand uses "12AWG solid core OCC copper wire floating in a vacuum. The dielectric is a constant of 1.0, with signal speed which is that of light, and preserving the signal completely."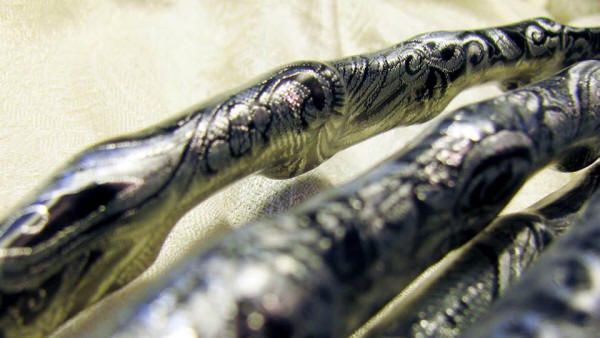 The improvements wrought in our desktop system were immediately noticeable. The ModWright KWI 200/Evolution Acoustics MMMicro One connection seemed to jump into a new level of performance over the JENA Labs Trio speaker cables previously in place. In fairness to the JENA Labs cable, it is a good bit older model, and entry-level for the JENA Labs line. But there was no gainsaying the quality of the new cables. There was an immediate richness and gain in tonal harmony, and the music became quicker and more detailed, without a loss of musicality. The Purist Ignis cables revealed what had not been happening previously, and helped me to enjoy the end of the year in our desktop reference system a good bit more than I would have otherwise.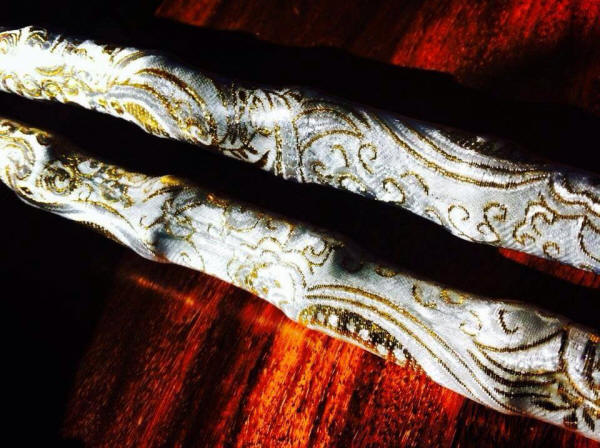 The Skogrand Purist Ignis scored very well indeed here at PFO River City…a real winner! Well done, Knut and company! A Brutus Award for you here in 2013.
Accessories
Stillpoints ESS Isolation Rack System (mesh shelving with Ultra 5 isolation feet), and the Stillpoints Ultra 5 isolation feet
[Photographs and image processing by Robinson]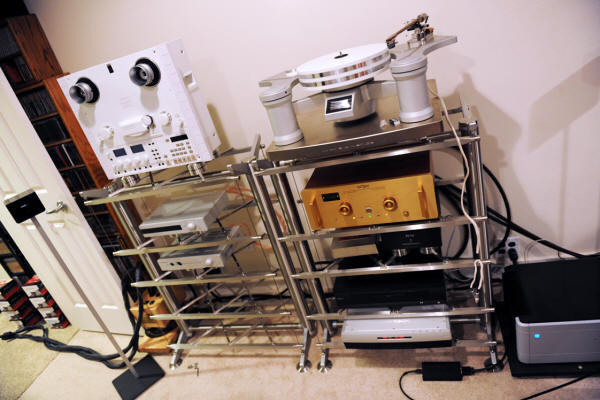 The Stillpoints ESS Rack System in place in our reference listening room at PFO River City
While doing work with the MBL Reference System (yes, full review is upcoming…it's been delayed too long!), Jeremy Bryan connected me with Stillpoints. He really recommended that the MBL Radialstrahler 101E Mk. II speakers not be given a careful evaluation without the Stillpoints Ultra 5 isolation feet in place. He ordered up a set from the good folks at Stillpoints, and they were installed for the main body of the review.
And you know: Jeremy was right.
The Ultra 5's really improved the sound of the 101E Mk. II's, tightening up the bass, and clarifying the rest of the harmonic response. Bloody impressive.
In time, this led to me making a connection with Stillpoints, via Bruce Jacobs. (For more information, and to seek contact information for current pricing, see http://www.stillpoints.us/.) He was doing a lot of sales engineering and shows, and he and I linked up, due to the fact that I had been so very impressed with the Ultra 5's. Bruce is a very knowledgeable and congenial person; over time we've become very good friends. We discussed the possibility of getting a Stillpoints ESS Isolation Rack System here to my listening system for extended evaluation.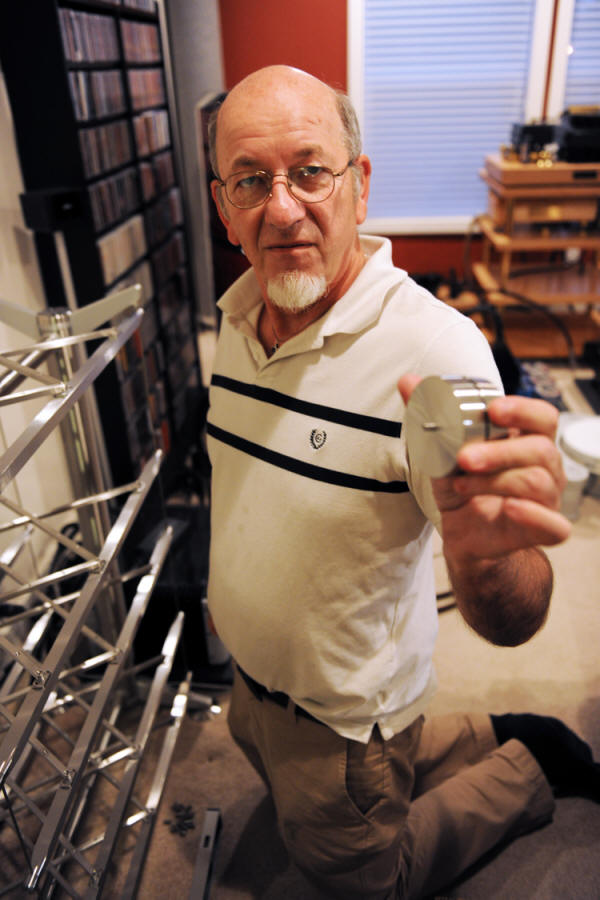 Bruce Jacobs in the midst of assembling one of the two Stillpoints ESS Isolation Rack System (mesh shelving w/Ultra 5 isolation feet), holding one of the Ultra 5 isolation feet. He did phenomenal work in setting up the system and our components for maximum effect.
I'm glad to say that we were able to put together this major project. It meant a complete disassembly of my old rack components, and replacing them with a pair of the ESS Isolation Racks. We specified the mesh shelving, and Ultra 5 isolation feet, their top configuration. Bruce worked very hard to get the system assembled, and then carefully placed our reference-grade components in place.
Bruce and I then spent a while listening to DSD and SACD sources. The results were absolutely stellar…it was a real transformational moment in my listening room! It was hard to believe the immediate improvement in the complete sonic presentation: better transparency, enhanced detail, much improved quickness/responsiveness from all sources, a gain in both soundstage width and image specificity.
All at once! No break-in!
The extraordinary leap forward was unmistakable and immediate in nature, and had me smiling immediately.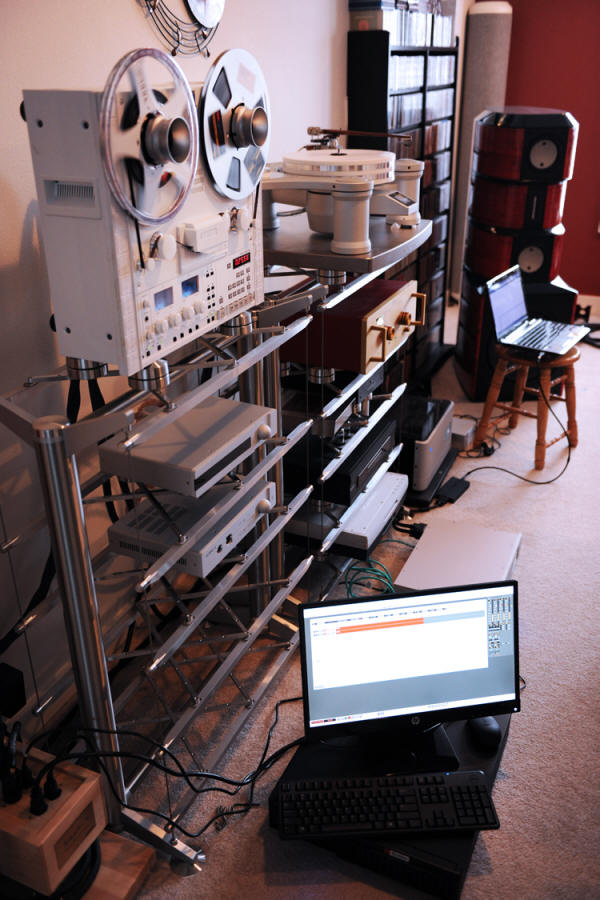 The Stillpoints ESS Isolation Rack System in action during a transfer from analog tape via the UHA Phase11S to the Merging Technology Horus/Pyramix 8.1 ADDA.
No doubt about it: The Stillpoints ESS Isolation Rack System with mesh shelving and the Ultra 5 feet is the best that I've had in our listening room to date. I consider it to be an essential element of a reference-grade audio system…not a luxury at all.
If you can swing the bucks… Stillpoints ESS systems are not inexpensive… and are looking for the best rack that I've heard so far, then you can stop right now. You know where to go.
A huge 2013 PFO Brutus Award for the Stillpoints ESS Rack System and Ultra 5 feet… enthusiastically!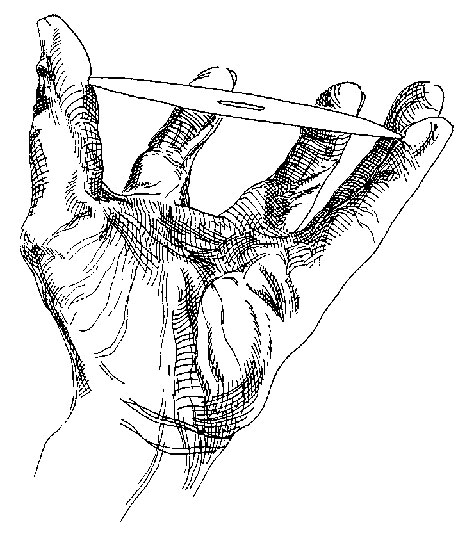 Music/Recordings
In the realm of recordings, I am recognizing the following companies 2013 Brutus Awards for their notable work with our recordings:
Abey Fonn and Impex Records: For their exceptional LP reissues, always flat, always true, and always beautiful. What wonderful production values, in all aspects of production! Everything from the mastering to the final packaging is absolutely superb. Abey and company have maintained highly commendable quality in their lovingly produced LPs…every one that I've received has been a joy! Perhaps we'll eventually see DSD downloads from Impex Records? You can see Impex Records over at http://www.impexrecords.com/
Jared Sacks and Channel Classics: Jared's Channel Classics site was the first to produce a high-quality pure DSD download site, and it continues to produce DSD downloads of the first-rank for classical music wonderfully recorded by Jared. If you want to hear what pure DSD can do for classical music, just go to http://www.channelclassics.com/dsd.html. Note that Channel Classics now has multi-channel DSD downloads as well, at http://www.channelclassics.com/native-dsd-multichannel.html.
Bob Witrak and High Definition Tape Transfers: Bob and HDTT have been producing some very high-quality high-resolution PCM files (up to 192/24) of some rare and fabulous recordings in past years, which is what first attracted me to his work. Bob and I connected, and I talked with him about doing transfers of his inventory of recordings to DSD and Double DSD. He made the decision to do this, and has started to produce DSD transfers of startling immediacy and dynamics. They are very fine examples of what DSD and Double DSD can do to bring us "the thing itself." Bob's DSD downloads are very highly recommended by me, with enthusiasm…you won't find these recordings anywhere else! Go to http://www.highdeftapetransfers.com/ and look over HDTT's growing inventory of downloads.
Universal Japan for the 2013 batch of SHM-SACD reissues: Splendid, simply splendid. Yes, more expensive, but done to reference standards for purity (single layer SACD only; stereo only; green back pressings). Most of these over the past few years were handled direct to DSD from analog tape, with the exception of the Queen series, which came from 96/24 PCM. Note that there is some real music with the SHM-SACD series…don't miss these limited editions! They are available over at Acoustic Sounds: http://store.acousticsounds.com/index.cfm?store=AcousticSounds.
Software
JRiver for Media Center 19: The folks over at JRiver have been doing wonderful work in producing the finest playback music system for Windows that I've used. Their tradition continues with Media Center version 19, which handles DSD, Double DSD, and even Quad DSD without a problem…assuming that you have a DSD-equipped DAC. (And if you don't, why don't you?!) It also does splendidly well with PCM files of various flavors, at a wide variety of data rates. Just about any way that you would want to listen to music, including sophisticated library building and handling, are included. The interface is a good one, once you learn it, and the system will automatically search for and install updates to Media Center when you fire it up. Very handy! The price is only $49.98, a real steal. Check out http://jriver.com/index.html for all the options, and http://jriver.com/audio.html is audio is what you want to focus on.
Special Achievement Awards
In addition to my Brutus Awards this year, I wanted to present two Special Achievement awards to two individuals and their teams, to recognize effort and creativity that was above and beyond the usual.
Chad Kassem and his team at Analogue Productions for their SACDs, DSD downloads, and 200 gram LPs. The reference standard, for sure. Check out http://store.acousticsounds.com/c/372/DSD_Download to see their Super Hirez site with great titles in DSD, and http://store.acousticsounds.com/index.cfm?store=AcousticSounds for the front door to Acoustic Sounds, for everything else.
Jan-Eric Persson and Opus3 Records: Jan-Eric and company are releasing both Single and Double DSD versions of their exceptional recordings from their master analog archives (15 ips, half-track). The original recordings were done in purist, minimalistic style (simple miking, signal path, etc.); their transfers to DSD are likewise showing transparency, immediacy, and presence that is really amazing! Jan-Eric has been issuing LPs for many years, and then enthusiastically adopted SACDs when they arrived. He also has very limited edition reissues of his tapes, through his "Analogue Master" series. Now that DSD makes things even more pure and direct, he has become an advocate of that format as an ultimate way of expressing and distributing his recordings. If you are DSD equipped, and haven't treated yourself to the Opus3 Records DSD catalog, especially in Double DSD, now is the time to do it! Go to http://shop.dsdfile.com/ and have a blast!
Lifetime Achievement Award (Posthumous)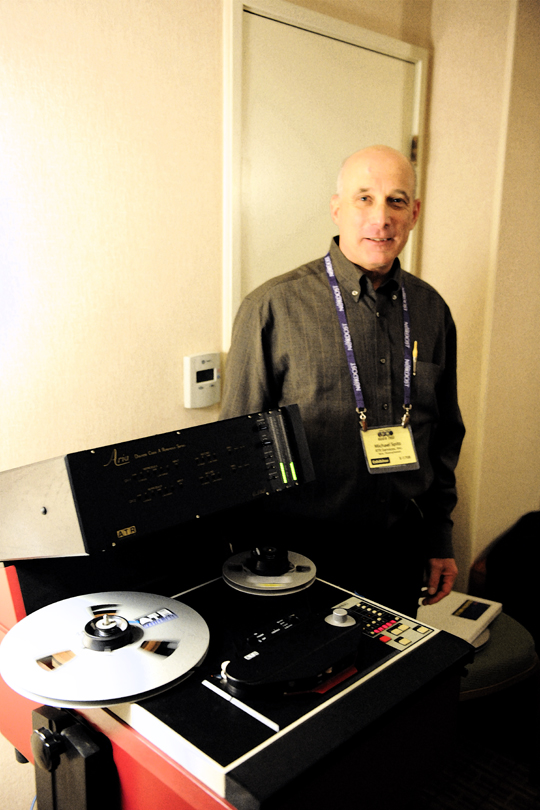 Mike Spitz, ATR Services
Mike Spitz of ATR Services with one of his Ampex ATR 102/Aria RTR decks at Rocky Mountain Audio Fest in 2011. [Photograph and image processing by Robinson]
It is with a real sense of loss that I give one of my relatively rare PFO Lifetime Achievement Awards to Mike Spitz, of ATR Services. Mike has been working in the realm of reel-to-reel recorders for many years now, providing expert restoration and custom upgrading to his beloved Ampex ATR machines. I met Mike, and appreciated his deep devotion to bringing out the best in RTR sound reproduction. In fact, we are using one of the ATR Services ATR 102 RTR decks here at PFO River City as the current reference standard for open reel playback.
Tragically, Mike passed away recently, and all-too-young. We who love RTR machines and analog tape mourn his passing. I am giving this award to Mike posthumously, in recognition of his lifetime of accomplishment in fine audio.
Farewell, Mike!
PFO Gizmo Award
None awarded in 2013…we'll try again in 2014!