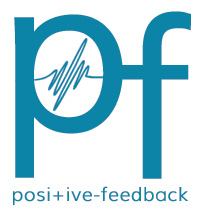 You are reading the older HTML site
Positive Feedback ISSUE 71
january/february 2014
CES 2014
by Myles Astor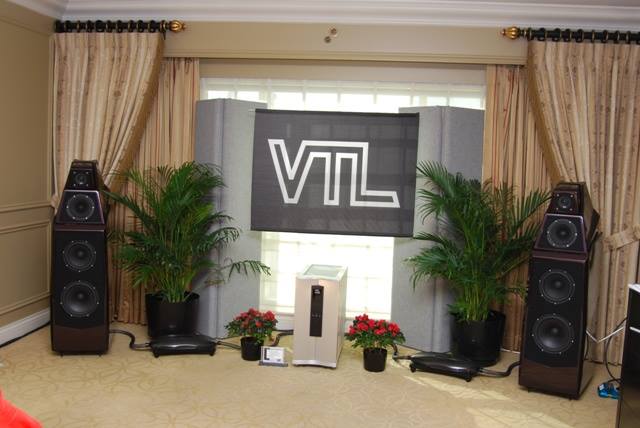 First up on Tuesday was the VTL electronics room hosted by the two of the really good people of the industry, Luke and Bea Manley! Headlining the room were significant revisions to the TL-6.5 series preamplifier and phono section that according to LUke bring both units significantly closer to the sound of VTL's flagship products. Perhaps there's more to the sound of the Alexias than had experienced at the first two speaker rollouts? Certainly there was no evidence of the etched, shouty sound heard at RMAF two years ago. Instead in the VTL room, the Alexias were silky smooth and powerful sounding playing both jazz and bass guitar LPs.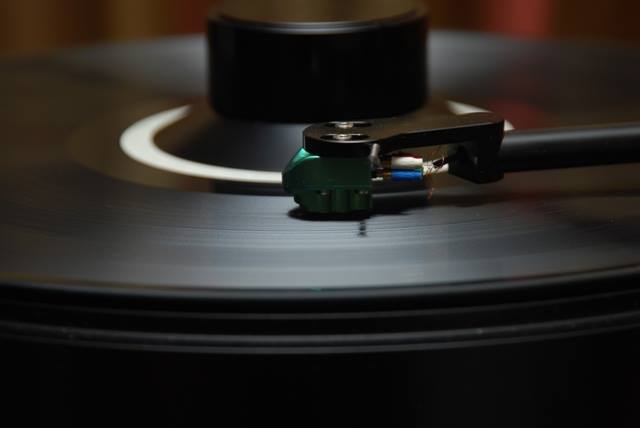 The new 0.4 mV output Teatro tittanium body moving coil cartridge. Equipped with a two piece body that allows for easy interchange of the armature, the high compliance cartridge uses a separate coils for each channel and is fitted with a line contact stylus.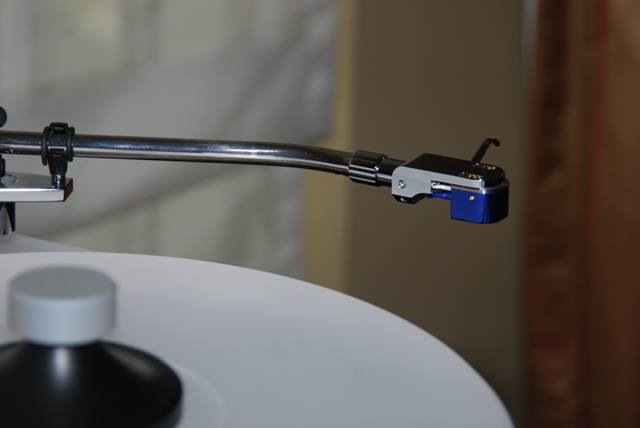 Ikeda Kai cartridge. And yes Dorothy, this one does have a cantilever as opposed to the older Complement cartridges. Nor does having well. short cantilever. seem to have diminished one bit this $10,000 cartridge's incredible speed and resolution abilities.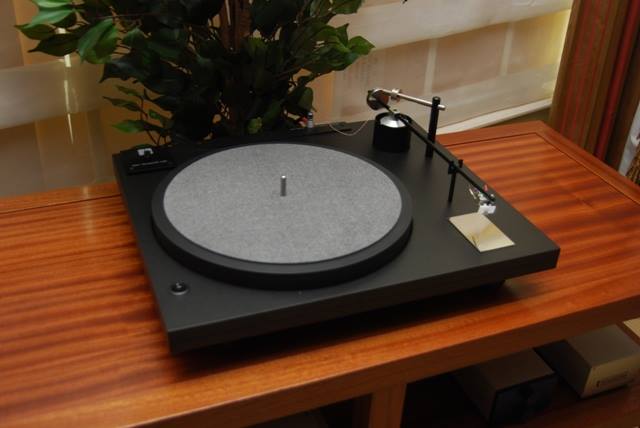 While it won't win any design awards, the $5800 WTT turntable and EMT cartridge are possibly two of the least talked about, most overlooked and underrated analog products.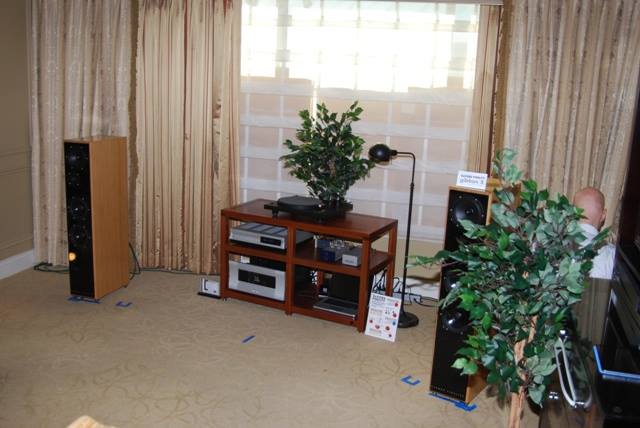 Taking a pause from the upper crust of the high-end industry, it was onto fellow New Yorker John Devore's room. Just to prove money doesn't always buy you happiness, John new three way Gibbon-X speakers driven by the punchy VTL S-200 proved that one doesn't need to spend a small fortune to get good sound. In fact, I continue to be amazed how John's speakers, no matter what the room or equipment (ARC, Line Magnetics, VTL or say Shindo) always sound musical. And this year's CES Show was no different with his new Gibbon-Xs flexing their muscle whether playing back rock albums like I Robot, jazz like Bob Cooper or bass guitar like Jonas Hellborg. Imaging and midrange palpability were particularly impressive as well as overall instrumental timbre. Special kudos also the Well Tempered GTA Turntable and arm adorned by a EMT TSD-15n phono cartridge. This combo always sounds good and the $1950 EMT might possibly be one of the steals in the analog cartridge world.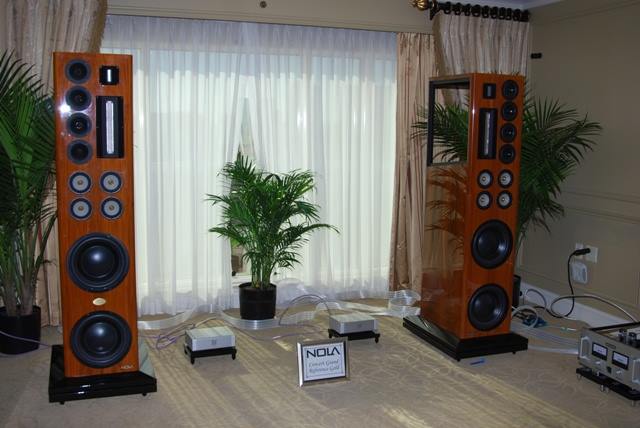 Even more upscale are Carl Marchisotta's massive (71 inches tall and 275 lbs per side), all in one Concert Grand Reference Gold speakers. Shown in prototype form at last year's CES, Carl finalized in the intervening year, the speaker's design, parts selection and crossover design. The speakers were driven by an all ARC electronics system including the very impressive sounding Reference 75 amplifiers with music was provided Greg Beron's United Home Audio reel-to-reel deck. Big news on the United Home Audio front was the announcement of Greg's decks was the addition of an optional outboard power supply ($4000) that provides separate power transformers for his tape deck's motors and electronics. Sound here with the new Opus 3 sampler tape was good but this is one room that need to visit again before end of the show because sure the sound will continue to improve with another day or two of playing.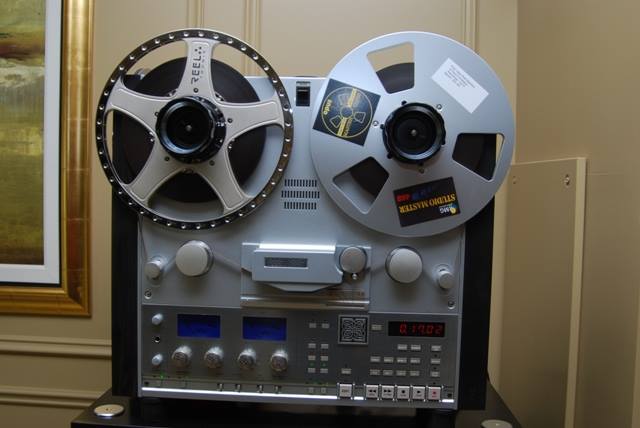 Analog playback at its best: UHA Phase 11 deck spooled up with the latest and greatest sampler tape from Opus 3. (Stay tuned for more on this tape.)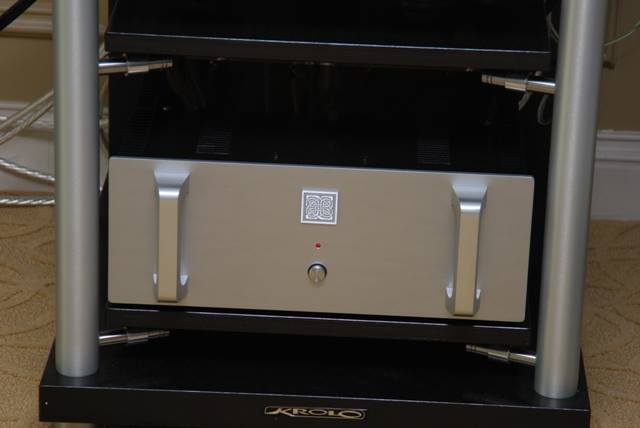 The new optional, outboard power supply for United Home Audio reel-to-reel machines.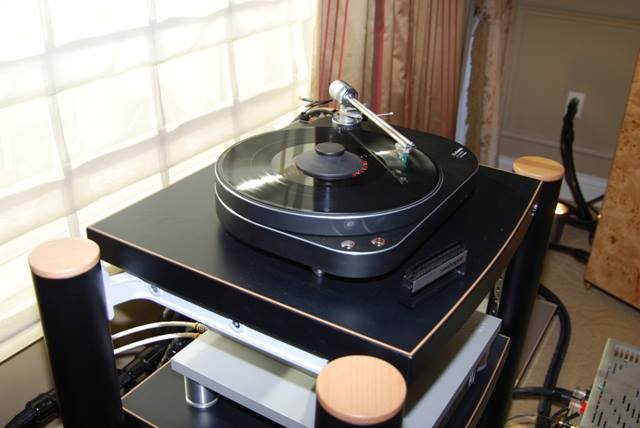 Thales Simplicity arm and table in the Aaaudio room.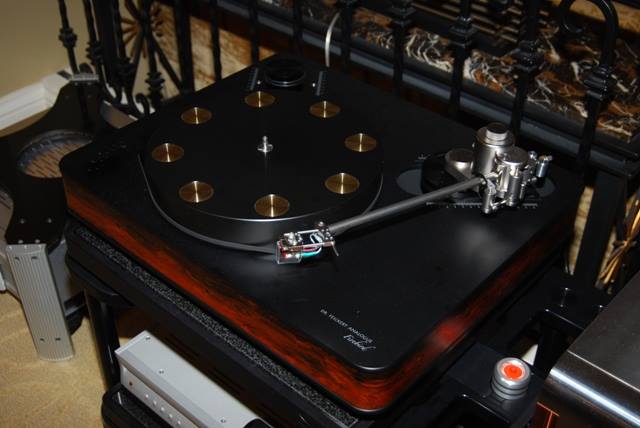 Even more impressive was the Feickert Firebird equipped with the Axiom arm and new Lyra Etna cartridge.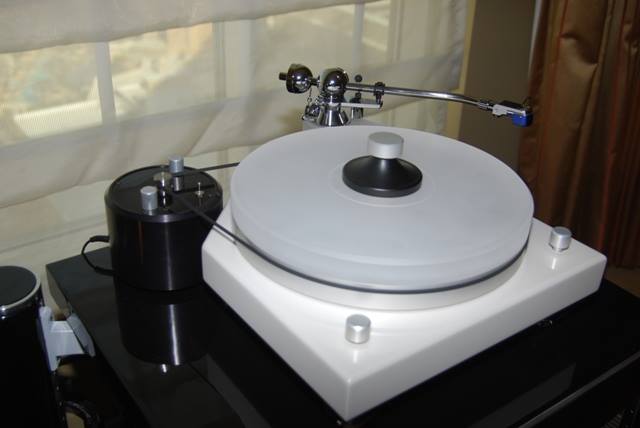 Turntable eye candy from another Danish company? The Hartvig turntable outfitted with the Ikeda 407 arm and top-of-the line Ikeda Kai cartridge (stay tuned for forthcoming reviews of the very impressive 9TT as well as Kai in PFO.)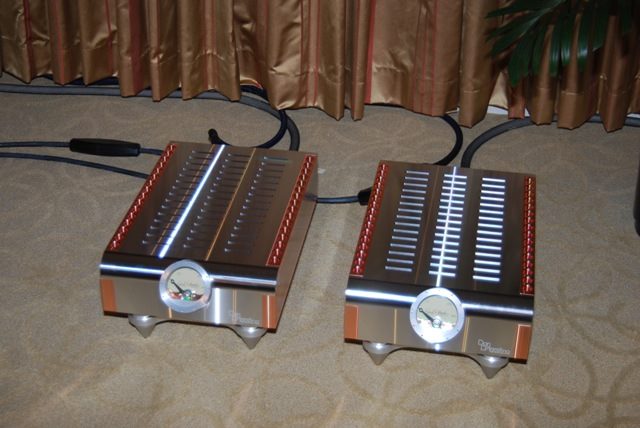 Certainly no stranger to any audiophile on earth. D'Agostino's newest thinking on the design of solid-state amplifiers.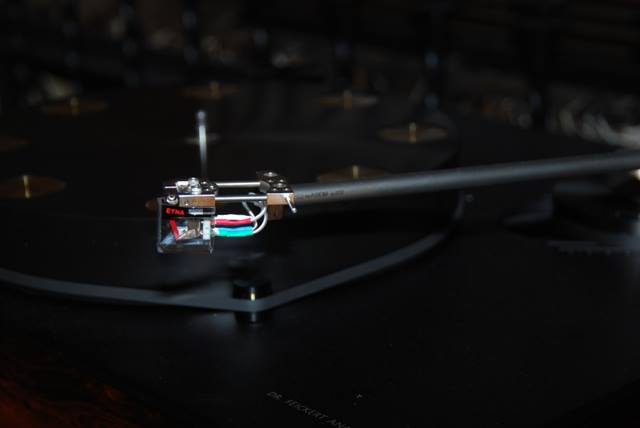 No detail was overlooked in the design of the Axiom tonearm. Without question, the arm's greatest strength ability to optimize the sound of EVERY and ANY cartridge mounted in its headshell.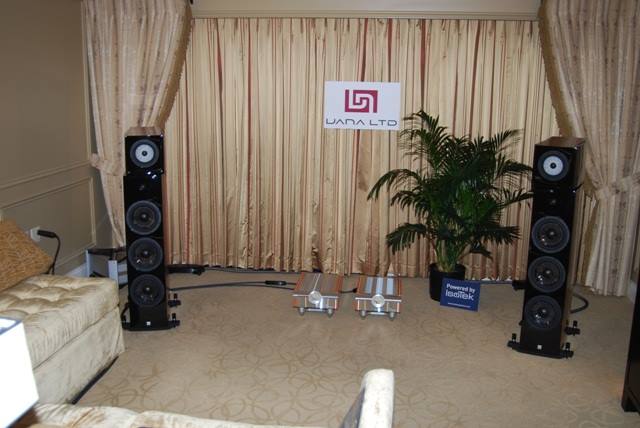 Next up were always impressive Vienna Acoustics speakers. Distributor VANA Ltd. went all out driving the top-of the-line Vienna Acoustics Klimt Series The Music with the D'Agostino Master Audio Momentum mono amplifiers capably assisted by the Momentum preamplifier and VTL 7.5 phono stage. And I doubt too many left this room disappointed. The sound was simply effortless and very neutral. Hellborg's bass guitar on Elegant Punk were tightly controlled, detailed and powerful.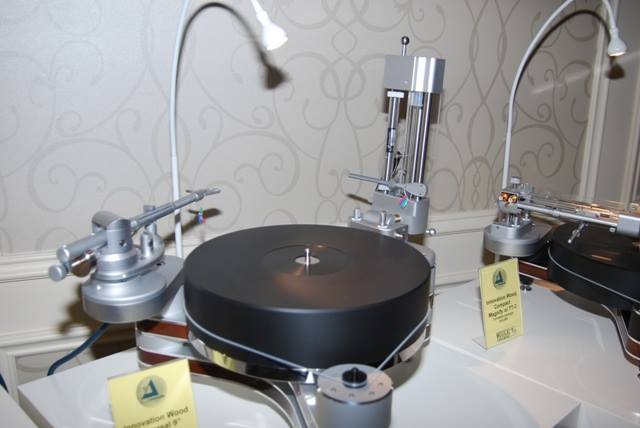 Also new from Clearaudio was the $15,000 Absolute Phono that is unlike any other phono section, built into arm's headshell. Talk about a short signal path and reducing distortion and noise! The main component chassis is located outboard houses the RIAA network and no relays or coupling caps are used in the signal path. Being based around a unique current amplification design also eliminates the need for loading. A second version is in the works so the Absolute Phono can be used with other tonearms.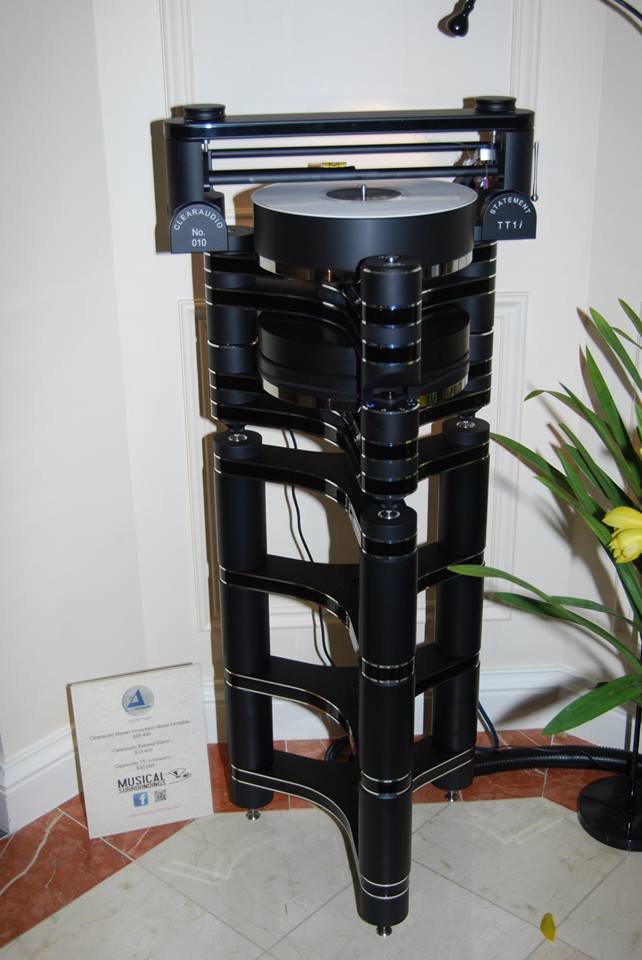 Throw in a cool $13,400 for the Everest stand. Certainly is some mountain to climb!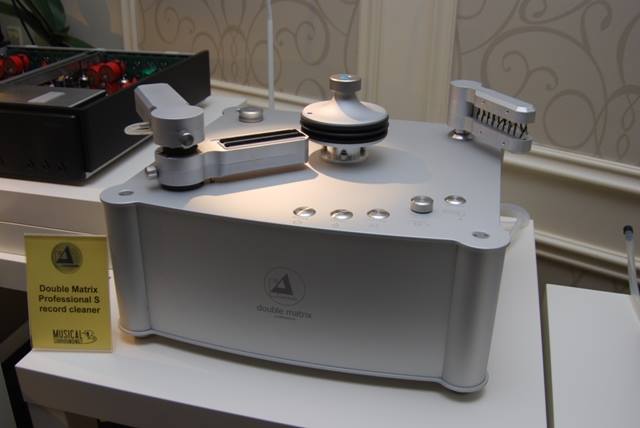 A little different take on the record cleaning process. The new Double Matrix Professional S record cleaning machine is slate for release in early Spring and will retail for $4000. What unique is the vibrating record cleaning brushes on the left side of the machine to assist in cleaning junk out of the record grooves.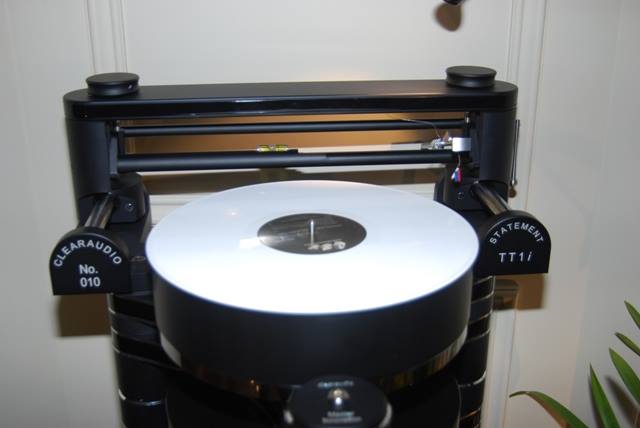 Clearaudio brought along several new goodies to the show including the new massive TT-1i Tangential arm sitting on a $26,4000 Master Innovation Wood turntable. (Seen here in the retracted, LP changing position.)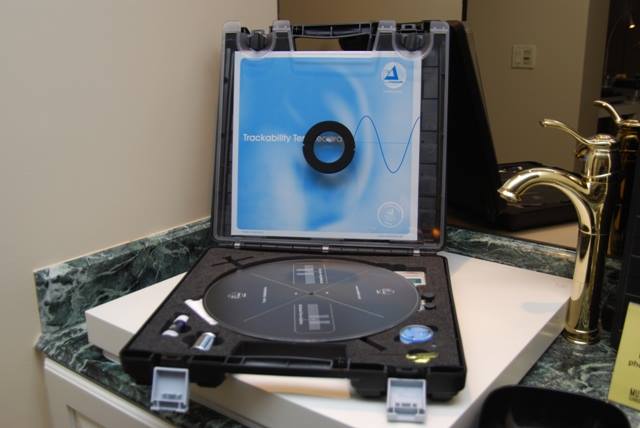 Last but not least is the new $1500 Clearaudio analog tool kit. Nothing is left out and the unit contains an alignment jug, test record, light, level, magnifier, stylus pressure gauge, etc., etc., etc. In other words, absolutely nothing is left out of the kit.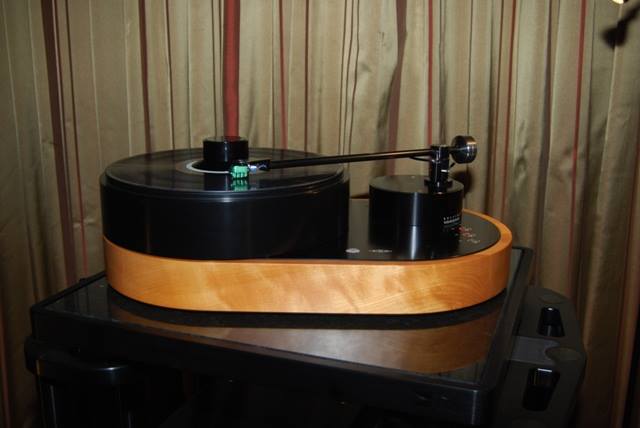 The AMG Viella table complete with the AMG 12-inch arm and new Teatro moving coil cartridge. New at analog central errrr.... Musical Surrounding was a new, 9-inch, scaled down version of the current 12-inch arm along with an OVAL SME mount adaptor and TWIN V12 arm armboard for those AMG owners preferring a two arm option.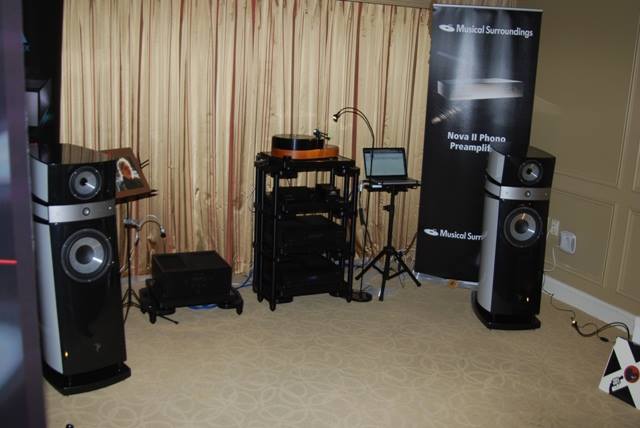 Musical surroundings put together one of the more "modest" systems at the show based around the AMG Viella table and brand smacking new $2000 Teatro titanium body moving coil cartridge and Jim White's Aethestix electronics, Phonomena II phono stage and Focal speakers. And the sound belied it more modest original; attendees were greeted a system that you could listen to forever. Very low in coloration yet no sign of some of that somewhat overetched, whitish sound of other rooms also seeking the same goals.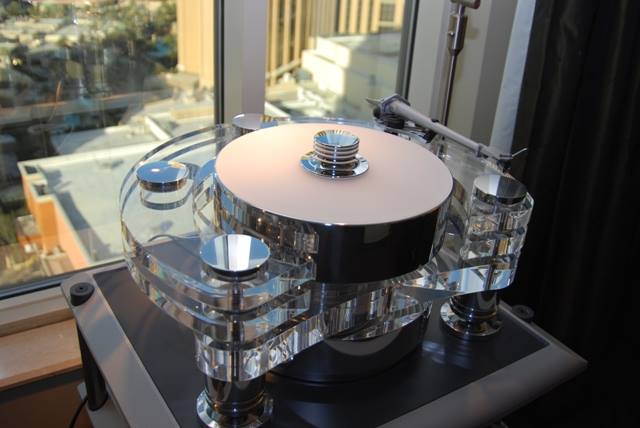 Turntable eye candy abounded at the Venetian. The very striking Trans-Rotor Orion FMD Reference turntable!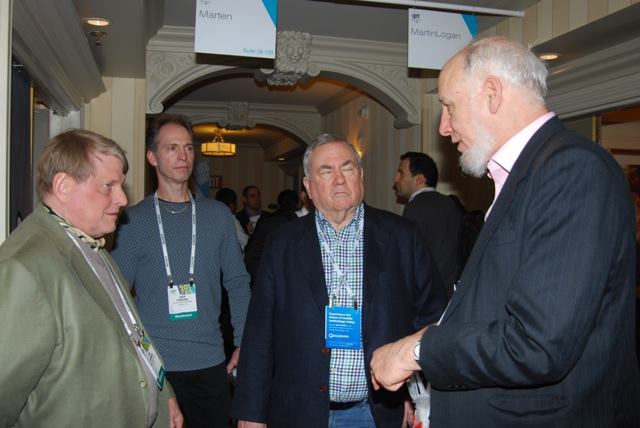 Do I note a slight glow in the hallways? (L-R) Lew Johnson, Jeff Fischael and Bill Conrad (conrad-johnson) debating the pros and cons of practically everything tube related with legendary tube (and everything) maven Tim de Paravicini.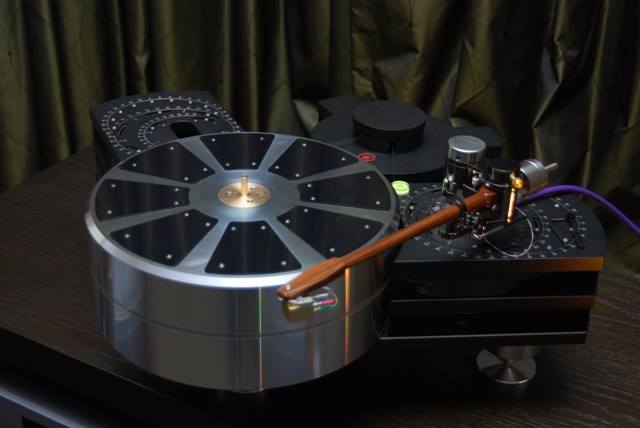 New in this country via German was the Sperling turntable. Check out the arm board! Because of the board's unique layout, any arm can be fitted to the table!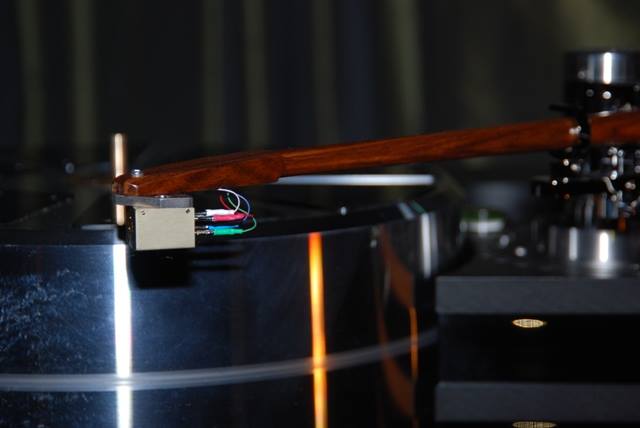 The Jan Allaarts mounted in the wood arm Durand Talea tonearm.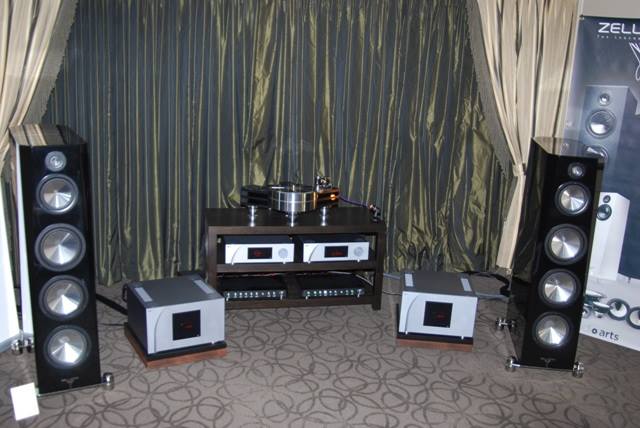 Gideon Schwarz owner of Audioarts back home in New York brought out the new $97,750 Zellatron Reference speakers, CH Precision M1 monoblock amplifiers (price TBA), $34,750 Trinity preamplifier and $34,750 phono stage and $39,950 Sperling turntable fitted with a $9500 Durant Talea arm (balanced) and a Jan Allaerts MC2 Boron Mk.2 cartridge (TBA). One unique feature of the CH Precision amplifier is the use of adjustable feedback. While the sound was very clean, smooth, resolving and transparent, it was almost too clean. Plus I just kept hearing some distortion or grain in the system; I don't know if that was due maybe Gideon needing to add just a little feedback to smooth out the sound of the amplifier or perhaps something was off in the tonearm/cartridge setup.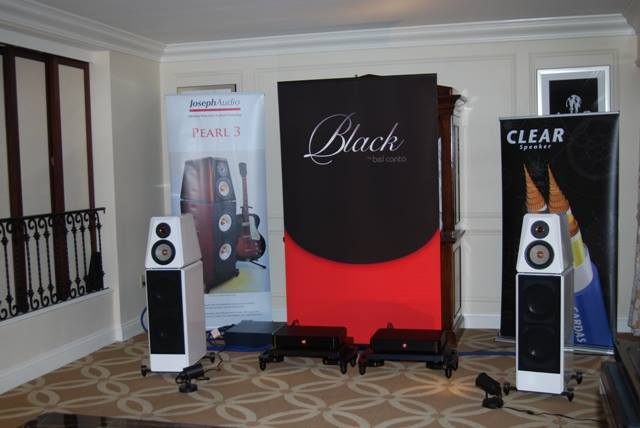 Jeff Joseph's room might be better titled the good and bad guys room. Representing the dark side was Bel Canto's new N-Core MPS1 Power Stream Monoblock, Class D amplifiers. Playing the good guys were Jeff Joseph's all out Pearl 3 speakers in white (no extra charge for finish). The system's most striking quality was its quietness and lack of noise between instruments that at least for the analog end, was in large part attributable to Peter Lederman new SG-230 Strain gauge cartridge, preamplifier and system control preamplifier.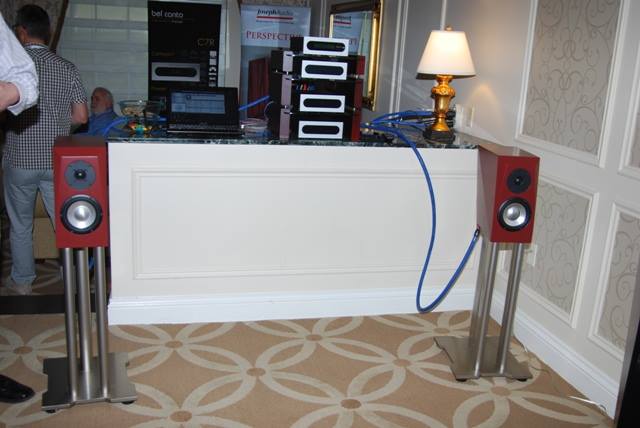 Not to be forgotten were Jeff Joseph's new $3699 Prism speakers. Based upon Pulsare, the little Prisms might just be the answer to many audiophile dreams.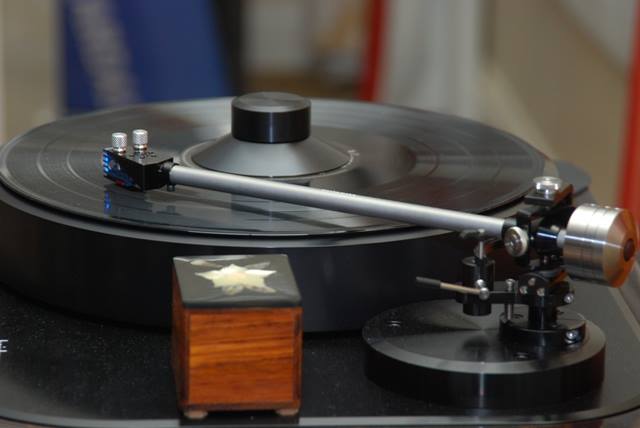 Brinkman Oasis table with Soundsmith SG-230 strain gauge cartridge were more than up to the task of spinning LPs. Nothing seems to faze the SG-230's tracking abilty (that didn't happen by accident either.)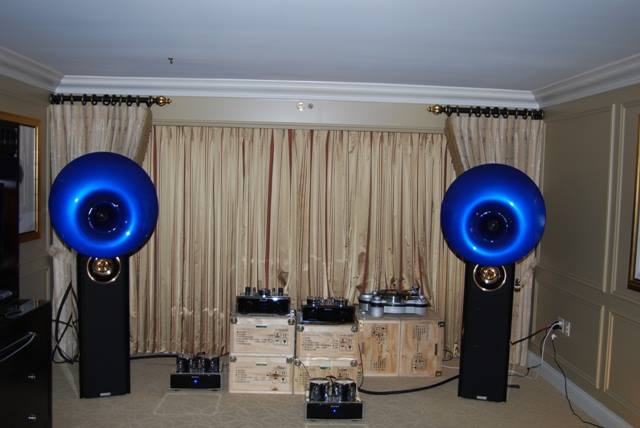 I hate bashing products but admit that I don't now and never have gotten the horn thing. Big sound here but voice are in the horn and just don't hear a whole lot of delicacy despite the Air Force 1 turntable in the back.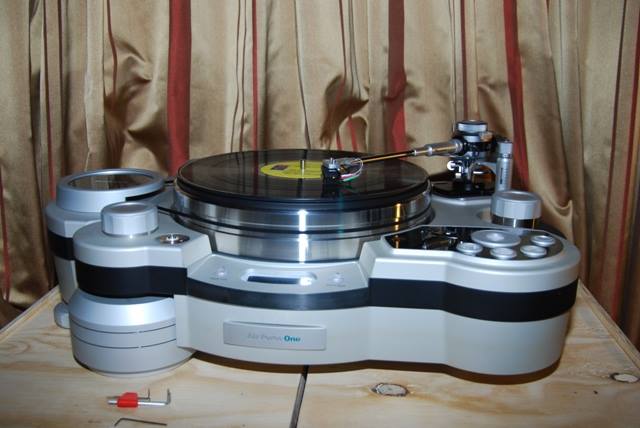 The "Best Turntable in the World?" Many think so. Equipped with the new Graham Elite tonearm specifically built for the table. Unfortunately couldn't get much more info as weather proved a barrier for Bob (and others) to get to CES.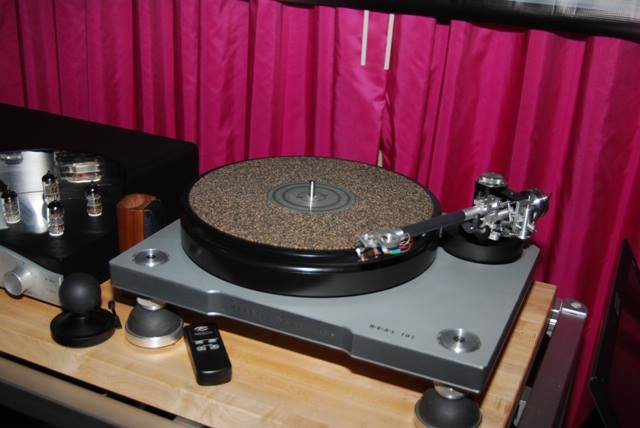 Merrill-Williams REAL 101 table with its unique Bakelite resin composite platter and "Energy Management System" plinth.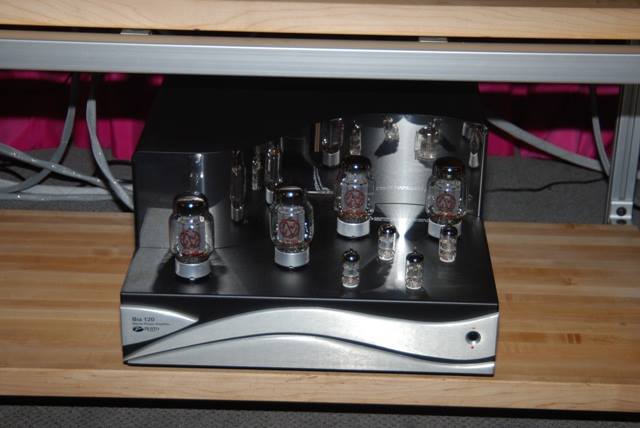 Some of the sweetest sounds and best midrange on Day 1 at The Show came from the Zesto/Merrill-Williams Audio/WyWires/Tri-Planar/TAD Labs room. George Counnas' new 60 watt Class A BIA 120 tube amplifier ($12,550) proved itself more than capable of driving the TAD Evolution One speakers ($29,800). What particularly struck me about this combo--in contrast to the vast majority of rooms heard at this and other shows--was that there was actually really a midrange! What a concept! And no evidence of that artificial edge that I've heard in the other TAD models over the years. No less impressive was the Merrill-Williams table outfitted with the Tri-Planar U2 10-inch arm equipped with the Dynavector DV-1S cartridge. This is the third time that I've heard George Merrill's table and each time the table's low noise floor and natural, musical nature has always impressed me.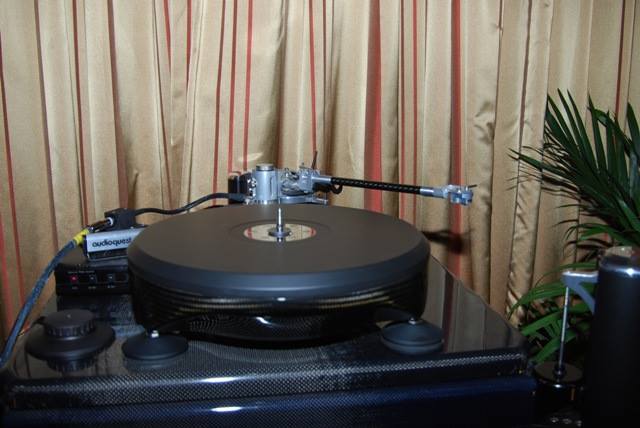 So what does this all mean? Everything that we've been doing after the cartridge to fine tune the system including but not limited to loading and setting VTA/SRA turns out to be simply attempting to compensate for an incorrect equalization. While that's scary to think about, this information has been in front of our noses for many, many years. Years ago it seemed to me that adjusting tracking angles didn't necessarily get us to where we hoped to be. And it's now clear that they won't unless we begin with the correct EQ correct to start with. Don't worry however. Zanden has put together a list (and growing) of roughly 100 labels with suggested EQ setting along with whether or not the record label is in or out of phase. Quite a lot of volume of work and we owe Zanden a debt of gratitude!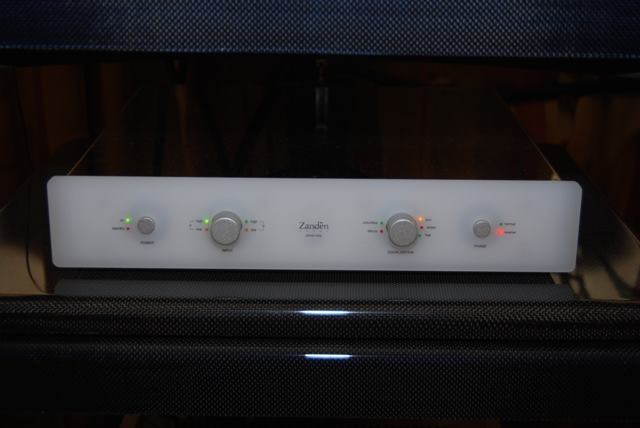 So what better to test Eric's contention than the new $7500 Zanden Model 120 solid-state phono stage that sports five (EMI/Decca/Columbia/RIAA/Teldec otherwise known as DIN) selectable EQ curves? First up on the Grand Prix Monaco table equipped with the new 12-inch Tri-Planar arm and Blue Diamond cartridge was the now famous Harry James and His Big Band King James Version disc. First we listened with the RIAA setting and then with Doug's suggested DIN/Teldec EQ. There was no question that the DIN EQ sounded somewhat quieter and more focused and detailed. Eric added that some of what we were hearing were possibly traceable to album phase issues introduced by incorrect equalization. Next up was an original pressing of Alan Parson's I Robot on Arista. Again we played the LP using the industry standard RIAA and then the Zanden suggested EMI EQ. Here, the differences were even more pronounced than with the Harry James/ I Robot sounded like a totally different record. There was far more information, textures, tighter midbass and transparency in addition to the already abundant low bass. Last up was Masaru Imada Quartet Now on Three Blind Mice. Here again we started with the standard RIAA and then switched back and forth with the Zanden suggested EMI EQ. The sonic differences weren't as striking as with the previous album but were still there nonetheless. With the EMI EQ, the stand up bass was a touch more detailed and tighter, cymbals and piano a little more focused, and so on.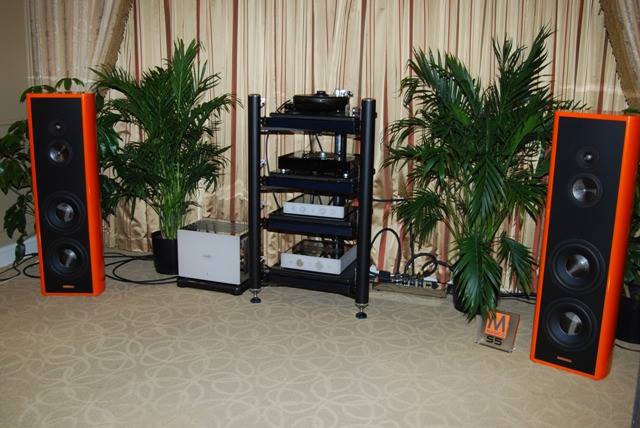 So far the Zanden Audio room proved the most interesting, yet disturbing stop on the audio trail at this year's CES Show. First a little background. Eric Pheils, Zanden's US distributor and I were discussing (how this subject arose now escapes me) several months ago on Facebook whether or not the old Sheffield D2D albums were cut using the "standard" RIAA or an EMI EQ curve. Now for the record, I always felt the Sheffield had a funky sound. The low end tended to be boomy and ill defined and others were definitely edgy. Eventually one thing led to another and I posted a note for Doug Sax on The Mastering Labs Facebook page asking for some clarification on the matter. Doug kindly responded that the Sheffields were not mastered with the "conventional" RIAA but the DIN EQ curve.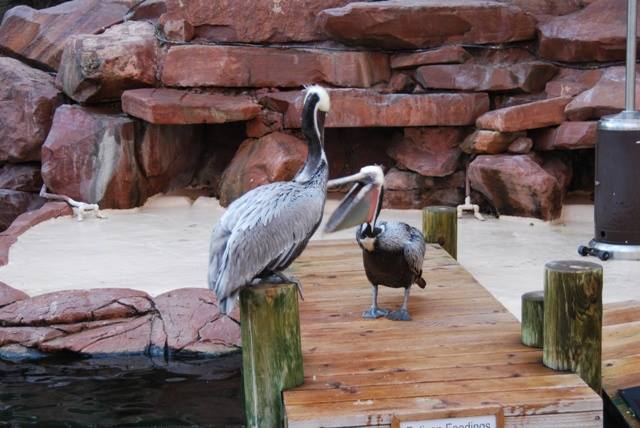 This year, The Flamingo Hotel added to its menagerie a pair of beautiful California Pelicans.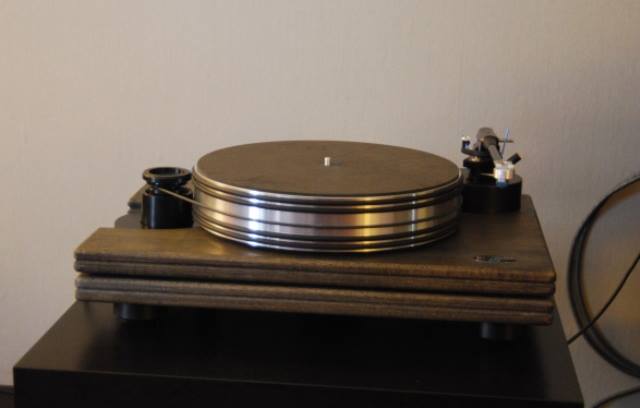 Located in the Audio Pear room was the new Pear Audio Analog turntable designed by the late Tom Fletcher of Nottingham Analogue.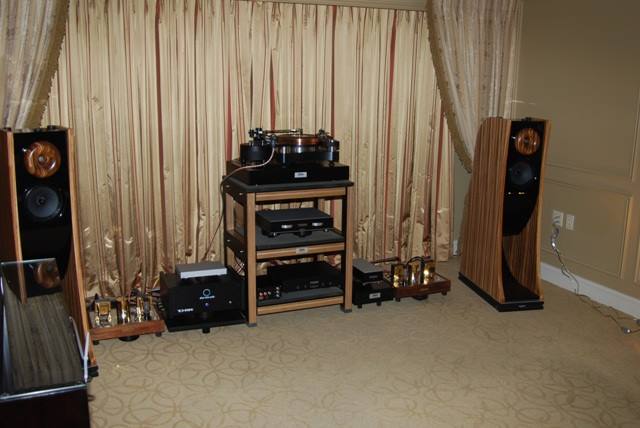 The rest of the the High Water Sound system was composed of the $60,000 Cessaro Horn speakers, Electra-print SE300B Silver monoblock amplifiers, Tron-Electric preamplifier and phono section, Zen Sati IC and speaker cables and Tel Wire Power cords. Also seeing service was the new $4949 Lehman Audio Silver Cube phono section with the new Ortofon Quintet moving coil cartridge. Five watts went a long way with the Cessaro horns and no one is going to be disappointed with the sound of the new moderately priced Ortofon cartridge. Effortless, midrange in abundance and dynamically unconstructed rules the room here.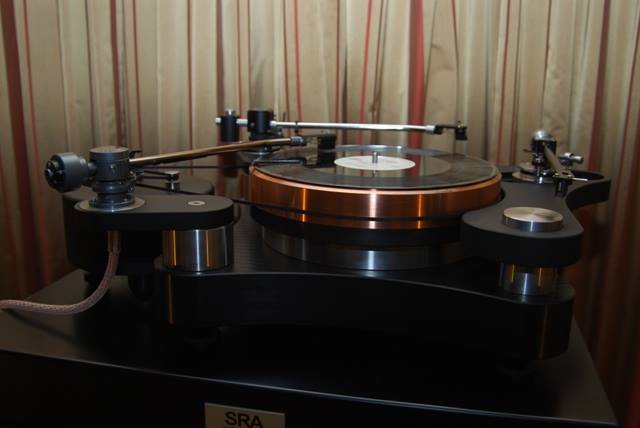 Jeff Catalano showed up this year with the new $32,000 TW-Acustic Raven Anniversary SE turntable equipped with no less than three tonearm. The TW 10.5 arm held the Ortofon Windfield cartridge, the Ortofon 309D tonearm was adorned with an Ortofon Cadenza black while the Ortofon TA-210 sported Ortofon's newest $899 Quintet Black cartridge.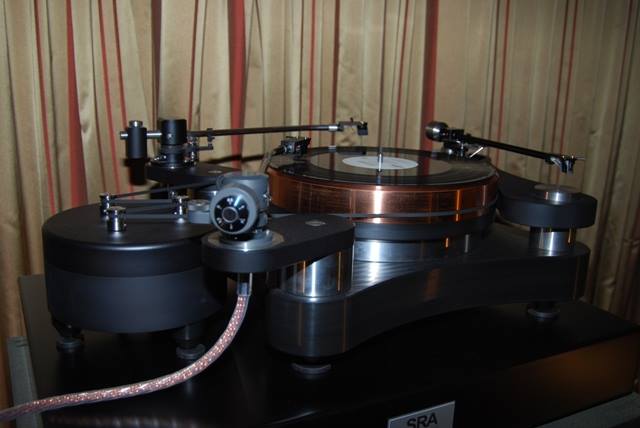 Another striking shot of the new TW-Acoustics table.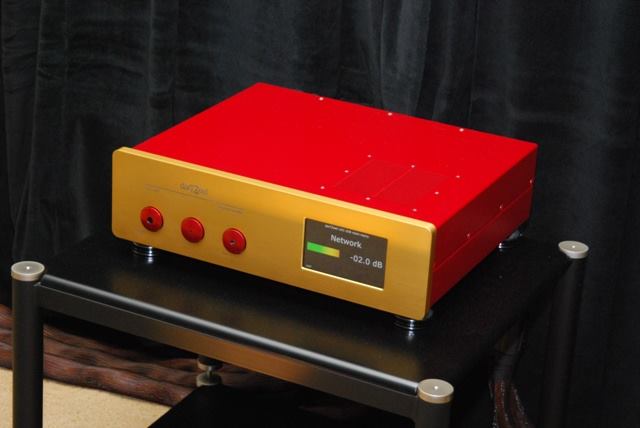 The new DHC-208 from Dartzeel features an integrated amplifier with a built in DAC. Great for those with limited space! More on this baby later in the show.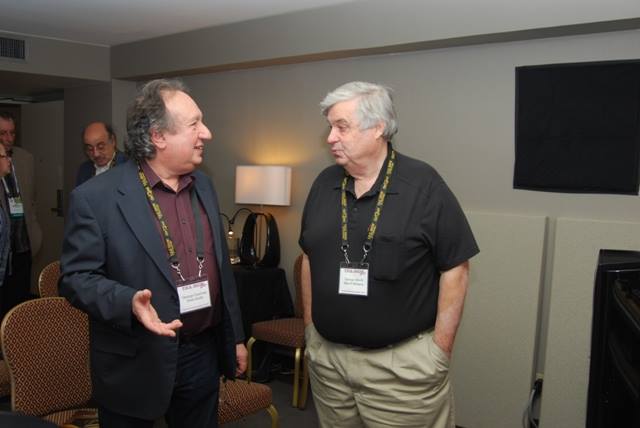 George Counnas (Zesto Audio) recalling his days as a recording engineer to George Merrill (Merrill Williams)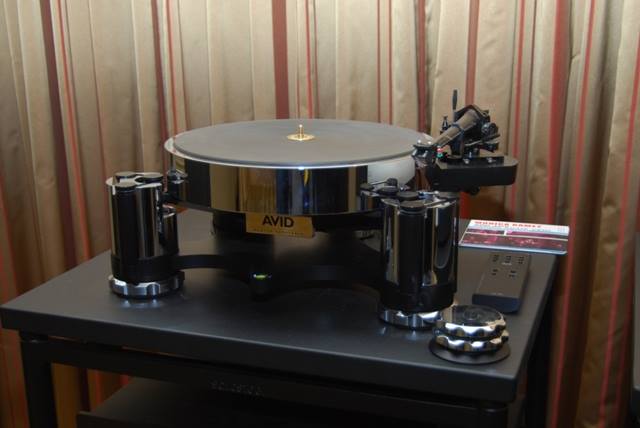 The $26,995 AVID Acutus table equipped with an SME V and Dynavector XV-1S cartridge spun tunes in the BAT cave.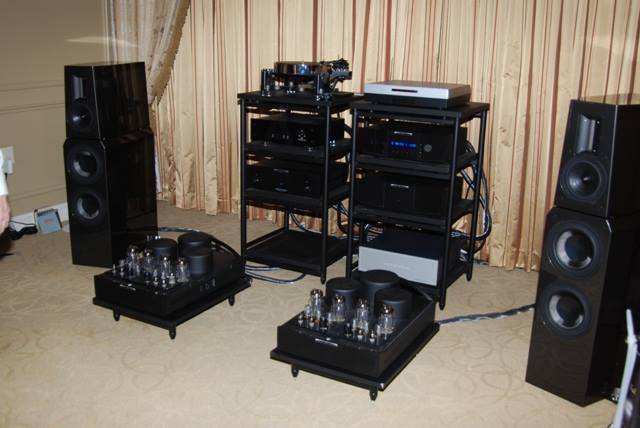 BAT pulled out all the stops this year and brought along the top of the line Aerial 20T loudspeakers and Avid Acutus turntable to show off their tube electronics at CES this year. The sound was no less impressive with great midrange and soundstaging on one of my favorite Contemporary recordings Bob Cooper Coop.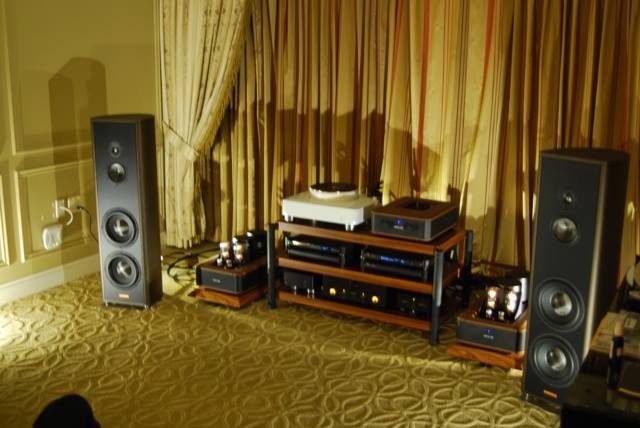 Absolare rebounded from last years' disappointing RMAF performance with a vengeance. With the exception of the Rockport Avior speakers (and of course a different room), the system at this year's CES was identical to that heard at RMAF and featured Dobbins' The Beat table, Allnic's highly praised H3000V phono and the Absolare amplifiers and line stage. The difference maker? The addition of the new Magico S5 speakers. Now don't take this to mean that the Magicos are necessarily better sounding than the Rockports; it just seemed that the Absolare amplifiers just didn't have enough power to drive the Rockports at RMAF. Now no one would ever mistake me for a Magico speaker fanboy but these S5s are a totally different beast (I was also highly impressed by the sound of the same S5s and Absolare electronics at a recent listening session at New York City dealer Rhapsody Music and Cinema). In the past the Magico speakers played notes; the S5 play music. Yes there was still some evidence of dynamic compression on demanding LPs like the Mercury Fetler's Contrast for Orchestra, but there was none of the congestion so apparent in Denver last year.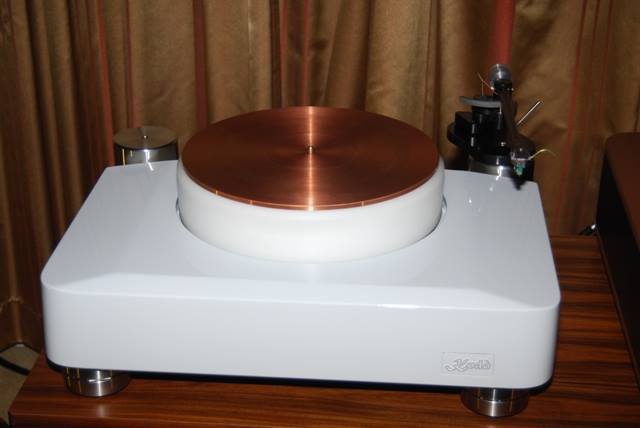 Steve Dobbin's The Beat turntable just defines "eye candy."