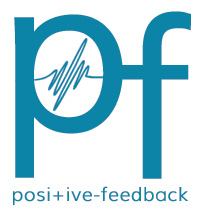 You are reading the older HTML site
Positive Feedback ISSUE 71
january/february 2014
CES 2014 - Part 2
by Myles Astor
Can you say "slow show" three times quickly? Attendance at this year's CES and The Show by manufacturers and consumers, etc. alike was down to levels I've never seen in all my years of attending the Winter Show. For example, just two years ago, high-end aka Specialty Audio occupied four flours of the Venetian Hotel and two floors of upstairs suites. This year? Basically 1 2/3rds floors of the Venetian plus two floors of suites. An identical downturn was observed at The Show that went from two upstairs and one downstairs floor just last year to just one upstairs and one downstairs floor. The reasons? It's not totally clear but some feel that it's economics. There's no argument that exhibiting at CES is a an extremely expensive proposition. One can also couple cost concerns with the burgeoning number of shows not only in the US—or even North America—but all around the world. And the reason that these shows are cropping up around the world is that is where the high-end equipment market is strongest. Russia. China. Asia. The Middle East. Even places that one would not think of such as Vietnam. Others claim that the Munich Show is and has been slowly chipping away for quite some time at the Winter CES Show's hegemony (many distributors prefer to meet their US suppliers now at the Munich Show for multiple reasons). Yet others feel the downturn in attendance is directly attributable to the show having been moved to four weekdays instead of two weekdays and and the weekend. And the bad weather certainly also proved a barrier for many to attend. Several manufacturers arrived late because of missed/cancelled flights and even pieces of equipment suffered the same fate. Whatever the reason, it will be interesting to see if CES notes this downturn—or even cares—since Specialty Audio is a minuscule part of the show.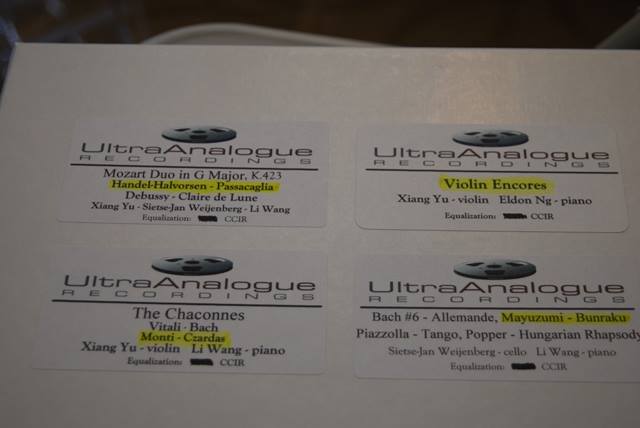 Just to backtrack for a moment. I took some time around noon time to revisit the NOLA speaker room and the sound has improved greatly. The system's focus was markedly better than yesterday. Instruments didn't sound quite a wispy and nebulous. In addition, Greg Beron played for me a compilation tape of classical music from Ed Pong and colleagues at UltraAnalogue Recordings. Now two years or so, I had received a several of their tapes and found the Q/C to be wanting. In particular, the tapes had hum issues. Well it seems that UA has licked their quality issues as evidenced by the wonderful sound of this new compilation tape (also transferred at 250 nanowebbers, not nearly as hot as the tapes they sent me). The Debussy Clair de Lune piece featured simply lovely playing and sound!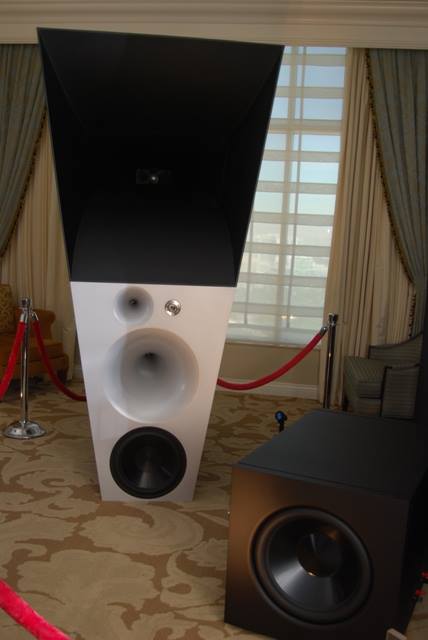 Often talked about, rarely seen in real life, even more rarely heard. Magico's $600,000 5-way horn loaded speaker on dry display at CES 2014.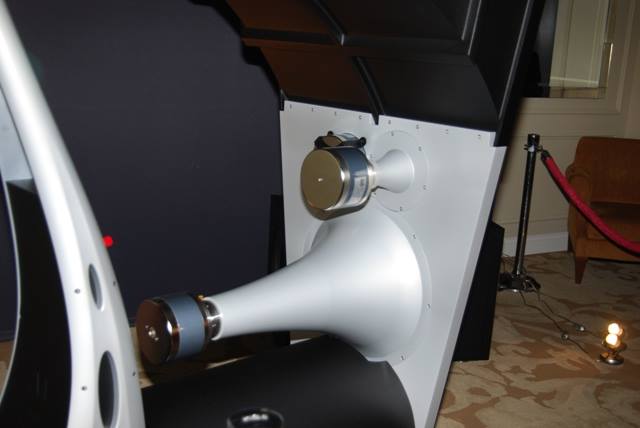 Making the first watt count: horns and woofer rated at 110 and 88dB efficiency, respectively. The horns are crossed over to the conventional woofer @ 120Hz.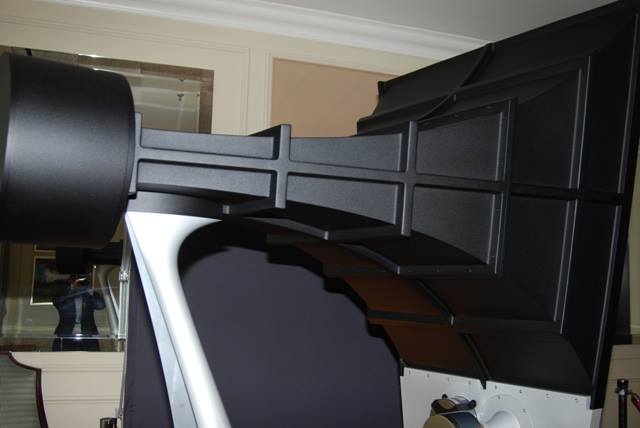 The mid-bass horn absolutely dwarfs the Ultimate speaker's other drivers.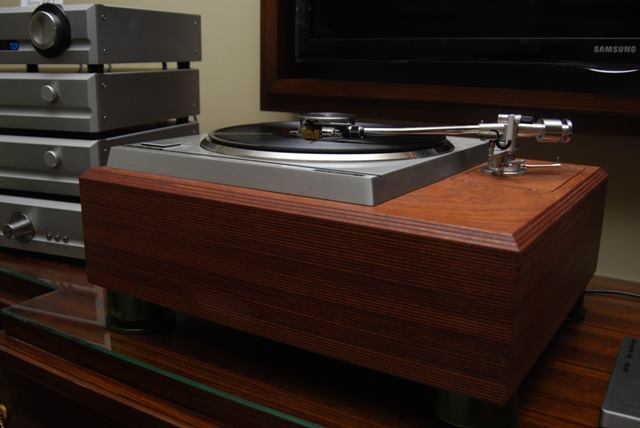 OK, I plead guilty by reason of analog insanity. Of all the products in the PASS room, it was Wayne Colburn complained, the one product that they don't sell that caught my eye. Can you blame me? This highly stylized direct drive SP10 Mk. 2 turntable replete with a custom made plinth, new and heavier platter, modded MicroSeiki 505 tonearm and topped off with a My Eminent MC cartridge sounded every bit as good as it looked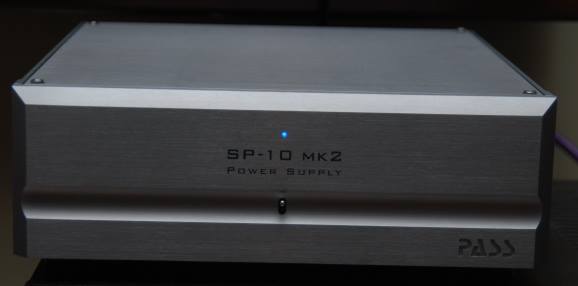 Oh, and Wayne and colleagues didn't stop there. They also built a special power supply for the table's speed control.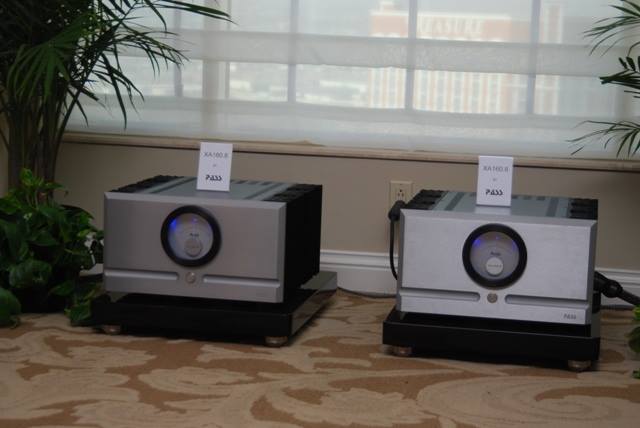 PASS rolled out at this year's CES their new amplifier 0.8 series. PASS rolled out at CES their new amplifier 0.8 series. Designed to fit between both price and performance wise between the 0.5 and XS series, these amplifiers were certainly no slouch producing the best sound that I've heard from PASS at CES. There was no trace of solid-state sound from these Class-A monsters. Imaging was very good with my biggest complaint (the Sony AR1 speakers?) being a little loss of low level information, some sense of space and overtones on recordings such such the early '57 Contemporary recording Coop.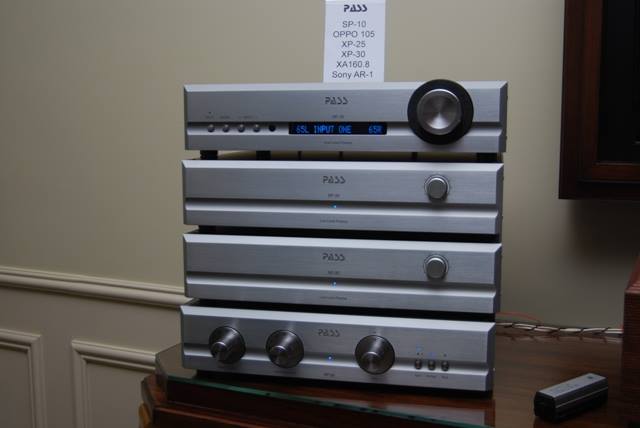 Additional components in the analog chain included the XP-25 phono stage and XP-30 line stage.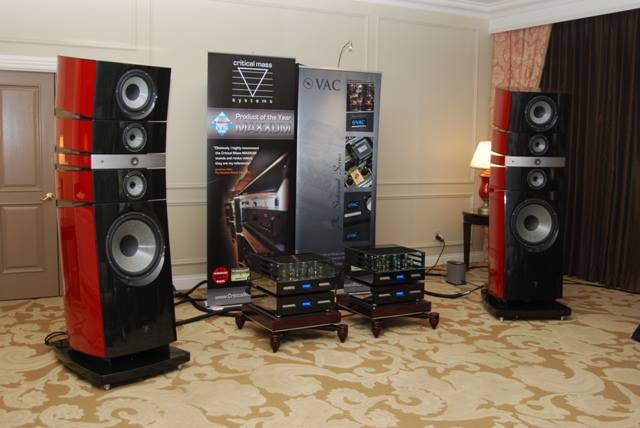 Big speaker, biggggg sound! Focal's new, cost no object, $180K Grande Utopia EM speakers in combination with VAC's Statement iQ self biasing tube amplifiers and new VAC Statement line and phono stage, was arguably one of, it no the best, sound at the Winter show. The four way Utopias are rated at a very amplifier friendly 94 dB and features Focal's new 16-inch, self powered, electromagnetic woofer. Despite their size, the speaker absolutely disappeared—and at the same time produced a huge soundstage. On Alan Parson's I Robot, the system dissected and separated the densely produced recording absolutely effortlessly. Voices on works like Bach's Quodlibet occupied their own space in the back of the stage; at the same time, one truly felt like their were actually people standing and singing. And unlike many large speakers, small scale recordings were bloated out of proportion to reality. Oh, and this was the only system that didn't in same way or another didn't veil or obscure Ella's voice on the "Desafinado" track from Ella Sings Jobim.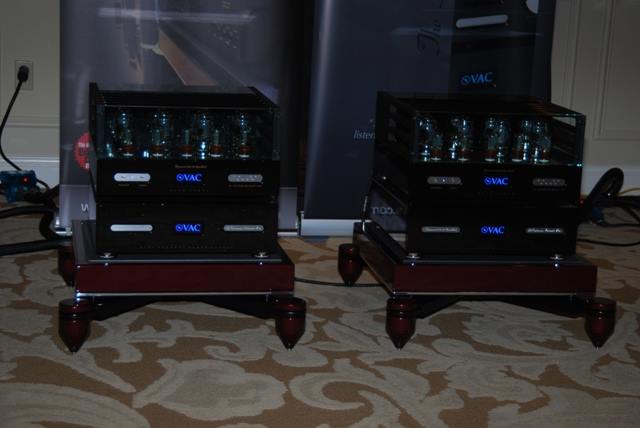 Kevin Hayes' most ambitious effort to date, the $116,000 Statement iQ amplifiers feature his newly developed intelligent continuous biasing system. "The iQ system," according to Kevin, "is the first tube amplifier where each output tube is maintained at its optimal bias point at all times." In short, this reduces distortion and noise and results in longer tube life. Whatever the reason, the new amplifiers set new marks for tube amplifier performance, combining both the harmonic resolution of tubes and new levels of low level resolution. My main issue with the system (and possibly the amps?) was a slight dynamic reticence that was a quality that I had experienced in earlier VAC amp designs.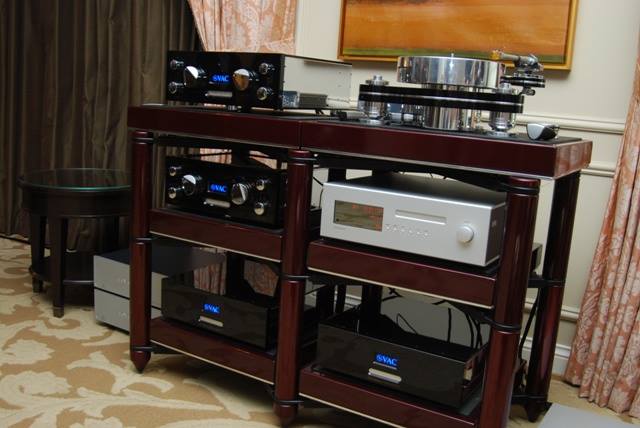 VAC's new Statement phono and line stages along with separate power supplies sit in some Critical Mass stands.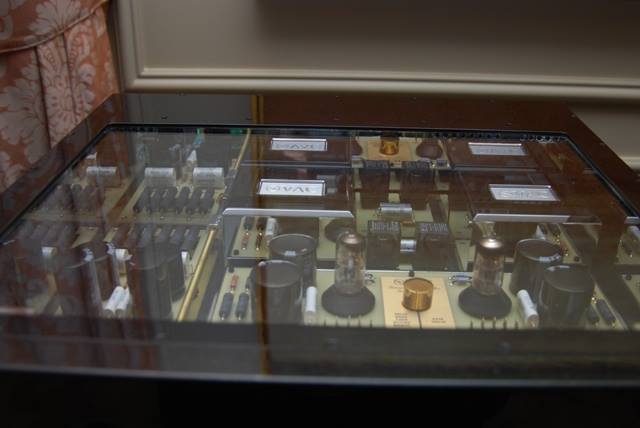 A look inside the VAC Statement phono section. A work of art both on the outside and inside!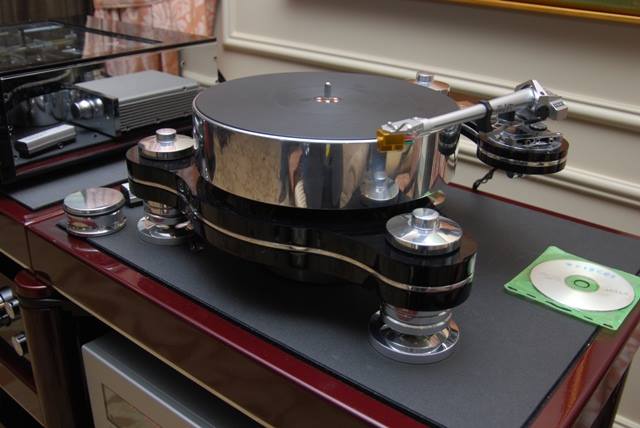 Transrotor's Crescendo Nero outfitted with an Air Tight Supreme cartridge held up its end of the bargain.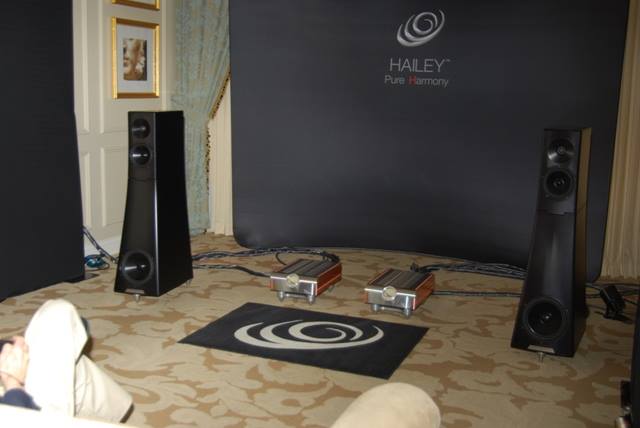 The new $42,800 3-way YG Acoustics Hailey 1.2 speakers were another serious contender for best sound of the show. Named for Noav's daughter, these scaled down Sonjas were impressive in the mids and highs. Great staging and especially low level detail on percussive instruments and resolution of harmonics on saxes and voices, nothing at all like the earlier speaker efforts from YG Acoustics that always were edgy. Lower down, most likely to room issues was somewhat thickened and obscured detail.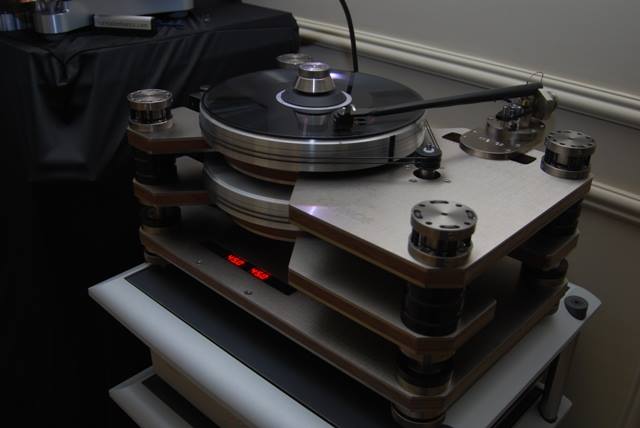 Kronos table outfitted with the $8500 Black Beauty unipivot tonearm first debuted at RMAF 2013 turned LPs in the YG Audio room. An Air Tight PC1s moving coil cartridge completes the picture.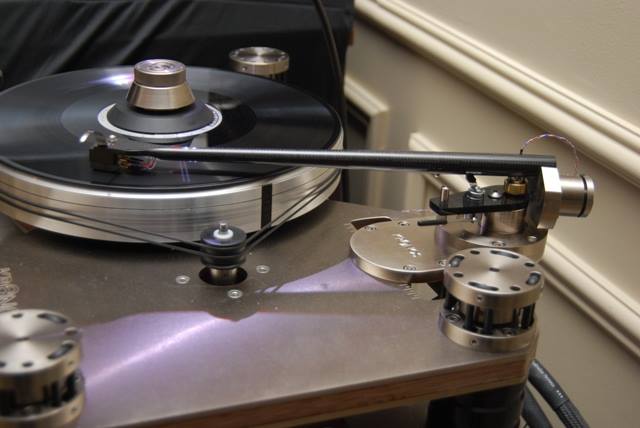 Andre Theriault's 12-inch arm is fashioned from carbon fiber.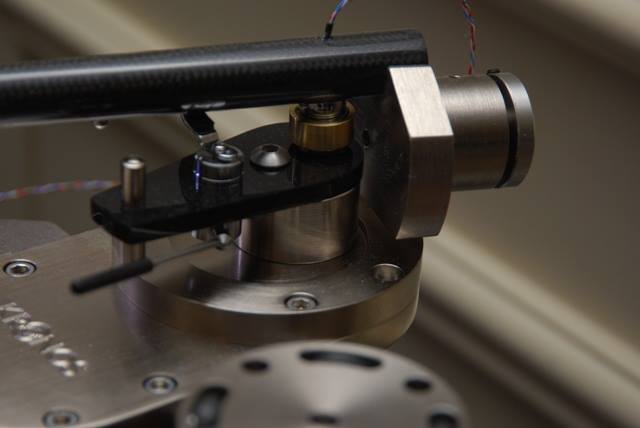 Better tracking and stability is provided by the position of the counterweight.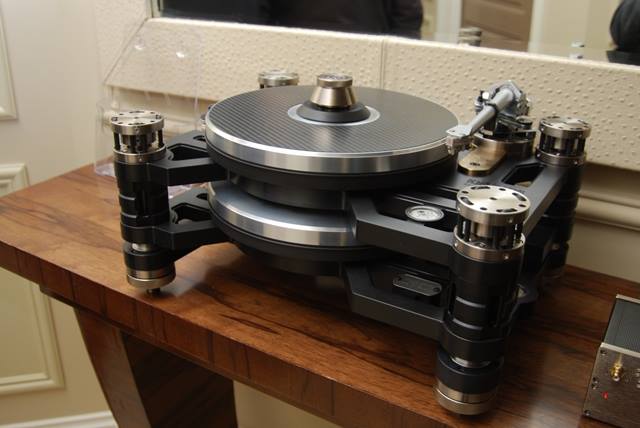 New smaller and small footprint turntable named the Sparta from Kronos Audio. Drawing on the technology including the dual counter rotating platters developed for their bigger baby, the Sparta will retail for $21,500.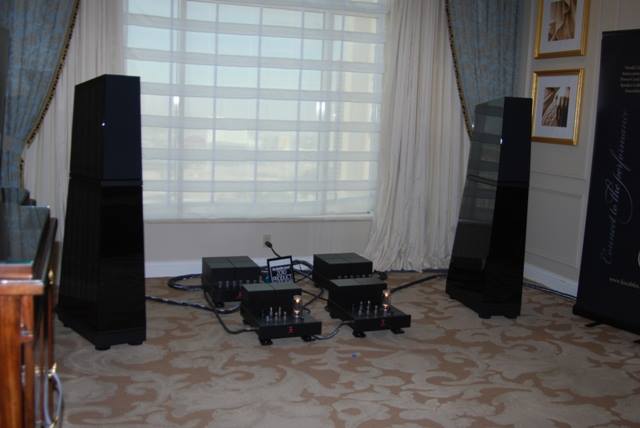 Was there a better pairing than the LAMM ML3s with the super efficient (95 dB) Verity Audio Lohengrin speakers? New for the Lohengrins was the addition of a platform under the speaker that according to Julian allows the speaker to sound its best regardless of the floor it sits upon.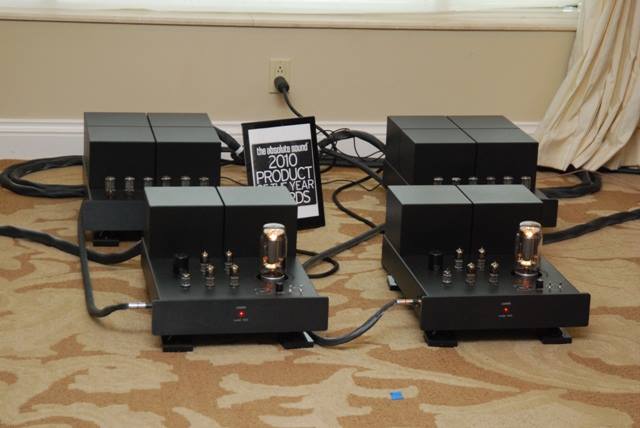 The world's best amplifiers? Some think so. The $139,490 LAMM ML3 amplifiers.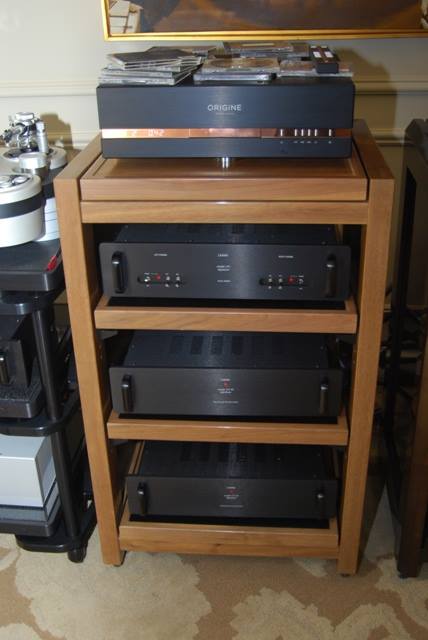 LAMM's LL1 Signature line level preamplifier, LP1 Signature phono section and the Neodio NR32D "Origine" CD players.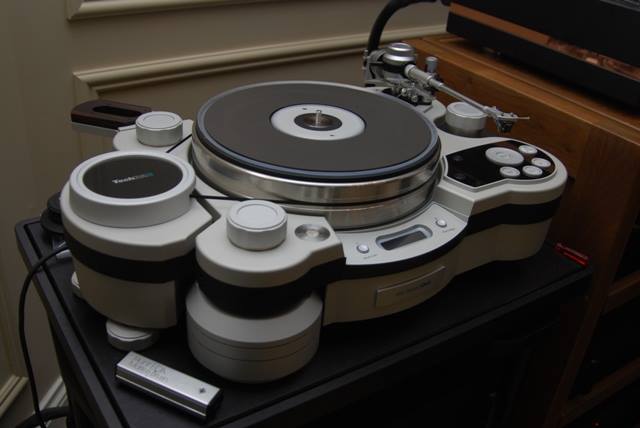 Much talked about, seldom heard Airforce 1 turntable. This belt driven attack on the SOTA features an air bearing main platter with vacuum hold down. End users can select between an aircraft grade extra super duralumin, non-magnetic hard processed stainless steel or black methacrylate upper platter. In addition, the turntable uses an adjustable full-air suspension system that allows the user to tune the suspension to minimize vibrations.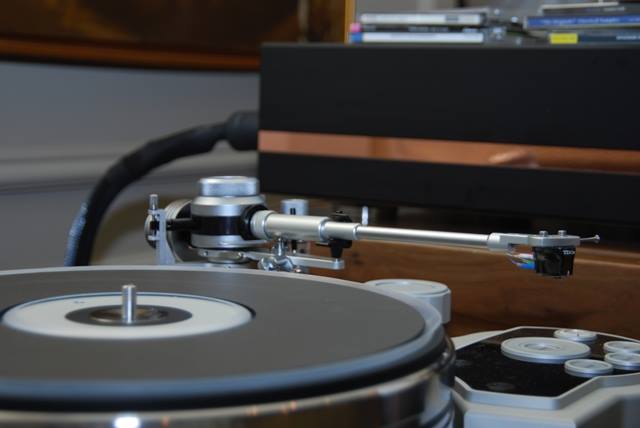 World premier of the $11,000 Tech Das TDC-01 moving coil cartridge reported built for Tech Das by Y. Matsudaira. Also being shown for the first time is the $14,000 Graham Elite tonearm. Sporting three new patents, the Elite is like Bob's other designs a unipivot design along with contact-free anti-skating and magnetic stabilization taken to the next level. Great control and resolution was the hallmark of the analog front-end.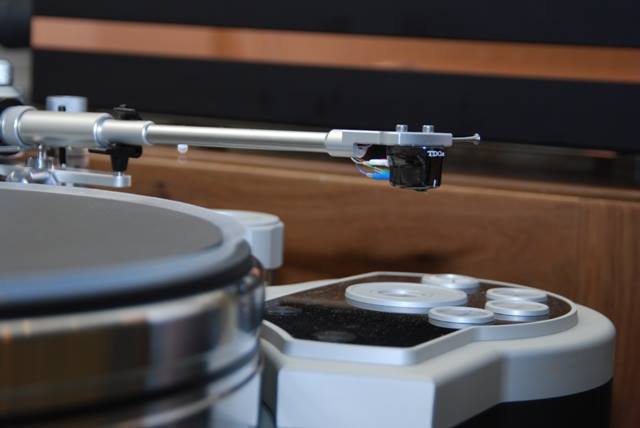 Tech DAS TDC-01 moving coil cartridge with a rather robust 0.45 mV output voltage. This low internal impedance cartridge (1.4 ohms) employs a super duralumin + DLC coating and semi-line contact (3 x 30 micrometers) stylus.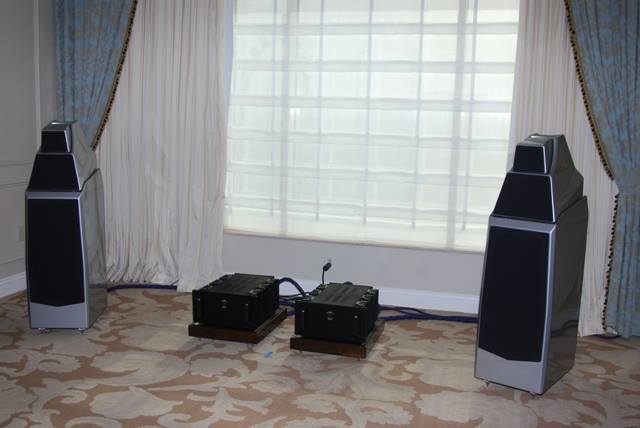 These Wilson Alexias are beginning to speak to me so to speak. (Unfortunately it's saying buy me!) Again much, much better sound better than at early shows and in the LAMM room sounded very relaxed along with great staging and instruments floating in air. My main issue was a little loss of low level information and spatiality (as with almost all of the rooms at CES.)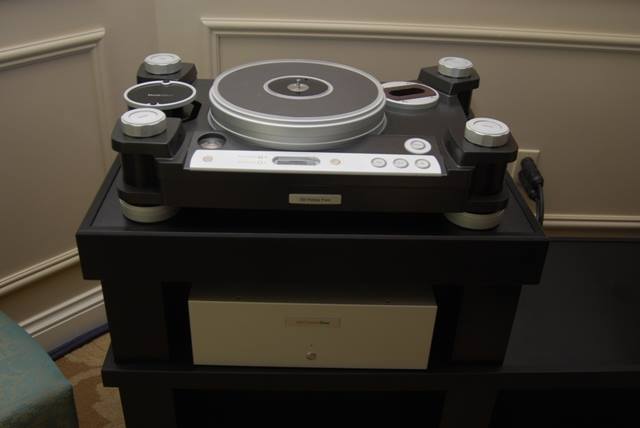 The newly released Air Force 2 turntable from Tech DAS (unfortunately, a connector for the power supply had been damaged in shipping and thus the table was inoperative.) Retailing for roughly half the price of it's bigger brother at $55,000, the new table still uses an air bear platter and vacuum clamping; among the areas where the two tables differ is that the AF2 uses a cast instead machined plinth and a slightly less sophisticated suspension.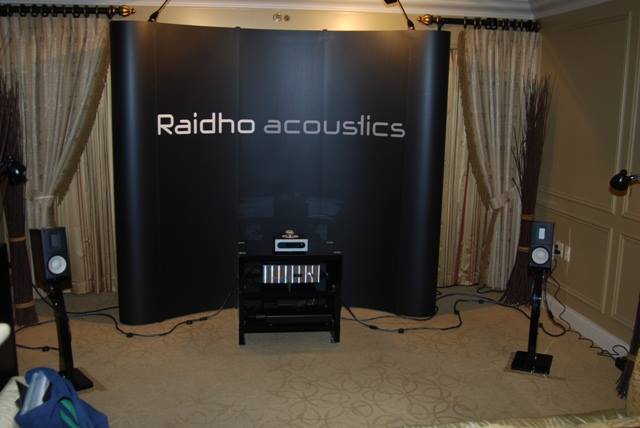 Small speakers are meant to be heard and not seen and the newest $7200 Raidho X-1 fit the bill. Based around the Raidho ribbon driver and a ceramic bass/midrange driver, these little boxes simply stepped back and let the musicians do their thing. Everything just magically floated in, around, above and between the speakers and gospel singers on the Fairfield Fives "Standing in the Safety Zone" were nicely separated and timbrally accurate. The upper octave resolution stood out while bass extension was respectable as long as it wasn't pushed too much. Finally, the speaker's speed stood out on CDs such as the excellent Kavi Alexander engineered Water Lily release Music for Motherless Child with Martin Simpson on guitar and Wu Man on pipa (a Chinese lute like instrument).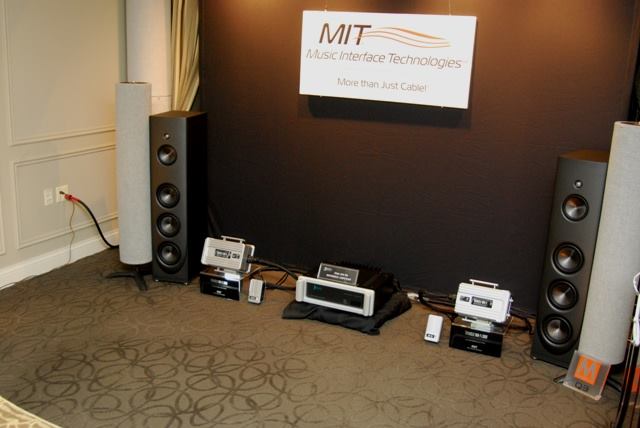 Just in case you don't remember seeing these Spectral amplifiers before, your memory isn't failing. Seen for the first time is the Spectral DMA-300 stereo amplifier driving the Magico Q3. The sound reminded me much of what I heard last year with the bigger Spectral amplifiers driving the Q7s at Terry Menacker's Overture Audio. Fast, detailed, controlled, quiet and linear sounding--especially when combined with the MIT Oracle MA-X IC and speaker cables—are but a few of the pertinent applicable audiophile buzz words But somehow these Q3s don't speak to me—albeit with analog provided by AMG V12 turntable--with the same meaning as does the S5 speakers say as in the Absolare room. As they say, different strokes for different folks.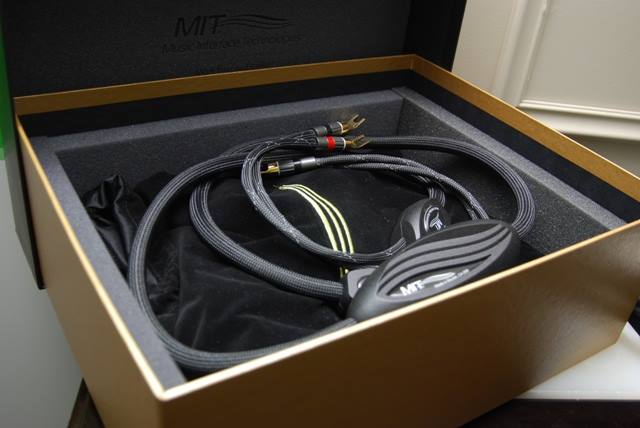 MIT also debuted a new Matrix line of IC and speaker cables with greater pole numbers and reportedly better sound. Hopefully will be getting a listen to these babies soon.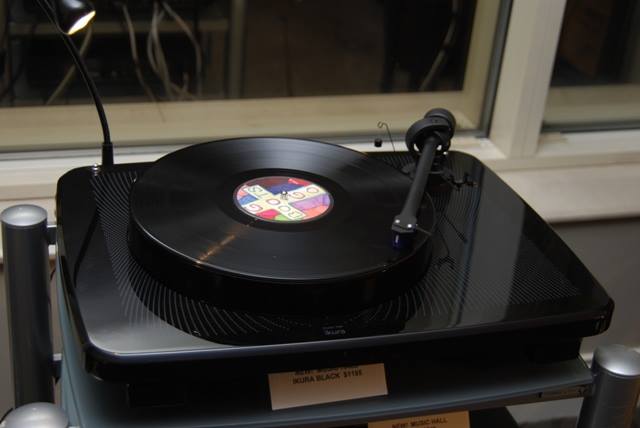 Music-Hall's $1195 (with arm and cartridge) Ikura turntable is finally shipping.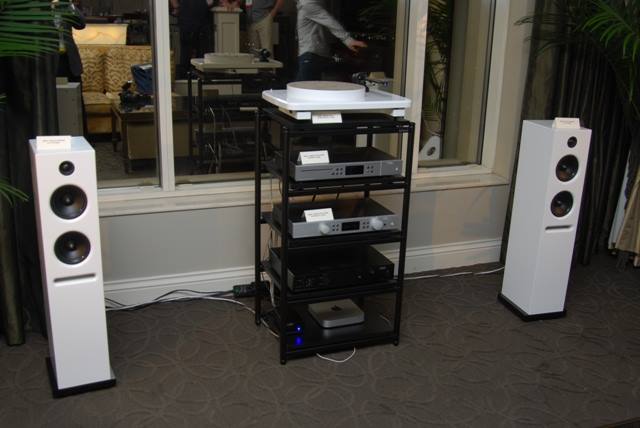 The $1750 Epos K-series speakers distributed by Music-Hall are a serious contender in their price range. Where they err—and something that can be blessing in this price range—is errors of omission. Oh yes, the Music-Hall Ikura turntable seen here in white, also appears to be a winner in its price range.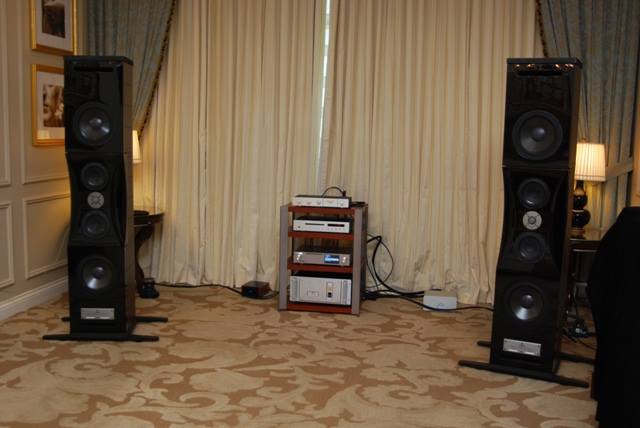 I'm giving the $37,900 Grand Tower from Usher Audio an incomplete grade until I hear them paired with equipment more to their liking. These three-way speakers designed by Joe D'Appolito built in Taiwan shocked me with their almost electrostatic-like speed and resolution combined with the strengths of conventional cone drivers. Like most top speakers, particular attention was paid to the cabinets along with the use of Usher's proprietary diamond tweeter, in house developed twin 7-inch mids and twin 11-inch Nomex-Kevlar drivers.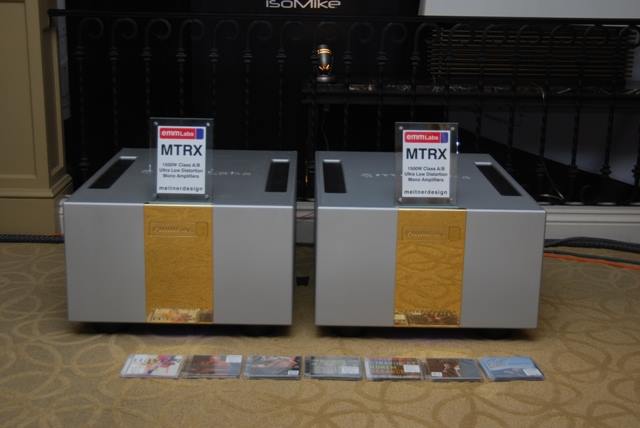 Ed Meitner showed up at CES with a pair of monstrous 1500 wpc Class A/B amplifiers. Priced to go at $130,000 per pair, the sound driving the Sony AR1 speakers was to be kind, highly disappointing. My first question: were these amplifiers brand smacking new or not getting enough juice out of the wall socket? Otherwise I had no explanation for the Lilliputian sized musicians, thin sound, lack of dynamics and absence of harmonic integrity.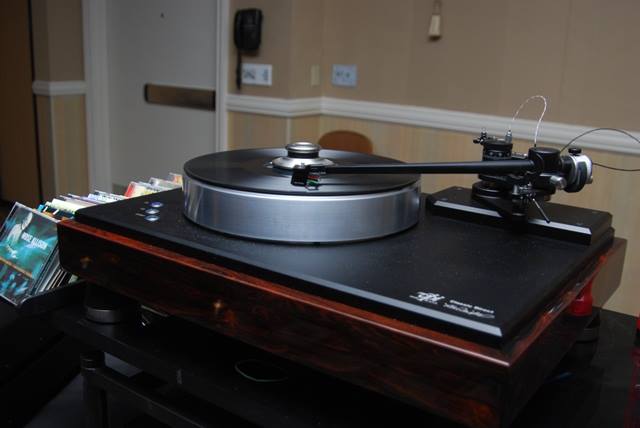 Spotted in the Quintessence room: the first sighting of a Classic Direct table in optional Rosewood finish. The picture doesn't do it justice.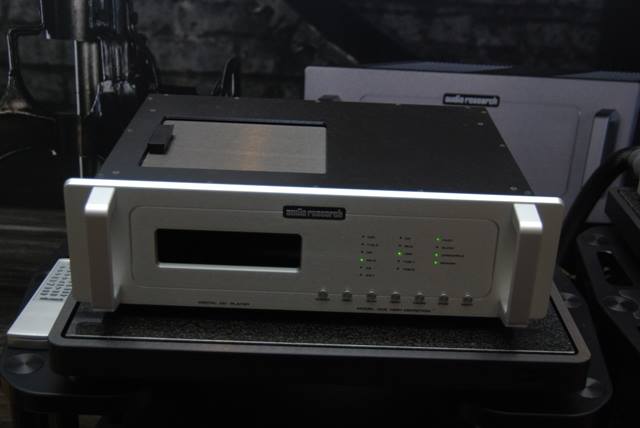 Audio Research launched their newest CD6 CD player (essentially a solid-state CD8) and...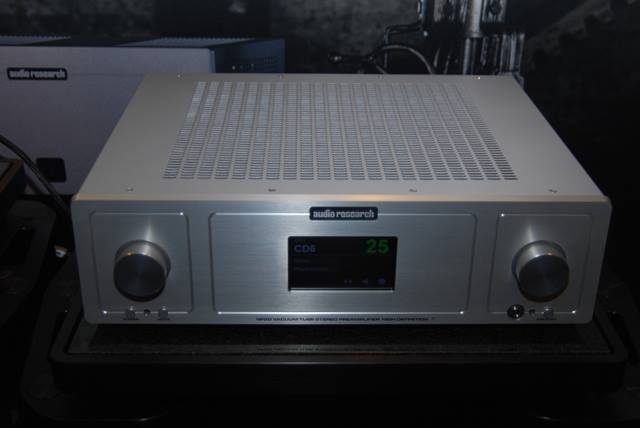 ...the in a throwback to old days, $9000 full function SP20 preamplifier. Sorta looks like a design cross between their first preamplifier and current design.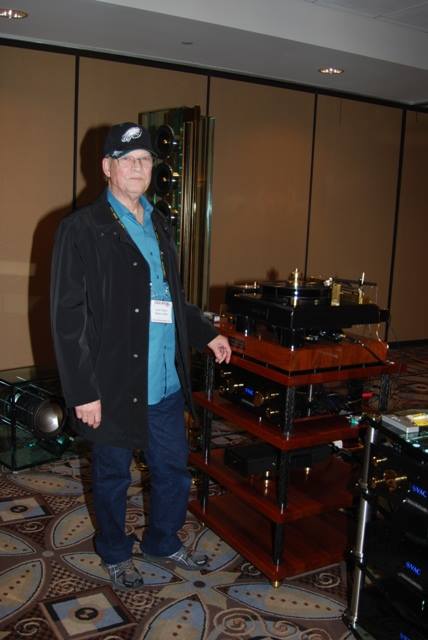 Lloyd Walker tweaking his table in the Stage 8 speaker room at The show.