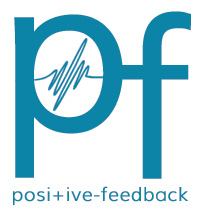 You are reading the older HTML site
Positive Feedback ISSUE 71
january/february 2014
CES and T.H.E Show Las Vegas 2014 - Part 3
by Steve Lefkowicz
Category 3 – Products that seemed way cool, but I didn't feel I heard them at their best.
Products and exhibits in this category were things that seemed really cool, or that I've heard sound better at other times or venues, or that just left me feeling that under other conditions they would be better than what I heard. Often it was just too much noise in the room from outside or too many people talking inside, or really bad choices of music to play.
Audio Note - Kondo
I've always had a fascination with Audio Note/Kondo products. This show, using an older pair of B&W 801 speakers, they were showcasing their new Kagura mono block amplifiers. For about $200,000 a pair, I expected some magic, and maybe they are capable of that, but with the setup and choice of music they were playing I just couldn't tell.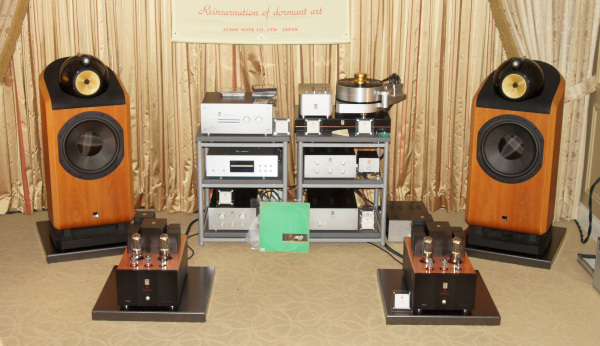 Avatar Acoustics, AMR, Rosso Fiorentino, Graaf, Current Cable
I think this was just a case of the speakers being too much for the room, or maybe we were sitting too close to them. There was so much potential for great sound, too. The very large Rosso Fiorentino Florentia speakers ($99,995/pair) had an incredibly detailed and large sound, something I expected more from a large planer speaker. Then I found out the center section of the speaker, housing the midrange and high-frequency drivers, is an open baffle dipole design. The Graaf GM 400 amplifier ($24,995), AMR CD-777 DAC Preamp ($4995), AMR CD-77 CD Player/Transport ($10,995) and a full supply of Current Cable (ranging feom $495 to $2995) rounded out the system. Very good sound, but I think capable of even better.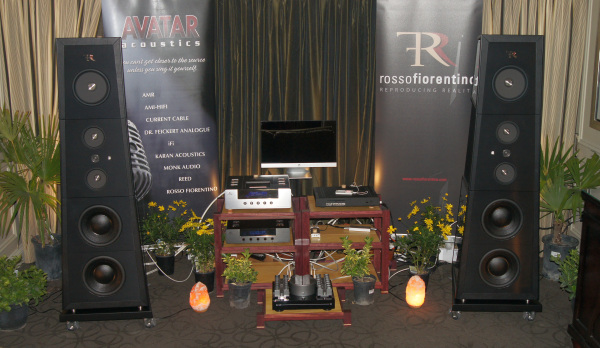 Avid Hifi, Wharfdale, Sound Solutions
I put this in this category only because I never actually heard this system play. However, I was very interested in the new Avid Ingenium turntable (under $2000 including a Pro-Ject 9" carbon arm). Various options allow for Tone arms from 9 to 12 inches, and even mounting two arms. I know a few people that own Avid tables who love them. For a moderately priced table, this seems to have a lot of thought put into it. I am hoping to try this out later this year.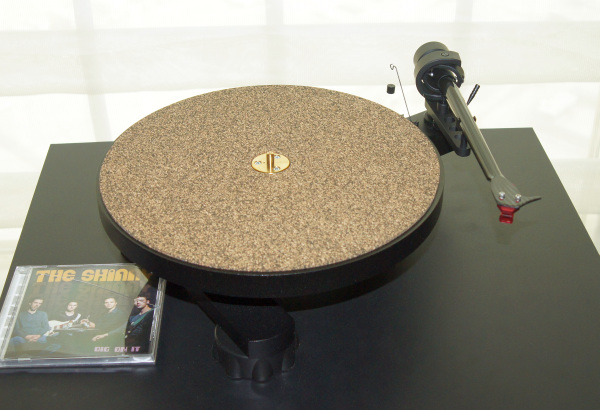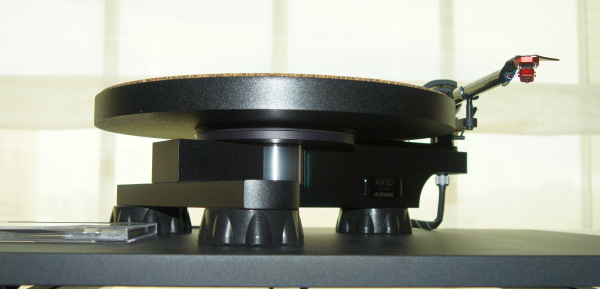 ESS Laboratories
Every time I see ESS at a show, I feel the need to remind people that this is the same company that made the ESS AMT1 series of speakers way back in the 1970s. They have been building, updating and selling the Heil AMT driver and rebuilding/restoring older ESS speakers ever since. Over the last few years they have put the line back into production. They have also built the full Transar system, which they've shown at shows for a couple years now. Every time I hear them, there's always something else going on in the room detracting from the demo, and I always go away feeling I'll get a better demo next time. The Transar is an interesting design and I hope to hear them to their full potential someday.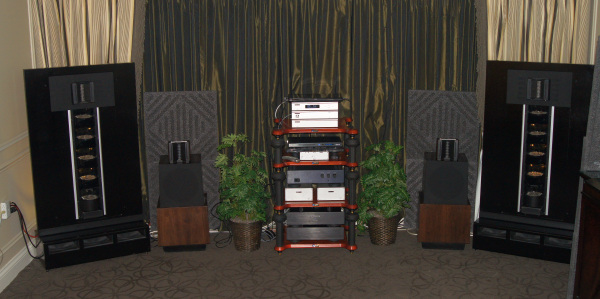 I realize no one wants to see a photo of me, but ESS was also showing a prototype of a new headphone using the AMT driver technology, which should be ready for the market in a few months for about $450. Just as I started listening, they started a demo of the big Transars, so I only had a hint of what the headphones could do. But that hint was very encouraging. One of the first production units is suppose to be coming my way.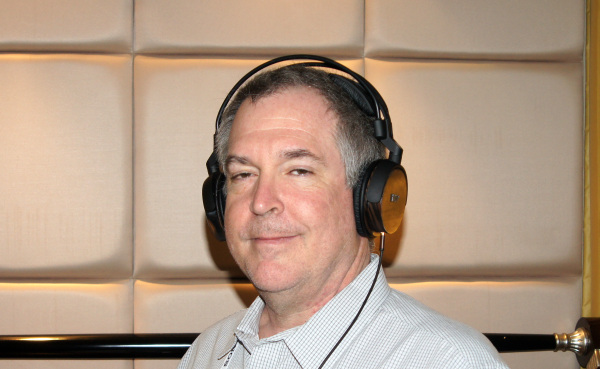 Highwater Sound
Jeff Catalano's Highwater Sound exhibits are always a high point of any show. You expect great sound with a great collection of LPs to play. Unfortunately for Jeff, the weather got the better of his gear, and he started the show with no amplifiers. He was able to borrow a pair of beautiful Electra Print 300B Mono amps ($10,000) to use, but when I stopped by, he had just turned them on. The amps were cold and Jeff had had no time to work on positioning or tweaking the system. I heard from others that the room did end up sounding very sweet, as usual. Cessaro Horn Acoustics Chopin speakers ($40,000); Tron-Electric Syren II GT Preamp ($55,000); Seven GT Phono/mono ($15,000); Lehman Audio Silver Cube ($4949); Silent Running Audio Scuttle Rack & Ohio XL bases; Silver Circle Audio Tchaik 6 ($9500)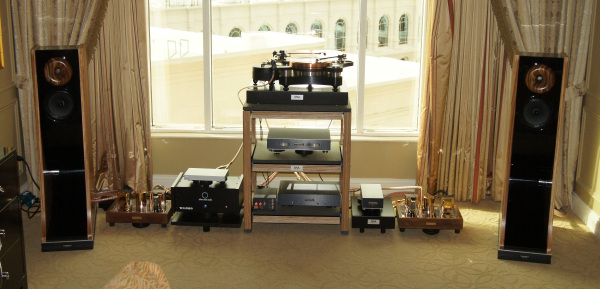 Here's the TW-Acoustic Raven AC Anniversary SE ($32,000) with a TW 10.5 Tone arm ($5500), Ortofon309D Tone arm ($3399), Ortofon TA-210 Tone arm ($1899), using Ortofon Windfield ($3899), Ortofon Cadenza Mono ($1219), and Ortofon Quintet Black ($tba) cartridges.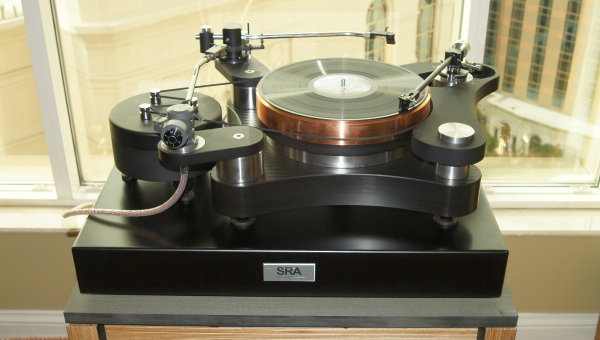 King Sound, KR Audio, Kubala-Sosna
There were two rooms with the big King Sound Electrostatic speakers. One at the Venetian showcasing the slightly smaller Prince III speakers ($9995) being driven by KR Audio electronics and all wired up with Kubala-Sosna cables. For whatever reason, this was clearly the better sounding of the two rooms.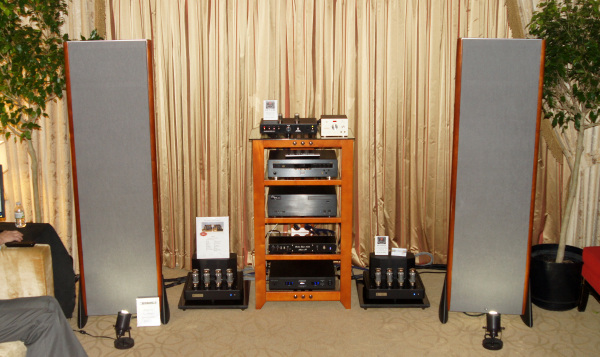 Over the Flamingo, in a much larger room, and in an all King Sound system, the larger KS-10 speakers sounded a little bright and harsh. That's not something I've heard from King Sound speakers in the past, nor would expect from the associated tube electronics. Could have been sources or room interactions.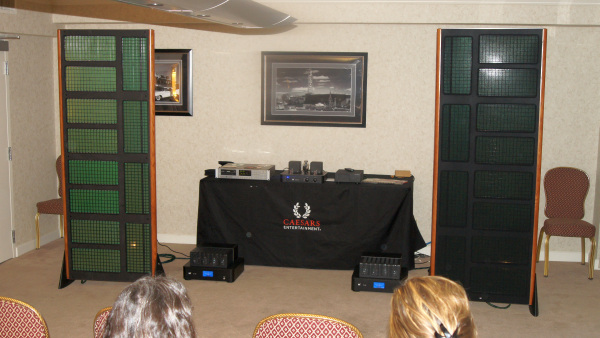 MAD, Unison, Tweek Studio
I stopped by this room at the Flamingo three times, and each time they were demonstrating the worst imaginable boring audiophile jazz for one or two visitors. Although I managed to get my photos, I was never able to get their attention for details of the system, or ask them to play some music that would give me a hint of what the system could do. I've heard from others that it was actually a very good sounding system.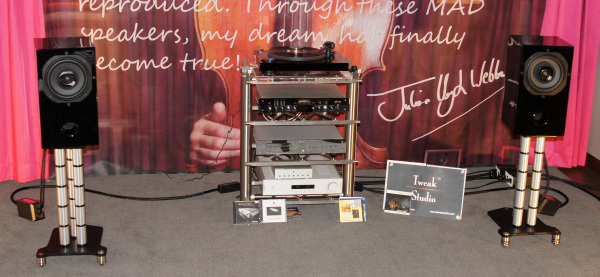 On A Higher Note, Eclipse TD, HiFi Tuning, Luxman, Mola Mola, Triplaner, Vivid Audio
This was another of those rooms where past experience leads me to expect excellent sound and a great demo. Unfortunately, my timing just didn't allow for that. I walked in a few times, and each time they had something going on that precluded my getting a decent demo. No hard feelings, as they are there to do business and my time in each room was limited.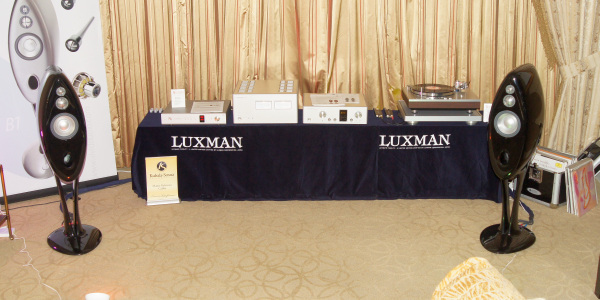 Luxman electronics.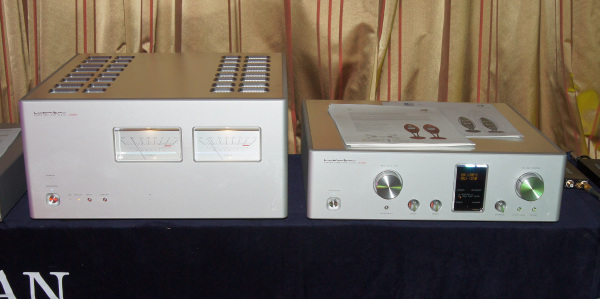 Rogers High Fidelity, Davone Audio
Having heard the two smaller Davone speakers at past shows, I was pretty excited about hearing their big Grand speakers ($19,800). Along with those, the Rogers High Fidelity electronics, PA-1A tube phono preamp ($7100) and EHF-200MK2 KT150 integrated amp ($15,000) looked equally stunning. Unfortunately I never had the chance to sit in the sweet spot, and from where I sat, there was a big bass drop out. Obviously this was probably from room interactions, but it kept me from really appreciating what this gear could likely do. Don't get me wrong, it sounded pretty good, but I am sure it would be better in a different environment. They were spinning vinyl on a VPI Classic table; I'm pretty sure the Classic 4.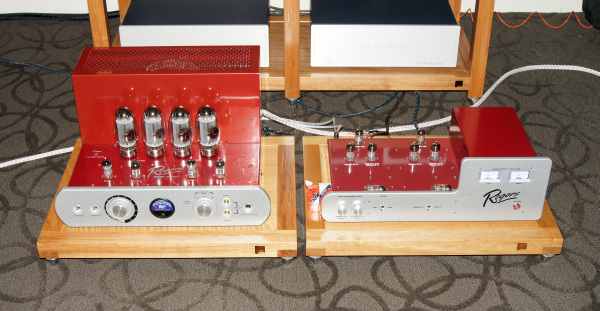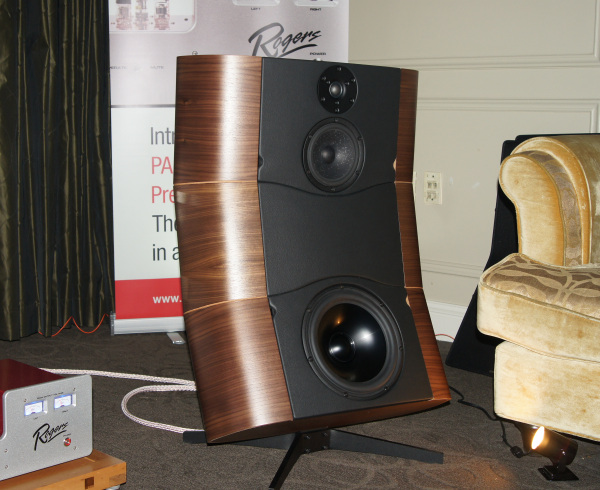 Rogue Audio, Dynaudio
Rogue Audio was showing off their new Pharaoh hybrid integrated amp. For $3495, you get 185 wpc, based on their tube-solid-state class D topology. You also get an internal mm/mc fully adjustable phono stage, and a tube driven headphone amp. It certainly looks beautiful in a purposeful king of way. They were showing with Dynaudio Confidence C1 II speakers ($8000) and a Dr, Feichert Analogue Woodpecker Turntable mounted with a 12 inch Jelco Tone arm (with an Arche headshell) and an Ortofon Cadenza Black cartridge. This was the first room I went to, actually before the show opened, and they weren't ready to play anything yet. I kept planning on returning to listen, as I've always found the Rogue gear to be exceptionally good, but each time, they were one of the few rooms that always seemed to have a crowd. Never got my proper demo. Hopefully they'll show this amp again in Newport.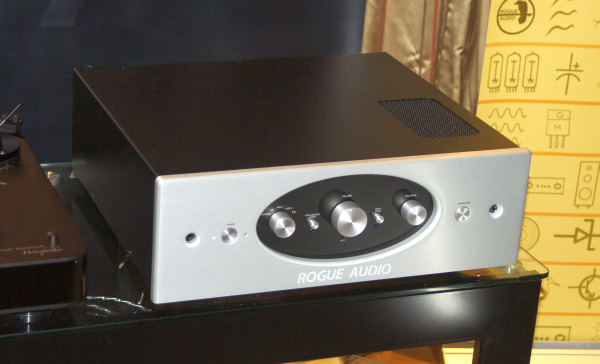 Sony
Sony was exhibiting their new products and pushing High Resolution audio, an exciting and significant matter, even if not everyone sees it that way. The nice, simple little system they set up included their HAP-Z1ES Music Server ($1999) that includes a 1 TB hard drive and can play pretty much every format available. It played into a TA-A1ES integrated amp ($1999) that offers 80 watts of class A operation. For speakers, they used a pair of SS-NA2ES ($10,000). Overall the sound was quite good, but the setup and disappointing choice of music, along with too many people making too much noise, meant I couldn't really get a handle on this system. To me, the most significant aspect of this display was Sony embracing High Resolution audio, considering the enormity the catalog they control.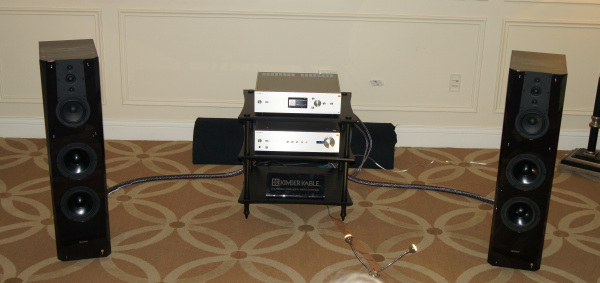 Sound Labs, MSB
Hearing big Sound Labs electrostatic speakers is always a treat. I could imagine myself owning a pair someday, though, like a typical hotel room, I doubt I'll have a room big enough to do them justice. With the big MSB amps driving them they sounded excellent, but I just know under better conditions they would be much better.