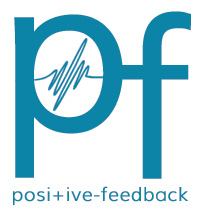 You are reading the older HTML site
Positive Feedback ISSUE 71
january/february 2014
CES and T.H.E Show Las Vegas 2014 - Part 4
by Steve Lefkowicz
Category 4 – Other things I saw that were significant or important
Everything in this category was something I felt to be important or significant, either because of how they sounded, how they looked, who they were from, or in a few cases, who they were.
But first, just because I comment occasionally on the insistence of exhibitors of demonstrating with old, audiophile records that should have been retired years ago and that need to be replaced with real music people want to hear, I needed to show that some old warhorses just won't go away. Not picking on anyone in particular, so I won't comment on whose exhibit I saw these records. And actually, their demo (fortunately using some very good musical choices) was superb.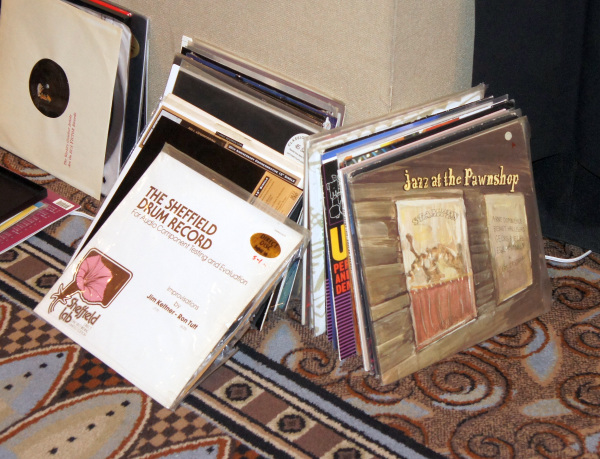 Now, on to the rest of the show!
Audioengine
Audioengine continued showing innovative, new products geared somewhat towards personal, desktop, or computer audio. Here is their new little D3 USB DAC ($189), which of course includes a headphone amplifier and asynchronous USB connection. They stressed the dual regulated power supply that supposedly eliminates the issues normally caused by the computer's USB power output. Static demo, so no idea how it sounds, but I expect good things from Audioengine.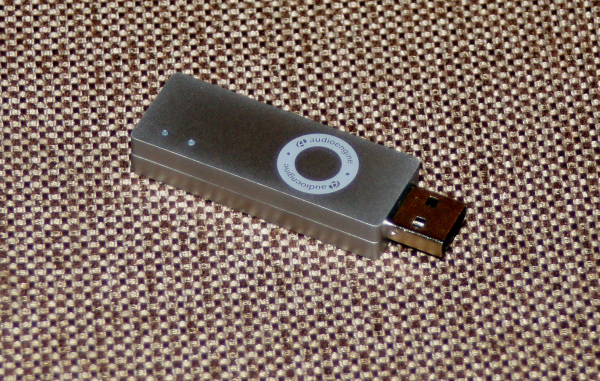 Avatar Acoustics, Tri-Art
In the third of Avatar Acoustics three suites, they were showing the stunningly beautiful looking Tri-Art gear from Kingston, Ontario. All the beautiful woodwork you see is multi-layered bamboo. Yes, even the arm and platter of the Pebbles turntable ($1295) is laminated bamboo. All the electronics cases are filled with wool. The speakers are a modular system, where you can start with the Bam Bam Mini Monitor ($1600), then add the Base Box ($1650) and Sub Base Box ($3200) later. Even the stand ($600) comes with all the parts needed to fit after each addition. Other components included the Bam Bam passive preamp ($1295), three Bam Bam 7505 Class D stereo amplifiers ($1995 each), One Bam Bam Battery power supply ($900), the Bam Bam equipment rack ($1150), Pebbles record clamp ($95). They used an iFi iPhono phono stage ($399). Great sound, too.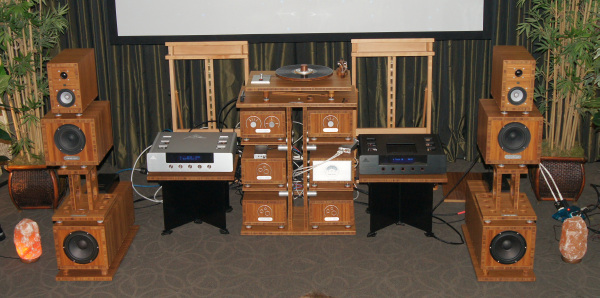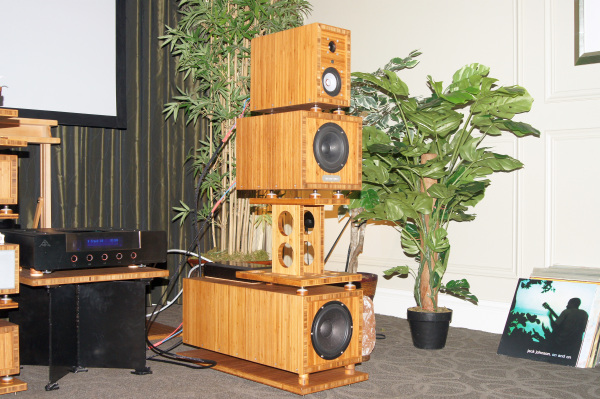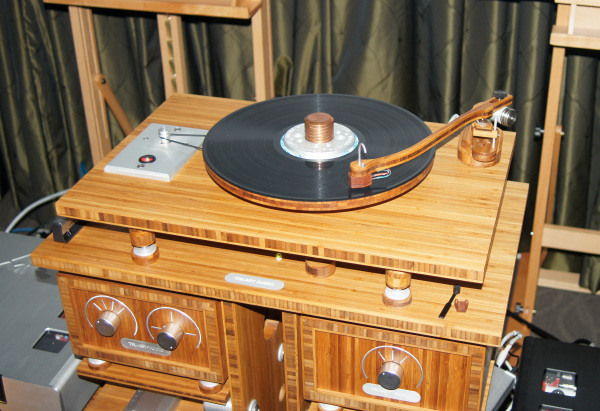 Bryston
Bryston has been a quality brand for about as long as I've been involved in this hobby of ours. Now, they aren't just about electronics, as over the past year they've released a full lineup of speakers, too. Didn't have a real good demo (one of the few rooms that was always packed with people), but they've apparently been developing these for quite a while. Seen in the photo the Model A3 ($1995), Model A2 ($2395), Model A1 ($3250), Model T ($7495) and Mini T ($2695).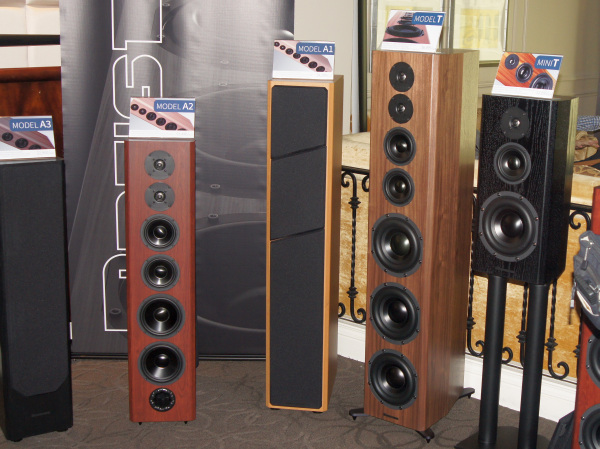 Calyx
Personal Audio is all the rage, and Korean manufacturer Calyx Audio seems to be ready to push everyone just a little bit with their soon to be released Calyx M Personal Audio Player. Capable of 32/384kHz PCM, and both DSD64 and DSD128 files (DoP), as well as DXD. It comes with 64 GB internal storage, expandable using MicroSD cards. Looks and feels like a smart phone, and can be used as the DAC in your computer audio system, too. Should be around $995 when it hits the market. The brief demo I heard sounded very promising, though I wish I had brought my own headphones with me.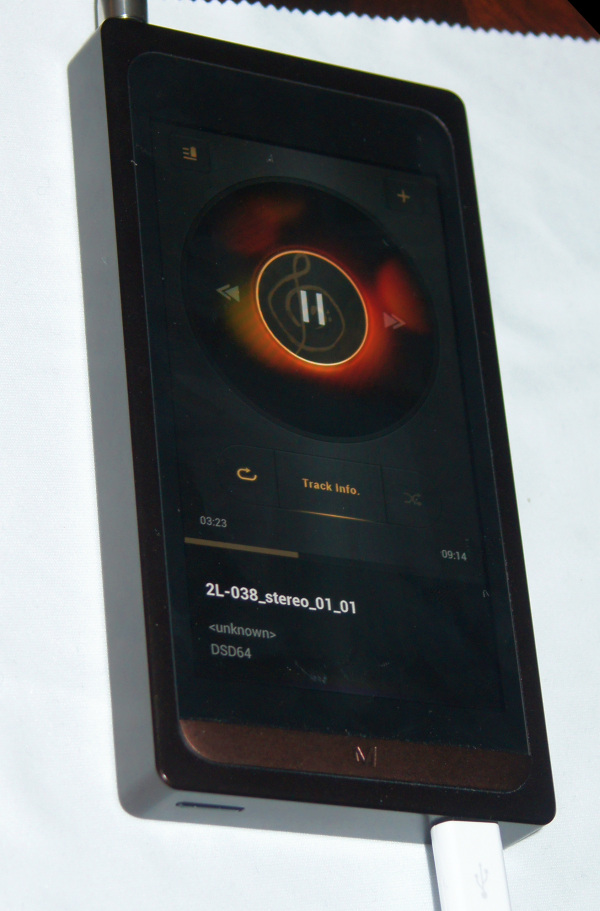 CEntrance
CEntrance's big news was their new Mini-M8, a smaller, less complex (no balanced outputs) addition to their portable headphone amp/DAC lineup, to go along with their highly regarded HiFi-M8. The unit they showed was still a prototype, but the final product should be out soon. It seems everything CEntrance does combines high quality, innovative design, and low (or at least moderate) price.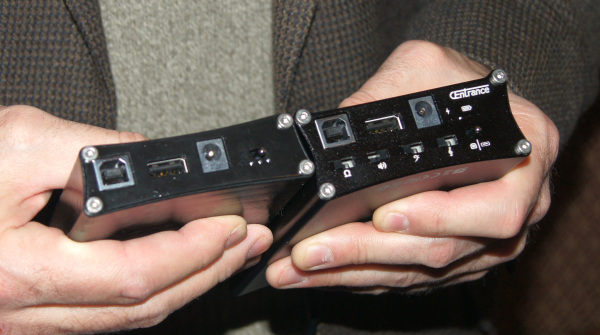 Daniel Hertz
Here we see the return of Mark Levinson (though of course he can't use his own name) and his latest venture, Daniel Hertz SA. The model M1 speaker he is standing next to is somewhere in the $150,000 price range. However, they also have the smaller M8 speaker for $4495, and an integrated amplifier for just $2499. Those items will be sold at select Apple stores in the near future, and the integrated amp is all set to play via Apple Airplay.
Also shown was their new Masterclass playback software ($660), that includes a digital version of what the old Cello Palette could do, allowing you to fine tune and save EQ for every album or even every track. I only heard the lower priced system, and it seemed to have a lot of potential.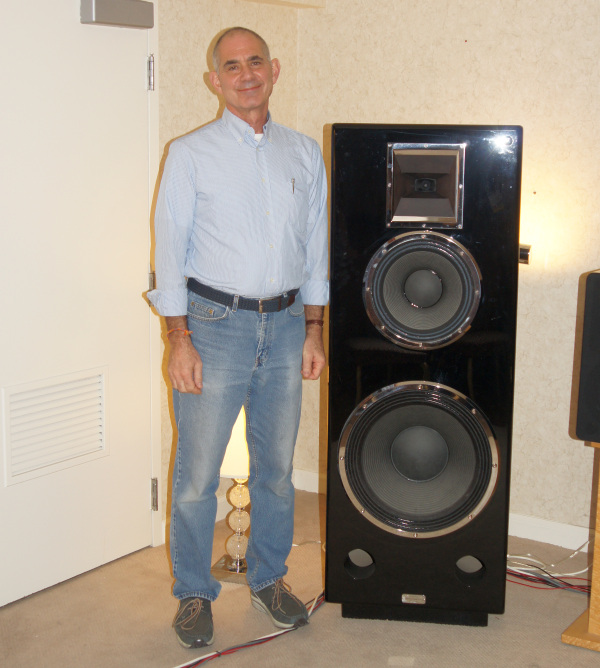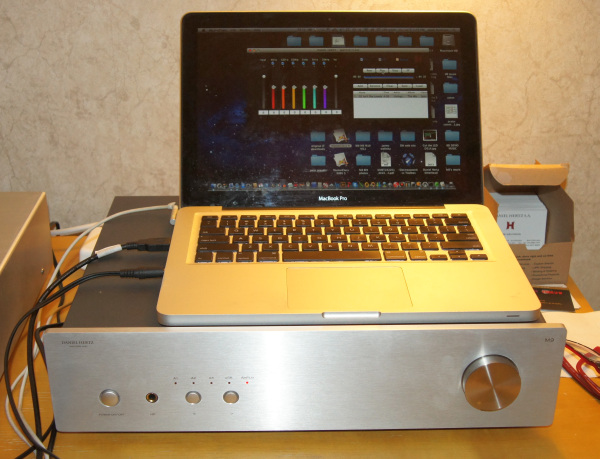 Furutech, ADL
One exciting new product (or more accurately, a newly upgraded MK2 version of an old product) here was the ADL GT40 MK2. It still included MM/MC phono, ADC, DAC, and headphone amp, but now handles DSD too. You can record your LPs at resolutions up to 24/192. All this for just $729, seems too good to be true. I would love to try this out in my system.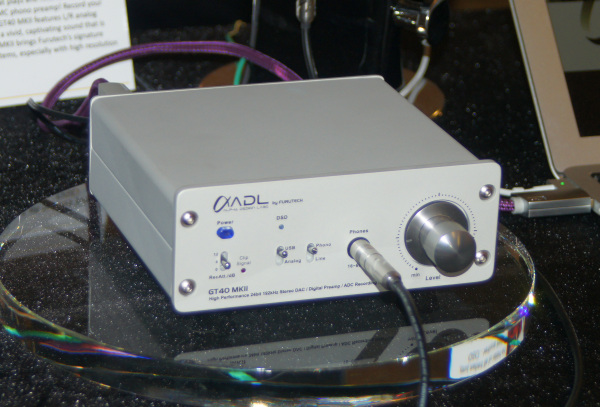 HiFiMAN
HiFiMAN was showing their new H600 planer magnetic headphone that should be available soon. I think I was put off by the musical selections available to listen too, and didn't get a real feel for how these sounded. Past experience with HiFiMAN headphones suggests that I need to hear these again under better conditions.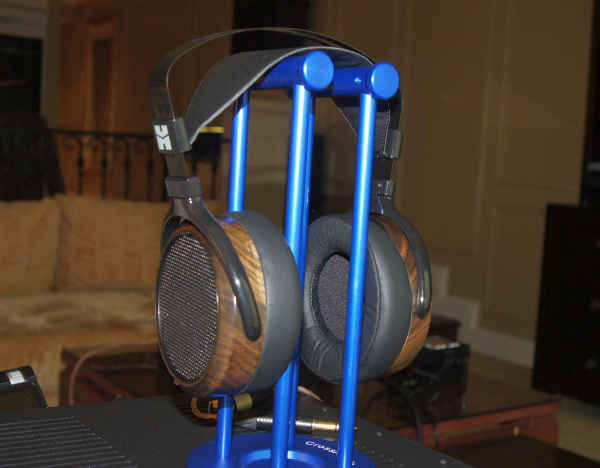 Korg
A very exciting new product from Korg was the DS-DAC-100 ($599) that handles all formats up to 24/192 and Double DSD. It only has USB inputs, but both single ended (RCA) and balanced outputs. It comes with Korg's new Audiogate 3 software that can be used as a complete media player. It also offers the ability the convert all files to DSD on the fly.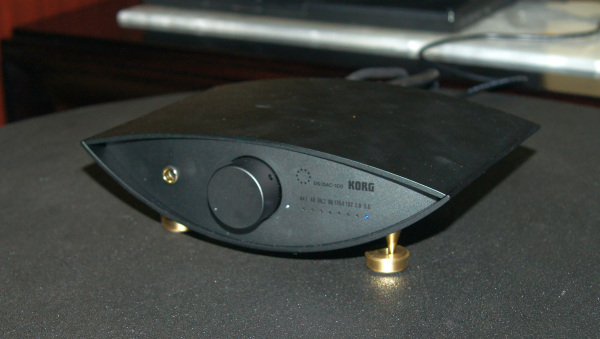 Manley Labs
Manley Labs continues to make some of the coolest looking amplifiers on the market. The new Manley 25th Anniversary 500 Watt Monoblocks ($17,000) use ten KT120 tubes per amp to generate those 500 watts. If you don't need that much power they also offer the 25th Anniversary 250 Watt Monoblocks that make do with ten KT77s per channel ($15,500).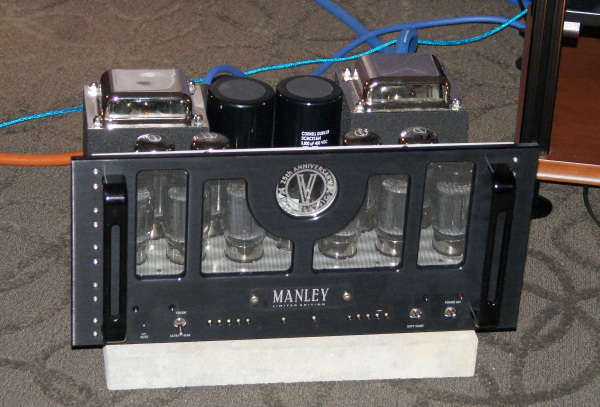 Music Hall, Creek
As usual, Music Hall was showing a lot of gear, their own and from Creek and Epos. As usual for me, I spent most of my time here chatting with Roy Hall and catching up on stuff rather than listening to his demo. I've known Roy long enough to know he offers seriously good gear for the affordable end of the market. The Music Hall Ikura turntable ($1195) which was shown in prototype form last CES, is now in production, and available in both black and white finish.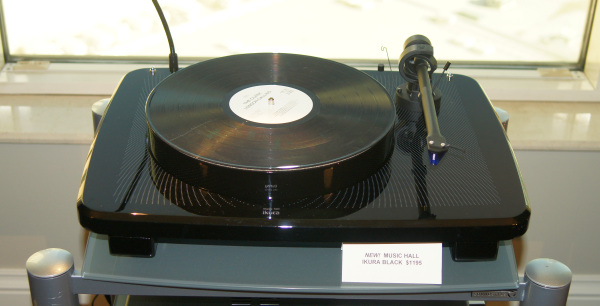 The Epos Elan 10 speaker ($1000/pair) was sounding very nice.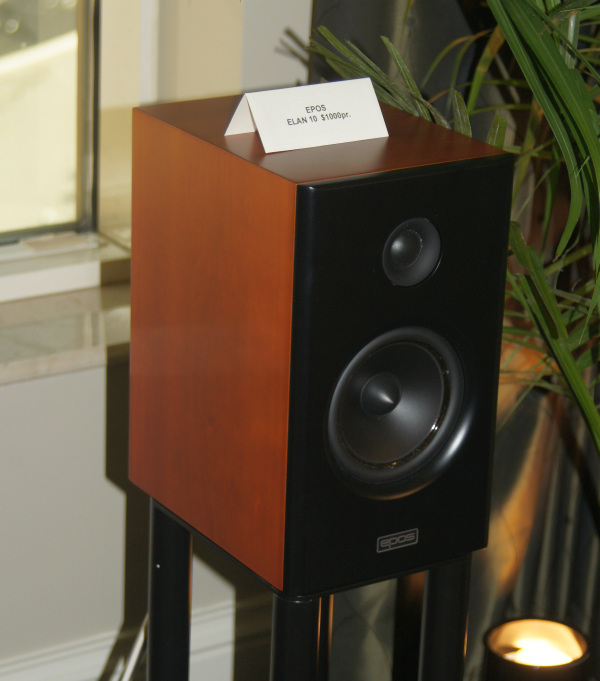 Here's the Creek Evolution EVO50CD CD player ($1495) and the Evolution EVO 50A V2 Integrated amp ($1195) playing into the Epos K-Series K-2 speakers ($1750/pair). That is the Ikura table in white on the top shelf.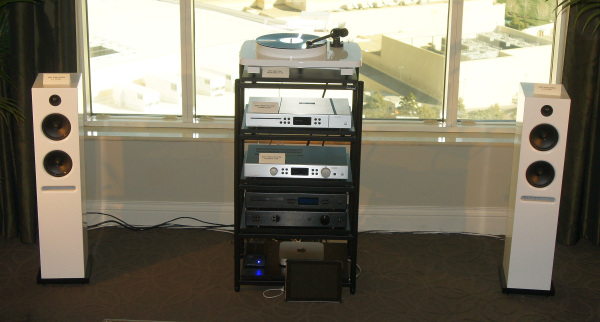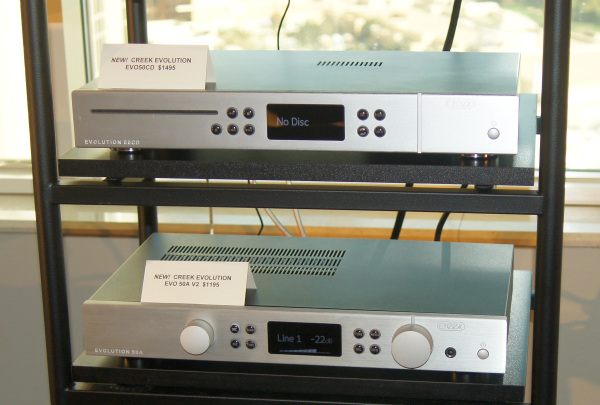 Want to add some fashionable warmth and an organic appeal to your table? Here's the Music Hall Mooo Mat ($75) platter mat.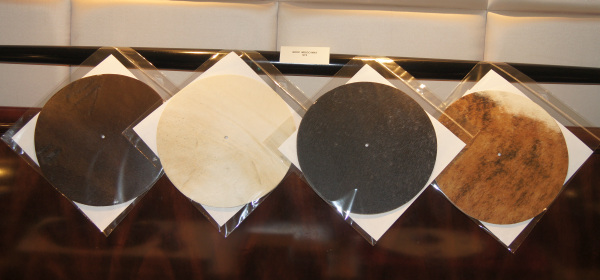 Peachtree Audio
Peachtree Audio was playing their new Nova 220 SE Hybrid Tube/Class D/DAC integrated amplifier ($1999). Capable of 220 wpc into 8 ohm, and offering 24/192 from both its USB and SP/DIF inputs, it sounded very nice playing into Martin Logan Summit X speakers ($14,000). But what makes Peachtree and Martin Logan especially important is their reaching out to a broader audience through Best Buy's Magnolia centers. I spoke with a Peachtree representative who explained the extensive training they are doing with Magnolia employees to ensure they understand high end audio, proper setup, and how to really demonstrate systems.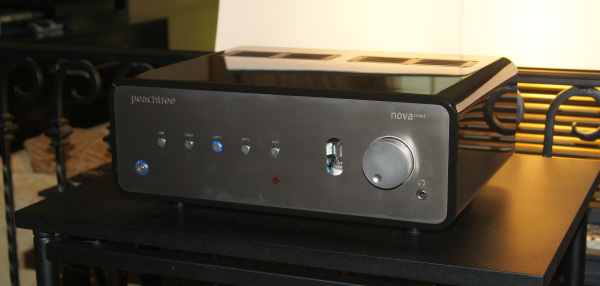 Prima Luna
Prima Luna showed their new Dialogue Premium HP series. Shown here is the P Power Amp ($3899) that allows for use of KT66, KT77, KT88 or KT120 tubes via its "adaptive auto bias" that requires no user adjustments. Power is 72 wpc in Ultralinear mode, 42 wpc in triode mode when used as a stereo amp, or 148 and 85 wpc respectively when bridged for mono. Prima Luna continues its run of high quality, respectfully priced tube electronics.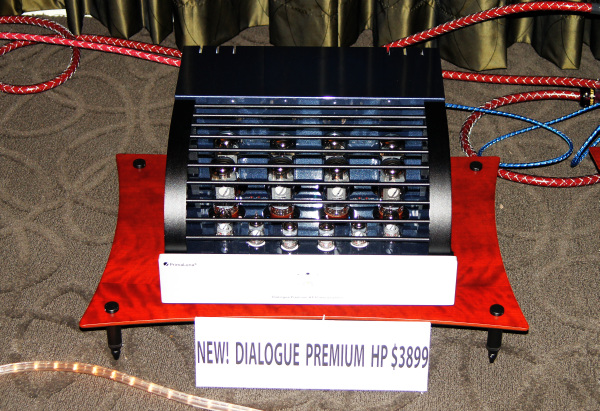 Raidho
For years, I've been pointing out that I'm generally not a big fan of small mini-monitor speakers, and one would think a little speaker, using a 4.5-inch driver and a tweeter for $7000 would not be much to my liking. But then, something like the little Raidho X-1 comes along, and reminds me that results are what matters. Raidho's diminutive new speaker shocked me with its huge, powerful dynamic sound. Sure true deep bass was missing, but everything else was just beautifully done. All Raidho speakers are out of my chosen price range, but for those looking to more expensive gear, put this brand on your list to check out.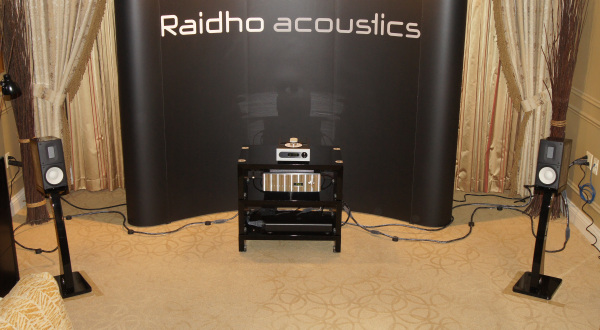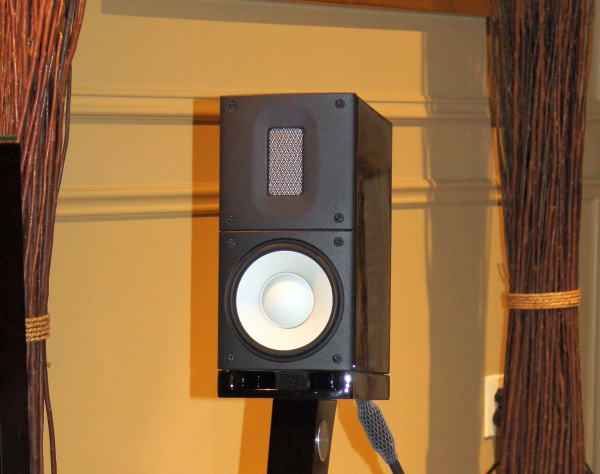 RCH Labs
What's significant about RCH Labs and the tubes in the photo below? Those 6L6 tubes were made in the USA. RCH, based in Nevada, will soon be making KT88 and other tubes too, for both audio amplifiers and guitar/musical amplifiers. They seem very serious about manufacturing high quality tubes in the US, and went into some detail about the process of acquiring and preparing the equipment necessary to do it right. I am certainly hoping to try out their KT88s when they are available. Hope they do 12AX7s, too!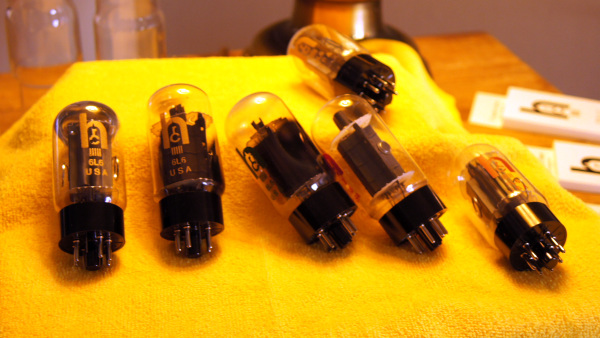 Rega
Like many audio enthusiasts, I started my adventure in better quality audio gear with a Rega turntable more than thirty years ago (a Planer 2). And though they have more competition today than they did back then, it is still hard to have any conversation about sensibly priced audio gear (and especially turntables) that doesn't include Rega. Their new designs take their high rigidity low mass philosophy to new heights, and are seen here in the popular RP8 table ($2995) and the new top of the line RP10 ($5495) Though they look a lot alike, the RP10 has the very expensive ceramic platter (like the now discontinued P9), the higher grade RP2000 arm, and an improved motor controller. One thing I really appreciate is that Rega still supplies their tables with a real usable, dust cover, not easily accomplished with a plinth shaped like these. Though not seen in these photographs, the dust cover sits on an external base that the table sits in, without compromising use or sound quality.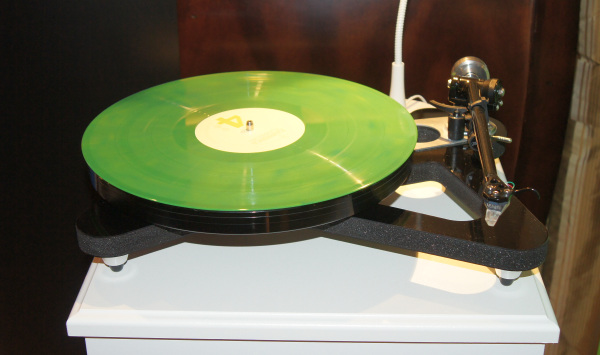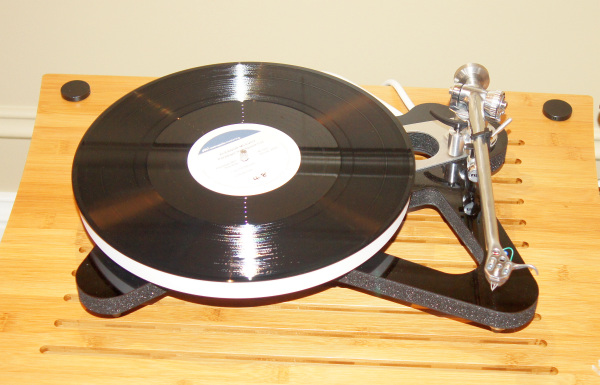 Simplifi, DSPeaker, Gradient, DNM
The demonstration in the Simplifi suite was much more interactive than most. Fortunately, I was there at a time when I could get the demo uninterrupted. Using Gradient Helsinki speakers, Sanders Sound amplifiers, and DNM cables, we went through the whole room analysis and correction procedure in about twenty minutes. We all know that digital correction can make big changes in the sound of a system, but what made the DSPeaker Dual Core system ($1199) so intriguing was its combination of ease of use, vast array of options, and, relatively speaking, reasonable price. I have to try this at home.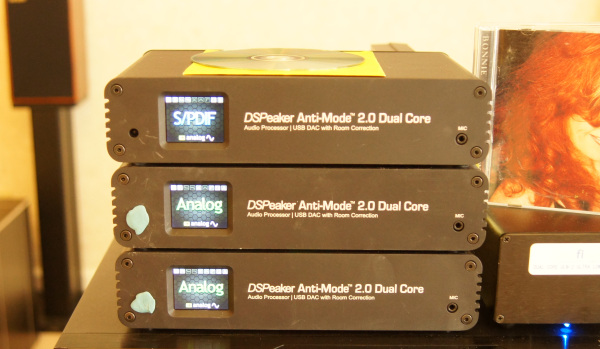 Sony
I already mentioned Sony's new emphasis on pushing high resolution music, in Part 3 of my show report, but here is the lower priced HAP S-1 HDD Audio Player ($1200) that included a 500 GB hard drive. Playing through a pair of Sony, headphones, and listening to a hi-res DSD copy of Humble Pie's Smokin', the sound was very impressive, even if overwhelmed by the sound of the demo going on in the room at the same time. I just hope Sony can prepare its entire back catalog for release as proper hi-res downloads.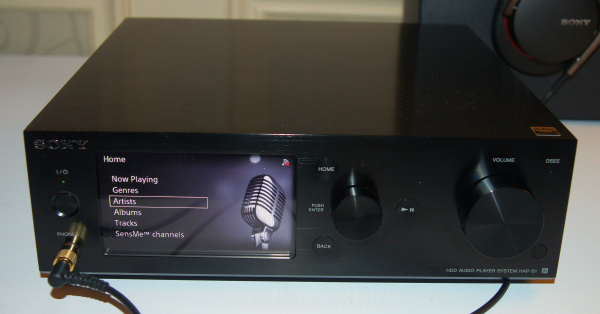 SVS
I was very impressed by the SVS Ultra Bookshelf speakers ($999/pair) that I reviewed this past year, but still I was surprised to see them at CES. After all, CES is about finding dealers and distributors (it's not open to the public) and SVS sells direct. But they wanted to get the word out, have more people hear their products, and probably wanted get the custom installers to know more about them. Their main display was a multi-channel home theater setup, using an Integra receiver and Blu-ray player, Ultra Tower Speakers, Center Channel surrounds and I think two subwoofers. At least they were playing music videos rather than car crashes and explosions. Still, they played this system too loudly.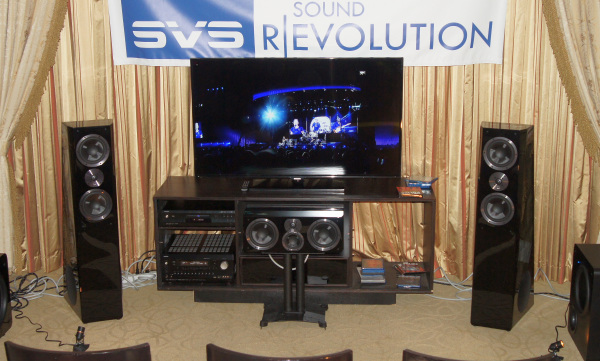 SVS has been known for a while for their subwoofers, and they were showing several, models. Surprising that they offer both vented and sealed designs, each filling a need.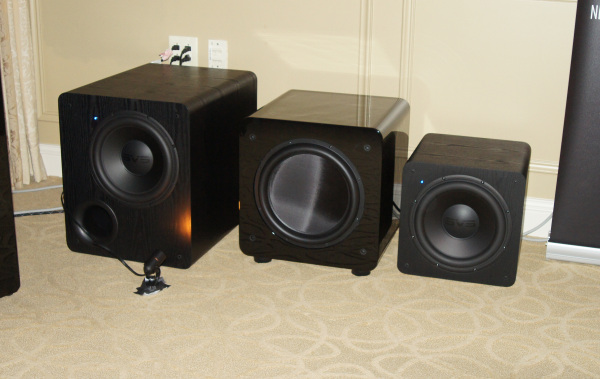 This is a cutaway of one of their subs. The driver weighs close to thirty pounds and seems built to hold up to whatever use, music or home theater,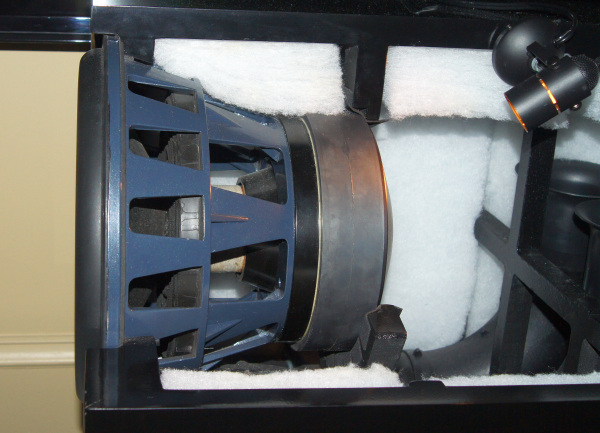 VPI
Well, of course it isn't an audio show without VPI. You just have to see how many exhibits use VPI tables to understand the influence and market VPI seems to carry. After years of making tables that had reasonable, or at least understandable prices, and putting the whole mid priced turntable market under pressure with their $1500 Traveler, they now showed what they can do when price isn't a real concern. The Classic Direct, direct drive table with the new 3D printed tonearm, comes in at a cool $30,000.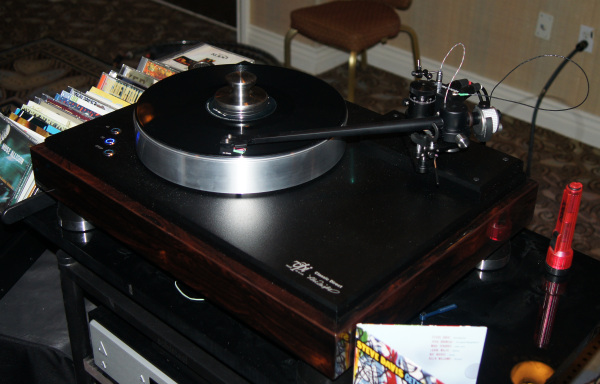 And here is Matt Weisfield himself. For an industry that is overrun with, well, old guys, it is simply important that a company like VPI is run by someone who is closer in age to my son than to me.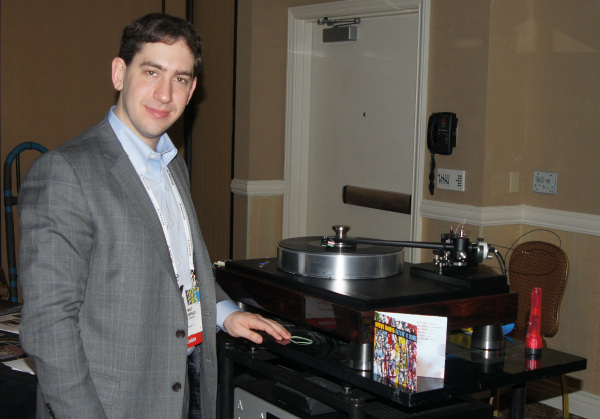 And something for the future…
Speaking of companies run by someone other than old guys, two of the more interesting people I met at the show were twenty-two year old Mark Warner, designer and owner of Warner Dynamics, and twenty-four year old Dezarae Holman, CEO and chief engineer at Vetta Sound, LLC. Albert Porter already told Dezarae's story in his show report, but I will add that from what I gathered over a couple of hours while we all walked the show together we should expect big things from her in the future. She has fresh ideas, isn't influenced by what audiophile tradition expects, and after listening to her and Roger West talk, knows plenty but is ready to soak up necessary information when offered. I really look forward to seeing what comes of her research and development, and hope to see one of her direct drive electrostatic speakers at a future show.
I'll tell Mark's story next.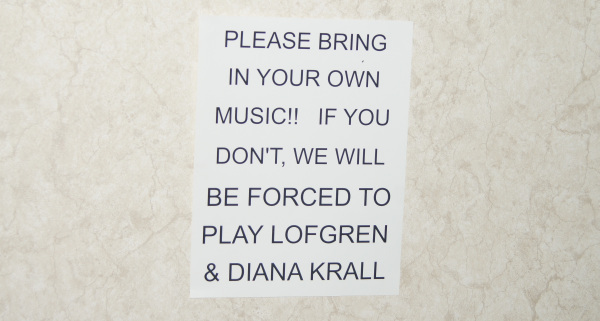 Warner Dynamics
What do you do when you are a young speaker designer, have your breakthrough product all designed and want to show it off to an unsuspecting industry? You go to T.H.E Show, of course. That is what Mark Warner of Warner Dynamics planned with his very ambitious Iconoclast speaker system ($25,000 expected price). However, what do you do when you find out too late that the custom drivers you designed won't show up in time to use for the show? Well, you host the room, borrow gear and let people hang out and enjoy themselves. So the Warner Dynamics room showed some very nice small speakers loan from Fritz Heiler of Fritz Speakers. The little LS 5/R ($3500/pair) sounded excellent being driven by the Wells Audio Innamorata amplifier ($5000), an older Jolida preamp, a VPI Traveler turntable ($1500), and of course the DEQX processor, which is an integral part of the Warner Dynamics speaker system. In talking at length with Mark, I was constantly surprised, not just by his knowledge of speaker design, but of the history of speaker design, and so many of the great speaker systems of the past. This kid has certainly done his homework, and I hope to see his system at a future show.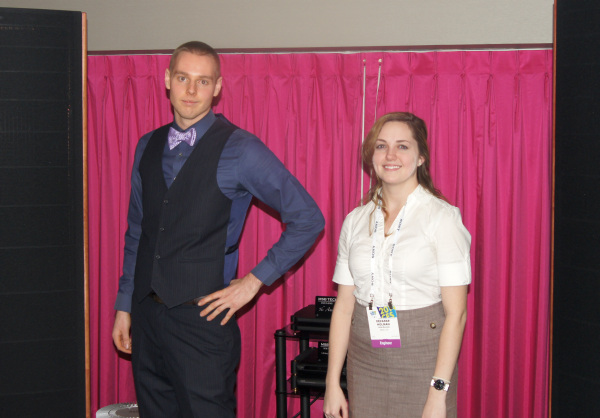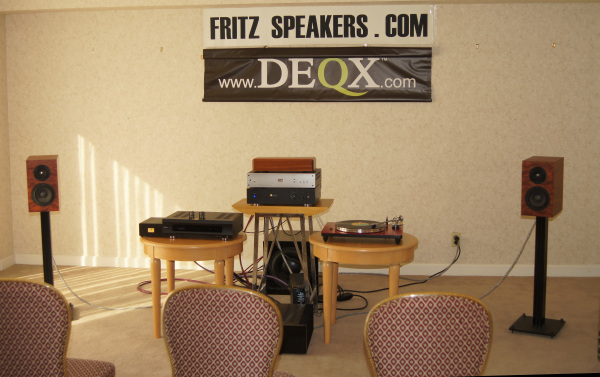 That's it for Las Vegas this year. Newport is only five months away!