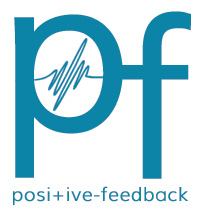 You are reading the older HTML site
Positive Feedback ISSUE 71
january/february 2014
Elinor Frey: La Voce Del Violoncello - Solo Works of the First Italian Cellist-Composers
by Tom Gibbs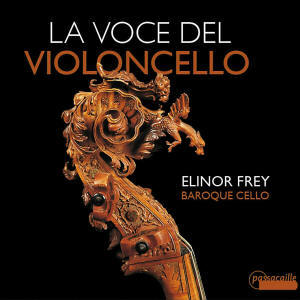 Elinor Frey is a virtuoso cellist and musical scholar with quite a remarkable pedigree; she not only holds degrees from the Mannes College of Music and the Julliard School, but also received her Doctor of Music degree in 2012 from McGill University. Her more scholarly achievements include a prestigious Fullbright Fellowship where she studied baroque cello performance with Paulo Beschi in Como, Italy. And she has also received grants from the Canadian Social Sciences and Humanities Research Council and the Canada Council for the Arts to aid in her explorations of baroque and modern solo cello music. Having performed internationally with renowned period ensembles such as Tafelmusik and Ensemble Caprice, she also finds time to perform with her own quartet, Pallade Musica, who were the winners of the 2012 Early Music America Baroque Performance Competition. A prolific performer, her calendar annually features numerous concerts, recitals and master classes worldwide. She first came to my attention this past fall as she was preparing to release this new record, La Voce Del Violoncello, which is her first for the Belgian Passacaille label. The album is available currently internationally, and will become available in the United States on February 25th, and will be distributed by Naxos.
The album is a pretty comprehensive survey of the Italian Baroque style of cello playing. According to Elinor Frey's excellent album notes, the word "violoncello" makes its first noted appearance in music literature around the year 1665, when the first baroque cellos began to be built. Because they were smaller and much more responsive than traditional basses, Italian cellists of the mid-seventeenth century were able to employ a greater range of performance styles in their compositions. And while the cello has become a staple of the modern concert hall in the sonata and concerto repertory, many of the composers of works for the solo instrument from the Italian School are virtually unknown and undeservedly underrepresented in most modern-day classical programs. Even that most renowned of compositions for violoncello, J.S. Bach's own seminal Six Suites for Unaccompanied Cello didn't appear until around 1720—many decades after the Italians had thoroughly explored the form. Whether the many superb works included in this compilation were known to Bach or influenced him is unknown, and anyway, Bach's Six Suites did not become really widely known until the early 1900s. Regardless, it's obvious that one of Elinor's goals is to bring these seriously neglected works to a much wider audience.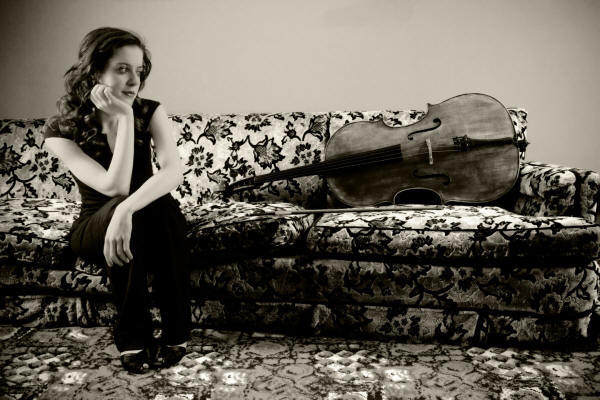 Listening Results
I ripped the CD I received from Elinor using dB Poweramp as a 16-bit, 44.1 uncompressed FLAC file, which was then loaded to my PC music server and replayed through JRiver Media Center 19 via the HRT Music Streamer HD. The very first thing I noticed from the first track onward is how very well recorded this music is—this disc easily ranks among the most impressive audible illusions of a solo instrument I've yet to hear through my system! And this is from a 16-bit, CD-quality source—there was an excellent article a couple of Positive Feedback issues ago from our Polish colleagues at High Fidelity.pl praising the remarkable sound available from CD-based sources, and I must concur—this disc is reference quality, both in terms of sound and performance values. In my listening room, I employ a pretty broad spacing between the Zu Audio Omen loudspeakers, which, with truly phenomenal recordings rewards me with a near-holographic presentation of the music and performers—the speakers simply disappear. This disc definitely falls into that category, and what an incredible pleasure it is to listen and find the results not only very musically satisfying, but also psychoacoustically convincing. Padraig Buttner-Schnirer, who recorded and engineered the disc, should be praised for the incredible work he did in presenting the music and performance with such true realism. You not only get a very intimate perspective of the performer(s), but you also get a great impression of the acoustic of the Pollack Hall at McGill University in Montreal where the recording was made.
The program here is little short of magical, and Elinor Frey's expressive playing and command of the baroque violoncello is remarkable to behold. It's quite obvious that the depth of her studies and explorations of this repertory has greatly informed the magnificence of her playing. And though most of the composers represented here—Colombi, Dall'Abaco, Supriani and Vitali, to name a few—will not ring with familiarity to many, the level of complexity of their compositions for the violoncello rivals and perhaps even surpasses that of the much more familiar J.S. Bach. While the majority of the toccatas, caprices, sonatas and dances that comprise the many moods of this fine collection are played solo, a handful include truly sympathetic continuo accompaniment on theorbo or baroque guitar from Esteban La Rotta and cello from Susie Napper. Together, this trio of performers deftly traverse these long-forgotten miniatures, breathing new life into them for future generations to enjoy.
I must admit something of an aversion on my part over the years to deeply embracing the entire period-performance movement—something about those typically screechy period instruments has almost always left me a little cold. Nothing could be further from the truth with this fine recording; on the contrary, the performance and recording values engendered by this excellent disc are absolute models for period performance. This obviously is not the sort of music where one can pull a half-dozen definitive or near-definitive versions for comparison purposes, so I'm going out on a very short limb here and declare that if you're in the market for a remarkably well-performed (and well-recorded) album of Baroque cello repertory, your purchasing decision should be a fairly easy one with this very fine disc. Very highly recommended!
Elinor Frey
Passacaille Records
http://www.passacaille.be/CD.aspx?ID=114