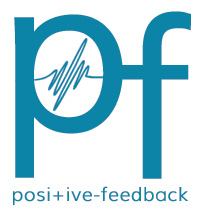 You are reading the older HTML site
Positive Feedback ISSUE 71
january/february 2014
More Musings on Building a Digital Music Server: the KingRex UPower, uArt Y USB Cable, and UD384 High-Resolution DAC
by Andy Schaub
"Then you better start swimmin'
Or you'll sink like a stone
For the times they are a-changin'"
—Bob Dylan, "The Times They Are A-changin'"
Sometimes, less is more, and innovations come from unexpected places. One example is the KingRex UPower and uArt Y USB cable. Although the UPower is very small (about the size of a pack of cigarettes) and only has one LED and one switch and needs a walwart to charge it, it does some amazing things when paired up with the uArt Y USB cable, assuming you have a digital music server that uses a bridge device that is USB-bus powered, such as the Audiophilleo 1 or 2 (for which a similar solution is offered by Audiophilleo, specifically PurePower) or the Sonicweld Diverter HR. How do you know if your bridge device is bus-powered? If you don't plug it into an AC outlet, it's bus-powered. Of course, there are also USB-powered DACs, with which the UPower/uArt Y would likely work (such as the HRT iStreamer Pro of yore); but, here, we're definitely not talking about USB-based DACs that plug into the wall, such as the Ayre QB-9, the Berkeley DAC, or many others, we're talking about bridge devices that convert your USB signal to a S/PDIF signal so that you can run your computer into the DAC of your choice. That's what I do with my system. I have a Mac mini that feeds a Sonicweld Diverter HR via a Synergistic Research USB Active SE cable (using the black Enigma tuning bullet, the softest sounding) so that I can then have a five-meter Apogee Wyde Eye WE-RR S/PDIF cable (which is no longer made) carry the converted signal into my Audio Note DAC 4.1x Balanced Signature. The only downside of this arrangement is that I have to downsample all my high-resolution files to 44.1kHz because of the DAC, not because of anything else; but in my opinion, it's worth it because of the glorious tube sound of the Audio Note DAC. In any case, the Sonicweld Diverter HR (the thing that does the USB-to-S/PDIF conversion) is bus powered, and even though it's very well filtered, a reader of mine, who also owns a Diverter, wrote that he got better sound from the UPower and the uArt Y USB cable. Now how can I explain this? What this arrangement does is replace your current USB cable with the KingRex uArt Y (which is actually quite well-fitted with a thick, transparent jacket and well-machined aluminum USB connectors, painted red) such that you have two USB A connectors, one of which goes into the UPower and one of which goes into your computer, then a single USB B connector (coming out of a small aluminum enclosure where all the arms of the cable merge) that plugs into your, say, your Sonicweld Diverter. What happens then is actually magical. The UPower, which is essentially if not in fact a rechargeable battery, suddenly powers your bridge device but you still get the musical signal (the bits) going from your computer to your bridge device directly.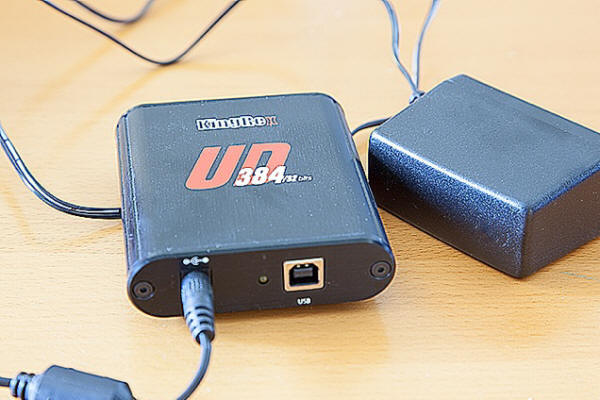 When I read about this, I just had to try it. So I contacted Drew Baird at Moon Audio, the US importer and distributor of KingRex equipment, and he sent me an UPower, a uArt Y USB cable, and (just for fun) a UD384 high-resolution DAC. I was a little bit bummed by the fact that I had to leave my Synergistic Research USB cable out of the test experiment, and mildly discouraged by Josh Heiner's certainty that his well-filtered Diverter HR already had clean-enough power; but even Josh wrote the equivalent of, "With audio, you just never know …". So I carefully connected everything and switched the UPower from "charge" to "supply" mode (I paraphrase), which made the LED on the end of it glow a particular color. It also caused the Diverter to start working, which it hadn't when I first fired up my Mac mini because it was no longer getting bus power from the Mac mini itself. Now you're going to be wondering about the sound, and I'm not going to give track-by-track details like I do sometimes, but I will say that with the UPower and the uArt Y USB cable, using a downsampled copy of Astral Weeks and an inherently 44.1kHz copy of The Well Tempered Clavier by Andras Schiff, both acquired from HDtracks, the sound was extremely supple and lithe and much more analog-like than I have heard in the past; and I even originally told Drew Baird that I wanted to buy the components discussed so far, I was so impressed with them; however, I started to miss the sonic signature of my Synergistic Research USB cable so—as much I would recommend the UPower/uArt Y USB cable for someone looking to spend around $798 total—I want the best of both worlds. I want the battery power for my Sonicweld Diverter HR, but I also want the sonic signature of my Synergistic Research USB Active SE cable (with the black Enigma tuning bullet). So I would recommend to KingRex that, among all the fine products that they produce, they come out with an adapter box or a Y cable that allows you to power your bridge device while at the same time using your own USB cable to get the musical signal (the bits) from your computer to your bridge. That would seem like the best overall compromise to me. The one thing that I will say is that if you have no USB cable, or you're looking to upgrade, and you use a bus-powered bridge or a bus-powered DAC (like the old HRT Music Streamer series), you could do far worse than the UPower/uArt Y USB cable combination for far more than $798.
Now we move onto the UD384. First, the UD384 is about the same size as the UPower. It comes with a walwart (so it's not USB-powered) but can also be driven from the UPower via a small umbilical cord that ties them together. It costs $499. It has two analog RCA outputs plus a S/PDIF output and a USB input. It can hypothetically go up to 32bit/352.8kHz, although it's not clear if that requires a driver update. Nominally, it will go up 24/192 and work that way as either a fully contained high-resolution USB DAC or an USB-to-S/PDIF converter. Because it has its own power supply and is small, it can—in fact—be used with an iPad via the 30-pin camera connection kit; although, I honestly don't know how that would work with the Lightening connector on the newer iPads. It might require a series of adapters. (As it turns out, Apple makes separate SD card and USB adapter cables specifically for Lightening connections.) It also has no indicators to show the bit size and frequency at which it's operating, so you just have to assume that it's got it right; although, again, Pure Music and Audirvana Plus (plus possibly Amarra) will tell you the bit size and frequency (or sampling rate) at which the DAC is operating. By reputation, the UD384 has a warmer sound; but that's something I can only address in its sonic evaluation. It didn't take very much effort to setup the UD384. I simply plugged its walwart into the same extension cord that I use for the Synergistic Research Galileo MPC for their USB Active SE cable (with the black Enigma tuning bullet), plugged the USB cable into the UD384, and connected the UD384's analog outputs into the KSL-LP/Eichmann Silver Bullet Plus analog cables that I normally use for my Magnum Dynalab Internet tuner. It took a little while to reconfigure Pure Music, but I got it done, and then I played a fragment of the 24/192 download of Waltz for Debby, just enough to make sure that everything worked (and it did, very well as a matter of fact) before switching to my reference these days, Astral Weeks (both purchased from HDtracks.com) only this time at the non-downsampled 24/192 resolution that I originally purchased. I have to say, it sounded very good. It might have sounded a bit hollow in comparison to my Audio Note DAC 4.1x Balanced Signature, and it didn't draw me into the music as much, but for $499 it compared favorably with my memories of the Berkeley DAC, just with fewer bells and whistles. I don't mean to say that it sounded as good as my old Berkeley Alpha Series 2 DAC, but it came quite close to my Audiophilleo 1/Rega DAC combination, again just a bit less musically engaging. So given that the opportunity existed, I thought why not try this with the UPower, for which KingRex supplies a neat little umbilical cord? So I put the UPower in place as opposed to the Walwart. Now this made a big difference. It did take on the characteristic warmth that I had heard about, sounded less hollow, and became much ore musically engaging. In fact, I would say that, if I didn't want/need the S/PDIF and TOSLINK inputs of the Rega DAC, and didn't have an appreciation for the ultra-low jitter of the Audiophilleo 1, plus I like the little LEDs of the Rega DAC and the Audiophilleo 1s rectangular display, I would be perfectly happy with this little combination in my home office system, for this $798 combination (umbilical cable included), compared to around $2K for my Audiophilleo 1/Rega DAC combination, not including the price of the Locus Design Core S/PDIF cable, which I have long-since forgotten. In fact, just listening to Van Morrison on the big system with the UPower/UD384 combination was quite a sonic revelation, and I found myself just enjoying the music. Imagine that!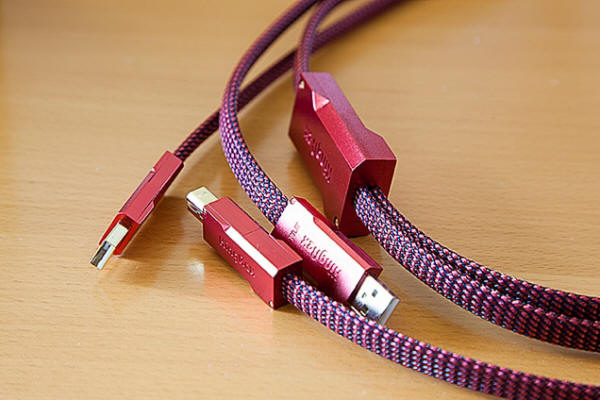 Just as a reality check, I also played reVisions: Songs of Stevie Wonder by Jen Chapin acquired (a long time ago) at 24/192 from HDtracks. While it didn't have the impactful bass or broad dynamic range of some of the best DACs that I have heard in the main system, for $798 the UPower/UD384 combination sounded darned impressive, the main thing being that it didn't sound harsh or digital, it sounded kind of soft, very sweet, and quite analog-like. It was definitely very impressive. I also tried playing Like Minds by Gary Burton et al at 24/88.2 from HDtracks which, again, sounded very impressive for this two little cigarette-box-sized combination. The only problem was that Pure Music had a little trouble setting the DAC to the right resolution, so I had to do some overrides to get it at 24/88.2 rather than 24/44.1. I decided just to try Audirvana Plus, which also took a while to configure, including the fact that I had to disable exclusive access mode (and thus integer mode); but I did get it to work. It sounded a bit richer than Pure Music, but also lacked PM's air or openness, imparting a slight cloudiness to the sound; however, it did successfully automatically switch sample rates. So who knows? I'm sure if I got Rob at Channel D to remote-access my Mac mini, he would be able to figure out what was going on and get things back to normal, but I didn't really have the opportunity to do that. So let's just say that I have faith in both Pure Music and Audirvana Plus and which one you choose (leaving out again Amarra and several other products on the market) depends largely on your system, your personal preferences in terms of music and sound, and—largely—on how much overall flexibility/functionality versus automatic integration that you want, regarding PM and A+ respectively. In any case, switching back to PM for sonic reasons, which required a computer restart and now magically got the sample rate set correctly, I really did find myself enjoying Like Minds. Switching to The Goat Rodeo Sessions by Yo-yo Ma et al, at 24/88.2 from HDtracks, and to the track, "Attaboy" in particular, I found the interplay of instruments and the clarity, yet smoothness of the strings quite encouraging. Again, the bass and cello never seemed to go all that deep, but the slight warmth that using the UPower created more than compensated for any lack of depth; and the strings were not overly sharp at all.
So I'm not sure what else to say. Using the $299 UPower in combination with the $499 UD384 gives you about $2K worth of sound, maybe a bit more, as long as (a) you don't mind pausing to recharge the battery occasionally (like, I would imagine, every few hours) and (b) you don't mind having single-ended only analog outputs and only one display on each device, basically an LED that says, "Yes, I'm on." If you can live with all of that, including the USB-only input (which seems common these days), and you want beautiful music at a less than Prius down payment price, look no further! KingRex has a solution for you.
Kindest regards,
Andy
P. S. Don't forget that, although I didn't test it, the UD384 can be used as a bridge device, that is, an USB-to-S/PDIF converter. So it does offer a little flexibility.
http://www.moon-audio.com/kingrex-u-power.html
http://www.moon-audio.com/kingrex-uart-y-usb-cable.html
http://www.moon-audio.com/kingrex-ud384-usb-dac.html
Imported and distributed, not to mention sold, by Moon Audio at: