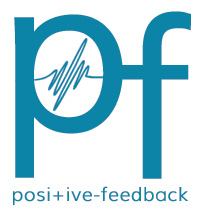 You are reading the older HTML site
Positive Feedback ISSUE 71
january/february 2014
Impressions: Music Notes
by David W. Robinson
Mendelssohn, Fingalís Cave Overture: The Hebrides/Symphony No. 3, Peter Maag and the London Symphony Orchestra, Decca recording, 1960, Kenneth Wilkinson
Double DSD transfer by Bob Witrak and High Definition Tape Transfers
[Cover art courtesy of High Definition Tape Transfers; cartoon by Bruce Walker]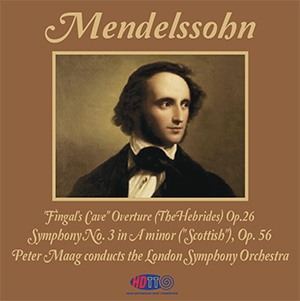 Bob Witrak and High Definition Tape Transfers have done it again. His Double DSD download of Mendelssohn's Fingal's Cave Overture: The Hebrides, and his Symphony No. 3, with Peter Maag and the London Symphony Orchestra, is simply magnificent! The performance by Maag and the LSO is a knockout: full of verve, excellent pacing (not too fast, not too slow), and a real warmth of feeling. I put some wear on my chair, with nods, jumps, and back-seat conducting, which is always a good sign. Note that this is a Decca recording from 1960, with the immortal Kenneth Wilkinson as the master audio artist. I need not say... but will, anyway... that the sonics are superb. The strings are silken, not steely, the sense of the hall is wonderful, and the brass is golden, not "brassy." Clearly the Double DSD is handling the original tape in a way that delivers the magic of the analog source.
In Double DSD, via the AURALiC DSD DAC, the sound is simply splendid!
Thank God! I had been listening to some music on Red Book CD for the previous couple of days...music that I could get only on CD format, unfortunately...but the blessedness of Double DSD healed my ears in no time at all.
Those of you who are looking for the gorgeous sound and feeling of a vintage Decca classical recording are going to really love this one.
Top notch; very highly recommended!
Youíll find High Definition Tape Transfers at http://www.highdeftapetransfers.com/. Check out their entire catalog. Itís not all DSD, but there are a number of great titles, and more DSD and Double DSD being added all the time.