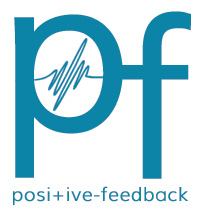 You are reading the older HTML site
Positive Feedback ISSUE 71
january/february 2014
The Mhdt Lab Stockholm V2 USB DAC
by Jeff Day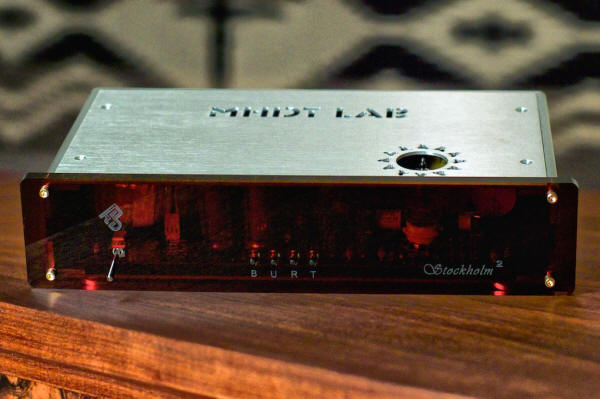 I had this crazy dream the other night: I was in Havana, Cuba, spending some time with one of my literary heroes while growing up in Idaho as a kid—Ernest Hemingway—who lived and died down the road a bit from where I lived, in Ketchum. Hemingway and I were sitting around drinking bourbon and smoking cigars, reminiscing about our times in Paris, telling stories about the beautiful women we had fallen in love with, and we got into this crazy dispute about whether Django Reinhardt was the greatest jazz guitarist of all time or not. Hemingway thought he was, and I have to give him credit, he did hear Django play live in Paris, and I didn't. I wasn't so sure I agreed, though, and I said that I thought Barney Kessel and Johnny Smith were pretty damn good too, which pissed Hemingway off, and he rousted me out of my seat for a bare knuckles boxing match on the spot. I'm a pretty average boxer—I dropped my right a little too far—and Hemingway caught me with a left hook on the jaw and knocked me on my butt. As my butt bounced off the floor it jarred me to life and I jumped up and planted a straight right to his face, knocking him on his butt. He jumped right up too, looking at me through a rapidly swelling eye, and we both started laughing our asses off! "Let's go find some jazz and chase a moveable feast in this little Garden of Eden!" he said. "Damn good idea!" I said, rubbing my sore jaw, and as brothers in arms we staggered out into the street that night into our destinies.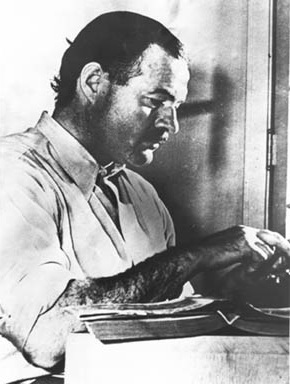 I'm pretty sure that swell dream was brought on by listening to the Mhdt Lab Havana USB DAC while preparing for this review of the Mhdt Lab Stockholm V2 USB DAC. I had the Havana's musicality on my heart, Hemingway's A Moveable Feast on my mind, and writing on my to-do list, and the dream was the natural result. My jaw sure was sore after I woke up, so I'm not sure what was going on there.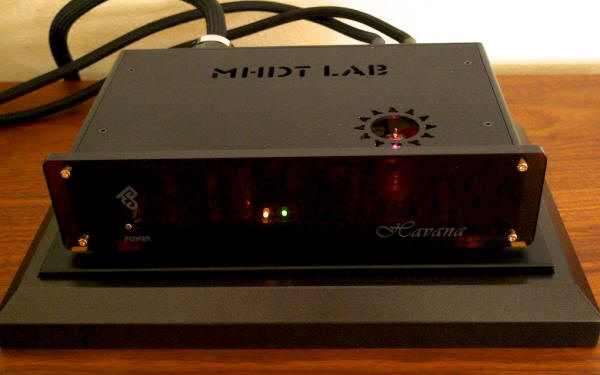 Before I get carried away and start talking about DACs and music, let me back up for just a moment and properly introduce you to Mhdt Laboratory Audio Devices, or 'Mhdt Lab' for short, in case you're coming in late to their story. As many of you know, I get some of my best tips about interesting and overachieving audio products from the audio underground, and in the case of Mhdt Lab, I had heard lots of positive vibes pulsing through the ether of the underground about their vacuum tube USB DACs: "Musical," "Good sonic performance," "Nice build quality," and "Very fair price" was what all the DAC whisperers were saying. "Hmm," I said, "I'd better check them out."
The Fab Four of Mhdt: Mouse, Horse, Dog, and Tiger
It turns out that Mouse, Horse, Dog, and Tiger are four friends with a shared love for music & all things Hi-Fi, and they founded Mhdt Lab in 2002. In case you are wondering, Mouse, Horse, Dog, and Tiger also go by the aliases of Jiun-Hsien, Lin-Li, Ting-Ann, and Gia-Ann, and 'Mhdt' is an acronym created by using the first letter of the Zodiac name for each of them: 'M' is for mouse (Jiun-Hsien), 'h' is for horse (Lin-Li), 'd' is for dog (Ting-Ann), and 't' is for tiger (Gia-Ann).
They later decided that Mhdt also stands for 'Music Heaven Development Team' because they were getting so much musical pleasure in their lives from their pursuits at Mhdt Lab. After reviewing their Havana USB DAC in Issue 45 I added my own Mhdt acronym for the playful gang at Mhdt: 'Many happy DAC times', as I really enjoyed listening to their Havana USB DAC during the review period.
Mouse, Horse, Dog, and Tiger really like to have fun when listening to music, and as a result they really like to make their USB DACs fun to listen to music with—that's a win-win for you and me—and as I reported in my review of the Paradisea+ in Issue 38, and it bears repeating here, as Lin-Li told me, "We were music lovers and very hard working people with decent jobs and good incomes here in Taiwan. We liked to enjoy a Hi-Fi music massage after working long hours every day. We went through the age of vinyl and then were attacked by the digital revolution. The first generation of the digital revolution was ok and it was very convenient, but we were not satisfied with the performance. During this time we stopped listening to and enjoying music for a number of years due to the very long hours we were working every day. When we came back to music we found the digital age had "upgraded" to Delta-Sigma DACs and a digital signal processing (DSP) approach, but we found the music didn't have the same level of feeling that we remembered from before. We decided the modern DACs did not sound musical to us and that we needed to drag ourselves back to the experience of music with feeling, so Mouse designed our first DAC, which we called the 'Digital Password', because it was our password back into music with feeling. Later we offered the Digital Password for sale to those like us who wanted the feeling restored to the music."
Mhdt focused on incorporating maximum musical feeling into the designs of their early Digital Password and Paradisea+ USB DACs (they are no longer in production), and they also infused their design of the Havana USB DAC with that same fun loving sense of experiencing music: "There are so many different kinds of music, such as classical, jazz, rock, pop, metal, folk, etc., and we found that some DACs worked very good with particular styles of music, but didn't work so well with other kinds of music. So, with the Havana our goal was to design a DAC that can handle all kinds of music equally well, and we think that the Havana will appeal to the audiophile or music lovers like ourselves. The name "Havana" tells it all, as we named the DAC after the music originating from Havana, Cuba, which is free of order, free of patterns, and never ceases to surprise and delight us."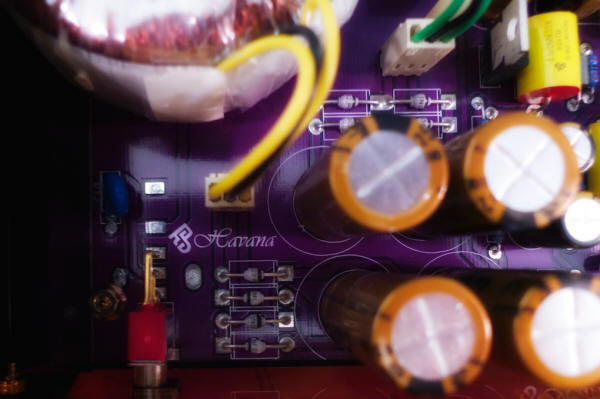 The Stockholm V2 Vacuum Tube USB DAC ($1028 USD)
Knowing that the gang at Mhdt Lab don't do anything without a reason, I asked about where the inspiration for the name of the Stockholm V2 USB DAC came from, and here's what they told me: "As for the names of the DACs, all our PCM56P chip based DACs are named after cities and their culture. Havana is a historic city that still retains its culture and lifestyle just like in the 'good old days', so we named our first DAC with the 'good old days' style PCM56P R-2R DAC chip 'Havana'. Stockholm is also a historic city, and it has an evolving culture with both tradition and the avant-garde being present in harmony at the same time, and so we named our new DAC the 'Stockholm' because it combines the tradition of the PCM56P R-2R DAC chips with the avant-garde asynchronous USB and higher data rates—the best of the old & new in harmony."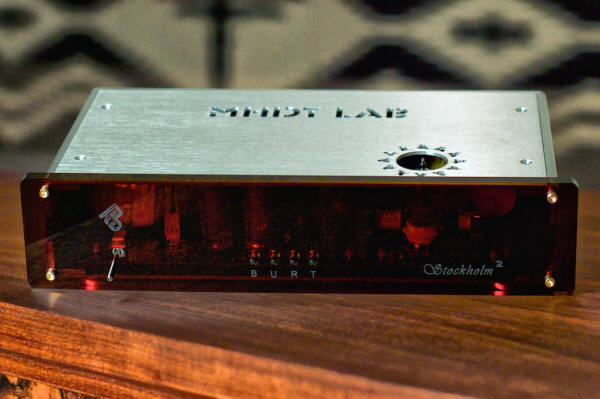 When I asked Jiun-Hsien what his design goals were for the Stockholm V2, he told me that first he wanted to continue developing the good sounding PCM56P DAC chip to work with some of the newer audio file formats up to 192kHz/24-bits.
Secondly, he wanted to develop a new I/V stage using discrete transistors with no op-amps and no feedback, to give a more detailed type of sound than with the Havana.
Thirdly, he wanted to redesign the digital input circuit to give better digital signal quality, which he did by using a SN75176 chip as a signal driver and the 74FCT38072 chip as a clock buffer.
Jiun-Hsien added that there is only asynchronous operation with the USB input, and that all the other inputs are synchronous.
Like the Havana (below left), the Stockholm V2 (below right) utilizes an all-aluminum chassis that is available in black or brushed aluminum, and an acrylic faceplate that allows you to glimpse the glowing NOS GE5670 vacuum tube and indicator lights from the front while listening to music, which is a nice touch. The Stockholm V2 is physically larger than the Havana, measuring 11 5/8-inches by 6-inches by 2 ¾-inches, compared to the Havana's 10 ¾-inches by 6-inches by 2 ¾ inches.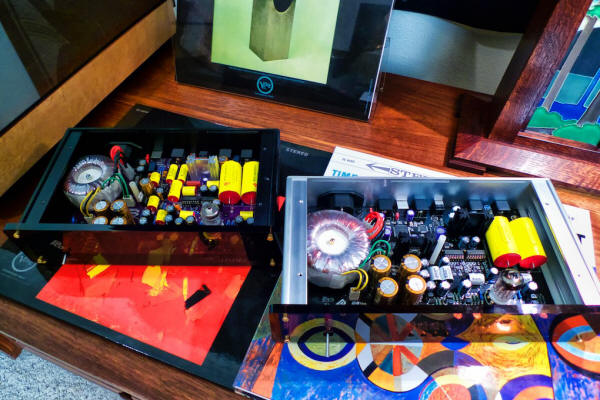 On the front panel of the Stockholm V2 (below), left to right, there is a main power toggle switch, a green LED that lights when you've achieved signal lock, and BURT. I suspect that 'Burt' is a 'wink-wink' tribute to the awesome actor Burt Kwouk, who played the role of Cato in the Pink Panther films (one of my favorites for sure), but I don't really know. I'll have to ask Mouse about it, but in more practical terms, the 'B' in BURT stands for the 'B' in a BNC input, 'U' in the USB input, 'R' in the RCA input, and 'T' in the Toslink input, and an LED lights up behind the corresponding input when it is active so you know what's playing.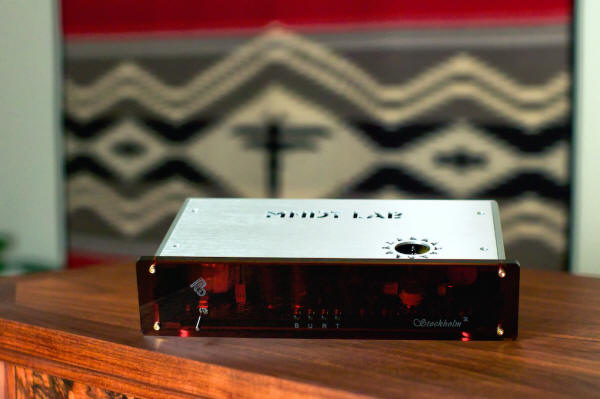 As the BURT on the front panel hints, when you go around to the back of the Stockholm V2's chassis you'll find inputs for BNC, USB, RCA, and Toslink. There's also analog RCA outputs for interconnects to connect to your preamplifier, and a IEC outlet for a power cord so you can use your favorite power cord. I found the Sablon Audio Petit Corona power cord to be a really nice match to the Stockholm V2.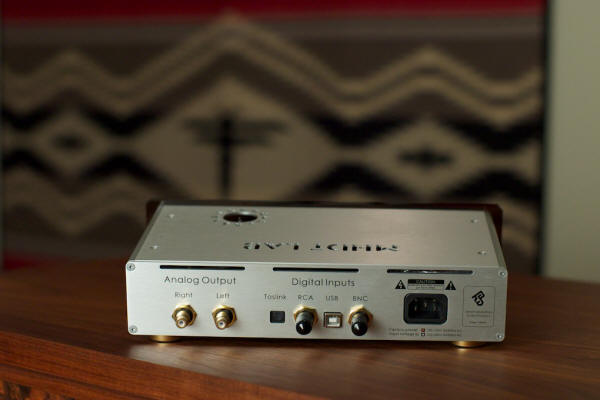 When you flip the Stockholm V2 over on it's back you'll find four nice footers mounted to its aluminum chassis, and then when you flip it over again you'll find that the Stockholm V2's top plate has a 'MHDT LAB' laser cutout to provide ventilation, along with a rather artful 'glowing sun' cutout above the NOS GE5670 vacuum tube, for additional ventilation. Very nicely done all the way around!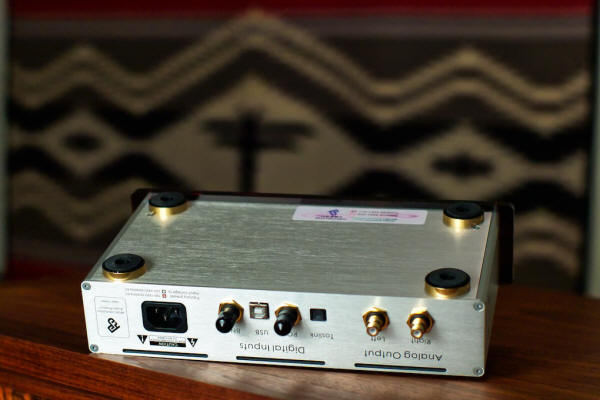 The top plate of the Stockholm V2 is held in place by four Allen screws, which you'll want to take off so you can admire the insides. Inside the Stockholm V2 you'll find that there is a 192kHz Cirrus Logic CS8416 digital audio receiver that is capable of receiving higher bit depth and rate files than that of the 96kHz Cirrus Logic CS8414 chip used in the Havana. With the intent of doing the least damage to the signal stream possible, the Stockholm V2 uses no digital filter and no op-amp for I/V conversion, uses a pair of 16-bit R-2R Burr-Brown PCM56P-J DACs, and uses a single NOS GE5670 vacuum tube buffered output stage in its circuit design.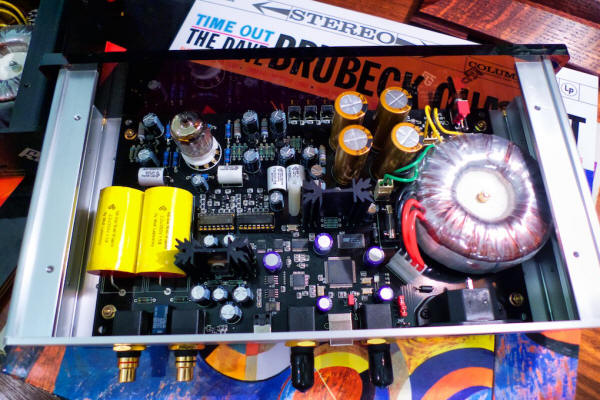 As I have mentioned before, Mhdt Labs doesn't like to use the Delta-Sigma style of DACs, but rather prefers to use R-2R DACs, which "produce the 'feel' of real music to us." Jiun-Hsien says he believes a R-2R DAC provides a more musical and natural presentation, one that better keeps the 'feeling' of the music intact. Delta-Sigma DACs use oversampling and interpolation as a pulse density conversion technique which allows them to use a lower resolution (and less expensive) 1-bit DAC internally. Delta-Sigma DACs use a low pass filter, step nonlinearity, and a negative feedback loop to achieve Delta-Sigma modulation of the signal.
An R-2R DAC, like the 16-bit R-2R Burr Brown PCM56P-J DACs (lower right in the photo below with the 'J') used in the Stockholm V2, utilizes a simpler form of conversion using matched resistors in a ladder configuration that results in greater precision and less signal manipulation during the conversion process. Jiun-Hsien feels this simpler and purer conversion process does less damage to the signal and provides a more musically natural presentation.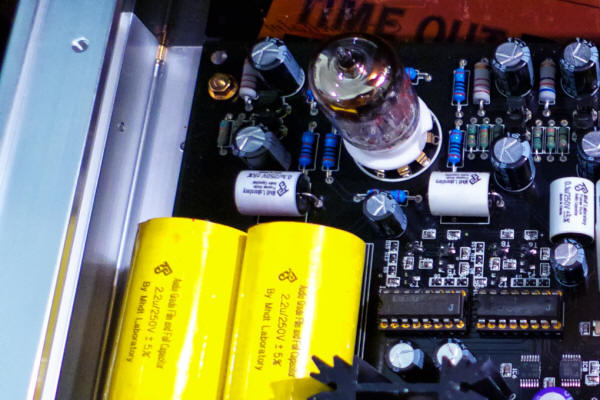 Jiun-Hsien has told me that the PCM56P-J DACs used in the Stockholm V2 and Havana only outputs current and voltage, which is very important in simplifying the design to achieve better sound and musicality. Jiun-Hsien says, "'Less is more' is still the major rule we follow in our designs. By using the PCM56P, and due to its current output, we can omit the use of amplification (the op-amp), which provides a purer signal than can be achieved with a more complicated circuit."
You'll also notice that the transformer in the Stockholm V2 is quite a lot larger than the transformer in the Havana, and that the capacitors in the power supply are more substantial as well.
The Review System
For an analog front end I used an EMT TSD-15 phono cartridge mounted on a VPI Classic turntable.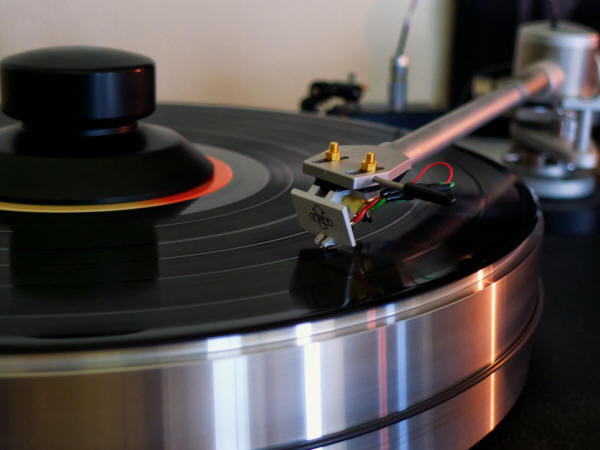 For a digital front end I used my iMac with the Mavericks OS and iTunes, the impressive Channel D Pure Music software, a Locus Design Group Polestar USB cable, and the Mhdt Lab Havana vacuum tube USB DAC (which I also used as a comparator) sitting on an Acoustic Revive TB-38 Quartz Under-Board.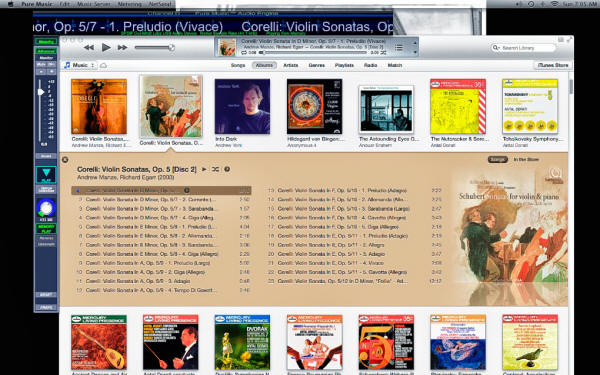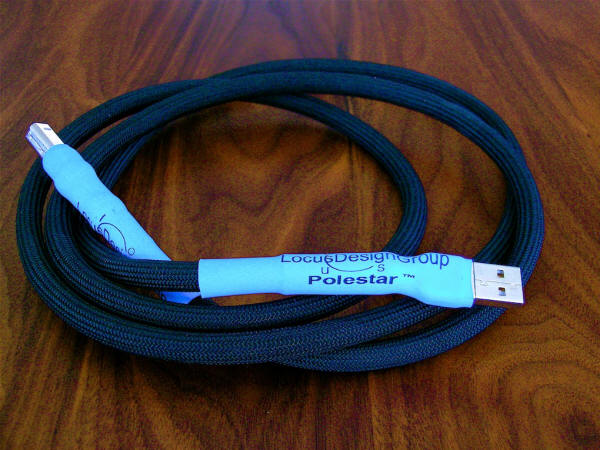 The sources were connected to my restored vintage mint+ McIntosh MX110Z tuner/preamplifier/phono-equalizer from vintage vacuum-tube specialists Tom Manley and Terry DeWick in Knoxville, Tennessee.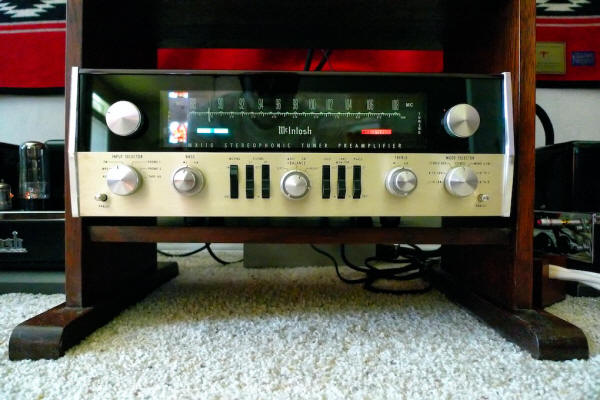 The front-end electronics drove either my restored vintage mint McIntosh MC240 stereo 6L6GC vacuum tube amplifier, also from Tom Manley & Terry DeWick, or alternatively, my restored McIntosh MC30 mono amplifiers from Yves Beauvais at Vintage Vacuum Audio. My MC30 monos and MC240 stereo amp were placed on either Acoustic Revive RST-38 or TB-38 Quartz Under-Boards, and the RAF-48 Air Floating Board for isolation.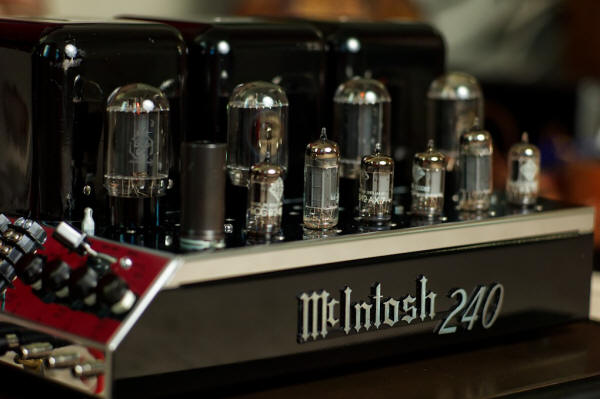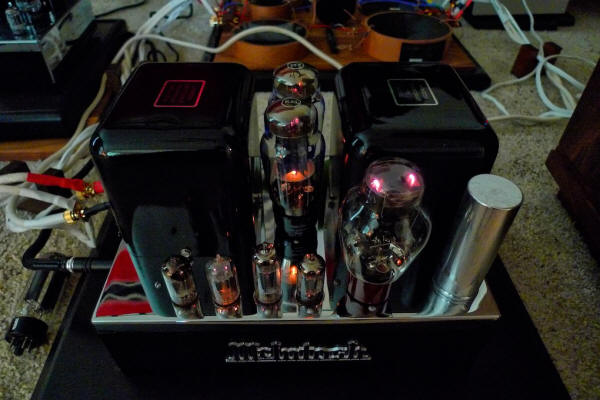 I have been using Sablon Audio Panatela interconnects from my VPI Classic turntable to my vintage McIntosh MX110Z, and from the MX110Z to my vintage McIntosh amplifiers. From the Havana / Stockholm V2 USB DACs to the MX110Z I used Acoustic Revive Single Core interconnects (in for review).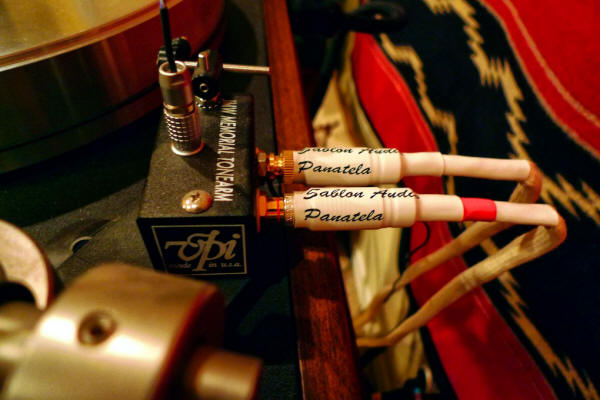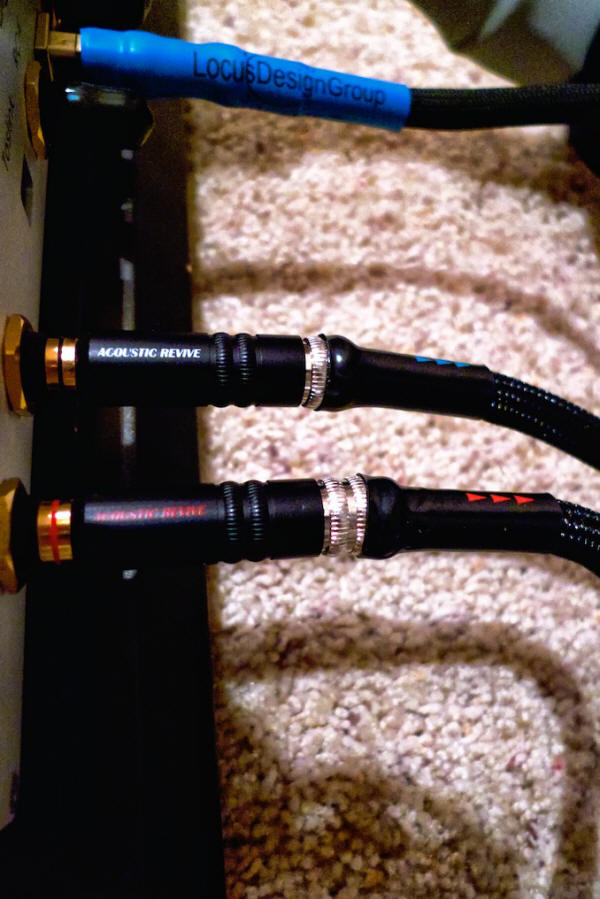 From my McIntosh amplifiers I used a 1-meter set of Panatela component speaker cables to the target="_blank" Duelund CAST external crossovers …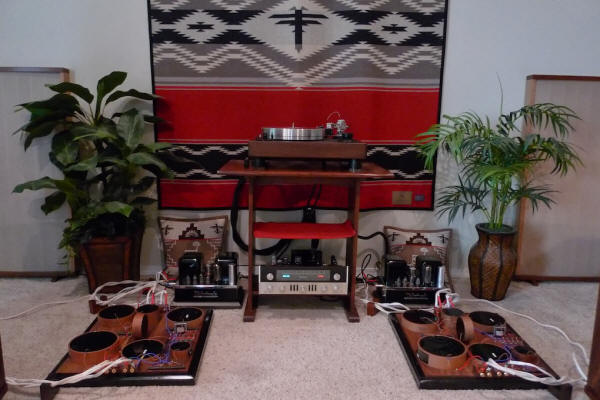 … and an 8-feet pair of Panatela component speaker cables from the Duelund CAST external crossovers to the Westminster Royal SEs' Dual Concentric™ driver connections.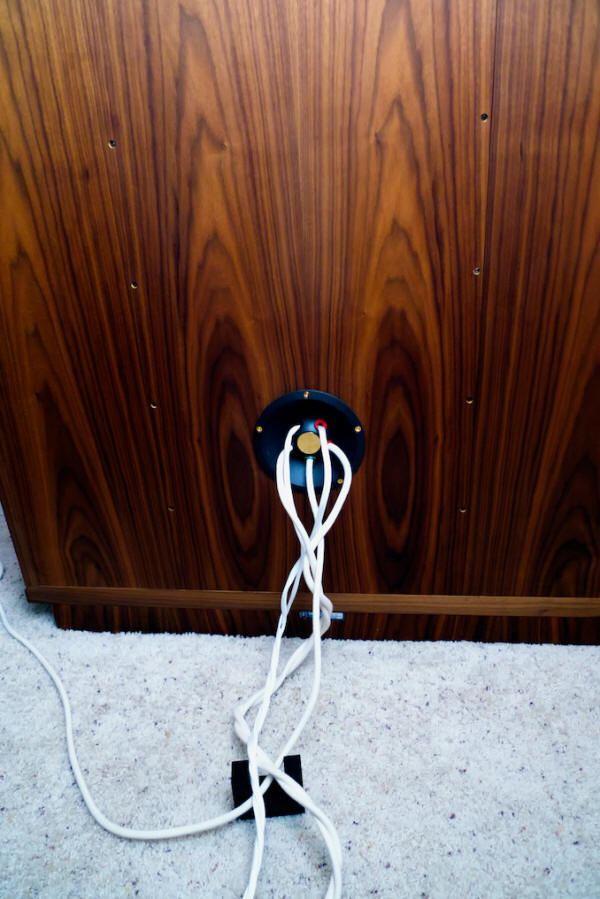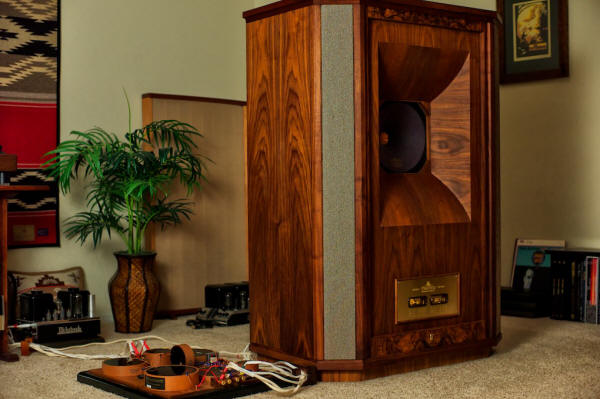 I used an Acoustic Revive Power Reference AC power cord to connect my VPI Classic turntable to the Acoustic Revive RPT-4 Ultimate Power Distributor. My vintage McIntosh electronics all have captive power cords, which were plugged into the Acoustic Revive RPT-4 Ultimate Power Distributor, which in turn was plugged into my wall outlet via an Acoustic Revive Power Reference AC power cord. I used the superb combination of an Acoustic Revive CB-1DB receptacle base plate, CFRP-1F carbon fiber outlet plate, CS-F2 Outlet Stabilizer, and an Oyaide R-0 receptacle installed into my wall outlets to power my system.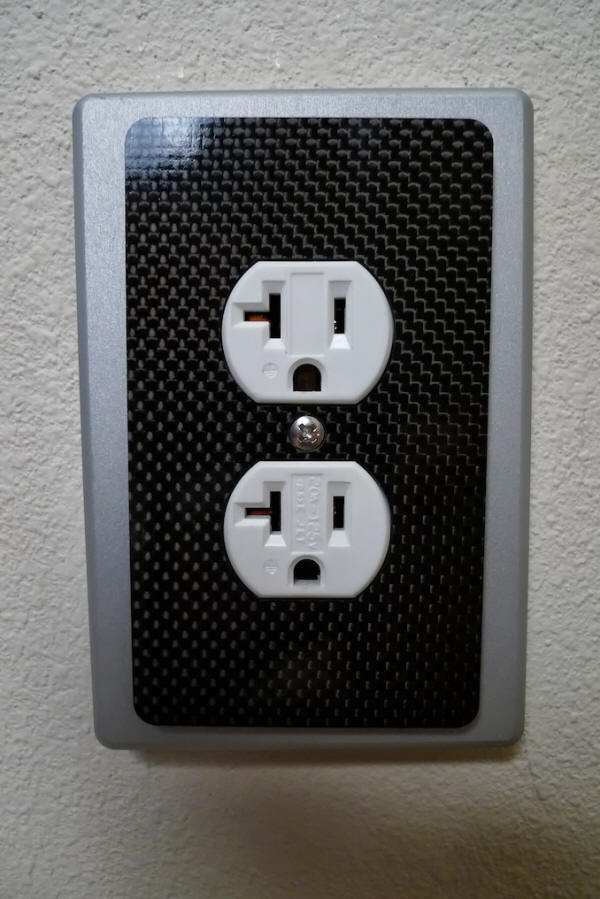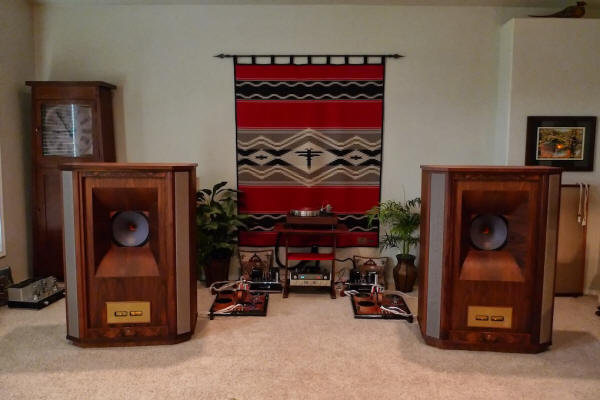 Listening Impressions
I promised all of you that when I listened to the Stockholm V2 that I'd compare it to my listening universe: vinyl, the Mhdt Labs Havana, and my MX110Z's FM tuner, to give you and idea where it falls within my personal music listening pantheon.
My listening hierarchy goes like this lately: I listen to vinyl as a first choice. If I can get it on vinyl I prefer to listen to it on vinyl. As far as my tastes go, analogue is still king, whether on LP or reel-to-reel (like my friend Ron brought by a while back), and I think that vinyl still outperforms any digital I'm familiar with.
As a second choice I like to listen to FM on my vintage Mac's tuner. I think FM is generally more musical than digital too, which is a little bit weird, because I know that most of what is being transmitted via FM is digital! How do they make it sound so good? One of these days I want to interview NPR and find out what equipment they are using in their signal chain, because it sure sounds good through my Hi-Fi rig!
However, there's a lot of good music that you just can't find on LP, and then there's the excitement of exploring internet radio, some of which is pretty darn good, so a music lover must have a digital front end too for exploring our increasingly digital world, and believe me its worth exploring! So the truth is that every music lover owes it to herself/himself to have a computer based digital front end with a good USB DAC like those from Mhdt Lab to probe the musical universe with. That's my take on reality in the ether-age.
I have a Compact Disc collection of around a 1000 CDs or so that I have loaded onto my iMac, so it is important to me how well a DAC performs on the 2-channel 16-bit / 44,100-Hz Red Book audio standard, as I want to get the maximum amount of enjoyment out of my investment in CDs.
On The Beatles And I Love Her from the A Hard Day's Night album, I thought the Stockholm V2 sounded natural and musical, with very good detail resolution, along with good imaging & soundstaging performance. I noticed on Our House from my Crosby, Stills, and Nash box set that the quality of timbral textures and tone colors were also nicely done with the Stockholm V2. However, the sense of melody lines, tempo, beat, and rhythm wasn't quite as engaging as I'd like it to be. I think that's because the Stockholm is a little laid back dynamically, so it doesn't infuse the timing aspects of music with quite as much life as my vinyl front end, for example. I was impressed with the sense of space and soundstage depth on My Funny Valentine from Miles Davis' Cookin' album, and I thought the timbral textures and tone colors were absolutely gorgeous.
I compared the Stockholm V2 directly to the Havana to see what the main differences were in their performance, other than the Stockholm V2's obvious ability to handle higher resolution files than the Havana is capable of. On The Beatles And I Love Her I thought that the Havana was warmer, lusher, darker, more colorful, and more analogue sounding than the Stockholm V2. The Stockholm V2 was more resolving of detail, more transparent, presented deeper soundstaging, was more evenly balanced from top-to-bottom, and more neutral sounding overall than the Havana on Our House.
Neither the Stockholm V2 or the Havana are the last word in liveliness from a tempo, melody, or rhythm perspective, but they're still tons of fun to listen to! I suspect that laid-back nature may be a trait of the R-2R Burr Brown PCM56P-J DACs used in the Stockholm V2 and the Havana. I found both the Havana and Stockholm V2 to offer similar levels of emotional engagement to the music.
To test out how well the Stockholm V2 makes music out of high-resolution files I downloaded the high-rez sampler from HDtracks. I thought that the HDtracks high-rez downloads sounded better than most of my Redbook files from my CDs. I wouldn't say I was blown away by the difference between Redbook and High-Rez, but I have to admit Cassandra Wilson's Another Country pretty much blew me away, and I quickly forgot about the analog vs. digital thing and just enjoyed the music. I'm a big Cassandra Wilson fan, so that helps.
The truth is that my digital front end has been collecting dust in the other room for a while now, but the more I listened to the Stockholm V2, the more Stockholm syndrome settled in, and the more positive feelings I developed towards my digital captors, sometimes to the point of defending them… Patricia Barber's The Wind Song from HDtracks sounded particularly beguiling… and the Stockholm V2 was presenting her gorgeously with lots of realistic timbral textures, beautiful tonal colors, and superb sonics. The piano on the Elina Duni Quartet's Kur te kujtosh was absolutely ravishing in tone, and had an image size that made it seem like the real thing was sitting in my living room. Elina's voice was ravishingly beautiful as well, and this track really made me want to listen to some more of the Quartet's music – very nicely done!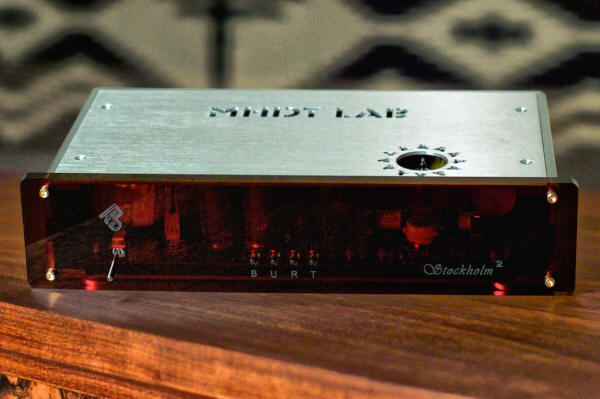 Summary & Conclusions
Yes indeedy, there's a place in my Hi-Fi rig for digital done right, and Fab Four at Mhdt Laboratory knows how to do digital right! One thing I really liked about the Stockholm V2 was the ability to listen to high-rez files. It doesn't do DSD though, so if you want DSD compatibility you'll need to look elsewhere. What it does do is make digital sound like music, and it'll light up your heart and stimulate your senses with its beautiful presentation of the music.
The Stockholm V2 was a notch above the Havana sonically: it resolved more detail, was more transparent, presented a deeper soundstage, and was more evenly balanced from top-to-bottom. The Stockholm was more neutral sounding overall than the Havana's warmer presentation, which will appeal to some listeners more than others. If you listen to Redbook digital exclusively the warmer presentation of the Havana may turn out to be an advantage.
Musically speaking, the Stockholm V2 did a credible job of presenting timbral textures and tone colors in realistic fashion, and I was impressed by its prowess in textures & colors. As I noted earlier, neither the Stockholm V2 nor the Havana are the last word in presenting lively melody lines, and the presentation of tempo, beat, and rhythm didn't engage me quite as much as I would have liked, being a little more laid back than what I'm used to with my vinyl front end, and what I hear in life.
One thing that I became addicted to during the review period was listening to Northwest Public Radio's new 24/7 KJEM jazz station stream through the Stockholm V2. The Stockholm V2 made the jazz stream come alive! I don't know how the Stockholm does it, but when playing what is assuredly a fairly low-rez stream, it made the music vibrant, colorful, and magically engaging! From a sonic standpoint, all those things you want to hear, like imaging, soundstaging, and a sense of space were there in spades, and it was addictive. It may be that lower resolution music streaming benefits even more from a good DAC like the Stockholm V2 than Redbook does. I was quite captivated by the possibilities!
One thing I want to mention—it is a little bit heretical—is that about halfway through the review I tried the Stockholm V2 USB DAC with a Sablon Audio Quantum Gran Corona power cord ($1300 USD), and it really brought the best out in the Stockholm V2. The Quantum Gran Corona power cord costs more than the Stockholm V2 ($1028 USD), but boy-oh-boy does it wring the best out of it! Now that doesn't mean you have to pop for a $1300 USD power cord to enjoy the Stockholm V2, but if you read between the lines the take home message is this: if you want to get the performance out of the Stockholm V2 that it is capable of you'll want to use a good power cord—it matters!
Another tidbit: the stock NOS GE5670 vacuum tube died a sputtering & sparkling death on me while listening to music. The GE is a good sounding tube, but overall I liked the Western Electric 396A that I replaced it with better, so that's what I used for the rest of the review. The nice thing is you can pick up a NOS Western Electric 396A for around $60 USD, which is an inexpensive performance booster for the Stockholm V2, and is well worth the cost.
If you've read through this review to here you are probably wondering what my final analysis is of the Stockholm V2. I think it is a bargain at $1028, that's what. It is not the musical equivalent of 45-rpm records from Analogue Productions, but it does present a wide variety of digital music in a musically satisfying manner, and it put digital music back into my life, so that should tell you something. I think it is more adept musically than many DACs I've heard, and I love the fact that it has opened up my musical explorations to include streaming audio from the web, where the magic it worked on those streaming files simply astounded me.
If you are looking for a USB DAC so you can turn your computer into a music machine, I can't think of a better place to start. Stockholm V2 syndrome indeed!
Jeff Day
Mhdt Laboratory
http://dhost.info/mhdtlab/
mhdtgang@yahoo.com