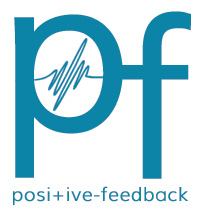 You are reading the older HTML site
Positive Feedback ISSUE 71
january/february 2014
THE Show Vegas 2014
by Albert Porter
Every year someone asks,
"What really stood out at THE Show and CES this year?"
This year it's an easy question to answer. I met two young ladies, just out of college from Akron, Ohio, one an electrical engineer and the other a patent attorney. They were at THE Show to see if manufacturers had interest their new invention, a digital drive system that will operate an electrostatic loud speaker without need for a transformer.
Their new company is Vetta Sounds LLC and the founder Dezarae Holman is the engineer I met who invented this process. She explained her college professor had an interest in high end audio and challenged her to do the project as an assignment.
Her friend and associate Elyse Ball is the attorney and filed the patent to protect the invention.
It's rare to find young ladies at THE Show and equally rare to meet such dazzling bright young minds who are making a contribution to high end audio.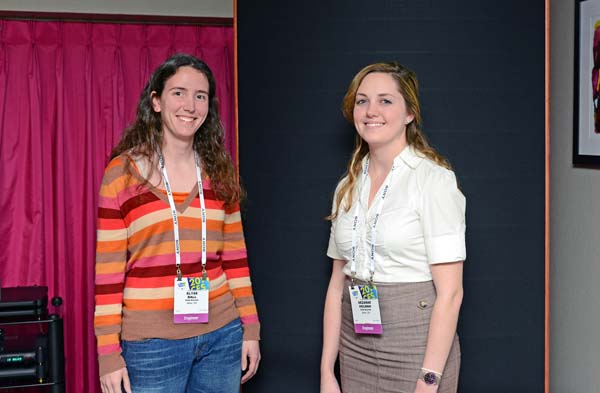 They spoke to Magnapan for what must have been an hour and afterward I ask if they wanted to speak to an electrostatic expert. Of course they wanted to so I walked them down the hall and introduced them to Roger West and Connie of SoundLab.
I cannot begin to explain the conversation that followed but it was glorious to hear Roger explain what he did and the two young ladies explain what they hoped to achieve.
This was a wonderful experience, just what high end audio needs regardless of how this ends up.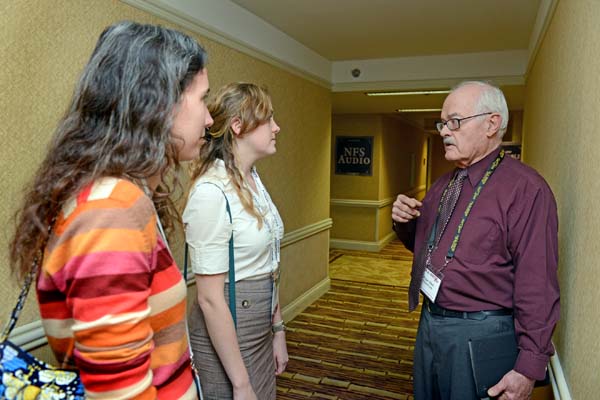 The other stand out event was a room easily overlooked, RCH Labs and no other information as to what they do posted in the hallway. I walked in, shot a few images and noticed what I thought were silicon sleeves used as a tube damper. Photographed it and went on to cover all the other rooms.
Later that evening Ralph Karsten (Atma-Sphere) who is a good friend and manufacturer I frequently hang out with at shows ask,
"Did you meet those guys that are manufacturing tubes?"
No, was my answer and then I realized that what I thought was a silicon sleeve was raw glass ready to be formed into a complete vacuum tube. OK, so another tube manufacturer, what's the big deal?
The big deal is they are based in the USA. They built a plant in Nevada and have already produced 6L6 prototypes tubes and plan to add the popular KT-88.
RCH use lasers to weld and cut mica and want to duplicate the high quality and great sounding tubes of the golden era, sound equal to Genelex Gold Lion and Tung Sol.
In this photo are Isaiah Larson, Ryan Hare of RCH Labs and Ralph Karsten asking when they will build tubes for AtmaSphere.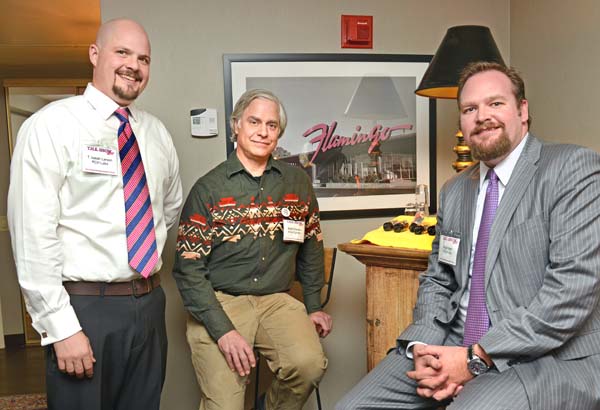 Here is a close up of several prototype 6L6 type tubes from RCH Labs USA.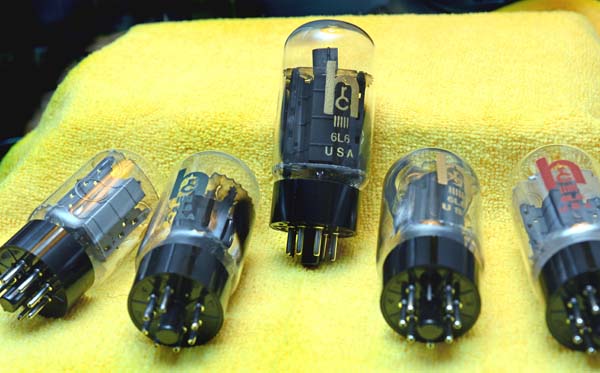 I plan on staying in touch with these guys and the minute they have KT88 I want to do a test in my amps and write it up at PF.
Another room of great interest to me was Wavac and Sound Lab. Good sound and beautiful components. I like both companies, great seeing them at THE Show.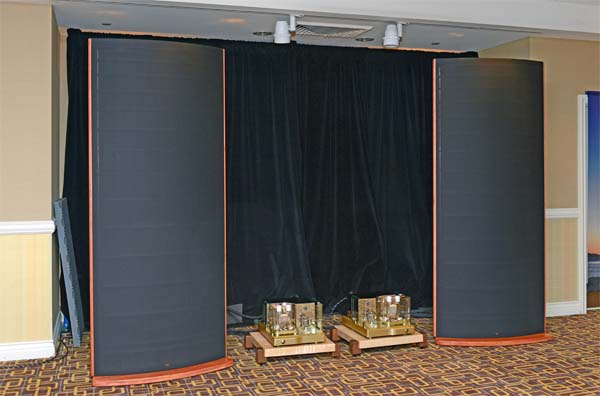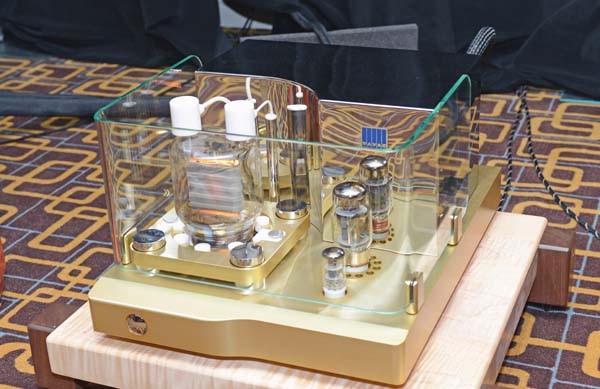 Quintessence Acoustics had a new speaker painted a Porsche color, following a trend among high end speaker companies to go with automotive paint to show off their creation to best advantage. Peter Bruninger was doing video and I heard him say this was his favorite room for sound. Guess we will have to hear his report to confirm that.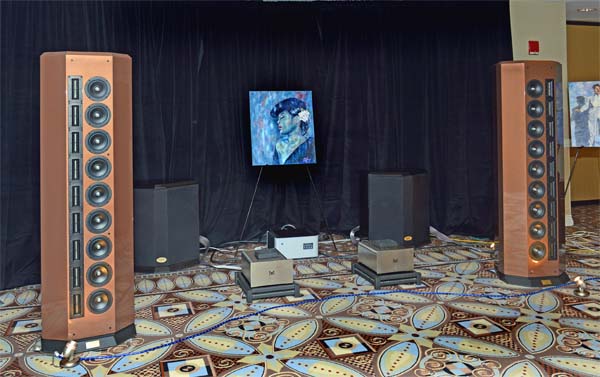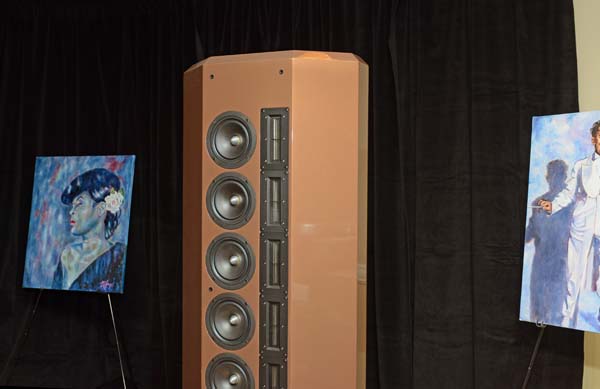 CES attendance seemed to be on par with THE Show, rooms easy to get into and halls not too crowded. I heard from several people that thousands of flights had been cancelled due to weather. That had to hurt attendance and I know several manufacturers had equipment arrive late, making set up even more difficult.
YG Acoustics had good sound, powered by Dan D'Agostino electronics.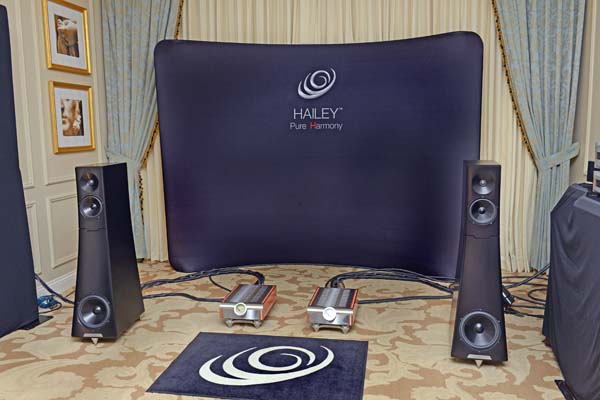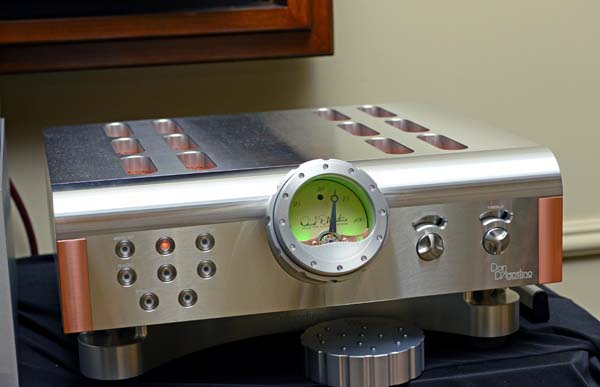 Lamm Industries, Acoustic Precision, Graham and TechDas showed with Kubala-Sosna.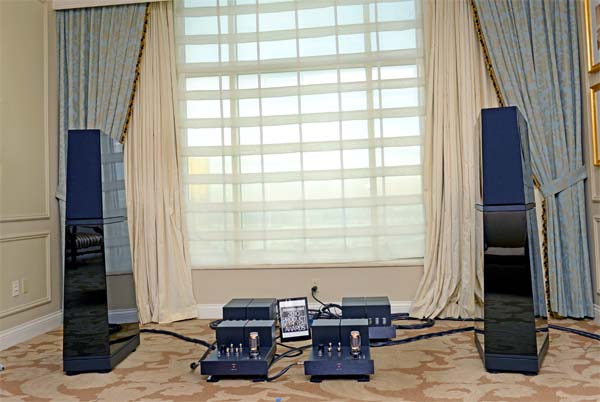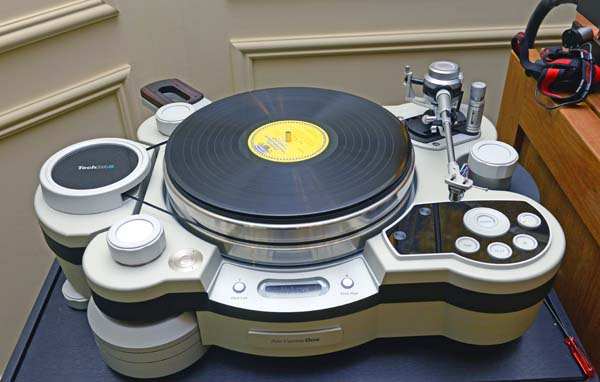 Audio Research, Sonus Faber and Wadia shared a space. I was hoping to catch up with my friend Warren Gehl from Audio Research but he did not attend this year.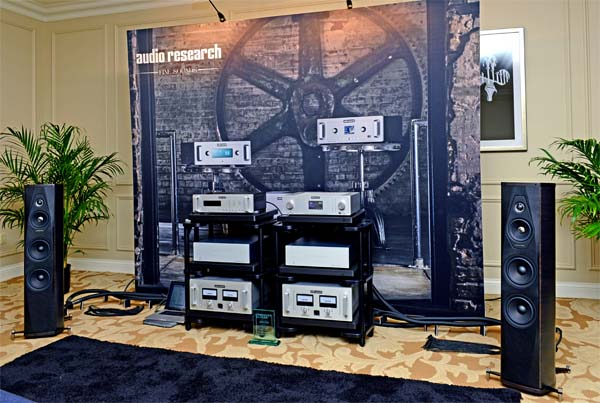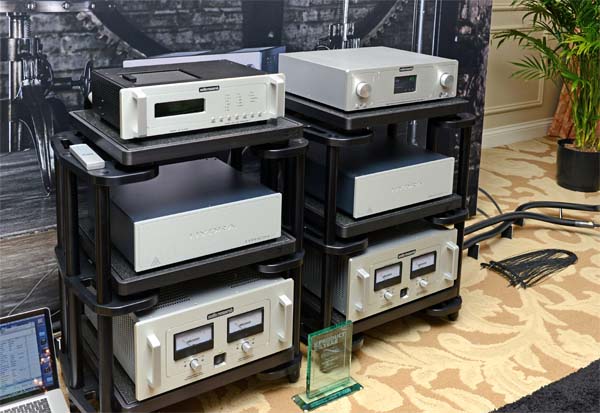 Pass Labs showed their new XA series amps and active display featured the XA160.8 powering premium Sony speakers.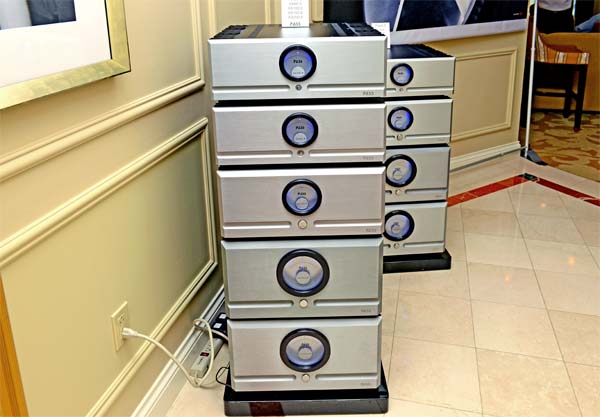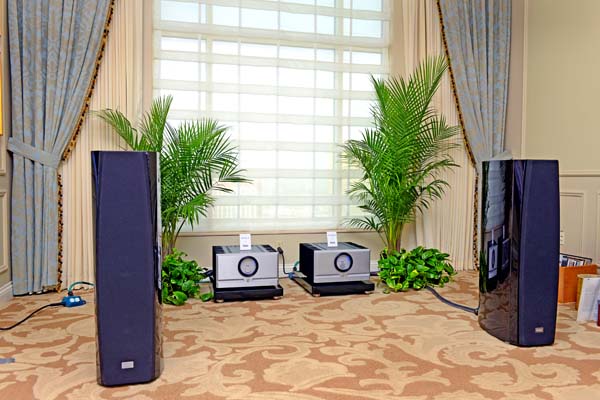 Magico always has a superb display with great attention to detail. This year was no different except they showed the very large Magico Ultimate in addition to their active system. It's difficult to understand how big this speaker is unless you stand beside it.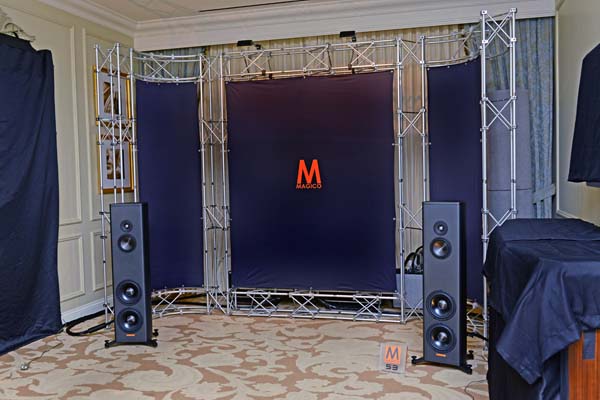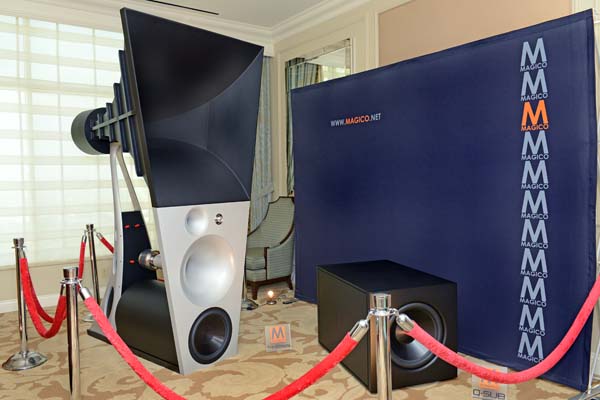 Rogue audio paired their Pharaoh (185 WPC) amp with the Dynaudio Confidence C1 II speaker. Wonderful sound from this very reasonable priced but high quality system. Also shown with Dr. Feichert Woodpecker table and Synergistic cable made for a very enjoyable listen.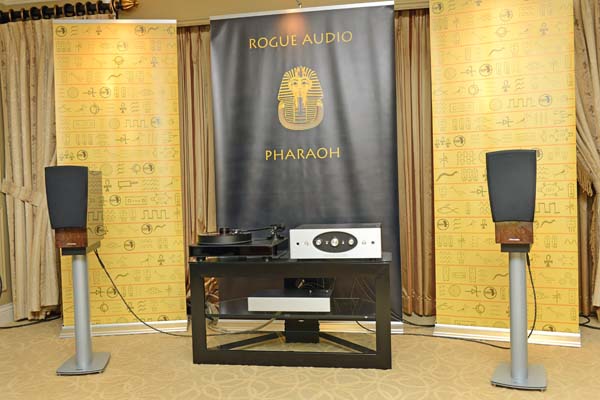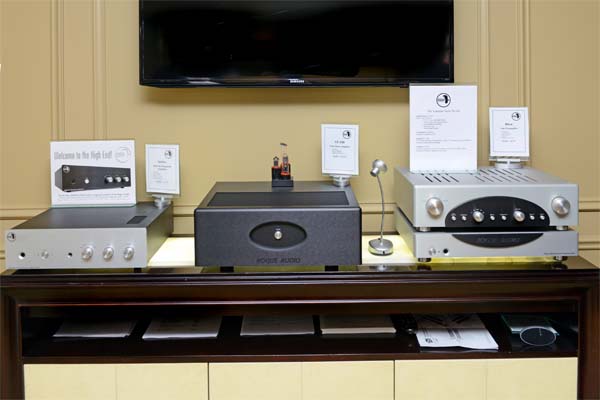 Convergent (room CES 30-116) was impressive. CAT showed with the Vandersteen Carbon, and this was the best sound I've ever heard this speaker. No doubt the Basis Signature played a role too but the CAT was making sound that was as beautiful to hear, as it was to behold. I enjoyed the conversation with Ken Stevens, a very accessible and friendly designer with a long history of great products.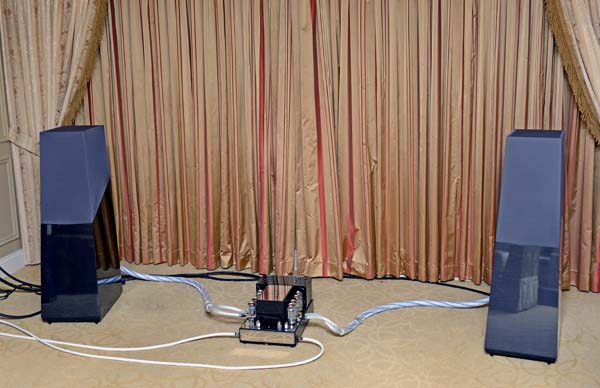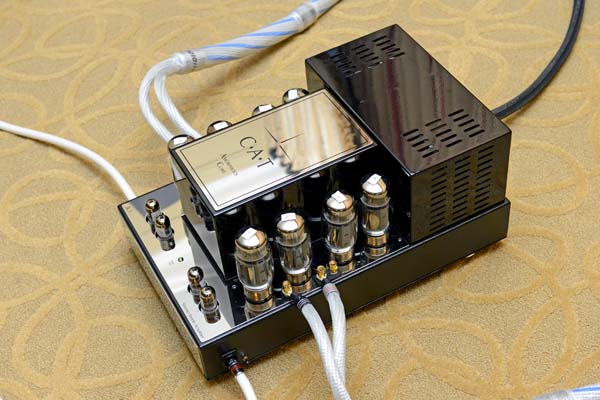 Estelon, Chord, Bluebird Music and Kubala-Sosna shared CES room 29-222. The Estelon speakers always show well and sound good. It's a very unusual design, beautifully executed and does detail without stress.
Their speaker is shown in this image alongside Alfred Vassilkova and Alissa Vassilkova of Estelon.
The Cord SPM 14000 MKII monoblock amps powered the Estelon with beautiful results in this space.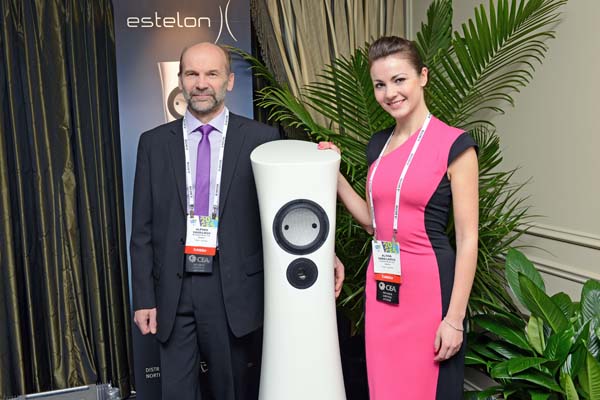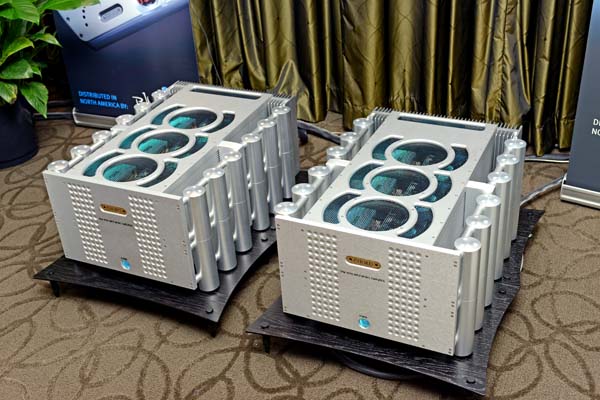 Vandersteen showed off his liquid cooled M7-HPA amps along with Jim White's wonderful Aesthetix Eclipse tube gear. LP source benefited from the Harmonic Resolution Systems stand.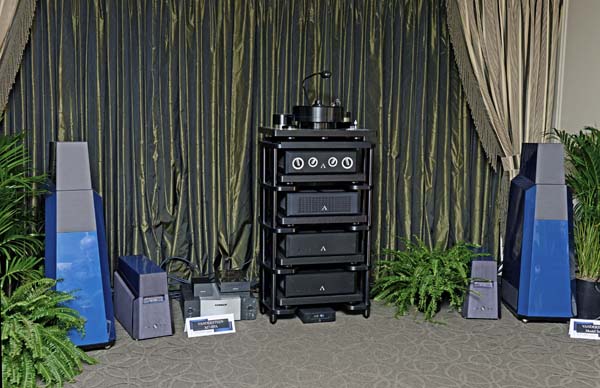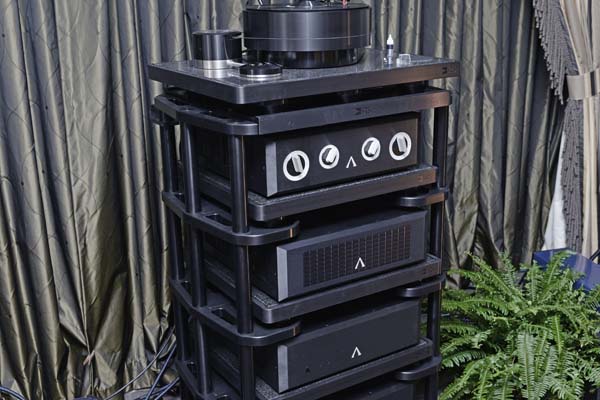 Avatar Acoustics has always impressed me. Darren Consello is always full on, with boundless energy and knack for finding cool product.
This year he did it again; introducing a new speaker from Italy named Rosso Fiorentino ($99,995). This is an absolutely beautiful product in every way; construction, fit and design, dual active 12" subs and open baffle midrange.
GRAFF GM400 amps made plenty of power for the Florentia loudspeaker and Darren remarked that this was the best amp he has ever heard. I look forward to hearing this combo again in another environment.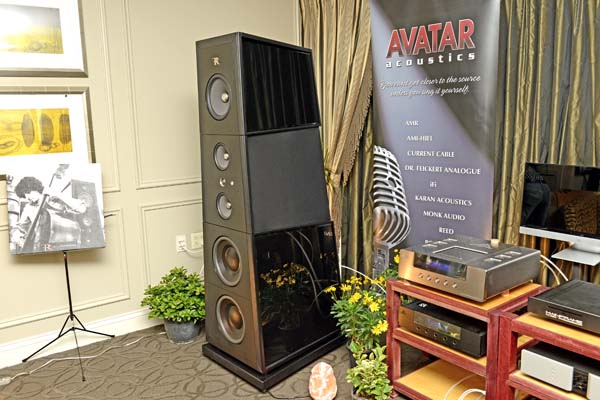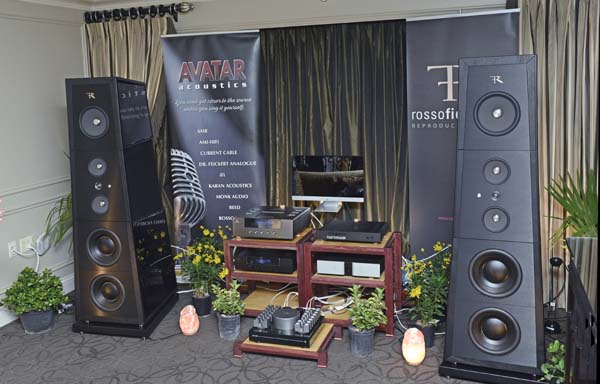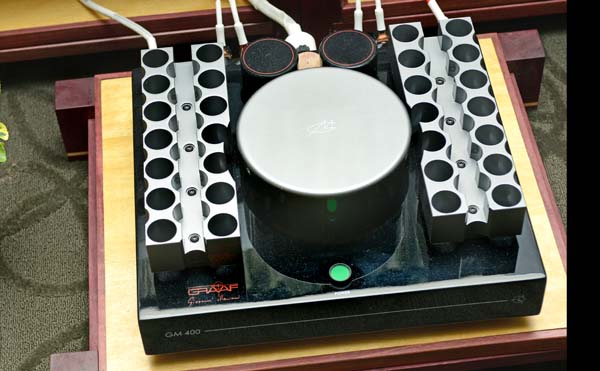 The Kharma room (CES 29-334) was playing music I had never heard, a rare live CD by Fenk. I plan on seeking this out this CD when I have time.
Unfortunately they quickly moved on to an audiophile tune for another visitor and broke the spell. None the less the Kharma speakers and electronics were showing off well. I always admired this company's speakers. Sweet and natural with great musicality but good detail. A difficult combination to obtain at shows.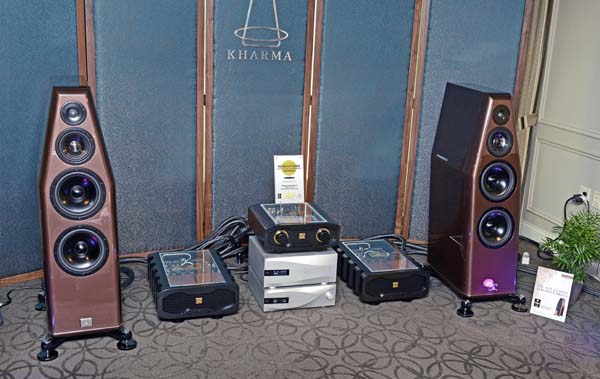 THE Show and CES 2014 were excellent, I only wish I could have spent more time listening., especially in the VAC and Focal Grande EM room.
Looking forward now to THE Show Newport, always a great turnout there.