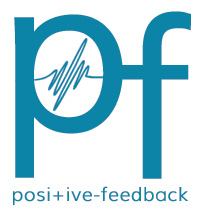 You are reading the older HTML site
Positive Feedback ISSUE 72
march/april 2014
Notes of an Amateur: Górecki and Larcher, with Notes on Britten and CPE Bach.
by Bob Neill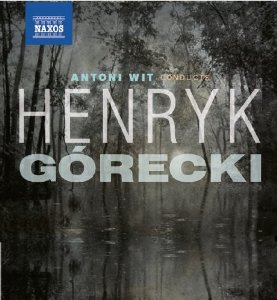 Antoni Wit Conducts Henryk Górecki. Symphonies 2, 3. Beatus Vir. Concerto-Cantata, etc. Polish National Symphony Orchestra. Naxos 8.4555375. 8.550822. 8.572872. (3 CD box set)
Henryk Górecki is the third of the major Polish modernists, alongside Penderecki and Lutoslawski. This three-disc set is an excellent look at the core of his oeuvre and I would encourage listeners to listen to all three over a day or so to experience its rich variety, something that would be harder going with the other two composers: Górecki while a modernist is the most accessible and most stylistically conservative of the three. He is certainly the most versatile. His Symphony No. 3 (1976) has become a world-wide best seller since it appeared on disc in the 1980's (the best selling version of it is among the top twenty all time—and there are at least seven or nine others). It suddenly began appearing on FM classical radio stations (remember them?), mesmerizing listeners who thought (among other guesses) that it must be some rediscovered work of Mahler's. Its slavic aesthetic argued against Mahler but what else could it be? And then we learned it was a symphony by an until then unknown Polish modernist, whose soul seemed bottomless.
Symphony No. 3, which I'll save until last, proved an impossible act to follow on the charts because very little of what Górecki had written or would go on to write shared the extravagant richness of its late romantic/tragic style. Much of his music is somewhat closer to the modernism of Penderecki and Lutoslawski and the millions of lovers of Symphony No 3 were not ready for that. And apparently the singular popular success of the symphony somewhat shocked the composer, who was not at all interested in capitalizing on it by producing more of the same. But what the symphony's success did accomplish was opening our eyes to an eloquent new voice. It is especially rewarding to hear this music performed here by Polish conductor Wit, whose Penderecki and Lutoslawski Naxos has already given us. Wit really has become the definitive 'voice' of this mighty modern music.
Where to begin? Symphony No. 2 (1972), much more mainline modernist, has a cosmic theme: it is called the 'Copernican.' The first movement of two rages a bit, giving us the sense that Górecki is primarily interested in how disorienting and destabilizing the Copernican view of the universe was to man accustomed to seeing his planet at the center of all things. The second movement, with baritone and soprano along with the full orchestra, makes peace with the new universe, expressing clearly that it is we who must adapt to the newly revealed truth. We have been mistaken about God's universe, in our usual way. Aesthetically this second movement of Symphony No. 2 leads us to the composer's third.
The composer's daughter, Anna Górecka, is the soloist in the piano version of her father's Harpsichord Concerto (1980), a work that brings out the composer's urgent, rhythmic side as well as his tendency to make use of the repetitive style of minimalism. We hear this version of Górecki in his string quartets. Nonesuch had the Kronos Quartet record some of the quartets soon after the popular success of their Symphony No. 3 release with Upshaw, but not surprising, the huge audience was not there for anything so uncompromisingly avant-garde.
Three Dances (1973) reveals Górecki's flirtation with the music of Stravinsky, the Sacre in particular, contrasting it with a tranquil alternative and then concluding with a vigorous Polish double-time foxtrot, the most highly spirited and delightful work in the program.
Little Requiem for a Certain Polka (1993) for piano (again with Górecka) and small chamber orchestra is wonderfully complex, quixotic, antic, and beautiful in turn. Full of life, it is also ultimately a truly moving lament, perhaps for a way of life as well as for a polka. This is the work I come back to most often. Written a year earlier, Concerto-Cantata for flute (Carol Wincenc!) is equally interesting and appealing. It focuses for a while on the low range of the flute and low strings, giving us a strong sense of introspection. This is its recording premiere. These two works feel more and more to me as if they are the central works in this Górecki retrospective, holding together his lyricism and fury. The lyricism holds center position but the fury frames it. As monumental as Symphonies 2 and 3 are, I suspect it will be these 'smaller' works that eventually stake much of the claim for Góecki's stature.
Symphony No. 3, 'Symphony of Sorrowful Songs' (1976). So we arrive at the composer's popular masterpiece. Lento, Lento, Lento. 55 minutes of Lento. (For those even more amateur than I, lento means slow.) Only Górecki among composers I know could make such a thing work. We are on an ocean from beginning to end, carried by seemingly eternal swells, occasionally lifted just above them. How could we have mistaken this for Mahler? If you haven't heard this work before and don't know what to expect, faster your seat belt. There is nothing like it in music history. If you're driving, you'll have to pull over. The first half of the first movement is Pachelbel's Canon for grown-ups. Modern grow-ups. Then a choir enters to sing a lamentation of the Holy Cross Monastery, Mary grieving over her dying son...until the orchestra mercifully returns to sweep her up into the swells with which the movement began.
It takes a hard and disillusioned mind to resist the powerfully emotional appeal of this music. It gathers up all of the tragic eloquence of late twentieth century Eastern European music (Vasks, Kanchelli, Pärt, et al) and releases it across a wide imaginary landscape. From this movement alone it is clear why this music took over the world when it appeared. It felt at the time, can still feel, that the terrible sorrow inflicted on mankind by the Holocaust had finally found its defining voice, one that radiates from its center backwards and forwards through time.
The second movement sets a short prayer to Mary scratched by a teenaged girl on the wall of her Nazi cell. The mood of the music becomes more personal—the solo soprano's song becoming almost a wail—as the orchestra rises and falls with the work's principal theme behind her. The third and final movement presents a Polish mother mourning for her son who has gone off to war to fight the Nazis and not returned. This is new music, for both soprano and orchestra—for a while—until it isn't. The emotional power here depends a lot on the soprano and Zafia Kilanowicz is all she needs to be. She hasn't the distinctive voice of a Dawn Upshaw and that's just fine. What is needed here is an instrument, not a personality, even a superb one like Ms. Upshaw's. The final three minutes of the work fix its mood with powerful solemnity, the mother asking God only that her son may sleep. And there's not a dry eye in the house.
Most of us who know this music remember where we were when we first heard it. It is that kind of experience. When subsequent hearings don't overpower us—we are more aware of the use of repetition in the achieving of the overall effect, for example—we begin to doubt that first experience. This is a mistake. We are told it is too late in modern times to compose such straightforwardly romantic/tragic music. It's not. And we heard it right the first time. Of the seven or nine recordings of Symphony No. 3, three of which I've heard, all (three) are very fine. This one has a dark ethnic (?) quality to it that I expect will make it my favorite over time.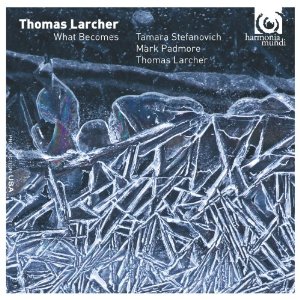 Thomas Larcher, What Becomes. Tamara Stefanowich, Thomas Larcher, piano. Mark Padmore, tenor. Harmonia Mundi HM 907604.
What do they want, the avant-garde? What have they always wanted? To attack the received way of being in the world or propose a new one? Is this music (painting, literature) a sword or a plough share? Fifty year old Austrian Thomas Larcher is at least suggestive.
Smart Dust (2005) for prepared piano can be said to attack received ideas about what a piano should sound like, has pretty much always sounded like. Larcher's piano is essentially a percussion instrument. Strings are stuck directly (with the fingers?), notes have little or no duration. We hear essence of marimba, chimes, bongo, blocks. The other qualities of the instrument are not present; but we still hear piano. No other instrument could present this particular variety (family?) of sounds. Do we feel that a new version of the idea of piano is being proposed? Does it make subsequent listening to a 'normal' piano sound artificial? Not really. We hear an interesting demonstration of what 'other' things a piano can do, sonically. As we find out later, this is a beginning.
Poems (1975-2010) is all traditional piano, "twelve pieces for pianists and other children." Lyrical, reflective, talkative, peaceful, not modernist in any obvious way, just occasional runs of dissonance, some conspicuous quiet spaces. Debussy hovers somewhere in the background. A musical poet's notebook? No new ground is broken here, no old worlds attacked, new ones proposed. Just lovely meditations for piano. If it were just a bit less interesting we'd smile and point to Larcher's 'other' label, ECM; but there is absolutely no pretentious ambient noodling here.
The title work, What Becomes (2009) for piano solo, begins as more of the same but then stirs itself into more actual pursuit of... stronger emotions, which about halfway into the twenty minute work arrive in the form of the first actual chords, a faster pace, and some dynamics. It all feels modernist now but nothing ground-breaking. Larcher refers in his notes to the great innovative jazz pianist, Lennie Tristano and to early avant-garde composer George Crumb.
It is not until A Padmore Cycle (2010-2011) for notable British tenor, Mark Padmore, and piano, settings of ten fairly stark, expressionist poems by "two writers and friends" that the album returns us to the matter of the avant-garde. The overall aesthetic suggests the piano work that opened the program, but it is more frequently disruptive. We definitely feel tenor and piano exploring the familiar territory of modernism. This is no recital for tenor with piano accompaniment! It is the next step beyond Britten's duos for piano and tenor (of which Padmore is a superb interpreter) into a world where there is no lyrical consolation. This is very striking music. We do indeed feel an alternative form of being proposed, one dominated and defined by solitary internal matters and concerns. What are we to make of it? Perhaps the Greeks who came to this kind of art to purge or at least make peace with their fears could tell us. That Larcher should call this album What Becomes suggests that Smart Dust, Poems, and the title work have led us to A Padmore Cycle. Have become it.
Brief Notes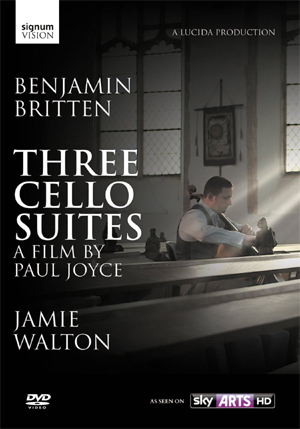 Benjamin Britten, Solo Cello Suites, Jamie Walton. Signum Classics. SIG CD 336.
I don't know how much of the marvelous, resonant sound of this recording is the acoustics of Snape Maltings concert hall in Suffolk, England and how much is Jamie Walton's musicianship. His cello sings, wails, snarls—and Britten's extraordinary suites inhabit the air. I suspect a lot of what we're hearing is Walton's remarkable control of his bow. Even the lowest notes have a firm clarity that refuses to let the sound smudge. They hold us utterly in their grasp. Walton gets the full power of this music without yielding to the temptation to indulge it. Great performances, great sound. Among the best of the recent crop of recordings celebrating the hundredth anniversary of the composer's birth. He has also recorded the Cello Symphony and Sonata for Cello and Piano, both for Signum. Up next in my house!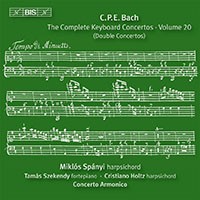 CPE Bach, The Complete Keyboard Concertos. Volume 20 (!). Double Concertos. Miklós Spányi, harpsichord. Tomás Szekendy, forte piano. Cristiano Holtz, harpsichord. Concerto Armonico Budapest. BIS 1967.
This is mainly a commemorative note to recognize and celebrate a hugely generous recording project by BIS records and keyboard scholar and performer Spányi. I say "generous" because I can't believe BIS can possibly make a profit on such a venture. I suspect there had to be some outside funding involved and if so, this is a fine cultural investment by someone. Where would the world of classical music recording be without the likes of BIS? And intelligent philanthropy.
This volume, No. 20, completes the cycle. As a whole, I suppose the collection is for specialists and fans of the composer. I do consider myself the latter and have been happy to pick them up as they've appeared. So too the complete solo keyboard music, also performed by Spányi, still in progress at volume 27!
Listening to these concertos back through the 250 years of music which succeeded them, they may not strike us as powerful and innovative statements. Rather, try the imaginative experience of coming to them from the music which immediately preceded them and you will hear the beginning of a whole new period in music history: wonderfully freewheeling and inspired. We have come a long way since the mid-eighteenth century. Progress or something else? If you can't 'hear' this music, it is something else.
Equipment used for this audition: Resolution Audio Cantata CD player; Crimson 710 preamplifier and 640 mono-block amplifier; Tocaro 42 loudspeakers; Blue Circle BC3000II GZpz preamplifier and BC200KQ stereo amplifier; Jean Marie Reynaud Offranade Supreme, V2 and Orféo Supreme, V2 loudspeakers; Crimson cabling.
Bob Neill is a former equipment reviewer for Enjoy the Music and Positive Feedback. Since 2004 he has been proprietor of Amherst Audio in western Massachusetts, which sells equipment from Audio Note (UK), Blue Circle (Canada), Crimson (UK), Resolution Audio (US), Jean Marie Reynaud (France), and Tocaro (Germany).