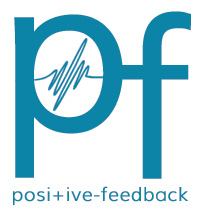 You are reading the older HTML site
Positive Feedback ISSUE 72
march/april 2014
Notes of an Amateur: Petrenko's Shostakovich #14. The Alexander Quartet & friends do Brahms. Les Arts Florissants. Gardiner's Stravinsky.
by Bob Neill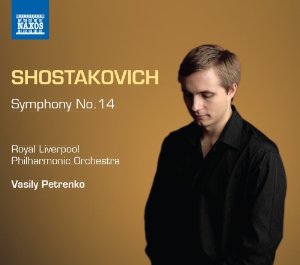 Shostakovich, Symphony No. 14. Gal James, soprano. Alexander Vinogradov, baritone. Royal Liverpool Philharmonic Orchestra, Vasily Petrenko, conductor. Naxos 8.573172
That anyone could imagine Shostakovich being considered Mahler's superior let alone his equal would have been unthinkable as recently as a decade ago. If this view is now thinkable, we have Vasily Petrenko to thank for this. It will be said with justice that the souls of late nineteenth century Vienna and mid to late twentieth century Russia are sufficiently different to make such a comparison pointless. But listening to Petrenko's new recording of Shostakovich's Fourteenth, I don't think so.
Petrenko's continuing insistence on Shostakovich as musical poet and the emotional power of his ardent young soloists, a Russian baritone and Israeli soprano, makes moments of this performance almost overwhelming. The work began in the composer's mind as an oratorio—it is composed for the two voices and orchestra—but it became a symphony when he decided its having no chorus was significant in this regard.
The poems set by the composer—by Lorca, Apolinaire, Küchelbecker, and Rilke—are all dark. I have the sense they live more eloquently in their musical settings than standing alone. Shostakovich's periodic use of strings alone, especially low strings, and also periods of silence are extremely effective. I haven't been so moved— less essentially speechless -- by a piece of music in a long time. The quality of the recording—great resolution and presence—magnify the whole presentation dramatically.
This is the penultimate release in one of the greatest symphonic cycles of our time.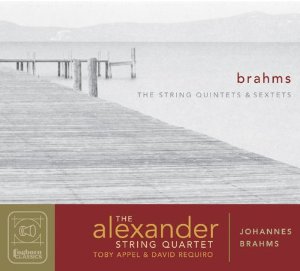 Brahms, The String Quintets and String Sextets. The Alexander Quartet with Toby Appel and Davids Requiro. Foghorn Classics CD 2012 (2 cds).
Brahms is where many of us begin, which means that later we have a tendency to look back at him with a measure of condescension. Stravinsky, Bartok, Prokofiev, Shostakovich, Britten, Schoenberg, Berg, and Webern have trained us to expect sophistication, irony, disillusionment. Even the modern composers themselves have trouble 'going home' to Brahms, Britten being the best known example. But now that modernism has run its main course and that even post-modernism is slipping out of fashion, now that they are no longer shocking or able to induce us to remake our sensibilities as they did first time around, Brahms seems less impossible. Of course, he never left the concert hall!
What made Brahms difficult for Britten and many of the rest of us is our modern taste for leaner textures, clarity, dissonance, irresolution, and guarded feelings. Roger Norrington in the 1990's and John Eliot Gardiner in 2007-2008 tried to lead us back to Brahms by playing his symphonies leaner, using what they assured us were instruments of his late nineteenth century times. For many who grew up with and loving a rich and sumptuous Brahms, these period interpretations were a joke: Brahms Lite. I actually like Norrington's and Gardiner's Brahms, which may of course simply mean they are more attractive to my modernized taste: they are letting me have Brahms back in modernist clothing, though that's now they would put it.
The Alexander Quartet, fresh from extremely impressive Shostakovich and Bartok & Kodaly recordings and with a fine Beethoven cycle in their past, now turn to Brahms' String Quintets and Sextets. I had no idea what to expect and held my breath. What I hear is something of the Brahms I remember with a modicum of Norrington's and Gardiner's leanness. More clarity, energy, and pace than I remember from my early days. It's more exciting, crisper sounding, less liquid and romantic (but not less emotional) Brahms, which, we are told, is how he saw himself. These performances do not at all sound like an attempt to change Brahms to suit modern taste. What they do is remind us that Brahms does not have to sound as enriched as we got him in the fifties and sixties, which in retrospect was part of the problem for Britten. The musical broth needn't be so thick. The quality of the recording—thanks to Judith Sherman—helps. The overall sound has just enough warmth, but individual instruments have individual lives. Hence the welcome clarity.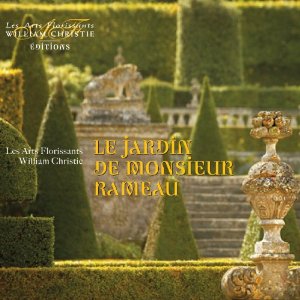 Le Jardin de Monsieur Rameau. Les Arts Florissants. William Christie. LAF Editions [second but unnumbered release].
This release requires a word or two of introduction before I praise it. William Christie's Les Arts Florissants runs an annual academy in Caen, France, which he calls Le Jardin de Voix, for youngish singers aspiring to careers in the performance of French baroque music. 2013 was the sixth year of the academy, the first to produce a recording. It is the second recording for LAF on their new label, LAF Editions, distributed by Harmonia Mundi, with whom they have been associated for a generation. Their vinyl records, still highly sought after, were the reference for analogue recording in the 1970's and 1980's. The focus of the academy, which enrolls a small number of singers (six in this 2013 iteration, aged 25-29), is the Age of Jean Philippe Rameau and includes excerpts from the works of Couperin, Montéclair, Grandval, Dauvergne, Gluck, Campra, and Rameau himself. Instrumental musicians are members of Les Arts Florissants.
I had no idea what a recording like this this would produce. Is it intended for devotés of the French baroque who want to sample possible future stars in the field? For newcomers who want a carefully selected glimpse of the music? For the rest of us? Based on listening to the CD over several days, attentively and casually, I can say yes, yes, and yes. These are fine singers who have clearly been at work in their field for some time, coming to Caen to refine their talents. Christie's sense of the French baroque is that its chief quality, distinguishing it from German, Italian, and English music of the period, is "eloquence"—understood as Norton Justin visually defines it in his The Dot and the Line as grace, rich intricacy, floridity—a quality, Christie tells us in his album notes, that exists in the French language as much as in the music itself. Christie believes this quality must be studied and mastered in order to perform this music properly. Those of us who love this music have always felt this to be true and it is reassuring to have it confirmed. French baroque dies a rapid death when translated into English.
This album is a treasure and a blessing.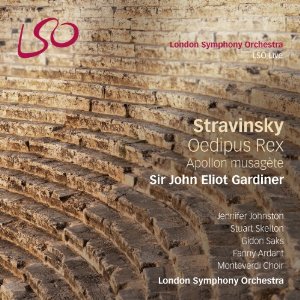 Stravinsky. Oedipus Rex. Apollon Musagète. Sir John Eliot Gardiner, London Symphony Orchestra; Monteverdi Choir. SACD LSO Live. LSO 0751.
Apollon Musagète, originally called just Apollo, is one of my favorite works of Stravinsky. My long time reference recording, by Charles Dutoit and Montreal Sinfonietta (1994), either brings out its French qualities or Frenchifies it, who knows which? It is French ballet, its French title means Apollo inspiring the muses. Dutoit, a French conductor, plays it with sensuous delicacy. While total playing time is nearly identical to Gardiner's performance, it feels longer, certainly more deliberate. Violins seem to linger longer on notes.
Gardiner's Apollo is crisper, more spirited, robust, brisk. More like the composer's Dunbarton Oaks concerto, more like the modernist neo-classical style that is the Stravinsky we are accustomed to. Fifteen minutes or so into the Gardiner performance I adjusted to its sense of the work just fine. Starker's Bach is no less accurate than Fournier's. Dutoit is more intoxicating, Gardiner more exciting. I have come to trust Gardiner with Bach, Brahms, and Schumann. He does his homework and delivers convincing interpretations which tend to win you over even if you start out perplexed. I came to like and admire his Apollo, though it will have to sit alongside the Dutoit. We'll see if over time he pushes him aside.
But it's Oedipus Rex that is the 'feature presentation' of this disc. I ran to Apollo first because I knew Oedipus would challenge me. It is that most difficult of musical trips, a modernist opera—and this one's in Latin!
Oedipus Rex is a fifty-minute chamber opera/oratorio, which dramatizes the Sophoclean play of the same name—as in not Oedipus at Colonus but its tragic precursor. There is a prologue and five scenes. Each scene is introduced by a French speaking narrator, and as I say, the opera itself is sung in Latin. It proceeds like a baroque oratorio. That is, with music more notable than dramatic action. The action is essentially the discovery of heretofore unknown and awful information and that provides plenty of intellectual action! The recording is of a live performance at London's Barbicon Theatre, home of the London Symphony Orchestra. Miking is thus conservative: it sounds as if the microphones are suspended above and slightly in front of the singers and orchestra, the usual arrangement.
The music, much of it, is chant-like, bordering on the ceremonial, though there is a good deal of (entirely justified) hysteria to go with it. The music expresses an awareness of the eminence of its story. It is representative Stravinsky, which helps keep the proceedings stark, rhythmic, and movingly dissonant. I expect even as a staged event, the visual presence of costumed soloists and chorus would contribute significantly to the overall effect. Tales of this kind are best told simply, barely, with a minimum of elaboration; but a visual presence would help. I think the music is up to its monumental story, just as the music of The Rite of Spring is up to its terrible ritual reenactment. It takes some imagination to get there by means of a recording but worth the effort.
Gardiner and his people make it all work. Had I listened to Oedipus fist, I'd have been better prepared for Apollo. It seems much lighter and more eloquent after Oedipus's grim tale.
Equipment used for this audition: Resolution Audio Cantata CD player; Crimson 710 preamplifier; Crimson 640 mono-block and Blue Circle BC 1022 amplifiers; Tocaro 42 loudspeakers; Crimson cabling.
Bob Neill is a former equipment reviewer for Enjoy the Music and Positive Feedback. Since 2004 he has been proprietor of Amherst Audio in Western Massachusetts, which sells equipment from Audio Note (UK), Blue Circle (Canada), Crimson (UK), Resolution Audio (US), Jean Marie Reynaud (France), and Tocaro (Germany).