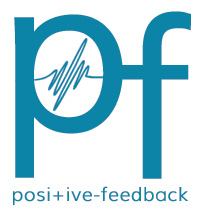 You are reading the older HTML site
Positive Feedback ISSUE 72
march/april 2014
Announcing the new Series 3 Loudspeaker from Bamberg Audio! The Bamberg 3 TMW
by Gary L. Beard
As an Indiana native and dyed-in-the-wool audio nut, I am proud to introduce a new product from Indiana speaker manufacturer Bamberg Audio. Located in Fishers (Indianapolis), Philip Bamberg quietly builds high-end loudspeakers. Mr. Bamberg has degrees in Mechanical and Electrical engineering and after having worked for several well-known audio companies, he set out to bring his no-nonsense, highly optimized loudspeaker designs to the audiophile world and has several highly regarded models in his current product line. For me however, a meeting with Phil Bamberg was my first opportunity to hear one of his products. I only had a couple of hours to listen, but I was excited to be one of the very first to hear the completed version of his newest creation, a beautiful Ruby Red pair of the new Bamberg 3 TMW Loudspeakers. A culmination of two years of research and development, Mr. Bamberg is clearly passionate about this new active tri-amped speaker system. Philip told me he believes this new speaker will be a perfect product for tech savvy audiophiles and should have great appeal to the younger folks in our hobby.
The Series 3 TMW is a master/slave active tri-amp speaker consisting of a separate monitor speaker with 7/8" fabric dome tweeter and 6" mid bass driver stacked onto a vented bass enclosure. The monitor is rear ported and contains a built-in Hypex UcD AS2.100 DSP Active Loudspeaker plate amplifier that provides 100 watts to each driver. The Hypex AS2.100 comes complete with 24b/192K capable DAC interface with analog, SPDIF, USB inputs as well as remote control volume option, which Mr. Bamberg has incorporated using an IR sensor on the front of the master speaker. Inputs automatically sense which is currently active and switch to play that source. The extensive DSP allows Mr. Bamberg to set all aspects of the speaker's crossover response thorough a USB connection to the Hypex software. The rear vented bass cabinet utilizes a 9" woofer and is self-powered from an onboard 170 watt ICEpower based amplifier. The bass unit sits on a plinth that is decoupled from the cabinet with rubber washers and has spikes underneath to couple to the floor. The monitor speaker sits firmly atop the bass unit and is decoupled via "sorbothane" ball footers that fit into depressions in the bottom of the monitor cabinet. This keeps any vibration of the bass cabinet from reaching the monitor speaker. Fit and finish of this inaugural set is first-rate. The cabinet panels are CNC machined to provide a very precise fit and the gorgeous red paint on this pair is beautifully applied. The magnetically attached fabric grill covers are well conceived and provide minimal diffraction to the tweeter.
My two hours of listening flew by all too quickly and was obviously not enough to get a real sense of what these new Series 3 speakers are about musically, but I do have some initial impressions. Philip had them set up on the short wall of a large open family/dining/kitchen area. Out in the room a few feet to breath, the speakers completely disappeared and left a dense and deep stage with terrific pinpoint imaging and serious dynamic punch. Philip explained to me his vision of bass reproduction and how he strives for the low end to be as transparent to the source as the midrange and treble. I can honestly say the solid center imaging and deep bass reproduction was most impressive. The Series 3 are extremely detailed with extended highs and a crisp treble sparkle. They played loudly, with a monitor-like clarity and without a hint of strain. To appeal to audiophiles who don't want to give up their own amplification, Mr. Bamberg is working on a hybrid version of the 3 TMW that will have an active bass module and passive monitor.
I enjoyed my February afternoon with Philip Bamberg. He clearly has a specific vision of how he wants his products to sound and eagerly shares his knowledge of loudspeaker design. His straightforward methods of design and fabrication are rooted in science, extensive testing and many years of experience, yet hardly seem old school. Instead, Philip Bamberg is using the latest technology available to give music lovers a new choice in high fidelity simplicity; a true audiophile speaker that doesn't require separate amps, preamps, or lots of expensive cables to sound great; just plug in your IPod and rock out!
Retail pricing $4400 to $4800 depending on finish.
http://www.bambergaudio.com/products/series3/3tmw.php