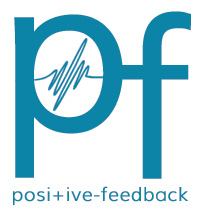 You are reading the older HTML site
Positive Feedback ISSUE 72
march/april 2014
Vinyl in the Round: The Beatles On Air - Live at the BBC Volume 2
by Ken Micallef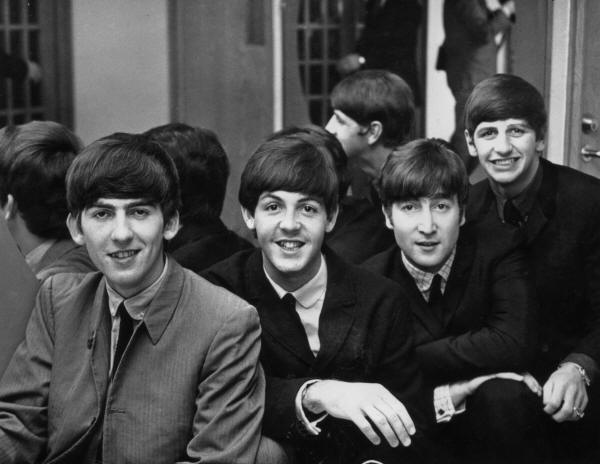 "Ladies and gentlemen, The Beatles!"
With that heraldic introduction 50 years ago Ed Sullivan brought four ingenious lads from Liverpool to an excited (and overheated) US audience.
By 1963 The Beatles were already a mass phenomenon on British soil having dominated the English charts with such singles as "Please Please Me," "Love Me Do" and "Do You Want To Know A Secret." The band had more than top 40 radio to spread the gospel of Beatlemania however.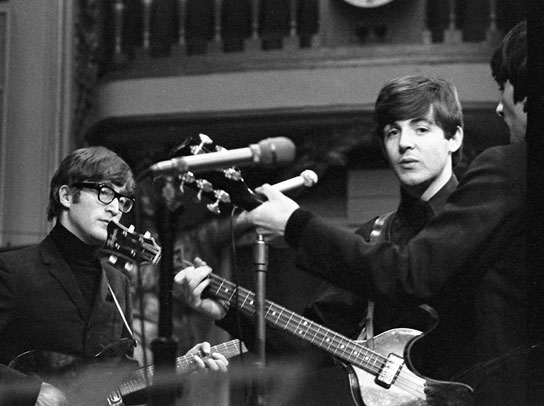 In the studios of the British Broadcasting Corporation, The Beatles performed for a variety of live radio shows ("Saturday Club," "Pop Go the Beatles," "Easy Beat"), performances that by today's standards qualify as absolute radio theater. Goofing with the chummy BBC radio hosts, blasting '50s rock and roll and their already mature original compositions, The Beatles' witty personalities and good humor were as refreshing as their music was inventive.
The following video is a good representation of The Beatles at the BBC, expressing all the contagious energy and charm that would soon conquer the world: http://www.thebeatles.com/news/watch-trailer-beatles-air-live-bbc-vol-2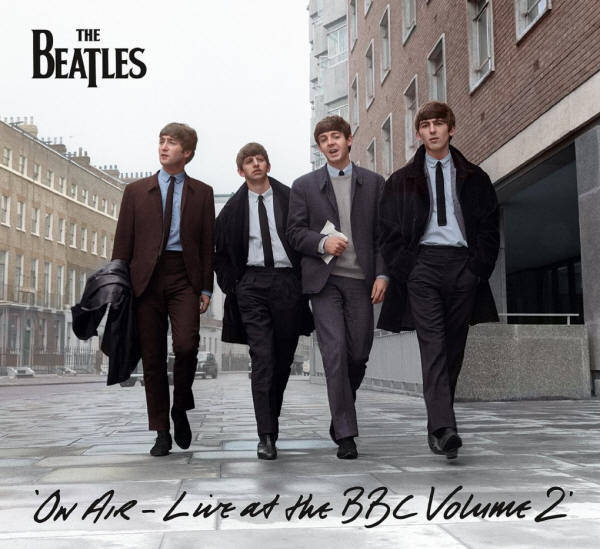 The triple LP set, On Air - Live at the BBC Volume 2, presents The Beatles at their most upbeat, raw and rocking. The new collection features performances from The Beatles' 1963-1964 BBC Radio broadcasts. Between 1962 and 1965 The Beatles performed multiple versions of 88 songs on the BBC—more than 275 in all. On Air's 63 tracks include 37 previously unreleased performances, ten never recorded by the group for EMI/Parlophone, two released for the first time and 23 speech tracks (studio banter). The recordings of studio chatter banter and conversation between The Beatles and their BBC radio hosts emphasize the release's live in-the-studio quality.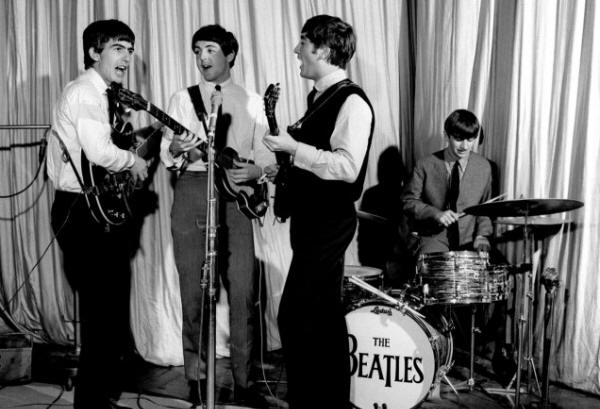 It's like joining a party of musical and comedic invention. This is also perhaps where the foursome's public personas were born: McCartney, the charmer; Lennon, the witty rascal; Harrison, the serious one; and Ringo, the clown. Two LPs are pure musical magic and studio chatter; the third LP contains four longish interviews with each Beatle. The interviews are basically fluff, confirming that these were four young men like many others in some regards, with no particularly remarkable thoughts issuing from their collective mouths. At one point, when asked where he lives, an amused Lennon replies "in what they call the stockbroker area." But the music is something entirely different, indeed.
Some of the earliest known renditions of The Beatles' original material appears as with a version of "Misery" recorded in March 1962, three months before their first session at Abbey Road. It was recorded on a kid's show called "Teenagers' Turn – Here We Go," which followed a successful BBC audition."Words of Love" appears a full year before they cut it for EMI/Parlophone
The quality of the recordings vary. While all are remarkably energetic—Lennon at the oldest is 21—some suffer from poor transfers or more likely inferior original recording equipment. The tube radios that probably broadcast The Beatles to Briton's homes in the early 1960s would have warmed up the tinny, thin sound of some tracks, "Misery" included.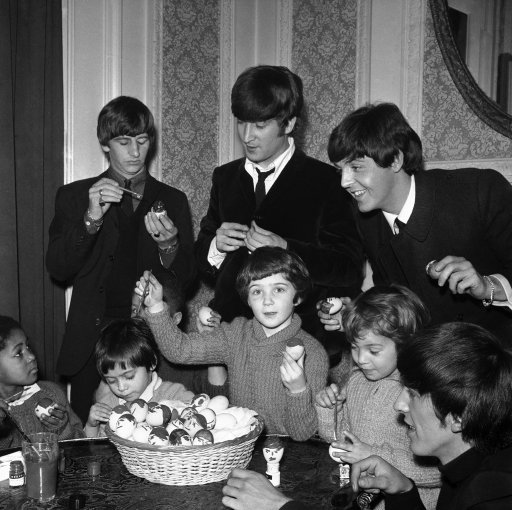 Hearing "I Feel Fine" or "She's A Woman" following corny rockers like "Hippy Hippy Shake" and "Lend Me Your Comb" makes The Beatles' talent all the more astonishing. How did covers of songs by Arthur Alexander, The Shirelles, Carl Perkins, Little Richard, The Isley Brothers, Chuck Berry and Buddy Holly lead to "She Loves You," "If I Fell," "And I Love Her" and "You Can't Do That"? The Beatles music sounds vastly more mature and even serious than the rock and roll songs they loved and performed. There's a remarkable sophistication even in their earliest compositions. There is no obvious evolutionary thread, no connection from their earliest covers, which they'd been bashing out in clubs from Hamburg to Liverpool since 1960, to the astonishingly well written, well crafted and energetically performed original songs that brought them to the world's attention. Their live approach is stripped down and direct in comparison with their Abbey Road recordings as well, particularly evident in Ringo's drumming, which is often more four-to-the-floor and powerful.
Even that arbiter of musical hipsterdom, Pitchfork, recognized The Beatles' shocking leap from nowhere both geographically and historically, to the songs that made them famous:
"And yet, when you hear the band's obvious affections for 50s hot-rod rock 'n' roll and Everly Brothers-style harmony-folk collide into perfectly formed pop salvos like "She Loves You", "From Me To You", and "I Want to Hold Your Hand", it's still hard to believe such a pure, crystalline sound could be produced by four exhausted guys playing live off the floor into mono mics."
In that way, The Beatles early songs are sprinkled with magic and fairy dust, as if Lennon, McCartney, Harrison and Starr had channeled some musical message from beyond of which only they were privy.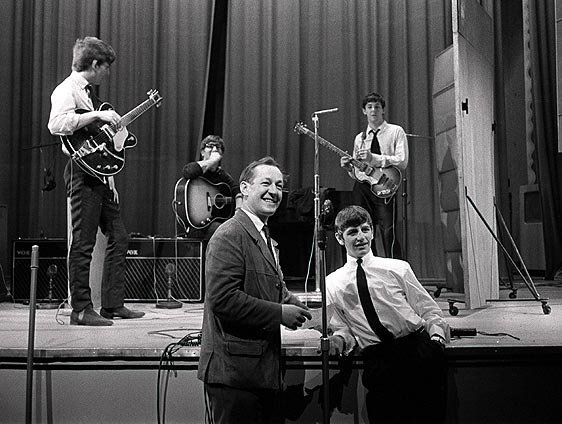 Though mastered from digital files (taken from on-air transcription discs that were sent abroad as part of the BBC's "mission to disseminate British culture to the Empire," says producer Kevbin Howlett), the sound of the three LPs is transparent, detailed and dynamic. The package as a whole is superb from its gorgeous laminated jackets to new photos and excellent liner notes. The 180 gram vinyl is uniformly pristine. This feat of packaging and mastering was also applied to a newly remastered Live at the BBC, the first collection of Beatles BBC radio performances released in 1994. Volume one's packaging was horrible—a dull sepia cover recalling a miserly bootleg, and muddy sounding vinyl to boot. But with the newfound respect for vinyl Capitol/EMI gussied up volume one to match the current release.
The press sheet for the release claims "a remarkable improvement in the sound of the album" and that's spot on. Transparency, upper frequency extension and a general tidying up of midrange and low end creates a vastly more listenable album from what were radio transcription sources.
Producer Kevin Howlett has alluded to more BBC releases to come; let's hope they match the mostly excellent On Air - Live at the BBC Volume 2.