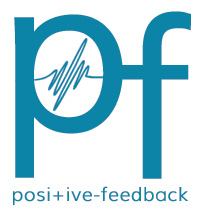 You are reading the older HTML site
Positive Feedback ISSUE 72
march/april 2014
charisma audio
MC-1 Cartridge
as reviewed by Paul Candy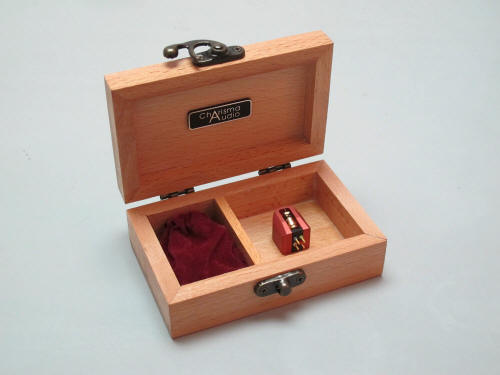 The MC-1 is Charisma Audio's debut moving coil cartridge. Charisma's Bernard Li teamed up with a cartridge guru who has over 35 years of cartridge design and build experience. By outsourcing production to established pros allowed Bernard to offer the MC-1 at a more attractive price than if manufactured in house.
Weighing in at 13.6g the components of the MC-1 are housed in an attractive curved pastel red aluminum body with internal mounting threads—no fussing with tiny little nuts. Interestingly the cantilever is annealed INOX stainless steel as opposed to the more common boron or aluminum. The stylus is a 5 x 150 uM line contact nude diamond. The coil is 6N OCC (Ohno Continuous Cast Copper) wire wound on a soft iron cross. Other sundry specs are as follows:
Output Voltage: 0.4mV at 3.54cm/sec.

Vertical tracking angle: 20 degrees

Internal Impedance: 15 Ohms

Frequency Response: 20-20,000 Hz +/-1dB

Channel Balance: better than 0.5dB

Channel Separation: better than 30dB

Dynamic Compliance; 15um/mN

Recommended Loading: 100-1,000 Ohms

Recommended Tracking Force: 1.9g +/- 0.1g

Tracking Ability at 315Hz/2g: 80uM

Recommended Tonearm Mass: medium

Break-in Period: 50 hours
The MC-1 comes in a nice wooden box with instruction/specs sheet and a little red cloth bag that contains the necessary mounting hardware. I installed the MC-1 to the arm wand of my Well-Tempered Lab Amadeus turntable and balanced it to the recommended tracking force of 1.9g or thereabouts. This took all of ten minutes primarily due to the Amadeus wand's fixed head and the internal mounting threads of the MC-1. One thing to note, as the MC-1 is rather hefty, a fairly heavy counterweight is required. Incidentally I recently upgraded the Amadeus's arm wand with WTL's Symmetrex wand. It sports the familiar golf ball but in a slightly different configuration that supposedly improves tracking ability. Overall I noted greater focus and solidity especially in the bottom end. A no brainer upgrade if you're an Amadeus owner. While you're at it, consider WTL's DPS power supply which also gave music a more explicit sense of timing and flow over the standard issue wall wart. I remain flummoxed as to how a turntable power supply can have such a noticeable effect on music playback but it is clearly audible even to non-audiophiles.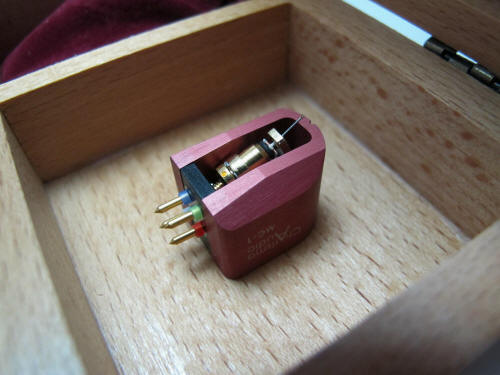 While impressed right from the start, I let the MC-1 run in for several days with randomly selected records before sitting down in full reviewer mode with a stack of favorite albums. One stack o' wax turned into several stacks as the MC-1 put the hook in me, so to speak. In fact it played music so well that I often forgot about it altogether.
The MC-1 offered a near ideal blend of refinement, detail, clarity and tonal complexity. The top end was delicate and airy, never grainy or overly bright. The midrange was clear, natural and impressively detailed and offered a soundstage that was wide as it was deep. Music never sounded excessively forward, aggressive or harsh. Refinement, focus and clarity were the order of the day.
Bass was suitably solid and weighty with excellent articulation and sense of momentum. Decays seemed to go on forever as they gracefully receded into oblivion. Stereo separation was nice and wide with a natural rendering of instruments and voices.
While the MC-1 was a very precise, revealing and open sounding cartridge it never came across as overly analytical or dry nor was it lush or romantic. It artfully sat on the fence between truth and beauty.
It also found more and wider dynamic contrasts on my records than my similarly priced Ortofon Rondo Blue. Also of note was the MC-1's ability to track all my records without issue.
The MC-1 remained composed and unfazed during loud complex music, such as Zubin Mehta's fine recording of Mahler's Resurrection Symphony, in which tension and volume ramp up and down unexpectedly.
The MC-1 avoided dragging down the beat or slurring notes of Ray Brown's bass lines on a number of wonderful Oscar Peterson LPs I have which were recorded in the '70s on the Pablo label.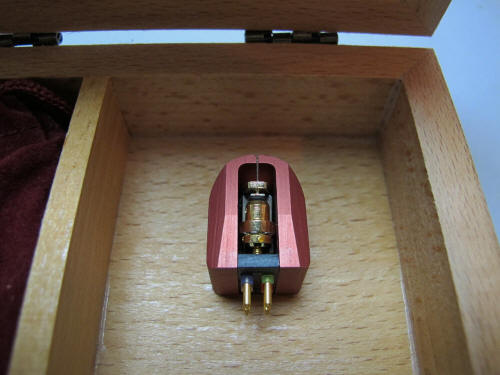 The massed strings on the aforementioned Mahler album were sweet, natural and textured if not quite to the same degree of EMT's twice as expensive TSD-15 I reviewed some time ago. The latter is the finest cartridge I have tried to date and remains my benchmark.
Groove noise was considerably lower than my Ortofon Rondo Blue. Whether that was due to the size and shape of the diamond, the design of its motor or some unknown resonance control properties, I cannot say.
The performance of the MC-1 was such that substituting a superior phono stage such as Audio Exklusiv's P 0.2 in place of my Pro-Ject Tube Box SE was clearly audible. The P 0.2 better showcased the MC-1's excellent level of information retrieval, wide tonal range, resolving and delicate and silky top end. Strings were gorgeous with this combination. Bass performance also took a notable uptake in performance.
The MC-1 lacked a little bit of the texture and drama of the EMT TSD-15 but possessed a great deal of its delicacy, refinement and purity. And its freedom of surface noise was at least the equal of the more expensive German cartridge.
The Charisma MC-1 was an excellent moving coil cartridge and I thoroughly enjoyed my time with it. It handily left my Ortofon Rondo Blue in a cloud of dust in pretty much all musically relevant ways and added further insult to injury by retailing for about the same price. At first blush, a $1095 cartridge is not what I'd call a bargain but since it offered performance awfully close to one twice as expensive, perhaps it is. Well done Charisma. Paul Candy
Charisma MC-1
Retail: CDN$1095
CDN distributor