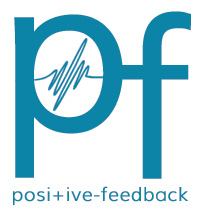 You are reading the older HTML site
Positive Feedback ISSUE 72
march/april 2014
Krakow Sonic Society Meeting No. 92 - Capella Cracoviensis, or the "Absolute Sound"
by Wojciech Pacuła, images by Wojciech Pacuła, translation by Andrzej Dziadowiec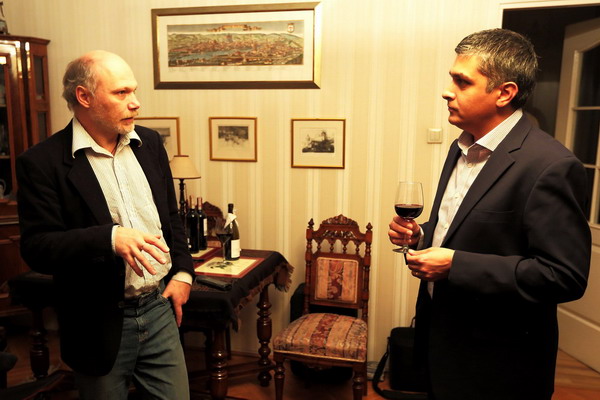 RAVEEN BAWA AND VIVALDI (Data Conversion Systems) - Two gentlemen in Krakow
What does a sound source that sells for nearly $170,000 sound like? What are the differences between CDs and audio files at the very peak of the quality ladder? And what does it all mean? To answer these, among some other questions, we were visited by Mr. Raveen Bawa, head of sales for dCS, bringing along the Vivaldi.
Capella Cracoviensis is one of the most distinguished orchestras on the Krakow music scene. It was founded in 1970, three years before I was born, by Stanisław Gałoński who was its conductor and musical director until 2008. Although he was successful for many years, in the end he lost its identity and began a gradual descent into the hell of mediocrity.
I perfectly remember the controversies, pickets, petitions and demonstrations of civil disobedience, when on November 1st, 2008, Jan Tomasz Adamus became the new director of this institution. The title of the Facebook page created back then really shows people's mood: "Save Capella Cracoviensis", whose aim was to remove the new director. To this day it was liked by 273 people. An average web bot has ten times as many fans. To understand the scale of this change, please take a look at the article titled Director Jan Tomasz Adamus faces the council members in "Dziennik Polski", which was published three years (!) after his appointment (see HERE).
There were two problems that became clear at the time: changing the repertoire and transforming the orchestra into an early music band, using period instruments, as well as cutting down the membership from 76 to 46 people. Oh the yelling, anger and protests! The biggest problem turned out to be the new director's rule—a complete novelty to many of the people in CC—of periodical auditions which would ultimately result in determining the size and composition of the orchestra. Those most hurt were the musicians who also worked as professors at the Krakow Music Academy—after all, professors don't get auditioned, by God!
Almost exactly five years after the "crowning" of Jan Adamus the band has now moved on to somewhere completely new—you could even say it's in another galaxy. I meant to write about John Zurek's—our guest from Positive-Feedback—surprise in my previous report from the Krakow Sonic Society (see HERE), but I didn't get to do it. John, our friend now, was moved both by the fact that the orchestra played on period instruments, as well as by the performance itself and its decorum. We were both at the concert and we were both very impressed.
On November 1st, CC played a concert at St. Catherine's Church—they have performed Mozart's Requiem in the same venue, on that very date, for the past 20 years. This time the concert was special, because the conductor was Vincent Dumestre, a French lutenist and founder of the early music group Le Poème Harmonique. It was another part of the big picture that the CC's artistic director has in stock for them: the band is supposed to perform as frequently as possible with world class conductors, participate in artistic projects of the best bands and thus build its musical proficiency, and most importantly—its identity. One of the biggest steps to achieving this is the freshly-released album Te Deum, released on the Alpha record label and containing compositions of Charpentier and Lully. The album features CC musicians who accompany Le Poème Harmonique and Vincent Dumestre (Alpha 952).
I try to follow the Capella's most important performances, which is why last Sunday me and my wife sat down in the very good fourth row seats at the Gallery of 19th Century Polish Art in Krakow Sukiennice. We were surrounded by paintings, maybe not of European stature but of great importance to any Pole: Hołd Pruski and Rejtan by Jan Matejko, and in front of us, right behind the orchestra, Pochodnie Nerona by Henryk Siemiradzki. With all that art around us and only a few meters separating us from the musicians, we watched a very good, solid performance. One of the fathers of this success was the conductor, Alessandro Moccia, although you could hear the amazing amount of effort that the performers put into it. Bach's Die Kunst der Fuge got a standing ovation and the orchestra was forced to play an encore and they had a hard time saying goodbye with us.
Data Conversion Systems, which is what, actually?
During the concert, I was sitting at the right side of the row, in front of the violas visible between the two cellos and double bass. The violins, positioned on the other side of the axis defined by the two harpsichords, were the loudest instruments. But it was the violas underpinned by the larger instruments that made the deepest impression on me. Listening to them, I perfected my confidence in what is the most important aspect of music presentation and one that is still missed by most audio designers: a velvety depth. High-end audio gear is usually understood to be resolving, well-differentiating, detailed and selective. And, sometimes, also dynamic. Indeed, they are all very important, basic aspects. But in themselves they are nothing but useless and often harmful. What really matters is what they build up, and at the top of the building should be the velvety depth with music flowing from it.
It takes years to reach this place and not everyone will find it. Some audio manufacturers get stuck in a race for this or that sonic aspect, others close down their business or change its direction. A few, however, will eventually arrive at the place where music playback miracles begin to manifest.
This place can be reached from two directions. The first one, let's call it "empirical", originates in auditions and organoleptic experience: if it sounds better, it is better. It requires a long time, deep knowledge and passion, a good ear, a group of advisers and some luck. Its advantage lies in the fact that everybody can do it and it doesn't require extensive financial outlays. The other one, let's call it "technical", leads from the measurements and technical concepts to auditions. If something measures up better, it is better. Here, financial outlays and research facilities are key. An example of the former approach is Ancient Audio from Krakow, while the latter is represented by Data Conversion Systems, in short dCS, with headquarters in Cambridge, UK. Both of these worlds met at Janusz's home, during the 92nd meeting of the Krakow Sonic Society.
It had a unique character, as we played host to another important person from an esteemed company, in addition someone who came to Poland specially to meet with us. Our guest was none other than Raveen Bawa, export sales manager for dCS. His background story is very interesting. Before joining dCS he first trained to be and then for a few years worked as a chef, specializing in Greek, Italian and Indian food. After this experience he decided for a career change and took up electronics. After working for a few years for large semiconductor manufacturers he was employed by dCS technological department. He spent six years working in the production department, assembling and testing all dCS products. Only after this experience he was offered a job in the sales department. Initially, he didn't see himself as a sales representative but the company heads must have recognized in him someone more than just a capable electronics guy. During our meeting, we couldn't help noticing his great communication skills and extraordinary ease in making contact with other people. You just cannot resist this likeable, unassuming man with the most sincere smile… Recognizing his skills, people from dCS soon offered him a job as Export Sales Manager for the company.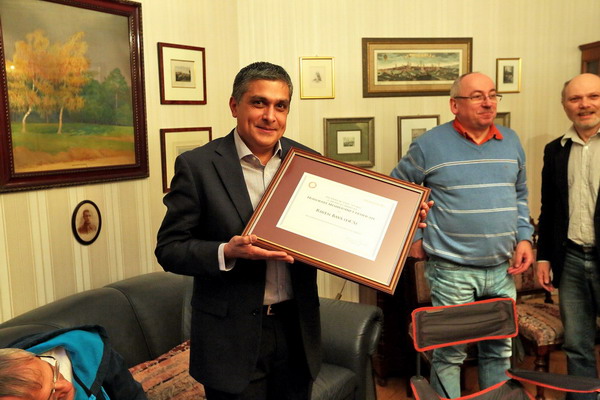 Raveen, who is now a new KSS member, has also been responsible for contacts with music producers consulting their new products with dCS. The company's development strategy has been a combination of its technical "in house" expertise and auditions carried out mostly by the customers, coming both from the world of professional audio as well as home audio users.
However, at first there was no indication that audio signal would ever find a way through its products. dCS started as a software consulting company and among its founders were software engineers and programmers. Things would have probably stayed that way if the company had not won a contract from the British Ministry of Defence in the early 1990s to design a radar systems to distinguish between friendly and enemy aircraft. The project went into production and dCS products are used to this day on RAF aircraft.
Part of the module designed by the company was an ultra-precision digital-to-analog converter. The company designed its own proprietary circuit that was called the Ring DAC after its method of operation. It was a fully discreet 5-bit design, operating at a 2.822MHz or 3.07MHz sampling frequency and sporting a resistors array switched by solid state relays. This system was so innovative and had so low distortion that the company needed to build its own measuring devices—those available on the market had a higher internal distortion than the dCS chip!
After the contract ended, the Cambridge-based company was left with a group engineers, research facilities, and a few interesting ideas. It had the funds but no job orders. One thing led to another and soon dCS presented to the world the first analog-to-digital and digital-to-analog converter, designed for recording studios. Within two years, it was present in most of major studios throughout the world, including Sony, Universal, Decca and Deutsche Grammophon.
Raveen emphasized dCS's people surprise to find their rather Spartan-looking, utilitarian product on the shelves of fabulous Japanese audiophile audio systems. They saw it in 1995 while receiving the prestigious award for the dCS 950 studio DAC. It was only a matter of improving the cosmetics, changing user interface and adapting the unit for home operation (safety permits and approvals) before the first audiophile dCS Elgar DAC (24/96) was presented at a Stereophile show in June 1996.
It was followed by the Purcel upsampler. The upsampling idea was almost completely unknown back then. Despite the fact that dCS's founder, Mike Story, presented a paper at an Audio Engineering Society convention in the early 1990s, showing that sonic improvements can be achieved by using high sampling rates (see the article by Robert Harley, chief editor of The Absolute Sound, HERE). Thus was born the dCS legend.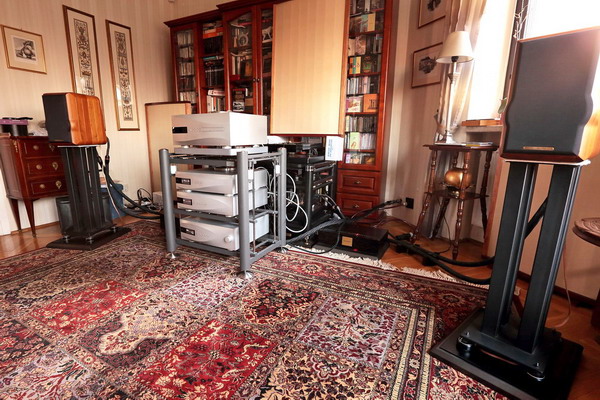 To put it simply: the Vivaldi
The system that arrived to Krakow together with Raveen and Jarek Orszański, Polish distributor for dCS, is its current flagship model. Presented for the first time at a Hong Kong audio show last year, it was expected to achieve monthly sales of two to three sets, which was very optimistic given its price tag ($108,000 in the US). After the first day, the local dCS representative ordered 30 sets, which almost paralyzed the operation of the British company. dCS is a small manufacturer with only 17 employees, commissioning preparation enclosures, filling plates and other things that require machine park outside. Prepare them the best producers, specialists in the field, normally performing missions for large companies. Fitting into their schedule is very difficult, and such a change almost unmanageable. It took a while before the case was able to straighten up and out of the world were leaving in a month for more than 20 sets of Vivaldi system, not counting the individual components thereof.
There's a reason I'm talking about the "system"—a full four elements Vivaldi Vivaldi Transportation, Vivaldi DAC and upsampler Vivaldi Vivaldi Master Clock. Transport play SACD and CD, the upsampler can bring files from the NAS (so fully the role of the player files), and the clock signal from the computer USB. To make this meaningful work, you need a suitable base, power supply and wiring. In Krakow, stood on the table Artesania Audio Exoteryc, and took the power conditioner Synergistic Research PowerCell 10 SE MK III with cable Anaconda and The CTS Digital Power. Digital cables come from Transparent Audio and ZenSati.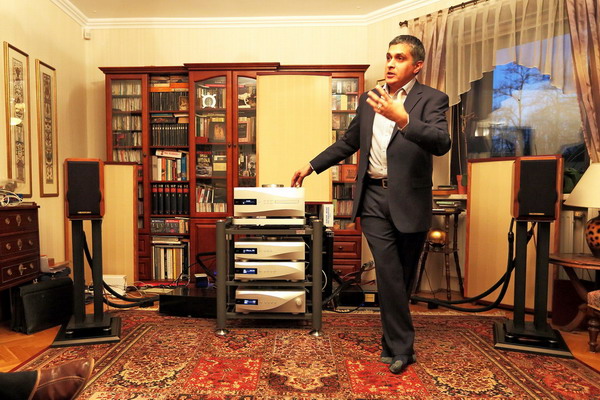 System Description
dCS: Vivaldi DAC: 111,920 zł, Vivaldi CD/SACD Transport: 137,510 zł, Vivaldi Upsampler: 70,350 zł, Vivaldi Masterclock: 54,360 zł
Cables to connect the separate dCS components
ZenSati #3 digital AES/EBU IC 1 m (5 lengths): 5 x 5,248 zł
The master clock was connected via 5 BNC cables from Transparent Audio
Power Conditioner
PowerCell 10 SE MK III: 33,660 zł
Power cords
Anaconda 1.8m (to power the DAC): 13,940 zł
Anaconda 1.8m (to power the transport): 13,940 zł
Element C.T.S. Digital Power 1.5 m (upsampler): 15,680 zł
Element C.T.S. Digital Power 1.5 m (Masterclock): 15,680 zł
Hi-Fi rack
Artesania Audio EXOTERYC 3 level rack: 22,210 zł
Synergistic Research Tranquility Base under the Vivaldi transport: 10,870
And nothing but the sound
When we arranged to audition the dCS system I thought I knew what I signed up for. But it was only when I saw it, touched it, and listened to it that I felt overwhelmed by its sheer number of features. It was difficult to properly prioritize the most important things that we wanted to explore, or which I wanted to explore. The decision helped by a short introductory lecture prepared by Raveen who, step by step, first introduced us to the company history, then explained the evolution of digital platforms that were the basis of its products and, finally, discussed their capabilities and how they're assessed by the people from dCS.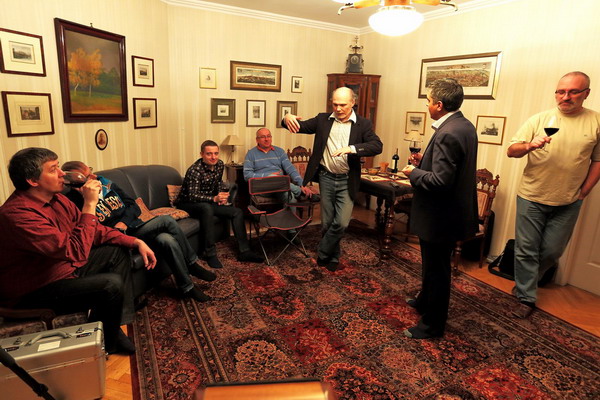 As it turns out, it is still the physical audio formats that remain their priority. We talked about this over and over again with our guest, asking the same questions with each next audition, and he invariably answered that the CD is still his digital medium number one. He realizes that its days are numbered and that the orchestra to play a Requiem for it is coming together but it is still not tuned properly and not yet ready to start. Hence, we decided that the most important thing to do was to audition some CDs from Janusz's collection. Interestingly, we did not listen to SACDs even though the dCS system is SACD capable. It turned out that our host did not have a single hybrid disc. The reason is that he is very consistent. We'd carried out multiple auditions that clearly demonstrated the superiority of classical CDs over the same SACD/CD releases.
The second important issue was the choice of upsampling mode. We spent a lot of time on that, switching between DXD (24-bit, 352.8kHz) and DSD (1-bit, 2.8224MHz). Raveen said that the world dCS users, not only of the Vivaldi system but of all those that capable of DSD upsampling, is generally divided into two camps: the supporters of PCM and DSD. Apparently, these two cannot be reconciled because the choices are motivated by emotional reasons. While based on experience, they have more to do with subjective beliefs than objective facts.
Without deciding in advance which side is right, we auditioned a few albums, both knowing which upsampling mode was currently on, as well as doing blind auditions.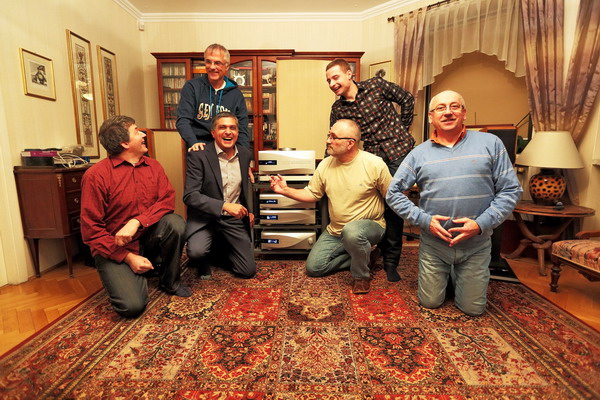 The result was unambiguous and quite surprising. The first conclusion was that upsampling is necessary. Which prompted Jarek Waszczyszyn, a digital signal processing specialist by profession, with years of experience as a manufacturer of high-end CD players and the SDMusA audio file player, to discuss the general sense of signal upsampling in DACs that also do signal oversampling. From the mathematical point of view, these are exactly the same processes. His multiple tests with the Lektor CD player left him with the conclusion that adding an additional filter in the signal path always resulted in adverse sonic changes. I concur with his opinion and, if it's only possible, always turn off upsampling when reviewing digital sources.
With the dCS, things were completely different. Here, upsampling improved the "presence" of sound as well as its resolution and coherence, without changing its tonality.
The second question, DXD or DSD, also found a unanimous, clear answer: DXD. Our observations were confirmed by Raveen who said he also always chooses DXD upsampling at home. And although there was one exception, Brenda Lee's album, all the other sounded better without the PCM to DSD conversion. The sound with DSD upsampling was perhaps warmer, rounder and maybe even smoother, yet at the same time less credible and more "made up" towards velvety playing style for pensioners. Part of the musical information was lost, particularly at the top end. This direction might be preferable with certain audio components, as it removes the irritating harshness of digital processing, bringing the sound closer to that normally associated with vinyl (in terms of its general character rather than the so called "analog sound").
The Vivaldi needed no such "support". It was the most "analog" sounding digital component we had ever heard. I apologize for calling it "analog", but what we heard that night at Janusz's must have been nearest to the way of building a sonic structure that we had previously experienced at our meeting at Rysiek's, playing master tapes from an analog reel-to-reel Studer recorder (see HERE). Above all, it had to do with an incredible way of showing the instruments in their acoustic environment. A vast soundstage and clear, vivid phantom images combined with a direct, deep bass extension; really amazing!
What's more, it was the best sound we'd ever heard, period. These are big words, I know, but I cannot find any other adjective to describe our experience. Even assuming, without any prior audition, that the very price of dCS and its accompanying "accessories" warrants such a statement, it would be contradicted by the small stand mount speakers and low power amplifier at Janusz's (the Sonus faber Electa Amator I and the Ancient Audio Silver Grand Mono, respectively). However, after listening to a few albums, I saw Raveen walking around the Sonus fabers and muttering something under his breath. I could have sworn it was something like, "that's f…ing impossible", if I hadn't known him to be a most cultured man. But internally, he must have communicated something similar, since he said himself that he'd never experienced something like that. And he was shaking his head exactly the same way and at the same pace as John Zurek from Positive-Feedback had done a month earlier, walking around the same speakers (see HERE). Janusz's amplifier from Ancient Audio never, ever sounded this way. There was no usual audiophile talk about various sonic aspects and how they were rated. Instead, we simply talked whether the church venue was larger or smaller, or whether the vocalist was closer or further from us.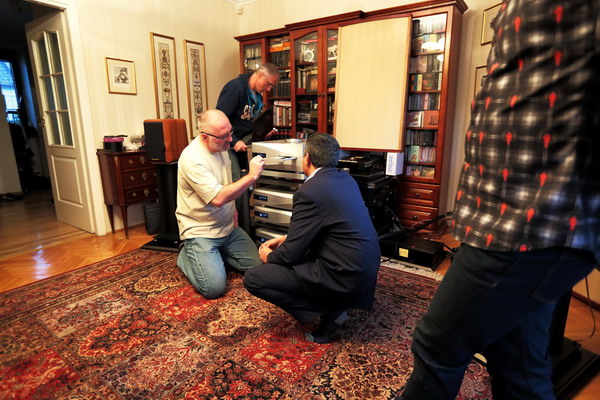 And the reason I'd never heard the Ancient Audio monoblocks that way before was that the Lektor Grand SE, the best digital player I'd known so far, sounded inferior to the Vivaldi. Given their huge price difference and how much one or the other would set you back in the bank account, I could say that it's understandable. Only that in the high-end world nothing is given "a priori" and everything needs to be touched, smelled and listened to. Money does not always "make sound". That's why we kind of got used to the fact that nothing ever beat the Lektor, regardless of its price. And we've listened to almost everything worth listening to. I perfectly remember our audition of the previous generation dCS system, about eight years ago. It was a great, thoroughbred sound. However, it didn't stand a chance against the several generations older Lektor Grand. The dCS seemed too light and too detailed, without proper "connective tissue" and maturity. The same was with the Linn CD12—a wonderful unit whose sound was not resolving enough to talk about a serious duel. It was only the previous four-piece flagship Jadis system (see HERE) that showed even more saturated and deeper sound than the player from Krakow. But even the Jadis was not capable of presenting an equally large and credible soundstage, and was focused on the foreground.
Comparing the players from Cambridge and Krakow was a unique experience. For a rather long time, we didn't really know which way would be worth going in the digital audio. The sound of the Grand SE, perfected and refined over and over again by Jarek and Janusz, was so satisfying that all that seemed left was to further improve what had already been very good. And then one evening with a stranger from the foggy Albion was enough to know exactly what the player from smoggy Krakow was missing. Lektor's designer looked far from happy and Janusz probably lost his temper a little bit. They quickly pulled themselves together, however, and for the next few days I had discussions with that evening's host of, exchanging ideas that may need to be slept on.
What was most shocking, at least to me, was that the dCS beat the Ancient in the two aspects where the latter used to outscore all other digital sources: holography and saturation. There was only one CD, Eric Burdon's War, where the weight of low registers seemed to be more powerful with the Polish unit. It was a tiny difference, however, and was gone on all the other albums as if someone blew it off.
The soundstage presented by the four-piece unit was outstanding in its substance, music plane differentiation and three-dimensional rendering. It was much more realistic than that presented by the three-piece unit. Soundstage depth was stunning. Despite that, I didn't have the impression of blowing the instruments around the soundstage. The sound was dense and credible. Above all, with CDs. We also listened to a few audio files ripped from the same discs and were a bit disappointed with them. Raveen unofficially confirmed our observations. A lower resolution and clarity, and "wetter" sound—this was what characterized audio files, compared to CDs. In this case, we preferred the sound of the Grand SE over the audio files.
And this density of sound. If we were to ask a randomly selected audiophile about his or her first association the name dCS brings, most would probably mention resolution and selectivity. And a light, precise sound. The Vivaldi laughs right in the face of this stereotype and spits on it from above. The ultra-minimalist tube output stage of the Grand SE, with V-Cap Copper-Teflon capacitors sounded leaner than and not as rich as the fully computerized dCS, based on design principles used in industrial technologies.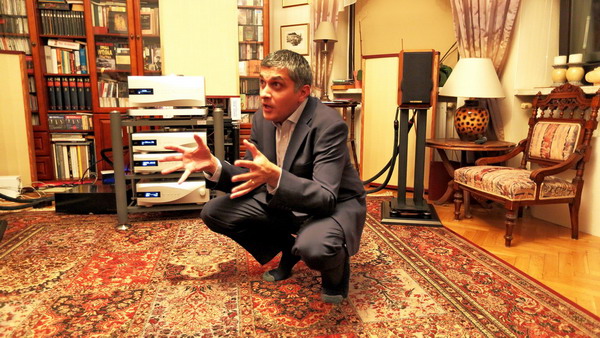 What seems to be key is digital sound processing and proper filtering, preceded by accurate reading. This cannot be achieved in a year. At least, that's what I think. dCS needed two and a half years to develop the Vivaldi, with a dozen engineers, vast financial resources and pre-developed platform! They began in July 2012 and, for all intents, have only recently finished the work.
And that would be it, or: it's wonderful!
On Friday night, December 20th, Piotr Anderszewski gave a concert in the Krakow Philharmonic Hall. The Polish pianist who unfortunately rarely performs in our country played Johann Sebastian Bach's French Suite No. 5 in G major and English Suite No. 3 in G minor in the first part, and Robert Schumann's Fantasie in C major, Op. 17 in the second part. The audience held breath after each piece, afraid to break the silence by clapping and come back to reality. I know it because I was there, sitting not far from Wiciu who, together with Tomek, Andrzej, Janusz, Jarek and me, less than a week earlier listened to Bach's Goldberg Variations on the dCS system worth a few hundred thousand zlotys. If I wasn't ashamed, I would have cried. Although Mateusz Borkowski who reviewed the concert for "Gazeta Wyborcza" was brought to his knees by Anderszewski's rendition of Schumann's Fantasie, for me it was Bach that was simply a stunning experience. Never ever before have I heard anything like that. The air froze for a moment, trapping us all in, voluntarily, and stopping the passage of time for a moment, rendering the outside world irrelevant and narrowing it down to the "here and now".
The hope that this event can be transferred 1:1 to our home is wishful thinking, a fantasy. It's never going to happen. But there are ways to make you feel similar to what you experience at a concert. High end audio equipment stirs in us the same emotions we would feel if we were exposed to the sound created live in our presence. Audio system can convey so convincing facsimile of what took place in front of the microphones that we become convinced and suspend our disbelief—we are taken THERE, to be together with the musicians. This is not a re-creation but largely a creation. However, we give our consent to be deceived by it. It's a wonderful deception.
Thus understood, the dCS system would be closest to the utopian idea of re-creating the soundstage, instruments and vocals in our own room; closer to the excitement of the original than any other digital audio component.
Wine has been provided courtesy of Michał Klamka and dobrewina.pl internet store
Kobierzyńska 139a | Kraków