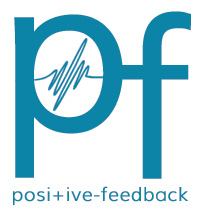 You are reading the older HTML site
Positive Feedback ISSUE 72
march/april 2014
So-Cal Head-Fi Meet Report
by Dean Seislove
Reading Tom Gibb's excellent opinion piece in this issue, "The Audiophile Forums - A Maddening Obsession!" got me to thinking about the whole high end audio docudrama, and I've decided one thing: I like trolls. The acerbic retorts, the farcical accusations, the near-hysterical defense of audio quibbles—it's like a mashup of CNN Crossfire and Basketball Wives, and entertaining as all get out (even when I'm the target of the vitriol). But Tom's main point is undeniable: none of this stale, rehashed bashing of products and personalities is likely to increase the number of potential members in the high end community or improve the quality of audio gear. I once had a math teacher who was brilliantly caustic and could cut everything down right to the bone; but after awhile, the old, sour witticisms made me glad as hell when the bell rang, and I could escape to fresh air and a blazing day.
That exhilarating rush of openness and optimism is exactly the feeling I had when attending the recent SoCal Head-Fi Meet in Costa Mesa, California. For the uninitiated, a Head-Fi meet is a Head-Fi.org event where anyone can experience headphone products brought by members (of Head-Fi.org), dealers, and manufacturers in a relaxed, participatory setting. At the Costa Mesa meet, the sizable crowd was refreshingly diverse in ways that are far more hopeful for the growth of the hobby than at other audio shows (there, the participants look pretty much like me, only more so). Nothing illustrated this point more than the fact that during a raffle of high end headphones, pricey gift certificates, and amazing software, the crowd groaned the loudest when someone else won a pair of stylish in-ear-monitors. What's more, the mood of the folks attending this meet was decidedly enthusiastic and welcoming.
As a rule, I'm the sort who asks a lot of questions, even dumb ones (which is also the rule), so I appreciated the universally patient explanations and clarifications I received from vendors, Head-fi members, and meet organizers. Attendees were polite and agreeable—yes, even in L.A.—and I was struck by the kindness shown by the act of allowing complete strangers access to one's cherished headphone system, and by the courteousness and care that people used when trying things out, with, and on.
This populist theme runs throughout the Head-Fi community, or so I'm told by headphone opinion shapers like PF's own Michael Mercer and Warren Chi, which greatly affects the ability to actually hear and experience a sampling of the literally thousands of headphones, amps, cables, and other accoutrement offered for sale and review online and in print. Some of my favorite sounds at the meet, in fact, were from equipment brought in by fellow audio enthusiasts-a classic Stax headphone from the 1980s—even the owner didn't know the model precisely—and the rare AKG W1000 (Google it, it's mind boggling!). There were Denons, Grados, and even a vintage Koss or two, and all of them offered a different brand of fun.
For the exhibitors who show for the money, however, variety is the luxury of enthusiasts, which is why most of the vendor tables sported models from Sennheiser or Audeze, or both. Sennheiser, of course, is a German heavyweight company with an established pedigree and a world-wide following. Apparently, I like their house sound, as I enjoyed everything from their Momentum on-ear model (albeit a might small for my LBJ flappers) to their flagship model, the redoubtable HD800s. The HD800s do many things well, but their main claim to excellence is the almost (some would say definitively) unbelievable soundstage. Talk about laserium for the ears! Upstart Audeze, based not too far from the meet location, has grown to be a force to be reckoned with in its own right. PF reviewers like Danny Kaye and Michael Mercer have been championing Audeze products from the beginning, and now I know why. The newest model, the LCD-X, demonstrates clearly how well headphones at this price point can approximate the tone, resolution, and musicality of premium loudspeakers. Only the Stax SR009 and the absurdly shaped (but undeniably fine) Abyss AB-1266 headphones could reasonably claim to offer better sound. Great sound could be found at a more modest (read-affordable) level in such products as the Mr. Speakers Mad Dog and Alpha Dog headphones, respectively. The Alpha Dogs were especially nice, although they had plenty of help from the Cavalli Liquid Gold headphone amp. The HiFiMANHE-500 planar magnetic headphones were quite lovely to listen to, as was one of my favorite sub $1000 headphones, the Final Pandora Hope VI headphone (review forthcoming).
I learned two things about my personal listening preferences at this meet: I no longer enjoy listening to in-ear-monitors, and I really do enjoy high quality headphone amplification. As mentioned earlier, the Cavalli Liquid Gold amplifier is absolutely stunning, but the Liquid Glass Hybrid is also fantastic, and more to my taste. Other first rate amps came from Blue Hawaii, Eddie Current, and even Nu Force, whose budget priced mono blocks did a fine job of driving the notoriously fussy Sennheiser HD800s. For those with cash to demand the very best, EAR showed the HP4 Valve Headphone Amplifier (and partnering EAR DAC) with various Audeze headphones, all to stratospheric effect. Like I say, very, very nice. This same system also showed me just how much better, open, and resolving headphones can sound with a WyWyres headphone cable upgrade. No bonus money? The Woo Audio WA7 Fireflies headphone ampsounds as good as they sayfor under a grand. Still too much? Schiit amplifiers and DACs all produced superb sound for really reasonable money; in fact, superb sound, period. If you've got a big tax refund or healthy stock dividend-they're all worth it. Amp solutions come in all forms, however, as I also enjoyed one friendly Head-fi member's DIY Bottlehead Crack OTL amplifier. Partnered with his brand new DIY DAC, the builder's statement of "high end sound at a budget price" was thoroughly plausible. Finally, the Emission Labs 20b DHT (Directly Heated Triode) tube amp, a massive construction of beautiful wood and glass, sounded perfectly marvelous driving a pair of HD800s.
The last discoveries include just how fine the various Astern & Kern high resolution digital players can sound with the right pair of headphones. Taking a different approach, a brand new "Out of Your Head" software package by Darin Fong Audio produces all kinds of digital processing magic that should thrill headphone enthusiasts and mainstream audio fans alike (expecting the Mac version for a future column). I'm sure I've left out something, but my ears are still ringing and my head's a little fuzzy from so much listening, so my apologies in advance for my inevitable gaffes and sins of omission.
To attend a Head-Fi meet one must not be a member of Head-Fi.org; there is though a modest entry fee and I encourage everyone who's at all interested in audio, both present and future, to experience one of the most welcome and positive developments in our hobby. Many of the champions of the headphone community are manufacturers, writers, and publishers from competing organizations, yet the cross pollination of ideas and experiences in their products and pages can only be a positive direction. The irony of a feature column in this magazine about the event of another online organization is not lost on me. Although Positive Feedback does cite "community" as part of its mission statement, the headphone phenomenon seems to be increasing the collaboration between other press and online entities, as well. Who would've thought that the act of listening in complete isolation would be catalyst for high end audio's reemergence into the mainstream?