ANDRE MARC'S SYSTEM
LOUDSPEAKERS
Thiel CS2.4 and Harbeth Compact 7ES3.
ELECTRONICS
Audio Research SP16 and VS55, Belles Soloist 3 and Soloist 5, McIntosh MA6600, and a Revox A722.
SOURCES
Musical Fidelity M1CDT Transport, Marantz CD5003, Squeezebox Touch with CIA VDC-SB external power supply, connected via Ethernet by Gen II Mac Mini running Snow Leopard, Western Digital and Seagate drive. Bryston BDA-1, Musical Fidelity V-DAC II, Revox A77, Kenwood KX-W8010 Cassette Deck.
CABLES
Stager Silver Solids, Kimber KCTG and Silver Streak, Transparent MM2 Plus and Super, Element Cable Silver Serenade, DH Labs White Lightening, Transparent MM2 Plus (speaker), QED Genesis Silver Spiral, Acoustic Zen Tsunami II, Transparent PowerLink, Shunyata Venom, Pangea AC-9, DH Labs Encore, ELement Cable Red Storm, PS Audio (C7), DH Labs TosLink, AES/EBU, Coax, and BNC. Kimber OPT-1 TosLink.
ACCESSORIES
Symposium Rollerblocks, Shakti Stone, Sound Anchors stands, Audience Adept Response aR6 power conditioner, Cable Pro Noisetrapper, Salamander rack.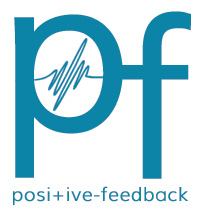 You are reading the older HTML site
Positive Feedback ISSUE 72
march/april 2014
kingrex
UPower and uArt Y USB Cable
as reviewed by Andre Marc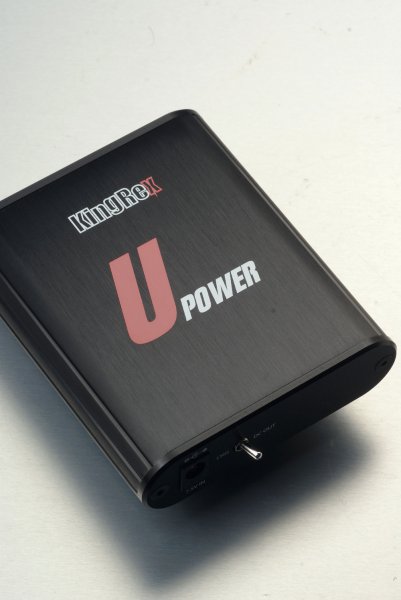 Taiwanese company KingRex has established itself as of late as a purveyor of innovative, affordable, and highly regarded components in a variety of categories. A quick look at their website and you will see amplifiers, headphone amps, preamps, speakers, cables, DACs, USB converters, and power supplies. You can actually assemble a complete audio system with KingRex products, from soup to nuts. KingRex is also an OEM manufacturer, supplying many parts and modules to other manufacturers.
Their UD384 portable USB DAC has been quite a hit, with many positive pro and amateur reviews globally. I was given the opportunity to take a listen to their uArt Y USB cable and the UPower battery power supply. The products come beautifully packaged, and with well written product literature. The uArt cable is $599, and the UPower is $199 at time of publication.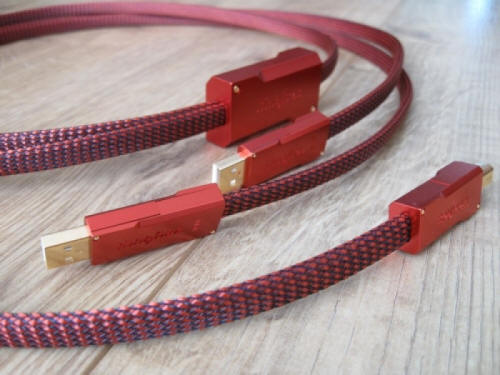 As the name suggests, the cable has separate power and data leads. It is extremely well built, and quite attractive with red aluminum connector shells, which have gold plated copper alloy contacts, and a nice textured red outer sheath. KingRex also says the cable is cryogenically treated. The conductors are reportedly silver plated oxygen free copper sourced from WireWorld. There also seems to be some sort of resonance control purpose to the middle shell from which two of the connector leads emerge.
As I understand it, the best use of the UPower would be with a hub powered USB device, either a converter, or stand alone DAC. However, I have been told by a few computer audiophiles far more knowledgeable than me, that anything you use with the KingRex cable should sound better if you use power from the battery, even in the case where the connected device has its own power and does not rely on bus power. This is because it will break the common ground with the source, and only get data from the computer. All USB conductor lines are subject to contamination from the computer (even the data line +/-), so the ground and V+ will come from the quiet battery and only the data line +/- has the potential for some infection from the computer. This will all be system dependent.
Some devices that are not bus powered still require as part of their controller chip's USB handshake initialization process the presence of +/- 5 V and a ground reference or they won't work. So it's entirely possible that some devices won't operate if connecting only the data end of the KingRex dual head cable, it might require both heads to be connected; at which point the battery will outperform the computer due to a quieter more tightly regulated voltage, and clean low impedance ground reference.
Following the user manual, I made very sure the toggle switch on the UPower was pointing towards, "charge", and plugged in the supplied wall-wart power supply. When fully charged, I connected one end of the Y cable labeled for data into both the source and DAC, and the other end with the battery symbol in to the UPower.
I first used the KingRex cable and power supply with two Marantz products, the superb NA-11S1 file player, streamer, and PCM/DSD DAC, and the SA-114S1 SACD player & PCM/DSD DAC. I also used it with the fantastic Simaudio Neo 380D DAC. My findings below are blended from my impressions with all three. I did not have any bus powered devices on hand. So this was going to be a test of the above theory that even non bus powered devices would benefit.
Other moving parts included a Windows 7 laptop with JRiver 19, with FLAC files on an attached external 1 TB drive. I had files of every resolution known to man, from 44.1kHz to DSD. I started with Redbook, CD quality rips and moved on from there. I initially used my DH Labs USB cable, my usual reference, an excellent overall performer at roughly around $100 for a meter.
FIrst impressions when switching over to the KingRex combo? A bit stunned at the absolutely quiet backgrounds, I mean black as black can be. Soundstaging was more precise and individual instrumental images seemed to float free of the speakers. I was thinking to myself, "possible game changer". If the UPower could make this much of a difference when using a computer with a device equipped with a high quality linear power supply, then imagine the difference when using a device that requires the computer for power.
As I progressed through various musical reference material I was really taken aback at how the KingRex cable and UPower were allowing me to differentiate between different masterings of the same material, like the Grateful Dead HDCDs, and the recent 192kHz, 24-bit remasters. The high resolution remasters from HDTracks were superior, although the HDCDs held their own. DSD sounded absolutely incredible via the Marantz and KingRex rig. Beyond description really. I donít have a ton of DSD files, but the small amount I have are stellar. I especially recommend the High Definition Tape Transfers DSD files. They are pretty remarkable.
I also highly recommend singer songwriter David Elias, one of the only pop musicians to embrace DSD as a native recording format. He offers a number of free downloads on the Oppo website, where you can directly compare 44.1, 88.2, and DSD. Quite eye opening. The music is great, and so is the sound. The Marantz units and the KingRex duo made me a believer in its ability to resolve very fine detail, and retain the full body and tone of voices and acoustic instruments.
Having spent a several months with the KingRex uArt Y USB cable and UPower I have to say the pair is very, very easy to recommend, even for non hub powered devices. It seems they left no stone unturned in regards to quality. Build is beyond reproach, and the cable is attractive. The UPower is sturdy. By the way, I never ran out of juice on the uPower during my listening sessions, which averaged about two hours. I did make sure to charge the unit after two or so sessions. Your mileage may vary.
Overall I really enjoyed using the KingRex uArt Y USB dual lead cable and the UPower module. They improved the sound, in my case, with non hub powered devices, probably due to reasons discussed above. There are similar options on the market, but for far more money. If you use a computer as a digital source, you owe it to yourself to take a listen to both these products. Well done KingRex. Andre Marc
uArt cable
Retail: $599
UPower
Retail: $199
KingRex
www.kingrex.com