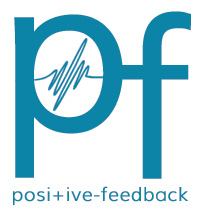 You are reading the older HTML site
Positive Feedback ISSUE 72
march/april 2014
Sonic Upgrades for Sony's HAP-Z1ES High Resolution Audio Server
by Brian Moura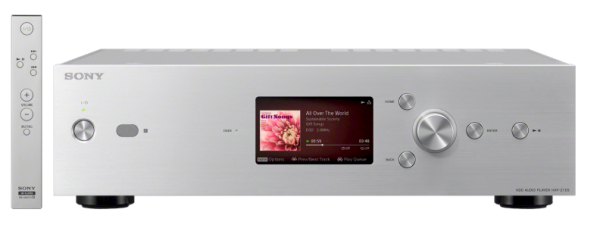 Sony Jumps into High Resolution Audio, Launches the HAP-Z1ES Music Server
Last September, Sony Electronics brought High Resolution Audio into their Audio Product Line with the announcement of several new products including a top-of-the-line Stereo Music Server, the HAP-Z1ES that retails for $1999.99. The HAP-Z1ES is designed as a turnkey music server that includes 1TB of hard disk storage, a built-in color LCD display to show album/song information and graphics, a big dial that lets you navigate from song to song, a remote control and an app that lets you control the server remotely using an Apple IOS or Android tablet. It promises to bring ease of use and quality sound to the world of computer audio and music servers.
The HAP-Z1ES music server plays a host of music file formats including FLAC, ALAC, AIFF, WAV and both Single Rate DSD (DSD64) and Double Rate DSD (DSD128). It converts all music formats to Direct Stream Digital (DSD) through a "DSD Remastering Engine" that is said to improve the sonics of all music files. It also has a USB connection that allows the addition of an external USB Hard Disk to add to the 1TB internal hard disk storage on the server.
Sony backed their High Resolution Audio initiative with a new co-op web site (http://discover.store.sony.com/High-Resolution-Audio/) and advertising dollars to boost awareness of their music server hardware as well as 6 partner music download sites (Acoustic Sounds Super HiRez, Blue Coast Music, HD Tracks, iTrax, NativeDSD.Com and Pro Studio Masters) to provide material for the new High Resolution Audio products from Sony Electronics. This was followed up a month later by the formal launch of the web site and demonstration of these Sony Electronics products at the Rocky Mountain Audio Festival in Boulder, Colorado.
The Next Step – Modifications and Sonic Upgrades
Readers of Positive Feedback know that when audio gear offers a combination of good sound and popularity in the audiophile community there is often demand for some of the high end audio firms to jump in and offer modifications to further enhance the sound of these products. Examples of popular audio products that have seen audio modifications over the years include several Sony SACD players (SCD-1 and SCD-777ES) and the Oppo Blu-Ray/Universal Disc Players (BDP-8x, 9x, and 103/105 products).
It is fair to say that reviews of the HAP-Z1ES have been very positive and sales have been strong. Not surprisingly, this has led to requests for sonic upgrades for the unit from audiophiles and music fans alike. Responding to this interest, two companies—Dan Wright's Modwright and Vinnie Rossi's Red Wine Audio—have recently stepped up to announce the availability of sonic enhancements and modifications for the HAP-Z1ES in April 2014. A third company, Ric Shultz' Electronic Visionary Systems will be following in May with another set of sonic upgrade choices.
Modwright is offering a modification to the HAP-Z1ES music server that will sell for $2995 (regular price) and $2495 through the end of April, 2014. The first upgrades shipped at the end of the first week of April 2014 with new orders being accepted for work starting on April 28, 2014.
Red Wine Audio offers two levels of modifications for the HAP-Z1ES with a third level under development. The third level will feature Red Wine's Black Lightning LiFePO4 battery power supply. Red Wine is also offering introductory pricing on their upgrades through the end of April 2014. Red Wine has their Level 1 modifications at $1495 ($1195 through April), Level 2 modifications at $2250 ($1995 through April) and Level 3 modifications at $2995 starting towards the end of April 2014. (Worth noting, Vinnie is so pleased with the upcoming Level 3 upgrades that he claims a Sony HAP-Z1ES with Level 3 mods bests the sound of Red Wine's own Bellina Pro DAC!)
Electronic Visionary Systems (EVS) is also developing sonic upgrades for the HAP-Z1ES. They are targeting early May for availability and final pricing of their modifications. At this point, it looks like a Level 1 EVS mod will go for $400, a Level 2 EVS mod will cost around $800 and the Level 3 mod is yet to have an estimated price.
All of this presents current owners of the Sony HAP-Z1ES with some very interesting choices. The music server that you may have recently acquired now has the potential to sound even better. If you're in that spot, be sure to check the details and information on the sonic upgrades being offered.
One Little Problem…
Here I should mention that there is one little problem at the moment in all of this. To get an upgraded and modified Sony HAP-Z1ES music server, you first have to find and buy one.
While this shouldn't be difficult, the positive word-of-mouth and reviews on this music server have led to back order status at most dealers and sellers of the HAP-Z1, including Sony's own High Resolution Audio web store! In fact, as Modwright prepared to show off their upgraded edition of the HAP-Z1ES at the upcoming Axpona Audio Expo in Chicago in late April, they too spent some time searching for a new server to upgrade.
As this article was being prepared, Amazon.Com had about 15 HAP-Z1ES servers remaining with other stores promising that new stock would be available in the near future.
Congratulations go to Sony for such a popular and well thought out product. And to Modwright, Red Wine Audio and soon EVS for taking a full featured and reasonably priced high resolution music server to the next level sonically. It bodes well for the continued growth of High Resolution Audio, something we can all applaud!
Sony High Resolution Audio Web Site
http://discover.store.sony.com/High-Resolution-Audio/
Modwright Announces Mod for Sony HAP-Z1ES
http://www.audiocircle.com/index.php?topic=124908.0
Red Wine Audio Mods for the Sony HAP-Z1ES
http://redwineaudio.com/mods/rwa-z1es-x
Evolution Audio Systems Mods for the Sony HAP-Z1ES
http://www.tweakaudio.com/EVS-2/Mods_to_Sony_HAP-1ZES.html