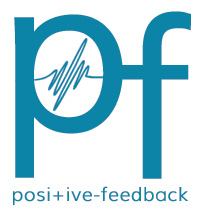 You are reading the older HTML site
Positive Feedback ISSUE 72
march/april 2014
synergistic research
UEF Tuning Circuits and Transporter SE Ultra
as reviewed by Robert S. Youman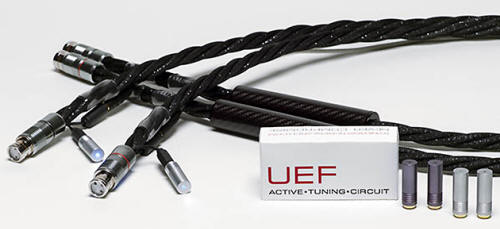 It's been a wonderful journey evaluating the various Synergistic Research products. There have been a few upgrades and additions along the way—all in a very systematic approach. My evaluations followed a very slow deliberate process so that I could clearly hear and understand the differences. Each step provided significant improvements in sound quality. This realization continues with the following review.
The first step was the implementation of the Element CTS wire throughout my system. This includes the Element CTS interconnects, speaker cable and power cords. The second was the implementation of the Powercell 10SE MK III power conditioner. Please see my Positive Feedback reviews on each. These products provided an incredible level of transparency, detail and speed to my system without compromising other important variables. Let's continue with steps three and four.
Review System
Magico Q7 Speakers
Vitus Audio RI-100 Integrated Amp (w/Phono Stage)
Playback Designs MPS-5 CD/SACD/DAC
VPI Aries Extended Turntable
VPI 12.6 Memorial Tonearm
Van den Hul Frog Cartridge
Synergistic Research Element CTS Power Cords, Interconnects and Speaker Cable
Synergistic Research Transporter SE MK III
MIT SL-Matrix50 Interconnects and SL-Matrix90 Speaker Cable
Magico QPod Footers
Caveat Emptor
System synergy and personal taste are critical when evaluating high-end audio products. This review is based on my subjective requirements, my subjective ears, and my specific system and listening room. These combinations of components are obviously only a few data points of many that exist out there. For further insight into my personal biases, check out the "Meet The Writers" section of Positive Feedback. Please consider my comments and analysis in the light of this framework.
UEF Tuning Circuits
As many of you may know through several reviews and trade show reports, Synergistic Research has been rolling out a series of new products based on their UEF (Uniform Energy Field) technology. This includes their HFT (High Frequency Transducer) and FEQ (Frequency Equalizer) products.
UEF is a proprietary technology that cleans up the high and low frequency noise that can distort the many layers of harmonics in a musical signal. For more information, please see the postscript below and the referenced link. No need to go into all the details here. The important thing is that the proof is in the pudding.
Step three in this adventure began with a friendly phone call from Peter Hansen, Vice President of Marketing at Synergistic Research. Peter is a fairly cool, calm guy. Very responsive. Very professional. But on this day the level of energy and excitement in his voice was difficult to hide. I was soon in the same state of mind. See below.
Peter's message: UEF technology has now been ported over to the tuning circuits used in their active shielding functionality for all their wire products. You may be familiar with the original Enigma tuning circuits or bullets. The Enigma bullets allowed you to tune the sound of your wire needs from open and airy (silver), to warm and rich (black), or to a hybrid of the two (grey).
The new bullets are called "UEF Tuning Circuits" (appropriately). Silver and gray flavors are now the only two options - black has been dropped as not necessary. You can now upgrade the Enigma bullets in all of the Synergistic Audio legacy products—all the way back to the TESLA series.
Is the $150 you need to shell out for a pair of bullets (one silver and one gray) worth the investment? Friends, if you have Synergistic Research wire, this is a no brainer! Please check with Synergistic Research first to make sure your components are compatible, but again, this is an inexpensive upgrade offer with tremendous results.
I will keep it brief. The word that keeps coming up in my notes is "dimensionality." Again, we are getting all the detail and speed as before, but now there is an additional level of texture, fleshed out harmonics and roundness. Bloom and weight subtly feel more appropriate and correct. Exciting stuff! Just another palpable-compelling step towards the real thing, for less than the cost of a few new records and SACDs.

Transporter SE Ultra
Step number four arrived at my door three weeks later—the Transporter SE Ultra. The pilgrimage continues.
Active shielding is a key component of all Synergistic Research wire design since the TESLA series. Active shielding reduces the effects of reactive capacitance, RFI (Radio Frequency Interference) and EMI (Electromagnetic Interference).
In the past, the power for this functionality was provided by the standard Mini Power Coupler (MPC) which is basically a wall wart. Two are included for each pair of interconnects, two for each pair of speaker cables and one for each power cord. Essentially each wire run gets its own MPC.
Don't get me wrong, the standard MPC did a fine job, but like any first generation product, it was a prime candidate for upgrade. The Galileo MPC ($400) hit the market a few years ago and provides that in spades for both design and performance. Internal changes include capacitor, circuit board and diode upgrades. Quantum tunneling is used on primary and secondary winds. Bottom line: this is a whole new MPC!
Friends have brought over one or two Galileo MPC's for trial (not enough for my entire system). The improvement in sound was not subtle. I will not get into a detailed analysis of what the Galileo MPC can deliver, or do a Galileo MPC verses Transporter comparison. Let's just say that the same variables were affected as described below for the Transporter: just significantly more when using the Transporter. The Galileo MPC remains a nice upgrade option when you have just a few Synergistic Research cables in your system. I just wanted you to know that there is some flexibility in your upgrade choices.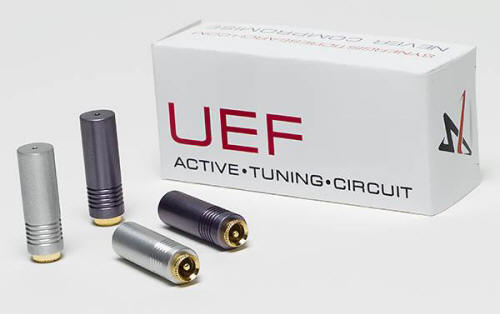 The Transporter Ultra SE ($2895) is a consolidated solid-state power supply for active shielding that will support your entire system of Synergistic Research wire. The Transporter eliminates all the wall warts or MPC's, and, as stated above, it provides improved performance even over the Galileo MPC. This centralized supply also affords a nice clean aesthetic and wire dressing solution—especially in a very large system.
The Transporter Ultra SE is a one-box design that has two solid state power supply transformers for all active shielding needs. One set of 14 outputs for AC power cords and one set of 20 outputs for interconnects and speaker cables. This isolates the two functions and allows for plenty of room to grow and support a fairly large system of wire. It also includes three SR20 Quantum fuses ($70 each) and a six foot Element Tungsten power cord which is a $900 item on its own. Again, all are included in the $2895 price.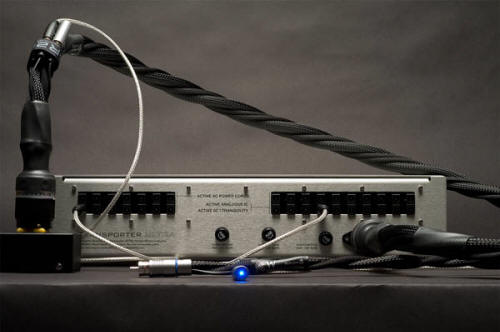 Sound
Right off the bat, it was easy to hear an impressive improvement in noise floor and a much blacker background. This allowed for a dazzling amount of additional articulation and dynamic attack to come through. Resolution and inner detail was now the best I have heard in my system.
For many very familiar recordings, the air and space around each voice and instrument was now even more tangible. I was giggling and sighing throughout my time with the Transporter. I thought it could not get better, but I should have known better. I love this hobby! I love to be surprised. I love when my assumptions are decimated.
Remarkably, complementing these improvements was a more natural and organic feel to the sound. A certain level of edge and grain was now removed—not that I noticed it much before. As I have said in several other reviews, the Vitus RI-100 Integrated Amp and Magico Q7 speakers are the most revealing audition tools that I have ever experienced. These two components once again helped me sort out and verify what I was hearing.
Music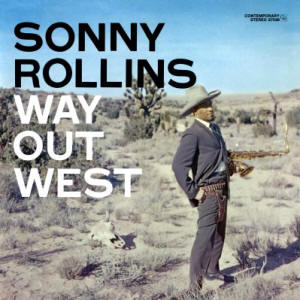 Sonny Rollins, Way Out West
The XRCD reissue of this recording is my favorite digital offering of many out there. I prefer it over the Japanese and Analog Productions SACDs. Despite the stereo left/right recording and no center fill - this version is still very rewarding with a slightly warmer balance and a touch more ambiance.
Recorded in 1957, Rollins teamed up with Ray Brown on bass and Shelly Manne on drums. The esteemed Lester Koenig produced. The session was recorded at 3 A.M. in the morning to meet their busy schedules. For the first time, Rollins utilized a technique called "strolling" where he soloed over the bass and drum with no piano on chords. In general, performance and sound quality both receive very high marks.
The first track, "I'm an Old Cowhand" is much more than a humorous rewrite of an old cowboy song. Somehow the trio make this essential listening as their interactions really take off and cook when all three kick in after the intro.
The obvious audiophile stuff like the opening clip clopping beat by Manne on drums and the deep closely miked blasts from Rollins on saxophone become much less tricked up and much more real with the Transporter in place. Manne's strikes on the metal edge of his drums are clearly delineated like never before. The inner detail and bloom of Rollins breathy taunts on sax are much more vivid than I remember.
One thing that always bothered me about this cut and the entire recording for that matter is the bass track. To my ears, it is consistently muddled and in the background with very little impact. The Transporter pulls the bass out of the murk and into the front fold for the first time. This newly found weight and slam provides much more balance and musical enjoyment.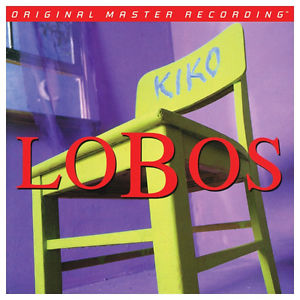 Los Lobos, Kiko
Mobile Fidelity continues to amuse and entertain with their newest SACD reissues. I wrote lovingly of their new Dire Straits Brother in Arms SACD. The Los Lobos Kiko SACD is another must-buy.
Los Lobos is one of those intelligent multi faceted bands who have managed to bring something new each time to the table. Having said that, they still manage to stay loyal and inspired by their Mexican roots on all their releases. After initial success with their early albums like How Will The Wolf Survive (1984), By The Light Of The Moon (1987) and The Neighborhood (1990), Kiko was released in 1992 to much fanfare. The Chicago Tribune, L.A. Times and New York Times proclaimed the disc a masterpiece. The Wall Street Journal compared it to Sgt. Pepper's Lonely Hearts Club Band."
"Saint Behind the Glass" (track 6) is a delightful mix of Mexican folk music with a touch of jazz and a slow traditional ballad like undercurrent. David Hidalgo (lead guitar) mentioned in several interviews that many of the cuts on Kiko were inspired by Duke Ellington and other classic jazz composers.
Three things make this track stand out with the Transporter in the system. Louis Perez (drummer) does not take the lead vocal role very often, but this time his angelic voice stands front and center with more focus and clarity than ever before. Makes me wonder why he does not take the microphone more often.
The other highlights are the solos provided Fermin Herrera on his Veracruz Harp and Conrad Lozano on Guitarron. I have seen Los Lobos live and I was very surprised when seeing the harp brought out on stage for this song. I always thought it was some type of mandolin on my original CD. With this reissue and the Transporter, there is no confusion. This is a harp and it is quite lovely and delicate and realistic. The Gutrarron rides along with a crisp immediate likeness that was never realized before. Very engaging!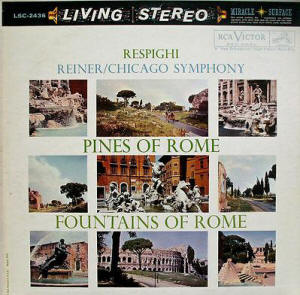 Pines of Rome, Fountains of Rome - Respighi - Reiner - Chicago Symphony (Analogue Productions RCA Living Stereo SACD)
This 1960 release is another of the legendary RCA Living Stereo "Shaded Dog" recordings. A favorite of Harry Pearson and Sid Marks. If like me, this new Analogue Productions reissue will probably end up being one of several in your collection - CD, SACD and vinyl. It is such an engaging recording for both sound and performance that it is well worth the never-ending investment and effort to discover even more.
I was a never a big fan of the original RCA CD and SACD reissues. Compared to my original pressing LP and the Classic Records LP, these digital releases just did not have the proper weight and dynamics. They continue to gather dust on the shelf. This SACD is a keeper. Very close to the vinyl experience mentioned above, with a slightly warmer richer presentation (if you can believe that for digital). Can't wait for the Analog Productions LP reissue!
The back story is very interesting from an audiophile perspective. The RCA recording team of Richard Mohr and Lewis Layton pushed the boundaries beyond the breaking point on the master tapes. When the original vinyl release (1S stamper) was sent to radio stations for review, most cartridges could not handle the dynamics. More often than not the tone arm and cartridge would just jump out of the grooves. A second release (5S stamper) was issued with the dynamics slightly re-engineered and all was functionally well again, but of course the sound was not as extraordinary. The good news is that the original can easily be handled by today's newest arms and cartridges to all its intended glory.
I'm a Chicago guy and I feel very fortunate that I have experienced this world class orchestra under the guidance of several historic conductors. One thing that rarely comes through on record is the unmatched power and presence of the CSO brass section when heard up close and personal. With the Transporter in place, we get the proper blat and visceral impact without the edge and ruthless zing that digital brass almost always presents.
You are in for quite a ride of thrills with Respighi's Pines of Rome. The final movement "The Pines of the Appian Way" is especially enthralling. There is a level of finesse and sensitivity that begins this track without tipping off what is yet to come. Bass drums, oboes, clarinets and horns are brilliantly defined and locked in from left to right. As momentum continues to drive forward, the piece ends with one of the greatest crescendos in all of classical music as the entire orchestra and stage erupts. The power and the majesty are absolutely glorious. Talk about passion and emotion! This is what our hobby is all about!
Summary
Some folks like to say that there has not been much innovation in the high end audio market. Every new and exciting announcement or new product buzz in the industry is typically nothing more than an old school circuit design with better parts or materials. Synergistic Research's implementation of their UEF (Uniform Energy Field) technology andactive shielding in general are very different from the norm.
The new UEF Tuning Circuits are an inexpensive upgrade with fantastic results for most of their legacy products that utilize active shielding. The Transporter SE Ultra is another upgrade that will open your eyes and ears to new levels of transparency and resolution. Both are highly recommended!
Postscript
UEF (Uniform Energy Field) technology, the HFT (High Frequency Transducer) and FEQ (Frequency Equalizer) have been generating plenty of discussion on the various Internet sites. Just before publication of this review, Synergistic Research posted additional information on their website in response to the many questions concerning the related technologies and products. Please see the following link. Robert S. Youman
UEF Tuning Circuits - One Silver & One Gray
Retail: $150
Transporter SE Ultra
Retail: $2895
Synergistic Research
17401 Armstrong Avenue
Suite 102
Irvine, CA 92614
(800) 578-6489
Outside of USA phone: (949) 476-0000
www.synergisticresearch.com