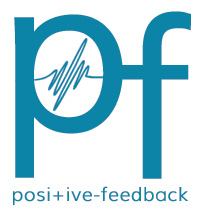 You are reading the older HTML site
Positive Feedback ISSUE 72
march/april 2014
Vermöuth Audio's Black Pearl MkII Interconnect and Red Velvet Speaker Cables
text and images by Wojciech Pacuła, translation by Andrzej Dziadowiec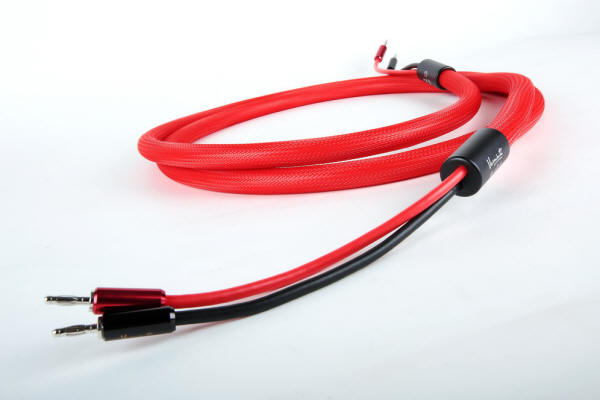 Dissonance is defined as a combination of sounds or musical notes that are not pleasant when heard together (Cambridge Online Dictionary). Dissonance in poetry is the deliberate avoidance of assonance, i.e. patterns of repeated vowel sounds. In psychology, the term cognitive dissonance is used to describe an uncomfortable feeling that comes from believing or thinking two different things that cannot both be right. This mental conflict occurs when beliefs or assumptions are contradicted by new information. When confronted with challenging new information, most people seek to preserve their current understanding of the world by rejecting, explaining away, or avoiding the new information or by convincing themselves that no conflict really exists. Cognitive dissonance is nonetheless considered an explanation for attitude change (Merriam-Webster Online Dictionary).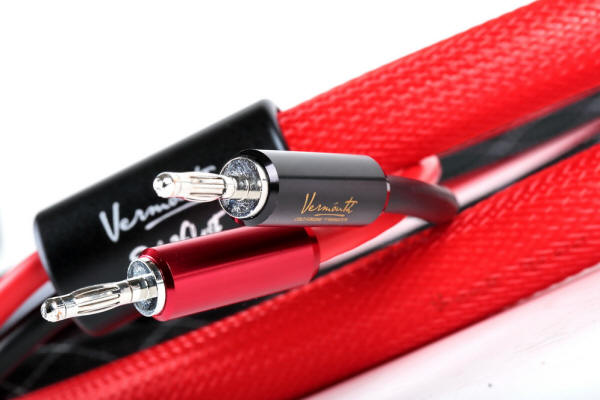 Looking at cables from Hendri Ramli we experience exactly this kind of discrepancy between what we see and what we know about audio cable prices. Their build quality is flawless. While PVC mesh finish has been known and commonly used for years, its quality and method of application vary between manufacturers. Hendri made the most of its advantages and his cables look better than most products from well-known, large cable makers. This impression is heightened by his choice of absolutely great connectors. We find a similar quality in a small group of very expensive cables from the manufacturers that know its importance. To put it briefly, what we see here in no way corresponds to our knowledge of how much it costs. Even though both cables are the flagship products from this manufacturer, together they sell for less than 800 USD.
In audio, we are used to other standards. It may be that micro-manufacturers from countries that have not so far been associated with audio—including Poland and Indonesia—have to try harder and settle for lower profit margins to attract attention. All the better for us, the customers.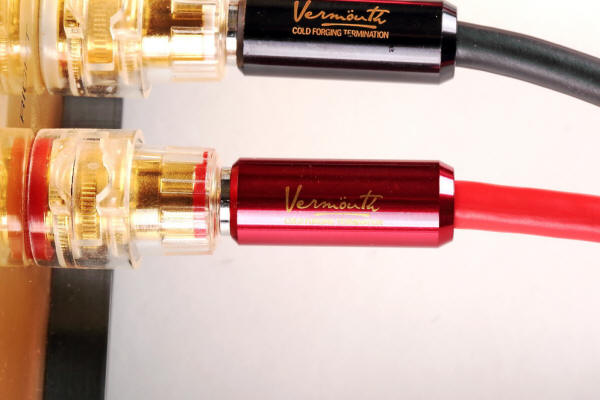 Hendri's company, Vermöuth Audio, was founded quite recently, in 2010, and is headquartered in Bali, Indonesia. As we read in the company literature, it started as a small audio store selling high-end loudspeakers, cables and acoustic panels. Hendri, its owner, says that it was his customers who encouraged him to start a regular manufacturing business and dedicate his time and efforts to that one job. As he writes: "Here at Vermouth we are dedicated to provide an affordable uncompromised quality in high-end audio equipment." His main products are audio cables. Current lineup also includes speaker and line connectors as well as an integrated amplifier. The amplifier has classic looks and does not stand out from other products of this type. Connectors and cables, on the other hand, look simply stunning, especially those from the more expensive series—the Red Velvet and Black Pearl MkII. I have never before seen anything like it for that kind of money.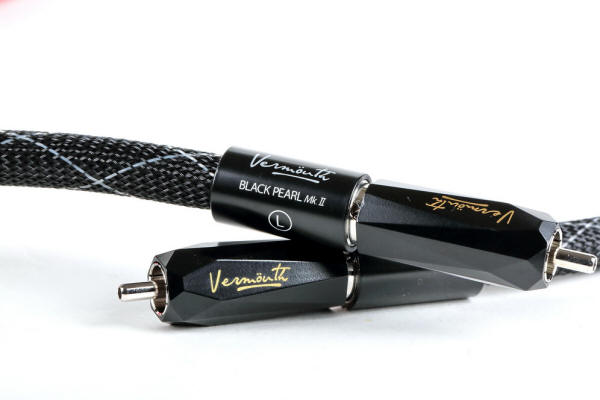 The plugs are made of rhodium-plated tellurium copper. I have seen the same exact components used in the more expensive connectors from Japanese Acrolink, and it works! The conductor to plug interface is crimped, which looks very professional and guarantees a hassle-free long lasting operation. The RCA plugs are of the screw locking type and feature manufacturer's logo and series name on an additional collar that strengthens the entire structure. They are very easy to use and look excellent. The interconnect uses solid core and multi-size UPOCC (Ohno Continuous Cast) copper conductors, wrapped in cotton and high quality Teflon air tubes. This combination aims to improve their electrical and mechanical characteristics.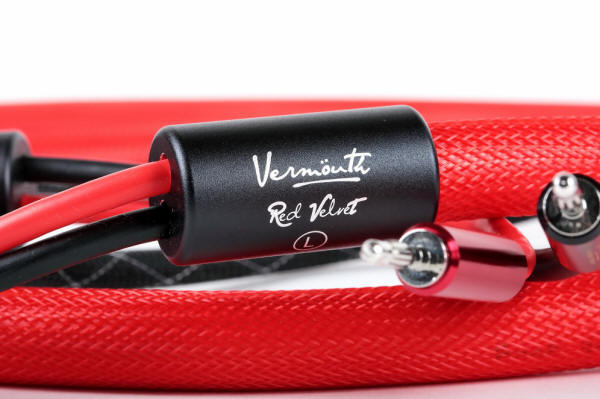 The Red Velvet speaker cable is a further development of the less expensive Black Curse cable. It employs hybrid multi-size UPOCC conductors in Teflon Air Tubes. They use noise rejection paper wrap & soft stranded cotton to protect cable from interference. The plugs look equally professional as those used in the interconnects. They too are made of rhodium-plated tellurium copper and are available as banana or spade connectors. It is also possible to order jumper speaker cables using the same wire and connectors to use with bi-wire speaker terminals.
A Few Simple Words from…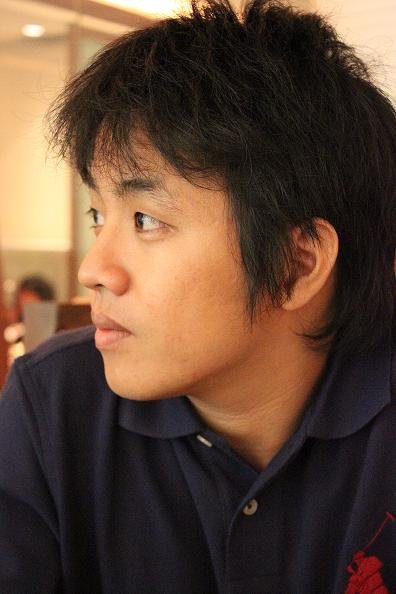 Hendri Ramli | Vermöuth Audio – owner, designer
It all began when my curiosity and passion towards sound engineering and audio pushed me into action. I was at a university doing mechanical engineering when I first built my own loudspeaker. From my memory, it was a pair of very simple loudspeakers and from the heart perhaps biased with my joy of building my first loudspeaker, they sounded beautiful. Unexpectedly that year was the year where I received my first order, and that changed everything.
I went back to my hometown in Sumatra to open a small audio shop selling several branded items whilst working on my DIY loudspeakers, cables and tweaking devices. Lucky to have numerous customers entrusting their broken audio gear for repair and upgrades, I learned a great deal about the technical aspects of audio equipment in general. Day by day had gone and the amount of customers' suggestions to build my own brand gotten stronger. It rang in my mind every day and one day I decided to step up and take the risk.
Vermouth Audio was born out of well-planned concepts, vision and mission. It was the inspiration of my customers in having affordable, attractive and great sounding equipment which pushed me forward. I spent countless nights and days to achieve that dream of mine. I also failed countless times and at some point I was close to give up. Every time I tried to improve the performance, the cost involved always prevented me from moving forward. At the verge of desperation I refused to give up and kept trying. Finally, I came up with my first two interconnects that sat on 150-250 USD price range, and surprisingly the customer feedback made all my hard work pay off. Domestic audio magazine reviews started to flow in slowly. My cables have always been a benchmark in terms neutrality. I personally think that a cable should have no own character in order to fit in any audio system.
Based on that design philosophy and hard work, demand has been growing over time. The more orders I receive the more competitive pricing I can offer. Some companies will increase their price as their brand gets to be known better, however I decided to pursue a different path. Our price will remain as competitive and affordable as possible regardless of our brand popularity.
Our first phenomenal achievement came from the Red Velvet line. The cables garnered many outstanding reviews worldwide being compared against their more expensive competitors.
As of today, Vermouth Audio has a much wider and far more complete product lineup, compared to the day we started. Our focus isn't just local anymore and we are aiming for the world market. Of course having said that, we will not ignore our domestic market as we know that's where everything started and where I come from. It will always be our identity and will remain important to us forever.
Sound
Albums auditioned during this review
• J.S. Bach, Sonatas & Partitas. Vol. 2 BWV 1001-1003, Isabelle Faust, Harmonia Mundi HMC 902124, CD (2012).
• Chet Baker, Chet Baker with Fifty Italian Strings, Riverside/ZYX-Music OJC20 492-2, Original Jazz Classics, CD (1959/?).
• Chet Baker, Chet Baker with Fifty Italian Strings, Riverside/JVC VICJ-60513, Heritage of Jazz – II/Riverside 50 [43], K2 Mastering, CD (1959/2000).
• Depeche Mode, World in My Eyes, Mute Records CD Bong 20, SP CD (1990).
• Chet Baker & Art Pepper, The Route, Pacific Jazz/Capitol CDP 7 92932 2, CD (1989).
• Art Tatum, Piano Starts Here. Live at The Shrine, Columbia/Sony BMG 8697-22218-2, Zenph Re-Perfomance, SACD/CD (2008).
Reviewing cables is somewhat different than auditioning speakers and electronics. Changes introduced by various cables are as noticeable as those resulting from swapping other system components, but the characteristic of these changes and hence their perception is different. The point is that listening to some speakers and comparing them to reference (speakers) we notice changes that have a large "local amplitude", to use a grandiloquent and not fully comprehensible phraseology (I used to read a lot of post-modernists and it left its mark on me...). Going from one pair of speakers to another is manifested at once in large and clear differences. They can be auditioned in longer-running sets and our verdict usually does not change by the end of the audition. We gain new information and knowledge, but our perception of them is "set" within the first few minutes. Hence, the tendency is to rely on conclusions that are reached after long auditions. The situation is different when it comes to cable. Their "local amplitude" is low, which requires short sample tracks and fast transitions between them to understand the character of changes. Listening to them in long lasting sets will help us know whether the changes they bring are acceptable to us and whether we like them, but will not inform us of their character. The longer we listen to them the more precise our verdict, but its foundation is based on short comparisons. Let me repeat: the volume of changes introduced by e.g. speakers and cables is similar, but their character is different. As a result, the testing method must also be different. This includes limiting the number of auditioned albums, or actually album tracks. The reviewer must choose the minimal number of tracks and then to carry out as many as possible A/B/A comparisons.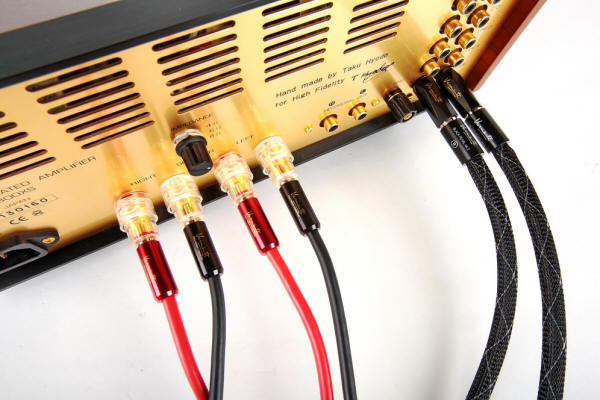 Hendri's cables are relatively simple to rate as their tonal balance, as a set, is significantly different from the set consisting of the top Siltech and (nearly) top Tara Labs in my reference system. The tonal balance is shifted upwards and the treble has significantly more energy. It is not difficult to notice their narrower tonal range and realize that their sound is less rich in tone and decay. I would also add to that list an inferior bass control.
If someone says, writes, or as much as suggests that you get top high end audio for little money, they are lying to you. Or to themselves. Or they are deaf. Actually, all these things often go hand in hand. But I understand those who describe the changes brought about by cables in the context of similar changes showed by very expensive cables. Such an assessment makes sense and constitutes a valid a claim concerning their similarities, common advantages and similar objectives.
From this perspective, the Vermöuth cables overwhelm the listener right from the start with their finish quality that might suggest a very high price. Their audition leads to interesting conclusions. Their most important characteristic is outstanding resolution. This aspect is rarely pointed out at this price point, as it is usually the Achilles heel of low and medium budget components. The system from Indonesia does a beautiful job at differentiating recordings—and differentiation results directly from resolution. Additionally, it does it in a way that adds to, rather than detracts from, our listening pleasure.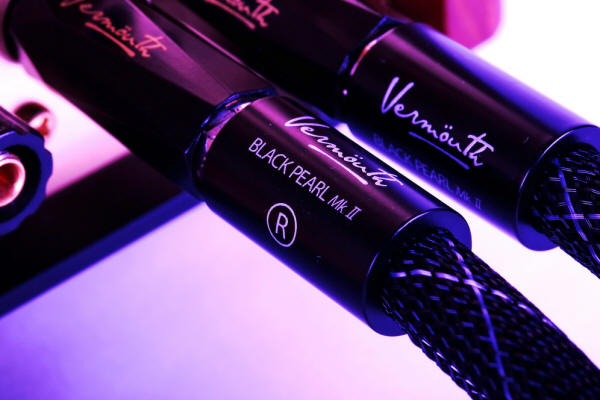 On the other hand, the cables are not overly selective. I remember that a few years ago I was asked by Andrzej Kisiel, chief editor of Polish Audio, about my understanding of the difference between selectivity and resolution. My answer was that selectivity is the ability to separate different sounds so that they do not get blurred or mask each other. It usually involves clarity and purity. Resolution, on the other hand, is the ability to show textures and tones, dynamics changes and links between particular sounds. While there can never be enough resolution, selectivity should be administered with caution as its excess can destroy music.
Inexpensive cables almost always have a high selectivity as it is quite easy to achieve. And they almost always have a low resolution. That is why the cables from Indonesia seemed so interesting to me and I decided to review them. They beautifully conveyed the most important aspect in music—changes. Below are some examples.
Firing up a CD with Bach's Sonatas and partitas performed by Isabelle Faust I really had no idea what kind of instrument the violinist used. Yes, I should have known that as she is a great artist. I will try to catch up. In any case, the first few bars of music were enough to tell that she was playing a fantastic instrument. A quick glance at the CD booklet confirmed my instincts—the violin turned out to be a genuine Stradivarius owned by the artist. The Indonesian cables lit up the sound that resulted in more treble than on my cables but they did not miss anything in its "description", capturing its very essence that was the richness of harmony, decay and depth of sound.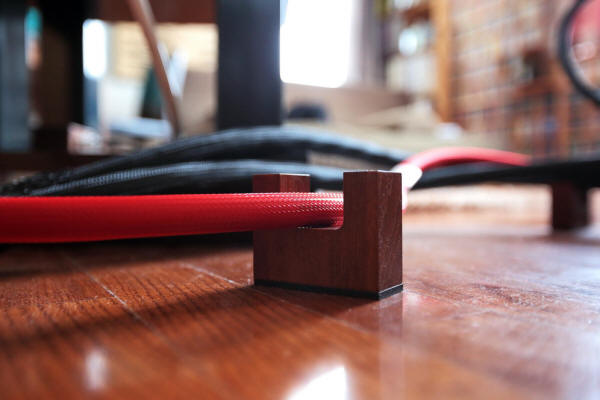 I also drew immediate conclusions from the comparison of two releases of the same album, Chet Baker with Fifty Italian Strings, released by ZYX-Music in the Original Jazz Classic series and by JVC in the series Heritage of Jazz by Digital K2. The former is not listenable, provided we know the latter. Hendri's cables showed that it resulted from over-emphasizing the bright sonic aspects to the exclusion of depth. They did not add anything in particular on their own, but they nicely showed what those differences are.
Lots of treble necessitates a careful choice of the system to use the Vermöuth cables. Starting with the Clones Audio 25i and the likes, through Sugden components, and ending with the Japanese SPEC—these would be the ones to aim for. As far as speaker choice is concerned, it would be Spendor rather than B&W and Sonus faber over KEF. The cables do not sound unpleasant in any way. Their resolution and clarity makes them interesting, as is the music listened to on them. However, their tonal balance is what it is and that fact needs to be taken into consideration.
If we take a proper care of that, it will be difficult to find other cables that are equally transparent without making it an "issue" and without favoring the impression of neutrality over what it brings to music. Hendri's cables are not particularly saturated yet they do not "thin down" the music presentation. I'm not sure how they manage to do it but if I were to point out anything it would be resolution that fills everything with information. Not with details alone, which result from selectivity, but rather with information about details as a whole. It is an incredible achievement, especially in this price range that is usually replete with the cheapest cables from large manufacturers, being only a kind of supplement to their lineup. In Vermöuth Audio they are a flagship product that is cherished and perfected.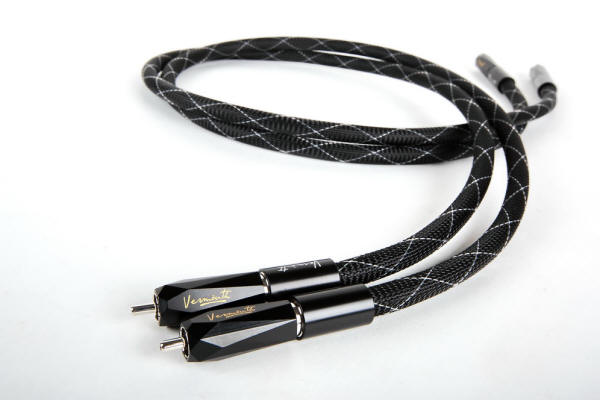 Conclusion
Cognitive dissonance theory is founded on the assumption that individuals seek consistency between their expectations and their reality. Because of this, people engage in a process called dissonance reduction to bring their cognitions and actions in line with one another. There are three key strategies to reduce or minimize cognitive dissonance:
1. Change behavior/cognition. A smoker who learns that smoking is harmful can quit smoking or reject the information about its dangers (or avoid thinking about it).
2. Justify behavior/cognition by changing the conflicting cognition. For example, the smoker can choose to only smoke light cigarettes, which is not harmful. Or he can say that "life is also harmful to health, not just cigarettes"—actually everything is bad, sugar, salt, no sugar, excess vitamins, etc., which changes the meaning of the word "harmful".
3. Justify behavior/cognition by adding new cognitions. The smoker can claim that smoking calms and relaxes him (hence, it is healthy). He can get involved in a sport to offset the harm of smoking.
In our case, the dissonance disappears on hearing the changes that the cables introduce to the sound, which refers to postulate No. 3 above. There is no more tension between their appearance and sound. There remains tension between both these features and price, though. I'm not saying that these cables sound the same as their many times more expensive competition. That would be a complete and utter bull…, to quote a classic line from Janusz. But I can say with an honest heart that these cables will take you straight to the goal, which is to extract emotions from music recordings. Very resolving, not overly selective and not emphasizing the attack of sound, they foster the feeling of a much more expensive product. As do their looks. Zero dissonance and nothing but consonance.
Vermöuth Audio
Price: 320 USD/1 m + 475 USD/2 x 1,8m

Contact: Hendri Ramli
Jln.Gatot Subroto Tengah No.100X Kav.15
Denpasar - Bali (80231) | Indonesia
mob: +62 8126738187
hendry@vermouthaudio.com
vermouthaudio.com

Made in Indonesia