FRANCISCO DURAN'S SYSTEM
LOUDSPEAKERS
Tonian Labs TL-D1 Loudspeakers with custom cabinet with real wood Bamboo finish.
ELECTRONICS
Margules U280SC Class A tube amplifier (new Version), Marantz PM-15S1G Reference Series Integrated amplifier ("Signature Edition" upgraded by The Upgrade Company), Antique Sound Labs MG-SPM25DT SE mono block tube amplifiers modified by Response Audio, Monarchy Audio SM-70 Class-A amplifier.
SOURCES
Marantz SA-15S2 Reference Series SACD/CD player ("Signature Edition" upgraded by The Upgrade Company), Kuzma Stabi S turntable, Stogi arm, Audioquest 4004i cartridge modified by van den Hul, Sony BDP-S350 Blue Ray Player, Onkyo Model T4 Servo Locked Stereo tuner. Stock MM/MC Phono preamplifier in Marantz SA-15S2.
CABLES
JPS Labs Superconductor Q Series interconnects and speaker cables, Power AC+ , GPA2, and Digital AC power cords, Analysis Plus Solo Crystal Oval interconnects, Oval 12 speaker cables, Soundstring Tricormaxiel speaker cable, PC 30A and 10A power cords, and Octaphase "Alpha Series and Omega Pro Line" interconnects. Oyaide power cord, PS Audio C-4 power cord., Monster Cable M Series HDMI 1.3 cable, Parts Express HDMI cable.
ACCESSORIES
Can't Live Without's; Gingko Audio Cloud Ten (2), Vibrapod Isolators (various sizes), and Cones, Ultra Systems' Hi-Fi Tuning Fuses, (various sizes peppered throughout my gear), Ultra Systems Cathedral Sound Panels, (4), Custom made gear racks for turntable and gear. Support staff; Balanced Power Technologies BPT 4SE power unit, Brick Wall Series Mode Surge filter (2 outlet), Quiet Line Parallel Power Line Filters, Bybee filters (inside ASL amps), Nitty Gritty record cleaning machine, PS Audio Zero Static record brush, Flitz Metal Polish, Caig ProGold, and Deoxit, Mondial Antenna Ground Isolation Circuit (for incoming Time Warner cable), Walker SST Extreme, Mapleshade Mikro-smooth CD polishing kit and Ionoclast Ion Generator, Bright Star Isonodes, EAT Cool Dampers, Hal O Rings, Cardas, Clearaudio, Hi-Fi News Test LP's, Smoke On The Water, Senor Coconut and his Orchestra used as test LP, generic ferrite rings, ERS paper, Custom made wooden cable lifters by Mr. Clark senior, Ceramic Insulator cable lifters, JandJ, EI, Sovtek/Electro Harmonix, Ruby, SED, Jan Phillips, Sylvania Electron Tubes, Amoeba Music Store record bag!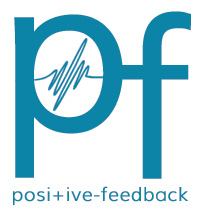 You are reading the older HTML site
Positive Feedback ISSUE 72
march/april 2014
wyred4sound
mPre Preamplifier
as reviewed by Francisco Duran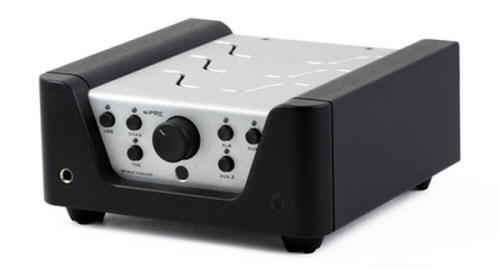 In my review of the Wyred4Sound mAmps, I made a somewhat controversial statement about a particular aspect of the performance of solid-state amplifiers. While I have been partial to passive line stages in my system, I don't intend to stir the pot, so to speak, in regards to this review and/or active preamps in general. The mAmps made such an impression in my system and worked so well with my new speakers, I bought the review samples. They are now my reference amplifiers. When I bought them I didn't have a separate active preamplifier to use with them. Using the preamp section of the Marantz integrated was less than an ideal match for my new mono blocks, and my two passive line stages were really in the hair shirt category. Actually, I could live with the passives. But in a way I felt the review of the amps was somewhat incomplete. I needed something that would showcase the mAmp mono blocks to their fullest and report back the findings. So a preamplifier quest began. This led to all manner of wild imaginings as to a matching preamp. Tube, hybrid, solid state: all were candidates. One night while glancing through the Wyred4Sound website, the proverbial "Duh" hit me like a hammer. Why not the mPre? After all, it was designed for the mAmps. The best match up for the mAmps would be its companion. Another nice thing about it is that it is a fully remote controlled unit. And if that wasn't enough reason, the feature set on this preamplifier was enough to start any good, respectable gear head drooling. So after mustering up some courage, I kindly asked for a review sample from the good folks at Wyred4Sound. Little did I know that our own Steve Lefkowicz was also reviewing the very same preamp. But I was lucky enough to get one after my request.
The controversy I am avoiding is that I am fond of passive line stages. For most of my adult audio life I have had a passive line stage in my system. For the most part, it is the colorless and transparent presentation that is most appealing. I have heard colorations in preamps costing upwards of $5000 which was cause enough to avoid them and accept the inherent tradeoffs a passive line stage has. But, funny how certain tradeoffs can get to you over the years. It was the conveniences of full features, remote control, and the promise of greater dynamic shadings that pulled me back to active preamplifiers. In a sense my Marantz gear was somewhat of an experiment. I bought it for several reasons, and it was a great match for my Tonian Labs speakers. I also wondered how far one could take its performance with professional modifications, and it was fully remote controlled. As it turned out, the Marantz gear was a great platform for such work, especially because the Marantz amp was a great match for my Tonian Fostex driven speakers. From my experience Fostex drivers are finicky when it comes to what drives them. Unfortunately, using the Marantz amp with my new reference speakers, the Fritz Groves, proved to be less than an ideal match. Don't get me wrong, it still sounded pretty good. It is just that as mentioned in the mAmps review, these amps work great with the Groves.
The Wyred4Sound preamplifier has the same size chassis as the mAmps and their Mint integrated amp. This is both smart and convenient from a manufacturer's standpoint. But the chassis is the tip of the iceberg as far as features. It is fully balanced from input to output. It has completely separate right and left channels which start with the power supplies. There is the built-in DAC with toslink, coaxial, and USB input that has 24/192 streaming. The DAC is the ESS Sabre which utilizes Hyperstream and Jitter Elimination architecture. The USB input is the latest Asynchronous Xmos design with a 2.0 certification. There are three analog inputs, one can be configured as a fixed input and the other can be set for a HT bypass by the press of a button. There is one XLR input and one XLR output. There is a headphone input with a ¼ inch jack able to drive headphones that are rated down to 16Ohms. Like the mAmps, the mPre's chassis has a machined front panel of ¼ inch aluminum. You have the option of silver or black line grained top plate, with a black steel powder coated chassis. There is a 12v dc trigger for input and output. Users are able to switch between voltages from 120 to 230 with the switch on the back. There is an AC power input socket especially useful for custom power cord experimentation. The mPre has 100K input impedance. Did I miss anything? It has a neat little wand style remote. This is a compact high quality technologically advanced modern preamplifier chock full of features. Okay, if you said that in one breath you would be emulating Jim Carrey in Ace Ventura: Pet detective.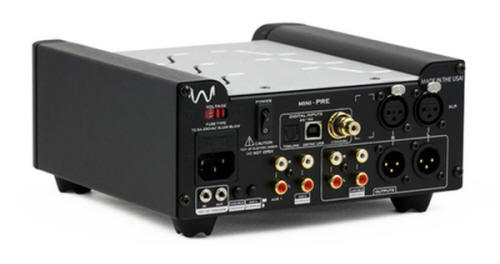 Since this preamplifier is such a compact size, and digital and analog components share a tight working space, the thought of RFI and EMI contamination came to mind. These are some of the principal concerns that are in the modifications of The Upgrade Company. Owner David Schulte seems fanatical about shielding digital components and wiring when doing his modifications. I can attest to this with the mods he performed to my Marantz gear. And it pays off in the sound. So I asked EJ Saramento this question: "Since the mPre's chassis is small and includes several power supplies and digital components, was there any concern about EMI and RFI cross contamination through these components. If so what steps in the design process did you take to help eliminate them?" His answer: "The mPre is a very compact unit, as you can see. Handling EMI and RFI is an important task which we start by strategically placing parts of the circuit in areas which will be least offending. This is followed by filters that are added throughout the audio path that allow the desired frequencies in and out of the pre while suppressing those which aren't desired. Each product must meet RFI and EMI testing in the design phase to ensure all areas are covered." Rest assured folks that products from Wyred4Sound are thoroughly designed by a very experienced design team.
With so many features I wanted to make sure all parts of it were thoroughly broken in. The well written manual suggests 300 hours. The line stage was no problem. Hooked up to the mAmps or my pint sized Topping TP20 MK2 chip amp, we went through a lot of TV, movies, and music, par for the daily course In our household. For break in the built-in DAC was a little different story. The only CDP with a digital out and repeat button is my Marantz. This is kind of an expensive unit to use to break something in. At first I used an Audioquest Cinnamon optical cable to hook up to the mPre's internal DAC. But then I found my trusty Blue Jeans cable 1694A 75 Ohm digital cable for continued break in and listening. Stopping at 50 hours, 100 hours, and 200 hours I wasn't completely satisfied with the internal DAC's performance. Finally over the 250 mark the little built in DAC started to show its stuff. The headphone input wasn't run in as much as the DAC, but improvements were noted after a time and that input was ready for full service. Actually it was my son with his late night schedule who put additional hours on the headphone input watching movies through his trusty Monoprice headphones so as not to disturb the rest of us in the house. Bless his heart!
Using my Sony BDP-S350 and Marantz SA15S2 as transports proved a little eye opening. I compared each unit using them as a transport with the mPre built in DAC. Then I compared this to just the Marantz as a CD player. Using the Marantz as a transport, the music sounded very spacious and dimensional. Inner details were fleshed out easily. For example, struck metal instruments sounded realistic and hung in space just outside the speakers in the soundtrack from The Emerald Forest (a test favorite). The music comes out more in the front plane of the speakers, making the music a bit more exciting compared to a more laid back presentation. Using the Sony as transport with the W4S DAC the music sounded warm and clean, but darker and slightly laid back. Details are there, but just not as exacting or dynamic. The stage sounded flatter and closed in and inner detail or that "see into the recording" phenomenon was not as apparent. But here is the reason, using the Marantz as transport the built-in W4S DAC resolved much more musical information than the inferior Sony blue ray player. The resolving power of this little built in DAC easily showed any changes. The lesson here is if you want the most out of this built-in DAC, use the best transport you can.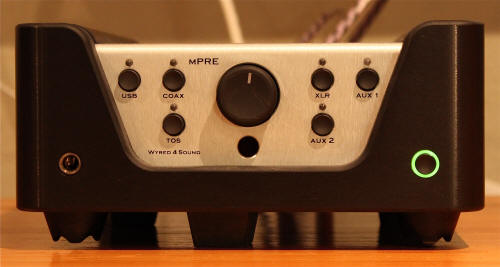 Using the Marantz as a full CD player yielded the best results. The Marantz CD player better resolved dynamic shadings, space of the recording, and inner detail was much more apparent. That "see and hear into the recording" quality was improved. With the Marantz there was noticeably more texture, layering, and depth of soundstage with a better grip overall on dynamics to the music. The vocals sounded more forceful in a natural way. But let's put things into perspective. The Marantz PM15S1 retails for close to $2000 when new. Plus, it has over $1000 of professional modifications to it. It would seem this is an unfair comparison. I also felt that using the Marantz as a transport with the internal W4S DAC was very close in performance to the straight Marantz CD player. This is testament to the resolving power of the line stage of this preamplifier. Any changes, whether incremental to the speaker positioning, ancillary equipment, wires or vibration treatments or component changes, were readily apparent through the little mPre. With such stiff competition the little built-in DAC performed admirably.
The headphone out the mPre had a few competitors in my home. Using the Marantz's built in headphone amp was a little disappointing. It sounded detailed, spacious, and dynamically okay, but it sounded too bright for my taste, and uninvolving. The mPre's headphone amp sounded more open, less bright, and more natural. Music was more dynamic and clean, and had a bit of warmth to the vocals. When I compared my Audioengine D1 headphone amp/USB DAC to the built-in of the mPre, it was another story. The Audioengine had the best timbre, and sounded more neutral. Dynamics and soundstage openness was very good. But I had to run it straight into the Marantz CD player with an optical cable. Whether or not this was an advantage, I am not sure. It sounded the best with either my Grado or Koss headphones in this configuration.
Then I put my Audio Limits and refurbished Reference Line passive line stages in the system. On either unit, micro dynamics were just not there on the soundtrack to The Emerald Forest. I had to crank the volume control to enjoy the music. Interestingly, these passives fared much better with other recordings. For example on the Carlos Barbosa-Lima disk Tranquility the song "Wind Call/Nocturne Song" sounded more open, dynamic, and alive. Similarly the disks Down Home Chrome from Junior Brown and Jaco Pastorius Big Band's Word of Mouth Revised, both SACDs, displayed more liveliness and dynamics. The changes in sound between these disks are testament to the passives resolving power. But there was also the inconvenience of getting up and walking over to the gear rack for any little change. Lazy me!
Hooking up either of my Tripath amps or my big Margules tube amp gave nice results. The mPre expanded and solidified the soundstage and strengthened dynamics with these amps. The Margules was a particularly good match.
As far as the USB input is concerned, I did not touch it. I feel I do not have the proper set up to take full advantage of this option at this point. I would like to report back in a follow-up on this issue when I have a suitable digital set up. In talking to Steve Lefkowitz, he tells me he has done some extensive listening through the USB input. So he should be better able to respond to this feature in his review.
After comparing the different components with the mPre, it was time for music. Listening notes for all the musical selections were taken with the Marantz CDP doing the spinning chores. I did not use my turntable for this review due to a MIA phono preamplifier. The first thoughts that came to mind were that this preamplifier sounded like a transparent and dynamic tube preamp. Of course it is not, it is a solid state design. Dimension, width, and depth of soundstage were amazing from this pint-sized unit. The sound was clean, clear, grainless, and frankly a tad sweet. I was surprised by the line stage performance of this $1000 preamplifier. First thoughts were of a sound that was placed just slightly left of center as far as neutrality. But the fact that is sounds clean and grainless, with that slight dash of warmth, is what makes it appealing. This is what also makes this preamp a perfect match for the mAmps. It doesn't go too far as to be overtly colored. For example, the tone and timber of the violin in Saint-Saens Violin Concerto No. 3 in B Minor OP 61, has the violins sounding very accurate. There was realistic texture from the strings, and you could easily hear the slight hollow sound coming from the F-holes of the body of the violin. I feel the sound of most acoustic instruments have natural warmth to them. Something I have heard all too often when my son was in the eighth grade and practicing his violin. It is also something I hear when attending live unamplified concerts of the Rio Hondo Symphony in Whittier, California each season.
Switching gears to a CD by Hiromi Uehara, Hiromi's Sonicbloom SACD on Telarc, proved to be quite a switch from the Saint-Saens. I had to play this disk because it is so much fun to listen to. This helps the arduous reviewer's tasks greatly. Taut, fast dynamics were on display here in abundance with no impediment from the mPre. On track one the electric bass gets a workout, and there was no slowing of notes. The dynamics of the piece sounded pliable, if you will. There is a great mix of jazz and dynamics on this CD, played fast and hard. The overall sound of this disk is a little warmer than, say, some JVC CDs.
Another track worthy of Hiromi's style is from the CD Joyful Noise and the Deric Trucks Band. I often use this track for evaluation of dynamics. The track "Lookout" has transients that are lightning fast, clean, and dynamic as all get out. The Wyred4Sound combo was wrenching the most dynamics out of my Grove stand-mounted speakers. The guitar, electric bass, and drums move up and down the scale on this track with ease. This jazzy track from a great group of musicians is fun to listen to, and will surely dust the cobwebs out of your system if they haven't been dusted in a while.
I listened to another jazz lady with a different style, Shirley Horn. On the song on her Verve CD "Close Enough for Me," her piano sounded clean and spacious with a natural tone. Similarly Lang Lang's Eight Memories in Watercolor OP 1 and 2, "Beans," live at Carnegie Hall on Deutsche Grammaphone showed similar results. His piano sounded clean and extended in the upper registers. Dynamics on these piano examples sounded fast with crisp, clean transients and that natural warmth a piano has, appropriate for an instrument which has felt hammers hitting taut strings. There was no undue brightness or slurring of notes. Dynamic shadings were reproduced well. Vocal reproduction on the Horn track, and in fact on all vocals I listened to, sounded natural with no excessive sibilance or undue colorations. I couldn't help slipping one of my passives in for a re-check of this music. Sure enough, through the passive there was a slightly higher bit of resolution and a cooler overall sound to this music. But again, I noticed a reduction of dynamics immediately.
Next up, and staying in the jazz vein, Tiger Okoshi and the song "Yuki No Furu Machi O," and Ernie Watts," In your Own Sweet Way" on the same JVC Sampler. Dave Holland played bass on the Tiger track, while Ed Gomez plucked the strings on the Watts track. In both cases their acoustic bass instruments displayed an appropriately natural tone which sounded fat and deep and bouncy. It never sounded artificially tight. The mPre let the real sound of these instruments pass through without changing the tone.
The mPre and mAmps are products one might pass by and give a quick glance at an audio show on their search for more glamorous and sexier fair, but it would be at their sonic and monetary detriment. Again, and as with the mAmps, the good folks at Wyred4Sound have designed the mPre as a product that performs above and beyond its price range. If that is not enough, the feature set on this preamplifier is enough to make a Swiss Army knife blush. It complements the mAmps to a T, as I found out. In fact with the mPre hooked up to the mAmps they seemed to do a disappearing act, the paring was that good. But are there better preamplifiers? Yes indeed and in fact in Wyred4Sound's very line up. Reviewing audio equipment and using audio reviewer's language many times gives the impression that a particular piece of equipment is the best thing, regardless. That is not the impression I am trying to give in this review. But in this case, as with the mAmps, one would have to compare this preamp to much pricier gear to match its performance or flesh out the negatives of this unit. There are preamps with better overall transparency, dynamics, and spaciousness, but I bet their features are lacking, and they are considerably more expensive.
One of the most positive traits I find with the M series is that they have an ability to reproduce music that draws you in and lets you enjoy the music, yet are highly resolving. In other words, they are very musical and fun to listen to. This system has me digging out a lot of music I haven't listened to in a long time. This is the perfect component for the audio buff who is more interested in how well a component can play all of their music, and not just a select few well recorded selections. Or more interested in having fun with their music instead of chasing after the last bit of audiophile sonic nuance that only audiophiles seem to hear or care about, although it can do that too. Hey it's had to play everything from Sonny Boy Williamson to Neil Young with equal aplomb at my house. The nice thing about the mPre is that it pulls it off quite well indeed. Francisco Duran
mPre Preamplifier
Retail: 1099
Wyred 4 Sound LLC
4235 Traffic Way
Atascadero, CA 93422
www.wyred4sound.com