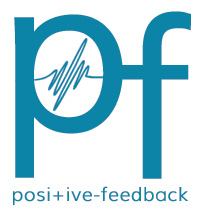 You are reading the older HTML site
Positive Feedback ISSUE 73
may/june 2014
Native DSD Expands and Asks Music Fans to "Just Listen"
by Brian Moura

Native DSD.Com is a leading provider of high resolution music downloads. Where they differ from other sites is that all of their music downloads come from Direct Stream Digital (DSD) recordings. Since launching the site in late 2013, Native DSD has expanded their catalog to over 200 albums in Stereo and Multichannel DSD downloads from 6 record labels (Channel Classics, Channel of China, Cobra, Harmonia Mundi, Paraclete and Sketti Sandwich).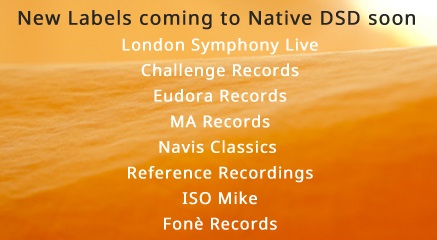 More Record Labels and DSD Downloads Coming
At the DSD Progress Report panel at The Show in Newport Beach, Jared Sacks from Native DSD.Com and Channel Classics provided a progress report of his own on the downloads service. In the near future, Native DSD will be more than doubling the number of record labels on the site with 8 new additions: London Symphony Live (LSO Live), Challenge Records, Eudora Records, MA Records, Navis Classics, Reference Recordings, ISO Mike and Fone Records.
In addition, Sacks said that Native DSD.Com has several more record labels joining after the next group. This will bring the Native DSD downloads catalog to 20 record labels with 800 album titles committed for release as Stereo DSD Downloads and in many cases Multichannel DSD Downloads as well. Clearly the team at Native DSD has been busy!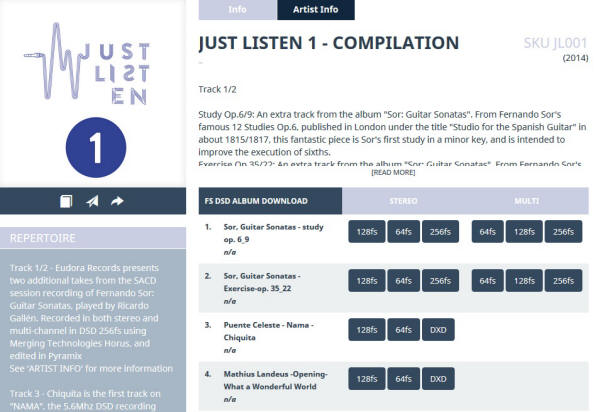 Just Listen to Free DSD Downloads
Jared Sacks also took the opportunity in Newport Beach to introduce a new service from Native DSD called Just Listen. This is a new section of the Native DSD web site that will offer free DSD music downloads in several resolutions including single rate DSD (DSD64), double rate DSD (DSD128), quad rate DSD (DSD256) and DXD.
In the first edition of the Just Listen samplers, you can download and listen to two tracks featuring classical guitarist Ricardo Gallén from the Eudora Records label recorded at quad rate DSD (DSD256). And believe it or not—the two free tracks include both Stereo and 5-Channel Surround Sound at DSD256!
The Just Listen Sampler #1 also includes Jazz and South American music from Todd Garfinkle's MA Recordings recorded at double rate DSD (DSD128) on a Korg MR-2000, a Mahler Symphony No.1 Finale session master take from Channel Classics recorded at single rate DSD (DSD64) on the Grimm A/D Converter and two tracks from A Far Cry and David Krakauer recorded at double rate DSD (DSD128) in Stereo and Binaural Stereo. In short, an interesting selection of music.
The eight musical selections are presented both in their native resolution (DSD64 to DSD256) as well as other resolutions using upsampling and downsampling. This allows music fans to listen to how these commonly used studio techniques affect the original recordings.
Sacks noted that there are over 130 DSD products on the market. He explained the move to post downloads from single to quad rate DSD (DSD64 to DSD256) as a way for high resolution music fans to evaluate tracks at different resolution levels. Native DSD isn't favoring any resolution level but thinks this new section will provide a handy way to compare the choices.
Music fans will need to register on the Native DSD web site and establish an account before they can access the free Just Listen downloads. But this is a small hurdle to cross before you obtain some very high quality music to listen to and evaluate for free!
Fans of Multichannel DSD Music
Sacks took some time to explain why the Native DSD team has been an early leader in offering Multichannel DSD downloads at a time when most sites only offer music downloads in Stereo and Mono. When recording new albums for his Channel Classics label, Sacks prefers recording in concert halls and live venues rather than a recording studio. This approach allows Channel Classics to capture natural ambience, depth and imaging.
Sacks says these attributes of music can best be heard in Multichannel playback. He noted that "When Multichannel recordings are done right, you will be convinced of the need for Surround Sound in your system."
The bottom line is whether you are a fan of high resolution Stereo or Multichannel music, Native DSD.Com is a site you will want to visit. And now, with free downloads, it becomes that much more interesting to everyone!
Just Listen – Free DSD Music Downloads