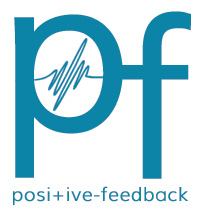 You are reading the older HTML site
Positive Feedback ISSUE 73
may/june 2014
Mytek and iFi Add DSD 256 Products at Munich Audio Show
by Brian Moura
One of the highlights of attending a high end audio show is the unveiling of new products. That was the case at the recent High End 2014 Audio Show held in Munich, Germany in mid-May. Two of the most notable announcements involved the addition of high resolution Digital to Analog Converters (DACs) from Mytek and iFi—both of which bring quad rate DSD (DSD 256) playback to a DAC market that has only seen that feature from a few products to date (Pyramix Horus DAC, exaSound e20, e22 and e28 DACs and the just released Oppo HA-1 Headphone Amp and DAC). Here's more on these two announcements.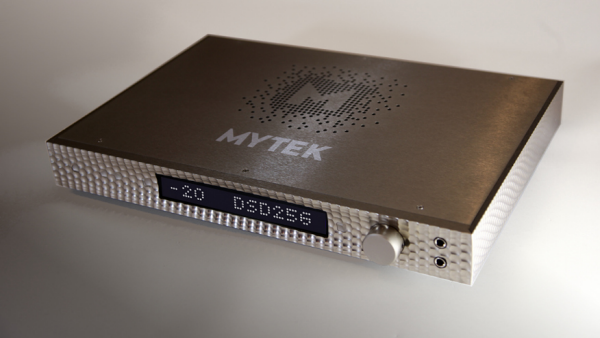 Mytek Manhattan DAC
Mytek Digital has been in the business of making high quality DACs for professional and recording studio use since the early 1990s. At the start of the launch of the Direct Stream Digital (DSD) and the Super Audio CD (SACD) audio formats, Mytek was one of the early companies to provide pro DACs with both DSD and PCM conversion. Today, their professional 8x192 converter is a popular product in that market along with their Stereo-192DSD DAC for the audiophile market. The Stereo-192DSD brings PCM (32-bit up to 192kHz) and DSD (up to double rate DSD 128) playback to the table for the very affordable price of just $1595.
In Munich, Mytek unveiled their newest product—the Manhattan DAC. The Manhattan, named in recognition of Mytek's U.S. offices in New York, is a new DAC, Preamp, and Headphone Amp that features playback of PCM sources (32-bit DXD up to 384kHz), DXD (384kHz) and DSD sources (up to quad rate DSD 256, 11.2mHz). The Manhattan also includes dual discrete analog and digital power supplies, femto clock technology, USB and Firewire inputs, a preamp section and a high current precision headphone amp that will "easily drive the most demanding headphones." It features a bold new sculpted front-end design along with spikes to elevate the DAC.
Mytek says: "The Manhattan DAC Headphone Preamplifier represents Mytek's finest achievement. We listen first and foremost, from the quality of our designs to our customers voices. In this vein, we created a device whose look and feel is only surpassed by its sound. It is a breakthrough in sonic & design excellence. It is the best ever sounding DAC from Mytek. "
Mytek is taking pre-orders for the Manhattan DAC starting at the High End 2014 show. The product starts shipping on a "first come, first served" basis on July 15, 2014.
To tempt prospective buyers, Mytek is offering a special introductory price of $3995 (a $1000 savings) for the first 50 units of their initial production run of 100 Manhattan DACs. After that offer has expired, future Manhattan DACs will sell for $4995. Mytek also offers free shipping from their U.S. based online store to anywhere in the world, along with a 30 day money back guarantee. This may be an offer that is too tempting to pass up, especially for Mytek fans.
iFi iDSD Nano - Free Upgrade to DSD256 & ASIO
iFi is the personal audio or "baby brand" of Abbingdon Music Research (AMR), a high end audio company based in the U.K. iFi has garnered a lot of attention for their high quality yet very reasonably priced audio products including the iFi iDSD Nano.
The iDSD Nano is a small portable lithium-polymer battery power DAC that handles PCM (32 bit, 384kHz), DXD (384kHz) and DSD formats. It includes "True Native" technology from AMR that insures each music format is played natively and unchanged. The heart of the iDSD Nano is a dual core Burr-Brown DAC chip designed by BB and BB Japan with "trickle down" technology from AMR which also drafted the BB chipset code. iDSD Nano also features military-grade temperature compensated master clock modules and Zero Jitter Lite technology from AMR's high end audio products.
The iDSD Nano also includes a headphone output, volume control, and a SPDIF coax digital output. It retails for $189. The DAC has received rave reviews for its quality manufacture and sonics in such a small package.

But there's more. At High End 2014, iFi added even more features to the iDSD for all of their current owners and future fans.
iFi has released a free firmware update to the iDSD Nano that is now available. It adds quad rate DSD (DSD 256, up to 11.2mHz and 12.4mHz) to the DAC, ASIO 2.2 native DSD transfer (in addition to DoP - DSD over PCM in the original unit) as well as smoother operation and improved sound quality.
iFi says "Not to rest on our laurels, iFi is absolutely over the moon to announce that with the latest firmware update, the nano iDSD is now capable of True Native Quad-Speed DSD256 playback at 11.2MHz/12.4MHz. The nano iDSD is already the #1 seller in Japan and with the free Quad-Speed DSD256 upgrade, there is nothing to touch it."
The free firmware upgrade adds even more to the already impressive capabilities and features of the very affordable iDSD Nano. To have quad rate DSD and ASIO support in such a small, portable DAC is impressive and some might say even amazing. If you need to add high resolution audio playback to your desktop computer or portable devices (laptop, tablet, smartphone), this could be just the ticket!
iFi iDSD Nano – Quad Speed DSD & ASIO Free Upgrade