Positive Feedback ISSUE 74
july/august 2014
Astell&Kern AK240 - Impressions of the DAP King
by Michael Mercer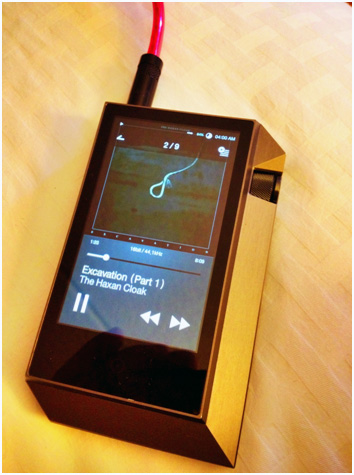 Admittedly I wasn't interested in high resolution files until I could bring that music with me. Having amazing-sounding music stuck on my hard-drive would've been the worst possible tease! As a confessed music addict, I need the ability to grab whatever music I choose from my digital library and take it with me. If I was going to jump into the hi rez game, I needed an adequate player that was capable of handling the higher sample rates and bit-depths. I also wanted a player with a clean UI (user interface) and an actual knob for volume. I hate touch screen gain controls. You can never get it quite right! So I waited til something grabbed my attention.
Enter Astell&Kern: I got lucky with an early introduction to the Astell&Kern AK100 DAP (digital audio player) at CES two years ago. I was hangin' with my good friend Alex Rosson, CEO of Audeze, and after splitting up for a bit, we met in the Nordost room at the Venetian. Alex came back with this small, sexy-looking player atop his ALO International (then one of my favorite portable amp/DACs, and still is today) and he handed it to me. I never heard of Astell&Kern before, and I'll never forget that moment because it sparked my entry into high resolution music files! I loved everything about the player (and still do, despite the new models): The way it felt in my hand, the user interface was clean and easy to navigate, and it had a knob on the side for volume! I needed one yesterday. Thankfully Alex called Ken Ball at ALO for me. Ken also has an online store where ALO sells A&K products. Ken introduced me to Jimmy Moon at Astell&Kern via email, and I bought the player immediately thereafter. I've been an outspoken evangelist for Astell&Kern ever since. Of Course I graduated to the AK120 after that, but the AK100 will always hold a special place in my heart. I loved using it with my ALO International and Audeze LCD-3 headphones so much I wrote an article about the whole lil' system for Part-Time Audiophile entitled Mercer's Winning Combo. Thankfully some readers commented on the article, saying they were going to buy all three, or just 1 of the components based on the article! Now, this scared the living shit out of me. It wasn't cool by any means! I mean, that's a big purchase on blind faith! However, we never got any negative responses at Part-Time Audiophile thank God. Believe me, it wasn't because of my writing. The Astell&Kern AK100 was, in my opinion, one of the best DAPs on the market, and the buzz about them was shit-hot. That showcased a taste of the huge love for A&K, and it has only grown as their products evolve!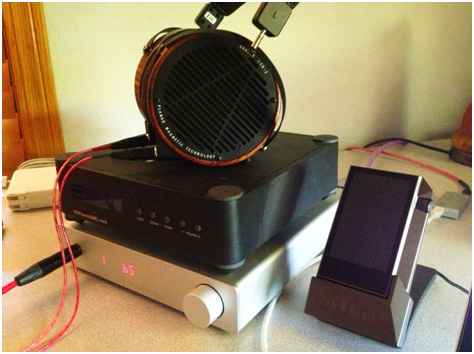 And speaking of evolving: The Astell&Kern AK240 is, for me, the king of all DAPS and I'm not afraid to say so here. Why? There are many reasons, and I'll tap into a few here and the rest in my full article at Audio360.org. We also reviewed the AK240 there. We were lucky enough to publish the very first in-depth review of the unit. However: We lacked DSD playback capability coverage—but we knew to leave that up to Dr. David Robinson! We'll also be sharing his insightful words at Audio360 as well. OK, back on topic: The AK240 defies what I thought possible in a small one-box/multi-use DAP solution at this time. But A&K made sonic leaps and bounds at the speed of sound! The 240 also looks fantastic and feels great in my hands. Modern and contemporary at the same time—I believe so anyway...
Now, I love headroom! I don't wanna redline the gain to drive lower impedance headphones! You get into distortion and all sorts of problems there. With the AK240 I've only thought of using an outboard amplifier briefly, when trying to drive my Audeze LCD-2s with Fazor via it's standard 3.5mm stereo-mini output. However, and this is my favorite feature of this fine machine: The AK240 sports a standard-issue stereo 3.5mm (unbalanced) headphone output and a balanced stereo output, also 3.5mm.
So, while listening in balanced mode via my Audeze LCD-2 w/Fazor with Double Helix Molecule Elite balanced cables I found that I could drive any of my reference headphones! I could also do it well. I've experimented with every Audeze headphone I own, my Sennheiser HD800s, Audio Technica ATH-AD900x, plus Mr. Speakers Alpha Dog and Mad Dog Pro and Grado 325is (none of these three are particularly hard to drive but they love power in order to bring out their detail retrieval capabilities). That's a first for me. I've always had to use an external amplifier with the AK100 and 120. No longer! I got far more dynamic headroom as well as overall gain in balanced mode. Besides the level increase I preferred listening via the balanced output because the music playback was more spaciousness. There was far greater dimensionality, and so the timbre sounded more analogous, more continuous—for lack of a better description. The sense of free space amongst triggered sounds or instruments, coupled with the low noise-floor of the AK240, listening became a meditative experience. Soothing, but not soft. Playing Stevie Wonders' "Big Brother" off Talking Book in 192kHz/24-bit (from the masters) was nothing short of a revelation. All of the wickedly complex yet flowing instrumentals were silky smooth and wide-open. I'll say it again: Listening to that track and my LCD-XCs brought me closer to hearing the vinyl than any other DAP on the market. In my experience anyway.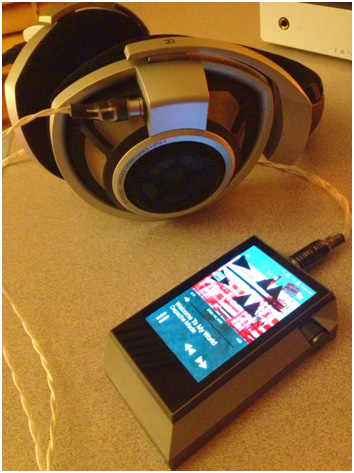 The other feature I recently discovered: The dedicated line-out switch. This turns the AK240 into a source component/small media server! No more guessing, or cranking the volume on your portable player and distorting everything! This way you know you've got a 2.25v output. I tried it as a source component in my two-channel reference system: What I usually use, for digital, is either my Oppo 105 universal player or my MacBook/Amarra/Sonicweld Diverter rig. The 240 held its own against both! All I used was my Nordost iKable (3.5mm to RCA cable) straight to my E.A.R 868 tube pre-amp, hit play, and I was astounded. I don't words like this often when describing audio, because it's the music I'm chasing, but, with great high fidelity you forget about the gear and get lost in the tunes. Playing Shlohmos' "Places" of his Bad Vibes LP was so textural and warm. He sounds like future r&b to me sometimes. His music exudes this laid-back, jazzy vibe. Then he throws monster beats underneath it all, and the musical sway is head-bogglingly groovy. I can listen to Shlohmo all night long on a great system. Driving my E.A.R 868 pre, Classe Audio DR-9 stereo amp, and my Zu Audio Omen Defs with the 240 up-front, I ended up falling asleep (after a ten-sixteen hour listening sesh mind you) to my playlist of all his records. What a sonic treat that was. I also loved Becks' Sea Change (the MoFi CD pressing—imported losslessly). The tonality flowed magnificently. Though the whole album is about a break-up, making it somber at times, the sound was infectious. I also played the 240 through the brand new McIntosh MHA100 headphone amp/DAC and Audeze LCD-X via Moon Audio Silver Dragon cables. That was something special. I have the McIntosh here for review—but tearfully it's going back tomorrow. That combo was also very high on the sparkle factor. Listening to Boards of Canadas' Tomorrow's Harvest LP (reviewed HERE in PFO) became almost visual at one point. All the dreamy sounds had their own space to breath and the sound field was almost opaque, like an old big movie theatre. That experience is why I do this for a living. No shit. I took the AK240 off its handsome cradle, plugged in my Audeze LCD-XCs, and tossed on this advance copy of the Audeze CD (with various artists—to be announced soon). This album is like a slice of present-day underground electronic music that's influencing everyone from Hip Hop to pop stars, and singer/songwriters. I've been listening to it a couple times a day since I got it at T.H.E Show Newport, so I've come to know it well. Rockin' the AK240 w/ Double Helix Cables Molecule SE balanced and my Audeze LCD-XCs, the sound had such momentum, so much drive, with stellar mixes from beginning to end. The dynamic contrasts were electrifying, and the soundstage reached far beyond my expectations.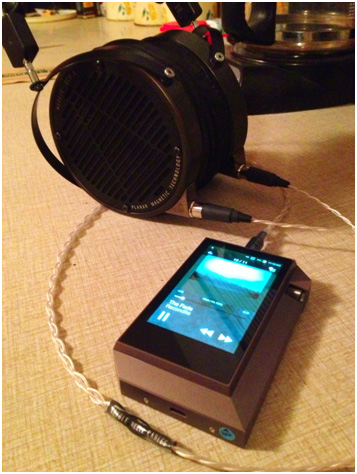 So, twenty-five hundred dollars is a lot of money. I recognize that. However, how much did your Patek Philipe cost, or the lease on your BMW 3 series a month? Or, even your last piece of high end audio gear? In this case, this is what it costs to achieve this level of sonic integrity in a small box! Not only do you get a high performance DAP (digital audio player), you also get a terrific source component! I neglected to get into the USB DAC capability—we covered that at Audio360.org, but it's good to know you have that option as well. Honestly, perhaps coming from high end audio culture the number $2500 bucks doesn't surprise me all that much considering what you're getting for your money! Think about it, in the high end you could easily spend more on an amplifier or line-stage, speakers, and you can't take them with you and experience them out in the world! With the Astell&Kern you've got your hi-rez portable DAP and a source! Not to mention it does DSD for all you DSDers (and Dr. David William Robinson will get into that here, like no other). So, does $2,500 bucks sound like a boatload of money now? I'm not saying it's cheap, or, even, what many would call affordable! It's a lot of loot. But, and believe me I'm selling some of my gear to buy one: It's like having every component of your Hifi system with you excluding the speakers! If you're a headphone hobbyist who's looking to down-size, literally, your desktop headphone rig: Get some Audeze cans for over ear, JHAudio for IEM, (or whatever you like) and get an AK240. It's amazing, putting a player with this level of fidelity in your pocket. Sure, hang onto your bigger amp if you'd like for at-home listening. But if your headphones can run balanced you won't even need that. The Astell&Kern AK240 is the Bentley of digital audio players. Once you experience it, it's impossible to go back.
Price: USD $2499
Astell&Kern
http://shop.iriverinc.com/astell-kern/ak240.html