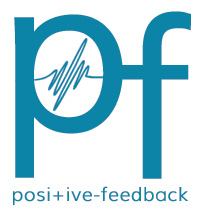 You are reading the older HTML site
Positive Feedback ISSUE 74
july/august 2014
Impressions: Notes on the Astell&Kern AK240 DSD Player…You can take it with you!
by David W. Robinson
[All photographs and image processing by Robinson, unless otherwise noted.]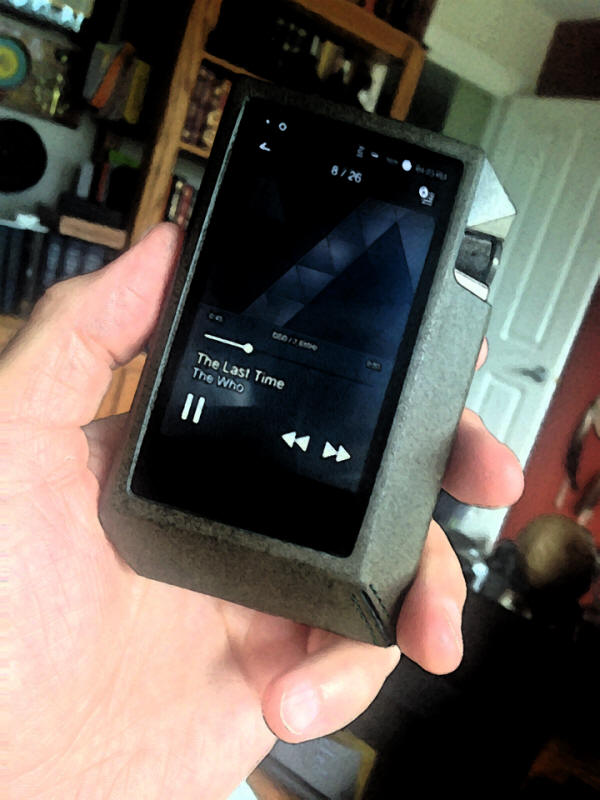 The amazing Astell&Kern AK240… native DSD in the palm of my hand!
The DSD revolution continues…
Just about everywhere you turn in the world of fine audio, you find DSD in the news and views of a growing number of companies and audiophiles. It's no longer mainly underground, the turf of determined die-hards fighting for the blessings of DSD in our music. It's no longer easy… and frankly, not particularly necessary… to maintain the lists of DACs that feature DSD. Dozens of DSD DACs exist now, at price levels ranging from tens of thousands of dollars for no-holds-barred designs, all the way down to the unbelievable price of the iFi Nano iDSD portable USB DAC, for an MSRP of $189. And iFi has just announced the fact that it will be adding Quad DSD (256fs) to the iDSD with a simple firmware update (!!!). Quad DSD in the palm of your hand, or your shirt pocket, for less than $200.
Caramba. Hook up your computer and roll!
So DSD DAC action is reasonably portable with the iFi. Many of the DSD DACs are easily transported from one site to another, anyway: Mytek, exaSound, and Benchmark (Single DSD only) come to mind immediately. And there are lots of others.
DSD. On the go.
And, you know, I've been daydreaming about this for years now. Ever since I got my first iPod many years ago, and dug into iTunes as the main way to have music on the road, I've been hoping for much higher resolution players to get to us. Highly compressed Apple files are actually pretty crummy, being nowhere near even the relatively low level of quality offered by CDs (44.1kHz/16-bits). In fact, anyone who's grown up on iTunes—and they're out there, for sure—has little idea of how good their music could really sound, if they were only listening to it in a high-resolution format. To hell with crunchy, substandard formats; given modern audio and computer technology and format standards, there's no reason to compromise at this miserable level anymore.
What about Pono? Neil Young's Pono system seeks to find an escape from the mediocrity of heavily compressed audio, but his refuge is in high-resolution (192kHz/24-bit) PCM. This is certainly way better than iTunes and CD-level recordings, but it isn't the highest level that we can aspire to.
Not nearly.
I have a number of 192kHz/24-bit recordings from the good folks at HDTracks. The quality of the sound is very noticeably better than Red Book CD, and even than 88.2kHz/24-bit or 96kHz/24-bit, and I can listen for longer without developing a digital headache. I still find some of the edge and glare that I associate with the sonic signature of PCM in audio, though… and this is with some very fine audiophile-grade DACs. If all you've been feasting on is PCM, then you probably won't notice what you're missing, unfortunately. (You probably don't understand your own headaches and fatigue after listening to your PCM music, either. Have you been thinking of murdering your spouse or kicking dogs lately? Do you wonder why?)
No, for me the real high-resolution standard remains DSD. I do a fair amount of traveling each year; what I have fantasized about was a design that would let me take DSD along with me. iTunes wears out quickly on my ears. Who needs constant compressed crunchy music for hours on a jet or in a car? It ain't me babe, no, no, no, it ain't me babe…!
And so, when Astell&Kern announced that they would be producing the big brother to their earlier, well-received AK120, a model AK240 that would be supporting Single and Double DSD in true native mode, I was all over it immediately. I contacted A&K, and they agreed to send me the AK240 in the first batch of review units.
First Take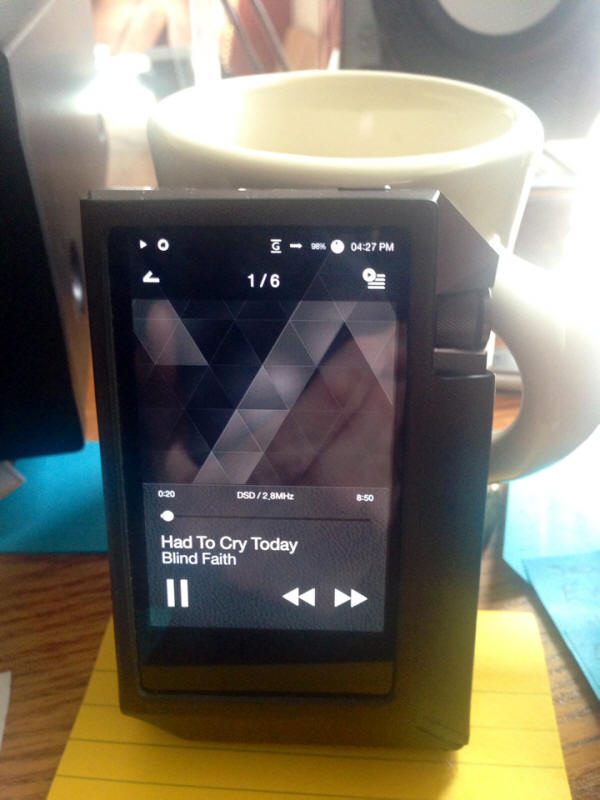 Upon its arrival, I was immediately taken by the very attractive look and feel of the AK240. It was about the same size as the earlier AK120, but with sexier styling… nicely sculpted, with a cut-back along the right side. Sleek! As before, it comes with a very handsome leather case, which not only protects the finish on the AK240, but also catches the eye. Right off the back, I was knocked out by the overall appearance of the AK240. It may cost some bucks, but it looks like a million!
Specifications and Ergonomics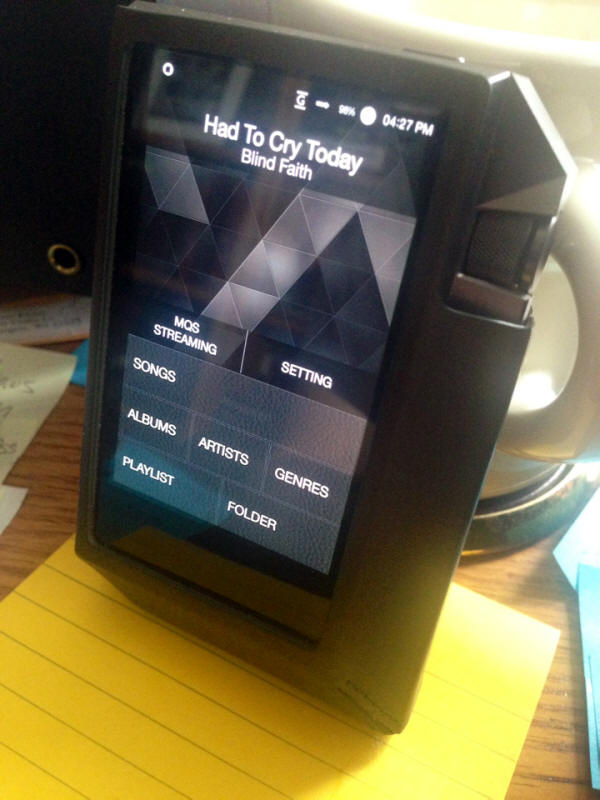 The specifications for the AK240 are impressive for such a compact and portable device. It supports Single DSD (64fs) and Double DSD (128fs) in true native DSD mode… no conversion of DSD to PCM (unlike the AK120), with all. A&K elected to make the major step of going to dual DAC chips (specifically, the Cirrus Logic CS4398 x2) for left and right channels, for greater resolution… a big step forward. Much better yet, however, is the fact that they also decided to support DSD and Double DSD in native mode (no conversion to PCM) on via the Cirrus Logic DAC chipset. Dual DAC in native DSD in both Single and Double DSD… can't beat it in a portable player! On the PCM side of things, up to 192kHz/24 bit is handled by the dual DACs. Nice… there are (still, damn it!) some recordings that I can only get in PCM. For a DSD lover like me, PCM is the bridge-over format… until I can get a given album in DSD!
Supported PCM formats include pretty much a run of the board: WAV, FLAC, WMA, MP3, OGG, APE (Normal, High, Fast), AAC, ALAC, and AIFF. Sampling rates for FLAC, WAV, ALAC, AIFF are handled from 8kHz (gack!) out to 192kHz (with 8/16/24-bits per sample all being acceptable.) Note that DXD at 352.8kHz is not on the list of supported formats, for those of you who might have downloaded some of the new sample recordings from our good friends at 2L.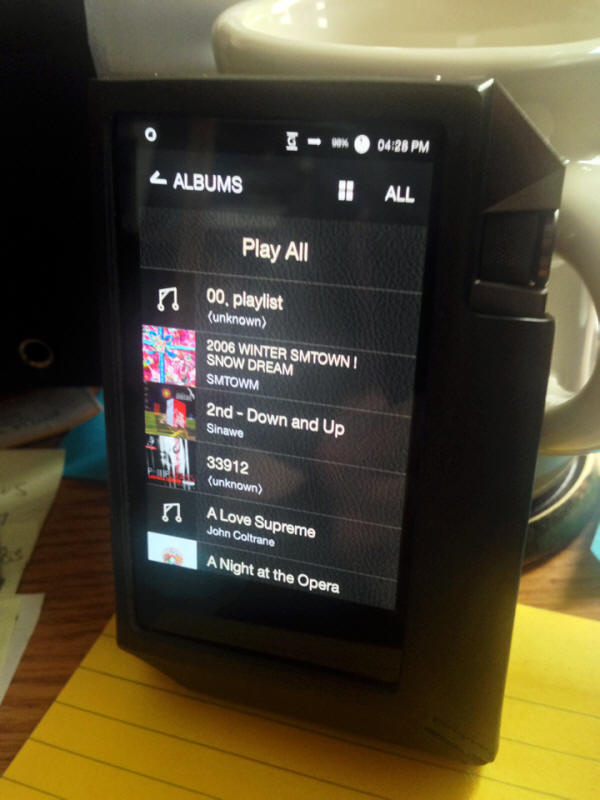 In DSD, both DFF and DSF (metadata) formats are handled at both Single and Double DSD rates. No multi-channel files are supported; this is strictly a stereo-only playback system… very understandable for a compact, portable device. You can construct playlists, which is always a very handy thing for those who want their fave tracks ready to roll.
The body of the AK240 is made of "aircraft grade Duralumin," which sounds like some marketing variation of aircraft aluminum; that's what it feels and hefts like. Dimensions are 2.59" (66 mm) wide x 4.21" (107 mm) high x 0.68" (17.5 mm) deep; the weight is 6.5 ounces (185 grams). The front touch-screen display is 480 x 800 AMOLED, with wonderful clarity and functionality. Our smartphones have gotten us comfortable with touch screens, and Astell&Kern have leverage this intelligently to provide users of the AK240 with a reasonably intuitive experience. I did look over the docs… I always do… but the screen turns out to be pretty easy to work with. The 3.7" screen is easy on the eyes, without being too large to subtract from portability.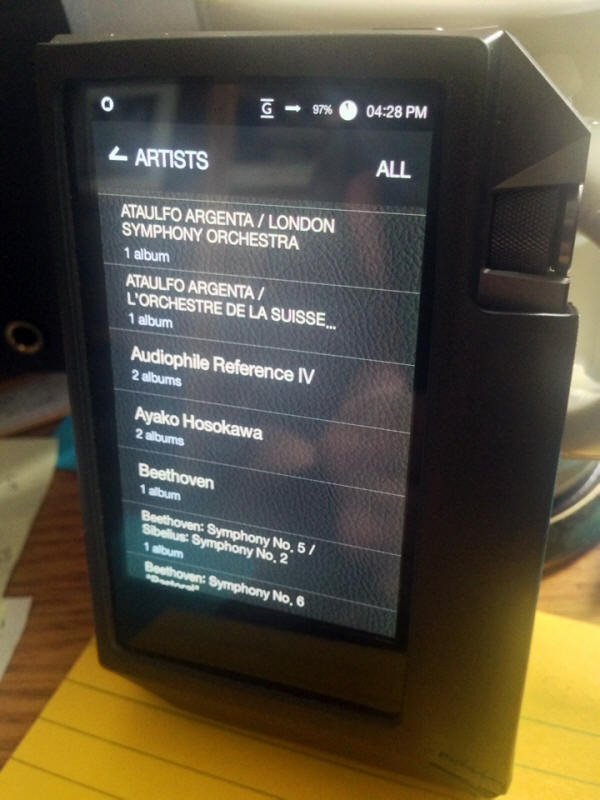 The ergonomics and interfaces of the AK240 are impressive, once you get the hang of them. The top of the unit, from left to right, has one 3.5mm stereo output jack, for unbalanced headphones and optical connection, and a 2.5mm balanced (4-pole) out for headphones with the appropriate connector. (I'm working on sourcing one of these 2.5mm balanced cables from Double Helix Cable, my current headphone reference source; I'd like to explore the performance of this option.)
The input and recharge functions are handled by a USB 2.0 Micro-B connector on the bottom of the AK240. The USB-to-Micro-B cable (included) allows the user to recharge the AK240 via computer USB port, or even via an Apple AC-to-USB adapter, the same that you would use with iPhones and iPad, when the unit is off. Alternatively, you can transfer DSD/PCM files when the AK240 is powered up, and you choose file transfer mode. In Windows 7, this allows for very easy drag-and-drop file copying via Windows Explorer on my home base computer, which is convenient for the user. I was able to get a number of recordings onto the AK240 in just a bit, with no complications. (The OS for the AK240 looks like a customized version of Linux… the only way to go, really, in a dedicated audio appliance like this.)
Additionally, the AK240 supports wireless networking via 802.11a/g/n Ethernet… a really important puzzle piece. This allows the device to connect to wireless LANs, and allows for the updating of firmware. More good news: Bluetooth is also present, for wireless connection to car stereos, a very helpful feature with the new generations of automotive sound systems that are piped for Bluetooth. (I tested this feature in our 2013 Cadillac SRX, which has tons of Bluetooth audio connection capacity, as well as USB 2.0 just about everywhere. Using the Cadillac CUE system, I had no problem linking up to the AK240, and was listening to DSD while moving down the road. Excellent! Wireless DSD in cars. Kicks the hell out of iTunes, and that's a fact.)
The AK240 has some storage capacity, too. It comes standard with 256GB of solid-state internal capacity, with an additional slot for a microSD card of up to 128GB. That's a total of 384GB of storage, which is a ton even for DSD and Double DSD files, as well as your high-res PCM. Of course, you can have multiple microSD cards with you, the tiny creatures… dozens of them would fit in a pocket or small carrying case, without a problem… which would allow you to have over a terabyte along with you, in blocks of 128GB.
Talk about infinite music storage!
This is all great news. For more information on the AK240's specs, see HERE.
About Battery Life
Power use and charging: With full charge, and with Bluetooth wireless off, I was able to run continuously with Single and Double DSD for 3.5 hours on a flight from Chicago to Portland, Oregon, which drew the battery from 100% down to 40%, or about 17% charge draw per hour, equaling roughly six hours of constant play with DSD on full charge. If you need more than that, it's easy to purchase additional portable battery USB chargers that can extend this playback time by 100% or more per unit, depending. (In fact, the new seats on Alaska Airlines now include both a 120V AC plug and a USB plug on the backs. During my recent flight to Maui, I didn't have to worry about battery life at all. I think we'll be seeing more of this as time goes by.)
If you don't have in-flight recharging, or can't get to an AC receptacle with an adapter and your recharging cable, you should note that recharging can take a handful of hours, so allow roughly one hour per hour of use for that. If you've drawn it well down, to nearly zero, then overnight is the amount of time you should allocate.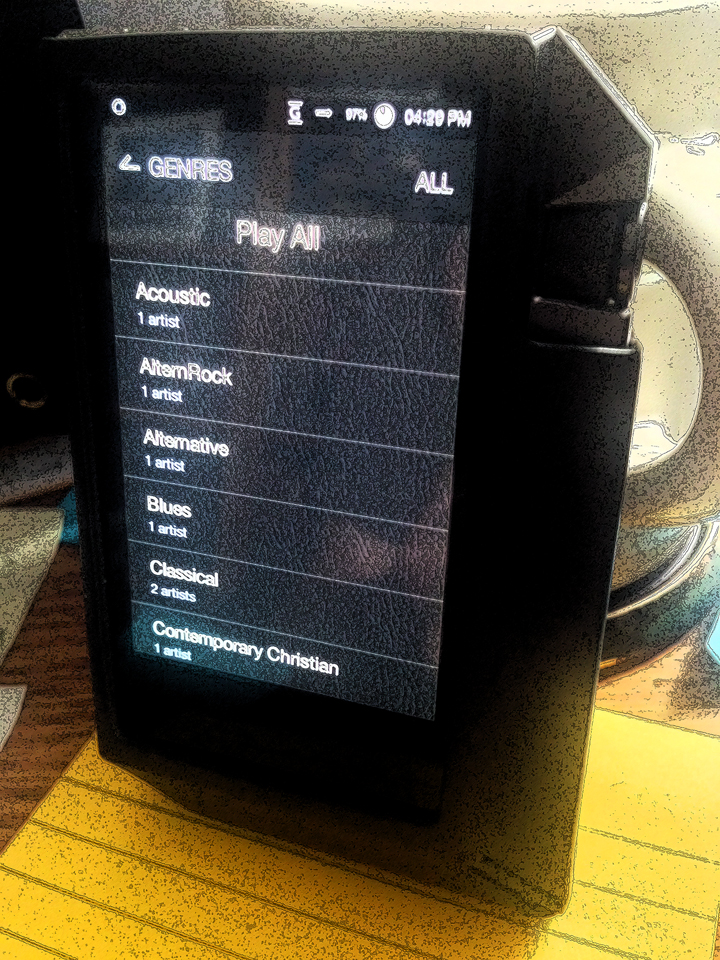 But… what about the meat and potatoes?!
But making a portable player is trivial these days. Easy-sleazy, even if it's high-resolution. Everybody and his kid brother are doing it… even Neil Young and Pono… so this isn't the real challenge.
No, that's not it.
This is it for carry-alongs. Portable player: you take it everywhere, but the real question is: where does it take you?
Yes, chilluns, that is the olive in the martini, the doo-wah in the diddy-diddy, the stuffing in the turkey, the jump in the jive.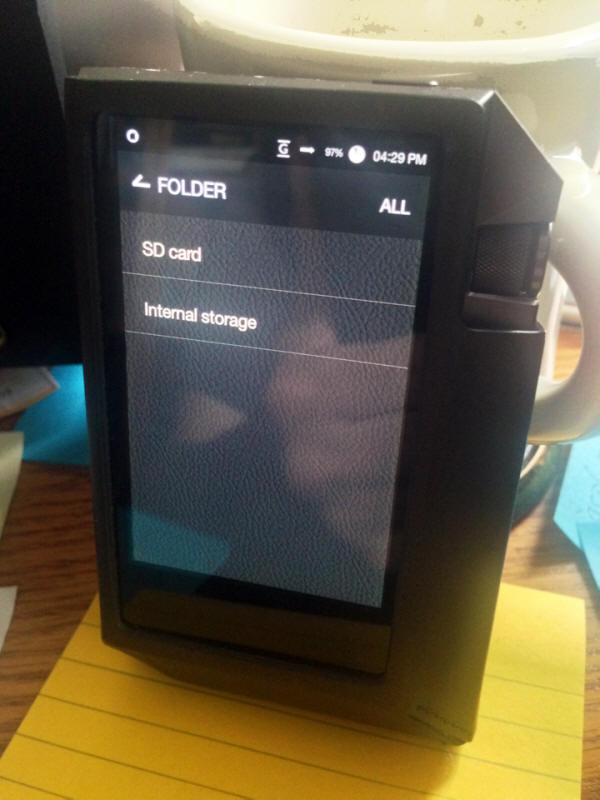 The Sound
Time to cut to the chase. How did the AK240 perform over time as a portable high-resolution device?
In a nutshell: outstanding! One of a kind! A real ground-breaking kick-you-in-the-audio-paradigm product!
In fact, this is the first time that I've used a portable audio player and thought, "Wow, this sounds like a major audiophile component… and it's right here in my pocket!" Instead of, "Wish this POS sounded better… wish my head didn't hurt."
I spent my time with the AK240 mainly in two places: In my car, listening via the 3.5mm stereo connector (by JENA Labs), and traveling on jets, listening through 3.5mm/JENA Labs cable to the Ray Samuels SR-71B balanced headphone amp to my JH Audio Pro 16 in-ear monitors. (I spent some time with it at my desk, as well, to hear it in a quiet environment. I can tell you that it triumphs in the easy chair, big time.)
In my 2008 BMW 335i, the AK240 allowed me to enjoy DSD, Double DSD, and high-resolution PCM without compromise via the 3.5mm connector. If you have Bluetooth audio connectivity in your velocipede, you'll be able to listen wirelessly; the AK240 connected nicely in our 2013 Cadillac SRX, which is a very high-tech vehicle, and handles this sort of thing quite spiffily. I listened in both wired and wireless modes in the SRX. (Now that I have a BMW M3 with Bluetooth audio… Damn! At last!... I'll be able to try the AK240 wirelessly in a BMW setting. Oh hell yes!) Sounds very good indeed over Bluetooth, although I think that hardwired sounds better.
In cars, high-resolution PCM made CDs, FM, and Sirius XM sound like runners-up. Listening to Phish's Junta, a download from HDTracks, was a revelation in high-resolution PCM pushing the boundaries in my car. This is a great recording from a really creative group, done back in the late '80s, and one that I listened to again and again with the AK240. Instead of crunchy iPod sound, I was getting something that made you want to listen to music, and not simply paste it up on the wall as some sort of audio wallpaper-in-the-middle-of-a-commute-to-the-university. That sort of thing with all of the high-res PCM recordings that I had, from 88.2kHz/24-bits up to 192kHz/24-bits (including Joni Mitchell's Blue and Both Sides Now, Green Day (anything!), Daft Punk's Random Access Memories, Beck's Morning Phase, and Billy Idol's Rebel Yell), all mainly from HDTracks, made "Baby you can drive my car" a much better time that it usually was.
That was echoed by my travels on jets with the AK240. I had it down to a routine: Get to my seat; put baggage above; take out the AK240, the JH Audio Pro 16's, the SR-71B, and the JENA Labs 3.5mm cable from my travel vest. Put in the in-ear's, which in the case of JH Audio are custom fitted to your ear canals, so that I don't have to listen to all of the noise and chatter. Wait until 10,000 feet and the all-clear, and then fire everything up. The pull-down tray makes for a decent system platform at altitude, and gain is absolutely no problem. I set the AK240 to "60" for volume, ran the SR-71B at "high" output and about 10:30 volume on that pot, and sat back in audio bliss. (Note that your mileage will probably vary on these volume settings; start low, and dial it up to sufficient levels for your own ears. Remember to avoid overloading your ears; who needs permanent hearing loss?)
But whether I was in the car or in the air, it was when I was listening to some of my DSD files that the AK240 really showed its stuff. Even at its best, and even at 192/24, PCM still has a bit of an edge, a glare that I don't like to listen to for long stretches. That's not true of DSD for me. I was able to listen to very long stretches of Single and Double DSD music… up to five hours continuously… without fatigue or headache. The AK240 did exceptionally well in delivering DSD at a very high level of quality. It was like having master tapes along for the ride, with no compromise for portability.
I have a great deal of DSD files here at PFO Central, and I used both the internal storage and the microSD adapter to rotate in all sorts of music. With the AK240's handy file folder mode, this was easy…as simple as using Windows Explorer to drag and drop files. Very nice! This is where Chad Kassem's Super Hirez DSD download center and Jared Sack's Channel Classics DSD download site were of particular help to me, and provided me with all sorts of Single DSD files of various genres.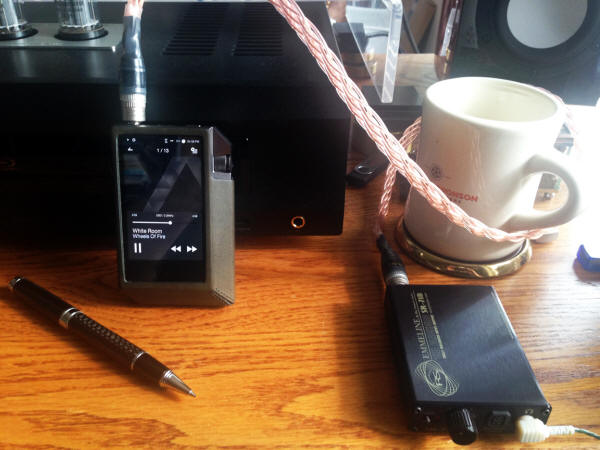 Conclusion
Eureka!
After years of crunched-up, flat, screwed-up compressed music… the miserable price of portability for way too long… the Astell&Kern AK240 has cut me loose from the dreary blues of audio compromise. Now I can use my "concealed carry" audio permit, pack my high-caliber musical heat to wherever I want to go, and not have to take aspirin with me at the same time. My DSD albums, which deliver the best that I've heard, now come with me wherever I travel or drive. And I can do it wirelessly with Bluetooth, as well. The touchscreen interface is easy to use; the supporting file transfer system is simplicity itself; there's a ton of storage space, with easy-swap microSD for additional carry-along music; the playback quality is at the level of a major audiophile component; and it looks like a million bucks.
Hell. What's not to like?!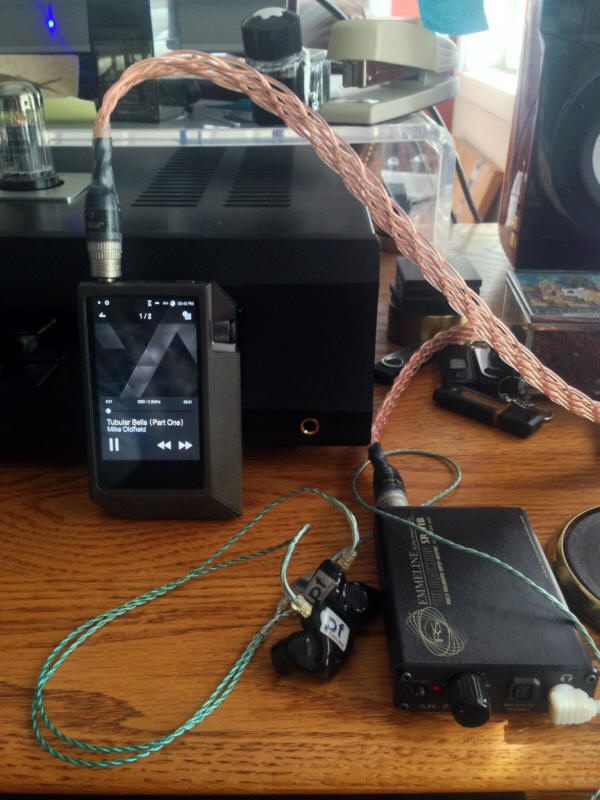 Being blunt: The AK240 is the best portable audio player that I've ever heard. Not just by light years… by parsecs! For PCM it's excellent, but more important to me (and to you), it will let you take the increasing floodtide of DSD downloads with you when you hit the road. As I sit here listening to my new download of Soundgarden's Superunknown from Super Hirez, I say to myself: Yes, yes, there it is! From the studio to the home… without crunchy crap, without PCM glare and edginess. Living, breathing music.
The old proverb is now officially dead in audiophileville: You CAN take it with you!
This is a screaming PFO rave alert: The AK240 is it. Get it, bud, or be stuck with whatever's in second place.
And that's the name of that tune.
Price: USD $2499
Astell&Kern
http://shop.iriverinc.com/astell-kern/ak240.html