ROBERT H. LEVI'S SYSTEM
LOUDSPEAKERS
Marten Bird Loudspeakers, Marten Duke 2 Loudspeakers, and REL Stadium III subwoofer
ELECTRONICS
E.A.R. 324 phono preamplifier, [2] E.A.R. 890 amplifiers (run as monos), E.A.R. 534 Stereo Amplifier, E.A.R. 912 Professional Preamplifier, E.A.R. 834L Tube Line Stage, E.A.R. HP4 Headphone Amplifier, Grado Battery Headphone Amplifier, and KingRex Headphone Amplifier.
SOURCES
Analog: E.A.R. Disk Master Turntable with two Helius Omega Tonearms. Digital: E.A.R. Acute III CD player, E.A.R. Acute 1 CD Player, ModWright Sony 9100ES SACD/CD/DVD Player with Signature Truth Modifications, Mod/Bybee Filters and Revelation Cryo Silver Umbilical. ModWright Sony 999ES CD/SACD/DVD Player with signature Truth Mod and Tube Power Supply, and Alesis Masterlink 24/96 Recorder/Playback Deck. Cartridges: Koetsu Rosewood Signature Phono Cartridge, London Reference Phono Cartridge, and Grado Statement1 Phono Cartridge. LD: Pioneer DVL 919 CD/LD/DVD Player. Tuners: Magnum Dynalab MD-108 Reference Tuner, Marantz 10B FM Tuner, Day Sequerra Reference FM1 Tuner, McIntosh MR71 FM Tuner, Dynaco AF6 FM Tuner, and Marantz ST17 FM Tuner. Headphones: Stax 7t Electrostatic headphones, Grado RS1 headphones, Grado PS 1000 and PS 500 Headphones, Ultrasone Edition 8 Headphones,and Koss ESP950 Electrostatic Headphones.
CABLES
Kubala-Sosna Elation Interconnects, Speaker Cables, and Power Cords. Kubala-Sosna Emotion and Expression Interconnects and power cords, Jorma Design Origo Interconnects and Speaker Cables. Harmonic Technology Magic 2 Interconnects, Magic 1and2 Power Cords, Fantasy Power Cords, Kimber D-60 Digital Interconnects, Kimber Select 3038 Silver and Silver/Copper Interconnects, CRL Silver Interconnects and Custom WyWires Interconnects.
ACCESSORIES
Monster Reference 350 Mark II v2 Power Conditioner, World Power Wing Revised Power Conditioner, Tice Power Block, Tice Clock, and Audio Prism Quiet Line IIs. Anniversary Edition Cable Cooker 2.5, Winds Stylus Pressure Gage, Bedini Ultra Clarifier, VPI Record Cleaning Machine 16.5. Audio Magic's Quantum Physics Noise Disrupters, Marigo Mystery Feet, Townshend Seismic Sinks, Furutech Demag, RSC Sound Panels and 16 inch Bass Trap, and Shunyata Cable Lifters.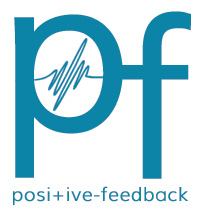 You are reading the older HTML site
Positive Feedback ISSUE 74
july/august 2014
mr speakers
Alpha Dog Headphones
as reviewed by Robert H. Levi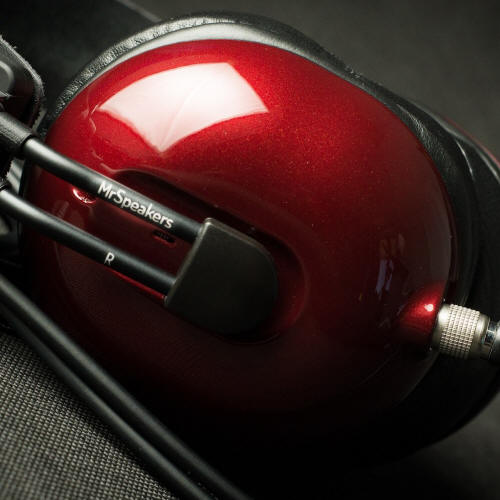 Thanks to the terrific exhibit called Headphonium at T.H.E. SHOW NEWPORT, I heard a remarkable pair of headphones that sounded and performed in all ways expensive and open-back, but was neither! I generally ignore cans priced at $599, but holy moly, these Alpha Dogs are impossible to ignore. One listen and you are done for. Plus, they are cutting edge because they are 3D-printed shells, which produce purer sound with less weight and bulk. This is American engineering at its finest!
I have the latest version of the Alpha Dogs, and they sing magnificently! Even-sounding from top to bottom, they are great for listening and monitoring. Their driver array is Fostex planar panels, and the rest is just plain tweaked by ear. I have the very latest generation, which incorporates all the designer has learned about bass adjustment and definition. I have the gloss black version.
The cool part is I have big ears, and they fit entirely inside the cups, which are super padded. You can hear close to nothing around the venue when listening to music. These are a recording engineer's dream. Also, none of the sound leaks into the room to disturb your neighbor.
Specifications
Frequency response (+/- 3dB): 16Hz to 18kHz
Efficiency: 90dB/mW
Weight (without cable): 440g
Cable: Dual entry
The electrical impedance is not listed on their site, but I would say that these are not low-impedance. I found the best sound came from using the HiZ Input on my E.A.R. HP4 Tube Headphone amp. They also sounded terrific with my KingRex Headquarters solid-state Head Amp, where impedance did not matter.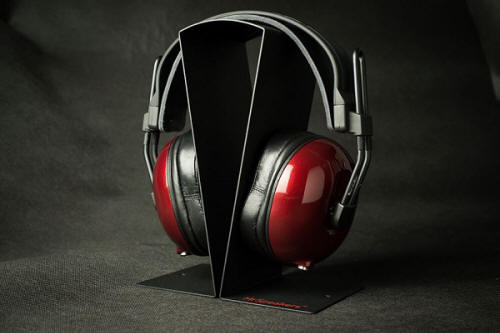 My favorite closed cans used to be the $1500 Ulltrasone Edition 8. The Alpha Dogs destroy the 8's in every parameter. I wish the Dogs preceded the 8's, but they didn't. The Alpha Dogs yield a much more natural soundstage and believable definition. They also seal against the head 100% better than the 8's! The seal is important if you want smooth, strong bass response. The 8's may be made like a Mercedes, but the Dogs are 3D-printed and sound more neutral!
The Alpha Dogs come with everything you need to use them, even a nifty headphone stand and a 15-day trial period. Both Nordost and Cardas make high-end cables for the Alpha Dogs that do improve the sound about 10-20% or so in smoothness and elegance. You even get a bit more definition. I find the supplied wires are totally satisfactory and will serve you well if you donít want to upgrade to Cardas or Nordost. Put your added dollars into a better head amp if you want more real musical goodness in the audiophile chain. Remember that more revealing cables may reveal flaws you hate just as much as love.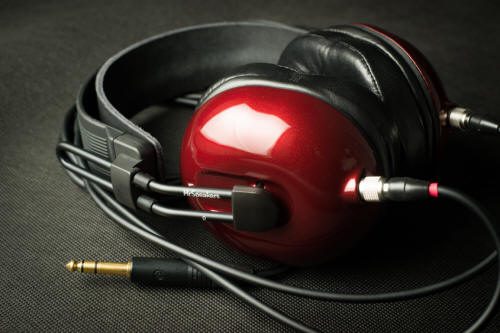 Quibbles
At $2000, I might find a couple. At $599, forget it! The cans came with special pads for tuning the Alpha Dog's highs, and a tool for tuning the bass. I liked the factory settings across the board! I am mightily tempted to say that these are the best closed-back headphones at any price that I have heard to date!
Wow, I guess I just did.
Summary
From MrSpeakers comes an American dream in headphones that are both planar and closed-back... the Alpha Dogs! They are the world's first 3D-printed cans, and sound fantastic. Efficient enough to run on most everything, and beautiful to look at, they isolate like crazy. They are most linear, too. They embarrassed my reference $1500 closed-back headphones! These gorgeous cans are the deal of the century.
Quick! Get them before the price goes up! Highest recommendation! Robert h. Levi
Alpha Dog Headphones
Retail: USD $599
MrSpeakers
3366 Kurtz Street
San Diego, CA 92110
USA
619.501.6313
www.mrspeakers.com