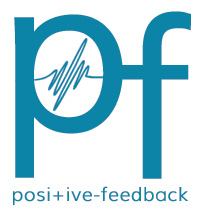 You are reading the older HTML site
Positive Feedback ISSUE 74
july/august 2014
Notes of an Amateur: Zemetsov, Viola; Pacifica Quartet and Anthony McGill Play Mozart and Brahms Clarinet Quintets; Finnissy's String Quartets; Music of the European Renaissance.
by Bob Neill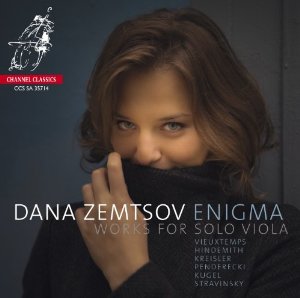 Dana Zemetsov, Enigma. Works of Solo Viola. [Kreisler, Stravinsky, Hindemith, Kugel, Penderecki, JS Bach] Channel Classics CCSSA 35714.
We come to recital CD's for the musician or for music we are unlikely to hear anywhere else. In this case, there is also the instrument—a viola, a peculiar instrument when on its own rather than as a liaison between two violins and a cello in a string quartet. An 'enigma' Zemetsov calls it. Some think of it as what we have left of the viola da gamba rather than 'just' an alto violin. As the latter, not-a-violin, some of us hear it as a violin with a cold. Benjamin Britten or Zemetsov's teacher, Michael Kugel, hear it as a melancholy or ironic violin. Listening to it as a descendent of the gamba, we notice more its bass qualities: we can hear a lyric cello—if the composer lets us. Helen Callus recorded the Bach cello suites on it, an occasion which while it puzzled some dispelled some of the instrument's enigmatic qualities for me.
I say all of this because Zemetsov's program strikes me as an invitation to explore the nature of her instrument as much as the music she plays. The only composer here who seems to relish the nature of the viola is Penderecki. He goes directly for its singular qualities—those out of reach of both violin and cello—and the results are truly haunting, not least, of course, because he's the best composer here, excepting Bach. Interestingly, Kodaly's transcription for viola of Bach's Chromatic Fantasy for harpsichord that concludes the recital achieves the same effect. So to my ears, the Penderecki and Bach works sit at the heart of the program and justify it, while the other dance around them.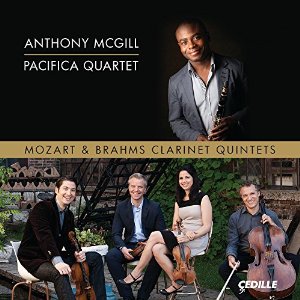 Anthony McGill, Pacifica Quartet. Mozart and Brahms Clarinet Quintets. Çedille Records CDR 90000 147.
I generally let my amplifier warm up a bit before 'serious listening.' But distracted by the U.S. Open (golf) this morning, I just put this new CD from the Pacifica Quartet with clarinetist Anthony McGill on and watched Michael Kaymer tear up Pinhurst Golf Course out of the corner of my eye. Not for long. Even on a relatively cold amp, McGill grabbed my attention and some minutes later so did the Pacificas. They were so compelling, even on music I haven't cared much for in the past, I couldn't take my ears off of them.
McGill's clear, rich tone, no surprise, takes center stage as it should. I haven't heard a great many clarinetists over the years but he's easily the best I've heard. The Pacifica musicians clearly knew whom they wanted for this outing. Their characteristically crisp style complements his harmonic richness perfectly. On the Brahms, McGill's musicianship is absolutely mesmerizing. While we are able to hear the differences between woodwind and strings, McGill brings them closer together, which on the Brahms especially makes the work more moving. This is some of the most exciting playing I've heard this year.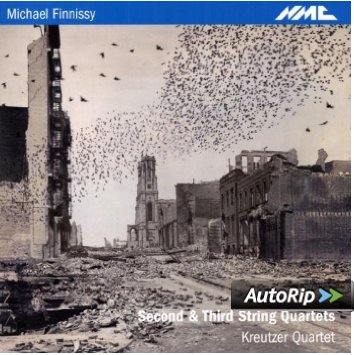 Michael Finnissy. 2nd and 3rd String Quartets. Kreutzer Quartet. NMC D180.
I came to this album from one I reviewed in a short note last time out. Contemporary British composer Michael Finnissy's contribution to that album caught my ear. Each of the two quartets here is a single movement work, which gives them the feel of musical essays, highly penetrating essays.
The first and shorter quartet (19:19), Quartet No. 2, contains rich contemplative music from the viola and cello, teased by antic, frantic modernist counterpoint from the violins, behind which it seems to be hiding. We can hear it in the background as the violins dance manically in the foreground. Sometimes the warmer material emerges, sometimes it moves along just within hearing, like a pedal point. There is ultimately no resolution to the continuous contrast of the two voices. Irresolution is what it is.
The second longer quartet (44:13) Quartet No. 3, more or less continues the argument, though here the warmer thematic material predominates, sometimes joining the violins, making bold statements of its own. We get the the sense that it is all going to turn into a single statement. And then it does. Now we have musical turbulence, the music desperately trying to settle into a single complex discourse. As listeners, it feels as if we are trying to right a boat on a rough sea, which we eventually do. We adapt to uneasiness and chronic contrast. Finally the weather settles a bit, around 20 minutes in; but Finnissy clearly wants to maintain this uneasy, contrasty aesthetic he as gotten us into. This is the way he wants his musical world to be.
Until, around minute 23, birds arrive! Now our backyard is full of all kinds of birds this time of year (3 feeders!), so it takes me a few minutes to realize that these are not instrumental imitations of birds on the CD. They are not outside my living room. A quick hit on the pause button confirms that. Real birds sing, real violins play. The instruments are trying to imitate the birds, the composer tells us in the album notes. Sometimes just birds sing.
What do we make of this? Your call. I don't like the whole idea, which of course matters not. Finnissy tells us he likes birds, likes playing with the relationship between birdsong and strings. Which I guess it his right. Anyway, it appears they're not going to last long; and then, oops, 10 minutes later they're back. With another 10 minutes to go on the piece with no signs of leaving. So I'm outta here. You're on your own, folks. At least they're nice birds, no cackling grackles. But if our cat were still alive, she'd be batshit. Consider that fair warning.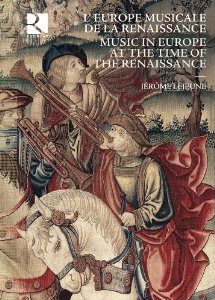 Music in Europe at the Time of the Renaissance. [Various Artists and Ensembles] Ricercar.
This is 'the album I can't put away.' Surely we all have a few of these. No matter what I listen to and then either add to the shelf or give away to my trusty webmaster, this one sits there and says, 'Come back—this is where you want to be.'
Compilations are coming thick and fast these days, presumably because record companies are trying to make what they can before the feared end of the CD era arrives. Some collections are silly and redundant; most are okay, useful recoveries from the backlists; and some are great opportunities for casual collectors to catch up (Complete Benjamin Britten, Complete Baroque Recordings of Oiseau Lyre). But this one, issued by one of the great niche (renaissance and baroque) companies, Ricercar, is a treasure. Choice of repertoire, quality of voices & instrumental musicianship, and richness and clarity of recorded sound are all A+. Not to mention a handsome book with commentary with a complete list of the rich and varied musical contents, work by work, along with names of artists and ensembles. Eight CD's presumably compiled from their extensive catalog (not just re-released whole CD's) along with a large selection of recordings from Harmonia Mundi, Accent, Ramée, Pasacaglia, Alpha, and Glossa, which cover scores of renaissance composers from all over Europe, paying special attention to major composers but seemingly getting everyone else as well. Choral and instrumental music, sacred and secular.
If you plan on buying just one album this year, make it this one. Fulsome and exquisite.
Equipment used for this audition: Resolution Audio Cantata CD player; Crimson 710 preamplifier; Blue Circle BC1022 stereo amplifier; JM Reynaud Offrande Supreme, V2's.
Crimson cabling.
Bob Neill is a former equipment reviewer for Enjoy the Music and Positive Feedback. Since 2004 he has been proprietor of Amherst Audio in Western Massachusetts, which sells equipment from Audio Note (UK), Blue Circle (Canada), Crimson (UK), Jean Marie Reynaud (France), and Tocaro (Germany).