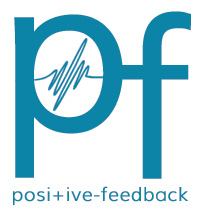 You are reading the older HTML site
Positive Feedback ISSUE 74
july/august 2014
Notes of an Amateur: Ibragimova's Prokofiev; Lera Auerbach... and friends.
by Bob Neill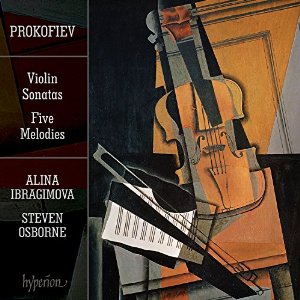 Prokofiev, Violin Sonatas. Five Melodies. Alina Ibragimova, violin; Steven Osborne, piano. Hyperion CDA 67514.
I am reported in an ad on the Hyperion website for a new Ibragimova recording as saying that "when you're listening to Ibragimova, she is the only possible way to go." Is this true of her new Prokofiev CD? My favorite performances of this this music are by Gluzman and Yoffe on BIS. About them here on PF I wrote, "beauty and power yoked together... Prokofiev's sonatas must be played this way or they will fade before our eyes into pale aquatints." It would appear I have written myself into a box!
This is the first time I've heard Ibragimova play with any other pianist than Cédric Tiberghien. But Steven Osborne, very well known and one of Hyperion's house pianist, is more than able to find his role here. To no ones surprise Ibragimova is most interested in Prokofiev's 'ghostlier demarcations,' so Osborne provides the power to keep everything tied to the earth. I expect Prokofiev would be fascinated by Ibramimova's view of his music, Sonata No. 1 in particular. She plays it like a subtle but clearly articulated spiderweb. Even the bolder passages carry with them a hint of the otherworldly. Ibragimova has no fear of aquatints, finds fanciful eloquence in them. I really think you'd have to be Ibragimova to get away with this, but she does and can be spellbinding. Hers is not the only way to play the music but she has found a way to reveal a different kind of meaning in it.
Sonata No. 2 is a more emotionally open work and thus is 'merely' beautiful, leaving little room for what special character Ibragimova brings. Playing the composer's five melodies, she finds more emotional subtlety than I've heard from them before.
To put what I've said about her before in a different way, everything Ibragimova plays, even Beethoven, changes under her soft but utterly controlled touch, lifts the violin and carries the music with it. We are tempted to call all of her performances definitive because no one plays as she does. They are not definitive—these performances of Prokofiev are not. But they are, like all of hers, bewitching and irresistible.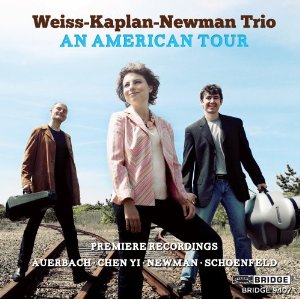 Weiss-Kaplan-Newman Trio. An American Tour. Premiere Recordings: Auerbach, Chen Yi, Newman, Schoenfeld. Bridge. 9407.
There is no limit to how far I'll go or how many rocks I'll look under to find more music by brilliant and compelling contemporary Russian American composer Lera Auerbach. Fortunately, most of the company she is associated with on these two CD's is acceptable; but make no mistake, she is the featured attraction on both and well worth the price.
The Weiss-Kaplan-Newman Piano Trio CD sets Auerbach among three of her American contemporaries, all are whom are worth listening to. Chen Yi's Tunes from My Home (2007-2008) is the first successful compound of East and West (twain which aren't supposed to meet) I've heard. The Chinese thematic material fits movingly inside a western frame.
Schoenfeld's Four Music Videos (2000) are attractive exercises of an encore-like quality, enabling the trio to show off its considerable virtuosity. Chancy Newman's (the trio's cellist) Juxt-Opposition (2010) belongs to the school of Coplandesque neo-romanticism and shows there is still plenty of ore to mine in this vein. He likes minimalism and is not immune to either its defects or joys, weaving both into the stylistic texture of his piece.
Auerbach's Triptych: The Mirror with Three Faces (2012) as we would expect takes us to a more eloquent and memorable place. (It is a sister work to a mixed media work, Insomnia, by Auerbach, which we are given a small black and white glimpse among the album notes. ) What signifies that we are in the presence of major art is the quality of invention, something that is always extremely high in Auerbach's music. Here she shows us how well she understands the potential for drama in a piano trio. Piano, violin, and cello fill the room, sometimes singing to one another, sometimes together. As an ensemble they create an extraordinary musical world, as mighty as there is in contemporary American music. We move back and forth between bold statement and plaintive, elegiac song that gradually turns into a surreal dreamscape. A brilliant piece of music.
Buy this recording for the Auerbach, which is what I did.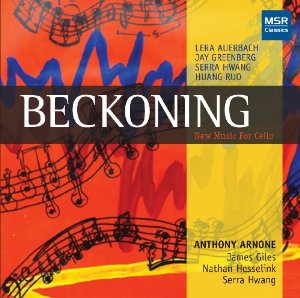 Beckoning. Lera Auerbach, Jay Greenberg, Serra Hwang, Huang Ruo. Anthony Arnone, cello; James Giles, piano; Nathan Hesselink & Serra Hwang, Korean drums.
It took considerably digging to find this Auerbach CD and once again her contribution to the recital, Sonata for Solo Cello, Opus 72 (2009) is (not quite) buried amongst music of her contemporaries: Korean composer, Serra Hwang; Chinese composer Hwang Ruo; and American Jay Greenberg, whose symphony kicked up such a fuss in 2006 among music media searching for the great American symphony, which it was not. The music of all four is composed for cello and played by highly capable Anthony Arnone, who is new to me.
The Hwang piece for cello and korean drums, Beckoning (1962) is forgettable but will at least warm up your system while you wait for the balance of the program. Huang Ruo's Four Fragments for Solo Cello (2008) is something else again. Here the ghost of Britten's cello suites comes into view. Ruo was born the year Britten died (1976). He was educated in China by his cellist father and then at Oberlin's and Julliard's conservatories. His suites or "fragments" which comprise a single continuous work fifteen minutes long, call up China; but like Chen Yi's, his heritage is "remembered" rather than "heard," as he tells us: recalled from the context of his entire Eastern and Western musical experience. His music points almost expressly to Britten's first suite, making his work a perfect lead-in to the Auerbach Sonata which immediately follows it in the program. Hwang's work is bold, sonorous, and powerful -- growing more moving on each hearing. Like Britten's, it calls upon the whole cello, its modern history in particular. Ruo tells us that when he first heard the cello he couldn't help but think of the Mongolian Horse-head fiddle: "To me it is one of the Western instruments that shares a close connection to the Eastern instrumental sound I grew up with."
As strong as the Ruo work is, once again Auerbach raises the musical stakes. To begin with, her Sonata is sonically and emotionally more complex. This is a six movement work (2004) bearing the same opus number at Britten's Suite No. 1 (Op. 72.) Britten wrote all three of his suites for Russian cellist Mistislav Rostropovich and they have always carried that connection. Russian American composer Auerbach appears to 'hear' Britten's music in her head: her Sonata feels like a continuation of Britten's oeuvre. Unlike Ruo's work, hers is purely Western modernist music, and at its most eloquent. Like much of her work, it sounds major even on first hearing. It left me (nearly) speechless.
Jay Greenberg's Sonata for Cello and Piano (2006) is the longest work in the program. Its first movement is heavy and unimaginative; the second, though its tempo is up, offers little more; the third returns to the lethargy of the first; the fourth attempts to redeem the preceding movements by injecting a bit more energy. As a whole, I regret to say, it feels like a dream by someone who fell in love with Rachmaninoff at an early age and never got over it.
Ruo and Auerbach justify the album by themselves, so don't let the others scare you away.
Equipment used for this audition: Resolution Audio Cantata CD player; Crimson 710 preamplifier and 640 monoblock amplifier; Tocaro 40 loudspeakers. All Crimson cabling.
Bob Neill is a former equipment reviewer for Enjoy the Music and Positive Feedback. Since 2004 he has been proprietor of Amherst Audio in Western Massachusetts, which sells equipment from Audio Note (UK), Blue Circle (Canada), Crimson (UK), Jean Marie Reynaud (France), and Tocaro (Germany).