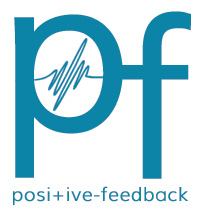 You are reading the older HTML site
Positive Feedback ISSUE 74
july/august 2014
Krakow Sonic Society, Meeting No. 93 - Audiodesksysteme Gläß, The CD Sound Improver
text by Wojciech Pacuła, images by Wojciech Pacuła | Bartosz Pacuła | Marcin Bobula, translation by Andrzej Dziadowiec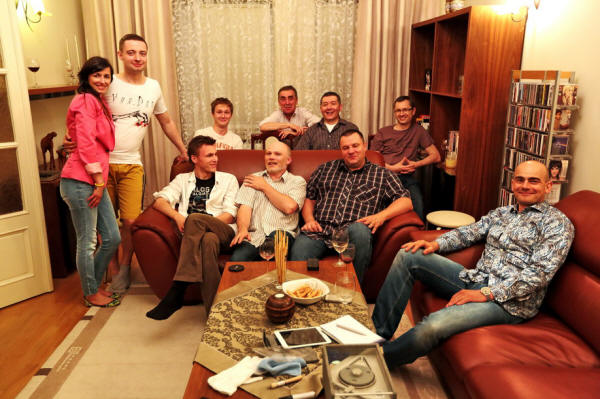 How the Kiss Gained its Polish
The 93rd meeting of the Krakow Sonic Society has been arranged at the request of wykop.pl and related web portals. This report from the meeting is intended for people who like to think and act. I would like to apologize to all those who only like to think and assure them that even though audio is an area of experimentation and testing, we will also have their needs in mind. But not this time yet.
I kicked off the meeting by expressing my enormous outrage at the fact that six months had passed since our previous meeting. Half a year! You got to be kidding me! For over ten years we used to meet at least once a month, usually more frequently, and suddenly such an embarrassment. Having said that, I need to exercise self-criticism and confess that this has largely been my fault. The visit of Raveen Bawa from dCS was supposed to be a prelude to a series of meetings with other interesting people from all over the world (the report from the KSS meeting with Raveen can be found HERE). Unfortunately, nothing came out of these plans. Due to various commitments all the guests had to regretfully cancel their visits, hoping to meet another time. It seems that some of the planned visits will at last be possible, but that's not what I wanted to say. The fact that half a year has passed without any reaction on my part must be because time keeps accelerating. But it also must result from my preoccupation with something else, which I realized only recently. Apparently, I must have been thinking that since various interesting people kept coming from all over the world just to sit down with us, listen to some music, have a talk, sip some wine or beer and see Krakow, we should stick to that. And I was dumb as dirt. After all, KSS meetings have always been about various things that interested us; personal business and possible guest visits have been given secondary attention, no matter how enjoyable they have been. Hence, I put on my sackcloth and ashes and I solemnly promise to do better in future. After all, we are not that far from the 100th KSS meeting and it would be beautifully symbolic if we could meet for the hundredth time in the same year that High Fidelity celebrates its 10th anniversary, wouldn't it?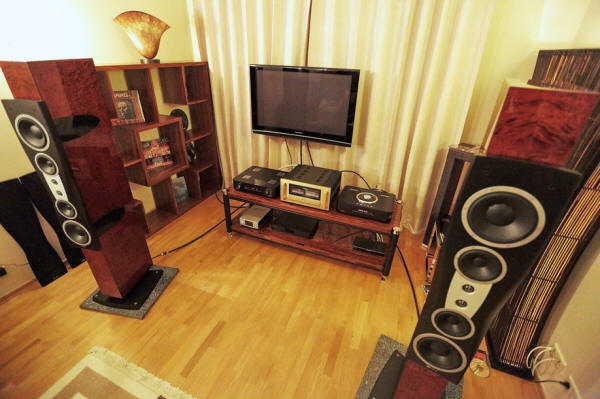 Tomek's System
But maybe it was meant to be that way? I'm not a fatalist nor do I believe in "destiny" and predestination, but I painfully often face a course of events that are difficult to explain by the chaotic nature of the universe, and which may be a good argument for the existence of something or someone who directs it all.
For behold, just a few days earlier Tomek, one of the "founding fathers" of the KSS, finished completing what I assume to be his dream audio system. This is obviously but a temporary situation, because one of the axioms of audiophilism is a constant pursuit of an ever-elusive goal. It seems, however, that Tomek has finally arrived at a place where he can just sit back comfortably and listen to music, without a feeling that something's not quite right. It is a system in which everything has its place. Its sound is largely similar to what I have at home: it is rather warm and "analog," in the sense of being smooth, dynamic and free of sharp, unpleasant edge, with a pleasing lower bass tonality and huge soundstage.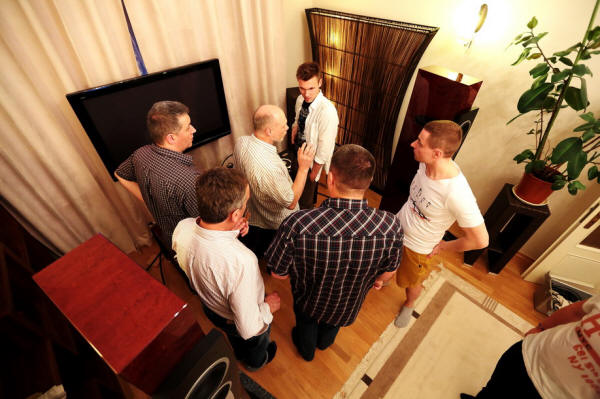 What helps the latter is the fact that Tomek has the big Dynaudio C4 Signature floorstanders, signed for him personally by Wilfried Ehrenholz, the owner of Dynaudio. Hence, the vertical soundstage dimension is very natural here, without a feeling of the sound being compressed into a wide narrow strip.
I also think that for the first time Tomek's Dynaudio speakers, which he tried out a few different pairs before, are driven properly. Although on paper they are quite friendly even to a tube amp, they sound best when kept on a short leash by the amplifier. And the newest Accuphase A-70 stereo class A power amplifier that employs many technologies from the powerful A-200 monoblocks is perfectly capable of that. By the way, Tomek's new integrated is one of the first A-70 units that have left Japan.
Our host has chosen to drive the amplifier from the Ayon Audio Stratos DAC with analog preamplifier. Since I reviewed it for Audio, I know that it is a truly unique component, with an outstanding preamplifier section that is not so much behind my own Polaris III. The DAC is fed the signal from a digital TV tuner and HD Dune Max media player (mostly used for video) as well as from the Ayon Audio CD-T transport. For now, the latter is connected using the I2S link, but Tomek would soon like to try the S/PDIF output, here with a tube buffer. This proprietary link has been developed by Gerhard Hirt, the owner of Ayon, to help improve data integrity.
But the latest addition that permanently appeared in the system literally two or three days before our meeting, is the Aurender X100L music files transport—exactly the same unit that was the subject of my last month review, to which Tomek also contributed a few paragraphs. The player he has been dreaming of for quite some time.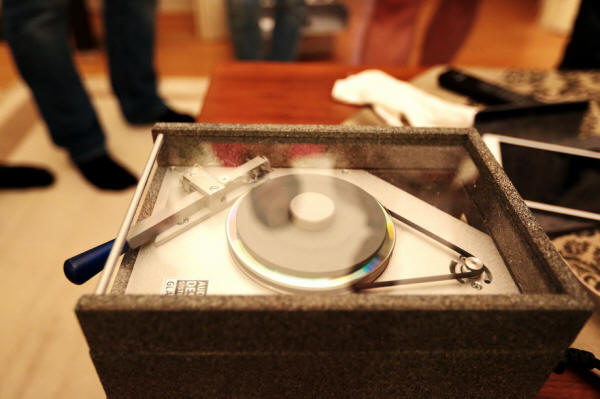 Machining by Turning
We clarified the matter right at the very beginning of our meeting at Tomek's: from a technical point of view, the component that we were about to review and discuss was a vertical turning lathe. The Audiodesksysteme Gläß CD Sound Improver is designed to improve the reading of signal from optical discs. It has been developed for the Compact Disc format, but there is nothing to prevent you from using it with SACD, DVD and Blu-ray discs. The idea of how to improve the concentricity of discs, and reduce laser light scatter, was originally developed by two gentlemen, Dr. Erich Schrott, a biochemist, and Mr. Wolfgang Schneider, an engineer. This simple but brilliant idea came from the same people who also created the beautiful ultrasonic Vinyl Cleaner (see HERE), which I use every day. Here they came up with a lathe that trims the edge of a disc creating a 38º beveled angle. The beveled disc edge is then colored with a black felt marker for a better absorption of extraneous laser light. The trick that has been known in the audiophile community for years, here has its logical conclusion. By way of reminder, a green marker was commonly used to color the CD edge. The gentlemen from ADS claim that black color is better because some lasers work with infrared light rather than solely red light. Both elements, the improvement of disc concentricity and light scatter reduction, have one goal: jitter reduction. It is so brilliant in its simplicity that even Jarek Waszczyszyn, himself an engineer with many years of professional experience with CD reading devices and digital signal decoding, was impressed.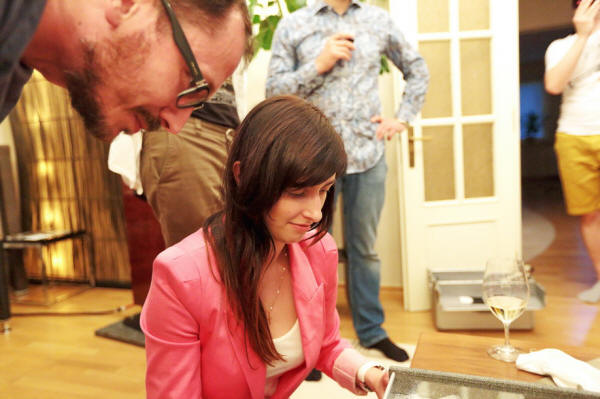 The CD Sound Improver is simple to use. It looks like a small turntable with a knob to regulate the rotational speed. There is a movable arm, with a cutting blade at one end. The tungsten carbide blade can trim around 2000 CDs before needing replacement. A vacuum cleaner hose can be hooked up to the device, to remove the plastic CD shavings. We place the CD face down on the "platter" and secure it from the top by tightening the metal clamp. After turning up the speed to maximum, we slowly and carefully push the arm. There is a pre-set limit point so there is no fear of damaging the disc. Once the shavings are no more produced, we reduce the speed to minimum and carefully press the supplied black marker against the CD edge to darken it. And that's it. During the meeting, every participant could have a go at trimming his own disc, which most of us did.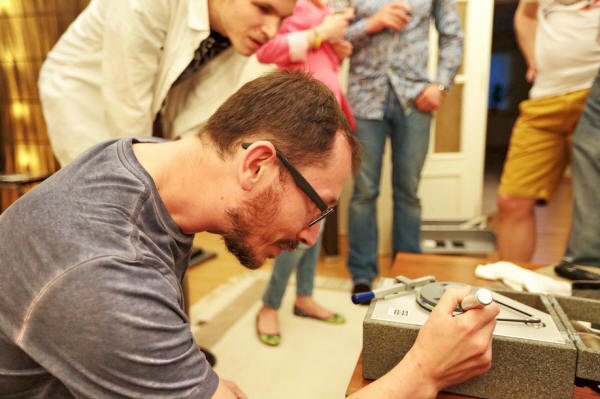 Sound
In audio, what counts is what you hear. Theoretical basis, measurements and knowledge are all extremely important, crucial even, but secondary to what you hear. If you think different, you should conduct some comparisons yourself. I can assure you that you will face a big problem trying to find a logical explanation for what you have heard. It often happens that a currently held theory, or actually its particular application, fails to keep pace with practice. Hence, we wanted to test the impact—however indirect - of the German device on sound in practice, by listening to CDs processed with its help. Our listening procedure was simple: A/B/A, with the A and B unknown. With Tomek's help, I prepared a selection of CDs to directly compare the discs that had been trimmed to the original, untrimmed copies. After each audition, I asked the participants whether there was an audible difference between the two discs and, if so, which version they preferred. Then I encouraged them to try to identify the disc that had been trimmed and painted.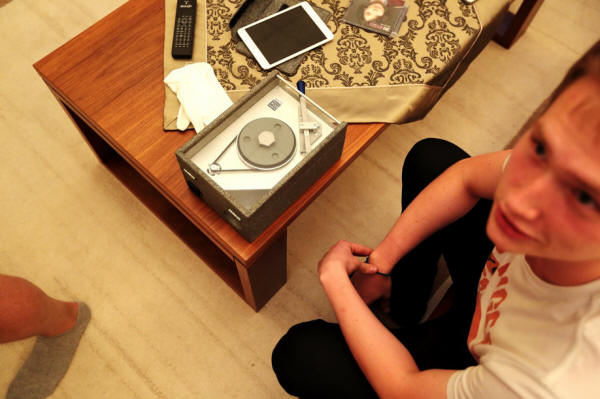 The effect of using the Audiodesksysteme Gläß CD Sound Improver was clear, large, and the results were reproducible. They were not argued or disputed by a newcomer to our group who made his KSS debut, bringing in a completely fresh, undistorted perspective. Wiktor is a professional musician who also designs and builds hybrid amplifiers. A week later he played the contrabassoon with the MultiPlayer Ensemble at a concert in one of the cinemas in Krakow (Game On Music, see HERE). I cannot imagine anyone who would not pick up the sonic difference. Let me here give props to Ryszard B. who once again showed a truly audiophile sense of hearing and without a shadow of the doubt correctly identified the trimmed versions in all the auditions.
Albums auditioned during the meeting
• Dominic Miller & Neil Stacey, New Dawn, Naim naimcd066, CD (2002)
• Diana Krall, The Girl in the Other Room, Verve 498620465, SACD/CD (2004)
• Audiofeels, Uncovered, Penguin Records, 5865033, CD
• Mark Knopfler, The Travelerman's Song EP, Mercury, 9870986, CD (2005)
• Dire Straits, Dire Straits, Vertigo/Universal Music LLC (Japan) UICY-40008, Platinum SHM-CD (1978/2013)
• Daft Punk, Random Access Memories, Columbia Records/Sony Music Japan SICP-3817, CD (2013); reviewed HERE
• Dominic Miller & Neil Stacey, New Dawn, Naim naimcd066, CD (2002)
The first CD that we auditioned was the wonderful album by Dominic Miller and Neil Stacey released by Naim Label. Quite sensibly, given the fact that four of us had recently been to the former's concert in Bielsko-Biala (see HERE). Four people chose the original version and six went with the trimmed disc. The difference was huge, but it additionally revealed our individual preferences.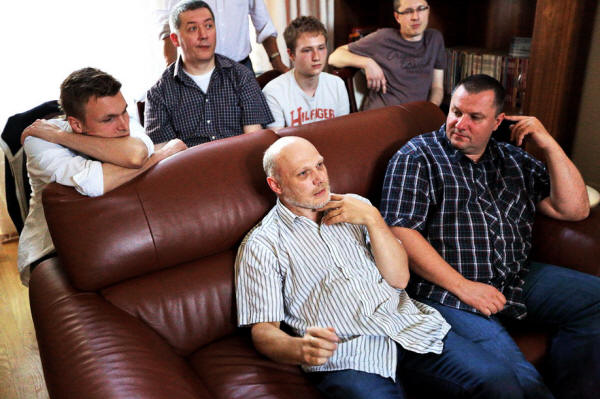 Wiktor
I must say that I was somewhat surprised at the scale of changes. I chose the original version only because I prefer a clearer and more distinct sound. The trimmed version had a stronger midrange that slightly lacked clarity. This version was calmer and fuller, which I liked, too. But if I had to choose, I would prefer a brighter sound of the original.
Jarek
I chose version B, which turned out to be the one that had been trimmed and painted. The difference was large and surprising in its scale. I liked the sound coming free from the speakers in the "made up" version. With the original disk, there were a few moments when I wasn't sure whether there was reverb or some noise behind the guitars. I had no such doubts with version B, which showed a much better differentiation of these elements.
Robert
I am torn between A and B, and can't decide which one I liked more. The two were so different that they just couldn't be mistaken for one another. Version B, which had been trimmed, sounded warmer, deeper and had a clearer midrange, especially the lower midrange. Version A showed more information, more clarity in the treble. Version B sounded incredibly analog-like.
Pawel
I picked up version A, untrimmed, due to its stronger bass and more air at the top. And that's what I like. I also liked the fact that details were stronger on this version.
Bartek
For me, version B, trimmed, was unbeatable—the guitars came forward and the whole presentation was richer. I do not agree that the A had more detail. In my opinion, there were fewer details with better clarity, the attack of the sound was harder, which made it seem like a lot more was happening than there actually was. Version B was warmer and better. It also had a much better bass—denser, meatier and nicer.
Andrzej
For me, the difference was very large and without any hesitation I chose version B, which turned out to be trimmed. It sounded as if the recording had been made in a different room. The guitar sound was richer in harmonics and had an incomparably better depth. The only thing that I might like about version A was its greater energy at the bottom end. While the guitars didn't have a particularly deep extension, they had a larger "body" when the bottom end was stronger. I used to play the guitar for quite some time and I have to say that I preferred that sonic aspect of version A.
Marcin
I chose version A because I think that it was richer. I simply prefer more clarity to the sound. Its top end was more detailed, more powerful and more forward. The attack of the sound, as in plucked strings, was stronger on the A and I prefer this kind of presentation. And the difference was very large.
Ryszard B.
I point to version B and declare it, even before it is confirmed, to be the one with the trimmed edge. For me, the sonority of this version was outstanding, with excellent timbral differentiation and fantastic dynamics. I think that it removed and cleared up a kind of curtain in front of the instruments, which somehow blurred them on version A. To me, version B had more clarity.
Diana Krall, The Girl in the Other Room
Verve 498620465, SACD/CD (2004)
With Diana Krall's album (we listened to the CD layer), the listeners decided almost unanimously, by a show of hands, that version B was better. Only one person preferred version A, following the choice made during the first presentation. This time, again, version A was the original disc and version B had been trimmed.
Jarek
This time I chose the untrimmed version because it sounded better to me, with a better order in the recording and more contoured bass. And, surprisingly to me, the tambourine was less sharp on version A, which came out for the better. The differences were less pronounced than in the previous comparison.
Wiktor
I chose version B, trimmed. I could now hear exactly the same changes as before, but they seemed reversed to me. The treble in the A was less transparent and less resolving. The whole recording seemed to be dirtier, somewhat tainted. Version B was warmer and at the same time cleaner.
Pawel
Version B seemed to have a more even frequency characteristic, so I went with it. Previously, I voted for the untrimmed disc due to its brighter tonality, but now I preferred the trimmed version. Although the untrimmed disc again had a brighter tone color, the top end seemed unnaturally emphasized. Bass was less contoured on the B, but it had a more pleasant timbre. This version also had milder and hence more enjoyable vocals.
Marcin
This time I voted for version B, which turned out to be the other way round as before. Version A was just too sharp and that's why I preferred the B. And the boosted treble was uncool, as if the treble tone control was turned up high.
Andrzej
I chose version B, which turned out to be the trimmed one. Certain sonic aspects of the untrimmed version were pretty cool, but version B had much more going for it. The differences were not as large as on Miller's album, but they nevertheless defined its reception. For me, the tambourine on version A was irritating. Jarek said that it was clearer and, hence, better. To me it was too clear, to the point of being annoying. It had what we call a stereotypical digital sonic signature. Version B, on the other hand, exhibited a stereotypical analog, vinyl sound. The way I see it, the trimmed discs offer a more pleasant, gentler sound. Version B, the trimmed disc, also had something that was lacking on the A, no matter how we perceive it, that is an emotional element, feelings, which I value a lot.
Ryszard B.
It has been a long time since I last heard so many divergent opinions at a KSS meeting. And yet, in my opinion, the subject matter is very clear. I immediately said that version B is trimmed. Tomek's system has a warm, soft, tube-like sound. In my opinion, the trimmed disc sounds more accurate, which works better in this system. It is more sonorous and thus clearer. I have no idea why you are all saying that the untrimmed version is brighter. But I already got used to it…
Tomek
For me, the choice was simple, because what's important in this recording is the double bass. And it had a better rhythm, timbre, body and presence on version B, which was the trimmed one. That's it from me—it was a more pleasant, prettier sound.
Mark Knopfler, The Travelerman's Song EP
Mercury, 9870986, CD (2005)
With this CD, gave of himself to know what a powerful release repeated the next one. The point is that both Knopfler and Audiofeels sound quite warm, strong and full-bodied. Trimming the disc edge and painting brought out, however, something that was previously masked, and that was not the end of fun. Do not shoot the messenger? Apparently so, but nevertheless, the choice depended on what we liked more. As a result, the conversion of five people voted for a version of B, that is serrated and two for nienacinaną. Interesting, but most of them hesitated, and only squeezed into the wall vote for any of them.
Ryszard B.
Precision, sonority, clarity of bass and great instrument separation—there is nothing more to talk about. I choose version B and I am sure that once again it was the trimmed disc.
Pawel
For the first time I choose the warmer sounding version B, i.e. trimmed. I think it had a less exaggerated guitar size and less boomy bass. On version A everything was more in-the-face.
Wiktor
On the trimmed version, everything was softer and less contouring. The lower bass was somewhat muddled on the untrimmed disc. On the trimmed one, the bass line left the upper range unaffected, separate and pretty. I'm going with the trimmed version.
Jarek
OK, since I have to make a choice I'm going with the trimmed version. But let me rock the boat a little and say that both versions had something likeable about them. The differences were clear, say it. I agree with Wiktor that the untrimmed version was more precise. But at the same time it was less enjoyable, too brash. The trimmed version had a better defined bass. However, the untrimmed disc sounded clearer and had more air.
I would like to add here that I think in the last listening fatigue began to assail me. We played disc A, then B, and A again (not knowing which one had been trimmed). While I noticed the difference between the A and B (the first and second listen), the subsequent difference between the B and A was minimal… And yet they were the same discs!
My second observation confirms my initial thesis. The trimmed disc has less uncontrolled reflections of the laser beam, which results in a lower optical jitter. The effect is quite similar to using a higher precision master clock in a D/A converter: a better overall precision and instrument separation, and more rhythmic bass. I might say that the meeting calmed us down, which I didn't quite expect. As for the Acoustic Revive ionizer, I'm still in the dark like an MP before voting for bills… The science is silent in this case and yet the discs sound better…
Marcin
I disagree. In my opinion, it was the untrimmed version that had a better bass, which was somewhat more expressive and better controlled. But version B was generally more pleasant and warmer. It's a tough choice. But if I have to, I vote for the untrimmed disc.
Andrzej
I think that this time the difference was smaller than in the previous comparisons. Or maybe we got used to it? A few bars into the track, the untrimmed version seemed better to me, but the further into the forest the smaller grew the differences. The opposition between the analog-like (trimmed) and digital-like (untrimmed) sound, which was previously so evident, this time largely disappeared. I slightly preferred the vocals on the trimmed disc, because they were deeper and prettier.
Robert
I can't decide, either. The two presentations sounded very different but I liked them both. The vocals were undoubtedly better on the trimmed version. However, I had doubts about its treble quality. To me, the treble seemed clearer and better defined on the untrimmed disc.
Audiofeels, Uncovered
Penguin Records, 5865033, CD
This time version A was trimmed and B was left untrimmed. Although we continued our auditions and listened to some more discs, I'll stop here as the Audiofeels album brings the auditions to a nice close with a reversed coda—it was the only one to get the majority of votes for the untrimmed version by a ratio of 5 to 3.
Wiktor
I started in opposition to everybody else and I finish in opposition, but I just can't not say it—version A, trimmed, was simply good. On version B, untrimmed, the vocals of Audiofeels guys sounded as if they had gone through an additional filter. And let no one tell me that the vocals are not processed because I don't believe that. But it was less audible on the trimmed version, and the whole presentation was more coherent and fluid.
Ryszard B.
I can say this with full conviction that I recognize version A to be trimmed. You may say what you want but I know what I know. This version had a better clarity and—do not shout at me—sounded sharper and more distinct. It was also warmer. The trimmed discs, including this one, have better vocals' separation and show more emotion.
Jarek
This time, sharper, i.e. less pleasant for me was version A, trimmed. The original version sounded softer. Perhaps somewhat dirtier but less imposing.
Pawel
I choose version B, untrimmed, because it was more pleasant to listen to. That's it.
Marcin
The trimmed disc had a sharper treble, with too much pronounced sibilance. Hence, I preferred listening to the untrimmed version, although previously I consistently chose the one that was clearer and more distinct. Here there was too much of that.
Andrzej
For me, the difference between the two versions was not particularly large. I heard more detail in version B, untrimmed. There was analog, liquidity—really great. I prefer the untrimmed over trimmed.
Robert
Definitely the untrimmed version. For me, the difference was large, maybe those aspects just do more for me. Very nice soundstage, depth and detail. I choose the untrimmed disc.
Tomek
For me, without any doubts version A, i.e. trimmed. I could go on for long, but let me just mention the suspension of vocals on Sound of Silence, when all vocalists go silent and we only hear the "background", fantastically suspended between the speakers, which was definitely "blacker" in this version. These and other details meant that in my opinion the sound of the trimmed disc, even if slightly dirtier than and not as smooth as the untrimmed one, was better.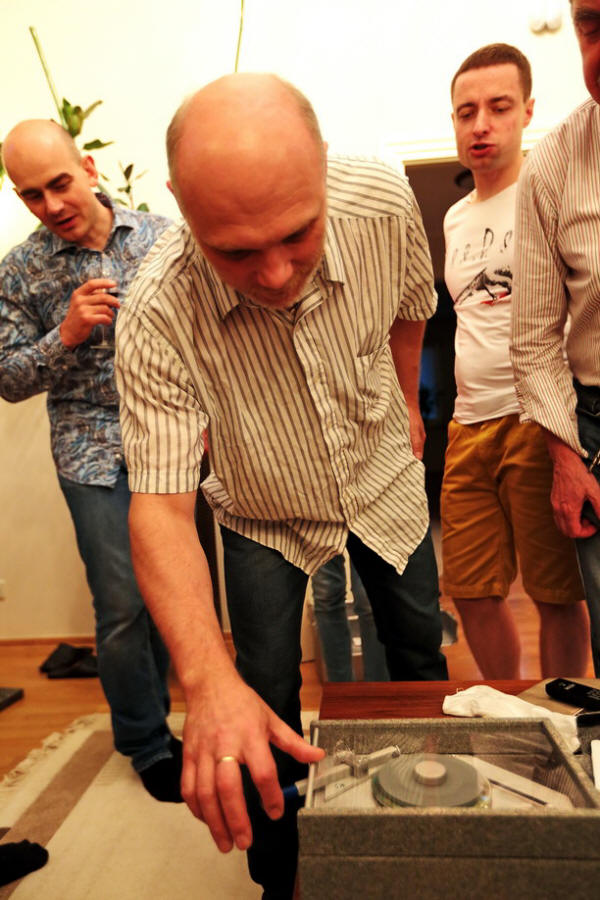 Conclusion
The meeting had a fantastic atmosphere. Around midnight, a birthday cake with ten candles was brought into the room as it was our first opportunity to celebrate the 10th anniversary of High Fidelity's presence on the web. We had fun and enjoyed some good wine and snacks. More importantly, however, once again we discovered something that can push the CD in the right direction and improve its sound. After the ionizer and demagnetizer from Acoustic Revive, the CD Sound Improver is the third product that is worth having.
I am stating this quite unambiguously, even though it is a product that physically, visibly and irreversibly changes the physical structure of the disc. You need to keep that in mind. I am not hiding behind "maybes," "in certain cases" or "under certain conditions," because my view on the matter is clear.
The participants of the meeting differed in evaluating the changes that took place. Each time, however, they were all repeating the same arguments as the trimming of discs introduced sonic modifications of the same structure. First, it cleaned any hash that was masking the sounds. On most discs, especially those well-recorded (like the phenomenal Dire Straits debut on Platinum SHM-CD or the brilliant Miller's release from Naim!), it resulted in a deepening of the sound and its better saturation. The sound was darker, with less pronounced treble, which is what I consider a good direction. In my experience, any problem in the digital audio path manifests as a hardening of the sound and emphasizing the attack. Lower jitter results in a more natural, "analog" sound. It did in this case. The exception to the rule was the Audiofeels album. It seems that something which was previously masked must have "come out" from the background.
The Aurender X100L digital audio player sitting on the shelf at Tomek's place is the future. For me, however, the physical medium still sounds better and I find it to be more natural and real. I do not know how much longer this state of affairs will last, but the new proposals in the form of Platinum SHM-CD and devices to prepare the disc for playback show that the CD format is still very much alive and kicking. And we also need to remember about continuous advancements in digital signal processing, as demonstrated by the Vivaldi system from dCS. Not to mention the outstanding show put on by the CEC TL0 3.0 transport when it comes to reading the data from the CD. Hence, I'm strangely calm about the future of the Compact Disc. Once I hear the first audio files whose sound will "floor" me in the same way as it did a few times when I listened to the physical digital medium (I'm not talking about vinyl because I do not expect it to happen), I will gladly retract my previous statements and eat my words, howling with joy to welcome a new era in audio.
Audio system used during the auditions
• CD Transport: Ayon Audio CD-T
• Music File Transport: Aurender X100L
• Preamplifier/DAC: Ayon Audio Stratos
• Power Amplifier: Accuphase A-70
• Loudspeakers: Dynaudio C4 Signature
• Speaker Cables: Acrolink
• Power Distributor: Oyaide
Audiodesksysteme Gläß CD Sound Improver
Price: 800 EUR
Audiodesksysteme
D 89551 Königsbronn
Seestraße 1 | Germany
info@audiodesksysteme.de
www.audiodesksysteme.de
Made in Germany