KEN MICALLEF'S SYSTEM
LOUDSPEAKERS
DeVore Fidelity Nines, Snell J/iis.
ELECTRONICS
Shindo Allegro preamplifier and Shindo Haut Brion amplifier.
SOURCES
Digital Source: MacBook, Halide HD DAC, Meridian Explorer DAC, Western Digital T2 Mirror Drive (X4)
Analog Source: Kuzma Stabi/Stogi turntable/arm combo, Denon DL-103, Auditorium 23 Denon step-up transformer, TSD15 cartridge with Super Fine-line Stylus
CABLES
Auditorium A23 speaker cables, Shindo interconnects.
ACCESSORIES
Salamander rack, 2" Mapleshade platforms (8" x 15" x 2"), Powerline conditioning by JPS Labs Kaptovator, Shunyata Black Mamba and Anaconda Vx Powersnakes, Shunyata Hydra 4 [on loan]. 3" studio treatment foam damping/ceiling-wall treatment.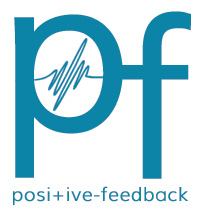 You are reading the older HTML site
Positive Feedback ISSUE 74
july/august 2014
line magnetic audio
LM-502CA Vacuum Tube DAC
as reviewed by Ken Micallef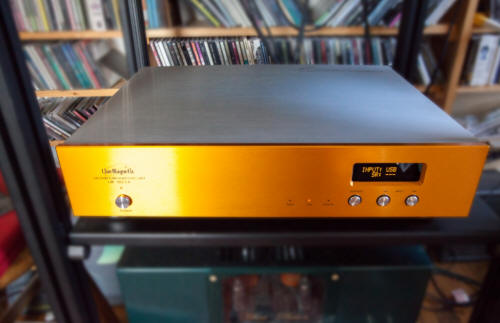 I live in Greenwich Village, New York City, within easy walking distance of two fine audio emporiums: Stereo Exchange and In Living Stereo. These vendors offer different gear and different purchasing experiences. Stereo Exchange, one of the oldest hi-fi shops in NYC, is outfitted with spacious, private listening rooms featuring such big audio players as Martin Logan, B&W, McIntosh, Classe, and Diavelet. I've always received friendly, even enthusiastic service at Stereo Exchange and they maintain a goodly stock of cartridges, accessories, headphones, and cables.
In Living Stereo's Steve Meisho and Steve Cohen man a cozy environment featuring high value components by Shindo, Merrill, Dynaudio, Feickert, Acoustic Plan, Bellari, Chord, DeVore Fidelity, and others. And they sell vinyl, with every purchase going towards gear credit. It's at ILS that I first heard the DeVore Fidelity and Shindo gear I now own. I gotta admit, this is a hangout of mine. First I hit the gym, then drink some overpriced "Fair Trade" coffee, rummage through the bins at Other Music, then it's In Living Stereo. I recently bought a Marantz integrated amp at ILS (full price) over which Steve Cohen and I remain gobsmacked. $450 ($400 with my applied LP credits) and it totally makes music.
Jonathan Halpern, owner of Tone Imports (distributor of Shindo, Acoustic Plan, Line Magnetic) and former ILS employee, is a friend. I feel that I understand Jonathan's tastes, his devotion to quality, and his single-mindedness in the pursuit of excellence. Jonathan is opinionated, and I imagine, not everyone's cup of tea. But through the years Jonathan's knowledgeable opinions, often echoed by many writers and well known audio gurus, have transformed my audio preferences. But Jonathan's views are nothing new. For one, the notion that the "newness" factor in audio has done nothing to create a positive listening experience. That low wattage amplifiers and high sensitivity speakers are the path to natural-sounding music production. It's not only about the advantages of SET, but the simple "straight wire and gain," and point-to-point wiring beats circuit-boards every time. (Those are my opinions.) That quality hi-fi manufactured in the 40s, 50s, and 60s, both in the US and abroad, is indeed the zenith of our hobby, if you can call it "a hobby." That the vintage components in my Shindo preamp and power amp equal the right path—for me. I can't count the number of times I've heard shiny, extremely beautiful gear sound horrible: lacking in tone, lacking in flow and musicality, without romance, lacking in transparency to the recording.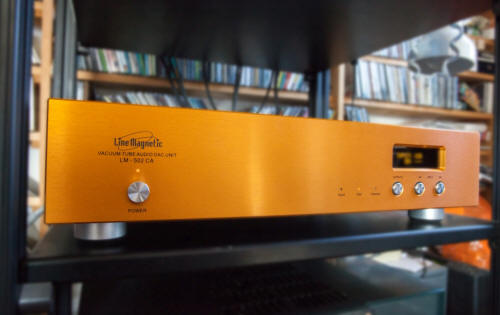 And this finally, is where Line Magnetic comes in. The Line Magnetic LM-502CA is a full-sized unit. It looks like a CD player but outperforms any CD player I ever owned. What attracted me to Line Magnetic was its beautiful and affordable line of integrated tube amps. Built like mini-tanks, they offer tremendous value for dollar.
Facts madam, only the facts
Line Magnetic is a South Korean company manufacturing loudspeakers, amplifiers, CD players, and DACs in the Guangdong Province of China. At $1800 the LM-502CA isn't cheap, but in a world where DAC technology, which is still in its infancy, easily costs 10s of 1000s of dollars, the LM-502CA is superbly priced. Each of the LM-502's inputs is capable of decoding up to 32-bit/192kHZ PCM. The LM 502's switchable capabilities include tube (3V) and solid-state (2.5V) outputs. A toroidal transformer handles digital circuits, an EI transformer does analog. A 6Z4 tube controls rectification before the signal hits the twin 12AU7/ECC82 tubes.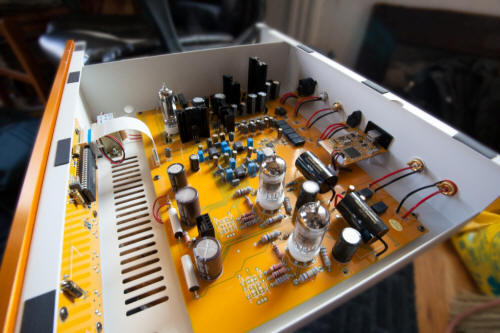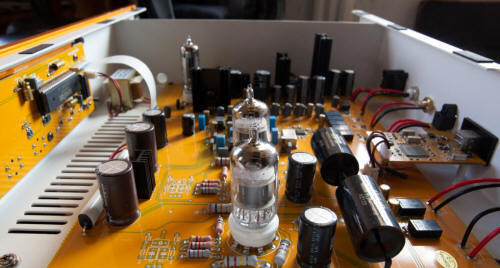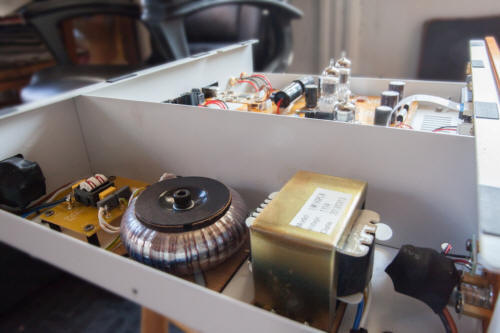 The thick copper-colored faceplate of the handsome all-metal enclosed 502 features a small LCD display (showing input and sample rate), power on/off button and three spring-loaded buttons enabling output and input. The minimalism and sleekness of its design is stunning. The LM-502 is strong and subtle in appearance, but also bold. It well suits my Shindo gear—not that I can afford to purchase it in today's post-Bush disaster economy.
Further LM-502CA facts, courtesy Matthew Rotunda of Pitch Perfect Audio (and he takes nice photos):
Sample rate 32-bit, 44.1kHz through 192kHz, displayed on front panel

Asynchronous technology for ultra-low jitter/distortion

Top of the line ESS Sabre 9016 DAC chip

Tube rectified analog circuits utilizing the 6Z4 full wave rectifier tube

Dual output stages – Tube (12au7 dual triode) output and Solid-State output stage.

Flexible installation with 5 input choices – AES/EBU, BNC, USB, Optical and Coaxial

Dual transformer design – Toroidal type handles digital circuits and EI for Analogue circuits
The 502's back panel holds the power cord receptacle, asynchronous USB input, optical and coaxial inputs, BNC and balanced AES/EBU inputs. The USB input features XMOS USB technology using high-speed USB 2.0 receiving and decoding 32/192kHz signals. The two 12AU7/ECC82 tubes act to buffer the signal to output.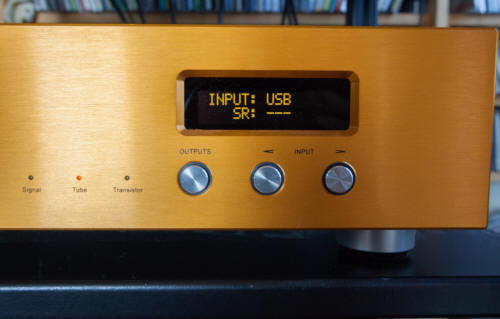 Right out of the box the 502 DAC was a tone champ. Neither especially rich nor rolled off; neither overly bulbous nor bass pounding, its basic ID was pure and slightly sweet, revealing the tonal character of every lossless file I put to it. I don't own a CD player.
Dark Ages
Back in the dark ages of SACD technology I wrote a monthly column reviewing SACD hardware and software for jazz journal DownBeat. SACD rocked my Casbah. It was different from vinyl yet as worthy. SACD sounded more like music than any CD. Even inexpensive SACD players exhibited such fullness, flow and wide bandwith—they made music. But frankly, in the mid 2000s, no one cared. When Sony abandoned SACD: game over, dude. Meanwhile, CDs simply sucked. Hard. The first time I attached a small USB DAC to my MacBook loaded with lossless music files ripped from CD it trounced my Raysonic tube-buffered player. I sold the Raysonic and never looked back.
At 6Moons.com I was an early adopter of USB DACs, reviewing many handfuls of the things and even conducting shootouts. If that was the infancy, I guess we're on the DAC super highway now. But as DACs have gained favor, I've abandoned digital for vinyl. I almost never listen to digital anymore. I own a Halide DAC, but have powered it up perhaps twice. And as much as I love—cautiously—the Line Magnetic DAC, it's not vinyl. But what the LM 502 does with digital is like no other DAC I've heard. It's a game changer.
Grass Stains
I began with pianist Andrew Hill's Grass Roots, a Blue Note recording from 1968. Unlike some of Hill's other work which can be challenging in its distinctive melodies and harmonies, Grass Roots is more of a funky good time. Performed by Hill, Lee Morgan, Booker Ervin, Ron Carter, Jimmy Ponder and the recently passed Idris Muhammad, this is yet another Blue Note classic you should own. Listening in solid state mode, the music sounded tough, spicy, even tart. It had that upper frequency punch that makes you want to listen; it sounds like music. Muhammad's rim shots really snapped! The music was of a whole top to bottom, with plenty of cymbal air and trumpet bite. Yet there was no sign of glare that could induce ear fatigue. No, the sound was sweet, tonally meaty, and deep. Being digital the sound was still contained within the speaker plain, but it was oh so musical, and intoxicating.
Switching to tube mode couldn't have made a bigger difference. Again, I was gobsmacked. The soundstage bloomed. There was more low-end information and greater upper frequency air and extension. The entire recording field opened up, inviting me in. Muhammad's cymbals sounded bigger; there was greater overall detail and clarity, with added body. Snare drum grace notes popped out of the mix, propelling the jazz. I could see deeper into the music. And still there was that sense of tartness and spice in the horns that imbued punch to the music.
Cannonball. Nancy. Capitol.
Cannonball Adderley and Nancy Wilson were a pretty hep duo in their day. Adderley had the '60s soul-jazz terrain nailed, the sweet Ms. Wilson had (and has) great articulation, enunciation and swing. Her vocals typify the best of the '60s Broadway syndrome, back when hot shows always spanned hit singles, and many cover versions. Ms. Wilson remains a classy icon of the swinging '60s lounge era.
I listened to the duo's performance of "Save Your Love For Me" again in solid state mode, and it was oh so liquid and dynamic, with fantastic weight. But the Line Magnetic also exposed the thin nature of the original Capitol recording. It didn't editorialize, but simply revealed the music, good and bad. Tripping to tube mode I was greeted with saturated bass bloom, much better vocal decay, detail and a simply soaring vocal sound. Again, with a certain tartness that lent great energy and punch to the music. From percussion to vocals to piano there was a spiciness that repeatedly drew me in and fascinated me.
From here on out I kept the Line Magnetic in tube mode. I don't know why anyone would prefer solid state mode, but that's just me.
Jazz and Blues
Nina Simone's "Forever Young" (from Sings the Blues) revealed greater dynamic leaps and degrees of detail contrasted with rich timbre and texture—traits I don't usually associate with digital playback. Simone's "Do I Move You" features the famous line "When I touch you do you quiver from your head down to your liver?" And I thought "yes, this is damn moving; my limbs all-a-quivering." The Line Magnetic also exposed this variable quality recording, sometimes sounding coarse. Simone's "Day and Night" revealed the Line Magnetic's superb resolution and detail retrieval abilities, even highlighting a small Jew's harp boinging away in one section of the song.
Olivier Nelson's "Stolen Moments" is one of the classics of jazz, a brilliant recording taken from the album, Blues and the Abstract Truth. Released on Impulse records in 1961, it sounds as sensuous, sweet, dynamic and swinging as ever. The Line Magnetic traced the song's musical line perfectly, warmly, as if it too were a jazz fan. It relayed excellent separation between the front line trumpet and saxophone with strong instrumental weight and presence. And such sweetness! Creamy, dark, burnished, lush, ripe—all good words to describe the Line Magnetic's reproduction of "Stolen Moments." And once again, the spice and tartness that gave instruments body—a trait I have heard from very few digital playback systems—was front and center. That bite, slap and attack, yet without glare.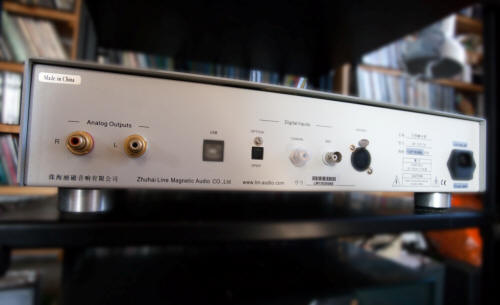 Entering more recent 20th Century territory I played Cassandra Wilson's version of Sting's "Fragile." Wilson's music produced by Craig Street is a feast for the senses, filled with lush percussive sounds in a very wide and intimate soundstage. "Fragile" sounded very immediate, Wilson's dark, slightly dry voice full of nuance and mystery. Through the LM-502CA the song offered the biggest, perhaps strongest bass notes I have ever heard through my system, whether analog or digital, an incredible feat of retrieval that knocked me out. The DeVore O/93s (in for review) delivered bass that I just knew would result in wall-pounding aggression from my neighbor. Low end was tactile and firm, like a DJ stomped my head, but with all the richness and wisdom of a classical maestro. Yet it was also fast low end, lithe and heavy. Wilson's "Lay Lady Lay" was equally surprising, its percussive tapestry like a walk through a zoo of percussive merriment. Hand drums, vibra slaps, ratchets, shakers and bells bounced off the walls and off my head.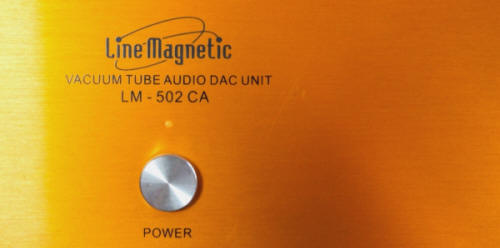 Throughout my time with the Line Magnetic it consistently delivered the color and tone of each and every recording in its singular space. Like time travel, the Line Magnetic drew a distinct palette of sounds and colors every time. In the same way analog presents a recorded performance as real, distinct and full of separate and often miniscule variations of color, the Line Magnetic did the same, if only in that slightly foreshortened way that is the trademark of all digital components I have heard.
Pat Metheny and Charlie Haden's Beyond the Missouri Sky sounded as dark as ever via the Line Magnetic, but more emotional than usual given the bassist's recent passing. Just as changes in power line flow can affect how our systems sound, so can our moods and emotions. I could hear the air around Haden's bass, the elastic, woody tone of his instrument, his big groaning tone. When Charlie Haden played the bass, it simulated a conversation more so than any other bassist I've ever heard. "Message to A Friend" is a true beauty from the album, and carries special meaning as Metheny and Haden were very, very close. This is indeed a performance, not a reproduction. The Line Magnetic disappears, and I am humbled.
I switched gears and threw some jazz fusion the Line Magnetic's way, in the shape of Vital Tech Tones, a rambunctious blowout from guitarist Scott Henderson. It rocked, its gusto overwhelming. As powerful but more musical, Trio Beyond's Saudades combined fusion force with acoustic jazz good taste, via Larry Goldings, John Scofield, and Jack DeJohnette. This organ/guitar/drums trio revisits the original fusion of Tony Williams' Lifetime, and swings hard. The Line Magnetic portrayed all the scrunch of Scofield, the rolls, drum fissures and drags of Jack DeJohnette, and Goldings' B3 purr. Again, the sound was tonally rich, and within a realistic soundstage. Energy to the max.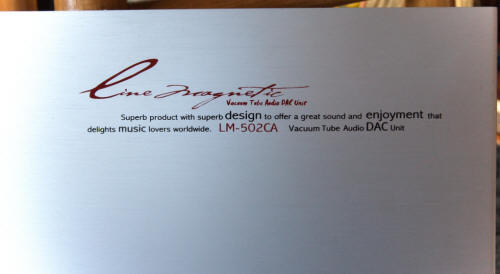 Conclusion
DACS come in all shapes and sizes and price points these days, from flat silver slabs that resemble an alien's lunch to Spartan boxes that look like they were made from tossed-off tin and surplus wire. The Line Magnetic Vacuum Tube Audio DAC Unit LM-502CA achieves a level of clarity in physical design that's echoed in its performance. It looks handsome but unobtrusive. It reminds me of some Sonic Frontier gear, that gold and silver combination that results in subtlety and beauty. The Line Magnetic LM-502's sound was consistently sweet, its delivery transparent and spacious, yet when the recording provided the goods the Line Magnetic was also very weighty and dynamic. Perhaps most importantly, it never sounded mechanical. It never drew attention to itself or separated music into different parts. It provided all the characteristics I consider essential in a musical performance: texture, dynamics, timbre, tonality, and flow.
Flow is a magical element, a state we all desire to be in. As a musician the greatest things happen when your mind disappears and you simply flow within the music. The Line Magnetic LM-502CA made me forget the reviewer's job and surprised me with its ability to flow with the music. The 502 didn't editorialize. Beyond a penchant for a spicy, tart delivery of brass and cymbal sounds—it does have personality after all – the Line Magnetic LM-502CA had me returning to albums I know very well to hear its new way with color, drama, and texture. It gave me the same, if different, rush of discovery I get when hearing a new (or old) vinyl LP. At $1800, I'd say the LM-502CA is a bargain, maybe a steal. You can go loco and tube-roll the 502. And I imagine dabbling in power cord fetishes might get you somewhere.
The Line Magnetic LM-502CA changed my view of modern digital playback. So this is what's possible? If I had the coin-age the LM-502CA would be mine. It's a game changer. Ken Micallef
Line Magnetic LM-502 CA Digital to Analog Converter
Retail: $1800
Tone Imports
http://www.toneimports.com
Shindo.usa@mac.com