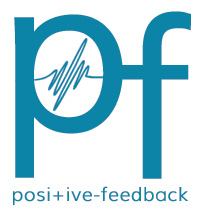 You are reading the older HTML site
Positive Feedback ISSUE 74
july/august 2014
Pylon Audio Pearl 25 Loudspeakers
text by Wojciech Pacuła, images by Wojciech Pacuła, translation by Andrzej Dziadowiec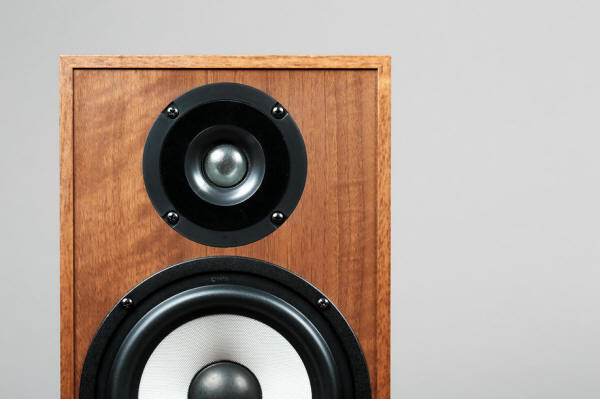 Tonsil, a former giant and the largest manufacturer of drivers and loudspeakers in this part of Europe, located in the Polish town of Wrzesnia, has recently published information about a photo contest featuring speakers from this company. The winning photos showed older but no less interesting designs, meticulously restored, kept alive and—most importantly—still being used. This is our technical heritage shared by millions of music lovers and ordinary people. After all, I also once had huge Tonsil boxes with a passive radiator. As one pair of them seemed to me not enough back then, I bought another pair and put them on top of the first, two per channel. If my memory serves me, the towers were taller than me. I think that it's still an untapped opportunity to dust off and reinvigorate the cult brand.
The example of Pylon Audio, a joint stock company managed by Mr. Matthew Jujka, shows that it is possible to build a solid company with a strong production base as long as you are rational and consistent. A year ago, the company moved its manufacturing facility from Przyborek near Września to Jarocin, the capital of Polish punk and hardcore. This is where, step by step, there arises a manufacturer that will soon be a force to be reckoned with, not only in Poland. What is important, Pylon Audio in no way draws on the Tonsil brand, creating instead its own original designs under its own brand.
A few simple words from…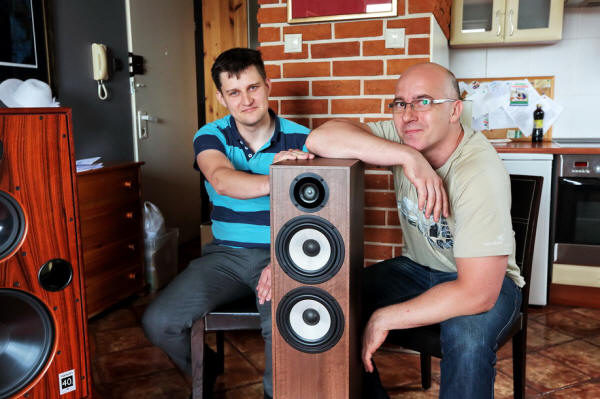 Mateusz Jujka – President of the Management Board
The Pearl 25 has been developed as an extension of the Pearl speaker line. Seemingly simple, the new model actually differs significantly from the Pearl 20 in terms of construction. The 2.5-way design makes it possible to achieve a higher speaker sensitivity, lower tweeter attenuation and greater crossover point flexibility. We have taken advantage of all these options :-)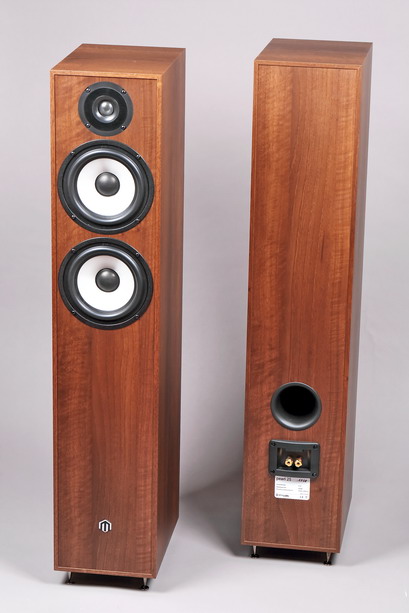 Hence, the Pearl 25 offers a higher sensitivity than the Pearl 20 and a slightly higher crossover point, which allows the tweeter to work more freely. At the same time, the new design is fully phase adjusted to both the Pearl monitor and the Pearl 20.
2.5-way designs are known to be better suited for larger rooms and, due to double the cone surface area, capable of deeper bottom end extension and larger scale of the sound. The price for this is that their impedance is decreased by half, which is no problem in this case as the quoted 4 Ω is genuine 4 Ω and even relatively low current output capable AV receivers can drive them with ease.
Despite our efforts to fit it in multi-channel systems, the Pearl 25 has been designed and optimized as a stereo speaker system, and we hope that in this capacity it will serve many novice lovers of good sound. The choice between the Pearl 20, Pearl Monitor and Pearl 25 largely comes down to the size of the room in which they will be used.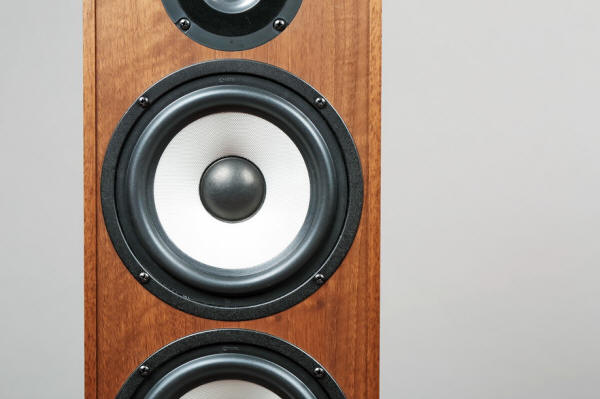 Highlights of the Pylon history over the last three years include:
- changing the location of the company's production site and adapting larger production facilities in Jarocin (August 2013)
- debuting on the NewConnect stock exchange (August 2013)
- filing 12 industrial design applications (from the PYLON SA product lineup) in the European Patent Office
- implementing an ERP business management system
- preparing a B2B business process automation platform
- expanding equipment fleet to add the capability of manufacturing natural veneered cabinets (March 2014)
- purchasing a new CNC machining center, which has increased production capacity (January 2014).
Review Methodology
The Pearl 25 were directly compared to the reference speakers in long A/B auditions. The Pylons can be optionally equipped with front grilles; the pair under review did not have them. The speakers come with high spikes and small spike pads. During the review I used something better and swapped the latter for the SPU8 brass spike receptacles from Acoustic Revive on top of the RST-38H isolation boards from the same company. The Pearl 25 sounded best with their axes crossing about 50 cm in front of me (in other words, with more toe-in than usual). The speakers were positioned about 100 cm from the rear wall. Moving them closer to the wall results in a slightly more bass. In smaller rooms, it is worth trying to plug the bass port with something soft: a sponge, socks, stuffed plush toy animals, etc…
Sound
Albums auditioned during this review
• Anita Lipnicka, Vena Amoris, Mystic Production MYSTCD 244, CD (2013).
• David Roth, Will You Come Home, Stockfisch SFR 357.4079.2, SACD/CD (2014).
• Diary of Dreams, Elegies in Darkness, Accession Records A137, "Limited Edition" CD (2014); reviewed HERE http://highfidelity.pl/@numer--71&lang= </a>.
• Dire Straits, Dire Straits, Vertigo/Universal Music LLC (Japan) UICY-40008, Platinum SHM-CD (1978/2013).
• Dominic Miller & Neil Stacey, New Dawn, Naim Label naimcd066, CD (2002).
• J.S Bach, Sonatas & Partitas vol. 1 BWV 1004-1006, wyk. Isabelle Faust, Harmonia Mundi HMC 902059, CD (2010).
• J.S. Bach, Sonatas & Partitas vol. 2 BWV 1001-1003, wyk. Isabelle Faust, Harmonia Mundi HMC 902124, CD (2012).
• Marek Biliński, Best of the Best, Bi.Ma. BiCD-10, CD (2014).
• Mark Knopfler, The Travelerman's Song EP, Mercury, 9870986, CD (2005).
• Mayuko Kamo, Primo, Sony Music Japan SICC 30095, "Best Classic 100", Blu-spec CD2 (2008/2012).
• Miles Davis, Live Evil, Columbia/Sony Records (Japan) SRCS 9123-4, "Master Sound Jazz", 2 x SBM CD (1972/1996).
• ShowBand, Punkt styku, GAD Records GAD CD 013, CD (2014); reviewed HERE
During a spare moment, we sat down with the gentlemen from Pylon to listen to my audio system. It was then much easier to discuss our tastes and define the sound. I think they liked it. However, getting up from the couch, the engineer responsible for new Pylon designs said that while this was superb sound, he would prefer a bit more sparkle and bite, something to pull him up him from his seat and stimulate his blood circulation on the stronger passages in Arriving Somewhere But Not Here, the twelve-minutes-plus composition from the Porcupine Tree album Deadwing. I can understand it perfectly as I am aware of what my system is still missing. My needs are slightly different, though. Listening to music several hours a day for many years, I need a maximum natural and organic sound. Energetic, too, but rather as something underneath, perceived more intuitively and driving the whole presentation, without necessarily manifesting itself as a more powerful attack of the sound.
Knowing what the priorities of Pylon are, I could only confirm what I had heard several times before auditioning other designs from this manufacturer: that they are energetic and open sounding loudspeakers. That is not, however, what is most important about them. There are quite a lot of open sounding and energetic speakers out there, even in this price range. The special value of the Pearl 25 comes from something else: their openness and energy is combined with excellent integration of drivers with one another, and the drivers with the bass port.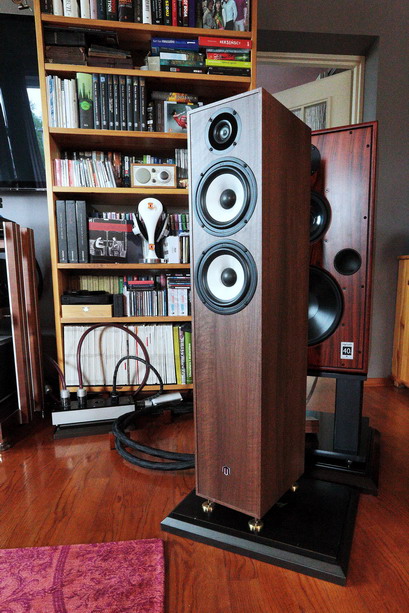 Listening to the latest design that came from the hands of Mr. Jujka and his team, I was immediately reminded of what's offered (or used to be offered, as I am not sure if they are still in production) by the Monitor Reference MR4 floorstanding speakers from Monitor Audio, manufactured for this British specialist in China (see HERE). Despite their completely different drivers, although used in a similar arrangement, and completely different design philosophy reflected in their use of materials, the Polish speakers sound as if they were a polished-up version of the MR4, or their successors. This shows that given the right priorities, extensive knowledge and talent involved, different designers arrive independently at similar conclusions (results).
The Pearl deliver a big, full sound, with a lower midrange and upper bass that seem slightly more important than the rest. They build believable real-size phantom images that are casually "cast" in front of us.
At the same time, however, there is no feeling of anything being emphasized. It is true that the range referred to above is slightly more forward, but this is based on my experience with other designs, independently of my assessment of these speakers, as it were. And that's because there is nothing to bother us and we have a feeling of a slightly warm but open and even sound. As if the audibly emphasized midrange in the MR4 has been corrected here.
The speakers are incredibly dynamic. You can check it both on the Show Band recordings from their album Punkt styku and Miles Davis' Live Evil , as well as on the ultra-minimalist solo violin album by Isabelle Faust. What I mean is that the speakers do not "choose" recordings with which they are "compatible", and instead faithfully show everything that is sent to them.
Let me repeat that the basis for that is a great driver integration. The driver interaction brings the sound that surrounds us and comes to us in the form of a large sphere, denser than the surrounding air. And so it should be; this is how the noise of the recording studio, microphones and tape is heard on older recordings, or how the energy "caught" by the microphones is manifested, for example on Neil Stacey and Dominic Miller's album, issued by Naim Label.
And I still perfectly remember the sound of Miller's guitar, because not so long ago (on my 41st birthday) I was at his concert at the Dom Muzyki BCK in Bielsko-Biala. Sitting in the front row, right next to Tomek, Justyna and Marcin, with whom we later played the same recordings during a meeting of the Krakow Sonic Society, I heard the sound from the stage, straight from the musicians' amps. What I heard there, in its sheer scale, palpability and "takeoff," cannot be repeated in any audio system. There is no such chance. It can be beautifully approximated, though. The scale of a large room can be greatly conveyed by big floorstanders, like Tomek's Dynaudio C4 Signature, or by speakers with sizeable drivers, like my Harbeths, but neither of them are capable of showing such high dynamics.
Despite their obvious limitations derived from the laws of physics and related to their low price, the budget oriented Pearl 25 showed Miller's guitar in an incredibly cool way. Its sound was at the same time palpable and dynamic, open and tight. That is how I imagine the optimal sound of inexpensive speakers.
The soundstage was expansive, but not especially deep. At least not in the whole area "BEHIND" the speakers. Details shown in front of the listener were strongest and best-defined. Here the speakers had good timbral differentiation, and the instruments and vocals were presented with real depth. Everything that was portrayed to the sides was weaker, with quite quickly damped reverbs and large room acoustics. It's not a problem, and the Pearl were still great in what they did. On should, however, be aware of their limitations, on an absolute scale.
Individual sources on the soundstage were big and strong, on the one side, and highly energetic, on the other. There was no impression of "snuffed" sound. I think that to a large extent it was related to a slightly more emphasized frequency range above 1kHz. With recordings where vocals are not recorded particularly great, which are in majority—for example, Diary of Dreams Elegies in Darkness or Anita Lipnicka's Vena Amoris, the speakers showed a slightly emphasized upper treble, which again recalled my experience with the Monitor Audio MR4. The Pearl treated this type of recordings gently, without irritating with such coloration and without masking it, either. The MR4 covered it slightly with stronger midrange. The Polish speakers had a more even frequency response and their somewhat harder upper midrange attack (since that's what mattered) was balanced by their slightly better resolution. The latter was not particularly exceptional, and for this kind of money we only get a foretaste of what is in the high end. The Pearl, however, did not provoke such questions, offering a complete, well thought-out vision of the sound as a whole.
Conclusion
It is a perfect speaker. Inexpensive, nicely built and finished and big enough for us to know what we have paid for. It is fully manufactured in Poland, backed by flesh-and-blood people, known by name. To me, this is very important. The speakers will be a good match for a wide range of electronics, but I'd first listen to components from NAD and Block. A good bass control will give us better dynamics. But a quality tube component, especially from a higher price range, will add some refinement to the whole presentation. This is an extremely versatile design for very reasonable money which I highly recommend to anyone looking for something below 650 USD. My second choice would be the Monitor Audio MR4. This juxtaposition is a tribute to the Polish Pylon more than anything else.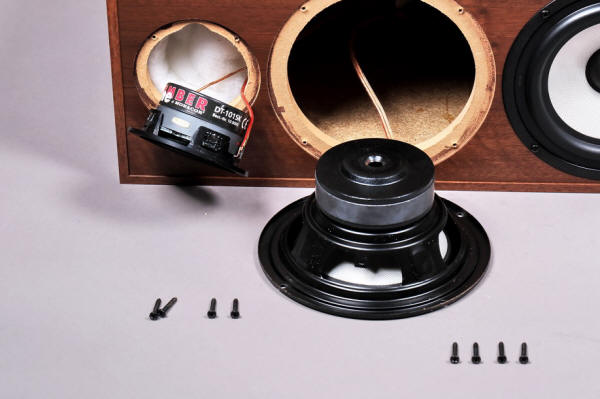 Design
Such inexpensive and yet substantial and good-looking speakers are a rarity. Monitor Audio achieves that by using mass production facilities in China. Pylon is capable of doing something just as good, if not better, by the accumulation of knowledge, experience and manufacturing equipment in one place, where people know what they are doing. An own joinery and veneering plant and packaging production facilities are incredibly strong assets in hand.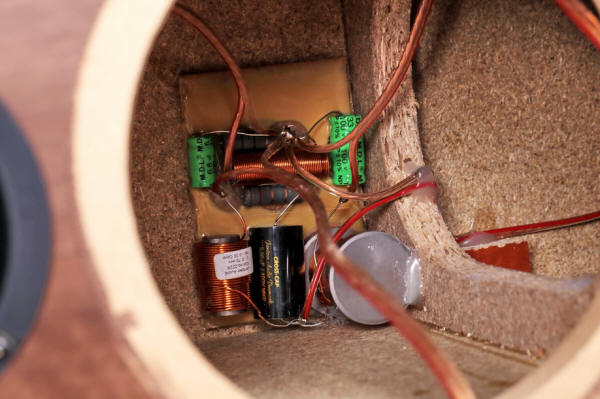 The Pearl 25 is a floorstanding, 2.5-way, three-driver speaker design. The cabinet is made of MDF with vinyl veneer, which looks like natural wood veneer. The drivers are labeled as Pylon Audio, but they are not manufactured in-house. Instead, they are OEM made by Monacor and STX. However, since their design includes extensive changes in the basic driver design devised by Pylon, giving them an own name seems justified. The treble is handled by the Pylon Audio PST T-80/8 soft dome tweeter, whose plastic front sports an area covered with a soft material. It is designed to help control high-frequency reflections. The tweeter is a version of the Monacor DT-101SK adapted to Pylon needs. Below are two Pylon Audio PSW 18-80/S mid-bass woofers with fiberglass cones, rubber front suspension and solid cast baskets. Similar woofers were previously used by Pylon Audio in its Pearl and Pearl Monitor speakers, and by another Polish company, ProTonsil, in the Siesta floorstander, and prior to that by Revolver from the UK in the Revolver RW 16 standmount speaker. Here we see another version of the woofer, manufactured for Pylon Audio by STX.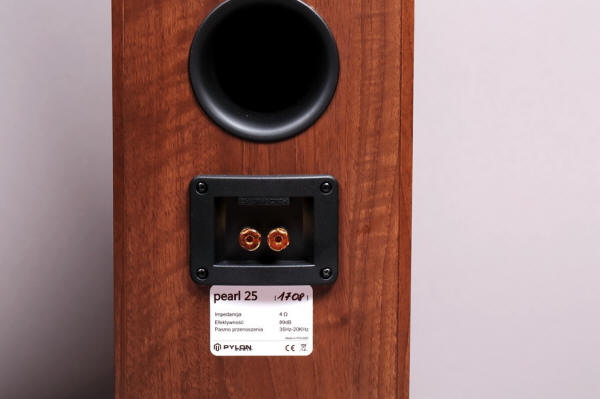 The Pearl comes with a single pair of solid, gold plated speaker terminals. Since they are mounted in a recess in a plastic board, perpendicular to the rear panel, using anything else than banana connectors may be a real challenge. The cabinet is made of MDF and chipboard, braced inside with wreaths and damped with artificial wool in the upper part, behind the tweeter. Internal wiring uses OFC copper braid. The crossover network is assembled point-to-point and glued to the back panel from the inside. In the tweeter section we have a nice polypropylene capacitor from Jantzen and a powder core coil. The mid-bass section uses classic electrolytic capacitors and iron core coils. The speakers rest on high steel spikes with small receptacles underneath. You can order a version with front grilles or without them.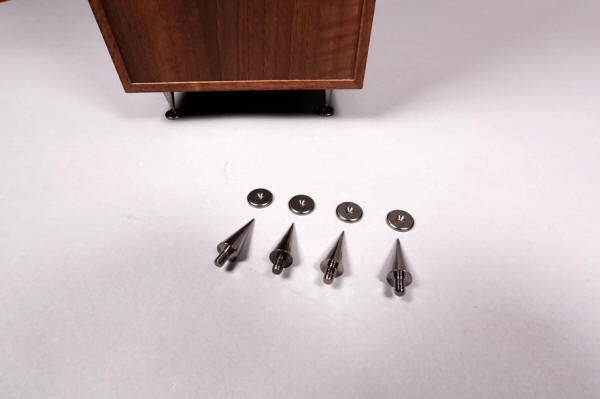 Specification (according to the manufacturer)
Nominal impedance: 4 Ω
Frequency response: 35 Hz-20 000 Hz
Nominal power: 95 W
Maximum power: 150 W
Sensitivity: 89 dB
Dimensions [W x H x D]: 200 x 980 x 280 mm
Weight: 15 kg each
Woofer: 2 x Pylon Audio PSW 18-80/S
Tweeter: Pylon Audio PST T-80/8
Spike receptacles: Yes
Grille: Yes/Option
Warranty: 3 years + 1 year (on product registration)
Available finish: black, calvados, wenge, milk oak, walnut
Special finish: high-gloss white
Price (in Poland): 1499 PLN/pair
Pylon S.A.
ul. Wrocławska 77 | 63-200 Jarocin
Poland
biuro@pylonsa.pl
www.pylonaudio.pl
Made in Poland