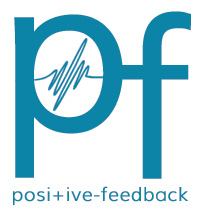 You are reading the older HTML site
Positive Feedback ISSUE 76
november/december 2014
pass labs
Xs Preamplifier and Xs 300 Amplifiers
as reviewed by Robert S. Youman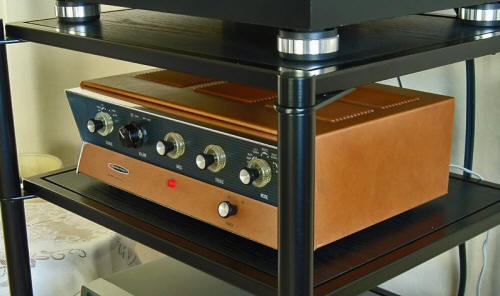 When I was in my early teens, one of my fondest memories was helping my Father while he was working on his various audio projects. This was in the early 1960s. He was a fairly successful businessman but I always thought that deep down his true passion was electrical engineering and the consumer electronics of the day.
He was also a frugal kind of guy. With seven kids and college bills just around the corner, the family budget was not going to allow for anything too extravagant. Enter the Heathkit Company and all the opportunities that it could afford to the average audio enthusiast.
During many late nights, I remember sitting next to my Father at his workbench (an old solid oak door and two sawhorses) with all his tools and equipment as he slowly and patiently studied the instruction manuals and drawings before diving in on his latest challenge. Audio analyzers, generators, oscillators and VTVMs were all within an arm's length for quick use when needed. Chesterfield cigarette butts were piled high in an old tin can.
Capacitors, resistors, tubes, wire and solder were everywhere which seemed like a mess, but he knew exactly where everything was when needed. And the soldering iron! I will never forget the smell of that soldering iron in action. That smell is ingrained in my mind like my mothers lasagna - both in a very good way.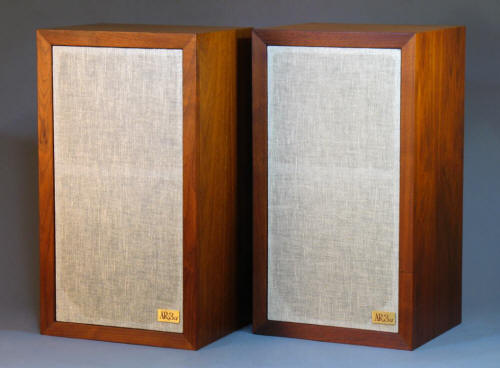 My Father had many systems over time and never seemed satisfied (sound familiar?), but the combination that I remember most included the tube based Heathkit AA-151Stereo Amplifier (14 watts RMS), the Acoustic Research AR3a Speakers and the Garrard 401 Turntable. He also owned a Heathkit version of the AR3a called an AS-103. To be honest, I cannot remember the host of tone arms and cartridges that he went through but he experimented with many.
Beyond the equipment and workbench, Sunday mornings were also something to look forward to. My Father was an avid newspaper reader and he would spread out the Chicago Tribune, Chicago Sun-Times and The New York Times across the coffee table in the family room, pour a cup of coffee, and turn on his beloved stereo for some Sunday morning bliss.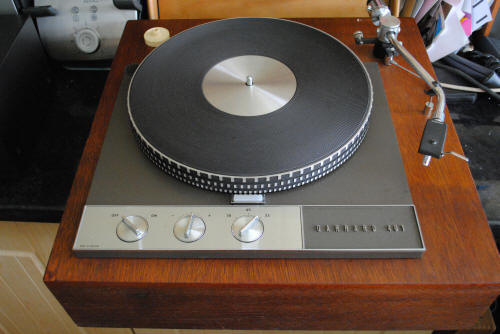 This was where I first heard Fritz Reiner and the Chicago Symphony play Beethoven's Ninth, Miles Davis and Kind of Blue, Dave Brubeck's Take Five, and both Harry Belefonte's live albums at Carnegie Hall. My mother was a huge Harry fan and managed to influence us all when it came to music. Her seven kids all loved to sit at her feet and listen to those albums as she would quietly knit her Afghans or read.
BTW, talk about "World Music!" Harry and his group of international musicians and singers could compete with anything today. Later on, I also remember the Herb Albert and the Tijuana Brass Whipped Cream And Other Delights album. That one also found a permanent place in my mind for several reasons. But I digress.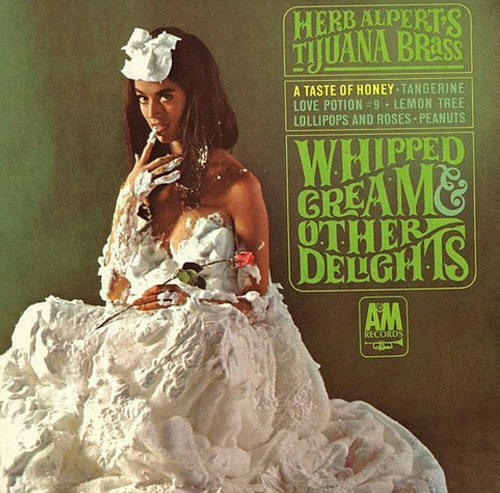 Bottom line: My Father was a huge influence on my love for audio and also music. Later he moved on to solid-state electronics like Harmon Karmon and Sansui (Marantz and McIntosh were financially out of reach) and speakers like Cerwin Vega, BIC, JBL, Pioneer, Advent and even ESS Heil . Despite some powerful bass and additional dynamics with the newer components, my heart will always belong to that tube based Heathkit, AR and Garrard system. It just sounded right and it all looked so very very sexy back then. Still does to some extent.
Hope the pictures bring back some great memories.
Perspective
So, why all the reminiscing and past history? Well, maybe some of you can relate. I am sitting here as I type looking at and listening to some of the most phenomenal audio components that I could have ever imagined. Despite this, for some reason I cannot stop thinking about my Father and the roots mentioned above that began my love for this hobby and the wonderful music that is now an essential part of my life.
Back then I thought it could never get any better. Looking at and listening to this current system, it's hard not to be overwhelmed by what might be called the "evolution" of high end audio equipment. Many would still argue a preference for the past. I am not here to persuade either way. I just want to remember and enjoy both sides of this time line.
Smiling at me just in front of my listening couch are the Pass Labs Xs Preamp, the Pass Labs Xs 300 Monoblock Amplifiers, the Playback Designs MPS-5 CD/SACD/DAC, the Magico Q7 Speakers and an all Synergistic Research wire system. Many would argue that these components are in the top five or so in each category—some might even proclaim them as the very best (don't forget that "subjectivity" thing before sending the hate mail). And true to our never ending opinions and biases, there are still others who will disagree completely.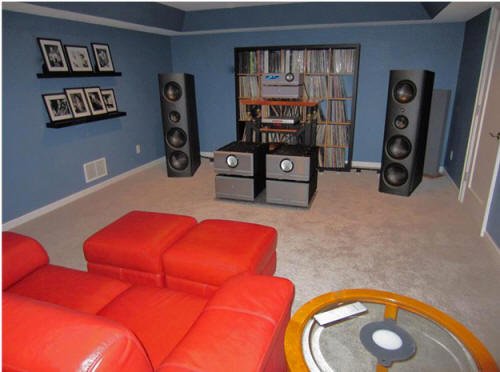 Like some kind of fantasy or illusion painted by Dalí or Duchamp, all have been assembled in my listening room for a personal evaluation (thank you very much to all the manufacturers)—but not permanently. I could never afford to keep this system but it sure is amazing and exhilarating and just kick ass incredible. I want to lock down all the doors in the house and change the address on the mailbox. My kids are standing out front like the Vatican Sentries in full garb. As Warren Zevon said to his Father, "Send Lawyers, Guns and Money" if you want any chance to get them back. Just kidding (I think).
So let's just stay real, but still have some fun. The good news is that much of the technology presented in these products has already trickled down to lower priced models that many of us can afford and enjoy. My hope is that the naysayers and those who criticize reviews of ultra high end equipment just relax and try to enjoy the ride for what it is. For those very very few who can afford it, I say happy sailing. For the rest of us, we can still dream can't we?
Review System
Magico Q7 Speakers

Pass Labs Xs Preamplifier

Pass Labs Xs 300 Monoblock Amplifiers

Playback Designs MPS-5 CD/SACD/DAC

VPI Aries Extended Turntable

VPI 12.6 Memorial Tonearm

Van den Hul Frog Cartridge

Synergistic Research Element CTS Power Cords, Interconnects and Speaker Cable

Synergistic Research Powercell 10 UEF & FEQ - PowerCell Equalizer

MIT SL-Matrix50 Interconnects and SL-Matrix90 Speaker Cables

SRA VA Turntable Isolation Base

Rix Rax Hoodoo Component Rack

Magico QPod Footers
Caveat Emptor
System synergy and personal taste are critical when evaluating high-end audio products. This review is based on my subjective requirements, my subjective ears, my specific system and my specific listening room. These combinations of components are only a few data points of many that exist out there. For further insight into my personal biases, check out the "Meet the Writers" section of Positive Feedback. Please consider my comments and analysis appropriately.
Pass Labs
The Pass Labs Xs Preamp and Xs 300 Monoblock Amplifiers are the focus of this review. Need I say more about Nelson Pass and his influential career? He is an industry icon and we owe much to his leadership, his foresight and his design creativity.
When Nelson Pass and his cohort Wayne Colburn unleash the reigns and take a no holds barred assault on a new flagship amp and preamp design, we have something very special going on. (Note - I have been told that this is a collaborative effort from several contributors but Nelson provides the key direction for amplifiers and Wayne does the same for preamps).
I must also say something that is very important about Pass Labs the company. This includes Desmond Harrington, Kent English, Bryan Stanton and the entire support team.
I once had a prominent East Coast dealer tell me that he had access to virtually any high end product line that was available to the market, but he had learned a lesson the hard way over many years of dealing with the latest trends and overly hyped new products. The high end is a very difficult market to enter and establish immediate success. The manufacturing and marketing expenses can be extraordinary. It's even more difficult to keep the momentum rolling for a finicky and demanding customer base.
There was a limited number of elite brands that he could count on no matter what the circumstances were. These manufacturers consistently produced the very best products (military spec like quality and SOTA sound), but also introduced them to the market on time as promised, and then backed them up with the type of premier customer support that his clients expected each and every time. His opinion was that Pass Labs was one of those select few. He apologized for all the drama, but he felt strongly that Pass Labs was an important cornerstone for the entire industry. I agree.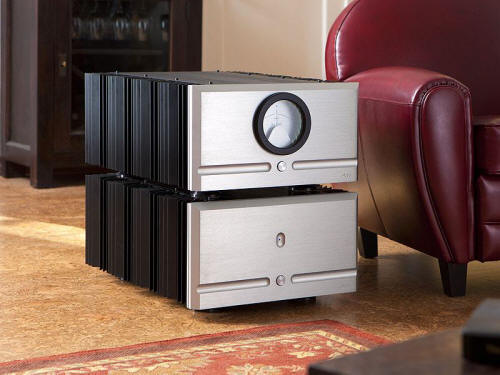 Design - Xs 300 Amplifiers
Everything about these amps is big. Big in size. Big in weight. Big in sound. When the delivery truck and 750 pound pallet rolled up to the house I was awestruck as were the two delivery guys. They were already sweating with that cheeky red face look like your 10 year old son or daughter standing at bat for their first little league game. The pneumatic lift at the back of the truck had not even been engaged yet and their shirts were drenched.
The one pallet included both Monoblock Amplifiers and the Preamp. Each chassis was packaged in a very professional, safe and well thought out way. There was a weight range of up to 192 pounds per chassis (see specs below for boxed and unboxed). I strongly recommend two bodies with strong and flexible backs and an industrial grade two wheel dolly when trying to move these babies.
The Xs 300 Monoblock Amplifiers are a four chassis design—two chassis per channel. Massive sized neutrik connectors and cables are used to connect the two chassis for each channel. The lower chassis contains the power supply and weighs in at 172 pounds. The control chassis weighs 134 pounds and is usually placed on top though that is not required. Each stack stands just over two feet in height and is 19 inches wide and 27.5 inches deep. We are talking 300 watts @ 8 ohms and 600 watts @ 4 ohms of pure class A power. Let's not forget the output current ratings at 48 amps peak. Ouch!!
Separate chassis provide for separate current sources and power supplies for each channel. This also translates to lower electromagnetic noise and room for larger storage capacitance, huge banks of rectifiers, bigger transformers, and enormous heat sinks.
Measured distortion is critical but overall voicing and evaluation of individual components and materials for sound quality is an equal if not a higher priority. Of course the Class A circuitry has always been a driving force for Pass Labs, but the minimal number of gain stages (three), Nelson's discovery and implementation of NOS (new old stock) Toshiba Jfets and Toshiba Mosfets and also the research and development that was done for his FirstWatt SIT amps were all a major influence in the execution of this design. Please see the Pass Labs website for additional technical insight and information.
The heat generated by these beasts should be noted. It is fairly substantial but manageable. Yes, you will need a well vented room for the summer months. During the winter you can keep the thermostat set low. On the other hand, Pass Labs has come along a way in the energy requirements for standby mode. Compared to past designs typically in the 15 to 18 watt range, the standby mode for the Xs 300 is less than 1/2 watt when on—very cool to the touch.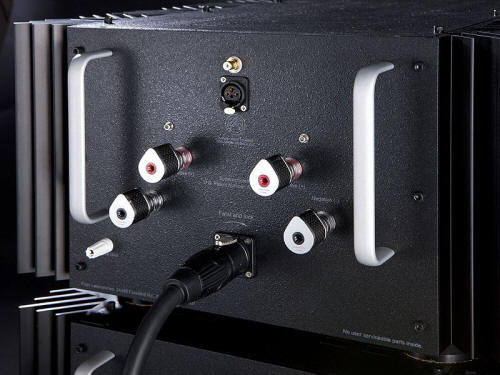 IMHO, Pass Labs continues to be a leader in the high end market for industrial design. I have heard through the grapevine that Desmond Harrington has much to do with these brilliant aesthetics. Yes, the Xs 300 Monoblocks can take up a bunch of space, but the WAF (wife acceptance factor) is extremely high. That front current dial is a killer. There are two sets of binding posts for each amplifier. They utilize an exotic looking tear drop shaped carbon fiber wing nut. As sexy as they look, the real key is a nifty torque limiting function when tightening down your speaker cable terminals. Just a small detail but it has an amazing look and feel.
The massive casing and heat sinks are nicely weaved into the design leaving a sleek modern look. Very simple lines with understated but impressive finishes. Anyone entering the room will immediately move their attention and eyes to the amps. If you are looking for wow factor, these amplifiers have it in spades. The only other time I had this kind of reaction was with the Sonus Faber Stradivari speakers and that's saying a lot.
Xs 300 Specifications
Input impedance: 200 Kohm balanced, 100 Kohm single-ended

Gain: 26dB

Damping Factor: 50

Bandwidth: DC to -3dB @ 150kHz

Output Power: 300 watts @ 8 ohms, 600 watts @ 4 ohms

Output Current: 48 amps peak

Distortion: 0.003% @ 1 watt 1.0% @ 300 watts

Noise: <200 uV unweighted output

Power Consumption: 1000 watts

Dimensions: 19 W x 11.5 H x 27.5 D (each chassis)

Power Supply Chassis Weight: 172 lbs Unboxed, 192 Boxed

Control Chassis Weight: 134 lbs Unboxed, 154 Boxed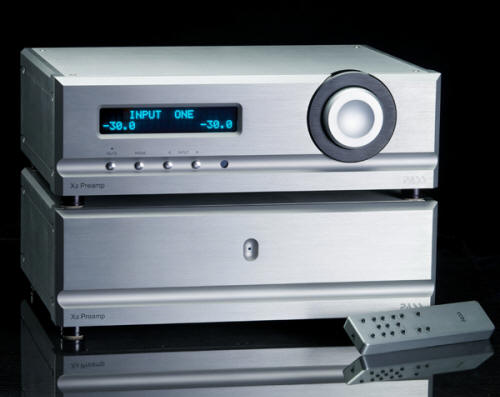 Design - Xs Preamp
For a good portion of the last 30 years, many of my systems consisted of a tube preamp and a solid-state amplifier. This strategy consistently provided a nice compromise with results that could combine the strengths of both design philosophies. Don't get me wrong, I have also heard and owned tube amplifiers that could compete with anything out there. However, I never quite fell in love with any solid-state preamplifiers. Please see my comments on sound below to help you understand my priorities.
As time marched on and solid-state designers attacked this challenge, I began to appreciate solid-state preamps more and more. These days it's fairly mundane if not repetitive to state that the sound from both ideologies seem to be converging, but it is absolutely true.
For the first time to my ears, the solid-state Xs Preamp has closed this gap. For my subjective taste, the Xs Preamp has the ability to compete with any tube or solid-state preamp in the market from virtually any perspective. Tube lovers will either rejoice or curse but I strongly believe the challenge has been answered. The bottom line is that this preamp is quite unique and answers the bell like no other that I have encountered.
How is this possible? I am no soothsayer but my guess is that it has much to do with the creativity and commitment that Wayne Colburn has incorporated into his vision of what a flagship preamp should really be all about.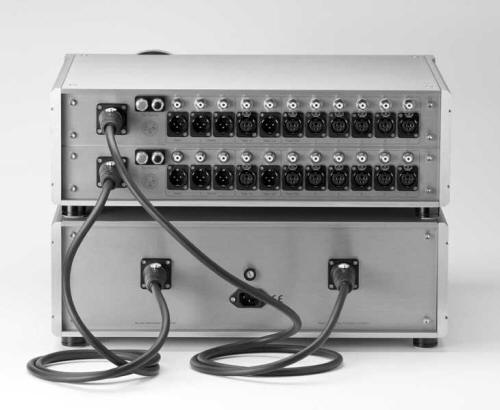 The XS Preamp is a two gain stage Class A design in a dual mono configuration which again follows the Pass Labs philosophy for minimal gain stages. Each channel has its own dedicated board with 100,000 uf of capacitors or a total of 200,000 uf for the entire unit (Ouch!). The Xs Preamp can drive many speaker loads on its own. The control unit typically sits on top of the power supply but like the Xs 300, this is not required. Again, massive neutrik connectors and cables are used for each channel to connect the two chassis.
High performance and exotic materials have been utilized like gain stages with ceramic circuit boards and gold plating, motherboards made of immersion gold and Panasonic Megtron for low transmission loss, Plitron transformers for the very lowest hum specifications, matched Toshiba Jfet inputs and Mosfet outputs, and ginormous storage capacitance and regulation.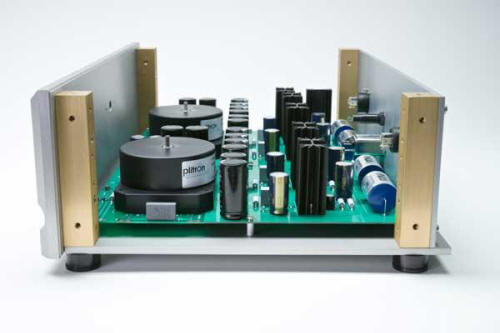 There are six XLR and six RCA inputs on the rear panel—all lined up beautifully with easy access. A seventh pair is designated for Pass Through functionality. No thumb wrestling here. Additional features include Tape In and Tape Out. Three outputs are available for both XLR and RCA connectors. Two are Master or Main outputs and one provides Slave or Auxiliary functionality.
A simple and nicely laid out remote control is provided with basic functionality. The stainless steel finish and mid weight design exude quality and luxury.
Xs Preamp Specifications
Gainbsp; -89.5dB to +9.5dB

Frequency Response -3dB @ 2Hz and 60Hz

Input Impedance 42k ohm balanced

Output Impedance 120 ohm balanced and single ended

CMRR -65dB, 1kHz

Cross-talk -100dB, 1kHz Ref 1V

Signal to Noise Ratio -110dB, Ref 5V

Power Consumption 55 watts

Inputs Six XLR or RCA and One Pass Through

Outputs Three XLR or RCA (Two Master, One Slave), Tape In and Out

Dimensions 19"W x 14"D x 6.25"H (each chassis)

Combined Chassis Weight 80 lbs (unboxed), 90 lbs (boxed)
Sound
The sound for both the Xs Preamp and Xs 300 Monoblock Amplifiers are so similar that I might as well speak to both with the same descriptives.
Harmonics. If there is one word that comes to mind over and over again when listening to these components—it is harmonics. Nelson Pass has stated in various forums that this is one of his key design priorities and it comes through like never before. Layers and layers of proper pitch, proper tone, inner density, rounded textures, and fleshed out instrumental and voice cues will stand your hair on end.
Having said that, it is the power and grip on demanding music passages at all frequencies that is really impressive. Some have argued that Pass Lab designs have always excelled at providing a very "musical" like presentation (maybe the very best for solid-state), but could still offer even more in terms of speed and dynamics compared to the very best. Not a problem here. The power supply design of both units and 300 Class A watts have their effect and it is staggering.
Bass performance has the slam, weight and control that all bass lovers crave and dream about but have probably never heard before out of their speakers. Even the Magico Q7 Speakers surprised me with a new level of performance that I was not prepared for even after hearing them with so many other superb powerful amplifiers.
Unfortunately I do not have the proper test equipment to verify, but the effect was like an extra db or more of lower frequency extension and impact. I still experienced plenty of the breath taking speed and resolution in the lower frequencies that were always strengths of the Q7's, but now both of these variables were even more impressive.
Mids had a wonderful sense of realism and that "reach out and touch" thing that you can hear on occasion with some systems and certain recordings, but now it is more the norm than the exception. Very creamy and seductive with a proper amount of bloom to make you just melt when listening to your favorite female vocalist or reed instrument.
Pace and timing were superb. Are we talking tubes here or is this really solid-state?
Even with digital sources, highs were sweet and spacious and never cold or edgy—unless the recording called for that. Extension and transient response were terrific. Even then, there was a certain amount of forgiveness and additional enjoyment with poor recordings that I greatly appreciated. Typically these qualities can fight each other, but not here. I never noticed any rolled off output or less immediacy on tracks that I have been listening to for years.
Sound stage and imaging were excellent. The air and spaciousness of various recording venues were easy to define and differentiate. Sound extended well beyond the speakers and into the room (see Pink Floyd comments below). Images locked in nicely and provided tangible and distinct three dimensional experiences .
My apologies for the common checklist of audiophile variables. What might be most important of all is that the true strengths of these components is the seamless top to bottom performance at all frequencies and the realistic like execution of music . Any genre of music. The Xs series cannot be defined or limited by classifying them as Rock, Orchestral, Jazz or Chamber Music designs. The can do it all. Multi-taskers with heart and soul and a great deal of refinement thrown in!
Music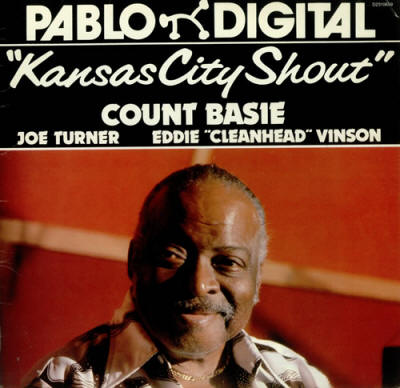 Count Basie - Kansas City Shout
Kansas City Shout is another Norman Grantz produced masterpiece recorded in Spectrum Studios in both Hollywood and Venice California in 1980. A fairly small sized band includes Eddie "Cleanhead" Vinson on Alto Sax and Freddie Green on guitar. The true stars here are really Basie on piano and Joe Turner on vocals. The stand out for me is the first track "Just A Dream On My Mind" where Mr. Turner really roars from the first few bars to the last.
As the cut begins, his piercing cry of "It Was A Dream" is a startling reverie over Basie's simple piano melody. The texture, detail and speed of Turners voice along with the weight and full body of Basie's piano definitely passes 'the goose bump test". This is recorded in the twilight of Basie's career but he is truly inspired here and lets it fly.
Slowly and surely with plenty of sensual undercurrent, the five trombones and five saxophones kick in with perfect synchronization and then they too work up into a manic frenzy. No distortion or smearing here. I can easily differentiate all the instruments and the vocalist across the soundstage. This is the Blues like only few artists can perform it and very few audio components can reproduce it.
I have heard this track hundreds of times since the first during a Chicago CES demonstration in the late 1980s. I immediately ran out and purchased the CD and it has been a staple ever since for system evaluation and enjoyment.
Through the Pass Labs components, I am hearing so much more of everything. The frequency response is linear and seamless. The power and grip on piano and all those brass and reed instruments singing in unison make me wonder if I have a different CD in the MPS-5. The Q7 Speakers can handle it all and the room is pressurized to such a level that the term "jump factor" really applies in this case as you just might jump out of your seat.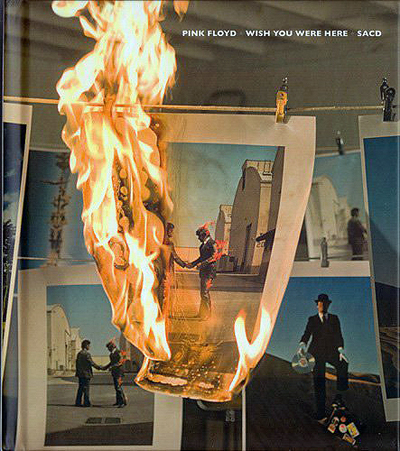 Pink Floyd - Wish You Were Here
This special edition hybrid SACD was issued in 2011. It delivers a strong argument that SACD can provide us a fascinating look into past recordings with wonderful new musical discoveries and satisfaction.
Opinions vary over all the map, but many fans consider Dark Side Of The Moon and The Wall to be the true crown jewels in the Pink Floyd catalog. Wish You Were Here has always stood out for me as something quite unique and revealing about the band. It is my personal favorite. An ode to one of the original leaders of the band, Syd Barret, I find the lyrics and melodies very telling about their relationships and the progression of their music. There is a level of maturity and confidence in these songs that continues to amaze me nearly 40 years after the initial release.
Track two, "Welcome To the Machine", is a tour de force. With the Xs Preamp and Xs 300 Monoblock Amplifiers, we are taken to a new level of extreme dynamics and horsepower. What at first seems like a three dimensional collage of musical chaos, it soon settles down and makes tremendous sense—both lyrically and musically.
Let's not dig too deep into the meaning here. Just search the Internet and you will be amused and amazed. I need to stay focused on the sound. With that in mind, the synthesizer passages on this song were always astonishingly detailed with plenty of visceral impactful, but now you had better nail down all the paintings and posters in your listening room.
Forget about disappearing speakers and fabulous imaging. Start thinking about disappearing walls and holographic images flying in all directions from side to side and front to back. The delicate drive and resolution of the violins will lull you back into your seat for just a few seconds, but just as quickly, the elevator special effects will have you reaching for something to hold on to for dear life.
"Welcome To The Machine" is an extreme test of your system yet the Xs gear handle it like just another effortless dare. It is a roller coaster ride of fun and the applause and laughter at the very end could not be more appropriate.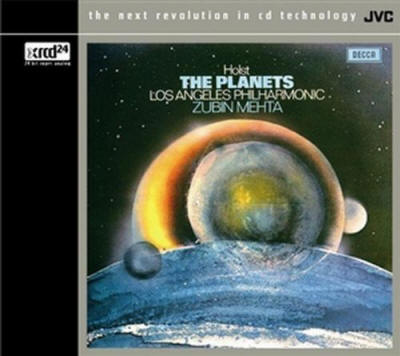 Gustav Holst - The Planets
The Planets, composed by Gustov Holst, is a seven movement orchestral suite written between 1914 and 1916. There are many fine recordings and associated directors: Bernstein, Dutoit, Davis, Levine, Steinberg, Karajan, Previn, Boult, and on and on. Rumors have it that George Lucas and John Williams were highly influenced by The Planets for the Star Wars soundtrack as were many of the Progressive Rock Groups in the 70s and 80s.
Originally on the DECCA label, this JVC/XRCD reissue with Zubin Mehta directing the Los Angeles Philharmonic is a true block buster. Any of the movements can push a system to its limits, but I always turn to track one "Mars - The Bringer of War" as an excellent torture test. In the right system, this track can truly move air through your listening room like few others.
With the Xs Preamp and Xs 300 Monoblock Amplifiers, violins are as sweet and luscious as Friss-Holm chocolates and the brass section has just the right amount of snap and splash and power. Percussion builds to a ferocious amount of room filling mass and impact as the full orchestra reaches crescendo after crescendo at various points in the movement.
Again we have so much going on at one time but this is not just a wall or blast of sound. I come back to that word harmonics again as we can see and hear into the various instruments with their unique timbres and compositions. The energy and drama come through in a very articulate way yet there is still a certain warmth and musicality to the presentation. Truly an impressive balance.
Summary
My exposure to the Pass Labs Xs Preamp and Xs 300 Monoblock Amplifiers has been extremely enlightening. Maybe I should not be surprised, but this experience has taught me something more about my own components and what is possible from each individually and as a system. For me, the Xs series has drawn a line in the sand and has redefined the "state of the art".
I will repeat my caveat emptor from earlier in this review so that readers will take this all in with the appropriate perspective. For my specific taste and biases, in my specific listening room, and with these specific components, the Pass Labs Xs Preamp and Xs 300 Monoblock Amplifiers have provided the finest reproduction of music that I have experienced to date.
Having said all that, the success of this industry that we all love is highly dependent on the aggregate and fortunately we have many world class companies that will keep it strong and thriving. Competition is a wonderful thing. I will mention only a few of several out there, but products from Vitus, D'Agostino, Constellation, VAC, Acoustic Research, Boulder and Solution also continue to provide the critical leadership that is needed. I am very fortunate. Several models from these companies are on their way for comparison. I am greatly excited and looking forward to reporting on the results to our readers.
My Father must also be amused. That soldering iron still sits in his tool box in a very special place in my listening room with many fine memories still surviving and enduring. I have to wonder what he might have said after hearing Harry and Miles and Fritz on this system! Maybe, just maybe, the following would have been apropos.
"Music gives a soul to the universe, wings to the mind, flight to the imagination and life to everything." - Plato. Robert S. Youman
Pass Laboratories Xs Preamp
Retail: $38,000
Pass Laboratories Xs 300 Amplifiers
Retail: $85,000 per pair
Pass Laboratories
13395 New Airport Road
Suite G
Auburn, CA 95602
530.878.5350
https://passlabs.com
Note: Thanks to Paul, Richard, Robin, Rod, Benny, Allan and Ernie for all their pictures and contributions from Audiokarma and Hionfi. I could not use them all, but they were all just spectacular!