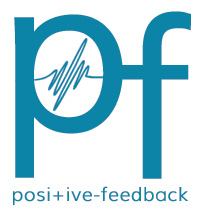 You are reading the older HTML site
Positive Feedback ISSUE 76
november/december 2014
Impressions: Rocky Mountain Audio Fest 2014, & My PFO Audio Oasis! Awards
by David W. Robinson
[All images and processing by Robinson]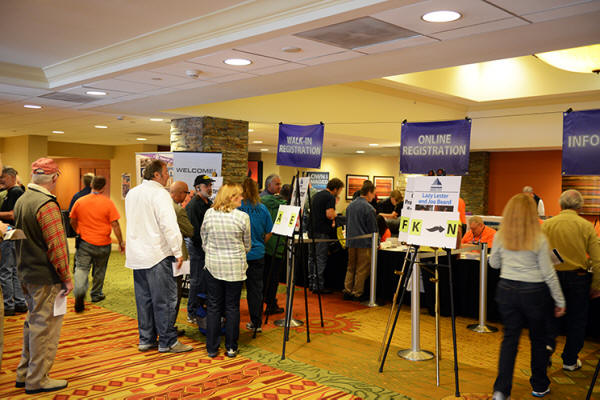 The registration lines at RMAF 2014…busy!
The Intro…
Shazam!
How does time pass this bloody quickly? It seems like just the other day that I was at RMAF 2013. Lila and I had to host the PFO Hospitality Room without Dave and Carol Clark, who were dealing with Carol's ailments and couldn't make it. We spent most of our time in the PFO room, which meant that my report last year was truncated.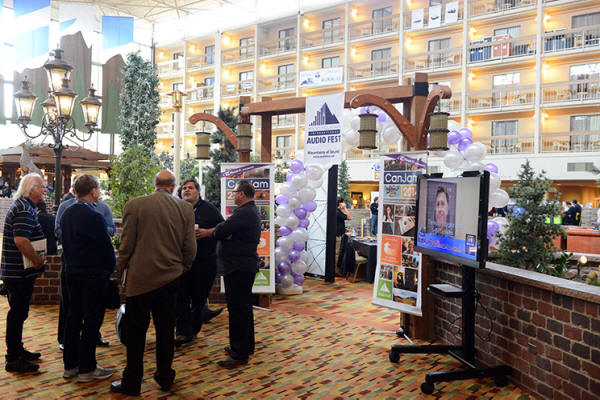 The Atrium at RMAF 2014…nearly always busy!
This year, we decided not to do the PFO room, since both Carol and Lila were tied up with health issues again. Instead, Dave Clark and I spent most of our time visiting rooms, and, in my case, hosting the PFO DSD seminar on Friday afternoon. This made our coverage better and more diverse this year. Of course, that also made it a good bit busier for me…but it was all good!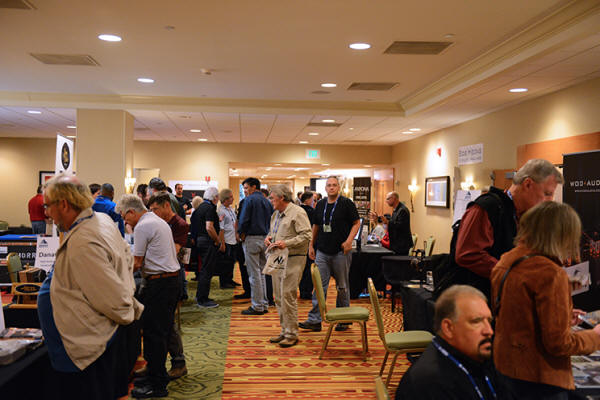 Crowds outside the ballrooms at RMAF.
My PFO Audio Oasis! Awards for RMAF 2014
I've been doing my Audio Oasis! awards for years now. I first did this at CES years back, when I realized what a futile task it was to try to get to all of hundreds of rooms in two or three days, and say anything that meant much of a damn. So I concentrated on the rooms that really pulled me in by the quality of the music that I was hearing there, under show conditions. I reckoned that this would indicate a room that was an "audio oasis"…a place where you could really just sit back, relax, and really dig the recordings. I would recognize such places by giving them our "Audio Oasis!" awards.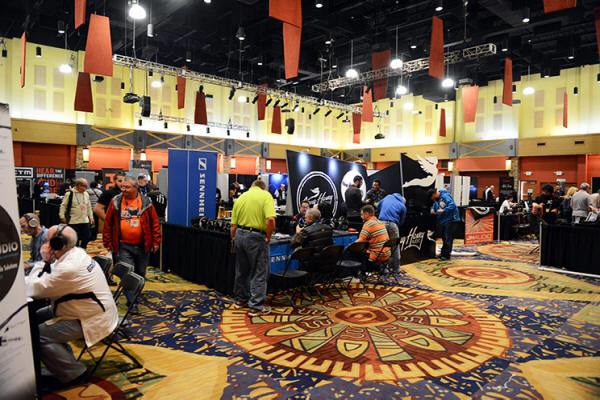 The CanJam section was busy throughout the show…lots of traffic from the personal-fi and head-fi gang here.
This caught on, and has become an important element of my coverage of audio shows ever since. Good thing, too: That's what I'm going to do.
The People: A Gallery of Photographs from RMAF 2014
Before I do the awards, though, something first.
As an audiophile and music lover, I really dig the gear and the music that I hear in the good rooms. But as a photographer and lover of people, it's the folks, the faces, and the places that appeal to me. Here's a selection of the work that I did in Denver this year.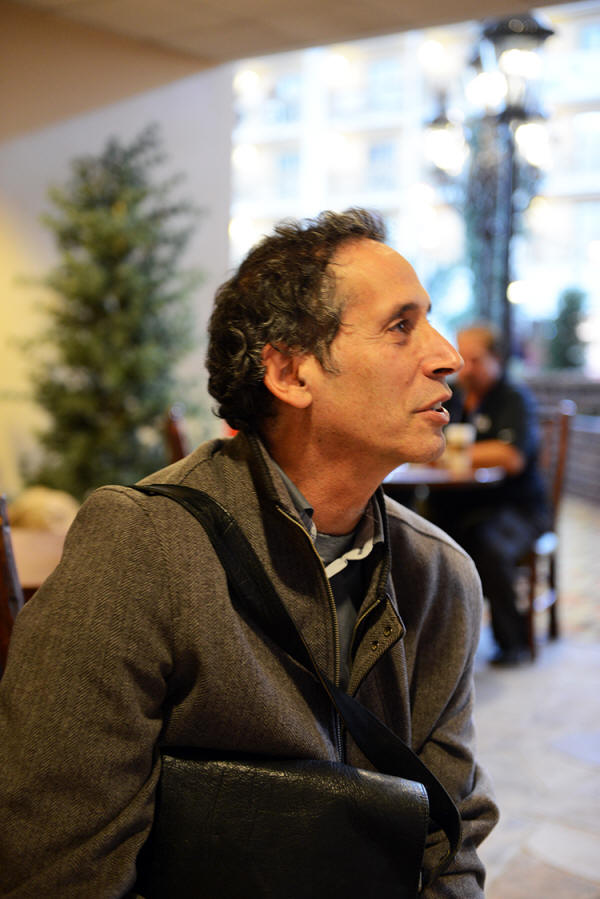 Jared Sacks, owner, audio producer, and master recordist, Channel Classics and nativeDSD.com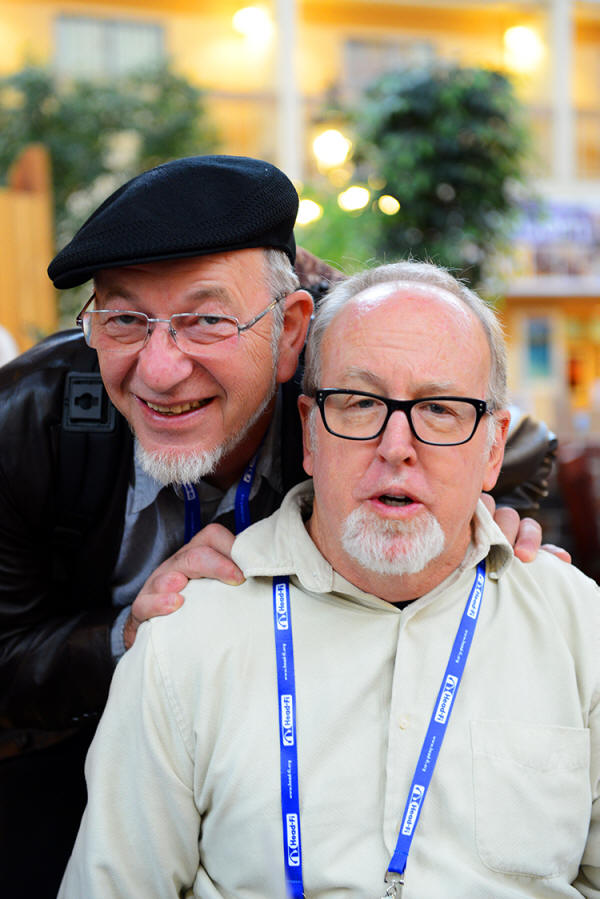 Bruce Jacobs of StillPoints and Dave Clark of Positive Feedback.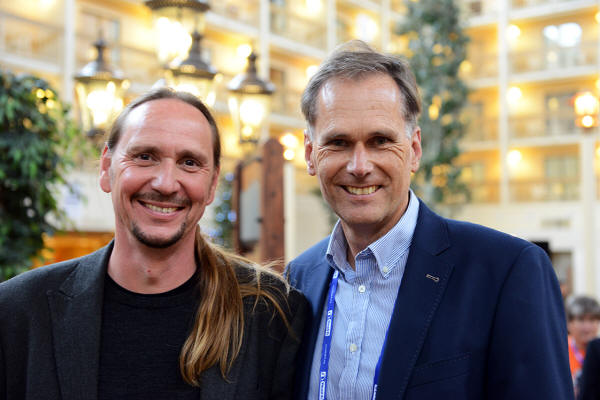 Dominique Brulhart of Merging Technologies and Andreas Koch of Playback Designs.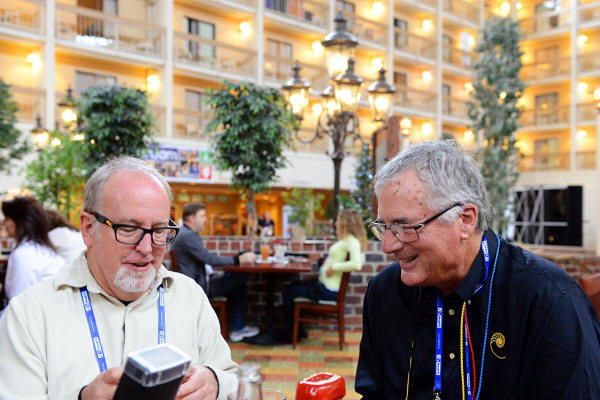 Dave Clark of Positive Feedback and George Cardas of Cardas Audio, enjoying the moment…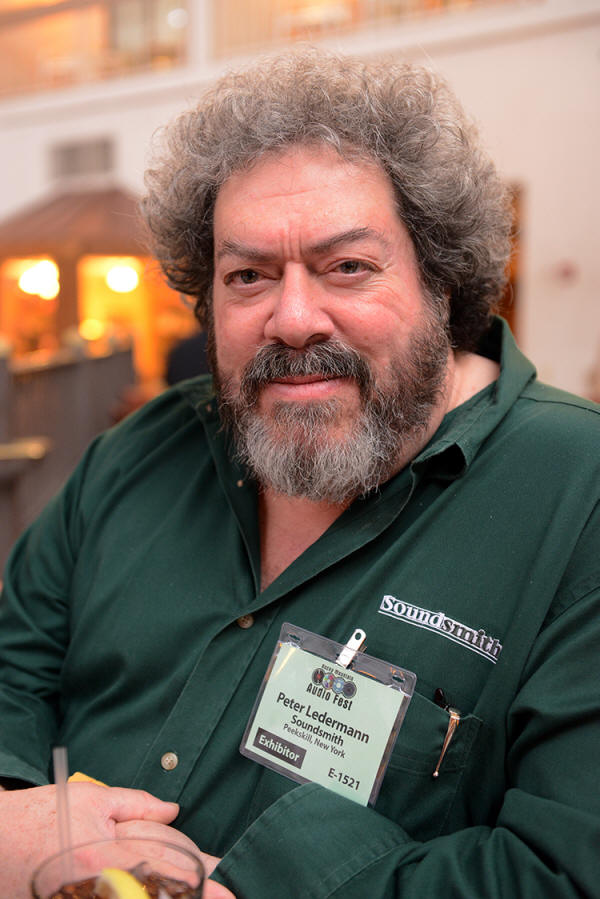 A portrait of Peter Ledermann of Soundsmith: Leonine, indeed. And a master audio artisan…his Hyperion MI reference cartridge just arrived here for review on our Walker Audio Proscenium Black Diamond Level V turntable system, I am delighted to say.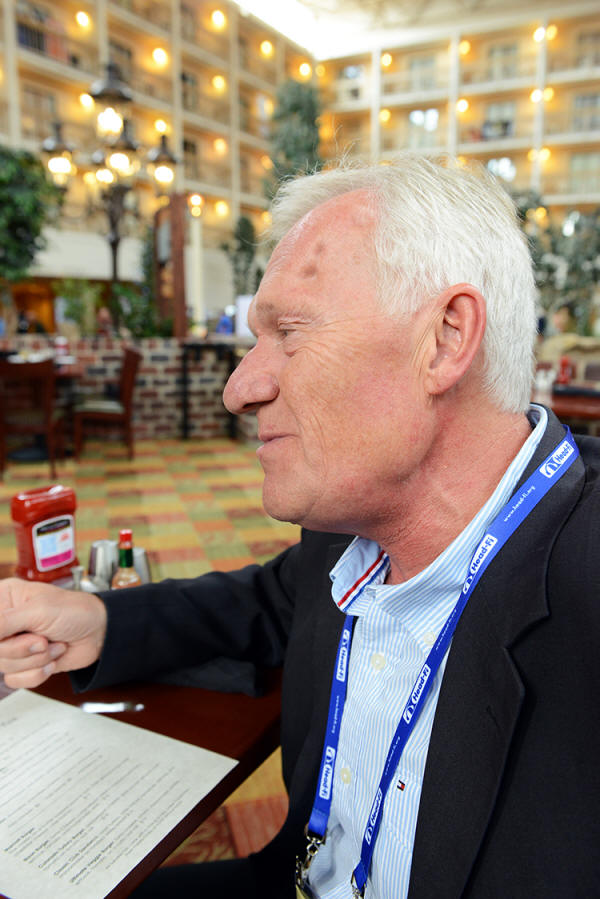 Jan-Eric Persson of Opus3 Records: A brilliant producer and recording engineer.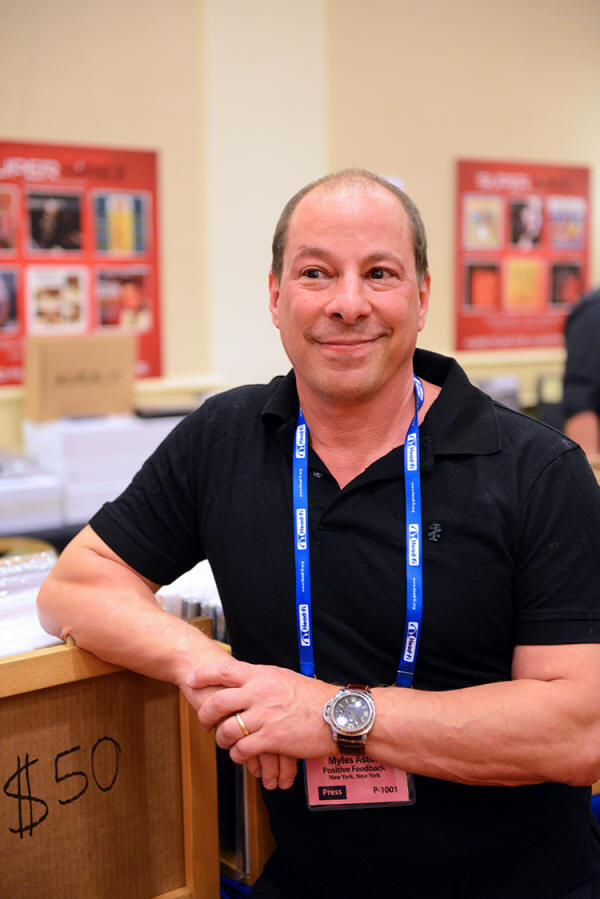 Myles Astor of Positive Feedback hanging out with the LPs at Acoustic Sounds. Where else?!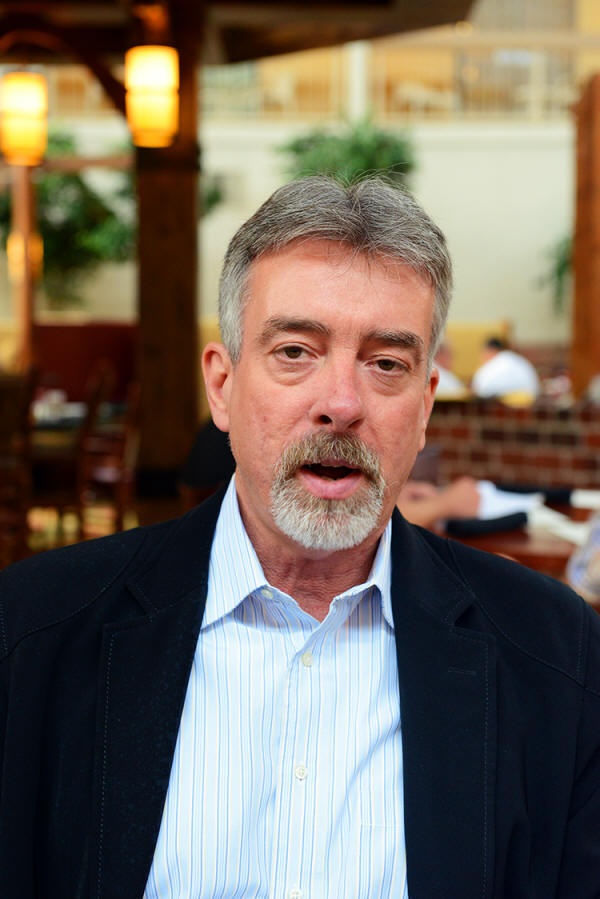 Greg Beron of United Home Audio, he of the well-known Phasexx series of tape recorders, in mid-conversation with me. It's always good to talk with Greg; my origins in audio go back to my reel-to-reel days in high school.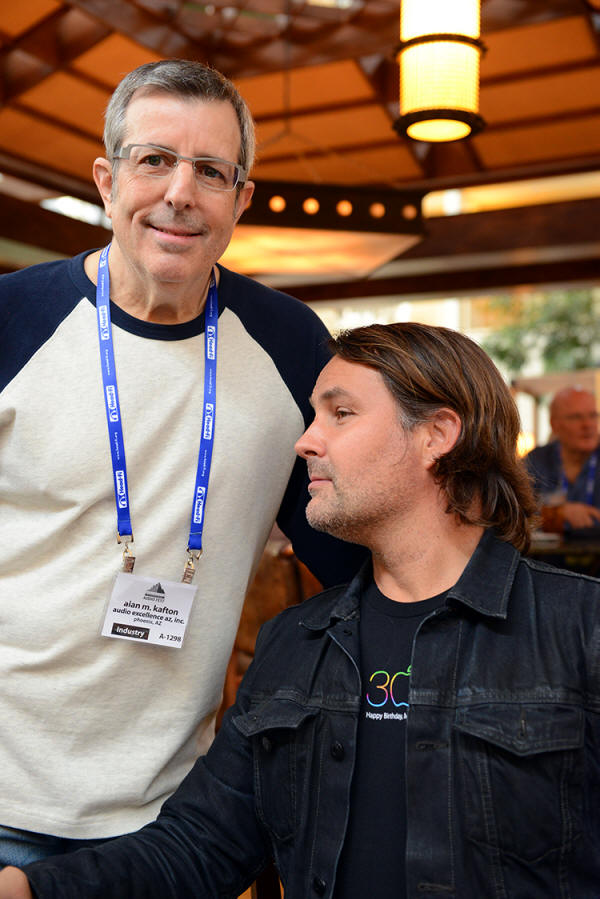 Alan Kafton of audioexcellence az and Danny Kaey of Positive Feedback.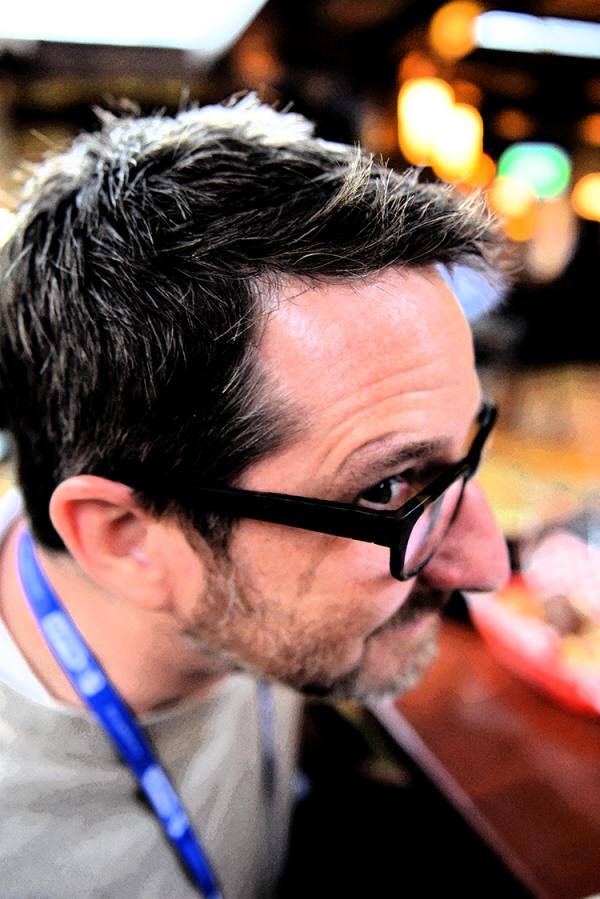 Bryan Gladstone, Advertising and Marketing Manager for Positive Feedback, giving the inquisitive eye in fresco. He's watching!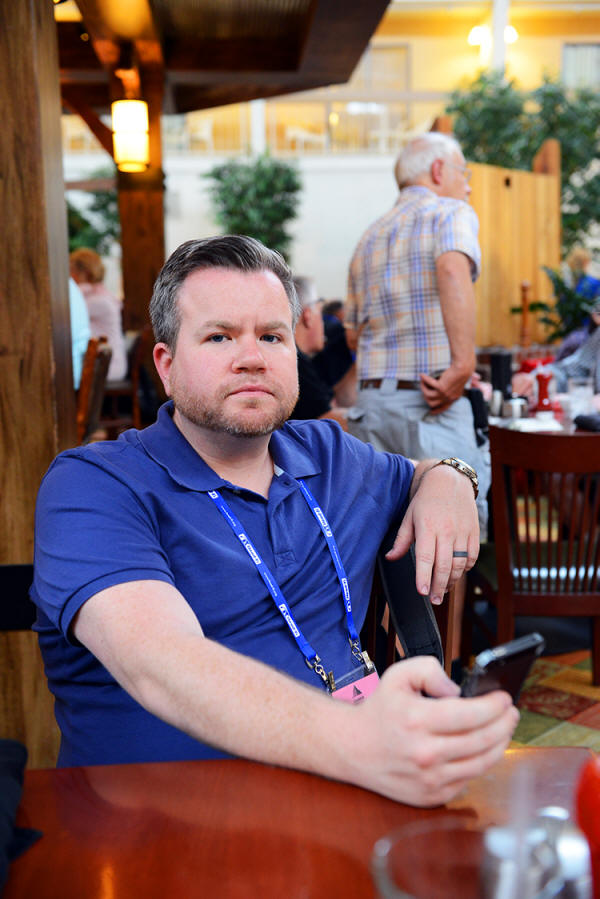 A portrait of Pete Davey, Positive Feedback's administrator of the PF Exchange buy/sell/trade site.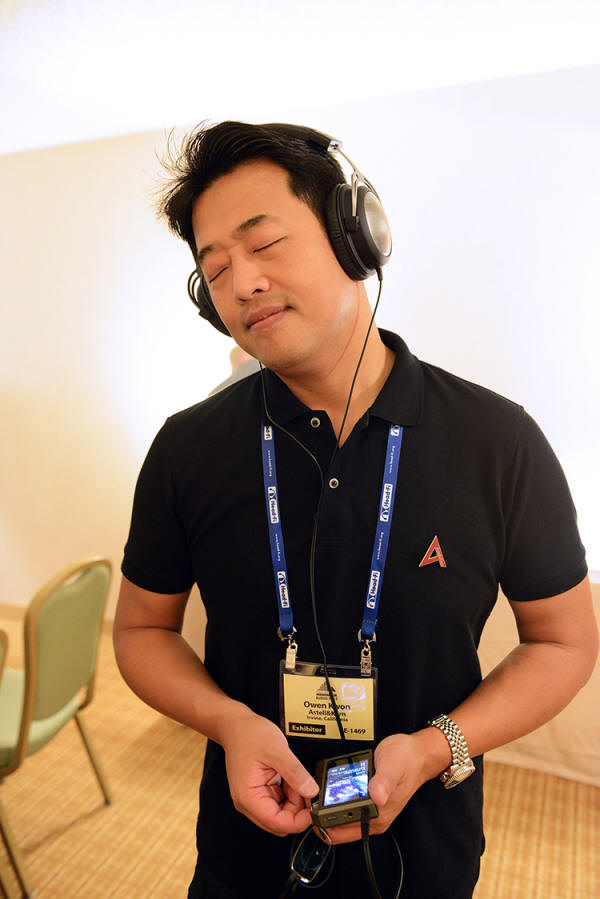 Owen Kwon of Astell & Kern, deeply digging Double DSD on my Astell & Kern AK-240 player. More on Owen and the AK-240 later.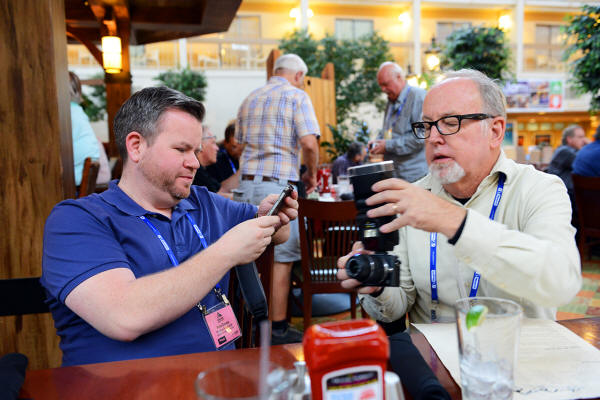 Pete Davey and Dave Clark: Dueling Devices!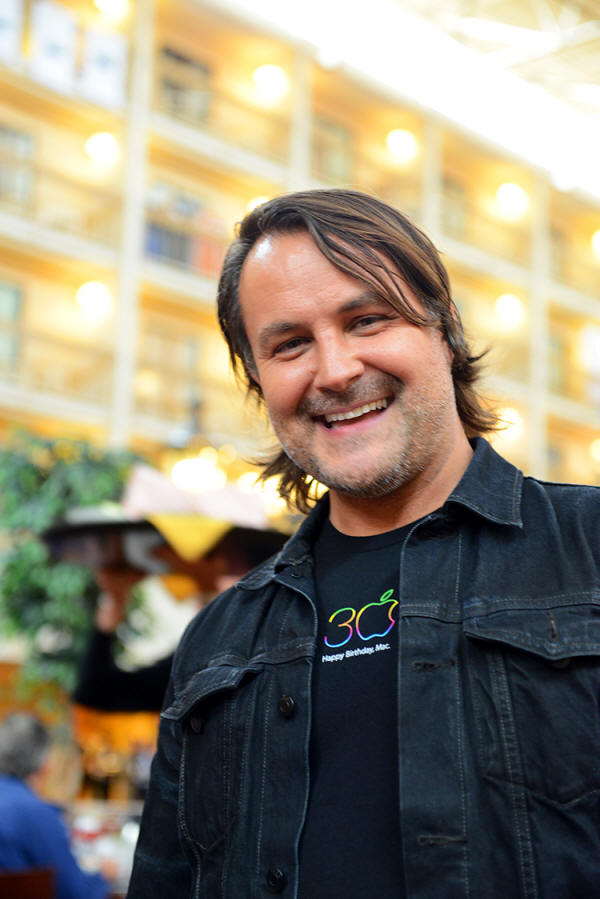 A portrait of Danny Kaey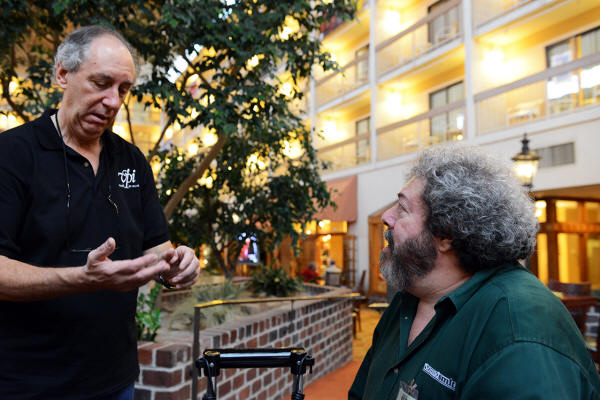 An indelible moment: Harry Weisfeld of VPI talking with Peter Ledermann of Soundsmith…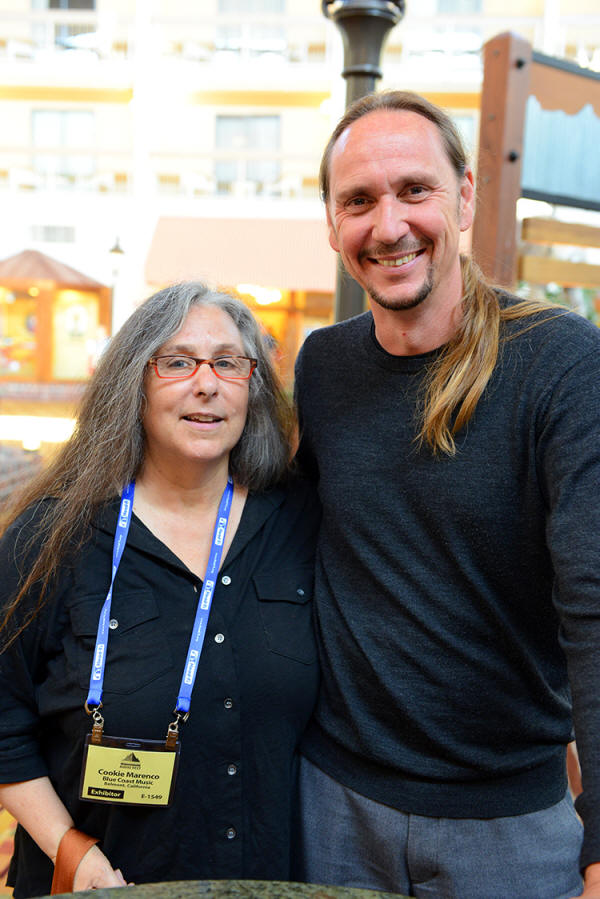 A portrait: Cookie Marenco of Blue Coast Records and Dominique Brulhart of Merging Technologies.
A son and his father: Mat and Harry Weisfeld of VPI, a turntable dynasty in the making…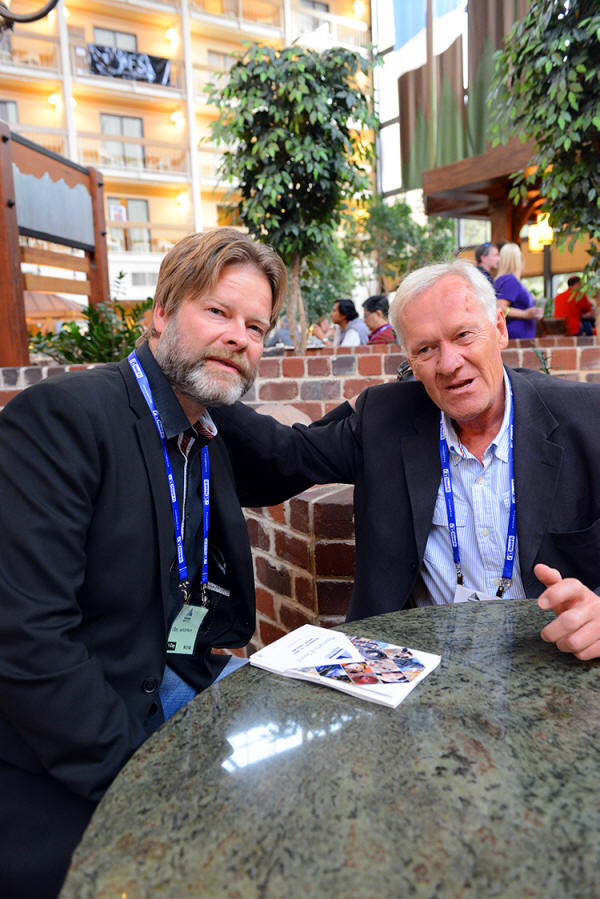 Two very close friends: Eric Nordstrom (left), Assistant Professor of Audio Technology at Lulea University of Technology in Sweden, and Jan-Eric Persson of Opus3 Records.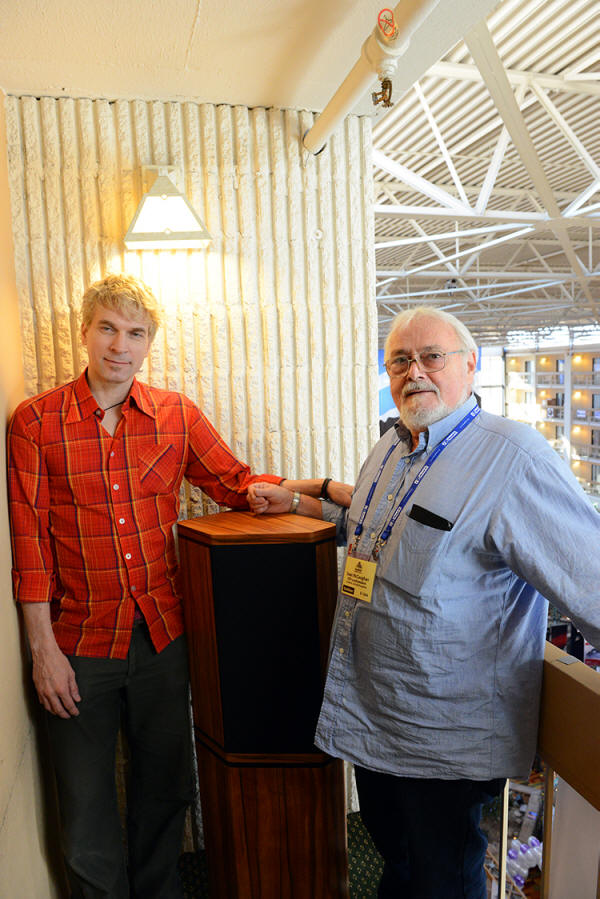 Michael Vamos of Audio Skies and Sean McCaughan of ESP Loudspeakers: A portrait moment.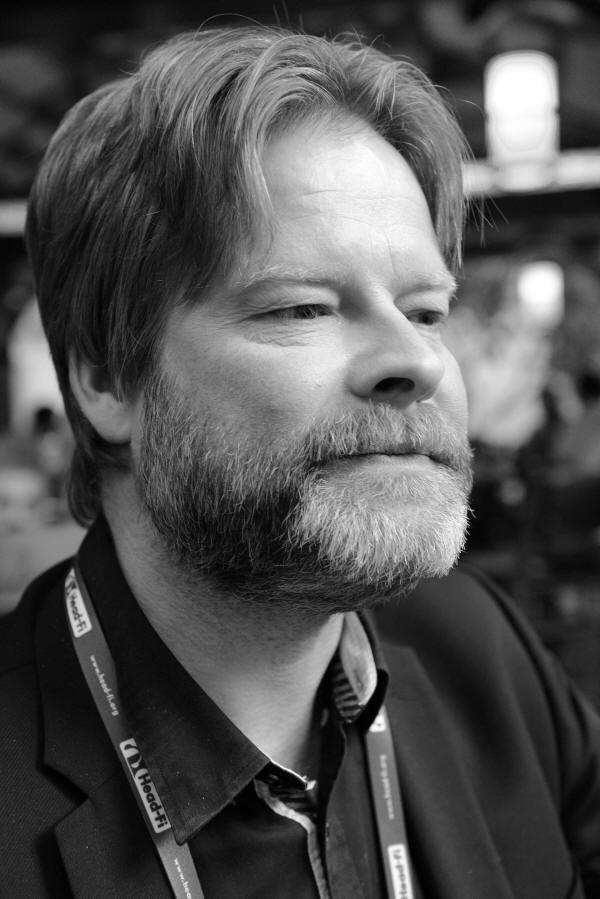 Eric Nordstrom: A Portrait.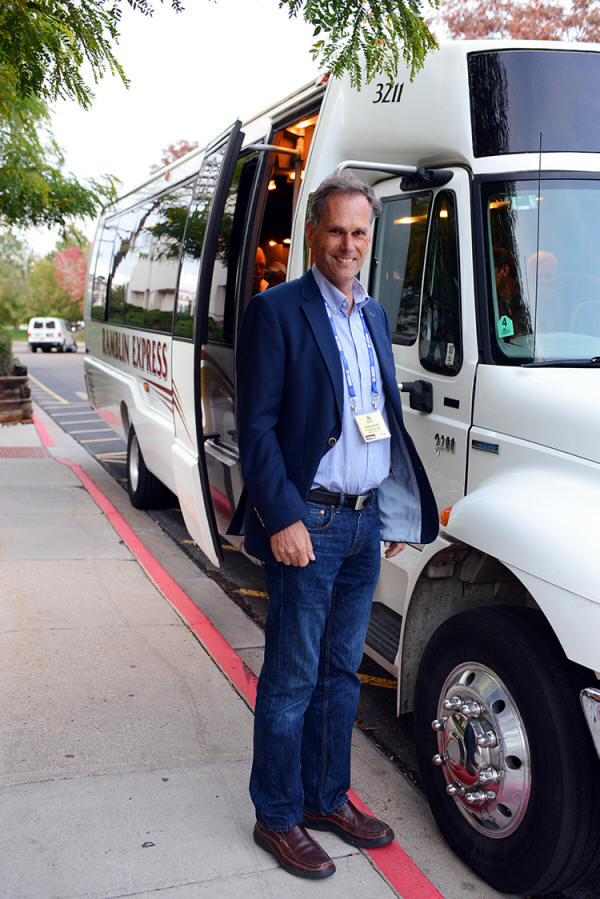 Andreas Koch of Playback Designs.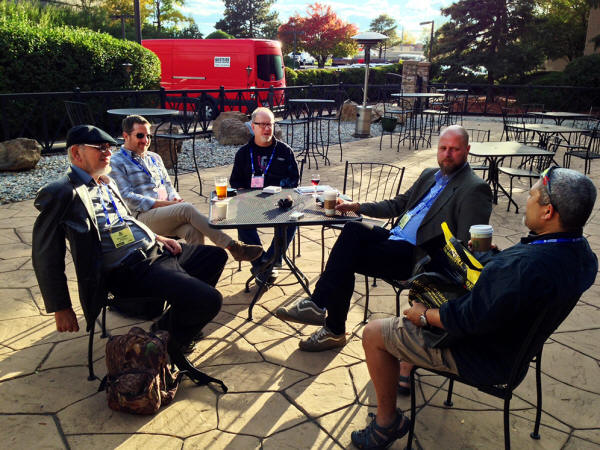 At the end of the day on Saturday: Having a cigar with the gang. Left to right, Bruce Jacobs of StillPoints, Bryan Gladstone of PF, Dave Clark of PF, Knut Skogrand of Skogrand Cables, and Wes Bender of himself. I was between Dave and Knut…that's my glass of Taylor Fladgate Port there…but someone had to take the photograph, you know, even if only with an iPhone 5….
There. The human comedy in all of its audiophile glory, Denver 2014 edition.
General Show Images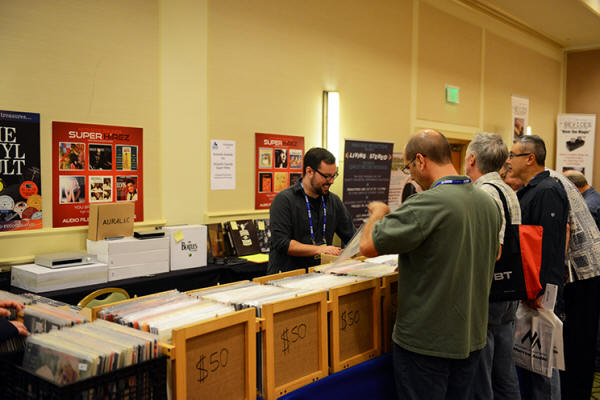 The Acoustic Sounds section was a major attraction for LP and SACD lovers…
…as was the Elusive Disc booth. Plenty of luscious recordings for sale.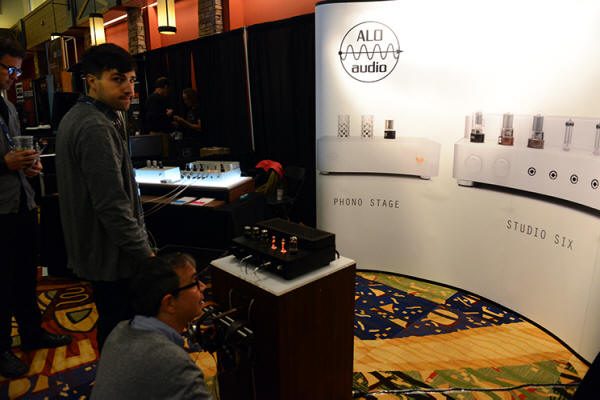 The ALO booth at CanJam was a reminder of the glory of tubes done right in headphone amplification. You couldn't get my ALO Studio Six away from me for anything, amigo!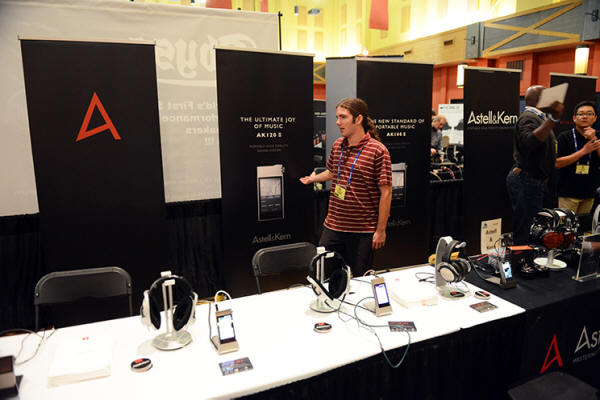 At the Astell & Kern area in CanJam. Lots of choice headphones, plus my all-time favorite portable player, the AK240. (For more on that Audio Oasis! Award, see the end of this report.) Double DSD on the AK240 is an antidote to the air travel blues….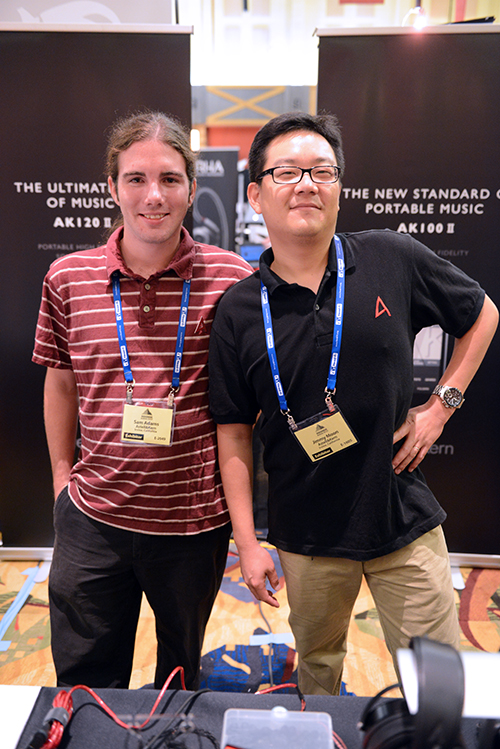 Sam Adams and Jimmy Moon, the dynamic duo, at the Astell & Kern booth.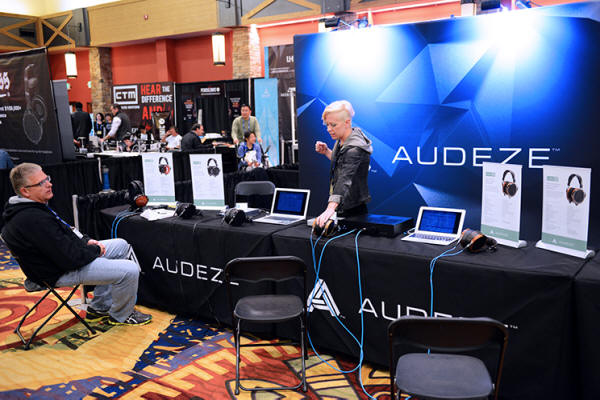 Another prime favorite of mine in the head-fi space: Audeze. My LCD-3's, linked via my current reference standard Double Helix Cables Component3 balanced, bring out all of the coolosity and brilliance of the LCD-3's…believe it!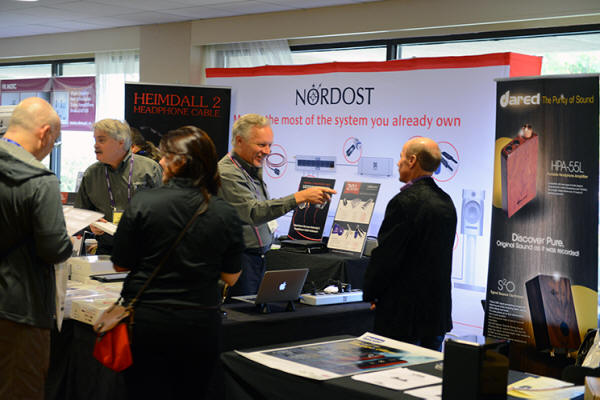 The Nordost booth in the main lobby was seeing brisk traffic every time that I passed by…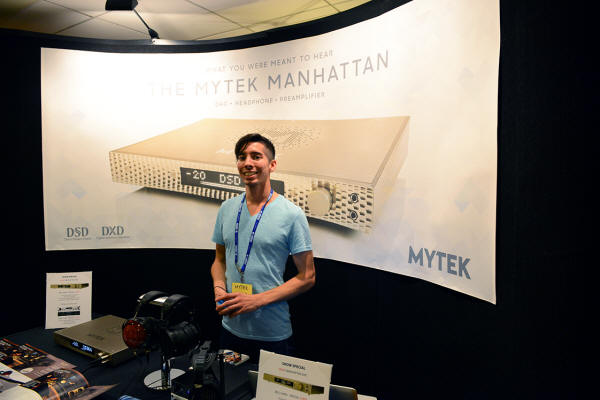 Chebon Littlefield of Mytek Digital at the Mytek booth…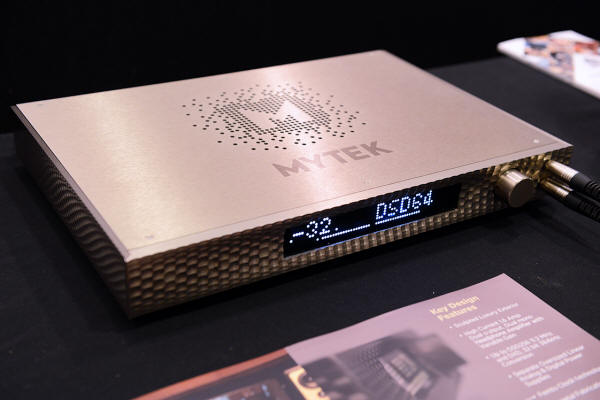 …together with the seductive Mytek Manhattan Quad DSD DAC, a breakthrough in style and performance for Mytek. I hope to review this in 2015.
The PFO DSD Seminar and Field Trip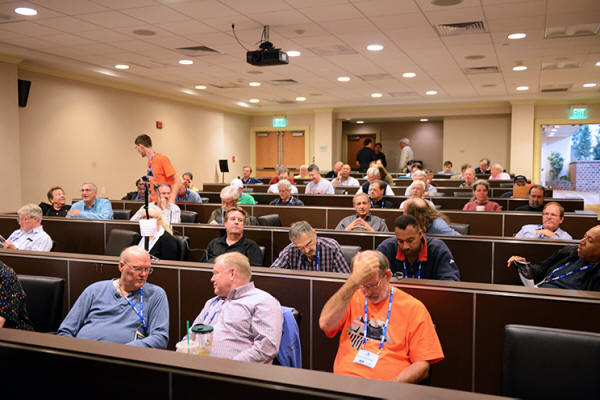 Just before the DSD seminar began…a full house.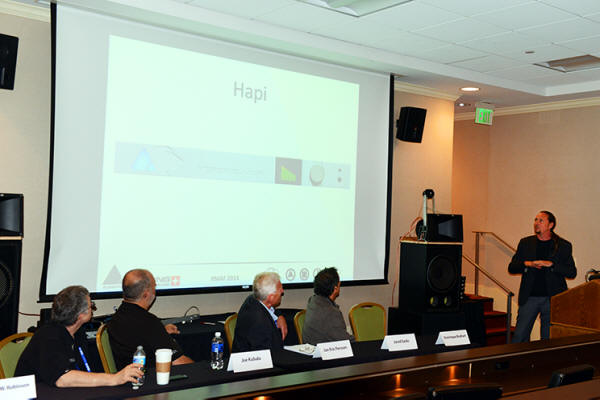 The PFO DSD Panel in action: Dominique Brulhart of Merging Technologies discusses their new HAPI Single/Double/Quad DSD ADDA. The panel, from left: Chad Kassem of Acoustic Sounds and SuperHirez.com, Joe Kubala of Kubala-Sosna, Jan-Eric Persson of Opus3 Records, Jared Sacks of Channel Classics and nativeDSD.com, and Dominique.
We completed a very useful two-hour seminar discussion. RMAF will eventually publish this at their Web site…if you missed the session, you'll want to catch this when it comes out.
After that, it was time to roll immediately for the DSD field trip. This was sponsored by Playback Designs, and organized by one of its principals, Andreas Koch.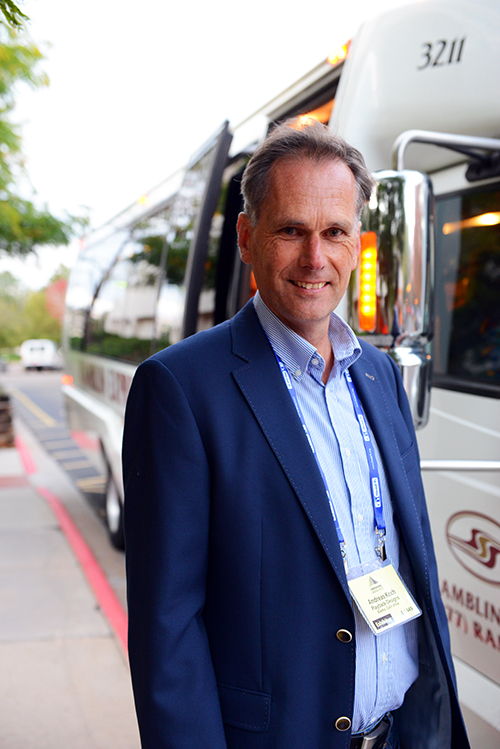 Andreas Koch of Playback Designs
The Super Audio Center was a ride of 45 minutes to an hour from the Marriott Tech Center, given the realities of Denver freeway traffic.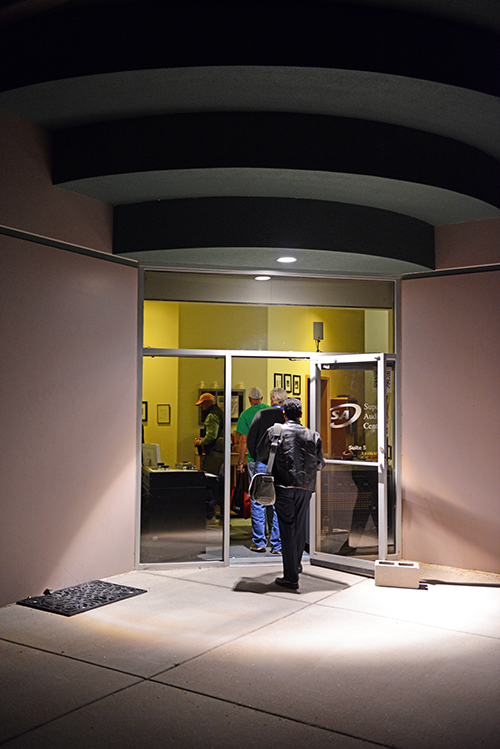 Entering The Super Audio Center, Gus Skinas' DSD domain…
Once there, we were all given a grand tour of both The Super Audio Center, and of its neighboring production studio, Immersive Records. Food and drink were provided courtesy of Playback Designs…many thanks to Andreas and company!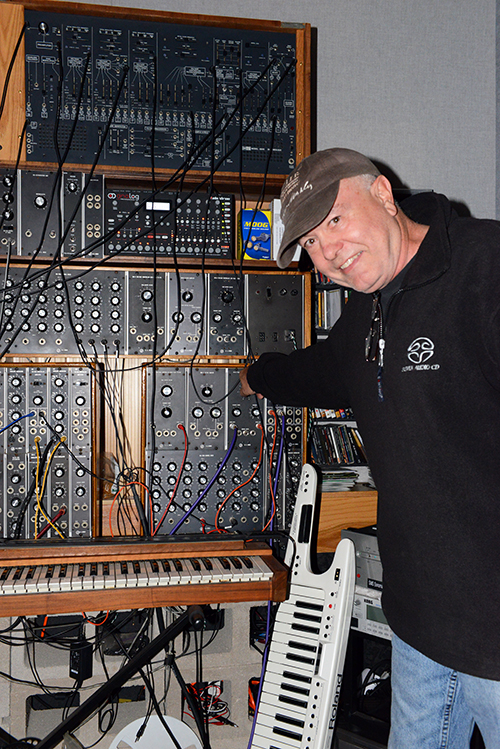 Our excellent host at The Super Audio Center, Gus Skinas, at the controls of his beloved MOOG!
Gus' Super Audio Center is set up for mastering both stereo and surround recordings, with a Sonoma DSD workstation at the heart of the studio space. Gus shared with us some live feeds from the Immersive Records space next door, which was doing an "around the tree" recording of Don Grusin and some supporting artists. He also spent a lot of time playing a number of his DSD surround projects, directly from the master files on his hard drives. The results were truly amazing: Surround sound that was relaxed, organic, and atmospheric. No bite, no muss, no fuss. No digititis. This is the way that our recordings should be.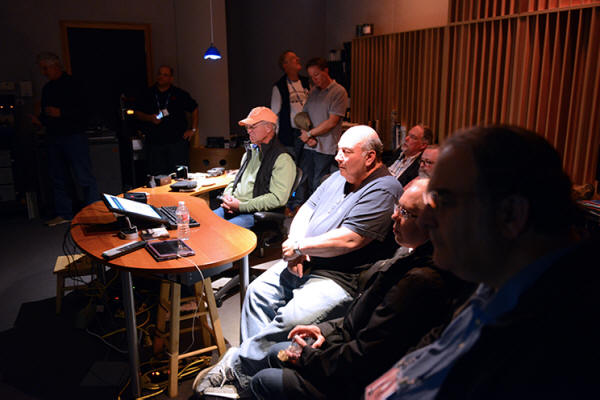 Listening to Gus Skinas' DSD surround recordings from the mastering console itself. Sublime experience, suitable for recalibrating one's notion of what "reference" in fine audio means….
One of the best moments for me was hearing something very special here. Gus had called James Guthrie, who handles the Pink Floyd/Roger Waters recordings, and had gotten special permission to play for us two tracks from the upcoming release of Roger Waters' great album, Amused to Death…done in DSD surround! I have loved the work of Pink Floyd since I first heard Saucerful of Secrets back in 1969, and I have copies of Amused to Death in our collection here at PFO, and so this was going to be a special opportunity. But I didn't realize how special until the DSD surround began to roll.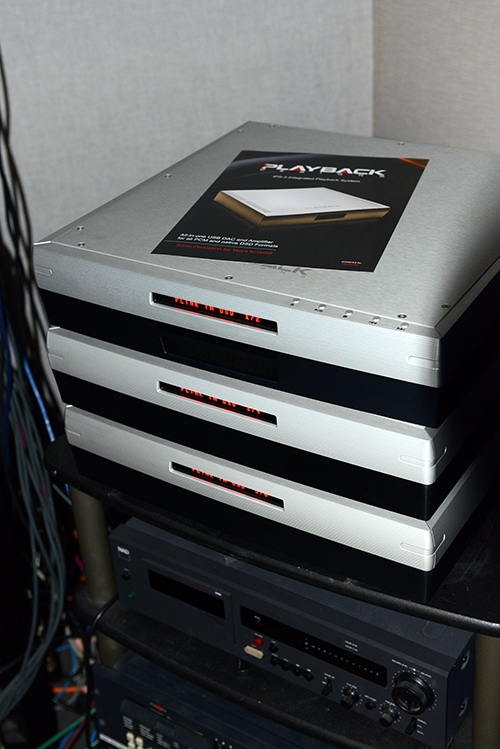 The Super Audio Center's mastering room was equipped with a triple stack of Playback Designs MPS-5's, running in PLINK mode to all six channels of DSD processing for surround mode, two channels per unit. Excellent!
Ongawa, bwana…this was the righteous stuff. Amused to Death better than it ever sounded before, with Q-Sound finally sounding remarkable and organic, and not like a "digital" special effect. I had pre-ordered this one from Acoustic Sounds just because it's a got-to-have-it title on SACD, but now I can't wait for this to arrive. Killer stuff, amigos…it'll heal your hearing!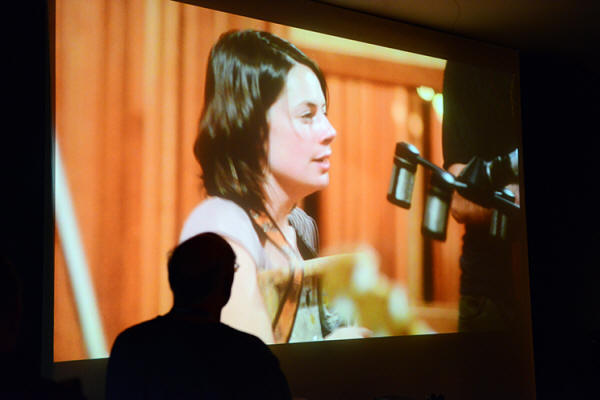 In the category of unexpected delights, Gus hit us with something that none of us could have anticipated. What he did was to bushwhack us with a unique experience: Two music videos of Elephant Revival shot in high definition video…common enough these days…but these were time-synched with the DSD surround sound recording of the performances!
In other words, we had our first taste of what high-definition video/movies would be like if we had DSD for the audio, instead of some flavor of PCM-based Dolby whatsit.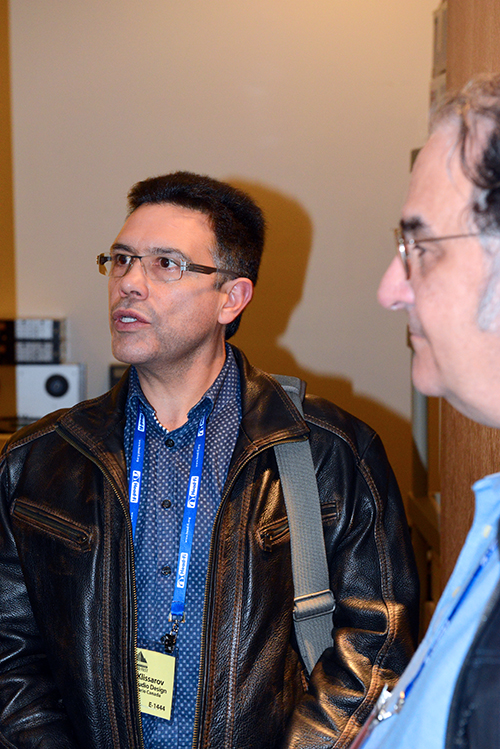 exaSound's George Klissarov (left) chats with PFO's Brian Moura (right) during the DSD field trip.
For me, it was transformational. The ease and naturalness of DSD, married with high-quality video, made for a near out-of-body response to the music video. The level of relaxation and oneness with the music and the video was not like anything I've gone through. If we had Blu Ray, or (better yet) 4K video with DSD surround audio, well, my friends, we would think that we'd gone to heaven. Really.
Believe me, we want this.
Thanks to Gus for showing us how much more could be done with high-resolution video, if it also had high-resolution audio. (Lynn Olson, please take note!)
Hollywood, get a clue. Please.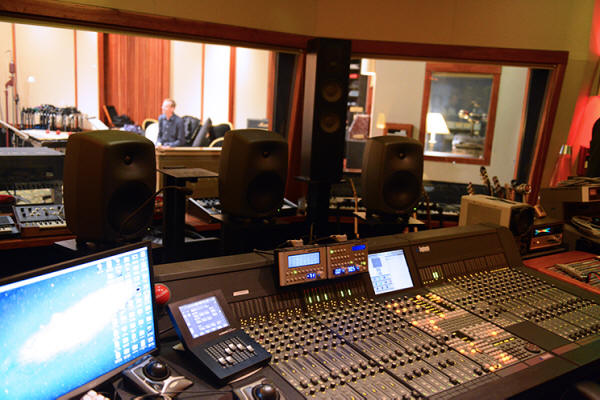 Immersive Records' 32-track Sonoma-based DSD recording console
Right next door was Immersive Records, with its impressive 32-track DSD Sonoma system. Their studio space was nicely done: Plenty of elbow room on both the performing and production side of things, which makes for a more relaxed vibe.
The team at the controls of the Immersive Records DSD console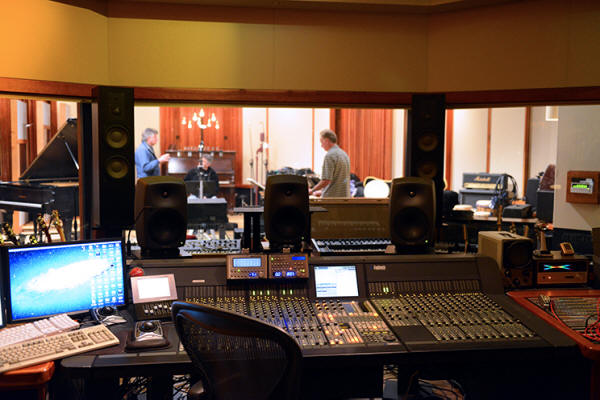 Don Grusin and company were being recorded; this is during a break in the session.
Anyone who attended the PFO DSD seminar and the Playback Designs field trip to the Super Audio Center and Immersive Records got an exceptional experience with DSD. Thanks to the seminar participants, to Playback Designs, The Super Audio Center, and Immersive Records for participating in such a substantive event for attendees.
It's time: On to my awards.
My Audio Oasis! Awards
The reader should note that my Audio Oasis! awards are definitely not comprehensive, since I did not have time to visit anything like all of the rooms that were at RMAF 2014. (For example, my moderation of the PFO DSD panel and the subsequent field trip to The Super Audio Center and Immersive Records took seven hours on Friday afternoon and evening, all by themselves.) Therefore, the absence of a room from this list of award winners does not necessarily indicate that they were not worthy of consideration.
Cutting to the chase, this year's RMAF produced a number of winners. Some were old friends, reliable for great sound year in and year out, but others were new to our awards, I'm glad to say.
In no particular order:
VTL/Wilson Audio/Spiral Groove/Lyra/HRS/Transparent/Nordost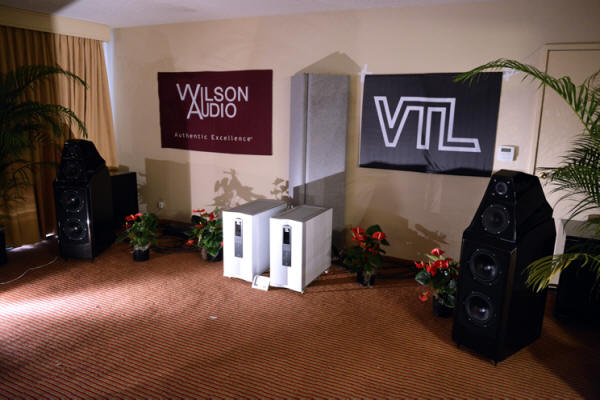 Wow! What incredible sound and music in this room! I have to say that I've never heard Wilson speakers in show conditions sound better than they did in this room. The sound was huge in every way: Deep, wide, with incredible dynamic slam, either from the turntable or from the exceptional recordings that Peter McGrath was playing from his "unobtainium archives" of never-released recordings. Even though these recordings were in PCM, I was quite taken with the brilliant work that Peter had done with these. I spent a while here, just luxuriating in the music, and its immense scope and power. (Wish I could have heard DSD sources! Peter's working on it.)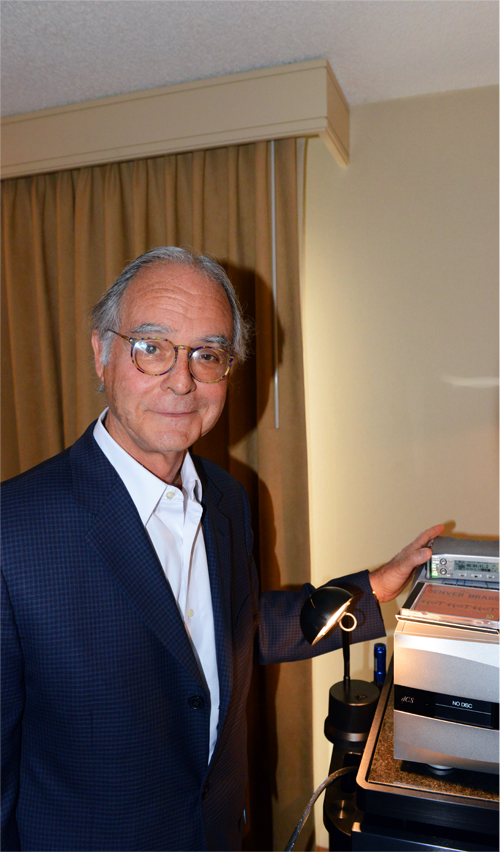 Peter McGrath of Wilson Audio, recording engineer extraordinaire!
The VTL amplification was handled in an innovative way. Two VTL S-400 II amps were vertically bi-amped with each Sasha II, driving the speaker and the associated Watchdog passive subwoofer, with active crossover being provided by the Wilson Controller unit. The crossover was done at 32Hz, according to Peter, to provide best performance in this configuration.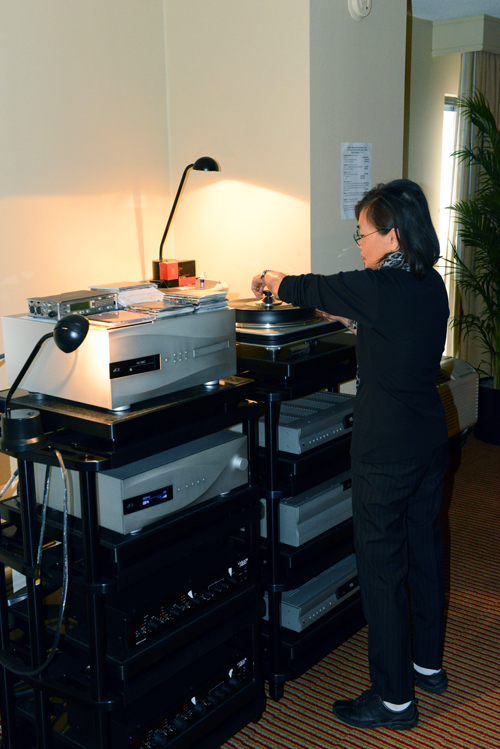 At the VTL, Spiral Groove, and dCS source stack
The results spoke for themselves. Simply outstanding.
The system:
Wilson Audio Sasha II loudspeakers ($30,900/pair)
Wilson Watchdog Subs (two) ($9,800 each)
Wilson Controller (two) ($4,000)
Spiral Groove, Lyra SG 1.1 Turntable and Centroid Tonearm ($31,000), with Lyra Etna Cartridge ($6,995)
dCS Vivaldi Playback System (Transport $39,999; DAC $34,999)
VTL S-400 Series III Reference Stereo Amp (two, in vertical active bi-amped mode; $33,500 for each amp)
TL-7.5 Series III Reference Line Preamplifier ($25,000)
TP-6.5 Signature Phono Stage, with step-up MC transformer ($12,000)
Harmonic Resolution Systems Rack Systems: two Signature SRX racks, with M3X Isolation Bases ($11,580 each)
Cables by Transparent (Reference XL and Opus MM2) and Nordost (Odin Digital Cables and Valhalla Power Cables and Power Distribution); prices vary.
A definite Audio Oasis! Award winner, hands down. Amazing....
GTT Audio/YG Acoustics/Kubala-Sosna/Audionet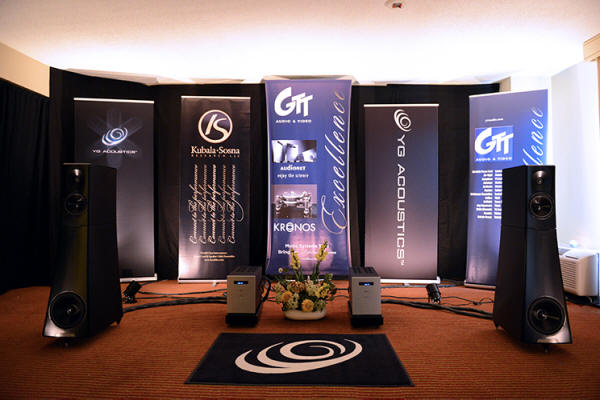 In the lap of bodacious sound: The GTT Audio room
As usual, the good folks in the GTT Audio room were providing truly top-notch sound, despite the usual travails of show conditions. In this case, the YG Acoustics Hailey loudspeaker was sounding really great, driven by the associated Audionet electronics. I consider Audionet to be one of the major finds of the past few years: Exceptional sound in every parameter you might want to name, and at a price point that is actually less than you might think for reference-level performance in high-end audio. In fact, I have this system in my own listening room for review right now, and I can tell you that I'm going to be raving about Audionet before the end of the year!
Left to right: Dick Diamond of YG Acoustics, Bill Parish of GTT Audio, and Joe Kubala of Kubala-Sosna Cables…a great bunch of guys!
The sound here was clear, detailed, authoritative, and very transparent. The KRONOS SPARTA turntable with its KRONOS Helena tonearm and its Air Tight PC-1 Supreme MC provided great music, and sounded like it really belonged in the system. That might seem strange, but I've heard "systems" that really weren't…no synergy, no righteousness, no organic connection. Think of it as audio anarchy, with a bad case of the creepy crawlies…nothing right, and no flow.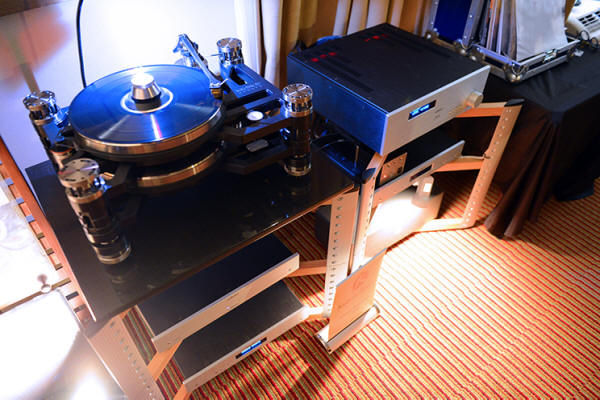 The GTT Audio source stack, featuring the KRONOS turntable system with Air Tight PC-1 MC, Audionet G2 Phono Stage and EPC Enhanced Power Supply, and G2 Preamp. Tasty in the extreme, amigos!
That wasn't a problem in this room. Everything sounded like it belonged with everything else here, and the YG Haileys were smiling, big time! With a source system and electronics that match its notable virtues…which Audionet/KRONOS definitely provided…the Haileys breathed music the entire time that I was in the room.
The system:
Audionet PAM G2 Phonostage with EPC Enhanced Power Supply ($16,800)
Audionet PRE G2 preamplifier ($23,350)
Audionet DNC streaming DAC ($10,100)
Audionet MAX monoblock amplifiers ($30,500/pair)
KRONOS SPARTA turntable ($21,500)
KRONOS Helena tonearm (10.5"; $6,500)
Air Tight PC-1 Supreme MC cartridge ($11,000)
Kubala-Sosna Elation! interconnect cables and power cords (speaker cables and interconnects, $6,000 for the first meter, $1,200 for each additional meter; power cords at $1,800 for the first meter, and $500 for each additional meter)
Kubala-Sosna EXpander power distribution unit ($4,800)
YG Acoustics Hailey loudspeaker ($42,800/pair)
I could spend tons of hours in this room…great music, top o' the heap sound…a definite symptom of an Audio Oasis! room.
Certainly one of the best rooms at RMAF 2014, and clearly deserving of a PFO Audio Oasis! Award.
Done, in spades!
Colleen Cardas Imports/Opera/PureAudio/Unison/Transfiguration/Furutech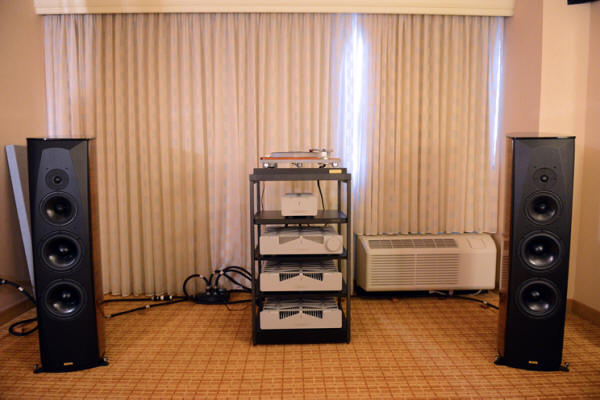 I had an opportunity to drop by the Colleen Cardas Imports room, one that I've missed in past shows. For RMAF 2014, CCI made the decision to have this room as an all-analog demonstration, using LPs only…no digital at all. Hosted by Marc Phillips, I spent some time listening to the Opera Loudspeakers Grand Callas speakers, 2014 edition. I wasn't familiar with the Operas, nor with the electronics and source that were driving them. The turntable was a Unison Research Giro with Giro arm ($3,995), with a Transfiguration Axia MC ($2,500). This in turn fed a PureAudio phono preamp ($4,500), the PureAudio Control preamp ($9,500), and a pair of the PureAudio Reference monoblock amps. From there it was on via Furutech Speakerflux loudspeaker cables to the Opera Grand Callas ($11,995/pair). All line conditioning and other cabling were via Furutech (Lineflux RCA cables, Alpha PS-950-18 power cords, and fTP-615 power line conditioner).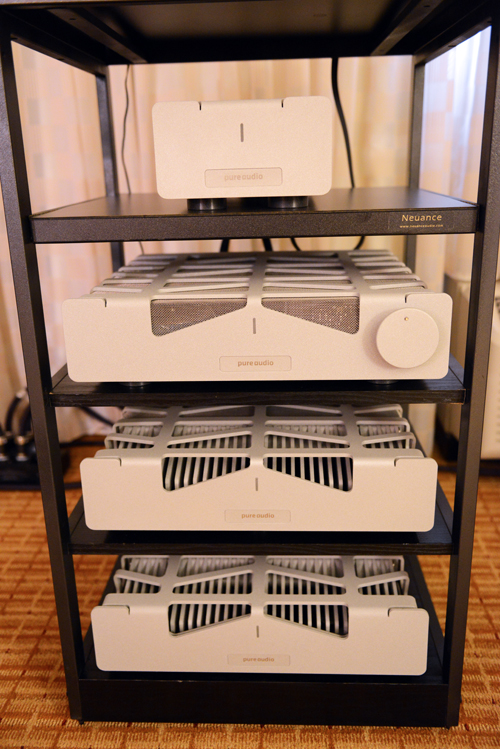 The pure audio stack in the Colleen Cardas Imports room…quite attractive to the eye, and great on the ear.
As I said, I was not familiar with these components. It didn't matter, though; the sound was clear, detailed, dynamic, but always musical. LPs sounded the way that they should, gliding out with emotional connection. Tics and pops were minimized. The soundstaging and imaging under show conditions were very good. In fact, I was really impressed by the performance of this system, one that I didn't know. Just goes to show you that there's always something new cropping up in the world of fine audio…you've never heard it all.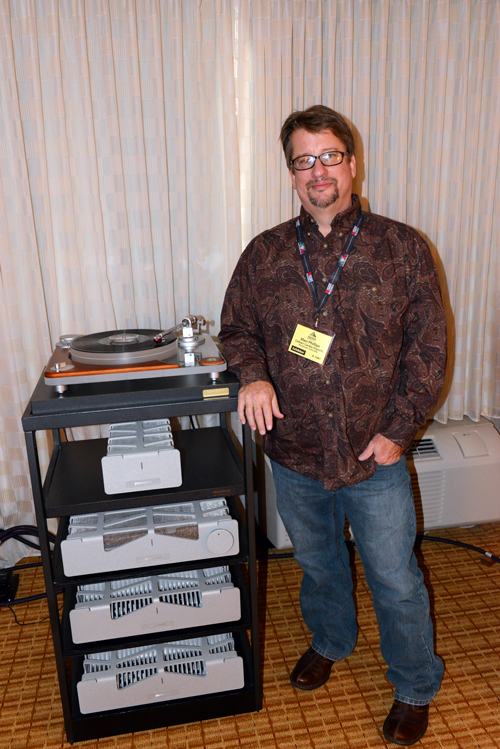 Marc Phillips of Colleen Cardas Imports, next to the Unison Research Giro Turntable and Transfiguration Axia MC.
Yes, Marc's room for Colleen Cardas Imports was noticeably above the run-of-the-mill, and soothed my soul. Music was happening here…a definite indicator of an Audio Oasis! Award winner!
So given, and quite gladly. Here's to more pleasant surprises!
PS Audio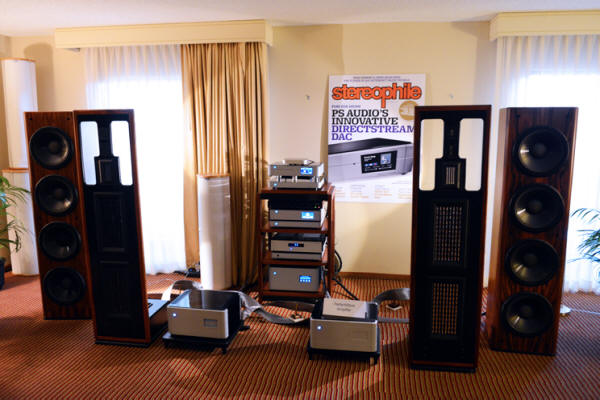 In the PS Audio room: Something old, something new, nothing borrowed, no blues….
The PS Audio room had some remarkable things happening in it. Yes, it had the new PS Audio Directstream DSD DAC that I raved about last summer in Issue 74. And yes, the Aesthetix Calypso preamp was in evidence, as were the PS Audio PerfectWave Transport, PerfectWave PowerBase, and P10 Power Plant. But something was radically different here!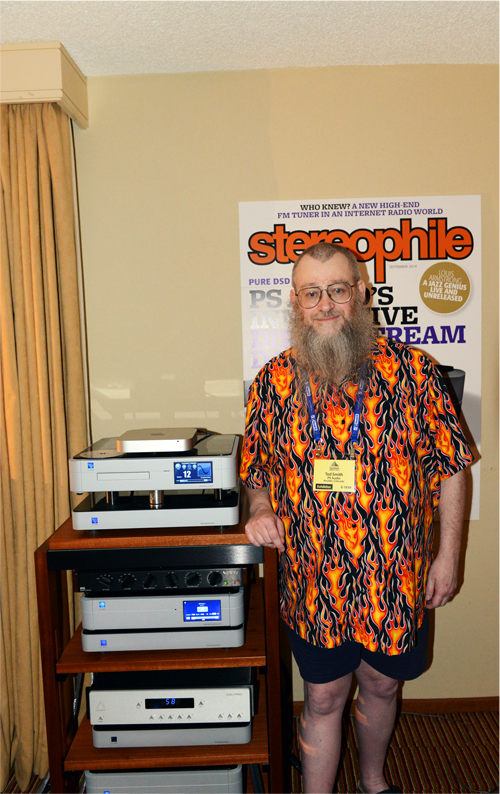 Ted Smith of PS Audio, designer of the brilliant DirectStream DSD DAC…love the shirt, Ted!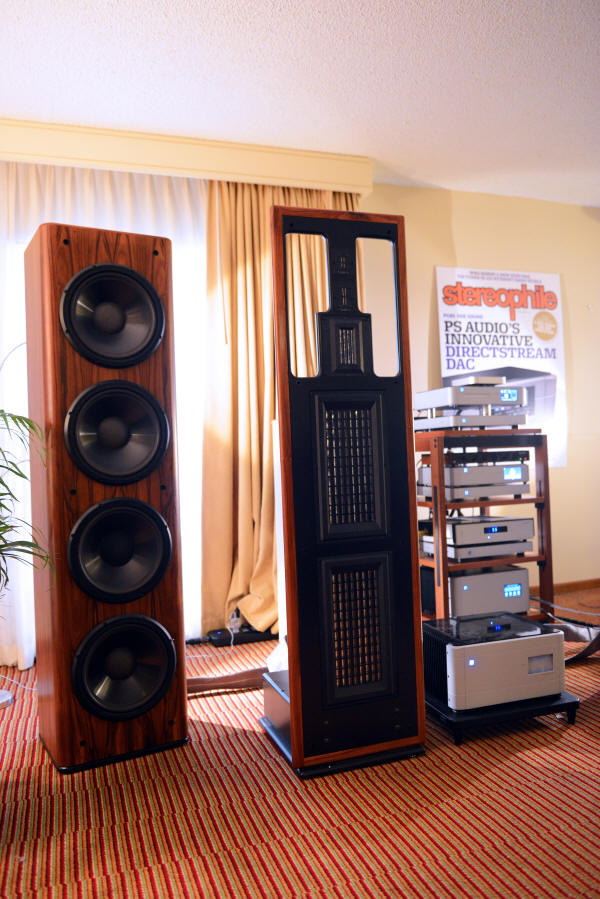 The old-but-mighty Arnie Nudell-designed IRS Infinity Beta, new old stock(!), supported by the brand new PS Audio PerfectWave monoblock amplifer, the work of Bascom King. A remarkable fusion of the new-old with the new-new!
It turns out that Paul McGowan of PS Audio was able to locate a set of the legendary IRS Infinity Betas in mint condition, still in environmentally-controlled storage in their original packaging. This amazing score allowed showgoers to hear this extraordinary loudspeaker system with state-of-the-art electronics and sources, an opportunity that I did not miss. This is how Paul described it in his October newsletter:
"Pictured are the Infinity IRS Betas, fed from the DirectStream DAC and powered by a pair of Bascom King's new PerfectWave amps. I found a virgin unused pair lovingly stored in a warehouse. They are in new condition and they are still breaking in! The design is all planar magnetic (ribbon) down to approximately 100Hz. There, a servo driven woofer setup takes over extending the bass response to 16Hz. Few systems today can equal their performance."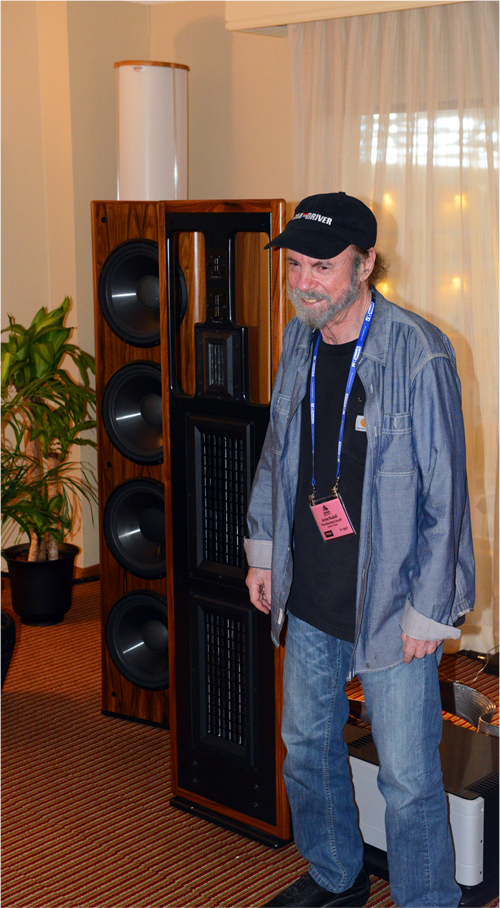 A modern audio legend: Arnie Nudell with his IRS Infinity Beta speakers
Given what I was hearing, I would agree with Paul; despite the fact that the IRS Infinity Betas were still breaking in, this was wonderful, full-range sound, putting many modern speakers to the test. And the new Bascom King designs in the PerfectWave amplifiers synergized nicely, driving the challenging load of the IRS's quite effectively. Apart from one twitch in one channel, due to the protection circuits being unnecessarily too high according to Bascom, this system played flawlessly on both of the occasions that I spent extended time listening.
The well-known Bascom King with his new design, the PS Audio PerfectWave amplifier
At one point, I had the pleasure of sitting with Stereophile's Editor, John Atkinson, and listening to some of his original recordings made in Portland, Oregon last spring, and played back by the DirectStream DSD DAC from the original 96kHz/24-bit master files through this remarkable system. As it turned out, I had sat in on the last day of recordings with John, and thus had a sense of the venue and some of the original performances. It was a lovely place, a church in SE Portland, with very fine sonics, and the Portland State University choir really hitting its stride.
The results in this room exceeded my expectations for show conditions, which are notoriously difficult for major systems like these. While I expect that the speakers will continue to break in for hundreds of hours, the initial experience was glorious with every source that I heard.
Majestic. Enormous dynamics. Detail. And alluring musical values.
No doubt about it: PS Audio and company deserve this Audio Oasis! Award, big time.
Done!
exaSound/Magnepan/Bryston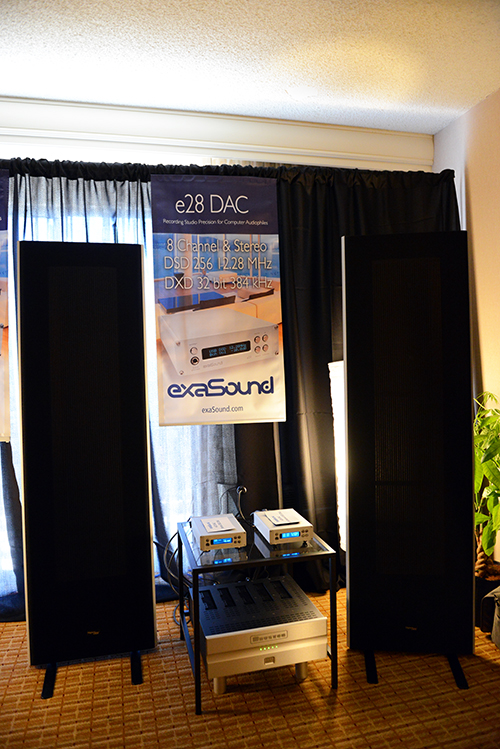 The exaSound room, with the e22 and e28 Femto Clock (FC) DACs, Bryston, and five(!) of the Magnepan 1.7 speakers. Beware: Magic here!
I was on a bit more familiar ground when I went to the exaSound room. George Klissarov was playing DSD files all show long, and demonstrating the mind-blowing excellence of DSD as the ultimate surround format. Using the e28 FC 8-channel DSD DAC ($3,650) and the e22 stereo DSD DAC ($3,500), George shared a number of excellent recordings from Single DSD (DSD64) all the way out to Quad DSD (DSD256). All of them transformed this room, and brought real musical presence to life in a way that is unique in my experience. Anyone needing a demonstration as to the possibilities of DSD surround could have gotten it in this room, without a doubt!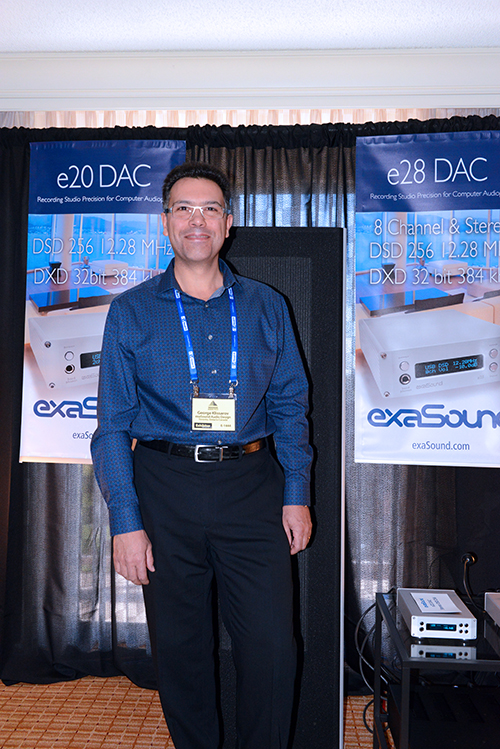 George Klissarov of exaSound
George himself did a splendid job of hosting the recordings, and the music was delicious…mainly classical work in native DSD, or transfers from analog tape to DSD at various levels.
I must say that I've never heard the Magnepan 1.7s sound as delicious as they did in this room. With three 1.7s up front, and two in the rear, and the Bryston multi-channel amp providing the horsepower, the level of ease and naturalness set a real standard for surround sound in a small space. Kudos to exaSound for such a fine demonstration!
By the time I left this room, I was a lot more relaxed than I was when I entered it. And it was hard to leave, believe me. Other rooms would benefit by stocking their ponds richly with DSD.
Yep. Definitely an Audio Oasis! room. Done!
Von Schweikert Audio/Constellation Audio/EMM Labs/Master-Build Audio Cables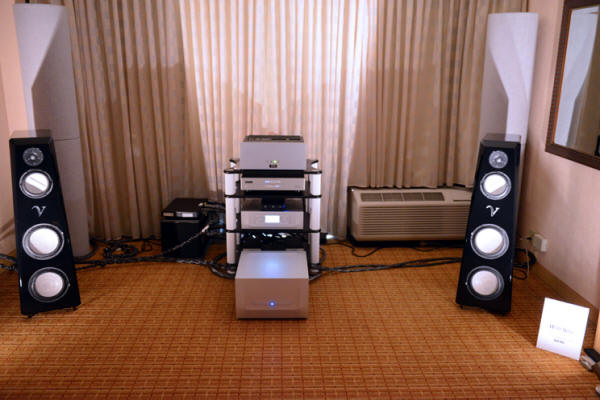 In the Von Schweikert Research room, with the VR-55 Aktive Loudspeakers
The VSR room was a really interesting treat…very different from what I heard in many other places at RMAF 2014. The keynote here was obvious from the beginning: dynamics! Yes, children, there was some real slam going down in this room!
Albert's room featured his new loudspeaker, the VR-55 Aktive (introductory price of $42,000/pair), in tandem with the Constellation Audio Virgo preamp and the Centaur power amp, sourced by the EMM Labs DAC2X and YFS Ref 3 Music Server (no prices provided).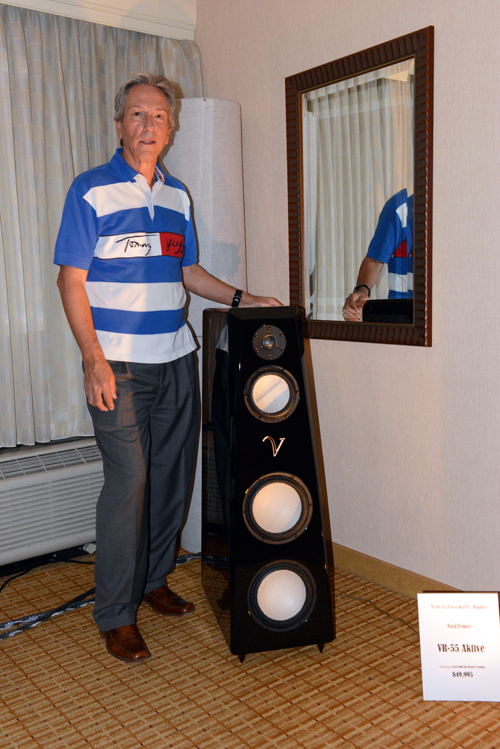 Albert Von Schweikert with his new VR-55 Aktive loudspeaker: The Proud Papa!
The VR-55 Aktive is a "ceramic sandwich" design for the woofers and midrange, and Beryllium tweeters fired by Neodymium magnets. Further, Albert has employed active notice-reduction within the cabinet, with very low distortion. The results are potent: Slashing slam while keeping the ability to render delicate nuance with aplomb. Very, very transparent, judging by my time with them, with EMM Labs doing its usual great job of delivery the digital goods.
I had to say that I was wowed by the results in the VSR room. Despite my lack of familiarity with the Constellation electronics and these particular components from EMM Labs, there was no gainsaying the quality of the music that was in this room. Whether delicate or dynamic, the system did what it must to put the music into play. I stayed here for a while.
Very fine. A definite Audio Oasis! Award winning room.
On a Higher Note/Vivid Audio/Synergistic Research/Mola Mola/Luxman/Soundsmith/Eclipse TD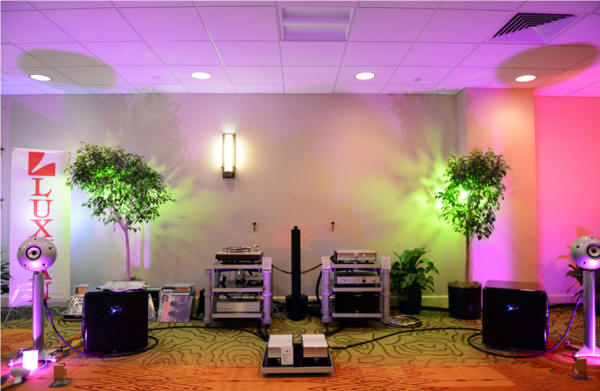 The On a Higher Note room: A wonderland of remarkable sound and devices!
I've been saying it for several years now: Philip O'Hanlon of On a Higher Note runs one helluva fine room at the shows I've visited. His choice in music is superb, involving LPs, SACDs, DSD, and even open reel tapes at times. The best version of Lou Reed's "Take a Walk on the Wild Side" was the one that I heard in Philip's room a couple of years ago, for example. (I'd still love to find that German EP!) His values are always elegantly musical, and his product lines reflect high quality without blowing the doors off of your Swiss bank accounts. (Yeah, you know which ones I mean.) There is always a fine return on investment with Philip's systems.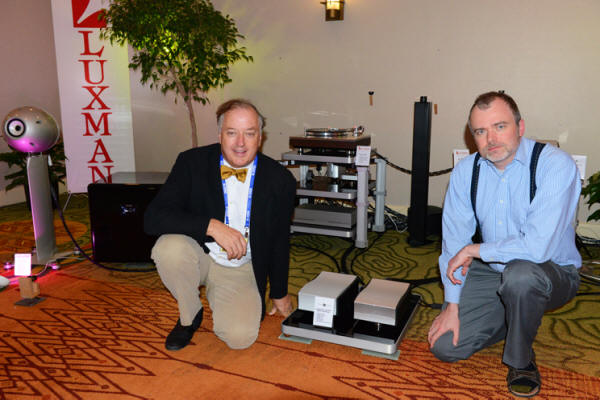 Philip O'Hanlon (left), of On a Higher Note, and Bruno Putzeys, the brilliant designer of Mola-Mola. Between them are a pair of Mola-Mola Kaluga monoblock amplifiers ($18,000/pair) being driven by the Mola-Mola Makua preamp ($13,450) with optional phono section ($2,500).
This room really drew me in, and not just for the fine whisky and wine that was generously shared after hours on Saturday night. No, it was the new combination of equipment that I was not familiar with as a system, and that I was hearing together for the first time. I had been really taken with the Mola-Mola kit last summer at THE Show Newport Beach, where they won an Audio Oasis! Award in tandem with Vivid loudspeakers, but this time around Mola-Mola was running with the Eclipse TD-712z MK II loudspeakers ($10,600/pair) and a pair of the Eclipse TD725SW subwoofers ($6,400 each). Luxman was in evidence once again, with the DA-06 DSD DAC ($4,990); for analog, LPs were twirling on the Luxman PD-171 turntable, sporting the phenomenal Soundsmith Hyperion MI cartridge.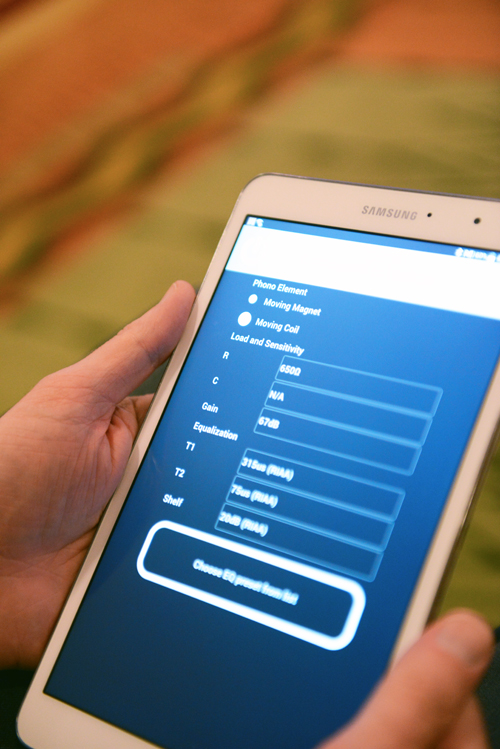 The Android interface for the Mola-Mola phono section of their Makua preamplifier. This is the most powerful control for the most complete set of phono parameters that I've ever seen…mind-blowing! Soon to be available in an iPad app, as well.
The results were truly satisfying at the level of soul: LPs had the rightness of groove that made me sit back, unwind, and connect with the music. Dynamics were excellent, transparency was very fine, and the low frequencies were well in hand with the Eclipse subs, which were components that I hadn't encountered before. The integration of bass with midrange and higher frequencies was very nicely done…commendable. Further, this room had a really interesting holodeck-like effect, with surprising soundstaging and imaging…for reasons that I would discover.
You'll see in the photograph above one of the most remarkable things about the Makua preamp phono section: It was being controlled by an app on an Android pad! This app was the best thing that I've ever seen for controlling the parameters of LP playback. Bruno demonstrated this to me on the Android pad. It had all sorts of elements that you could select and change with the touch of a finger: Gain (via relay control), loading, mono or stereo, EQ, curves, cartridge type, etc., are all there. There were multiple stored profiles for just about every cartridge and just about every curve that's ever existed. This is an exciting marriage of digital controls with pure analog preamp operation, since the digital domain is used only to set parameters in the analog domain. No A/D is involved in the playback itself.
Damn. This is flat-out fantastic. Vinyl lovers everywhere really need to check the Makua with phono section out…killer stuff, amigos!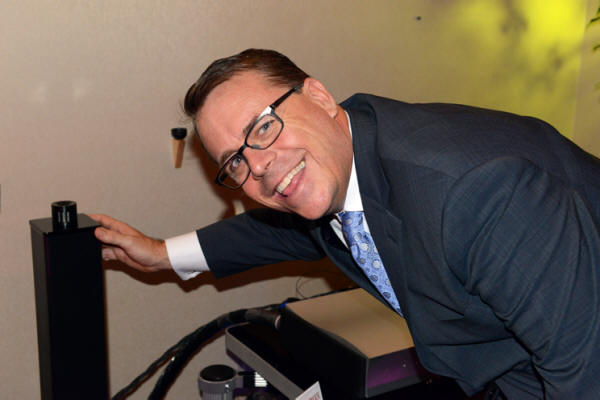 Ted Denney of Synergistic Research with his bewildering, remarkable Atmosphere soundstaging system.
The thing that really set me reeling, though, was the effect that Synergistic Research's new soundstaging and bass/treble control system, which Ted Denney calls the Atmosphere. I've known Ted for over twenty years now, and I have to say that this man has messed with my mind more times than I could shake a stick at! His products always have a really perceptible effect, and have improved the sound of rooms in show conditions again and again.
This time was no different. Ted's Atmosphere device seemed to alter the boundaries of Philip's room, taking it wider, or deeper, or nearer, or further, with each change that he made. Things could be richer and larger, or they could tighten down and become more focused. I have to say that the room sounded better with the Atmosphere in operation than it did without it; a noticeable collapse back to baseline occurred each time that he took the Atmosphere offline. (Yes, I know; a meager play on words.)
I don't know how it works, but it works. Simple as that.
On top of that, Ted demonstrated his new Phono Transducer (PHT, pronounced "POT"), a small device placed on the headshell of your phono cartridge. There are two models: The "I" for enhancing the soundfield of your LP playback, making it more dimensional, and the "S" model, which clarifies and enhances musicality. Ted did several demos of the Luxman PD-171, showing the changes that the PHT introduced. There were clearly differences, and in each case, the changes seemed to be improvements to me, though I supposed your mileage might vary with your taste in LP playback qualities in your own system. Nevertheless, this was great fun, and had me nodding with the improvements.
My experience with the On a Higher Note room, on two separate occasions, sold me. This was definitely an Audio Oasis! winner, with a number of surprises for me.
As a result, I hope to be able to try a complete Mola-Mola system in the near future. And I've already made arrangements with Ted Denney to check out one of the Synergistic Research Atmosphere space-benders ASAP…I have to hear it here in our listening room to confirm the effect!
Finally, Peter Ledermann has sent me the Soundsmith Hyperion to use with our recently upgraded (June, 2014) Walker Audio Proscenium Black Diamond Level V turntable system. Lloyd will be coming out very soon now to do the installation for us, since he's keen on the Hyperion with his system. This is going to be tasty…to be continued!
Bricasti Design Ltd./Purist Audio Design/Sillpoints/TIDAL Audio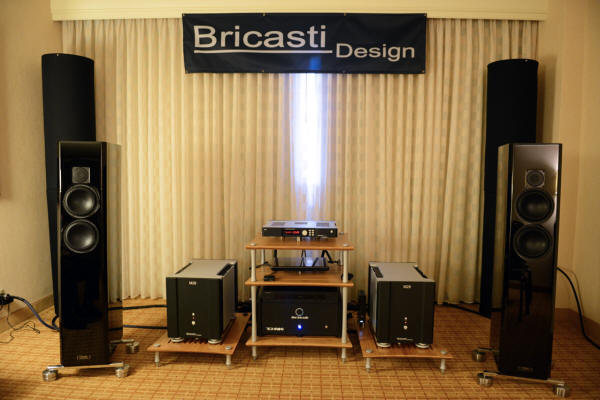 In the Briscasti Design room, with StillPoints, Purist Audio, and TIDAL Audio
Brian Zolner's Bricasti Design room was another real surprise to me. I confess that I had never heard about Bricasti before, and so was without a clue. I was flagged to it by one of my PFO writers, Brian Moura, who told me that I simply had to get up there: There was some amazing DSD playback in action. Yeah, that'll do it for me when it comes to motivation. So, I put it on my list, and went there as soon as I could.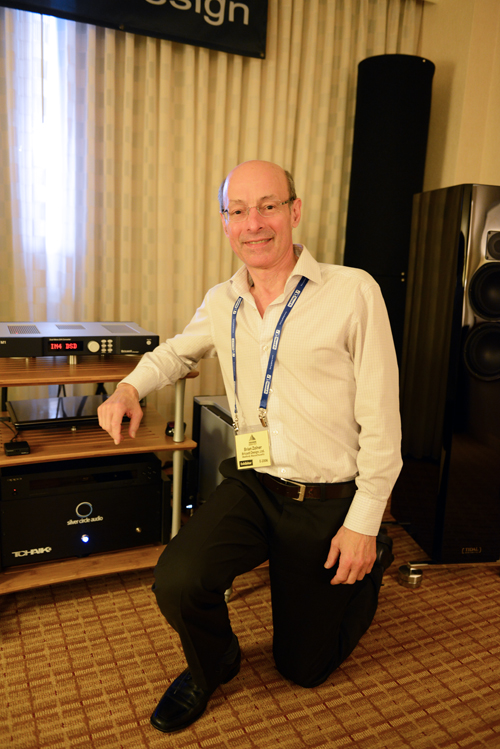 Brian Zolner of Bricasti Design
Boy, was I glad that I did! It turns out that Brian is a person with many years of chip design experience with some of the big boys (e.g., TI, as I recall), and has a deep appreciation for what can be done in digital domain in both professional and consumer products. He is a huge fan of DSD…he was playing recordings from Channel Classics while we talked, which makes him very real in my book…and has integrated both Single and Double DSD into his reference preamp/DAC via USB now, the M1 dual mono ($8,995). This is what I heard in his room, feeding the Bricasti Design M28 monoblocks (about $30,000/pair), and from thence on to the TIDAL Audio speakers. (Note to Brian Zolner: A system summary and pricing page is very helpful for your long-suffering audio journalists.) Cabling was courtesy of Purist Audio. StillPoints provided the racks used.
The sound in this room was detailed, very transparent, and nicely dynamic. This was done without sacrificing the midrange or musical harmony, which was strikingly well done. The M1 is obviously a superior design, and the M28s never tapped out on delivering the goods with the DSD recordings that Brian was using. Impressive stuff, and reminiscent of the Mark Levinson look and feel, back in the day. I encouraged Brian to get to Quad DSD ASAP in his DAC; I expect that we'll see that. Brian is clearly knowledgeable, very discerning, and passionate about excellence in the audio arts. It was a treat to talk with him, full-rate; it was terrific to hear the music in his room.
The Bricasti Design room included the following components:
Bricasti M1 DAC with USB ($8995)
Bricasti M28 Mono Amps ($29,995)
TIDAL Audio Piano Cera Speaker ($23,990)
Purist Audio Design Luminist Revision Cables throughout (price varies)
StillPoints Ultra SS and Ultra 5 Isolation throughout ($249 and $699, respectively)
Silver Circle Audio TCHAIK 6 ($9500)
To walk into a room filled with unknown gear and walk out filled with pleasure…after a nice while of listening and talking between…is a sure sign of an Audio Oasis!
So given, and well-earned.
I want to get some Bricasti Design gear in to our listening room in River City in 2015, Lord willing, and the creek don't rise. Brian has expressed a willingness to do this…the logistics will follow. Stay tuned.
DEQX/Plinius/Magnepan/JL Audio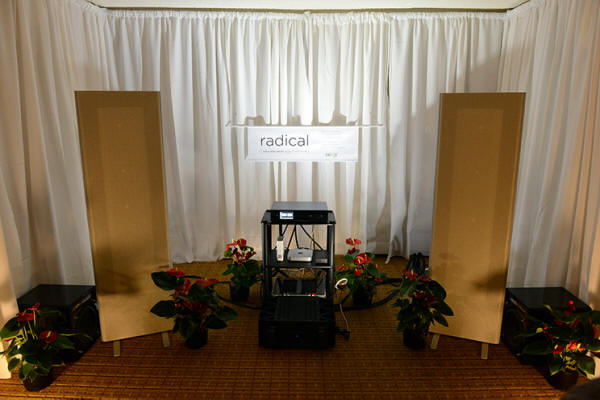 In the DEQX room, with Maggie 1.7s, the Premate+, Plinius, and JL Audio
More surprises here. Not that I haven't been pretty familiar with the DEQX room over the years, but this time it was their PreMate+ preamp/DAC/crossover/speaker and room calibration system ($5,995), a new product for them. It was tied to the Plinius SB-301 Class A/B power amplifier (300 WPC), which in turn fed a pair of Magnepan 1.7s and JL Audio F110 subwoofers. This was a different combination, and another one unfamiliar to me. Given the permutations of gear combinations in high-end audio, I guess that this is no surprise.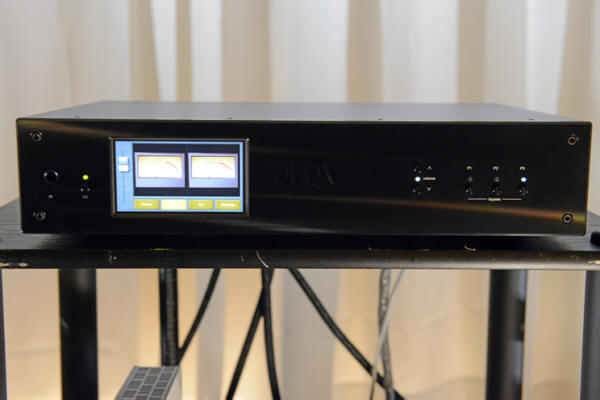 The DEQX PreMate+ preamp and room correction system
DEQX excels in what it can do in its active approach to taming speaker and room interaction. The goal is to enhance even challenging speakers by correcting their characteristics digitally using products like the PreMate+ to iron out the worst of the nasties in the frequency response of that speaker in a given room. A/B comparisons are their preferred method over the years; the results are usually an immediate lifting of the eyebrows…DEQX's approach is definitely noticeable, in a very good way.
The baseline sound of the Maggie 1.7s with the rest of this system in their room was OK, but not necessarily anything that I would write home about. Certainly I wouldn't be thinking about an Audio Oasis! Award for DEQX at that moment.
But as soon as they switched the PreMate+ from bypass into active mode…well now! This was more like it! Immediately the music from their Apple Mac Mini server lost muddiness, become much more clear and focused, and achieved a noticeably improved harmonic integration, top to bottom. The midrange was now more properly supported by both bass and high frequencies, and texture became revealed for what it was.
We did a number of before-and-after switches, with various samples of music. Each time, the improvement was notable…the Maggie 1.7s were transformed.
So here's an Audio Oasis! Award for the "after" version of the DEQX system chain!
Now all they have to do is to add support for DSD in their room/speaker correction systems, and I would be completely satisfied. We'll see, eh?
Audio Skies/ESP Loudspeakers/Pear Audio/GamuT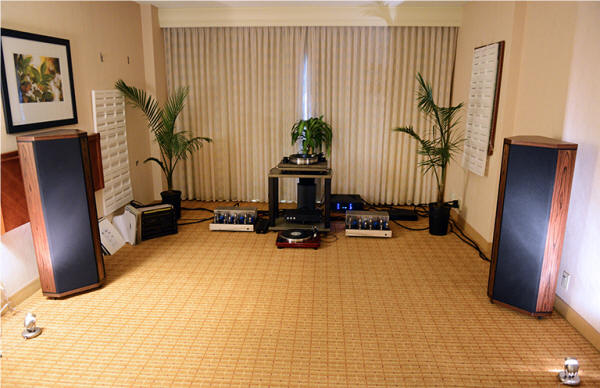 In the Audio Skies/ESP/Pear Audio/GaMut room: Really good sound here!
Old friends here! When I was drawn into Michael Vamos' Audio Skies room, I found him, a newer friend, in the company of an old PF friend, Sean McCaughan of ESP Loudspeakers. My link to Sean went back to the days when PF's Rick Gardner, AKA Dr. Sardonicus, was a major advocate of their sonic virtues. I spent a fair amount of time being delighted by the sound of the ESPs, together with whatever sources and electronics Rick had going at the time. So to suddenly encounter them in the Audio Skies room was a homecoming for me…a pleasant surprise.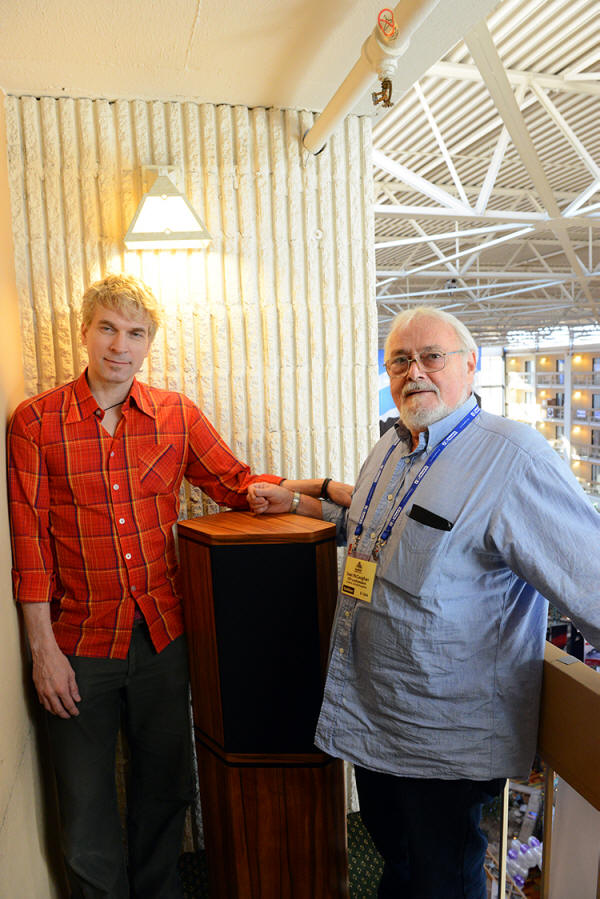 Michael Vamos of Audio Skies and Sean McCaughan of ESP Loudspeakers: A portrait.
The sound of this room was very inviting. Michael was spinning some nice vinyl on the Pear Audio Blue turntable system: The Kid Thomas/Cornet 2 turntable/tonearm with external power supply ($9,995), the Tracer 10 MM cartridge ($995). CD was played back on the GaMut CD3 Redbook unit ($11,995). The preamp was the Pear Audio Reference with phonostage two-box ($5,995), tossing the signal to the Pear Audio Reference power amp ($11,995), and then along to the ESP Double-Bass speakers ($25,000/pair) via ESP cabling (2 meters at $2,995; all cabling was ESP).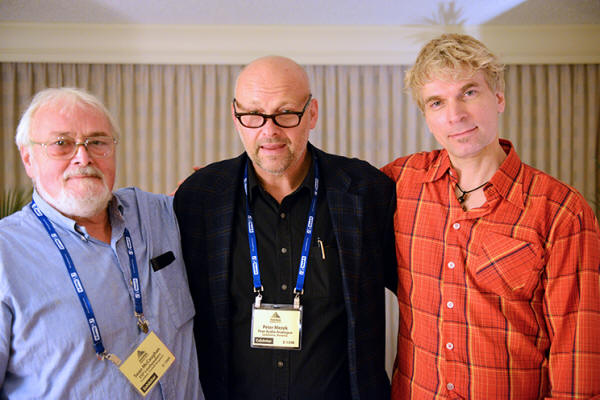 (Left to right): Sean McCaughan of ESP, together with Peter Mezek of Pear Audio and Michael Vamos of Audio Skies…a very productive collaboration at RMAF 2014.
The result was immediately reminiscent of all of the audio strengths that I valued in the ESP: Full-range sound, with organic rightness all through the frequency range; harmonic balance; midrange lusciousness; and wonderful soundstaging, due to the design of the ESP enclosures. No narrow sweet spot here! A very open sound that you could literally walk into…and through…was highly appealing to me.
There was no doubt about it: This year the Audio Skies room with ESP and Pear Audio was very worthy of an Audio Oasis! Award.
"So let it be written; so let it be done!"
Astell & Kern at CanJam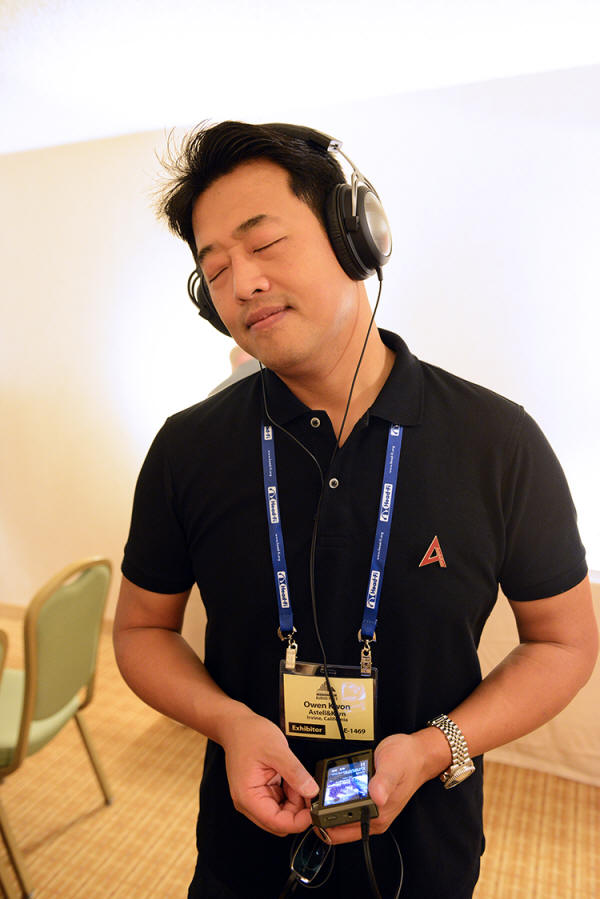 Owen Kwon of Astell & Kern digging the sound of Double DSD via my AK-240 and the new advance sample AK headphones from Beyer Dynamic. Nirvana, man!
My final Audio Oasis! Award goes not to a room, since the head-fi/personal-fi space is obviously centered on the 'phones experience…in-ear, on-ear, and over-ear. To that end, my best experience with the head-fi sector at RMAF 2014 was definitely with the AK-240 ($2,499) using an advance pair of the new AK over-ear headphones done especially for A&K by Beyer Dynamic. I was able to spend a bit of time listening to them with Owen Kwon of A&K.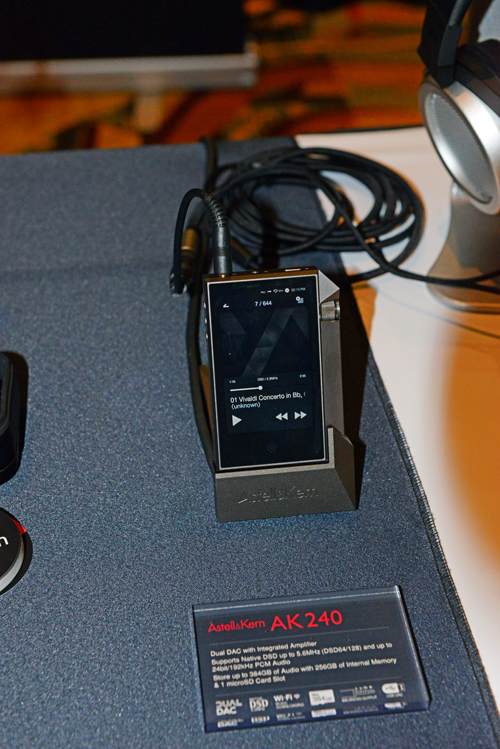 The Astell & Kern AK240…the king of portable players in my book!
With some of my favored Double DSD files, the AK-240 simply lit up the new A&K headphones, and floated the music right in that wondrous domain in our headspace. Crystalline, clear, gorgeously detailed, and effortlessly natural. This, my friends, is exactly what we want in our personal-fi worlds: Music that transforms the inner person!
Enough said. The Astell & Kern AK-240 and AK headphones are a slam-dunk winner of an Audio Oasis! Award…the first that I've given in the personal-fi sector, ever.
May there be many more!
…and the Outro!
I shouldn't round out with saying that this RMAF 2014 photo essay, show report, and Audio Oasis! Awards listing, is one of the longer things that I've done in a while, and on a tight deadline too. As always, thanks to Marjorie Baumert and company for putting on one of the best audio parties around…Marjorie is a treasure! Congratulations to all of our Audio Oasis! winners this year; keep up the great work. Thanks to all of the PFO editors and writers who attended…there were a lot of you…it was great to see you all again.
And finally, thanks to all the exhibitors who spend so much time, effort, and money to put their souls on the line at events like these. Those of us who know what this takes appreciate you more than you may know!
Until next year….