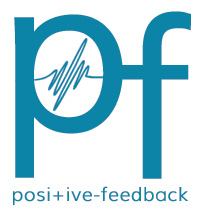 You are reading the older HTML site
Positive Feedback ISSUE 76
november/december 2014
2014 TAVES Show Report
by Malcolm J. Gomes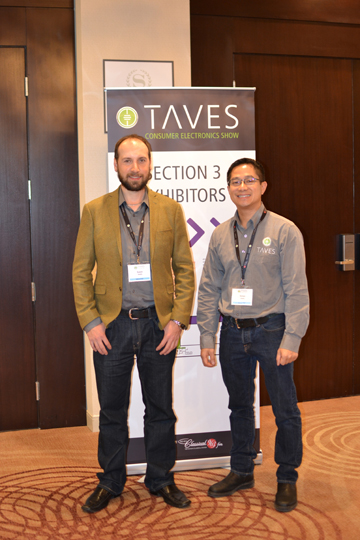 Tis the season for TAVES and yet again, it provided a reason for celebrating sonic excellence. This is the one high-end audio show that I truly enjoy covering for many reasons. It is consistently well organized, personifies Canadian friendliness and in terms of size, number of exhibitors and visitors, it is a veritable Goldilocks. Some high-end audio shows are too small to satiate ones audiophile appetite, some are so large, the information overload ends up giving you indigestion. TAVES, on the other hand, leaves you with the same feeling that you get after enjoying just the right helping of a well-prepared gourmet meal. Kudos to Suave Kajko and Simon Au for once again serving up a veritable audiophile treat.
TAVES has been growing with each passing year and it was only a matter of time before it outgrew its original venue, the venerable Kind Edward Hotel in Downtown Toronto. This year the Show was moved to the much larger Sheraton which is also in Downtown Toronto albeit, in a more accessible location. I do miss the old world charm of the King Edward and especially the superior room acoustics that it offered thanks to its brick rather than drywall room walls and extra high ceilings. In fact, I can confidently say that it has the best room acoustics of any audio show that I have ever attended during the 30+ years that I have been covering audio shows.
In contrast, the Sheraton is typical of most modern hotels. It does not have the great acoustics of the King Edward but it is a lot more opulent and it offered show visitors more breathing room and a much greater variety of places to wet their whistles and indulge in fine dining when they attend the Show. Visitor traffic was quite impressive which made the wait for elevators very long and frustrating.
As with most audio shows, it was a challenge to accurately gauge the sound quality capabilities of many of the systems being demoed because of less than ideal room acoustics, lack of enough time to set up systems optimally, not enough time for the components to settled down, the not always available sweet spot and the ambient noise in the rooms that range from respectfully soft mummers to downright inconsiderately loud conversations and discussions by show visitors. There were exhibits where, after I entered the room, the exhibitor gently ushered other visitors out of the room with the utmost courtesy and shut the door so that I was able to do some serious listening and I was most grateful to them for extending me this privilege.
I began coverage of the Show with the multiple rooms showing wares from Tri-Cell, one of the largest high-end audio distributors in Canada. Vince Scalzitti, the 'Godfather' of High-End Audio in Canada, who once again had one of the biggest presence at the Show.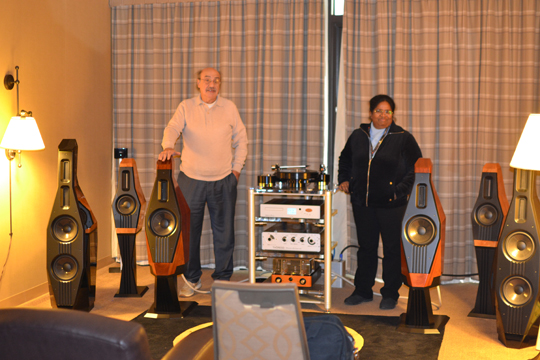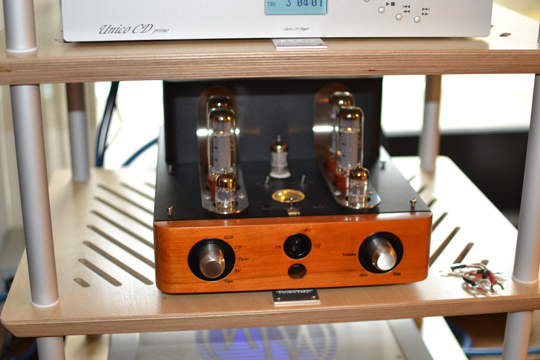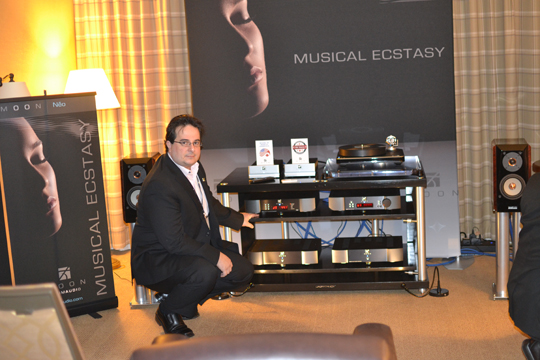 In his first room David Susilo showed me the Unison Research Triode 25 tube amplifier, which can be switched from triode to pentode mode to suit your listening taste, mood and genre of music. The unit retails for C$4,150 and puts out 2 X 22wpc in triode and 2 X 45wpc in pentode mode. It offers five line-level inputs and can be biased manually or automatically.
The next Tri-Cell room featured Moon Audio gear where Simaudio's VP Costa Koulisakis took me through the features offered by the new Moon Neo 380D DSD DAC that offers asynchronous DSD256/32bit. This model was introduced just a couple of months ago and has garnered a lot of interest in the audiophile community. It incorporates the ESS Sabre ES9016 chip working in 32-bit mode. The jitter measurement is claimed to go below the picosecond level into femtosecond territory. It offers extensive connectivity with as many as eight digital inputs including AES/EBU, S/PDIF, Toslink and USB as well as one S/PDIF digital output. It has the option of a variable analog output and separate power supplies for the digital and analog sections. The whole analog stage is a fully balanced differential circuit which Costa claims, improves signal to noise ratio, headroom, resolution and dynamic range. The price varies from C$4900 to C$6700 depending on the options you choose. The ambient noise in the room was too high to allow me to verify all these performance claims.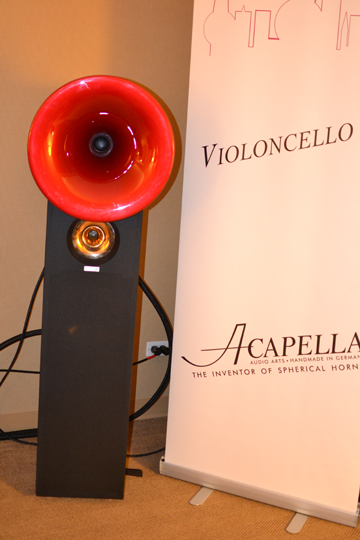 Tri-Cell's third room featured the C$45,000 Acapella High Violoncello II MK II which is the speaker that made the most dramatic visual statement at the Show. Hermann Winters of Acapella showed me these beauties which have a horn loaded woofer and a plasma (flame) tweeter. Those were driven by the power MOS FET, zero feedback Acapella LaMusika integrated amplifier, which at C$120,000 was the most expensive, integrated at the Show. The source was an Audio Arts Romulus Aesthetics CD player that carries a price tag of $8000. It was difficult to get any seat, let alone the sweet spot, in this room because visitors seemed totally mesmerized by the sound and were reluctant to leave.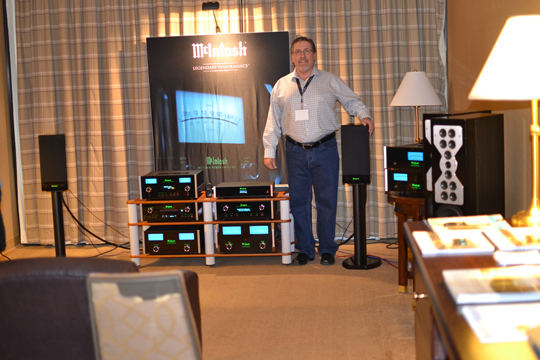 Next up was the McIntosh Room where Dale Mackintosh (no relation) gave me the low down on what was new with this legendary brand. He proudly presented the MB100 Media Bridge. This component is configured so that you can connect all your web based and hard drive stored digital music and enjoy the same, including files up to 24/192, conveniently from one hub. It incorporates a 1 TB hard drive and has four USB ports. A high-speed network port lets you connect to online streaming services like Pandora© as well as Internet based radio stations. It allows you to create two independent audio zones using a USB connection in combination with the analog or digital outputs. The MB100 automatically synchronizes the content stored on your networked computers to improve accessibility. The DAC inside the MB100 is isolated from the motherboard to improve performance. This unit can be controlled via an iPhone, iPad or Android app, a web browser or a remote control that has a TV interface. The retail price of the MB100 is US$6500.
Also new to the McIntosh line is the MCD 5500 CD player (US$8,000) that offers fixed and variable outputs with balanced and unbalanced connections. Inputs include coaxial, USB and optical which allows direct streaming from tracks stored in a computer with resolutions up to 24/192.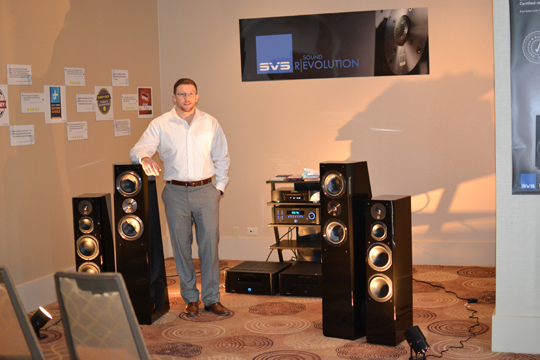 A refreshing change from the typically stratospheric prices at high-end audio shows was the SVS room where down-to-earth prices were the norm. Dan Marks, the SVS Director of Operations took me through the new lineup, which included the Prime Bookshelf (US$500), the Prime Center (US$350), Prime Satellite (US$270) and the Prime Tower (US$1000). All prices are per pair. SVS is undoubtedly one of the value leaders in the entry level high-end audio category, offering a great deal of performance for very reasonably prices and this can only be good for the growth of this lovely hobby.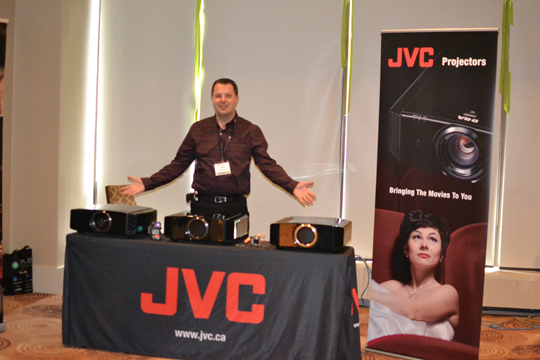 The JVC room was manned by National Accounts Manager, Damir Klobucar who proudly showed off the new line of JVC DLA 4K Reference Series projectors. The picture quality from the C$11,990 DLA X900RB was absolutely stunning. Also on static display were the C$7990 DLA X700RB and the C$4990 DLA X500RB. JVC claims that their DLA X900RB has industry's highest native contrast ratio of 150,000:1 and a dynamic contrast ratio of 1,500,000:1, which has been made possible by a new optical engine that sports the 6th generation D-ILA device and a new wire grid.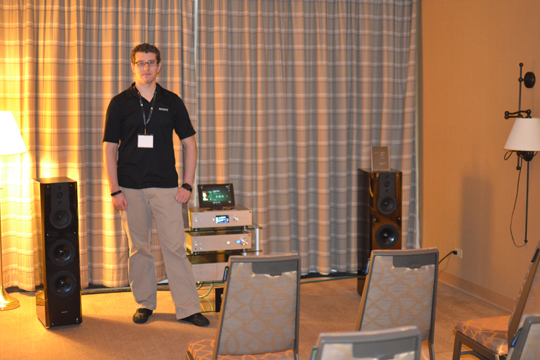 My next stop was one of the Sony rooms where Karol Warminiec, the Training Supervisor and Ved Khan the Public Relations Specialist were all gung-ho about the great new stuff that Sony has to offer. At the very outset, Karol and Ved emphatically stressed that Sony's march back into the thick of the high-end audio sphere is firmly on track and that their latest offerings were proof of that. They opened their presentation with the HAP- Z1ES (C$2000), which is a DAC with a built-in 1 TB hard drive and a 4-inch screen GUI. This unit's claim to fame is the fact that it has a DSD re-mastering engine that converts any digital signal fed to it, to DSF, which, as Karol explained, is a stereo-only, simplified form of DFF, the format used for SACD mastering. Unlike DFF, DSF files have the ability to hold metadata. Karol claims that this device can take low resolution files, even if it is of the wimpy and threadbare MP3 kind and restore much of the signal that was eliminated during the compression process so as to restore the fullness and high frequency sparkle that is usually conspicuously absent in MP3 files. What a great way to show the MP3 addicted crowd, what they are missing. For convenience, this unit has a built-in Wi-Fi for app control and music transfer.
Karol then moved on to the SS-NA2ES, which is a 3-way, 6-driver speaker and the smaller sibling of the well-reviewed SS-AR1 and 2. The cabinet of the SS-NA2ES has quite a lot in common with its bigger siblings in that, it is made out of European Birch and handcrafted by skilled Japanese artisans. This speaker's I-Array™ system uses a unique design and layout of three tweeters (one 25mm and two 19 mm soft domes) that combines multiple sound sources with minimal coloration. Although the bass is relatively tight, clean and tuneful, it only goes down to 45Hz so don't expect to hear the bottom octave through these transducers. These speakers retail for C$11,000.
The next rabbit out of Karol's hat was the UDA-1, a DAC with a built-in 20wpc amplifier that is designed to be the heart of a computer based audio system. It has a headphone output and can drive a pair of desktop speakers. The inputs include digital (co-axial, optical & USB) and line-level analog. The front located USB can connect to and charge an iOS device. The digital inputs will accept digital signals all the way up to 32/192 as well as native DSD streams from a computer. To reduce the high frequency noise in DSD signals, the UDA-1 is equipped with an analog finite impulse response filter. This compact component mated to a decent pair of desktop speakers like the Sony SS-HA3B, is very well suited for the crowd that do most of their listening while seated on a desk behind a computer, but would like significantly better sound quality than what the typical desktop system delivers.
To feed the current surge in the demand for wireless speakers, Sony has developed the SRS-X9, an all in one wireless speaker with a built in DAC. This seven-driver unit component includes two passive radiators to extend low frequency sonic reproduction. In addition to Bluetooth audio streaming with ACC and aptX support it also offers Wi-Fi audio streaming with DLNA and AirPlay support.
Moving on to home theatre gear, Sony unveiled the VPL-GTZ1 4K SXRD which is a short throw ultra high definition (4096 X 2160 resolution) projector, which, unlike conventional projectors, can be placed on the floor, almost right up against the wall or screen that displays the picture image which can be from 66 inches to up to an astounding 147 inches. This projector uses a high efficiency laser phosphor light source that has a lifespan of 20,000 hours during which time you don't have to incur the cost of replacing expensive light bulbs. The first generation of this projector is on the bulky side with dimensions of around 49 x 21 x 11 inches and carries a hefty price of C$55,000. I expect Sony to experience relatively good sales of this projector amongst early adopters with deep pockets, but in my opinion, mass-market sales will take off once future iterations are offered in a more compact size and at a price that is closer to around a third of what it is today.
In terms of smartphones, Sony has something quite special for the audiophiles and it answers to the name Xperia Z3. This spiffy device up scales highly compressed formats like MP3 to Hi-res levels allowing audiophiles to enjoy even their highly compressed low rez music files with fidelity that is a lot closer to what they usually hear on their high-end home audio systems.
By the end of the presentation Karol and Ved had me convinced that Sony is pulling out all the stops to try and restore its past glory in the audiophile sphere and thereby regain the respect, following and patronage that they used to enjoy with the audiophile community. It is particularly heartening to learn of the various ways that Sony has devised to show the mass market MP3 addicted crowd what they are missing. I, for one, am hoping this will motivate more mass-market consumers who currently listen to music just as a background element, to dip their toes into audiophile waters.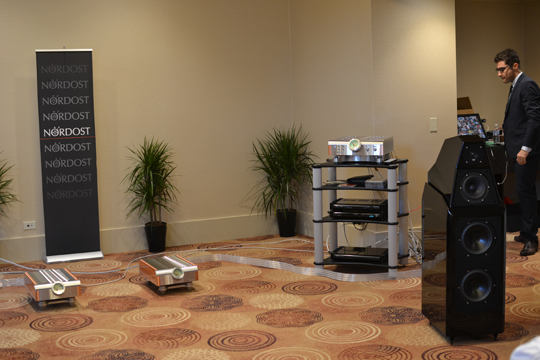 Audio Excellence Inc. had one of the bigger and better sounding rooms at TAVES, which was in keeping with the premium brands that they were showcasing at the Show. On display were the Wilson Audio Sasha Series 2 (US$27,000 a pair), the D'Agostino Momentum Integrated Amplifier (US$45,000), pre amplifier (US$36,000) and monoblock power amplifiers (US$62,000 a pair) and the MSB Diamond DAC (US$22,000 for base, US$10,000 for Femtosecond Galaxy clock, US$3000 for stepped attenuator, US$1000 for pro I2S input board, $1400 for USB input and US$6000 for Diamond Power Base).
All this star brand power was a real audiophile magnet and attracted a steady stream of visitors most of who seemed to be motivated by the opportunity to listen to a system that would be within their reach only if they won big in a lottery, a Vegas jackpot or an inheritance windfall. So what was the end result of all-star cast of components? Exceedingly good, but given the total cost, not exactly the best value for money. Perhaps if this performance was fronted by a Wilson Audio Speaker with the silk dome tweeter that adorns their two latest models (Alexia and Alexandra XLF) the sound quality would have been even better. The titanium dome tweeter used in the Sasha and the other Wilson Audio models is no slouch but their 'convergent synergy' silk dome tweeter is significantly better in terms of dynamic contrast, harmonic expression, frequency response linearity and off axis dispersion.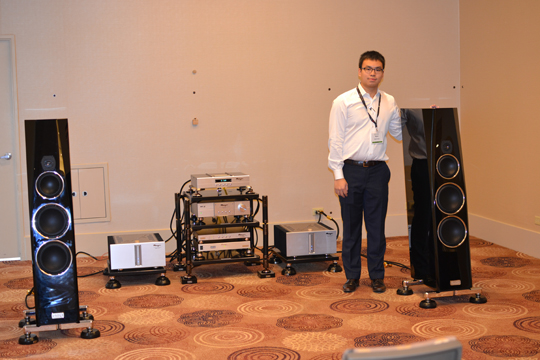 My next encounter was with Wynn Wong, the owner of Wynne Audio who welcomed me to the Wynn Audio Room where the highlight was the newly introduced Tidal Audio Contriva G2 Speakers. This impressive looking tower transducer, which retails for C$65,000 has a multi chamber cabinet fabricated from Tidal's proprietary cabinet material called Tiradur. The driver units consisted of two 9-inch long excursion BCC woofers, a 7-inch BCC midrange with an under-hung neodymium motor and a 1.2-inch diamond tweeter that can be adjusted to the listening room acoustics. The gloss finish of the cabinet is amongst the best I have seen on any speaker irrespective of price.
The front end electronics driving the Tidals consisted of all Reimyo components including the CDT-777 CD Transport (C$13,750), the DAP-999EX Ltd DAC (C$12,650), the CAT-777 MkII tube preamp (C$23,100), the KAP-777 power amp (C$27,500) and the ALS-777 AC line conditioner ($7700).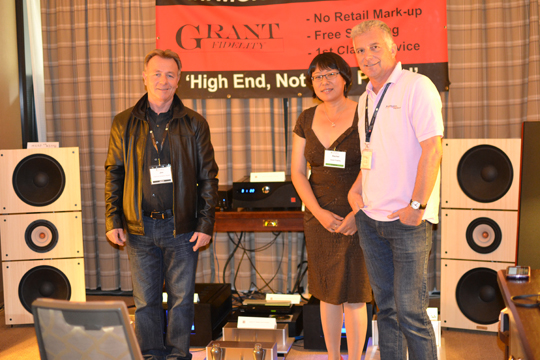 The Tidal was brand new out of the box and was far from totally broken in but they still sounded very good. The sheer presence of the sound stage created was quite palpable, the midrange was full and multi-textured while the highs were smooth and sweet. Wynn had treated the room with Telos Quantum Acoustic Diffusers, which probably accounted for the fact that this room had better acoustics than most of the other rooms at TAVES.
My next room was one of the most fascinating of the Show. It was the Grant Fidelity Room and it had the Trio15 TB speakers that are made in Israel by Pure Audio Project. Ze'ev Schlik the CEO of the Company was on hand to demo the speakers. The first thing that jumps out is the fact that these speakers have no cabinet enclosure. Instead they comprise of just a baffle on which are mounted a couple of Eminence Alpha 15a woofers and a Tang Band W8-1808 which is an eight-inch full range driver. The crossover is passive. Like Ikea, this speaker is shipped to the end-user in a knocked down flat pack condition and is cleverly designed so that the whole unit can be assembled without any tools even by someone who had difficulty hammering a nail into a wall. Rachel Zhang the owner of Grant Fidelity explained to me that the baffle is available in either German Oak or Bamboo. The sensitivity is a remarkable 91dB, which means you can mate it even to ultra low powered amplifiers.
The speakers were driven by the Pasvane T417 preamp and T845 power amp, which together cost US$13,000. The sound from these speakers was incredibly airy and effortless while the bass was surprisingly deep and robust. For this level of sound quality I would normally expect to pay five figures, which is why my jaw dropped to the floor when Ze'ev told me that the price is $3500. This speaker easily gets my vote for best speaker value of the Show.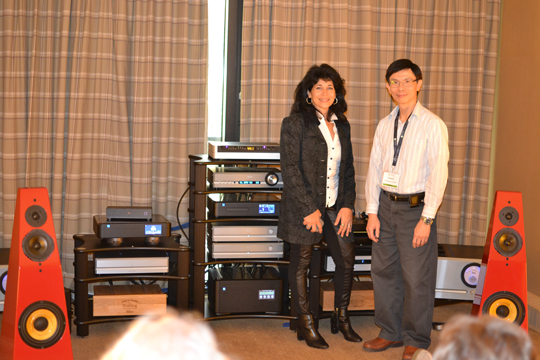 Moving on to the next room I was greeted with the every smiling face of Ofra Gershman who introduced me to Francis Chung the President of "Toronto Home of Audiophile Ltd" the Company exhibiting in this room. The sound in this room was quite captivating and looking around at the components, I could see why. It featured the Pass Labs new X600.8 monoblocks (US$26,000), the Pass Labs XP30 preamp (US$16,500), the new Berkeley Alpha DAC Reference Series (US$16,500), the PS Audio Directstream DAC (US$6000) and the new Gershman Avant Garde speakers ($12,500 a pair). The synergy between these components was very evident and I could have spent a lot more time enjoying the sound in this room if I did not have so much more of the Show to cover.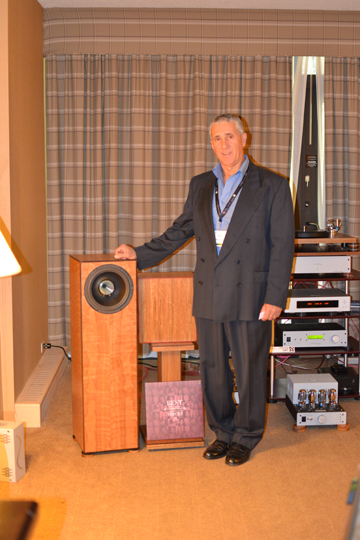 Coherent Audio was my next stop. Frank Fazzalari took me through the various components that he had on display, which included the Aeolos integrated amplifier which outputs 35wpc. It has a dual mono construction with four inputs, Alps volume control, porcelain tube base and hand made ultra-linear multi-layer output transformers. The aesthetics of this unit was simple but elegant and the sound was on the warm side with surprisingly good bass for a low powered tube integrated.
Mark Elias of Sound Stage Fine Audio chose TAVES to debut the Estelon aX Diamond speakers ($77,000) in Canada. This speaker has been well reviewed so I had high expectations. Unfortunately, the sound, though reasonably good, did not reach the stratospheric heights as described in the many reviews that have been published thus far, so I had to put it down to either bad room acoustics or perhaps the fact that these speakers had not broken in fully yet. This speaker has many unique traits including a cabinet made out of layers of crushed marble which it is claimed, combines with the uniquely curved shape to eliminate most of the cabinet induced coloration.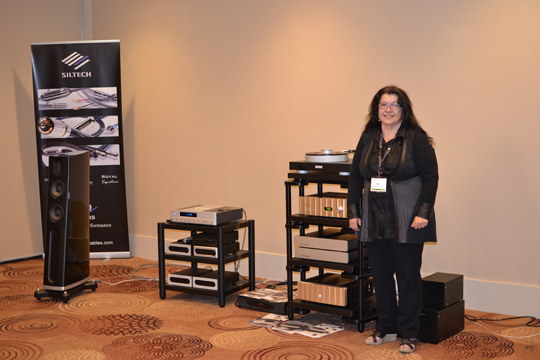 American Sound of Canada is one of Canada's larger distributors and is one of the mainstays of TAVES. Owner Angie Lisi, is a charismatic figures who seems to be everywhere at once which is a good thing given that she had so many demo rooms at TAVES.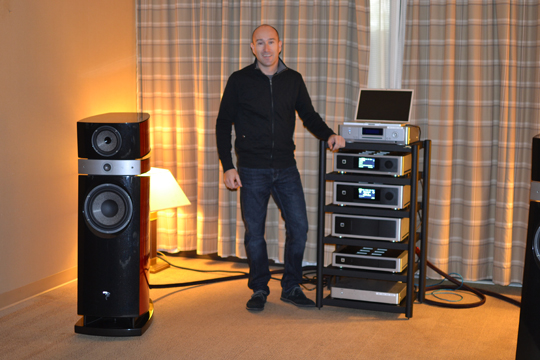 In her NAD room Angie demoed the M12 DAC/preamp (C$4200), the M22 preamp ($3500), the M17 seven-channel preamp, the M27 seven-channel power amp and the Focal Scalia Utopia Speakers (C$35,000).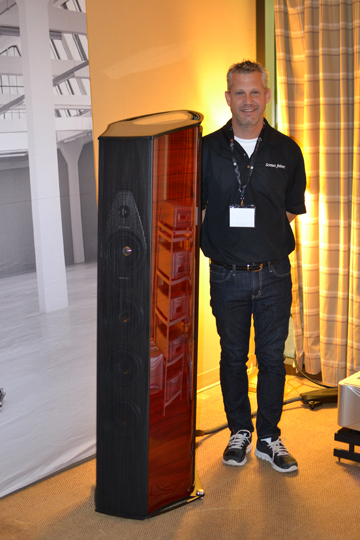 In another room, Angie had the huge Sonus Faber Lilium Speaker (C$75,000) in a room that was far too small to allow this speaker to breathe. Scott Newbrough of Sonus Faber was on hand to demo this speaker, but it was obvious that this speaker was struggling to perform well in such a small room. The Lilium is a three-way speaker with a 28mm damped apex dome tweeter, a 180 mm neodymium magnet midrange and a 180 mm syntactic foam core woofer. The crossover has a paracross topology that is impedance controlled to make the speaker an easy drive for most amplifiers.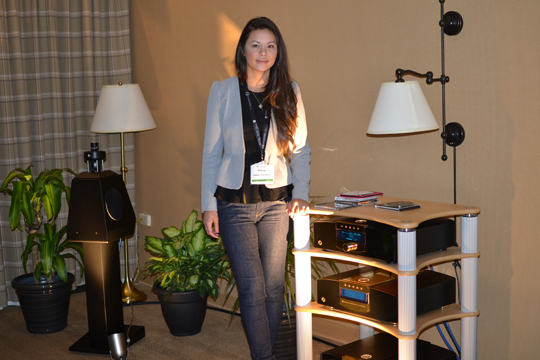 In yet another of Angie's rooms I listened to the latest offerings from MBL of Germany. The reputation of this brand ensured that it was almost always full of visitors taking in the performance. On demo was the MBL 126 Speakers (C$15,000) driven by front-end electronics that included the C31 CD Player (C$12,000), the C11 preamp and the C15 power amplifiers. All three components are priced at C$12,000 each. Despite having much smaller dimensions to the MBL 116F, the 126 speakers were able to create an impressively large sound stage and the spherically radiated nature of the 'Radialstrahler' design meant that you heard great sound irrespective of where you were in the room.