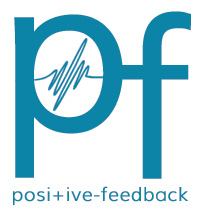 You are reading the older HTML site
Positive Feedback ISSUE 77
january/february 2015
Impressions: 2L's Magnificent Magnificat (SACD stereo; Double DSD stereo download)
Kim André Anesen, Magnificat; Aaron Jay Kernis, Musica Celestis; Ola Gjeilo, Tundra, and Song of the Universal. Nidarosdomens Jentekor and TrondheimSolistene, Oyvind Gimse, Artistic Director; Anita Brevik, conductor.
by David W. Robinson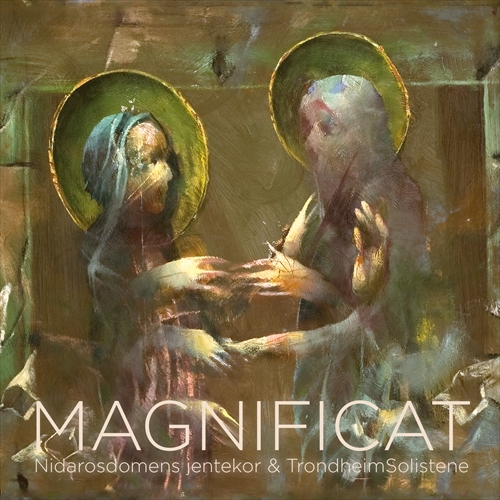 (Photograph courtesy of 2L; drawing by Dan Zimmerman)
Shall I confess something?
I've fallen in love.
This time with an exceptional chorale and orchestral recording from Morten Lindberg and the good folks at 2L: Magnificat.
Recorded by 2L at the Nidaros Cathedral in Trondheim, Norway, in 2013 and 2014, with Morten Lindberg at the controls, this album shows that rare bird: Brilliancies in musical composition, combined with performances that are irresistible in their joy and perfection, and artistically painted by skill in the audio arts that is splendid in every way.
As the album's title implies, this is a song of the Virgin Mary to the Lord, when told that she had been chosen to be the mother of the Messiah and Savior of humankind, Y'shua. ("Jesus" in the Koiné Greek.) Her joy and delight was deep and heavenward, and the lyrics of her song are recorded in the Gospel of Luke, chapter 1, verses 46-55 (English Standard Version):
46 And Mary said,
"My soul magnifies the Lord,
47 and my spirit rejoices in God my Savior,
48 for he has looked on the humble estate of his servant.
For behold, from now on all generations will call me blessed;
49 for he who is mighty has done great things for me,
and holy is his name.
50 And his mercy is for those who fear him
from generation to generation.
51 He has shown strength with his arm;
he has scattered the proud in the thoughts of their hearts;
52 he has brought down the mighty from their thrones
and exalted those of humble estate;
53 he has filled the hungry with good things,
and the rich he has sent away empty.
54 He has helped his servant Israel,
in remembrance of his mercy,
55 as he spoke to our fathers,
to Abraham and to his offspring forever."
Thus her glorious words…but these are lyrics without the music.
Since that day, many composers have sought to frame a suitable musical garment for such a unique and exalted joy. From the days of chant until the present, greater and lesser have given this task a go. I don't envy anyone the challenge…this is a sublime moment in human history.
To the list stretching from monks to Mozart, I would now add the name of a young worthy in our own generation, Kim André Arnesen. His Magnificat is a modern gem: A work of composition that is as ancient as Mary's song, but fresh, clear, and contemporary in its musicality and lyricism. From the mysterious opening strains of "Magnificat anima mea," with its layered strings and voices, reaching from earth to heaven, until the final "Gloria Patria," Magnificat lifts us up and transports us to a realm of longing, salvation, and delight in the Lord. The deep bass of the organ pedal, and the solo cello notes opening the third track, "Quia fecit," provide a foundation for the voices that emerge into the space, and then reach heavenward. All flow irresistibly towards the great "Gloria Patria" of the final song, with its quiet opening piano notes, transitioning to the foundational organ bass notes, and the chorale praise, in solemn and awed worship of God the Father.
There is not a false step that I noticed in this composition, and the performing artists embody the musical vision with skill and surety. Their playing and singing seem effortless, and such performing ease is evidence of mastery.
No, I must say it: This Magnificat immediately leaps to the top of my list of such recordings…it has haunted me since I first started to listen to it.
There is another great achievement on this album, however. Arnesen isn't alone among the composers represented. That his wondrous work should be so finely combined with two other modern artists, woven to make a contemplative album of such rare power, is itself a matter to be praised. Aaron Jay Kernis' Musica Celestis follows Magnificat, and picks up the angelic theme of eternal praise of God. The mood is one of sweet adoration of the divine, one that calmly disregards the foolish blindness of fallen and mortal humankind, angelic ones looking directly at what they can see so clearly. The strings here are so lovely, and are rendered with such purity of tone, in such a remarkable space, that the result for me was a powerful movement…both inwards and upwards, as I listened. The sustained periodic ascents of the violins evoke angels soaring in reverent delight…the quiet moments, constant rediscovery of awe. Musica Celestis is definitely modern…but you can feel the underlying centuries, foundations to the now, as heartbeat to the art that is here, breathing…but not dissonant or deconstructed. No self-consciousness; no hubris.
Just delight.
More: Ola Gjeilo's works, Tundra and Song of the Universal, mesh with Arnesen and Mernis in a larger wisdom, like a musical tapestry of great glory. Tundra, inspired by the Hardangervidda mountain plateau, evokes the joy of the earth as a extraordinary delight, even in settings that might seem forsaken. The art of the Creator is sometimes most evident in his sketches, the places in which his economy of rendering lays bare His essential creative vision. In just over 3.5 minutes, the richness of the barren is made clear. The lyrics supplied by the poet Charles Anthony Silvestri, a friend of Gjeilo's, hymn the beauty of the barren; they are worth reading while listening to this lovely little gem.
Song of the Universalechoes the realization and hope in the divine, as expressed in the poetic vision of Walt Whitman in that poem. The warm humanity of Whitman, who saw so many terrible things during his service in military hospitals during the American Civil War, comes clearly through in the lyrics that Gjeilo selected from that poem. The result is a musical revelation, modern without the hubris or self-consciousness that is the death of all art.
The combination is exceptional, a rich feast of music that was utterly old and new to my ears. Praise to whoever selected these works, and this sequence! That is an audio art of its own.
Thankfully for those of us who love quality, Magnificat is not only available in the SACD and Blu Ray audio formats, stereo and surround. The download section of the 2L store includes a handful of format options, ranging from 96kHz/24-bit PCM stereo and multichannel .FLAC all the way up through DXD (stereo PCM @ 352.8kHz/24-bit, which is the format that it was originally recorded in) and…of much greater interest to me…Single DSD (DSD64) stereo and multichannel. At the top of the heap for me is the Double DSD (DSD128) stereo version, which is extraordinary in every way.
In fact, I am listening to the Double DSD version of Magnificat while I am writing these notes to you. The second track, "Ecce enim," is simply floating in the air…three-dimensionally…transforming my desktop space into a sound field like unto a church space…which is where it was recorded…an echoing realm of angels and humans singing glory, glory. Right here. Right now.
I don't quite know how Morten Lindberg and friends have done it, though their technical notes in the booklet are, as usual, wonderfully thorough…but this recording in Double DSD is a contemplative experience of the very highest order, stunning both spirit and soul with a sweetness and pleasure that reminds me why I love the possibilities of the audio arts so passionately. 2L's Magnificat is a true garden of delight for lovers of great music, one that I will return to again and again in the future, I know.
Truly transformational art: I can pay no higher tribute to a recording than this.
It has my very highest recommendation.