Positive Feedback ISSUE 77
january/february 2015
dan d'agostino
Master Audio Systems Momentum Integrated Amplifier
as reviewed by Robert S. Youman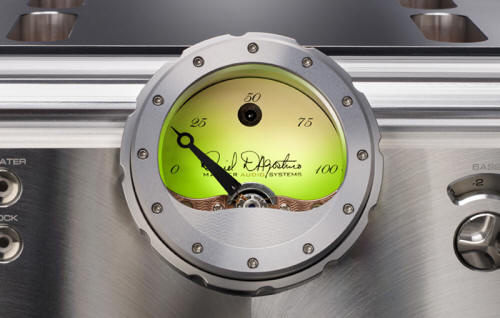 The Krell legacy via designer Dan D'Agostino is well known and respected if not revered. Thirty plus years ago I remember my first experience with the legendary KSA-50 amplifier. Along with the Mark Levinson ML-2, the KSA-50 was one of the first in the industry to lay the ground work for today's strong and continuing commitment to Class A design.
One of my good friends was driving a pair of the original B&W 801 speakers with the KSA-50. I was very familiar with his listening room and system. I was startled by the difference in sound when substituting the KSA-50. Bass performance had more weight and authority than anything that I had experienced up to that time. Mids and highs were sweet and seductive. The sound stage had expanded dramatically. I rarely even thought about sound stage during those years, but the KSA-50 opened my eyes to a whole new audiophile consideration and bench mark.
The difference was that typical Class A designs up to that point were less than 25 watts per channel and could just not drive many of the popular speakers of the day. D'Agostino took that challenge and ran with it. At a conservatively rated 50 watts per channel at 8 ohms (which doubled into 4 ohms), the KSA-50 also had a tremendous amount of current reserve which allowed it to compete with the then popular non Class A powerhouse amps from Threshold and Phase Linear. At $1900, it was not inexpensive but much more affordable than the KSA-100 and KSA-200.
I went through many Krell models on my own over the years, but the Krell FPB 600 was a true milestone for me. At $12,500 and 182 pounds, this fully balanced and fully regulated single chassis design again pushed the envelope in the 1990s. With 600 watts per channel at 8 ohms of pure Class A horsepower, there was still tremendous bass performance per the Krell tradition, but now we had an astonishing new level of dynamics and additional detail and slam. Plenty of visceral impact, but virtually no overhang. Some might argue that the KSA-50 mids and highs were more musical and fleshed out, but again this was an another impressive advancement on a variable (bass performance) that holds so much importance and appreciation by most audiophiles.
Enter the new Dan D'Agostino Master Audio Systems company and the new Momentum product line including monoblock amplifiers, a stereo amplifier, a preamp and an integrated amplifier. Not just a marketing ploy, Dan proudly stands behind these designs and putting his name on the faceplate is an important statement.
I am a true believer in integrated amplifiers. I have reported my findings with reviews of several cutting edge models in the past two years including those from Pass Labs, Vitus, Simaudio, BMC and more. I am also looking forward to new players in the game from VAC and Constellation. The Momentum at $45,000 is another challenger to the throne and potentially an answer to the compromises that some still proclaim for one box solutions.
The discussion concerning separate verses integrated solutions has been around for years and it is the classic audiophile dilemma An integrated amp will save you money on interconnects, power cords and resonance control devices. At the cost of high end wire alone these days, you can use these funds to significantly upgrade your other components (including wire and resonance), or just leave it in the bank for other priorities. Not a bad thing at all when negotiating budget with your significant other. You also need not worry about the sound impact and synergy of interconnects and power cords between several components.
You do lose some flexibility to tweak the sound presentation with a separate preamp and amplifier from different manufacturers or with different design philosophies (some like to mix tubes and solid state for example), but I like the whole concept of one vision and one voicing behind the design. Many will argue that separates can provide the advantages of independent power supplies, reduced internal noise and heat, and better isolation for the preamp section. All of these factors can tip the scale either way, but in the end it's still all about the execution. Based on past performance and success, Dan D'Agostino is all about the execution.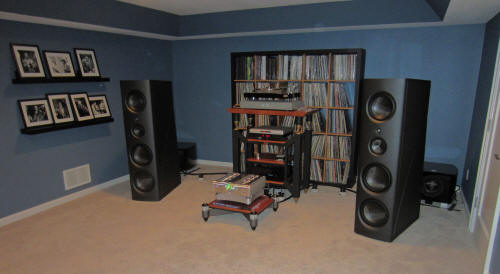 Review System
Magico Q7 Speakers
Pass Labs Xs Preamplifier
Pass Labs Xs 300 Monoblock Amplifiers
Vitus RI-100 Integrated Amplifier
D'Agostino Momentum Integrated Amplifier
Playback Designs MPS-5 CD/SACD/DAC
VPI Aries Extended Turntable
VPI 12.6 Memorial Tonearm
Van den Hul Frog Cartridge
Synergistic Research Element CTS Power Cords, Interconnects and Speaker Cable
Synergistic Research Powercell 10 UEF & FEQ - PowerCell Equalizer
MIT SL-Matrix50 Interconnects and SL-Matrix90 Speaker Cables
SRA VA Turntable Isolation Base
Rix Rax Hoodoo Component Rack
Magico QPod Footers
Caveat Emptor
System synergy and personal taste are critical when evaluating high-end audio products. This review is based on my subjective requirements, my subjective ears, my specific system and my specific listening room. This combination is only one data point of many that exist out there for these components. For further insight into my personal biases, check out the Meet the Writers Positive Feedback. Please consider my comments and analysis appropriately.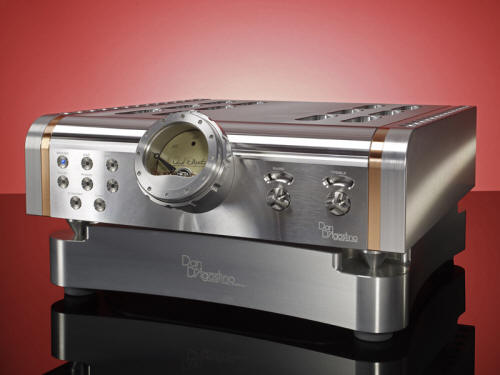 Design
As stated by Dan, his key objective for the Momentum integrated amplifier was to marry the best aspects of the Momentum stereo amplifier and the Momentum preamplifier in a single chassis and to create a component that would fit more easily into living environments and listing rooms. Unlike many integrated amplifiers, he was committed to providing an elite product offering and without compromise.
At 120lbs including the power supply, the Momentum is the heaviest integrated amp that I have reviewed so far. It arrived in an impressive metal shipping case with rollers and extended handles that added another 30 lbs. From the start, the shipping case already told you something was going to be special about the level of detail and thought that goes into a D'Agostino creation.
After seeing a fairly lengthy list of speakers and components come through the door over the years, even my piano movers were impressed. When they opened the case and pulled back the plastic protection, the reaction was like seeing Dorothy's slippers for the first time in the Wizard of Oz. All I could see was a smile from ear to ear and a twinkle in their eyes - they never seemed to pay attention too much in the past. Yep, something special was going on here.
I have used the term "eye candy" before, but I retract all of those statements now as they were inappropriate compared to the Momentum. Of course taste is in the eye of the beholder, but for me, the industrial design of the Momentum is simply dazzling. My wife is always interested in what I am reviewing at the moment, but this time she seemed to be hanging around the listening room just a little bit more than usual. On looks alone, she seemed to have a new passion beyond her husband of 35 years (what can I say).
From the aluminum case work, to the solid flat copper heats sinks, to the power supply chassis machined from solid aluminum billet, you just have to be swept away by the physical beauty of this compact little jewel. The highlight is the bezel like power meter and rotary volume control which will remind you of a fine Swiss watch. With the power on, the meter is illumined with a cool green background. The inspiration for this meter was the timepieces designed by the famous Parisian watchmaker Abraham Louis Breguet in the 1770's.
Yes, I said compact. At 120 lbs, you might be surprised at the size and proportion of this muscular powerhouse. It will not dominate the space in your listening room. Like the sound, you are drawn into the splendor and not overwhelmed by the scale.
The Momentum is a fully balanced Class A/B design with a power supply that sits beneath the amplifier. The amplifier mounts to the power supply via four metal cones for better resonance control and additional stability. A high quality umbilical cable is included that connects the two. Thankfully, and unlike similar designs, only one power cord is required and it is logically connected to the power supply.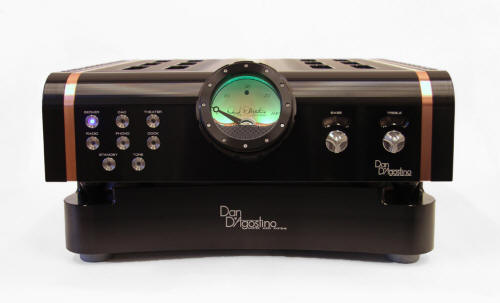 Power is conservatively rated at 200 watts @ 8 ohms and 400 watts @ 4 ohms which passes the sniff test for doubling your output when halving your impedance—always a good rule of thumb for driving difficult loads. BTW, when considering any amplifier for the Magico Q7 speakers, which have a stated sensitivity rating of 94 db, it is common knowledge that these speakers actually need plenty of power and current to really sing. The Momentum handled this task with ease at the highest levels of output. In my listening room, the power meter barely budged to the half way point and never wavered when pushed to the extreme.
Through-hole construction is implemented for all circuit boards rather than modern day surface-mount construction. Many would consider this old school, as implementing through-hole construction is much more time consuming and expensive but the payoff is big. D'Agostino feels strongly that this design choice provides a more robust solution for long term durability and most importantly better sound. The copper heat sinks are also unique. The advantage is that the heat dissipating ability of copper is several times more efficient than that of aluminum and cast iron.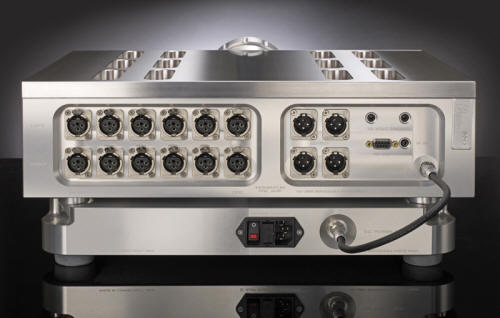 There are six balanced XLR inputs (no single ended inputs for your phono preamp if required) and a considerable list of features that includes tone controls, standby, phase, balance, mute and home theater pass through. A nicely laid out circular remote control is provided with the functions mentioned. The finish and mid weight design of the remote exude quality and luxury. No preamp output option is provided but what the heck, I agree with that decision. Spend the money elsewhere. You may lose some flexibility, but if you wanted separates you would not be buying an integrated amplifier.
The tone controls for bass and tremble deserve special mention. You can bypass them but I found it extremely useful for some of my old school slightly compressed and/or overcooked rock and jazz recordings from the 70s and 80s. I have always tried to follow the audiophile axiom for "straight wire with gain" simplicity, but utilizing this function has really changed my mind. Again, with superior design, parts and execution and then throw in a little Dan D'Agostino creativity, you may find that you cannot live without it.
Specifications
Power 200 watts @ 8Ω / 400 watts @ 4Ω / 800 watts @ 2Ω
Frequency Response 0.1Hz to 200kHz, -1dB / 20Hz to 20kHz, ±0dB
Distortion (200 watts @ 8 Ω) <0.1%, 20 Hz to 20 kHz
Signal-to-Noise Ratio 95 dB, unweighted
Inputs 6 stereo balanced XLR
Input Impedance 1 MΩ
Output Impedance 0.12Ω
Dimensions 8 x 18 x 16 inches (including power supply)
Weight 120 lbs (150 lbs including shipping case)
Sound
It's always difficult to articulate what you are hearing with a particular component. In some of my recent reviews, I've tried to keep it simple by starting off with my overall impression using one word and building from there. Based on reader feedback, this seems to be very effective and appreciated. In this case, the word that keeps coming up over and over again in my notes is "purity".
By purity I mean that the sound is very natural and smooth yet all the standard audiophile variables come through loud and clear—maybe even setting new bench marks for each. There is nothing sacrificed or tipped up to enhance any particular frequency range or aural consideration. With the Momentum, I am able to sit back and relax and take it all in. Yes, I am drawn into the music but there is no edge or strain - just comfort and seduction. Like a beautiful autumn day, there is an endless palate of colors and a rich compelling presentation.
My apologies upfront for the traditional checklist, but it is appropriate here. Let's start with bass. The Momentum is a true disciple and follows the Krell tradition of excellence. As stated earlier, there seems to be an unlimited reserve of muscle and authority. There is a sense of tremendous depth and separation along with a magnificent level of inner detail. On the toughest challenges, my listening room has not been so fully pressurized with depth charge like impact since the Pass Labs Xs 300 monoblocks ($85,000) were auditioned.
Mids are creamy and full bodied with wonderful bloom and color. Female vocalists are to die for. Slow romantic saxophone solos will have you swooning. Not quite the harmonic textures of the Pass Labs Xs separates and not quite the vivid presentation and speed of the Vitus RI-100 integrated amplifier, but this is a matter of personal taste. Somewhere in between, many will find this just the right amount of nuance and resolution.
Highs are effortless with plenty of dynamic flair and lifelike presence. Even when listening to digital, you get that crisp transient attack and punch, but never any edge or grain. Strings are soothing and organic. Top hat symbols have a nicely balanced level of splash and metal. Again, there is a sense of ease that can be very addictive.
Soundstage and Imaging
Not much too say here as no new standards have been established, yet without the topnotch performance that the Momentum provides for these variables, you would lose out on the overall experience. The soundstage is consistently wide, deep and layered as called for by the recording. There is a wonderful combination of micro and macro dynamics that presents an airy and accurate reproduction of the recording venue. Images are nicely locked in with an excellent three dimensional presentation and a tangible reach out and touch immediacy when appropriate. Bottom line—just the right amount of scope and realization.
Music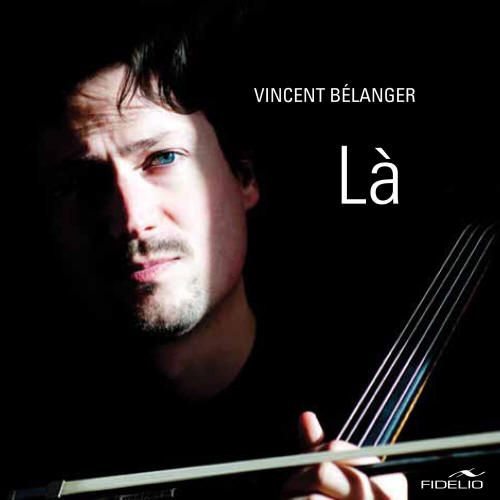 Vincent Bélanger - Lá
This slightly obscure recording continues to amaze me. Vincent Bélanger is a not a household name just yet, but I love his abilities on cello and his musical choices on this CD. Issued on the Fidelio Music label, the music ranges from Ennio Morricone to Rachmaninoff. An eclectic mix of genres includes samba, tango, Slavic folk tunes and French accordion waltzes. Recorded in
the Saint-Matthias Church in WestmountQuebec Canada, Vincent plays the lead role on each track, but he is backed up by several skilled musicians on harp, piano, viola, organ and both male and female vocalists.
My favorite track is Ave Maria. When I talk about pure, the sound of Vincent's cello has such a rich tapestry of harmonics and natural balance that you will be mesmerized. An uncredited female mezzo-soprano delivers a darker heavier tone than what I am accustomed to, but the effect yields the emotion and pause that Guilio Caccini was definitely after. Her voice echoes through the small venue with amazing clarity and ambiance. The Momentum has me wondering if this is a different recording as the experience is so much more glorious and uninhibited.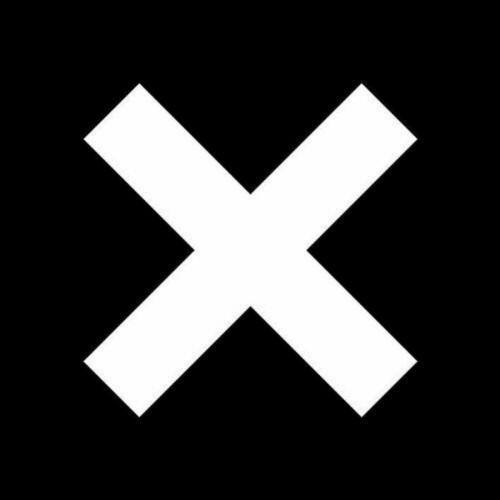 XX - The XX
An excellent example of electro-pop simplicity, XX continues to make it back to my turntable each week and has me yearning for more. Four 20 year olds from London made an outstanding début in 2009 that still gets plenty of air time and raves on progressive radio. The sound on vinyl is exceptional and puts the CD to shame. Spare bass lines and tasty guitar riffs will have you tantalized. Romy Madley Croft and Oliver Sim play tag team on vocals with a youthful and energized urban cool.
The opening track "Intro" sets the stage for the entire album. The Momentum affords you a refreshing new look into the continuous thundering thwack on drums by Jamie Smith and a sledgehammer like rendering on bass by Oliver—efinitely a talented multi-tasker. If you want to unleash every ounce of dynamic attack and blunt power in the bottom octaves, the Momentum proves its worth here. Complimenting this, there is a whimsical landscape of dreamy MPC (music production controller) electro verse in the background that will fill your room beyond the speakers and have you floating along with the music. Delightful.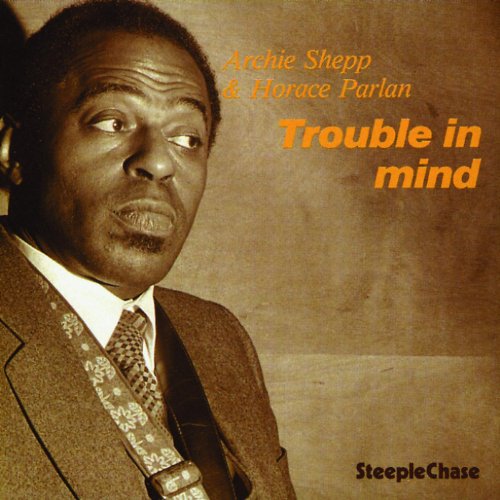 Archie Shepp & Harace Parlan - Trouble In Mind
Trouble In Mind is one of my go to CDs for component evaluation. I have written about this recording before, but I pulled it out again for this review as I have so much past experience using it with so many outstanding systems. The Momentum takes the gold medal and deservedly stands proud and strong on the podium.
The title track is a keeper. Simply and closely miked with just piano and saxophone, this is a great test for transparency and dynamic headroom. Piano is always tough to get right. No muddiness or overhang here, just pure rhythmic vitality and impact. Rare for piano recordings, you can hear deeply into the woody textures and strokes of the keyboard right down to the sound board as Horace Parlay lovingly plays up and down the various chords and melody. You get the proper weight along with all the harmonic density that this recording can provide. The Momentum suspends disbelief and makes you sit up and pay attention.
Archie Shepp on tenor sax is center stage as his image and saxophone seem to just lock in and float before you. You get that reedy sexy bloom that only the saxophone can provide and the Momentum delivers in spades. With the Momentum, the transient attack on both instruments is as good as it gets. This is one recording where the ambience and spatial cues in the room will make your hair stand on end. A must have on CD or LP.
Final Thoughts
Dan D'Agostino has delivered another winner, but that statement is just not dramatic enough to really communicate what we have here. His goal was to design an elite product without compromise and he has certainly done that. To my ears, the Momentum has definitely established a new bench mark for integrated amplifiers and without question can compete with the finest separate components. You have to love his boldness and creativity by stepping out of the box with his industrial design, superb ergonomics and by including those unique tone controls. Despite all of that, the bottom line is always about execution and sound performance. In that respect, he is indeed one of the industry masters. As my father used to say about Jascha Heifetz, Dan D'Agostino plays chess while others seem to be playing checkers. Robert S. Youman
Momentum Integrated Amplifier
Retail: $45,000
Dan D'Agostino Master Audio Systems
P.O. Box 89
Cave Creek, AZ 85327
1-480-575-3069
www.dagostinoinc.com